Indian SaaS (Software as a Service) companies are being hypervigilant of the latest industry trends to align with, and emerge stronger across their products, customers, use cases, market, talent, and funding holistically. This is being strengthened by the accelerated adoption of technologies to help drive unabated innovation and newer go-to-market strategies. The available Digital IT talent base has further underscored India's SaaS offerings and has the potential to address 19% of the global SaaS demand by 2025.
Zinnov's analysis reveals that the global SaaS market will reach a staggering USD 400 Bn by 2025, pinning the Indian SaaS gamut on the global market radar. The PERFECT storm is fueling the SaaS revolution in India, and Indian SaaS companies are poised to be at par with the Indian IT services industry over the next decade, which is a momentous trillion-dollar opportunity in the making.
The PERFECT storm fueling the Indian SaaS Revolution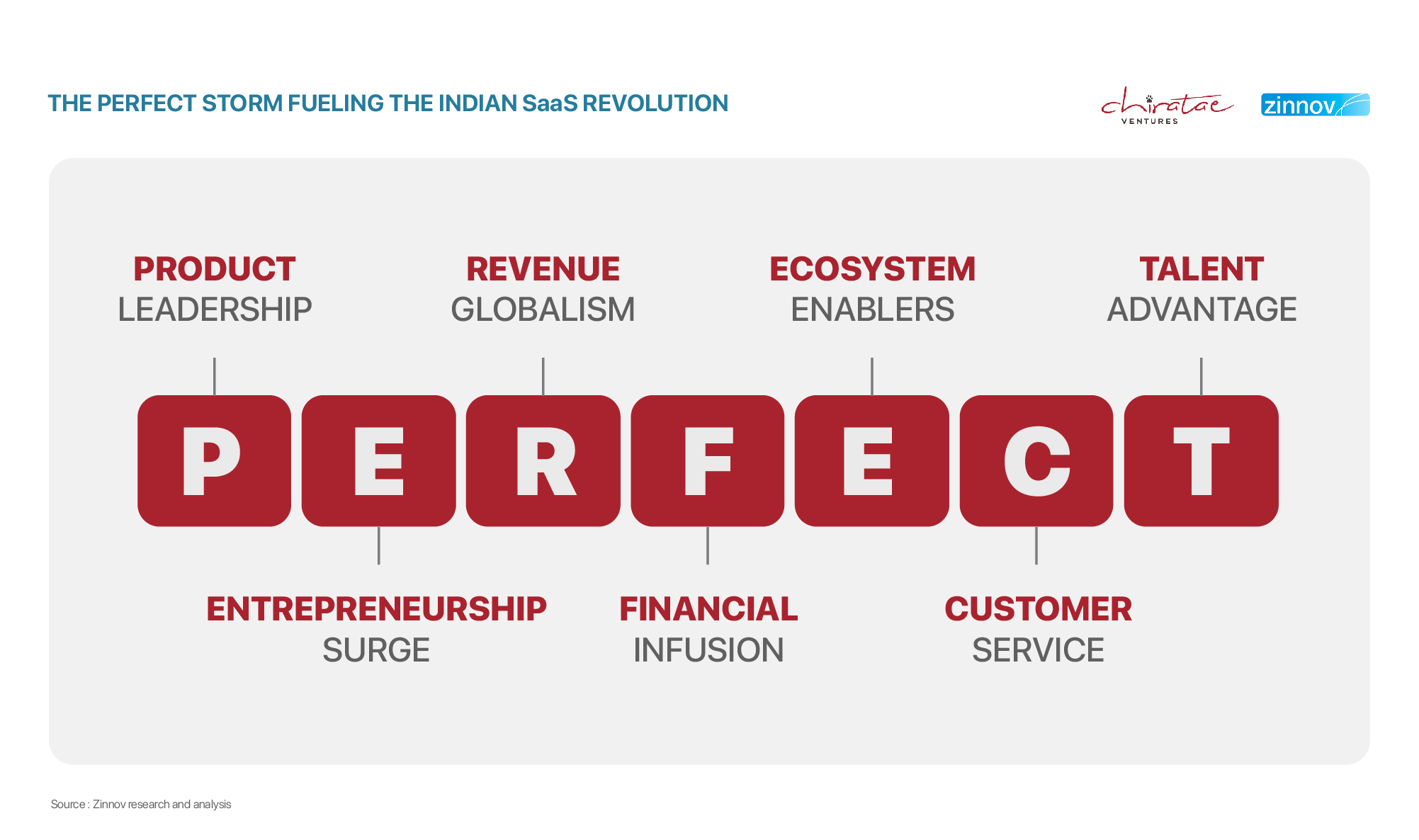 There are close to 100 public listed B2B SaaS companies which are, on an average, valued over USD 5 Bn as of 2021 with a CAGR of 51%. The same is set to expand to USD 42-75 Bn over the next 5 years. The median revenue of these companies is roughly a billion dollars and the median EV (enterprise value) to revenue multiple is 15. Therefore, Indian SaaS companies are poised to take the global SaaS landscape by storm, thanks to the PERFECT storm brewing in the ecosystem.
1. Product Leadership
Indian SaaS companies are investing in creating world-class products and are going beyond the 'me-too' use cases to explore net-new disruptive use cases of global relevance. There are nearly half a million skilled software product managers working on these globally competitive SaaS products – a talent pool that can be tapped into by SaaS entrepreneurs to take ownership of new product solutions end-to-end. This unabated pace of product innovation is further strengthened by the confluence of technologies being leveraged to create differentiated products.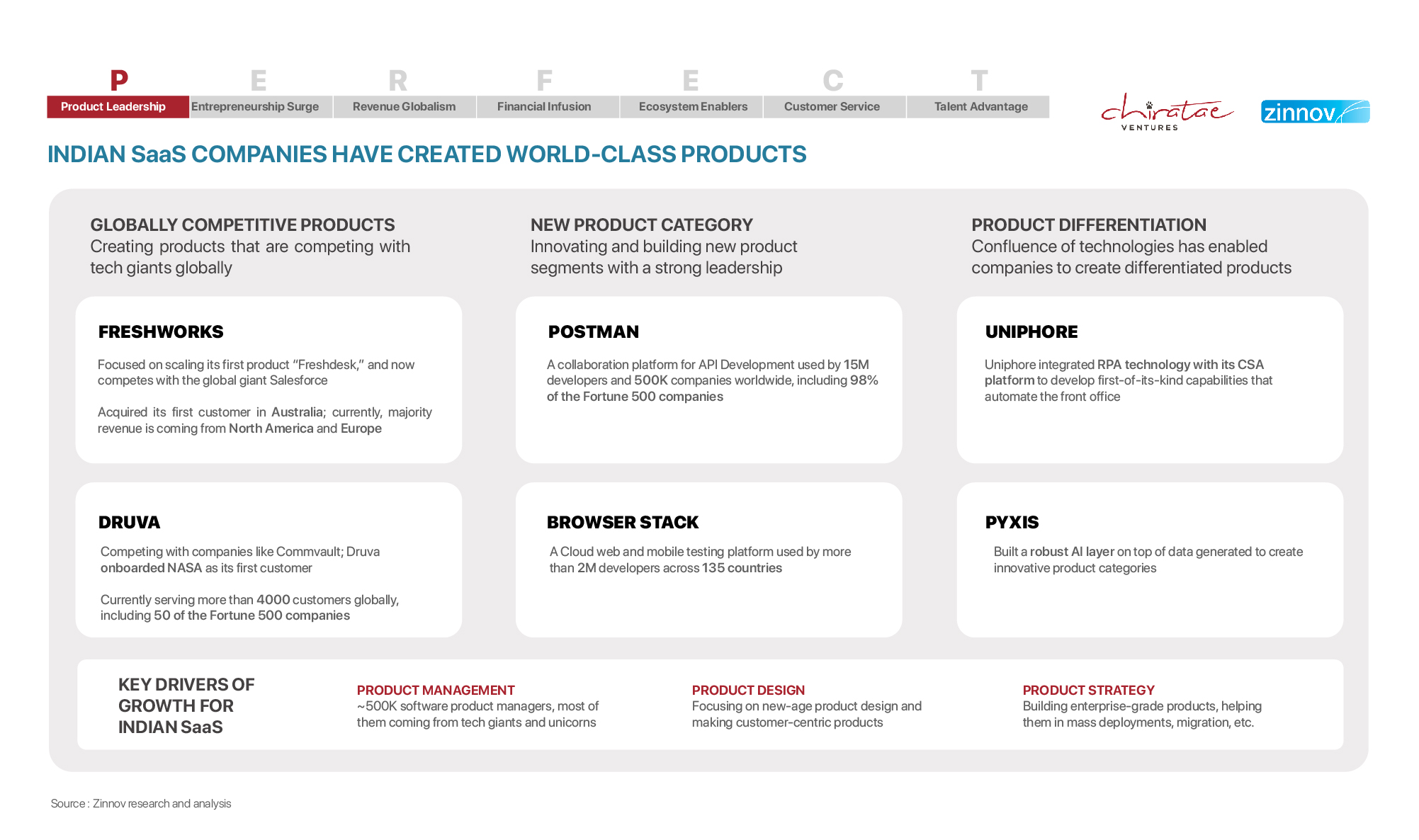 2. Entrepreneurship Surge
There is a 2X increase in the number of SaaS companies in India in the last 5 years alone, throwing light on the accelerated pace at which the Indian SaaS start-ups are emerging. A direct consequence of this is that leading entrepreneurs are fast-charging the ecosystem by cascading down their learnings to newer entrepreneurs, helping them learn from the past and their own journeys in entrepreneurship. These entrepreneurs are paying it forward to the ecosystem.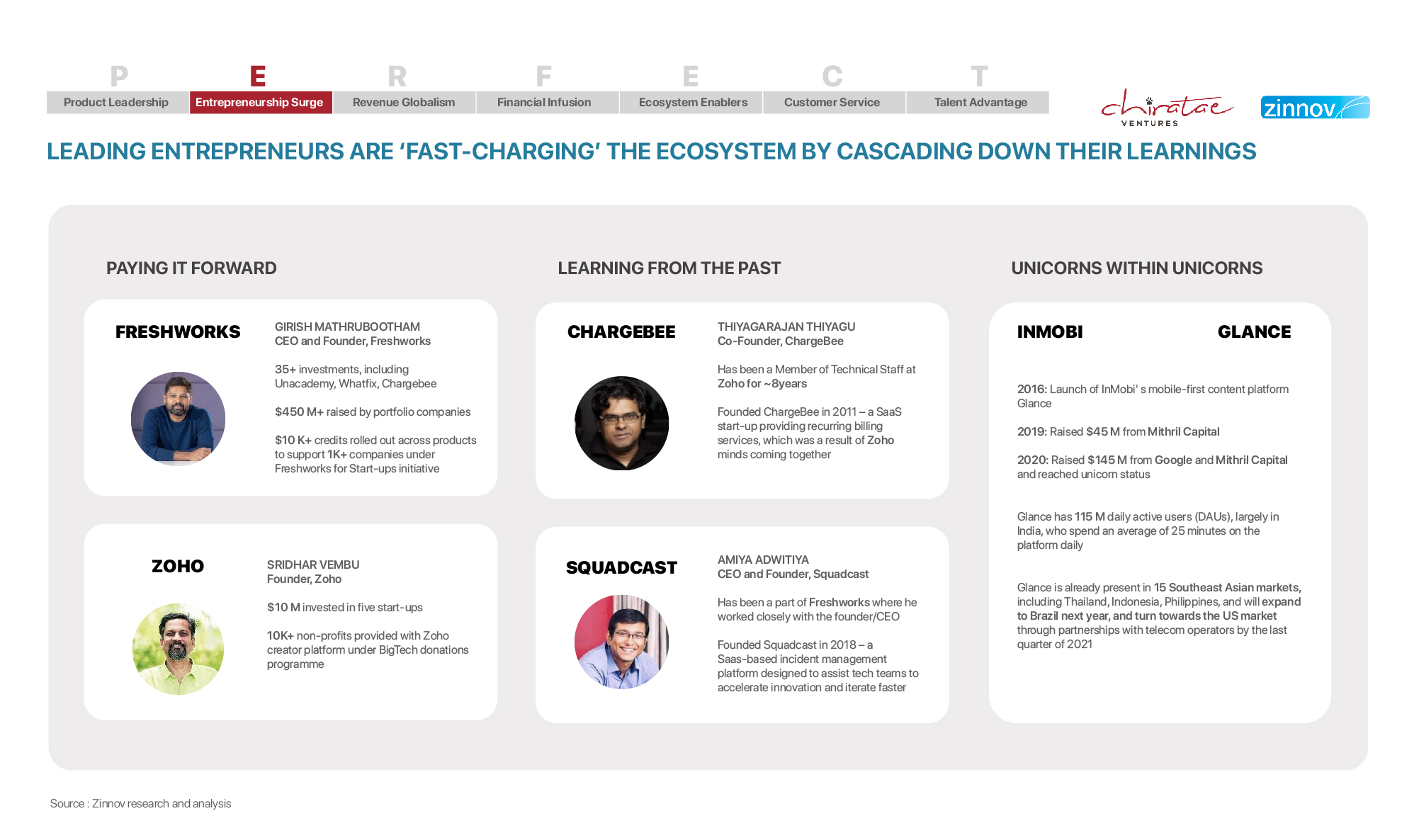 Read our India SaaS 2023 report
India SaaSonomics: Navigating Growth and Efficiency
Download here
3. Revenue Globalism
70% of the USD 5 Bn+ valued Indian SaaS companies' revenue comes from the global markets as of 2021. Most Indian SaaS companies are headquartered in the US, which is a testament to the HQ leaders' faith in the robust Indian technology ecosystem. In fact, the number of SaaS companies having offices outside India is estimated to increase by 85% in the next 5 years.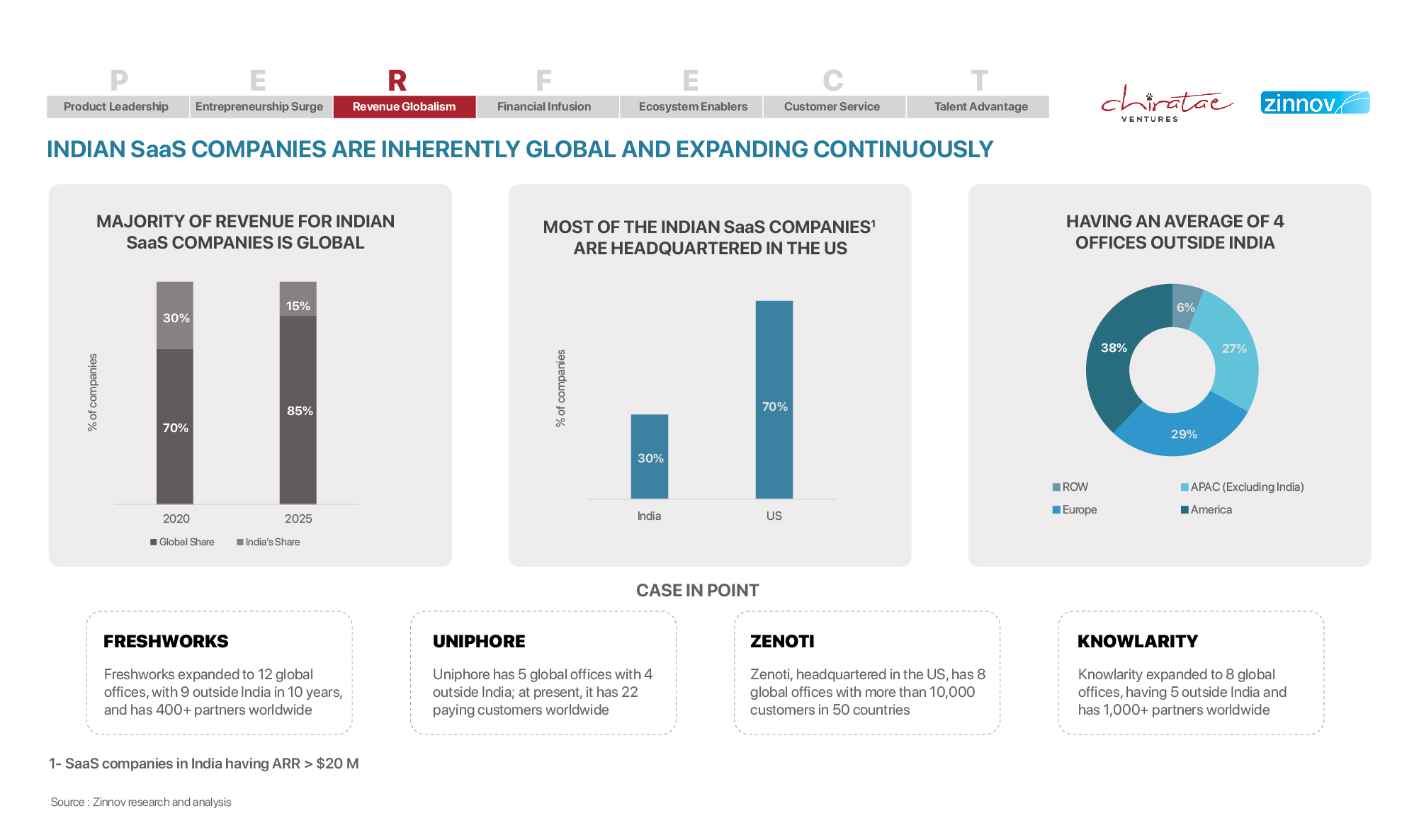 4. Financial Infusion
Venture Capital (VC) investments in Indian SaaS firms have grown 10X in the last 10 years. With USD 4 Bn+ having been pumped in the last 3 years alone, and close to 600+ global VCs investing in the Indian SaaS industry, the stage is set for many more SaaS unicorns to emerge over the next few years.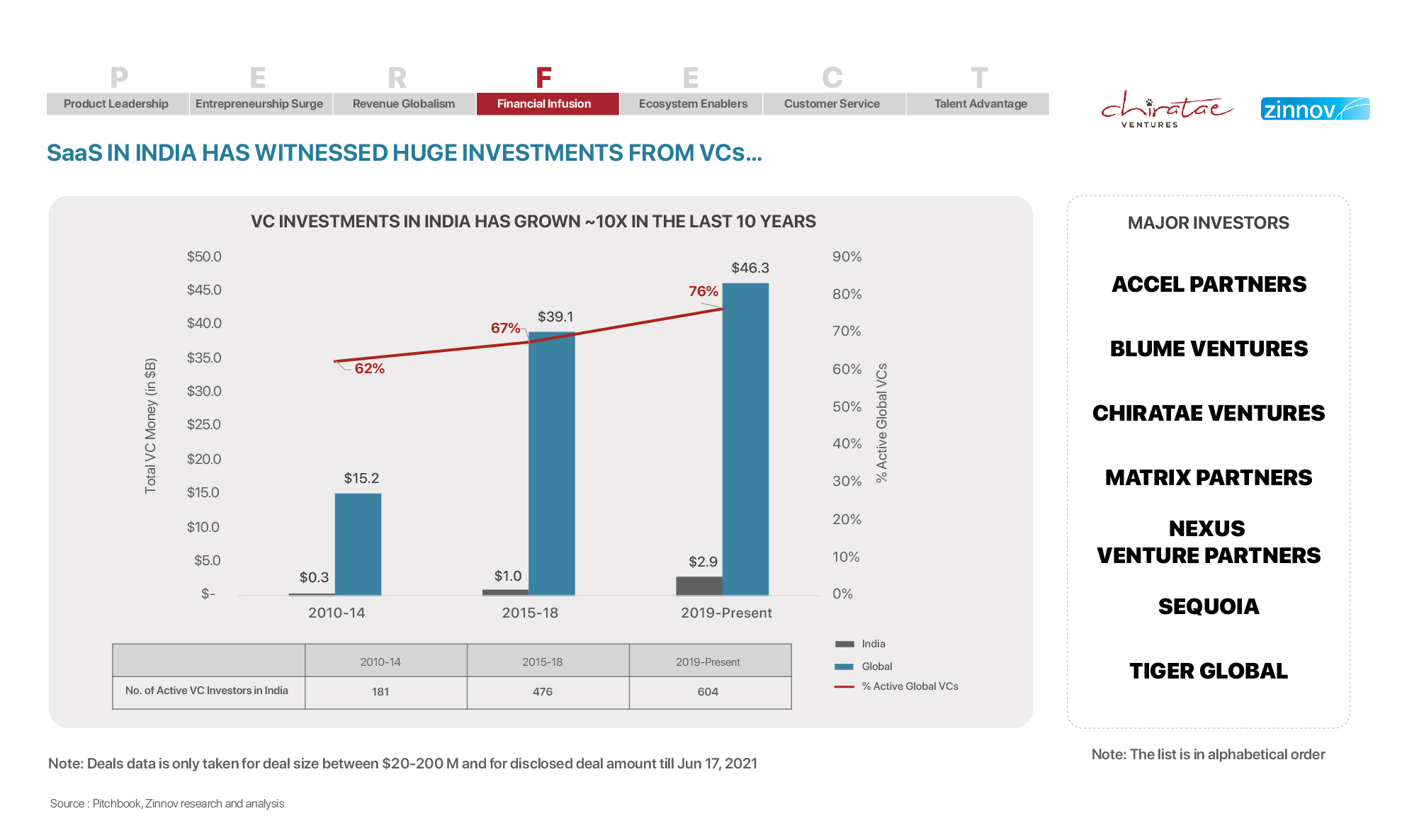 5. Ecosystem Enablers
The Indian technology ecosystem offers fertile ground for SaaS start-ups to build and grow. The 2000+ global technology centers, a USD 150 Bn worth technology services industry, testbeds of 75 Mn+ SMBs, 5000+ large enterprises, 400+ start-up incubators, numerous technology universities across the Indian sub-continent – offer the right ecosystem for Indian SaaS companies to not just grow, but leverage this ecosystem as testbeds of innovation.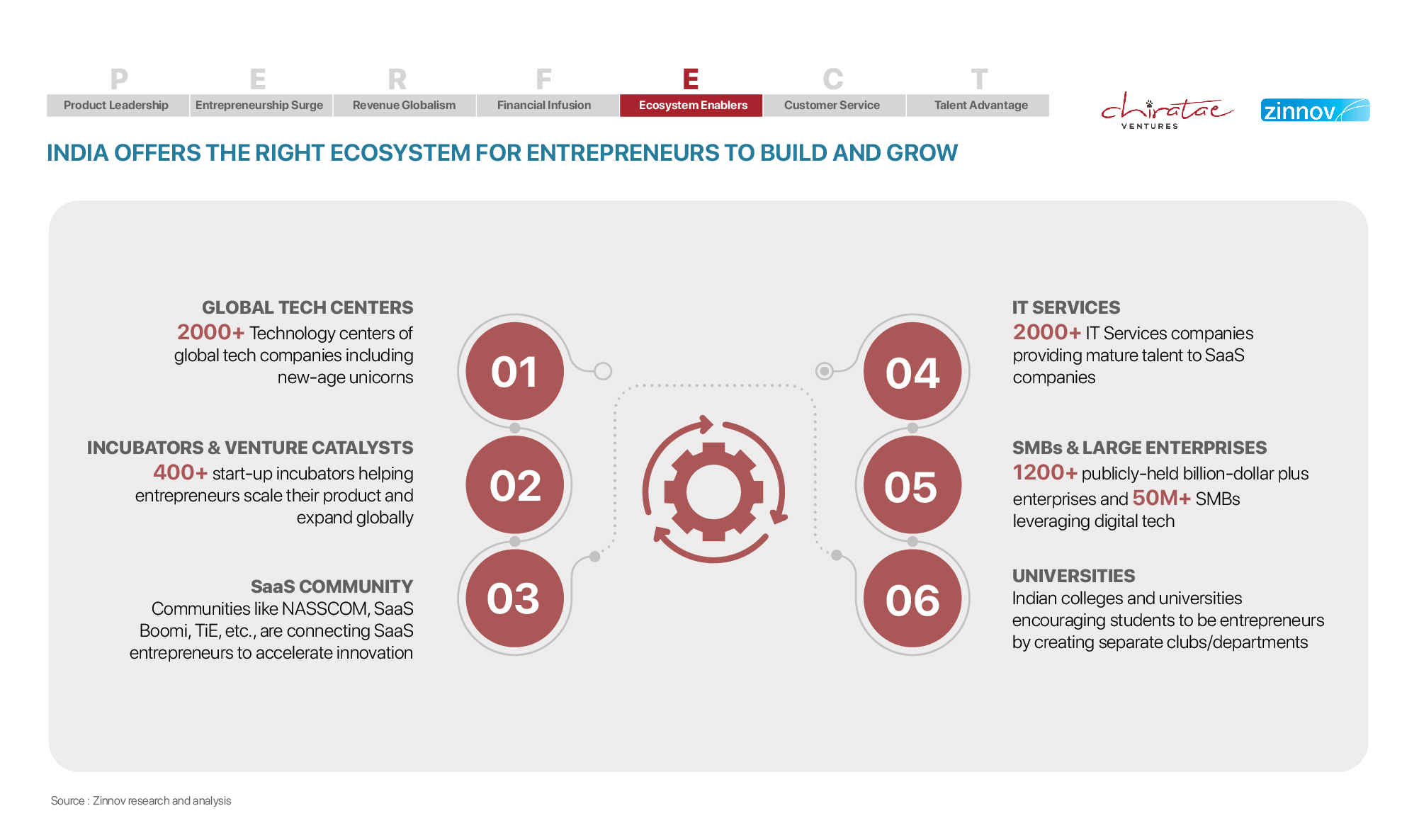 6. Customer Service
India's dedicated 500,000+ Business Process executives and over 120,000+ inside sales professionals provide round-the-clock customer support to both local and international customers and have a high focus on improving the net promoter score. 75% of global software companies already use this talent to their advantage to acquire and sustain customers for longer.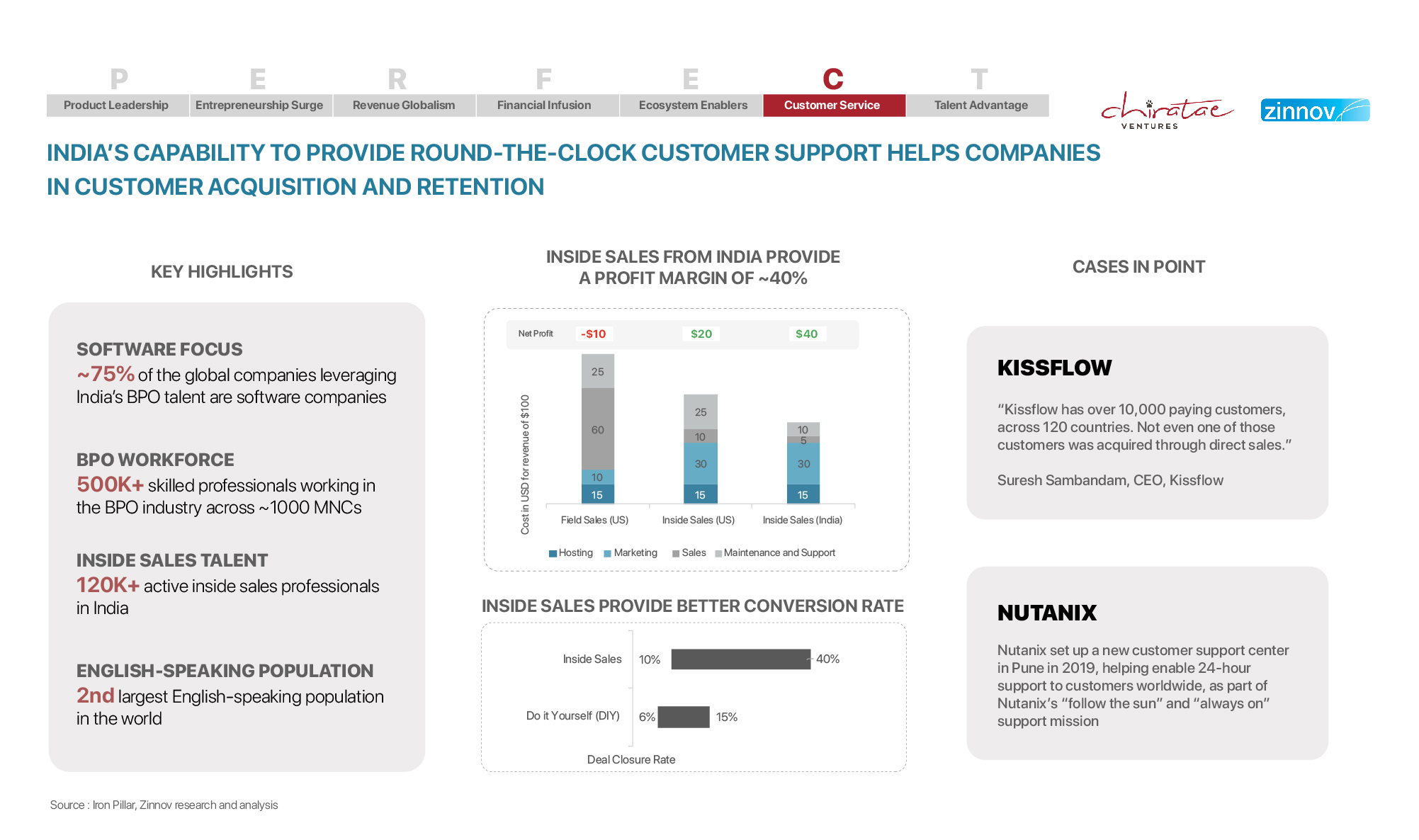 7. Talent Advantage
India's total installed digital IT talent base of over 800,000 professionals is likely to grow to over 1.5 Mn in the next 5 years. There is a huge focus around emerging technologies like Artificial Intelligence (AI), Machine Learning (ML), IOT (Internet of Things), Low Code/No Code, etc. This is poised to be fulfilled by this niche talent base which is set to almost double in number to service these focus areas. Additionally, there is a massive reservoir of STEM graduates available to be hired. SaaS companies can upskill this fresh talent and can accelerate maturity of their product solutions further, while also tapping into the attrite talent who seek better incentives and work portfolios. This will help address some of the unmet needs of technology talent in the SaaS industry.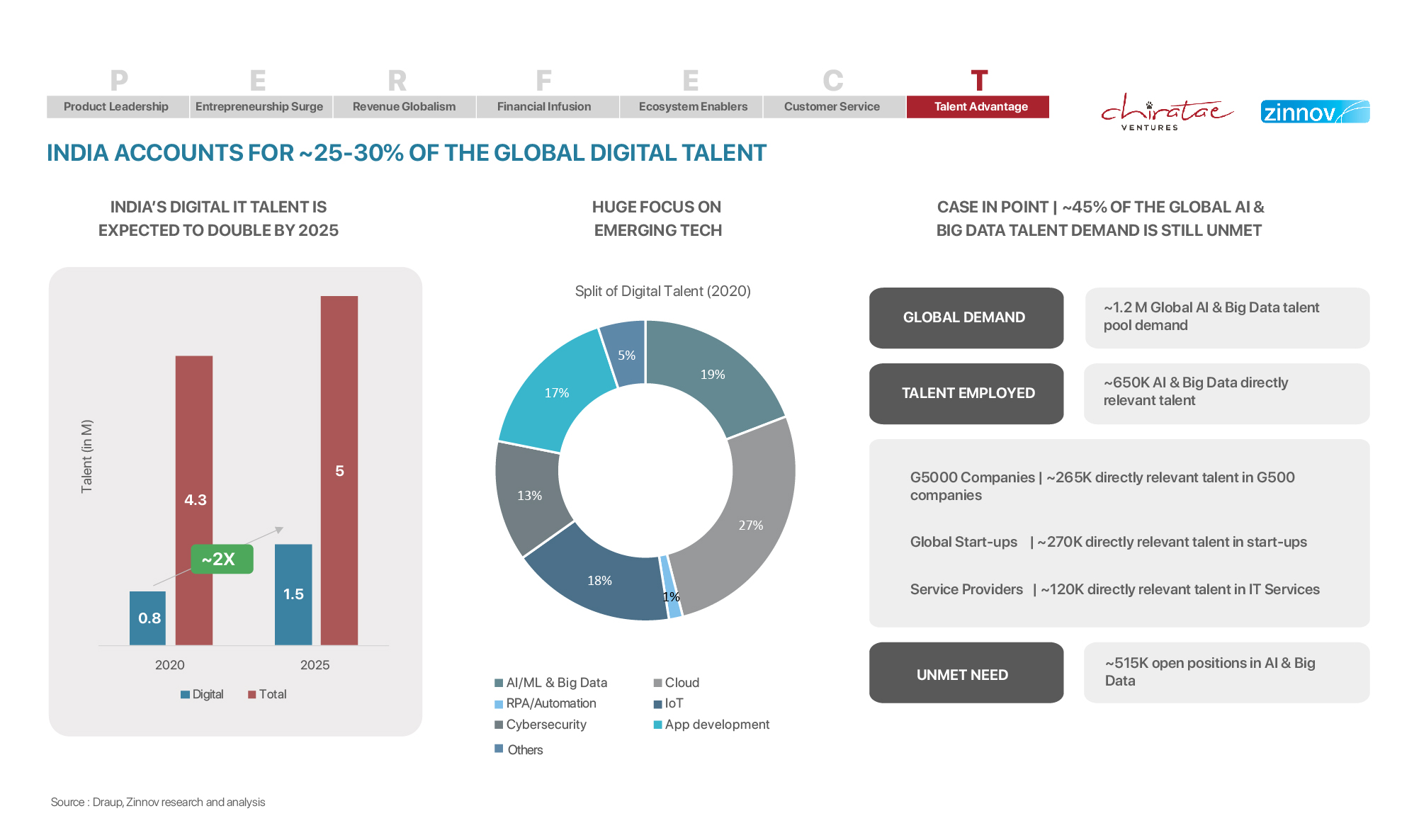 The Indian SaaS space is the epicenter of a major SaaS revolution, with multiple favorable factors like a digitally skilled talent base, mature ecosystem, capital, product innovation and more, giving rise to a global trillion-dollar opportunity. To get off to a flying start, Indian SaaS companies need to put together a few non-negotiable business rules and guiding principles from the get-go. They need to demonstrate an unrelenting focus on making marquee customers achieve successful outcomes. They should focus on being geo-agnostic and hire the right engineers, while enabling measurable metrics like engagement, efficiency, and cost, and track them through the growth journey. Further, investing more in sales engineering than business development and focusing on scaling all aspects of core products before venturing into new spaces and adjacent total addressable markets (TAMs) will hold them in good stead. Additionally, SaaS companies need to steer capital towards mergers & acquisitions (M&A) and acqui-hiring to gain access to the best capabilities as well as stock buyback. The need of the hour is for SaaS entrepreneurs to think long-term and allocate resources in the direction of sustainable value creation.
Want to know how your SaaS start-up can leverage the PERFECT storm? Get in touch with our consultants at
info@zinnov.com
to know more.