The Indian Software-as-a-Service (SaaS) industry has been experiencing an unprecedented surge, propelling the nation into the global spotlight. With over 1,150 active firms driving more than USD 8 Bn in revenue in 2021, the Indian SaaS ecosystem is well on its way to crossing the remarkable USD 100 Bn revenue milestone by 2026. This rapid growth trajectory is set to catapult India ahead of China, making it the second-largest SaaS nation globally. From profitability and localization to enterprise success and strategic partnerships, Indian SaaS firms are reshaping the global market with their innovative solutions.
The foundation for this exponential growth has already been laid with favorable start-up policies, global reckoning of Indian SaaS, abundant liquidity, a vast pool of digitally skilled workforce that is expected to touch 3M in the next few years, and opening up of multiple exit options for investors. Add to this the newly minted SaaS founders and investors who are paying it forward, the foundation for an India-led SaaS revolution is solid. Also, the fact that 90% of the existing SaaS start-ups entered the unicorn club in just the last 4 years, and the first quarter of 2022 alone produced as many unicorns as the whole of last year, speaks volumes about the potential that SaaS in India holds.
The Strong Foundation for a SaaS Revolution
With Indian SaaS firms being incepted in record numbers, where they have the fundamentals to take on their global counterparts is especially noteworthy. While lower pricing was the initial hook to compete globally, Indian SaaS companies are now capitalizing on the overall value delivered to the customer. Of the 1,150 SaaS firms that are now active, nearly 8-10 of them exceed USD 100 Mn in Annual Recurring Revenue (ARR), and the number of SaaS companies with ARR between USD 50 Mn and USD 100 Mn has doubled since 2020 to touch 12-14.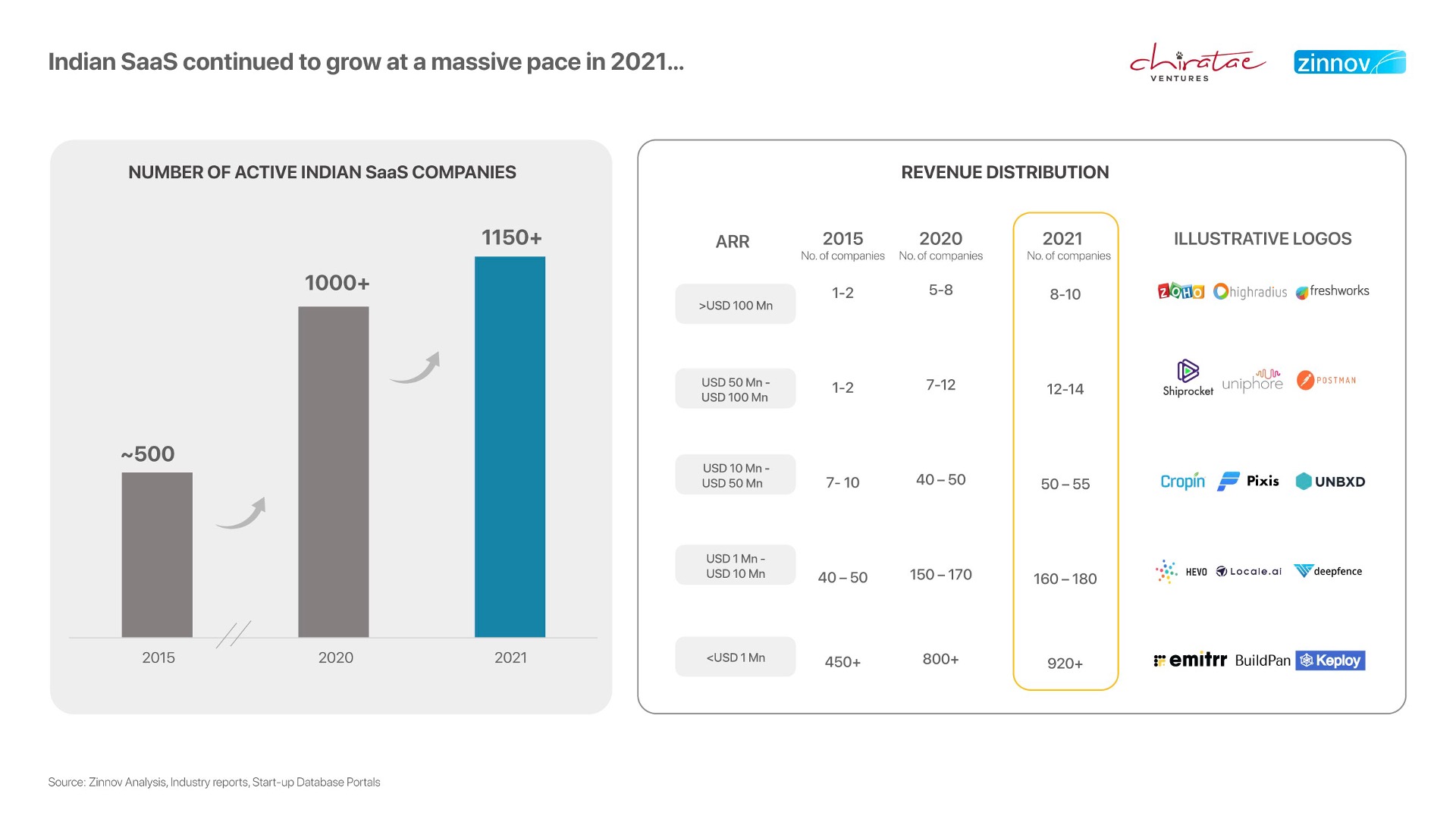 Indian SaaS companies are winning in both domestic and global markets by leveraging multiple approaches, including product and category leadership, competitive pricing, and superior service quality. However, Indian SaaS firms focusing on the domestic market are navigating through the regulatory challenges introduced recently, around data protection, restriction on recurring payments, etc. Another encouraging factor adding to the growth of the Indian SaaS ecosystem is the reduction in the number of years taken to become a SaaS unicorn since inception. As of 2021, this number stands at an average of 7 years since inception.
The Steady Inflow of Investments
The explosive growth in the SaaS space has been fueled by steady investments in Indian SaaS, which grew 3X to over USD 4 Bn in 2021, and is expected to top USD 6.5 Bn this year. Further, the massive 127% growth in the average deal size from USD 24.7 Mn in 2020 to a staggering USD 56 Mn in 2021, underscores Indian SaaS' rising attractiveness for investors as a hard-to-miss opportunity. Additionally, with ~40% of the VC deals in 2021 happening in the late-growth stage, it emphasizes the maturity of the Indian SaaS ecosystem.
The average deal sizes across stages witnessing a substantial rise, a definitive shift towards profitability, attractive margins, and an array of categories and sub-categories have been strategic in attracting billions of dollars in investments. To further nurture the early-stage SaaS start-up ecosystem, VCs have launched multiple initiatives from expanding to pre-seed investments, ensuring faster access to capital, to enabling founder-led investments in early-stage start-ups, and promoting entrepreneurship amongst women.
The Digital Talent Arbitrage Game
India's vast pool of ~3 Mn+ digitally skilled workforce will be the perfect munition for SaaS companies to scale by 2026. This vast talent pool is split across digital skills in AI/ML & Big Data (20%), Cloud (27%), IOT (18%), Cybersecurity (13%), and app development (16%). Interestingly, the next wave of digital talent will come from tier-II and tier-III cities. Factors such as remote hiring and working has vastly enhanced talent accessibility, with cities such as Vadodara, Jaipur, Coimbatore, Nagpur, etc., fast emerging as the next hotbeds of digital/IT talent.
This talent has allowed Indian SaaS companies to localize their innovation by establishing robust engineering, R&D, and product management teams in the markets they serve. This localization strategy, combined with a focus on delivering value to customers, has helped Indian SaaS firms to crack the enterprise market, with over 40% revenue contribution.
The Future of SaaS in India
The success of the Indian SaaS industry can be attributed to – SPARK – Supportive Policies, Proven Global Caliber, Abundant Liquidity, Rearing Domestic Talent, and Kindled Exit Options. Pro-startup policies, such as tax exemptions and simplified compliance, have been instrumental in attracting founders and investors alike. The global recognition of Indian SaaS unicorns continues to fuel the ambition of emerging start-ups, inspiring them to build in India, for the world. The abundant liquidity and diverse exit options further enhance the industry's appeal.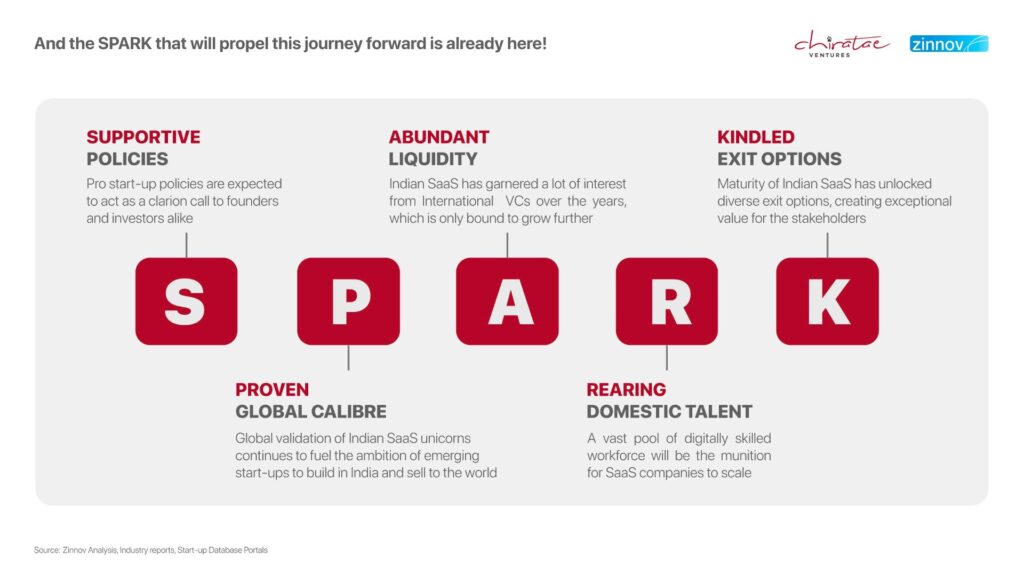 Several key technology themes are expected to shape the Indian SaaS landscape in 2022 and beyond. Cloud-Native solutions, Intelligent Automation, Cloud Security, Web3, and Verticalized SaaS solutions will be the areas to watch closely for innovation and market disruptions. These themes have the potential to drive the next phase of growth and unlock new opportunities for Indian SaaS companies.
As the Indian SaaS industry basks in its "coming-of-age" moment, it is important to acknowledge the challenges that lie ahead. Deservedly, 2021 was a watershed year for Indian SaaS – including exponential valuations, successful IPO debuts, a huge influx of VC investments, and an unprecedented number of unicorns. In fact, Indian SaaS firms have been at the forefront of creating new for India and new for the world products, led by visionary founders and a critical mass of engineering and product teams serving this purpose. All this has put Indian SaaS on the global stage, and on the path of crossing the milestone of USD 100 Bn in revenue by 2026. In fact, India is fast emerging as a clear leader in SaaS, and will supersede China to become the second-largest SaaS nation in the next few years.
VIEW Report
Read our 2023 India SaaS report
India SaaSonomics: Navigating Growth and Efficiency
Download the report