If you are reading this article on your laptop, there's a high probability that your system is being protected by Avast – an anti-malware application. Avast was founded in Czech Republic, which went on to become a global cybersecurity giant and is used globally by more than 435 million users. Did you know? Czech Republic is amongst the top 10 best-protected countries against cyber-attacks in the world.
Czech Republic, despite being a small country, has cast a huge shadow on the world with its technical prowess in the field of cybersecurity. This meteoric growth of cybersecurity technology in the country is only one of the shining examples of what makes Czech Republic an innovation, software talent, and technology hub.
Eastern Europe and Czech Republic
Zinnov analysis highlights that four Eastern European countries have become massive software talent hotspots, namely Poland, Romania, Czech Republic, and Hungary. These four Eastern European destinations are on every companies' radar today because of the availability of STEM talent in abundance, and of course, cost arbitrage. Companies based out of the US and Western European countries are also more driven towards Eastern European countries due to convenient time zones and ease of communication.
Czech & Cybersecurity

Czech Republic was the first country in the European Union to draft a legal framework that protected Critical Information Infrastructure (CII).

It was also the first country to prepare and sign the Memorandum of Understanding on Cyber Defence in NATO.

Czech Republic also boasts of winning the prestigious international live-fire cyber defence exercise, 'Locked Shields 2017.'*
What makes Czech Republic stand out
Apart from its cybersecurity excellence, Czech Republic boasts of a thriving automotive industry. In fact, it has a 122-year-long history with the automotive industry. It is one of the country's largest industries, employing more than 150,000 professionals. 55 of the global top 100 tier-1 auto suppliers have at least one production facility in Czech Republic**. The country is steadily becoming an ideal location to set up automotive centers of excellence and R&D centers.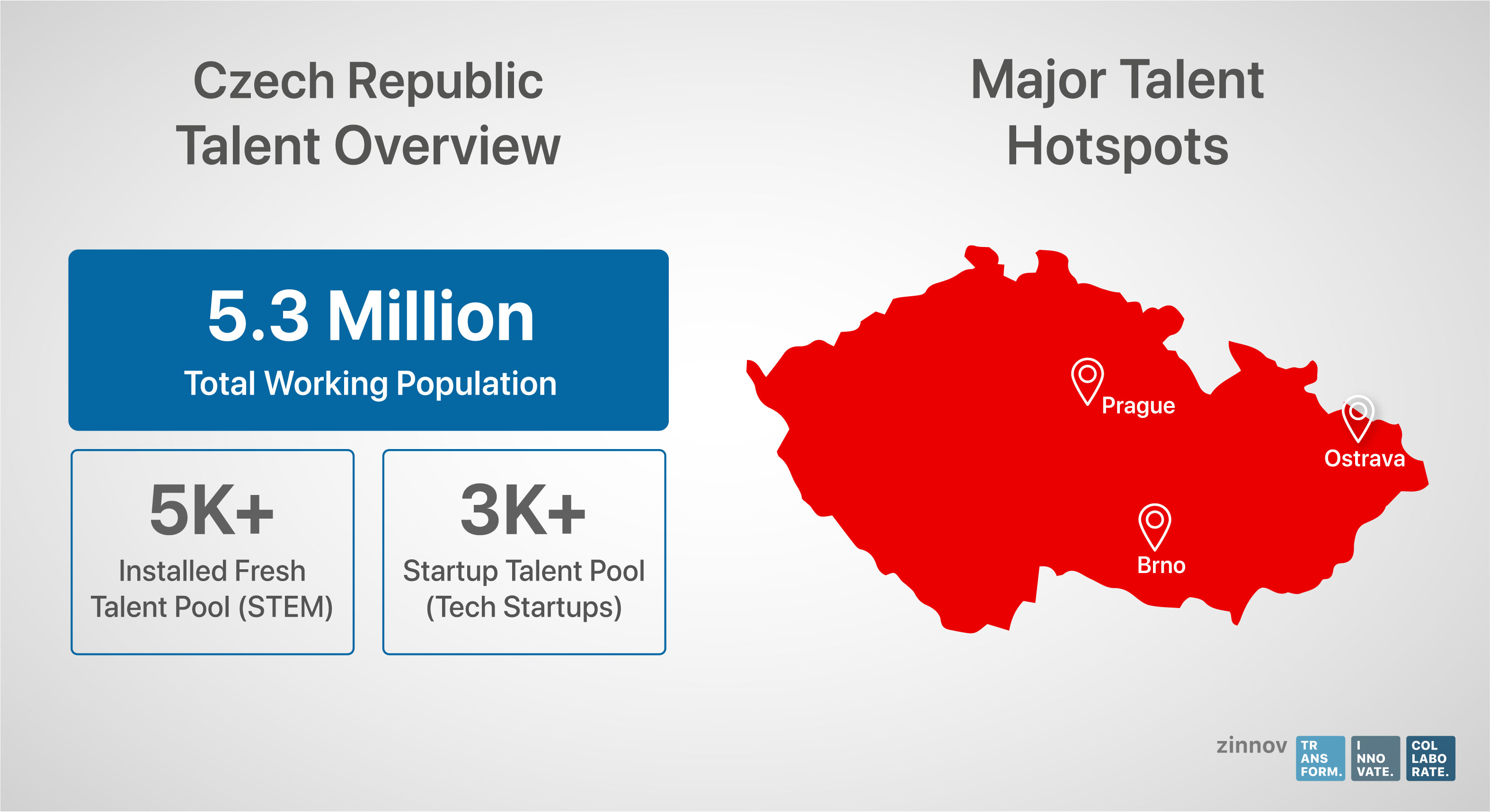 Likewise, the Banking and Financial Services vertical has created ~17% of the total jobs in Czech Republic, while Software & IT vertical has created about 8.5% of the total jobs. Opportunities in the Software-as-a-Service, Cybersecurity, and Networking verticals are also set to witness high growth in the coming years as a function of digital profusion. R&D centers in the Electrical/Electronics vertical are continuously increasing their headcount due to the accelerated adoption of digitalization. Besides Prague, more companies are focusing on Czech's other cities such as Ostrava, Olomouc, and Brno.
Factors driving the Czech tech ahead
Known as the heart of Europe, Czech Republic, with its rich software talent pool of English-speaking tech professionals, is complemented by Prague's proximity to the rich market areas of Berlin, Warsaw, Vienna, and Krakow, making it a favored location for global center setup. In addition, the following factors contribute to Czech Republic becoming a hotspot for setting up an offshore center or a Global Capability Center –
a) Ease of Doing Business
According to the latest World Bank Ease of Doing Business rankings, Czech Republic is ranked 35 among 190 economies. The tax benefits are also lucrative for companies looking to set up their R&D centers in Czech Republic.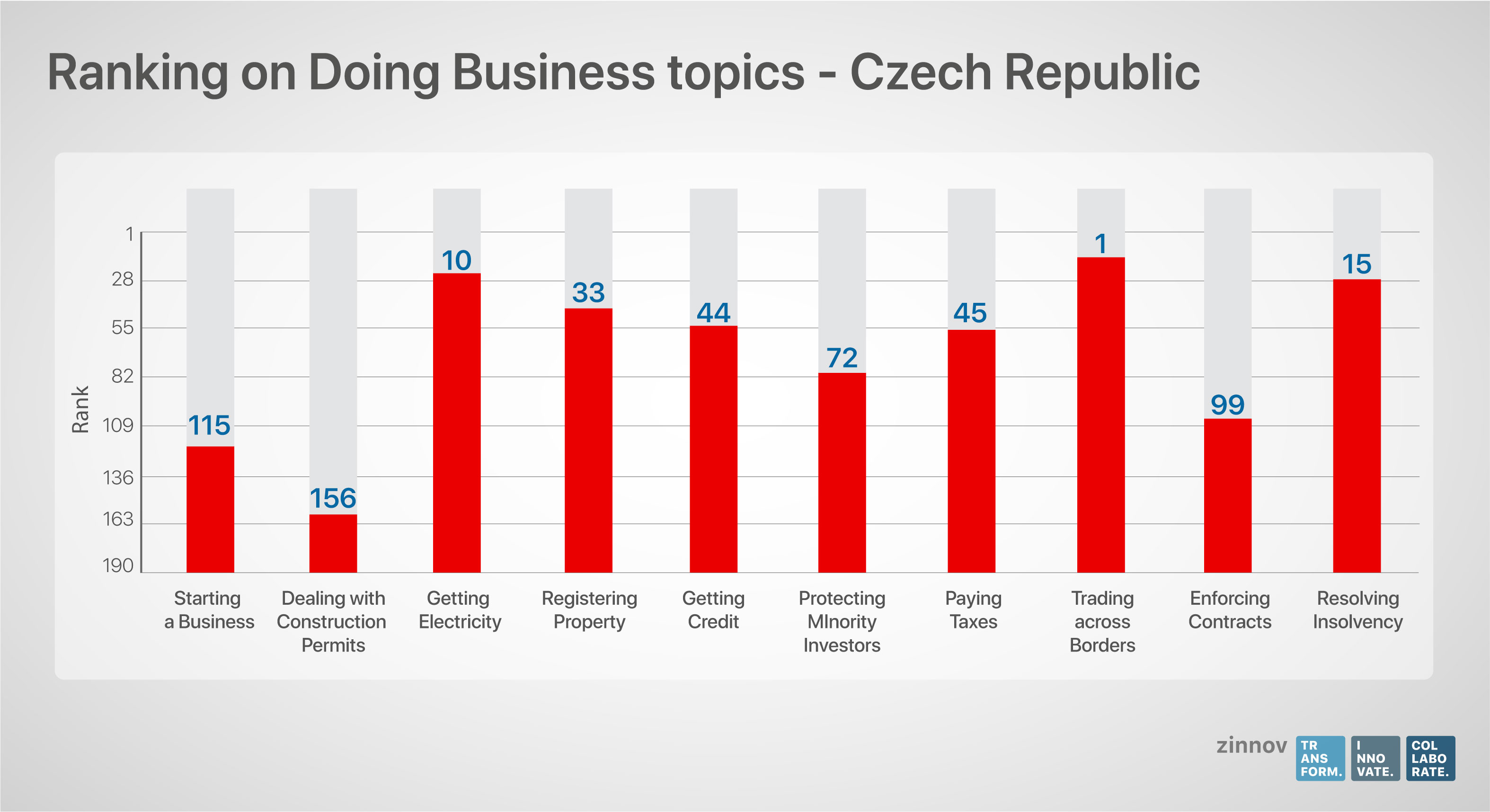 The Corporate tax rate in Czech Republic stands at a moderate 19%. Czech Republic provides a special tax allowance of up to 100% of specific R&D expenses (or costs). These R&D costs are claimed twice – first as a normal tax-deductible cost and second as a special tax allowance. Furthermore, companies can claim an additional deduction of 10% as an allowance from the difference by which the current year qualifying costs exceed those of the prior period. Investment incentives are available to both Czech and foreign investors in areas like technology centers, business support services centers, shared services centers, software development centers, call centers, and data centers.
Investments incentives are provided in the following forms:
Income tax relief for a newly created entity for up to 10 years;
Cash subsidy for the creation of new jobs, training, and retraining employees;
Financial support in the case of strategic investments in manufacturing or in technology centers.***
b) Universities
Education in Czech Republic, like the other Eastern European countries, is focused on Science, Technology, Engineering, and Mathematics (STEM). The Czech Republic boasts of having more than 80 universities, with Charles University, Czech Technical University, and the Brno University of Technology being its top three universities. The enrolment rate in higher education in Czech stands at ~64%, with Science and Engineering & Technology being the two most favored courses. The total number of graduates across all courses in Czech Republic sums up to more 400K. However, the universities in Czech Republic have limited supply of software talent, cumulatively providing ~6,000 software graduates per year.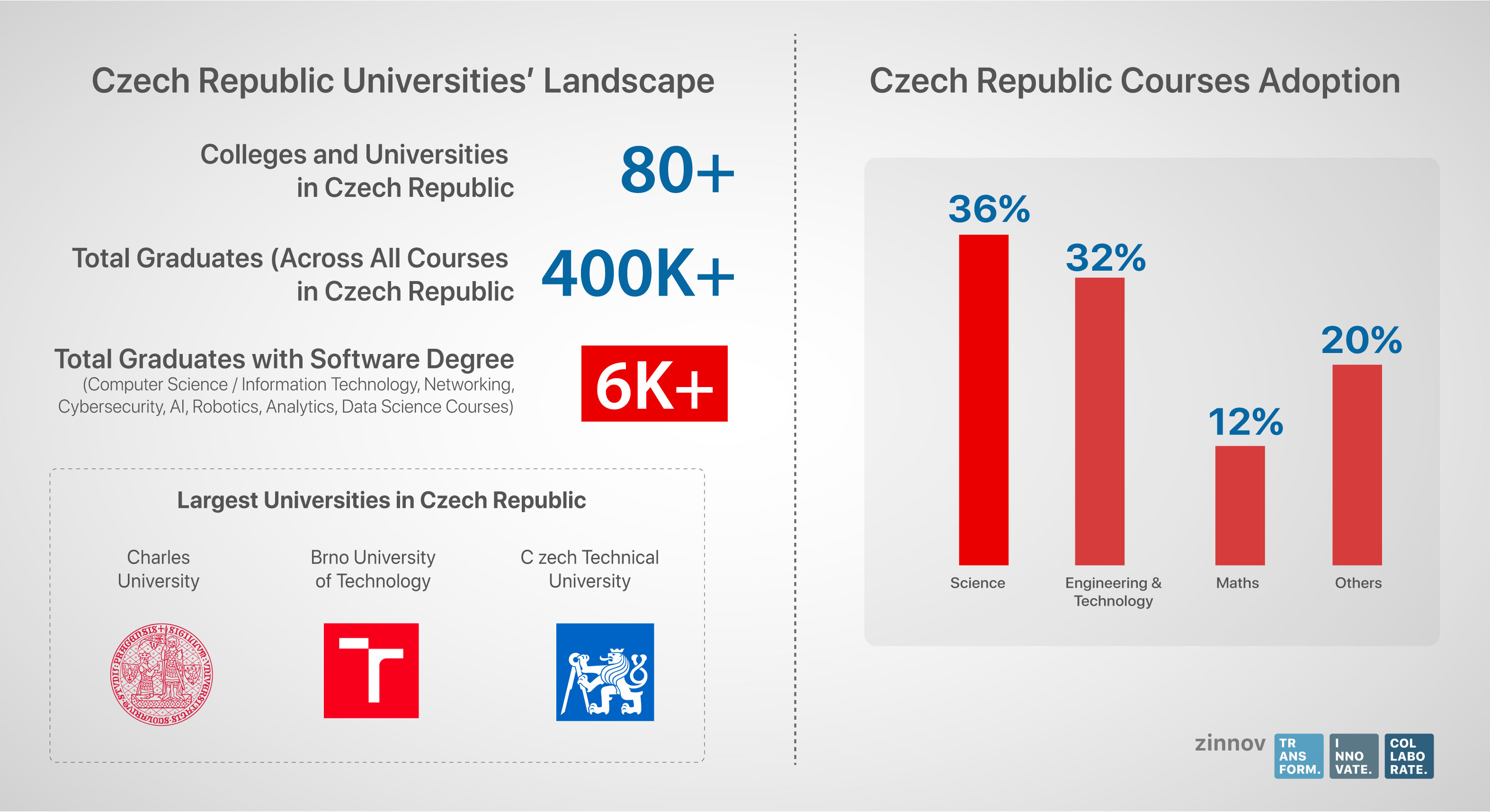 c) Start-up ecosystem and Innovation
One of the major reasons why Czech Republic is evolving into a head-turning technology hub is its progressive attitude towards foreign investments and openness to innovation. This has helped Czech house a start-up ecosystem with close to 900 technology start-ups. The top technology start-ups in the country have a high focus on building Cyber Security solutions, Developer Platform, ML, AI, and Big Data platforms. Apiary.io, GoodData, Kiwi.com, ROI Hunter, Gamee, SocialBakers, and many such well-known start-ups have their roots in Czech Republic.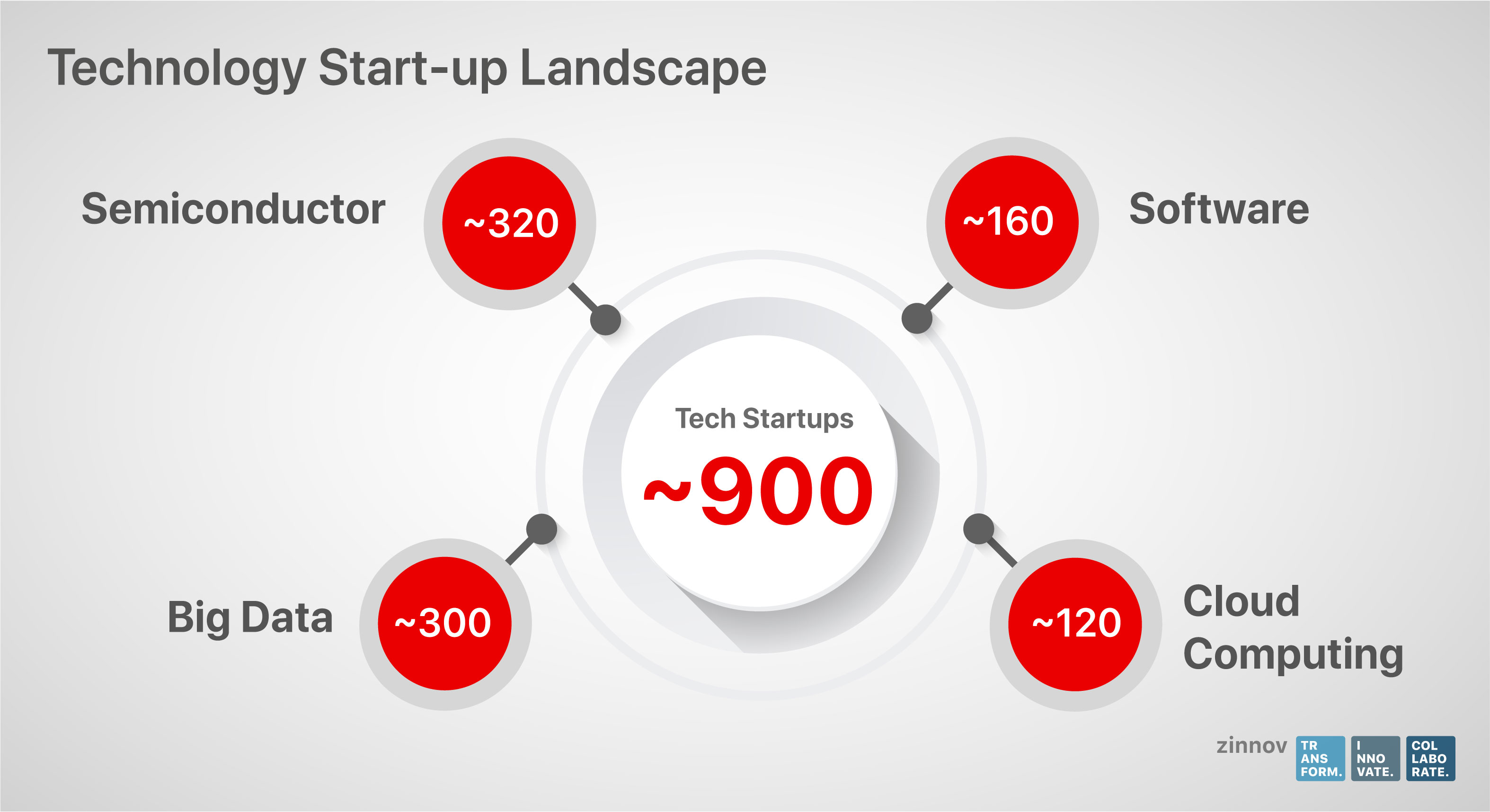 Accelerators such as StartupYard have also helped Czech Republic attract foreign software talent and bolster its international image in the technology space. The DELTA Programme, a major initiative by Czech Government, has been driving technological innovations and collaboration with foreign technological and innovation agencies. A large number of technology giants are also engaged in these initiatives with an aim to tap into Czech's thriving start-up ecosystem.
Installed talent pool analysis
Between 1996 and 2017, Czech Republic saw a significant economic growth with their Gross Domestic Product (GDP) per capita growing by 62%. This growth was a function of heightened exports, foreign investments, and EU funds. Czech Republic has a total working population of 5.3 million people, with more 5000 installed fresh STEM talent pool and 3000+ start-up talent pool. There's a total of 45K+ installed engineering and technology talent pool that is split across 5 job roles as shown in the visual below.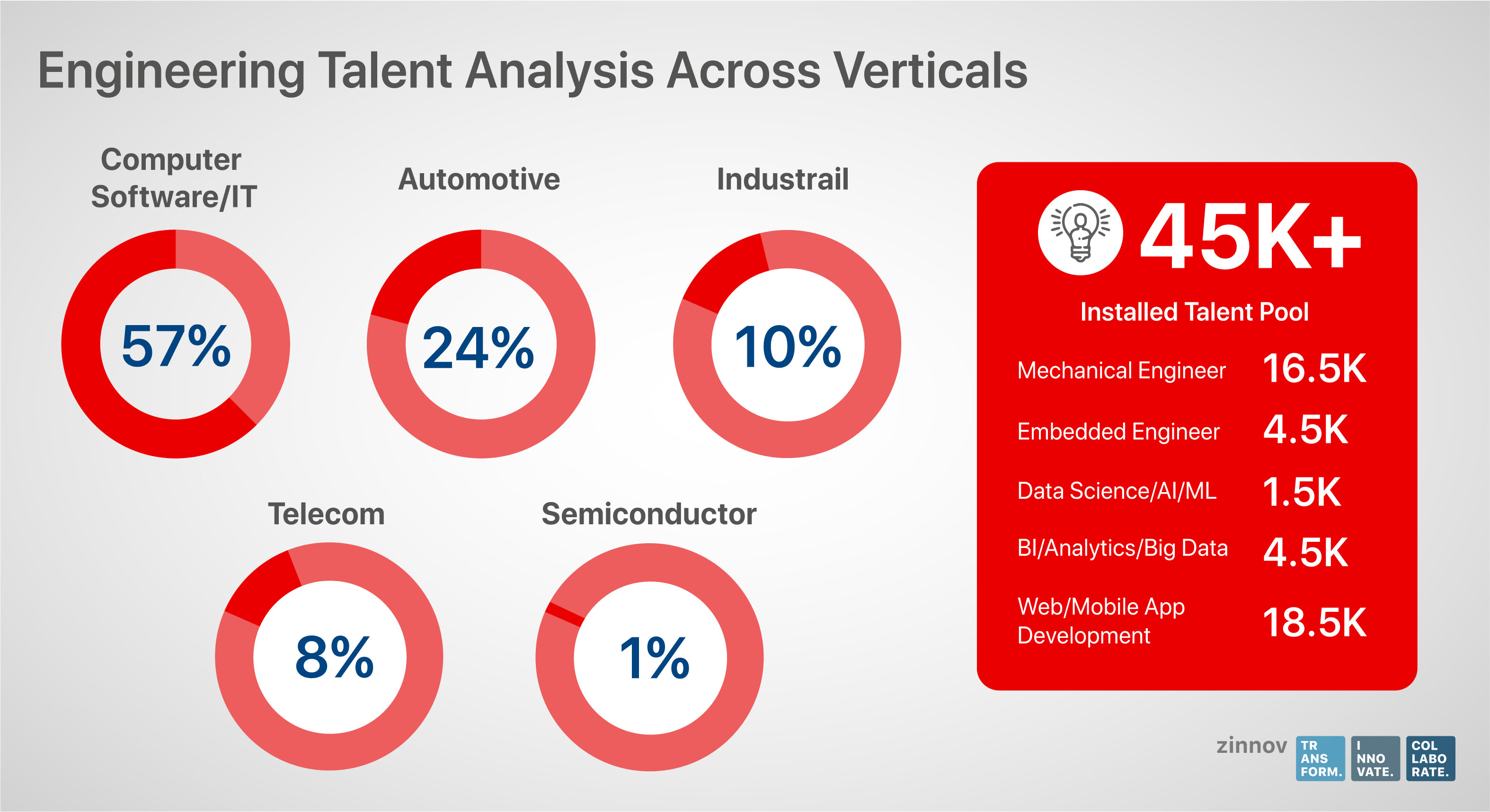 Also, given below is a vertical-wise split of engineering talent in Czech Republic, which indicates that Czech Republic has the maximum talent in Computer Software/IT and Automotive verticals, making it an ideal location for technology and automotive companies to set up their global centers.
Czech Mate to Disruption
The dense software talent pool of Czech Republic stands testament to the fact that there's more to Czech than breathtaking baroque, Gothic architecture, Castles, and Chateaux. As the technology talent hunt becomes more intense across the globe, companies are desperate to find the right talent that can help them tap into the new-age technologies and keep their edge in the ongoing digital talent war.
Czech Republic is one of the most fertile technological ecosystems in the Eastern European region. However, the government still has to make additional regulatory changes and ease business regulations to attract more foreign investors and multinationals to the country. Underneath Czech's traditional beauty and landscape lies a thriving start-up ecosystem and a technological potential that could leave a lasting impact on the world.
Want to 'Czech' out Czech Republic's technology ecosystem and tap into its Software talent pool? Write to us at
info@zinnov.com
to figure out how.
National Cyber Security Index 2018, e-Governance Academy
Czech Invest
International Tax Specialist Group, Corporate Tax Guide