"Land of the Magyars" or Hungary as the rest of the world knows it, is a Central European land-locked country. Nestled in the Carpathian Basin, Hungary is unique not only for speaking a Uralic language that is not related to any other major European language but also for its skilled IT and R&D talent pool. A combination of factors such as geographical accessibility, the world's third-fastest 4G network speed, an innovation-oriented mindset, a strong focus on higher education through dedicated public universities, and a vibrant technology start-up ecosystem has made Hungary an attractive location in Eastern Europe for setting up global delivery centers.
Hungary's unique attributes have already drawn several large organizations to build their presence in the country. The Land of Magyars is already home to many organizations across varied verticals like engineering, technology, FMCG, manufacturing, medical devices, healthcare, and automotive, to name a few.
Hungary Rising
With a population of ~10Mn, of which nearly 4.5Mn is working, Hungary is the fifth most populous country in Central and Eastern Europe. Budapest, with its 1.8Mn inhabitants, is not just the capital city, but also the hotspot where the majority of R&D centers are concentrated in. Debrecen, Szeged, and Miskolc are the other cities that are slowly emerging as technology talent hubs in Hungary besides Budapest. In fact, Debrecen is emerging as a key destination for mechanical and software talent. Low operational and functional costs in the city is attracting MNCs to set up their businesses in Debrecen.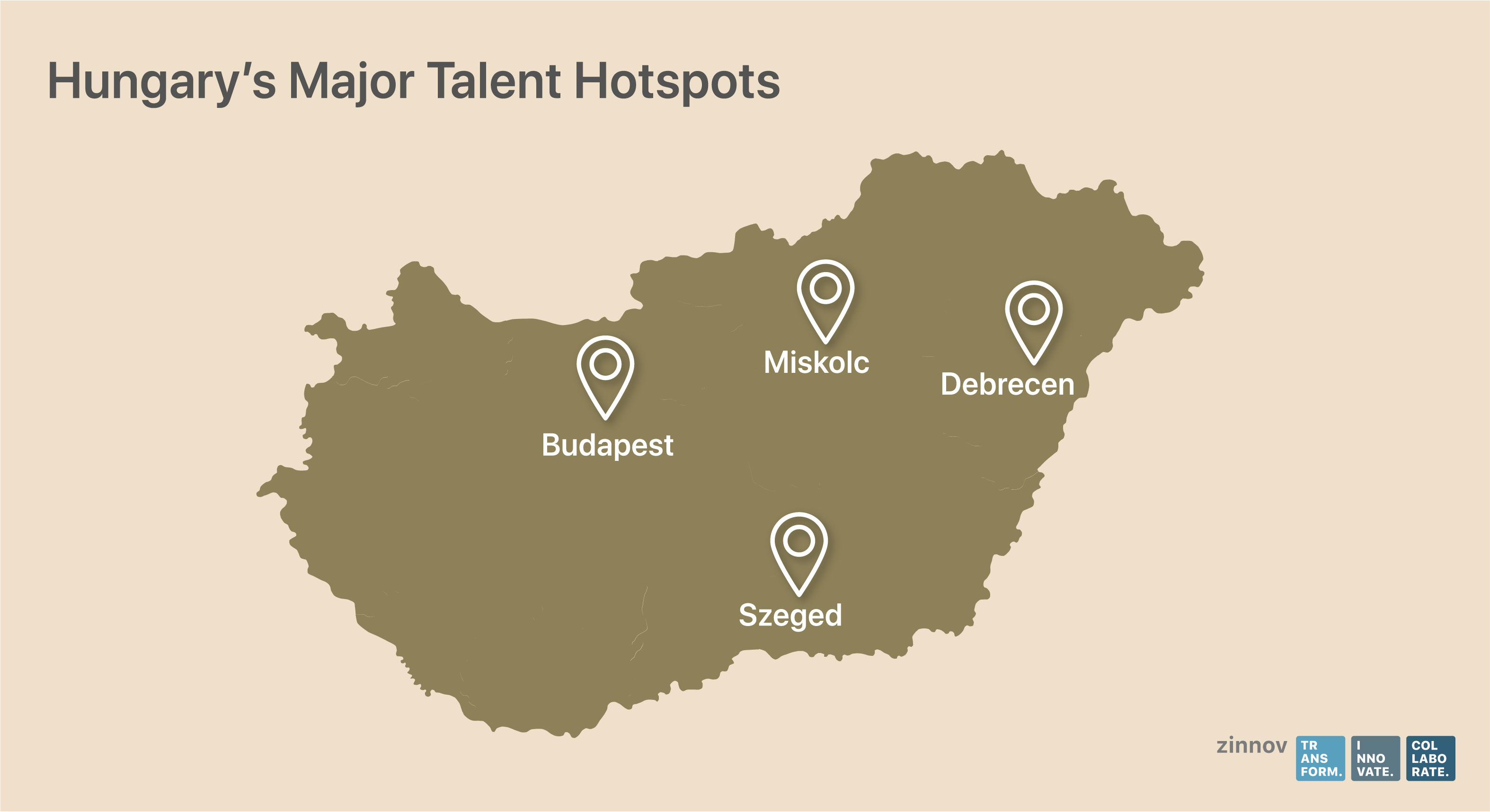 Hungary has a diverse technology ecosystem with software development being one of the most dynamic sectors. The sector contributes as much as 6% to the country's economy. The Information Technology vertical on the other hand is contributing ~15% y-o-y. Besides these, Hungary's technology ecosystem is a hotbed of technology talent, thanks to the various ecosystem players such as universities, technology start-ups, and the existing R&D, delivery centers, and shares services centers across functions like finance, accounting, HR, customer services, and IT tech support.
6 Factors propelling Hungary to the top of the Globalization chart
1. Geography
Budapest is strategically located in central Hungary, at the crossroads of three main pan-European transportation corridors. Hungary has 6 international airports, of which 2 are in Budapest. From most places in Europe, Budapest is a mere two-hour flight ride away. Additionally, Hungary boasts of more than 1400 kilometers of motorways according to the State Motorway Management Plc. The Hungarian motorway network is comprised of 13 motorways, 13 expressways, and some fast roads. Thus, Hungary's strategic location makes it an attractive location for organizations to consider it to set up their global centers in.
2. Communication Network
Hungary has the highest rate of broadband penetration among the V4 countries. V4 is a political and cultural alliance between 4 Eastern European nations – the Czech Republic, Poland, Slovakia, and Hungary. Further, thanks to the presence of five of the major global network and telecommunications companies located in Hungary, the country has the third-fastest 4G network speed in the world. This not only helps in faster communication, but also helps large organizations and tech start-ups working on cutting-edge technology products and services.
3. Innovation Mindset
Hungary has notably improved its position in the overall ranking in the Global Innovation Index, jumping up six positions since 2017 to reach 33 in 2018. Also, Hungary improved its ranking in the Tholons Services Globalization Country Index that ranks the top 50 Digital Nations, jumping up to 22 in 2019. Hungary has made considerable efforts in areas such as talent, skill and quality, cost and infrastructure, innovation/digital, business catalyst, etc., to leap 7 places in one year.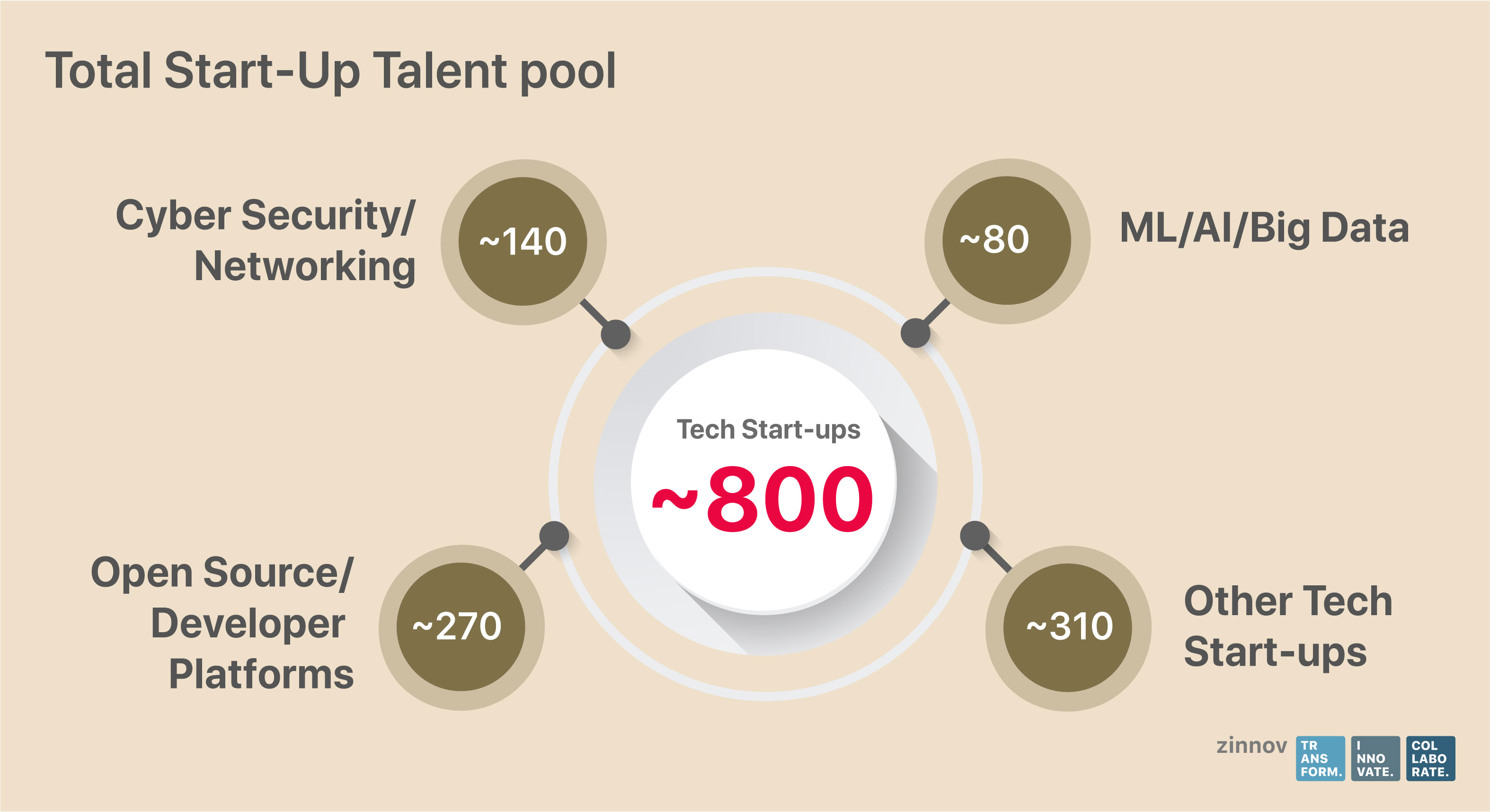 Hungary's vibrant technology start-up ecosystem is a testament to the innovation mindset of its people. The top technology start-ups of Hungary have a high focus on building cybersecurity solutions, developer platforms, AI/ML and Big Data platforms. Hungary is home to ~300 technology start-ups, some of which have raised significant amounts of funding. Almotive is a case in point. Almotive is a provider of camera-first, AI-powered, Level 5 self-driving technology that is engineered to answer all the challenges of autonomous mobility. Till date, the start-up has raised USD 47.5Mn in funding and employs 100+ technology talent. Technology organizations need to have Hungary on their radar when exploring Eastern Europe for possible R&D center setup.
4. Universities
Hungary houses more than 40 colleges and universities, with 6 of these making it to the respected QS World University Rankings 2019. Across all courses offered in these institutions, there are over 300,000 graduates, of which 3,000+ are enrolled in software and technology-related courses.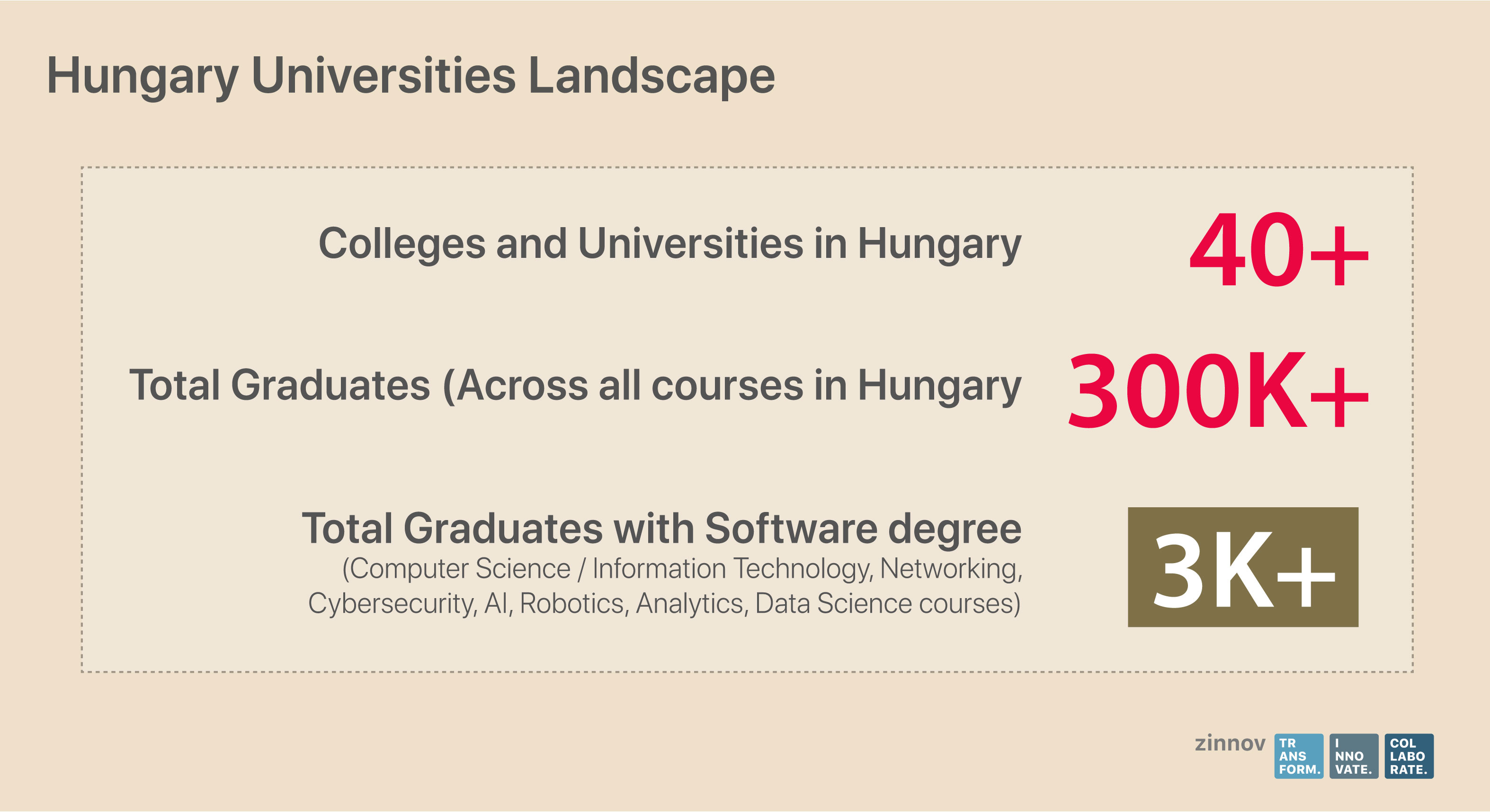 The three largest universities in the country are the University of Szeged, Eötvös Loránd University, and the University of Debrecen, offer technological courses. The University of Debrecen is one of the oldest continuously operating institutions of higher education focused on Engineering and Technology-related programs. The 40+ universities offer numerous undergraduate, postgraduate, and doctoral programs in engineering and technology-related subjects, helping boost the technology talent pool year on year.
5. R&D Tax Rate
The Hungarian government offers an R&D tax relief through a tax allowance for R&D centers, allowing them a full exemption from social security contributions. The corporate tax rate in Hungary stands at 9%, a record-low since it peaked to 50% in 1989. Further, Hungary ranks fifth among OECD and other major economies, in terms of the total volume of government support for business R&D, equivalent to 0.31% of GDP. In fact, tax incentives account for nearly 50% of the total public support for business R&D in Hungary.
6. Installed Engineering and Technology Talent Pool
We analyzed the Hungarian installed talent pool by leveraging DRAUP's proprietary Talent Module. Of the total 4.5Mn working population, 4K+ is installed fresh STEM talent pool and an additional 2.5K+ is start-up talent pool. Further, there is a total of 26,000 installed engineering and technology talent pool.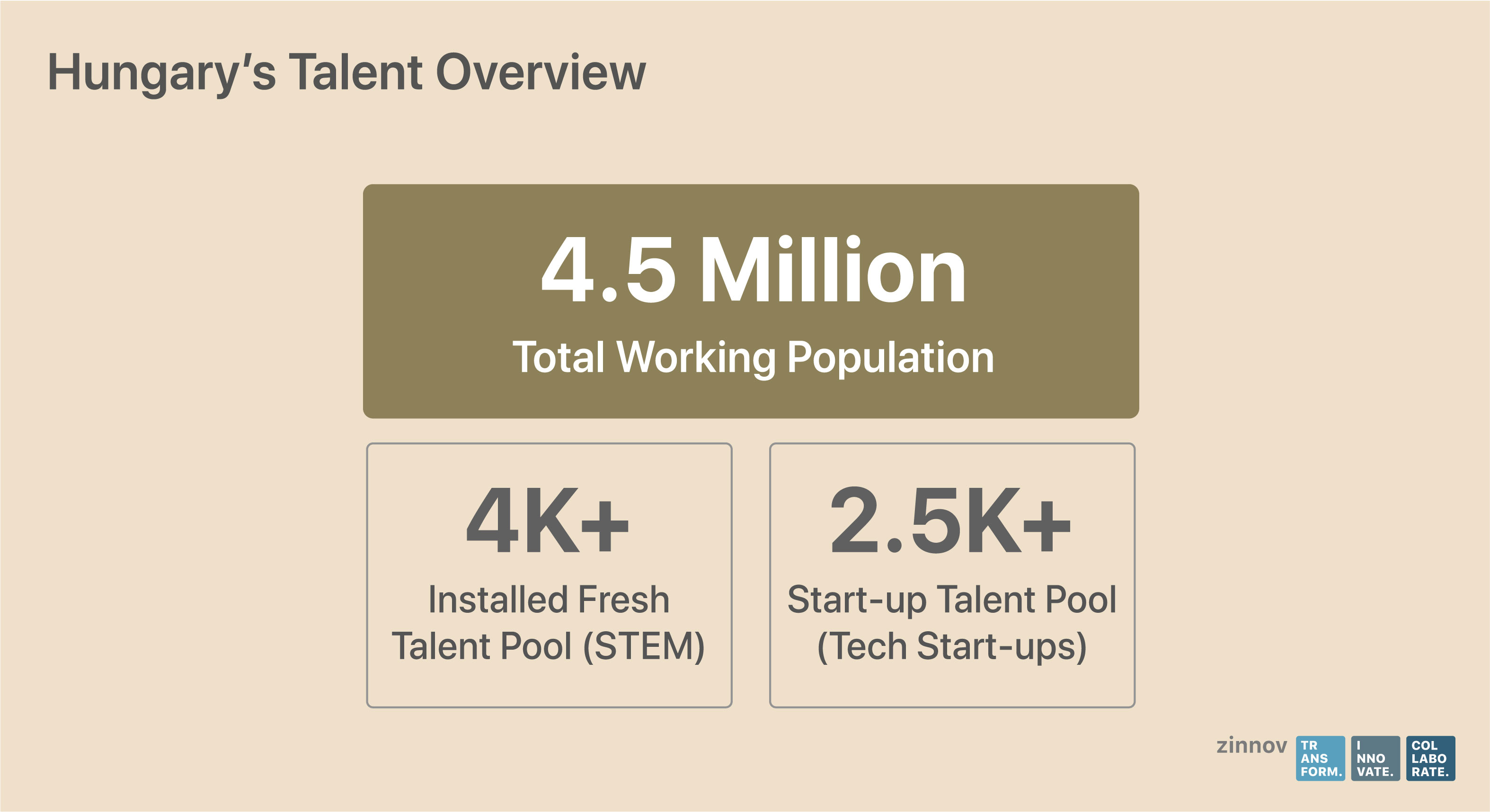 The vertical-wise split of the installed technology talent pool illustrated below indicates a skewed number towards computer software and IT, making Hungary an attractive destination for organizations to set up their global R&D centers in.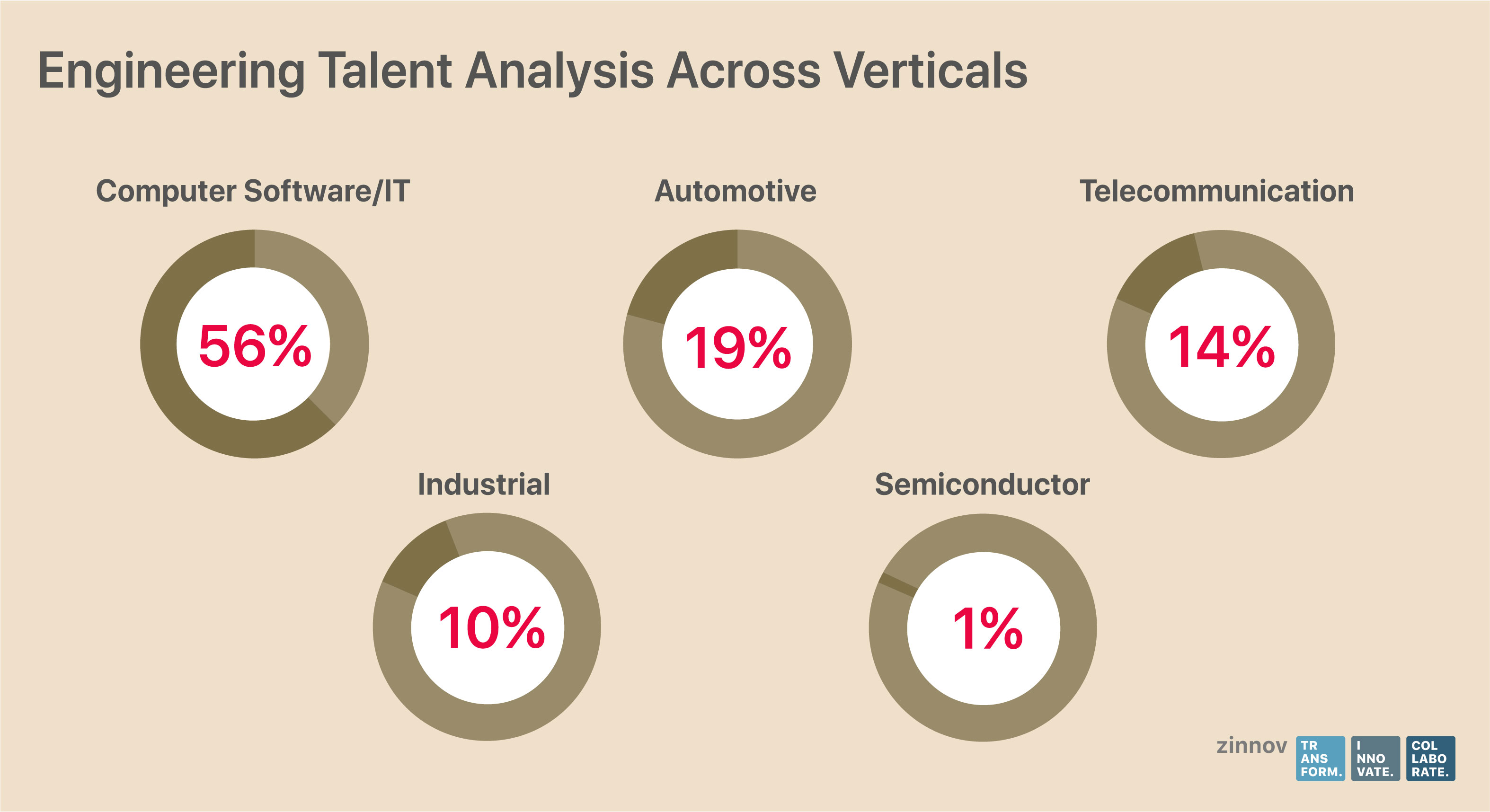 Hungary hungry for Globalization?
Hungary's geographical advantage, the high-speed communication network, a dynamic tech start-up ecosystem, the skilled technology talent, and the university ecosystem have all driven Hungary to be one of the favored destinations for large organizations to set up centers. The innovation mindset and dedicated government efforts to attract foreign companies to set up shop don't hurt Hungary's cause either. Any organization looking to globalize should have Hungary on their radar.
Hungary for more talent intelligence? Drop us a note at
info@zinnov.com
to know more about more such technology talent hubs in Eastern Europe.