2022 was a year marked by geopolitical tensions, recessionary pressures, government protectionism, and supply chain constraints – around the world. But despite these headwinds, the global Digital Engineering (DE) spend – a subset of the global overall Engineering R&D spend – grew to touch USD 810 Bn in 2022. This is due to the pandemic-induced digitalization initiatives that continued unabated, with technologies such as Cloud, Artificial Intelligence, Metaverse, 5G, Digital Thread, etc., leading the charge. These technologies not only garnered significant investments, but also became sandboxes for exploring newer use cases and business models.
Download the 2023 Digital Engineering report
The Inevitable Rise and Impact of Digital Engineering
Download here
The Unabated Growth of Digital Engineering Spend
Despite the macro-economic environment impacting different verticals to varying degrees, the DE spend will continue to grow and reach USD 1.6 Tn by 2026. CXOs are committed to innovation, despite this volatility, by funding it with cost optimization and productivity gains. Further, the continued focus on digital transformation and pervasive consumption on Cloud, chips, and data will fuel DE spending. With enterprises prioritizing Data Engineering and Analytics, Cybersecurity, and IOT capabilities, Service Providers (SPs) have a significant opportunity to capitalize on this need. In fact, SPs have witnessed substantial growth in the last 12 months, driven by strong demand from the US and Europe.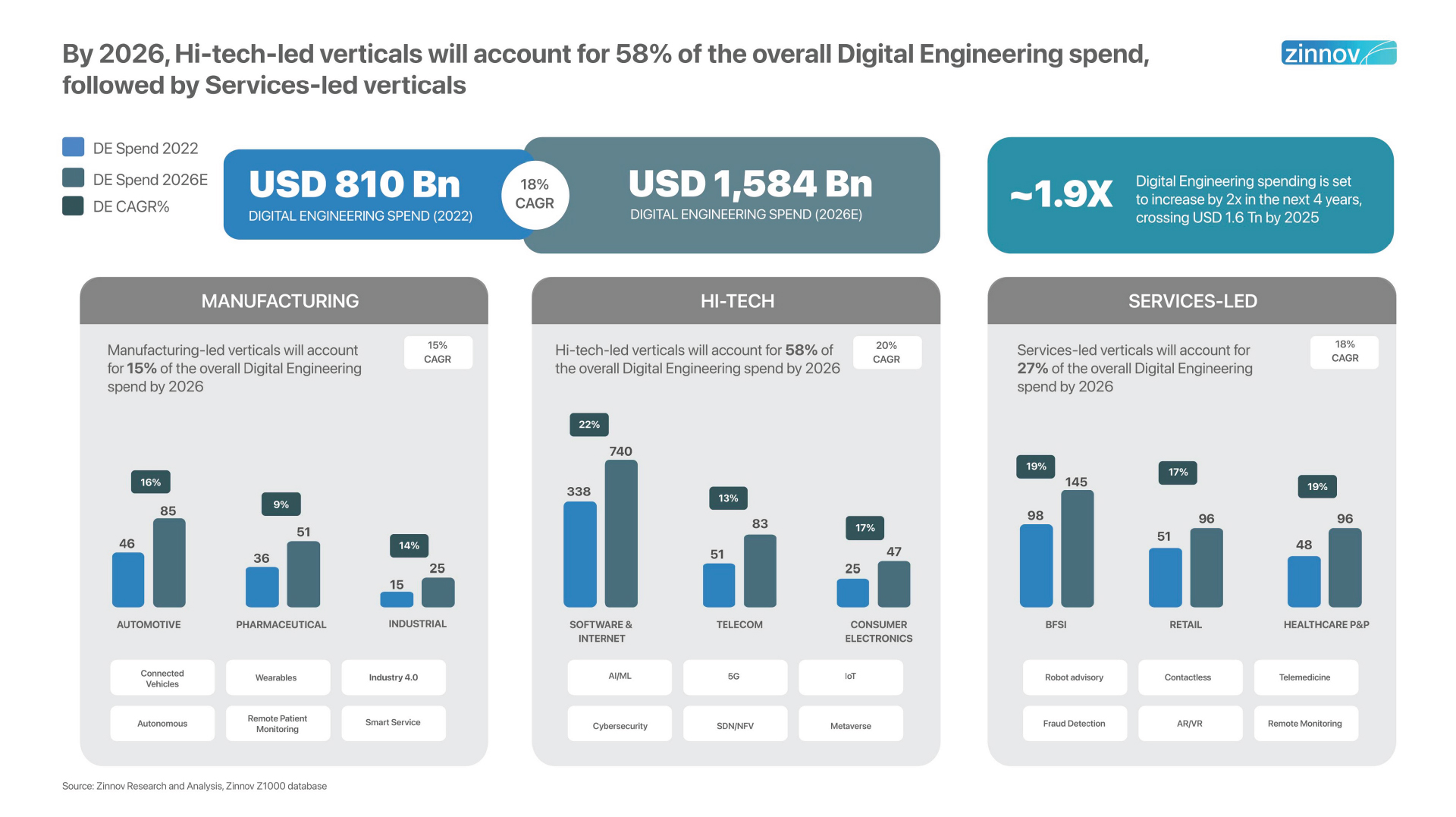 Manufacturing-led, Hi-tech-led, and Services-led verticals constitute the majority of the Digital Engineering spend. Growing at a 20% faster CAGR than Services and Manufacturing-led verticals, Hi-tech-led verticals – that include Software & Internet, Telecom, and Consumer Electronics – are the largest contributors to the Digital Engineering spend. Services-led verticals, especially consumer-facing ones, are experiencing a softened Digital Engineering spend owing to macro factors, but are still expected to grow at 18+% CAGR and account for 27% of the overall DE spend by 2026.
The heightened focus on Digital Engineering by Hi-tech-led verticals in Asia Pacific (APAC) region, has enabled it to marginally surpass Western Europe in ER&D spending. But North American enterprises continue to be the largest contributors to the Digital Engineering spend, owing to the significant presence of Hi-tech-led verticals.
Digital Engineering report 2022
The Unabated Rise of Digital Engineering
Download here
Technology Pillars of Digital Engineering
Four key themes are driving the global Digital Engineering spend – Generative AI, Metaverse, Digital Thread, and Hyperscalers.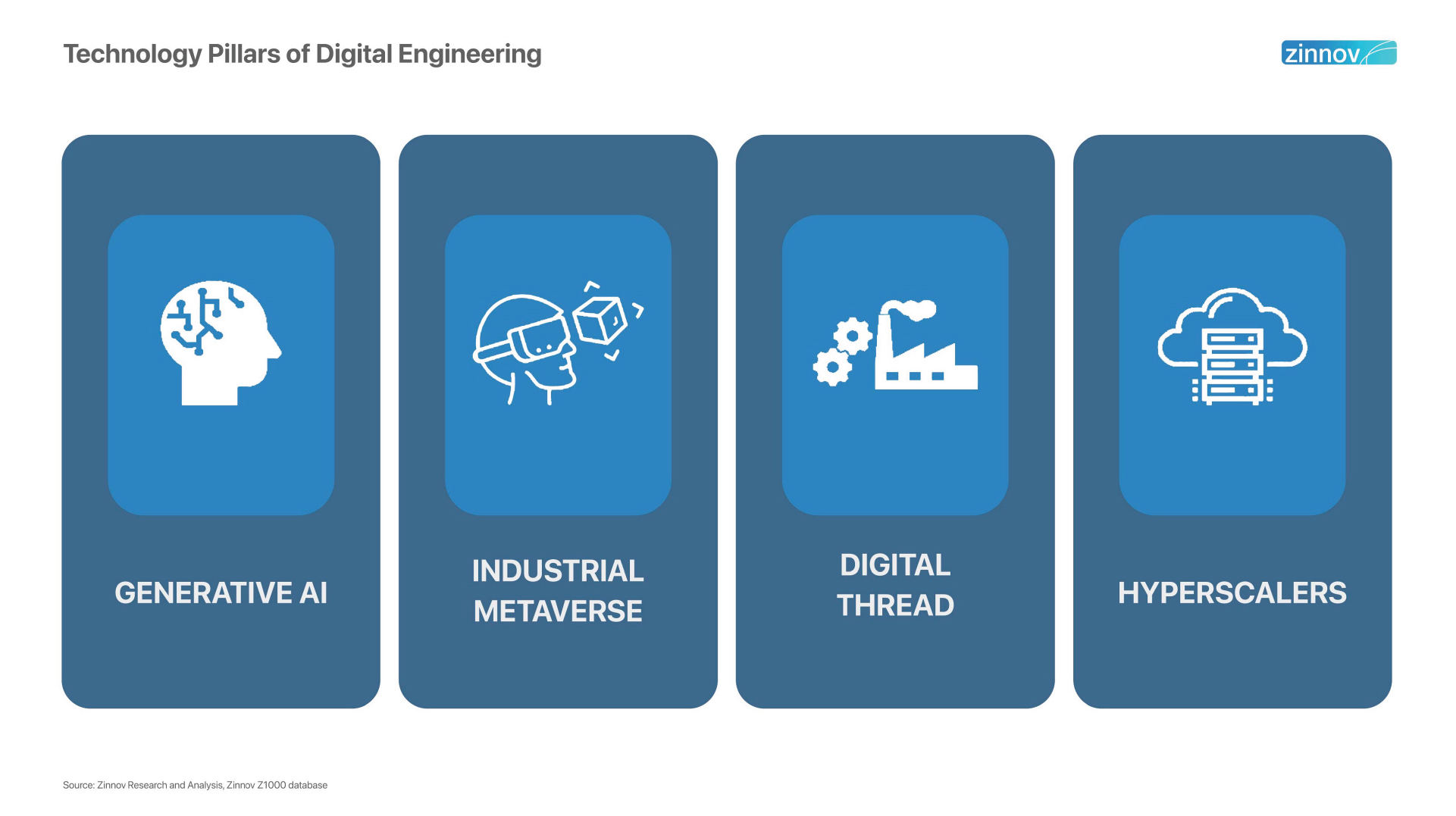 Read the 2023 Digital Engineering report
The Inevitable Rise and Impact of Digital Engineering
Download here
The Path to a Greener Future
Sustainability has become a top strategic priority for CXOs, as political, social, and regulatory pressures increase. This has also enabled major investments in sustainability initiatives from PE/VC firms, with USD 6 Bn invested in Hydrogen-based start-ups in 2022 – a 3X increase in investment than in 2019. Also, sustainability is expected to influence USD 150-250 Bn of technology and operations spend by 2030. BY 2030, ~13 Mn new jobs with green skills will be created globally, making sustainability a top business priority for enterprises in the coming decade.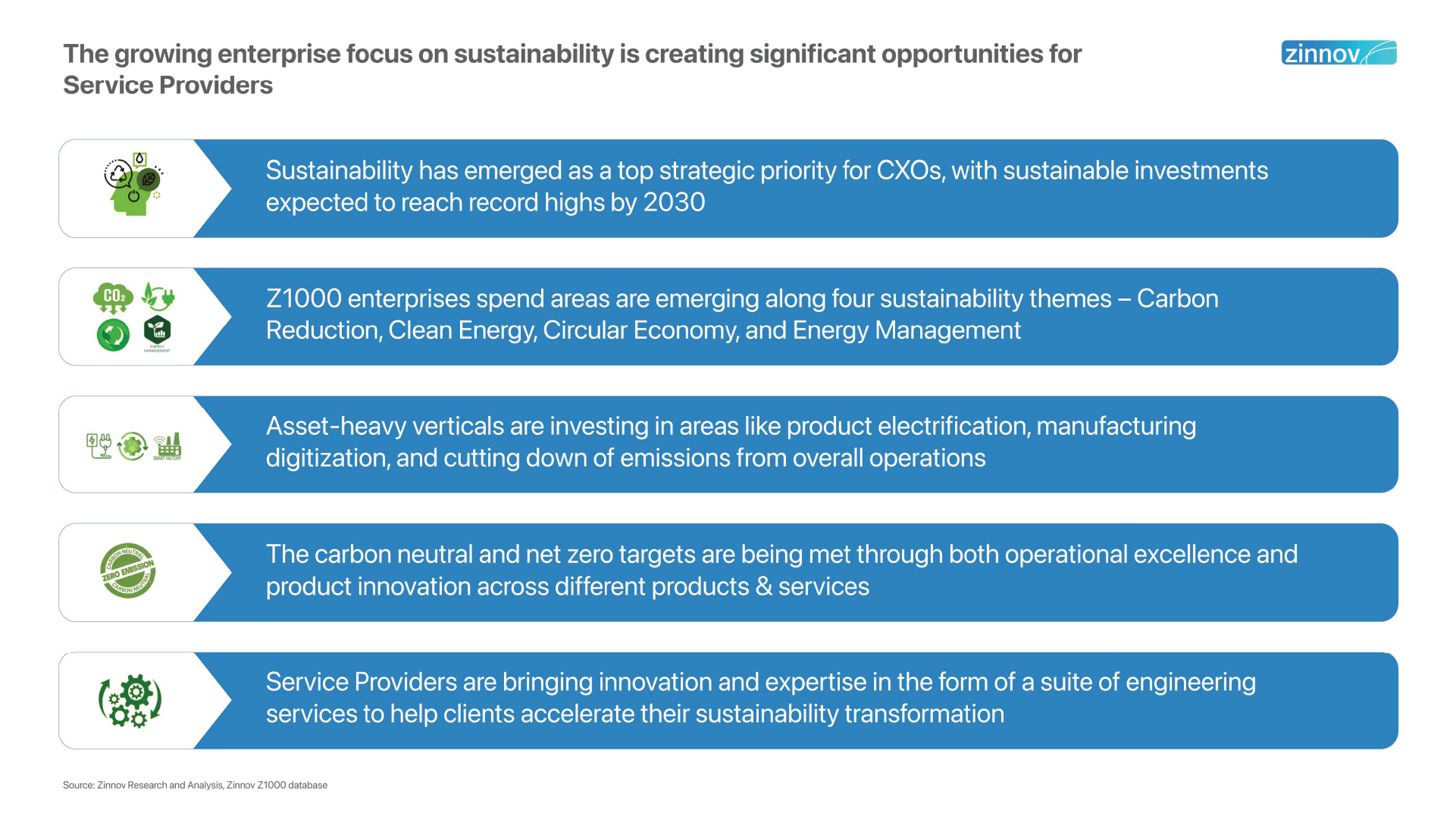 Global enterprises are focusing on four key sustainability themes to drive decarbonization efforts: Carbon Reduction, Clean Energy, Circular Economy, and Energy Management. Energy & Utilities, Industrial, and Automotive verticals are leading in the adoption of sustainability-related use cases. Companies are also introducing sustainability in products and services, driven by both operational excellence and product innovation.
To cater to this growing demand for sustainability engineering, Service Providers are bringing in innovation and expertise through an array of sustainable engineering offerings across product design, sustainable operations, energy transition, and reporting & analytics. These are not only accelerating enterprises' sustainability transformation, but also enabling them to achieve their net-zero targets.
Service Providers and the Digital Engineering Opportunity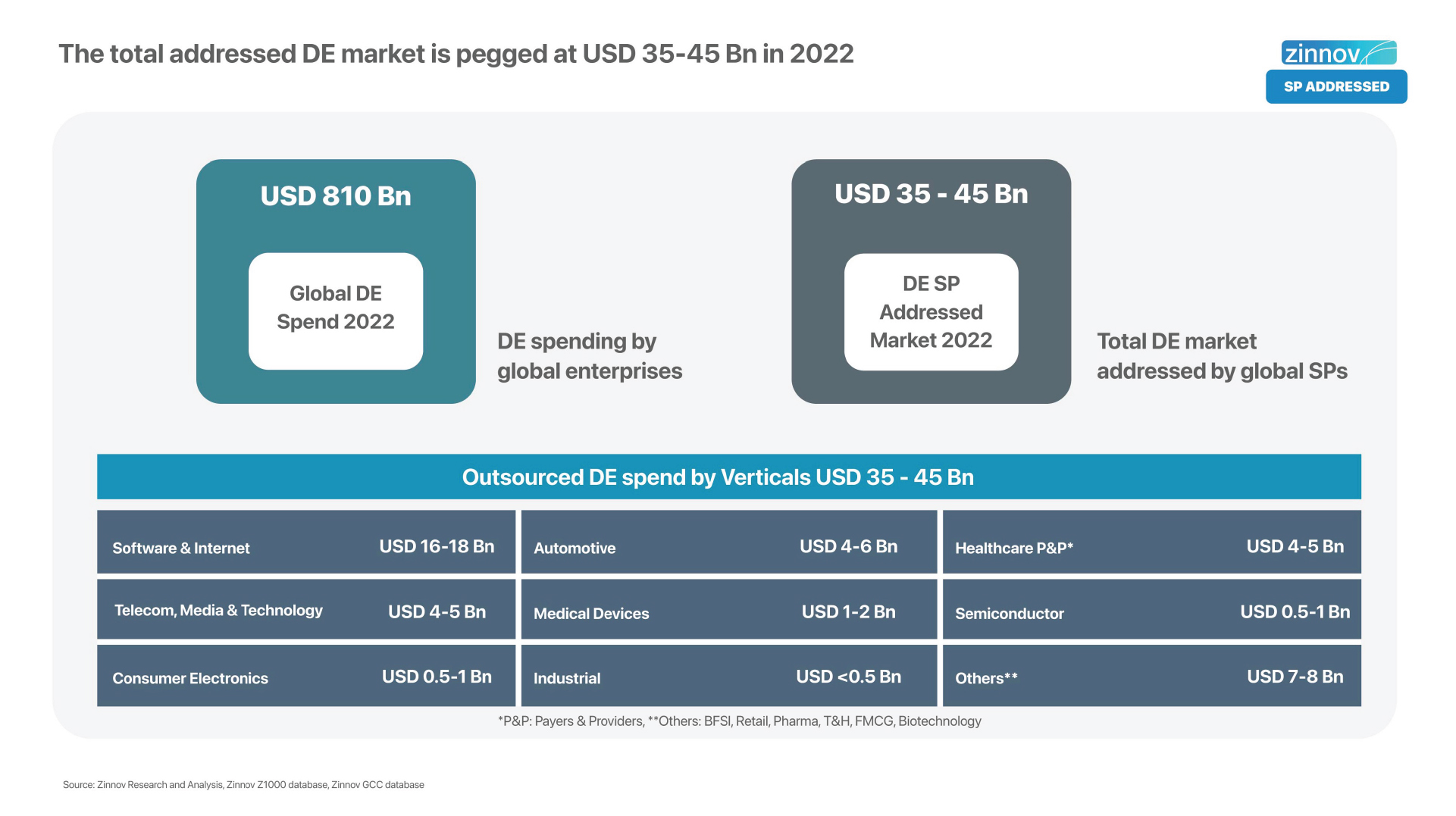 To cater to the evolving enterprise demand for Digital Engineering skillsets, SPs are enhancing their digital capabilities through collaboration, investments, and acquisitions. The total addressed DE market is estimated to be USD 35-45 Bn in 2022; this fragmented market is led by multiple specialists across geographies and verticals. Interestingly, the top 10 SPs capture 27% of the overall DE market. Also, leading SPs are going the inorganic route to enhance their digital capabilities through acquisitions to ensure they can deliver innovative solutions and meet evolving client needs. As the Digital Engineering landscape evolves, SPs continue to drive digital transformation and enable enterprises to navigate the digital era effectively.
This marquee Zinnov study titled, "The Inevitable Rise and Impact of Digital Engineering," is the benchmark for business leaders across verticals to identify strong partners for faster and more efficient deployment of Digital Engineering-led services initiatives across geographies. Besides evaluating the global Digital Engineering landscape, the study also provides a snapshot of Digital Engineering spends across verticals and how SPs are enabling end-to-end management of enterprises' engineering requirements.
To know more about the Digital Engineering landscape and the opportunities therein, write to us at
info@zinnov.com
.
VIEW Report