by Pari Natarajan, CEO, Zinnov; Nischay Mittal, Engagement Manager, Zinnov; Prankur Sharma, Engagement Lead, Zinnov; Chaitra Ramalingegowda, Marketing, Zinnov

Platform-led transformation is radically changing the way enterprises conduct business. Enterprises, large and small, are under immense pressure to differentiate themselves in an ecosystem inundated with innovative ideas and disruptive use of new age technologies. This differentiation has become paramount in the shifting global marketplace and to cater to ever-evolving customer expectations and meet the standards for internal efficiencies that are growing multi-fold. With platform economy having grown by leaps and bounds in the last decade or so, 'platformization' has become a critical part of any digital business strategy.
With the largest companies in the world being powered by platform-based business models, there is a strong case for a platform-led business strategy. However, traditional enterprises are facing numerous challenges in their platform journey. To help traditional enterprises overcome these challenges, we have outlined a playbook.
What makes a successful platform?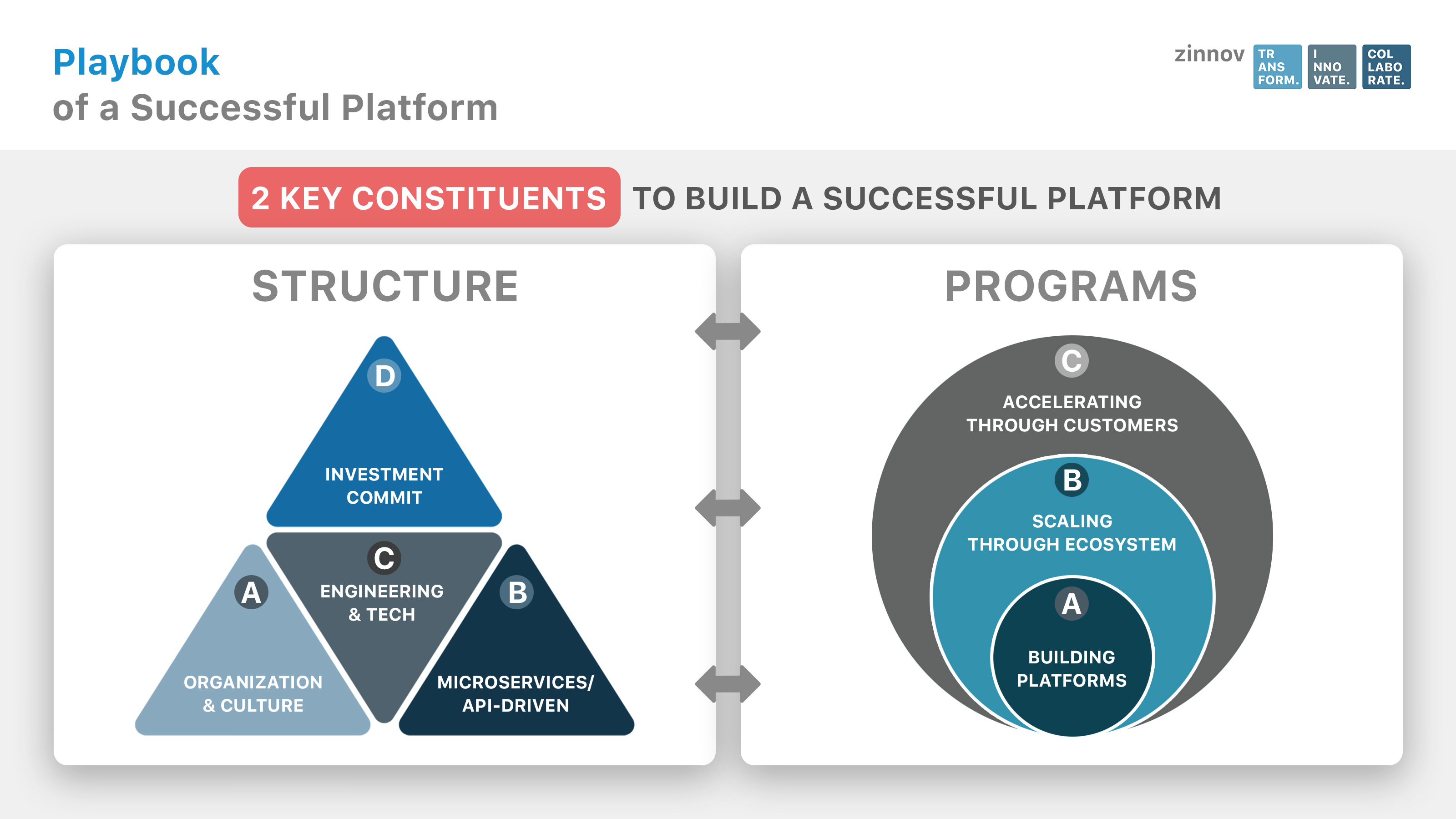 At a broader level, there are two key ingredients to build a successful platform –
I. Structure – the ability to create a dynamic culture, attract top technology talent, structure the organization into microservices, and have a commitment to fund platform development and associated programs, constitute the structure.
II. Programs – a company needs to look at three levels of maturity, from building platforms to scaling the platform by partnering with the ecosystem, and finally, to accelerating platformization by effective co-innovation with customers and similar customer-centric approaches, constitute programs.
I. Structure of a Successful Platform
Organization and Culture:
Platform companies live in an age of continuous change and constructive destruction. Companies must be extremely agile about their business structure, process, people, and even about what is core vs context.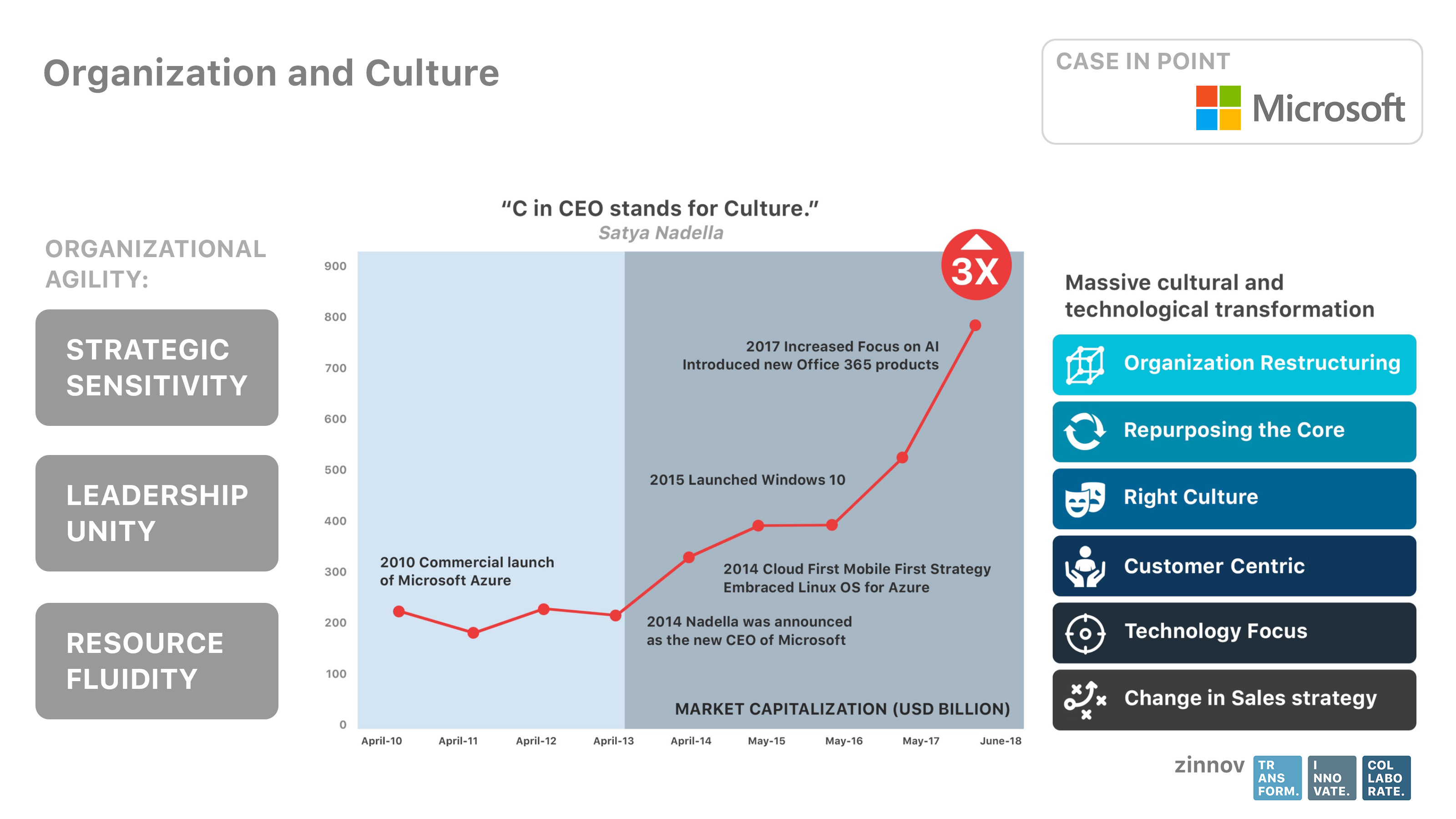 Microsoft is a case in point. The tech giant had a period – 'the lost decade', where it just held on to the cash cows, Windows and Office, despite threats from peers and start-ups. This was also a period which was marked by their inability to turn any of their bets into successes. Most analysts and industry pundits were writing off Microsoft as the next IBM – a has been. To go from that low point to become the company with the highest market capitalization within the next 5 years is nothing short of a miracle. To reach its current zenith, Microsoft –
Broke down silos by restructuring the organization into functional units;
Redefined the core of the company from Windows OS to Cloud platforms;
Restructured the sales organization globally by changing the incentive structure of the sales teams;
Reacted quickly to the coming disruption of AI by moving MS research to AI product team and refocused over 5000 engineers on AI and ML;
Acquired strategic start-ups such as LinkedIn and GitHub;
Created a culture that is comfortable in managing an extreme pace of change.
Engineering and Technology:
Once the platform initiative is aligned in terms of the internal organization and culture, the next building block is talent. Globally, a few prominent talent hotspots have emerged for platform talent, Bay Area being chief among them. As companies start to build intelligent platforms, relevant skills need to be acquired. Tech Giants and Unicorns are ahead in the race for talent, with 4000+ AI/ML platform engineers working in Bay Area alone. An added aspect that organizations need to be wary of is planning their talent investments, since platform engineers are, on an average, 24% more expensive than a typical backend engineer.
Microservices/API-driven:
Most companies are structured in one of two ways – vertical business silos or functional structure. In the former, a lot of organizational capabilities are replicated in each of the business units, in the name of speed. Although the horizontal structure is cost efficient, it tends to be slower due to bureaucratic processes. However, in a microservices structure, there are smaller units in the company that come together to form a business unit. But each of these units can also enable their services to other BUs or even external customers.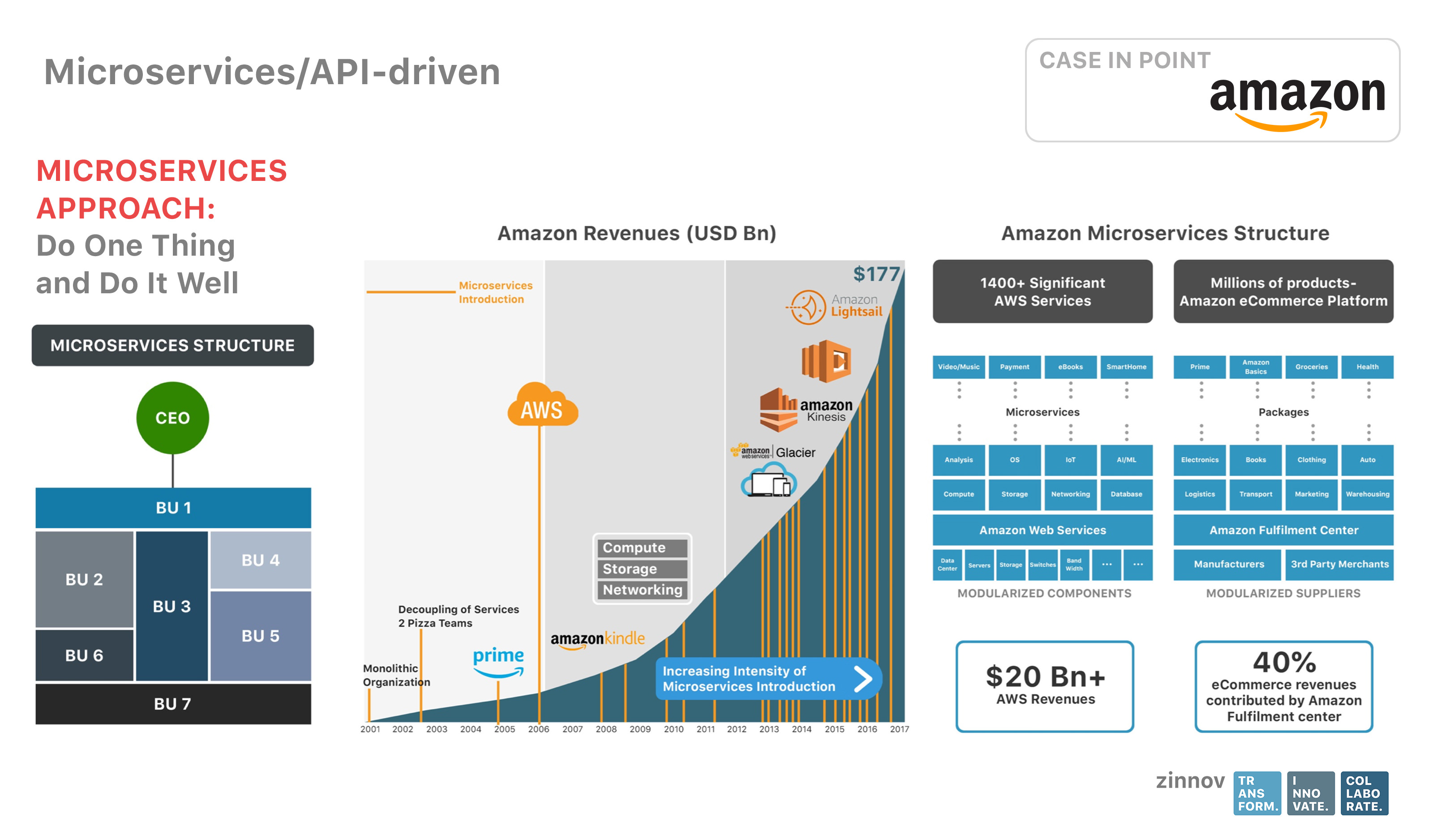 Amazon is a great example of a company leveraging the microservices architecture. Inspired by a video game called Creation, the tech giant restructured the business into smaller units that are intelligent, independent, and entrepreneurial. This structure allowed the smaller BUs to grow without getting choked by inevitable internal bottlenecks.
Investment Commit:
Once the other three elements of the 'Structure' are in place, the last component, investment commitment, ties all of them together. A dedicated pool of investments specifically aligned to the company's strategic priority bets is crucial. This investment commitment can be for a technology area such as AI/ML, IoT, etc., or for start-up initiatives, or for a new geographical location. Microsoft is a case in point, as illustrated by the visual below.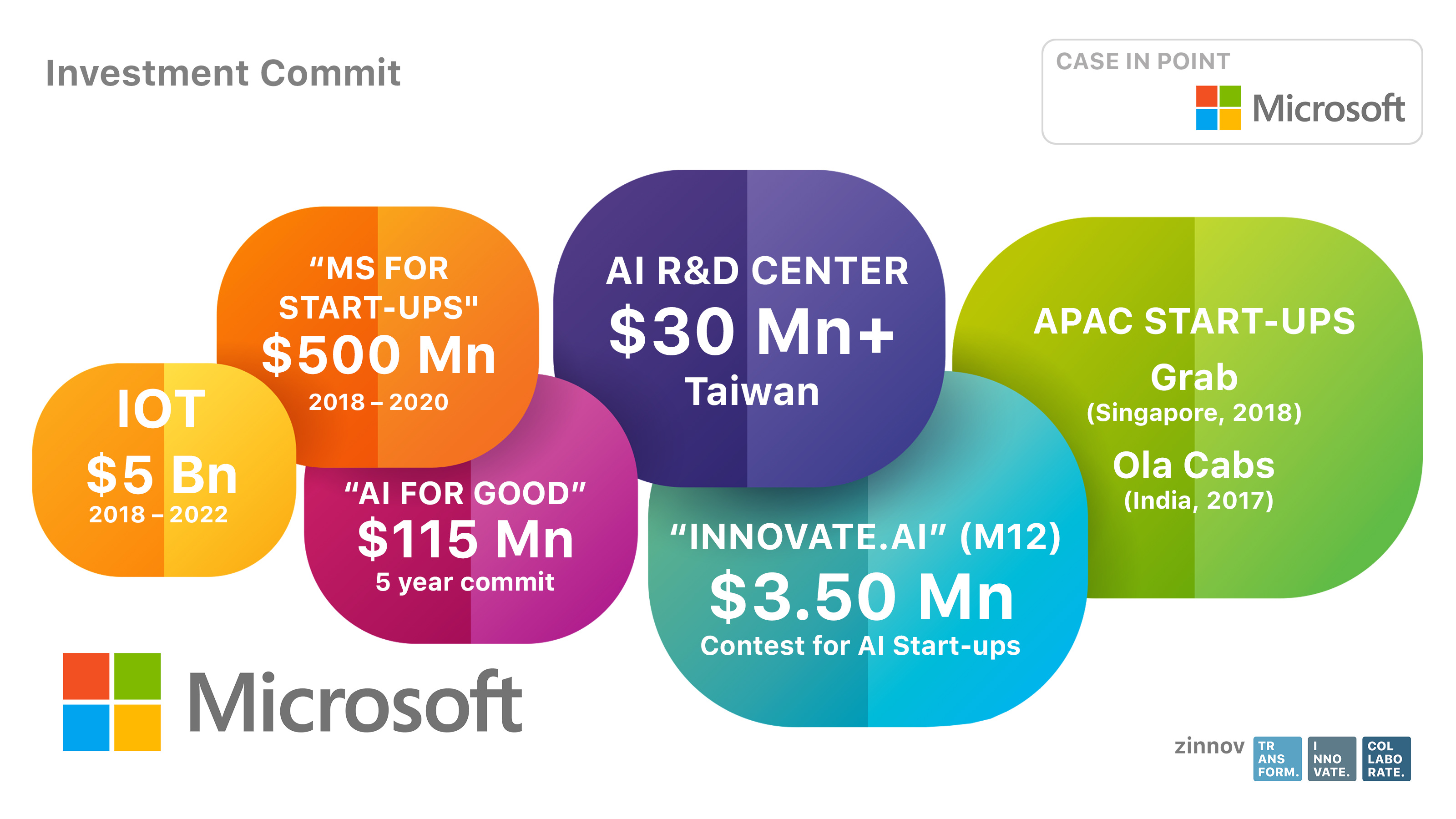 II. Programs for a Successful Platform
Building Platforms:
To build successful platforms, companies need to onboard and nurture leaders with the requisite domain and technology expertise, gain access to a global talent base, and have a customer-first mindset.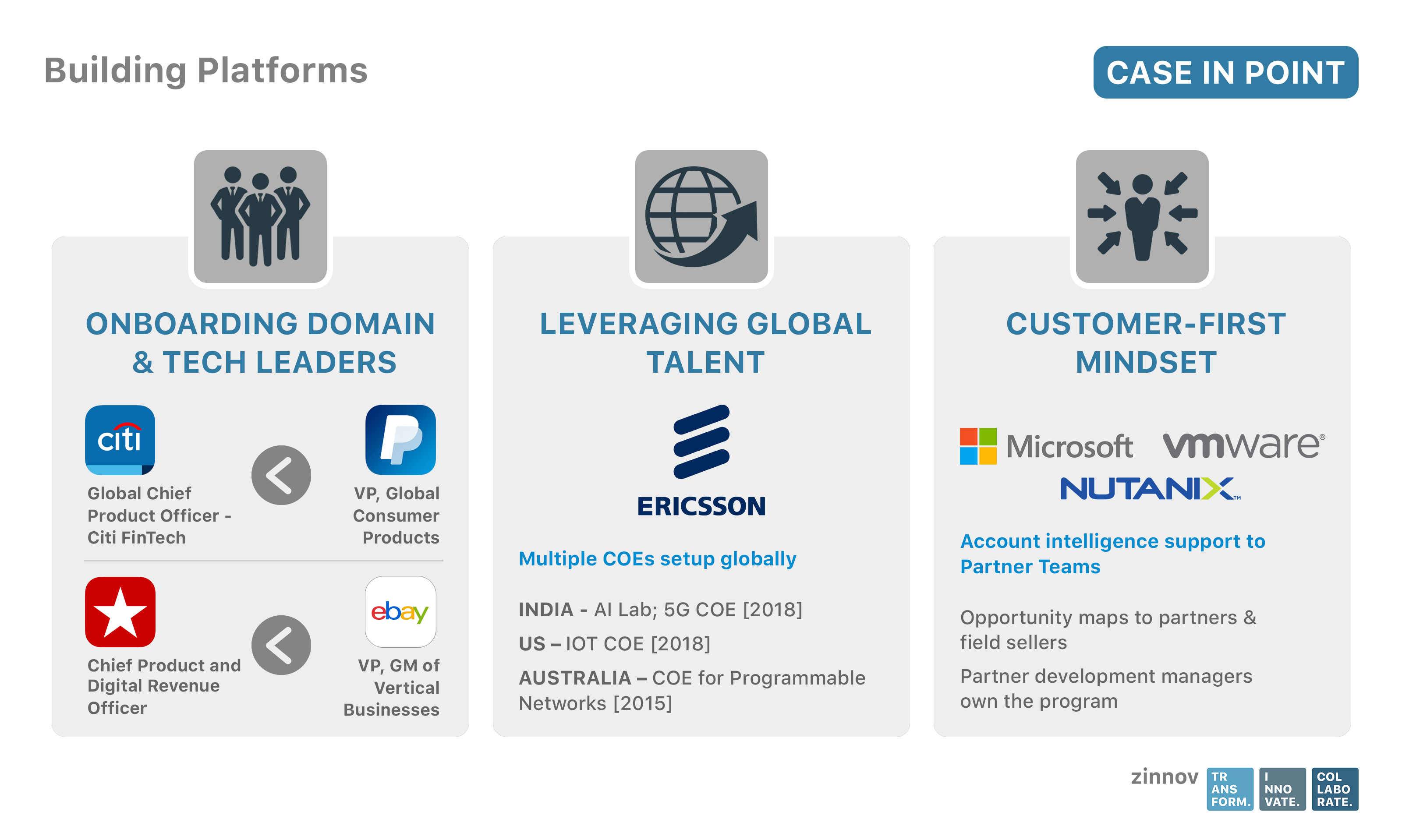 • Enterprises are increasingly looking towards technology players to onboard both domain and technology leaders. Citibank's Chief Product Officer for Citi FinTech was recruited from PayPal, for instance.
• Companies such as Ericsson have set up multiple CoEs across the globe to gain access to the global talent base. Their AI lab and 5G-focused CoEs were set up in India in 2018, along with an IoT CoE in the US, with other CoEs present in geographies such as Australia.
• Tech majors such as Microsoft and VMware have a clear focus on gaining deep intelligence on their top strategic accounts in a bid to increase their wallet share within existing accounts or penetrate net new accounts. These companies are increasingly leveraging this intelligence to build platforms with a clear customer-first mindset.
Scaling through Ecosystem:
A platform's success hinges on the ecosystem that surrounds it. The ecosystem, consisting of players such as Global System Integrators (GSIs), Independent Software Vendors (ISVs), start-ups, and developers needs to be created to rapidly scale the platform. Companies need to augment their sales channel by effectively leveraging system integrators, as well as other software vendors to sell their product. Co-innovating with start-ups is another avenue that companies need to leverage for augmenting platform capabilities, among other benefits. Global healthcare providers such as Mayo Clinic have realized the advantages of engaging with start-ups and are actively licensing their technology to start-ups.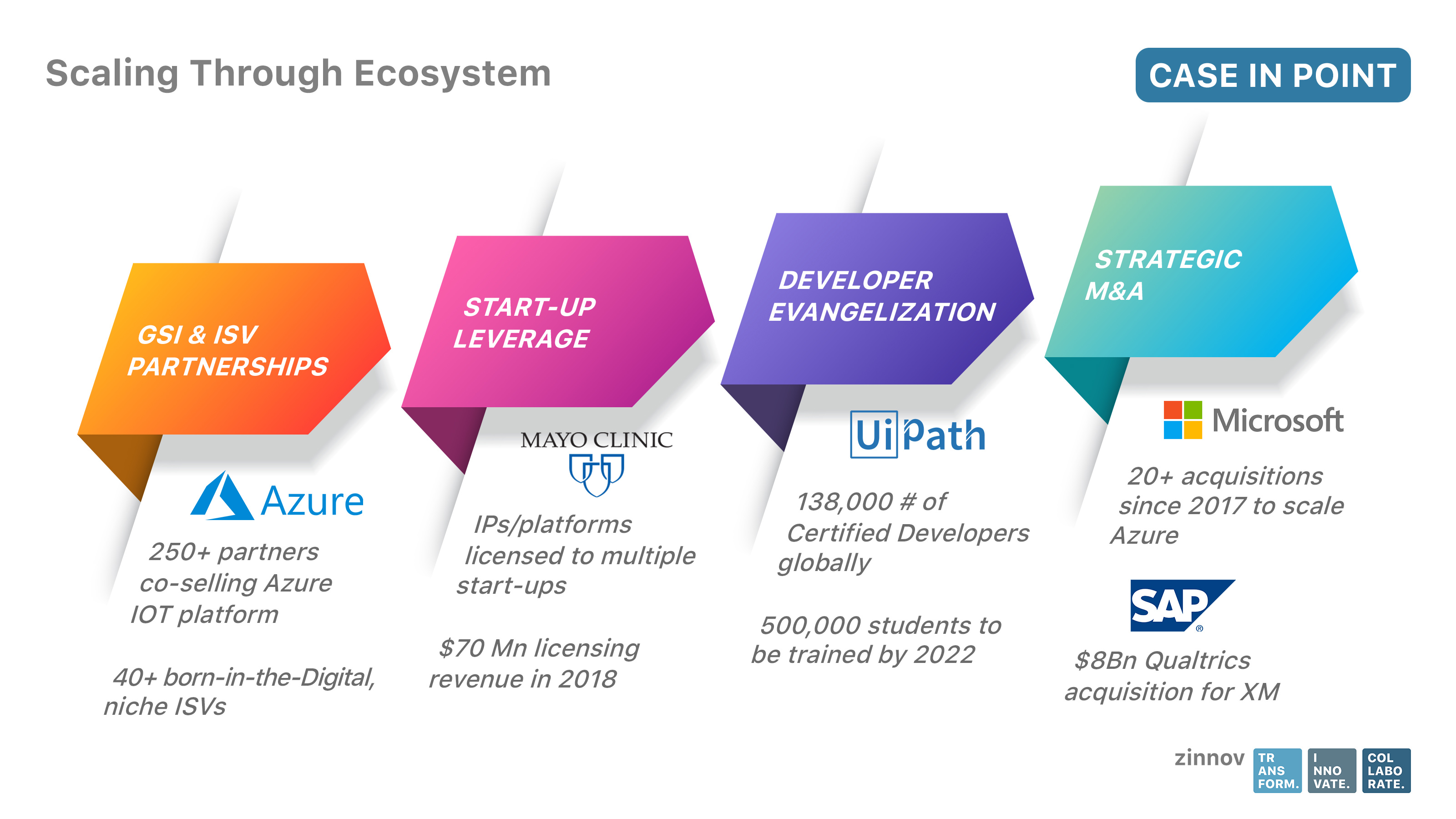 As technology evolves, the world is moving towards a model of citizen developers, where application development is becoming so easy that anyone can do it. Companies need to evangelize their platforms to create developer communities that will build applications around the platform, while also focusing on adequate training and incentives for developers.
Last but not least, companies need to be open to buying technology companies through strategic M&A. Gone are the days when Silicon Valley was the primary home of enterprise software companies. Now, companies in Europe, Israel, China, India and other cities within the US are making their presence known in the global technology ecosystem. Enterprises need to cast a wider net in search of potential acquisitions that can augment and accelerate their platform journey.
Accelerating through Customers:
Alan Weiss rightly said, "Ask your customers to be part of the solution, and don't view them as part of the problem." This is nowhere truer than in the case of a company's platformization journey. Companies need to involve their customers in the innovation process. The beauty and amazing nature of the platform model is that it can be enhanced and morphed into what the specific customer may need. This, in turn, creates a moat around the business.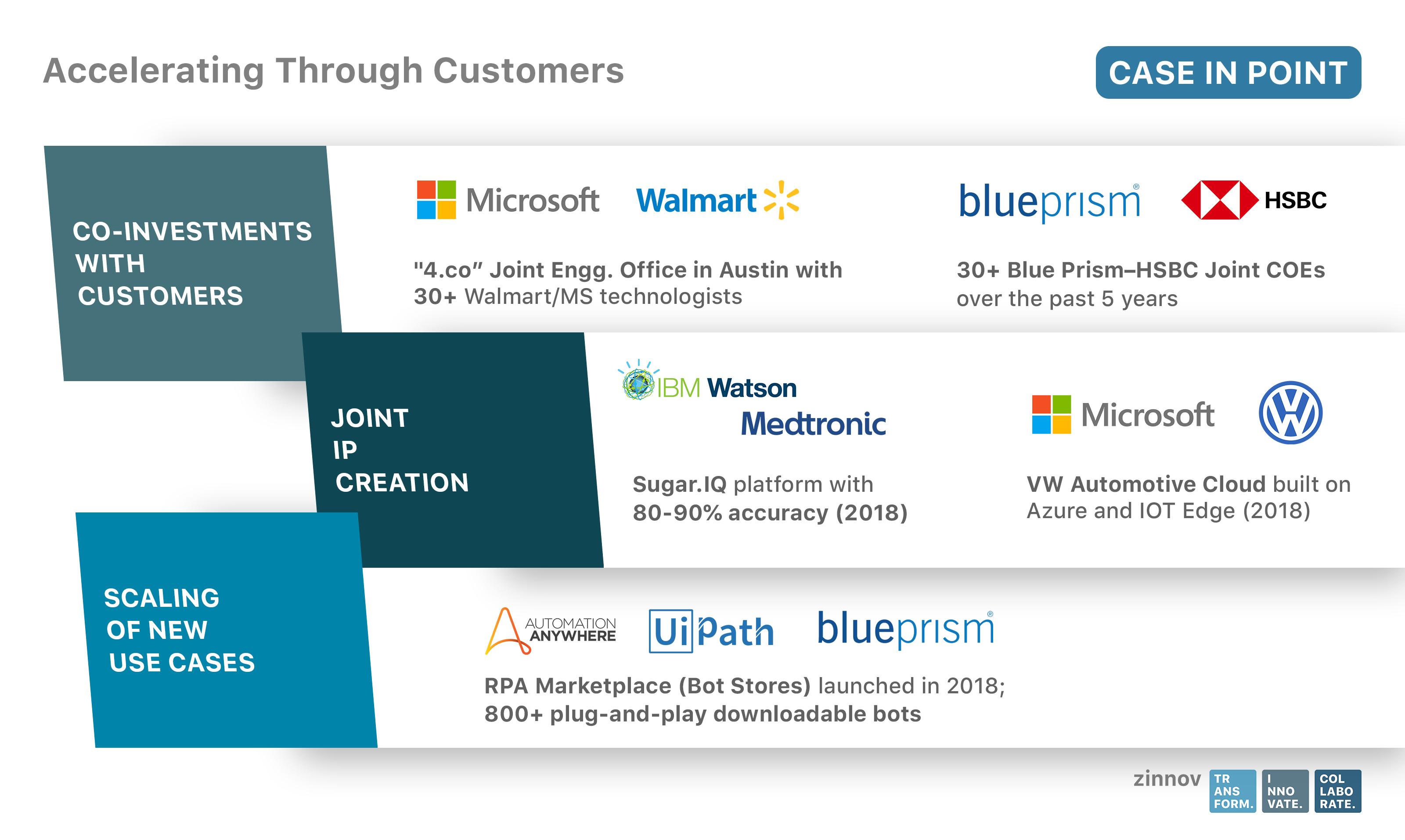 Companies can accelerate their platform business model through –
Co-investing with customers to build applications and additional platform modules;
Creating joint IP by leveraging customers' domain expertise, that could potentially be sold to other similar companies;
Leveraging customer expertise to make the platform relevant for new use cases.
As enterprises embark on their platformization journeys, a structured approach such as the playbook outlined above will help companies achieve and accelerate the desired outcomes. Platforms are here to stay and are defining how companies conduct business.
Other Helpful Resources
A Pe-owned GRC Software Company Found The Right Partners To Fast-track Its Plaformization Journey
Read More
How do you customize this successful platform playbook to suit your enterprise's needs? To know how to leverage platform intelligence to accelerate business outcomes, drop us a note at
info@zinnov.com
.