How do you build businesses that make money when you are asleep?
How can the products/services evolve without a lot of effort from you?
How do you tap into the talent which you don't have to pay for?
The companies that have answered these questions are valued at over half a trillion USD in market capitalization. What is noteworthy is that all these companies are platform-led businesses. Platform play is disrupting how traditional enterprises operate; it is redefining organizations' core, by forcing them to transform into digital platform companies to enable value creation in real-time.
An organization's ability to learn, and translate that learning into action rapidly, is the ultimate competitive advantage." – Jack Welch, Former CEO of General Electric
The Ubiquity of Platforms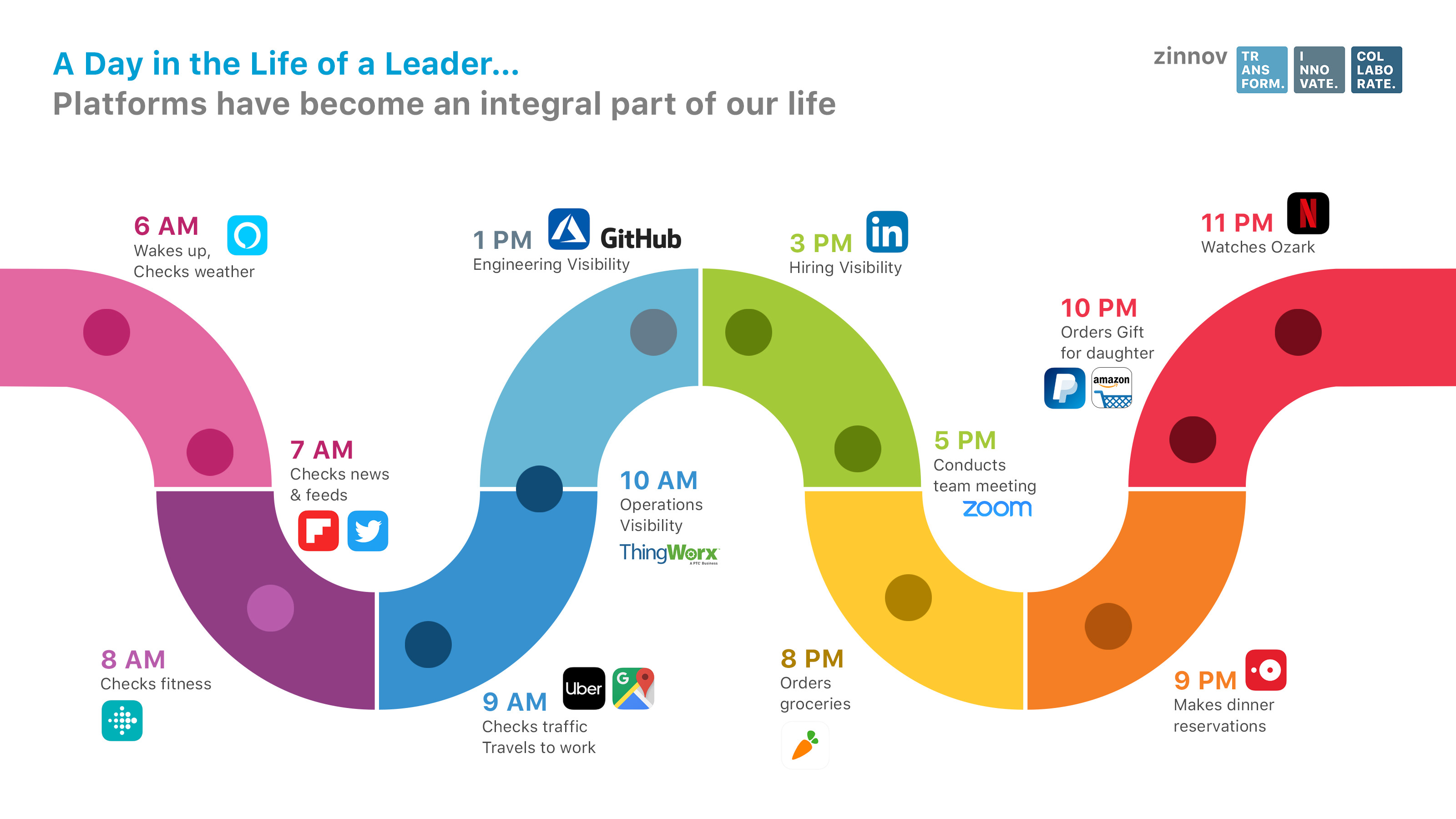 Platforms have become ubiquitous. Take a typical day in our lives, for instance. From the time we wake up in the morning to when we sleep, we rely on platforms. We get weather updates through Alexa or Siri, and rely on Flipboard, Twitter and the like for news of what's happening in the world. We then hail a cab through Uber and check Google Maps for traffic updates to reach our workplaces in the least time possible.
At work, we are influenced by platforms that have made us more productive and help gain deeper insights, through the workday. Platforms such as Azure and GitHub enable our engineering functions, while platforms such as LinkedIn and Zinnov's DRAUP allow for strategic workforce planning and provide insights around talent at a global level. Collaboration tools such as Zoom and Slack make interactions with global teams seamless. Essentially, platforms are not just ubiquitous, they have become integral parts of our everyday lives.
The Platform Revolution
There is a platform revolution underway, not just in the US and Europe, but across the world. In fact, in contrast to how technology has traditionally advanced in the West, the East has taken a lead in certain segments, when it comes to platforms. Although the first set of platforms in China were replicas of popular ones in the US, they have evolved to focus on local needs, and are today at the forefront of platform innovation. Currently, there are several mega platforms operational in India and China.
Take TikTok, for example, which is, an AI-powered frictionless social engagement platform. It is an intelligent application, which proactively shows videos to the users based on the time spent and interaction with videos. TikTok, which is merely 3 years old, has already amassed over 500 million users.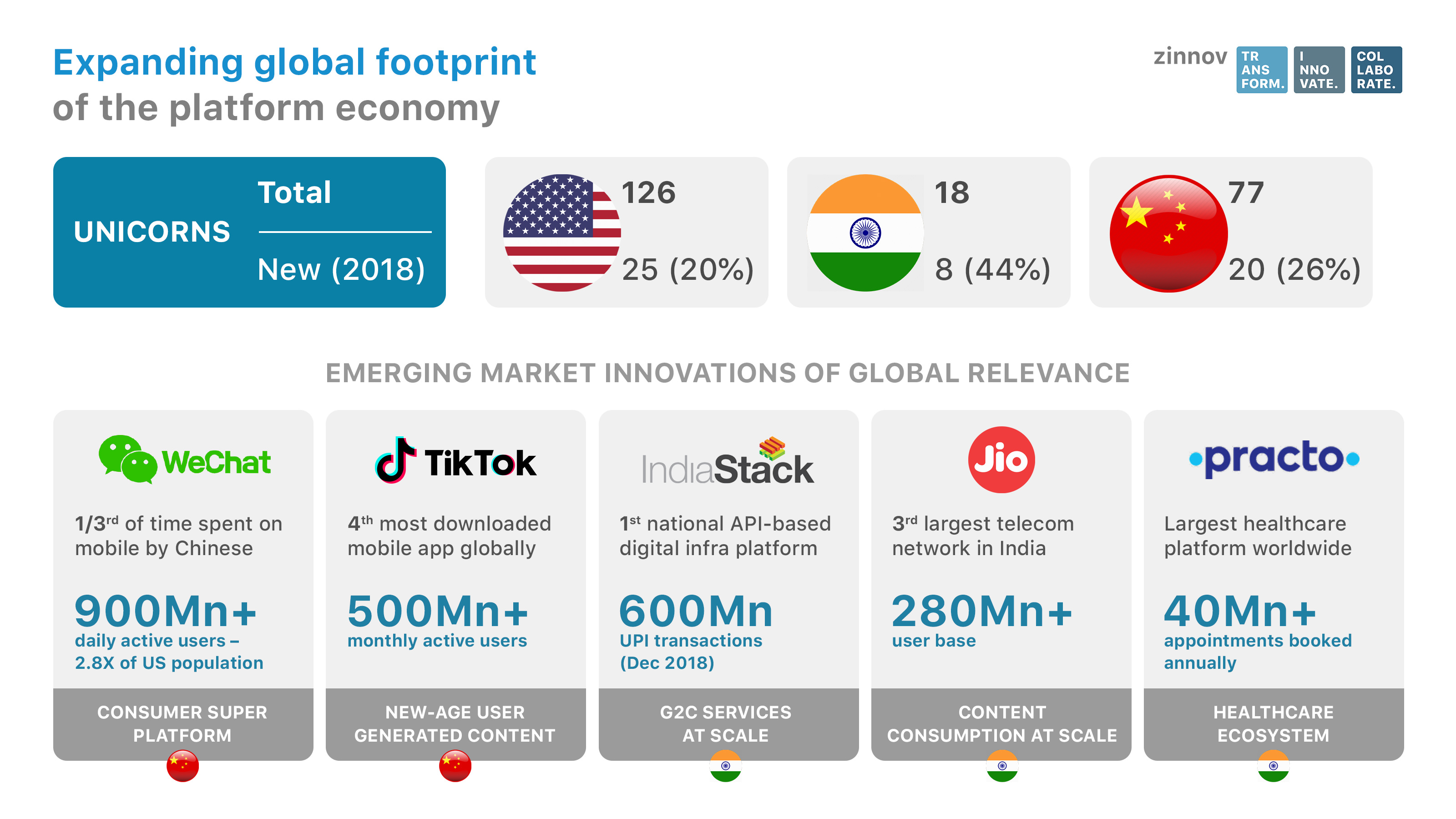 It's not just the private sector that is witnessing platform-led innovation, but Governments too are taking note of this disruption wave. The Indian Government has built India Stack, an API-based digital infrastructure platform. India Stack is essentially a set of APIs that touch upon user identity, payments, data privacy, and consent. This stack is structured in a way that no private company can build a monopoly using network effects, although it has allowed hundreds of start-ups to innovate around the platform to create products and solutions that benefit Indian citizens.
The following visual illustrates the success of the platform play phenomenon through the market performance of platform-led companies over the past few years.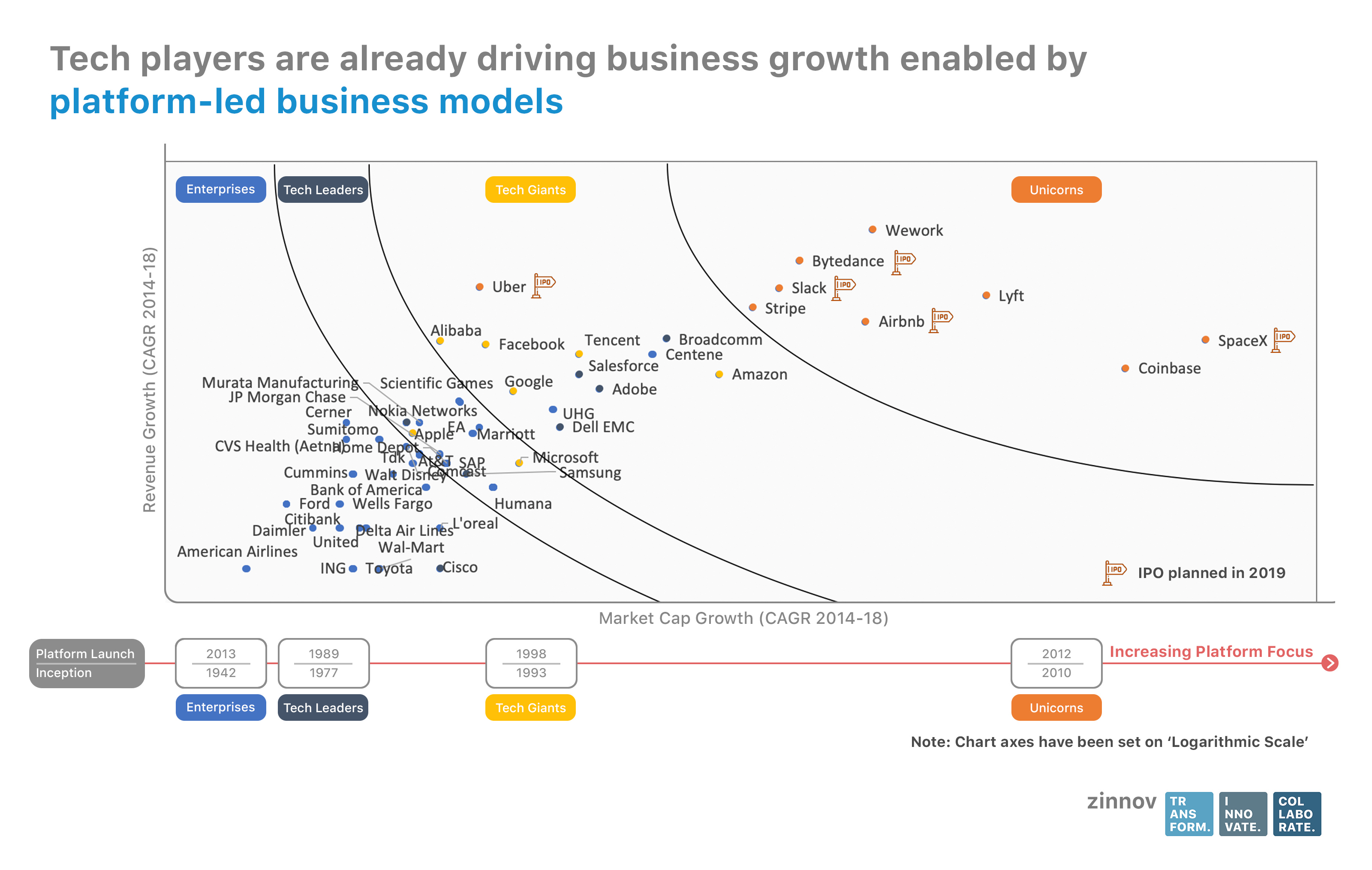 The x-axis is the market capitalization growth and the y-axis is the revenue growth of companies over the last 4 years. While platform native companies, including unicorns and tech giants, have been able to drive incredible growth, traditional enterprises continue to be laggards. It's reasonable to say that platformization is the disruption of the decade and enterprises not agile enough to pivot at the right time will stagnate, or worse.
Based on their utility, platforms can be categorized into 5 distinct kinds, in which organizations are heavily investing –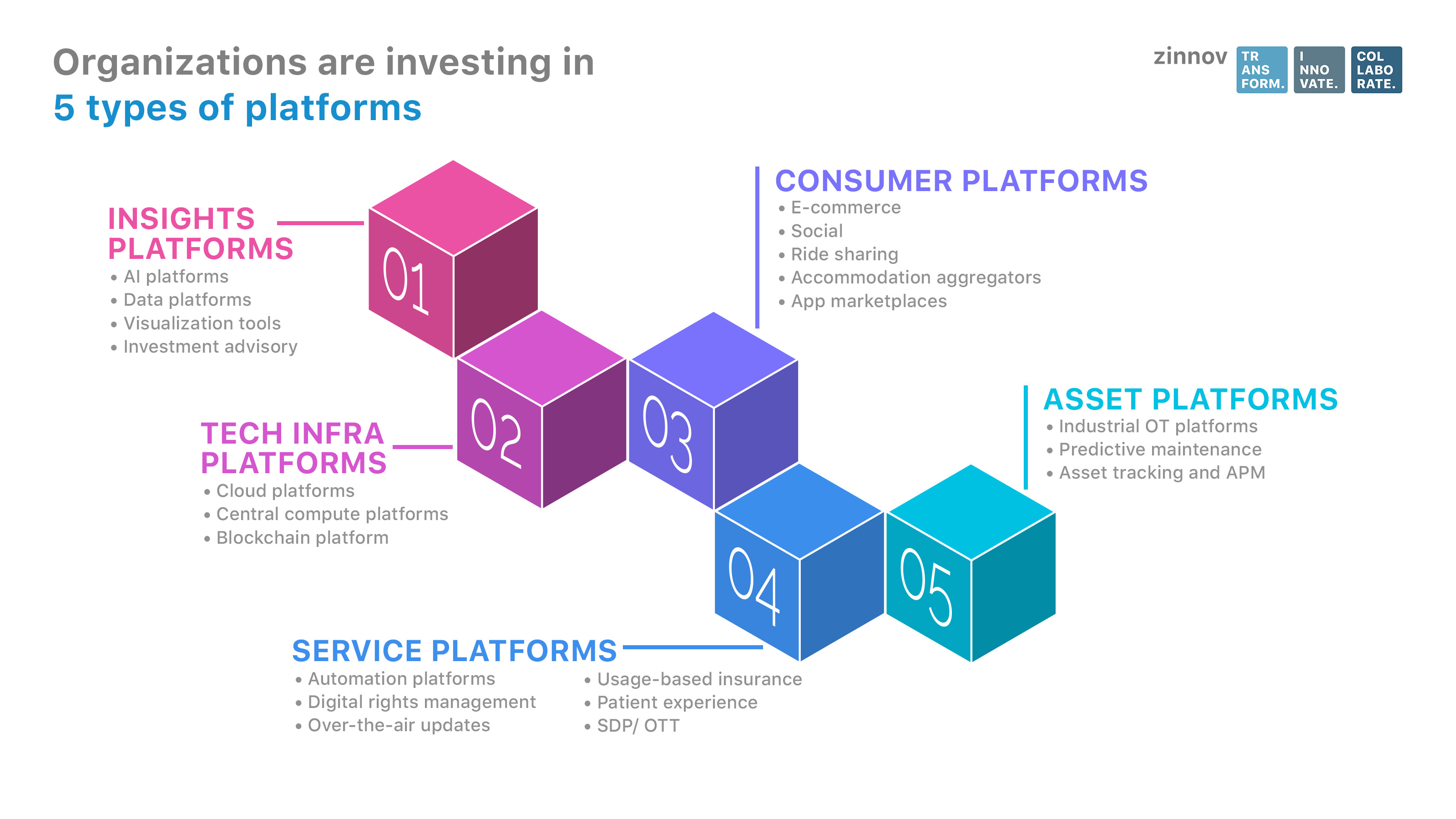 a) Insights Platforms – designed to deliver deep insights to the organization. Example includes Palantir;
b) Technology Infrastructure Platforms – are mega platforms on top of which other platforms are built. Azure, Alicloud, AWS are prominent examples;
c) Consumer Platforms – are the most common platforms which we use in our everyday lives at an individual capacity. The likes of Uber, Lyft, Netflix are examples;
d) Service Platforms – allow for seamless delivery of services to consumers and businesses. Example includes Tesla's on-demand platform that updates the features of their electric power train, infotainment system, and other parts of the car;
e) Asset Platforms – provide visibility and control of physical assets and workforce. Thingworx is a prime example of an asset platform that helps large manufacturers manage and automate their factory operations.
S.I.M.P.L.E. is the New Normal
Although platforms have been around for a while now, they have evolved to be a lot SIMPLEr over the last few years. Today's ubiquitous platforms have one or more of these characteristics.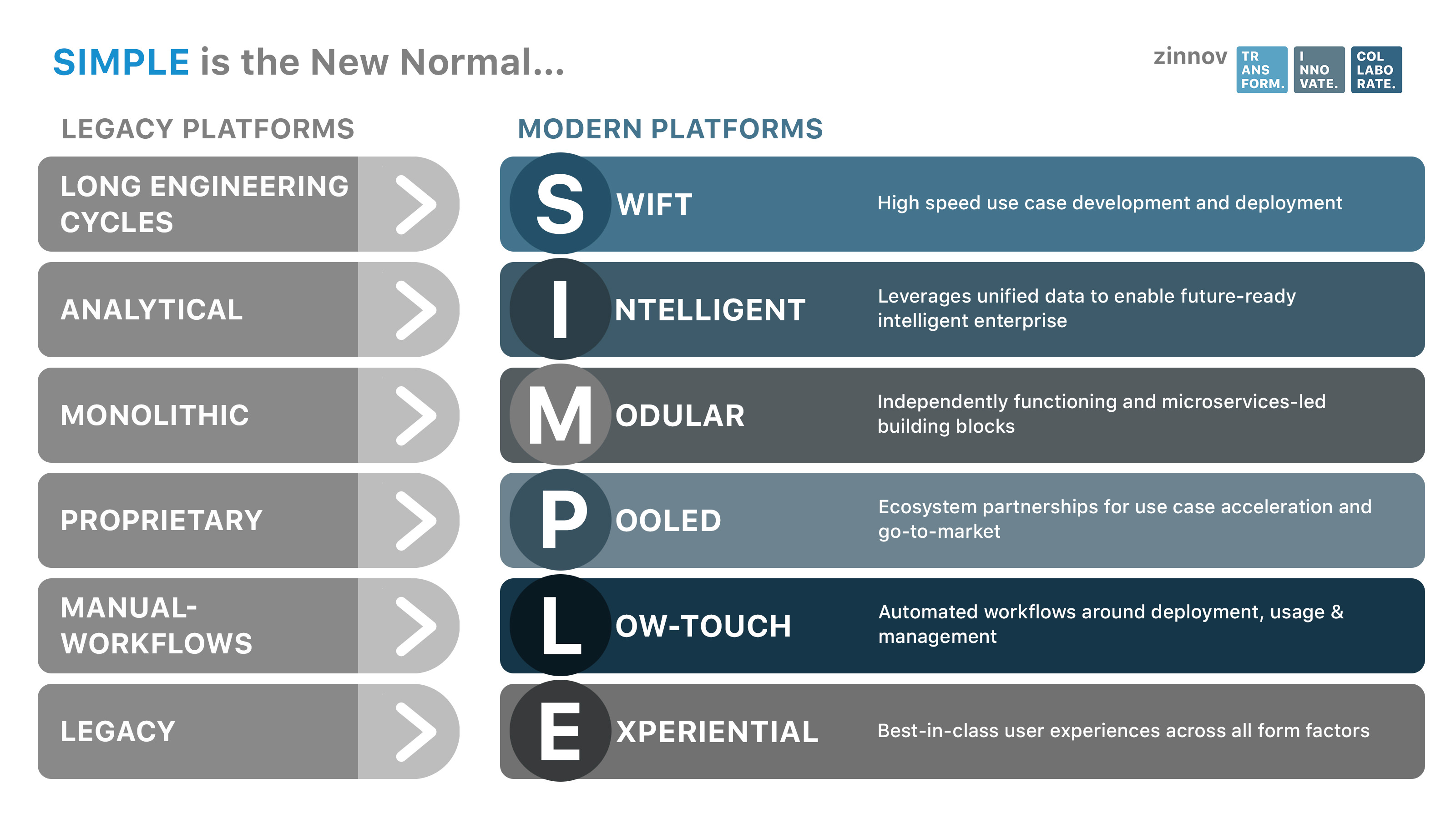 Platforms are Swift. They make it easy and fast to build applications on top of them.
Platforms are Intelligent. They are designed to learn and evolve by leveraging data analytics and machine learning.
Platforms are Modular. They are built as microservices and each part of the platform can function independently.
Platforms are Pooled. They are designed so that they evolve through ecosystem contributions.
Platforms are Low-touch. Their deployment and functioning are largely automated through next-generation techniques, including DevOps.
Platforms are Experiential. They prioritize experience and are designed from a 'customer-in' perspective than a 'platform-out' one.
Many platforms are using the SIMPLE model to gain differentiation and market acceleration. Additionally, the various categories of platforms are in different stages of evolution with respect to SIMPLE. IoT platforms, for instance, display strong 'Pooled' and 'Modular' characteristics. On the other hand, RPA platforms that are mature in terms of 'Swift' and 'Low-touch,' are now focusing on adding higher order intelligence. Infrastructure platforms such as Alicloud, Azure, and AWS are some of the fastest growing in the history of enterprise IT. Adding AI to the mix, infrastructure platforms are now becoming intelligent so that the apps can leverage their machine learning core and offer greater value across business and domain needs of customers.
Enterprise Focus on Platforms
The disruption that platforms has brought in is affecting not just technology companies, but enterprises as well. Enterprises are starting to invest in digital IP and platforms. We analyzed the top 100 global enterprises across various industry verticals, ranging from industrial to financial services to media, and found that more than 85% of these enterprises have already built some form of internal or consumer-facing platform. Another interesting fact is that almost one-third of these enterprises have built their platforms in the last 2 years alone.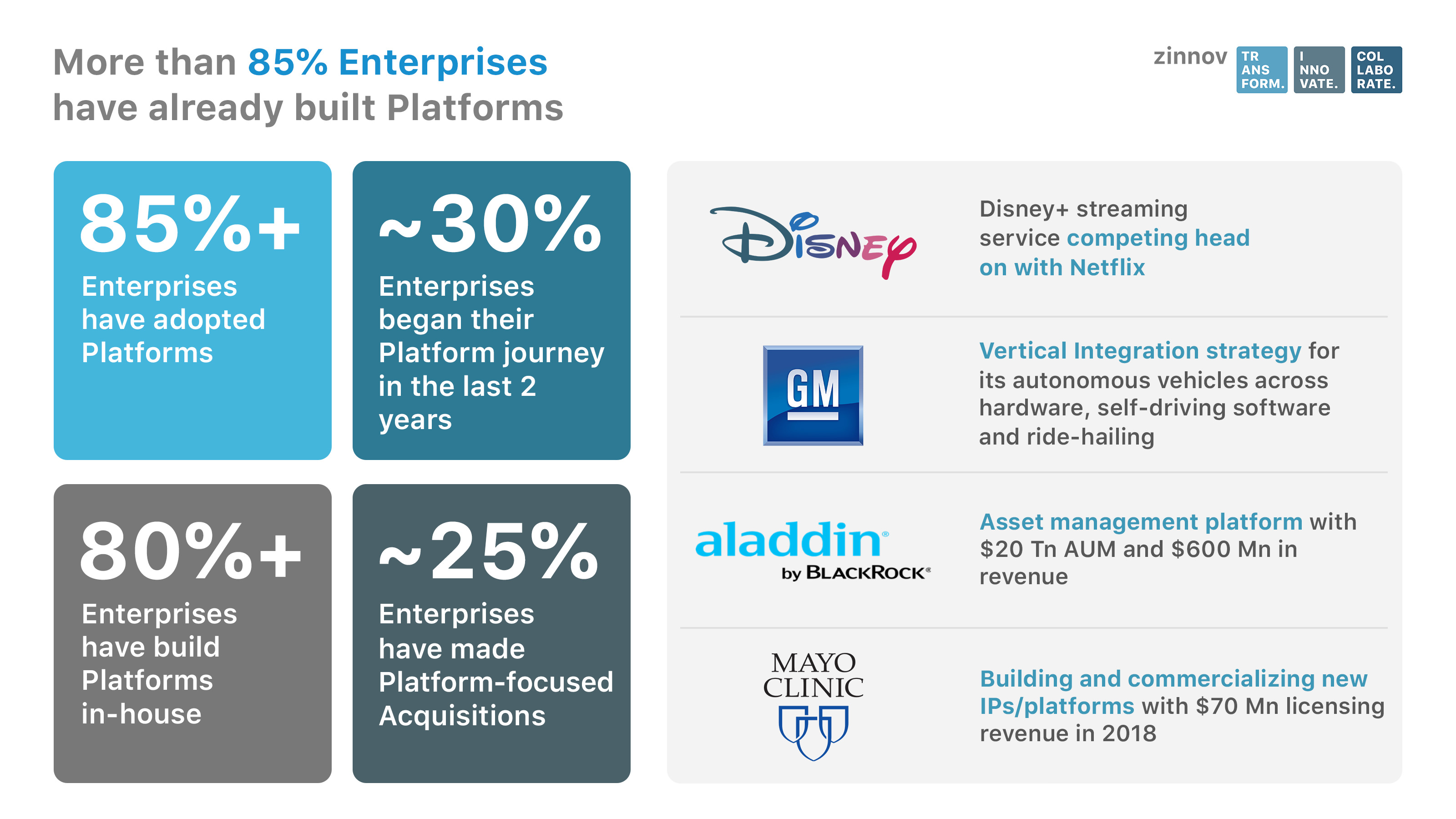 Take Aladdin, for example. It is a successful platform from BlackRock. Its journey began in 1988 as a risk assessment tool. The application has since evolved into a full enterprise-grade asset management platform with more than $20 Tn in AUM (Asset Under Management) and $600 Mn in revenue.
Although enterprises are taking on initiatives to become platform-first in their operations and business approach, they are facing several challenges along the way.
a) Lack of platform vision: Enterprises lack a cohesive platform vision and it doesn't help that they have very little clarity on the key problem they are trying to solve or the goals that they are setting out to achieve.
b) Management inertia to change: A platform-first approach requires different parts of the organization to work together seamlessly. Companies that are structured traditionally with siloed BUs (business units) and organizational hierarchies, find it difficult to work together.
c) Failure to engage developers/ecosystem: Many platforms are designed as closed systems that don't evolve through ecosystem contribution. This is a recipe for disaster since platforms need to engage with internal and external ecosystems in order scale.
d) Failure to optimize platform openness: While platforms need to be open, there needs to be governance in place to ensure that the 'openness' is not exploited by external entities.
e) Platform talent-related issues: Platform engineering requires full-stack engineers as well as other talent such as ML experts and data scientists, who have now become as rare as unicorns!
f) Failure to build trust: Enterprises on the journey to platformization need to gain customers' trust and prioritize privacy and security as essential areas to be addressed.
So how can traditional enterprises overcome these challenges and become digital platform enterprises? By taking a leaf out of the playbook of a successful platform business.
What aspects of a platform business model do enterprises need to focus on and in which order? Drop us a note at
info@zinnov.com
to know more about instilling platform-first thinking in your enterprise.