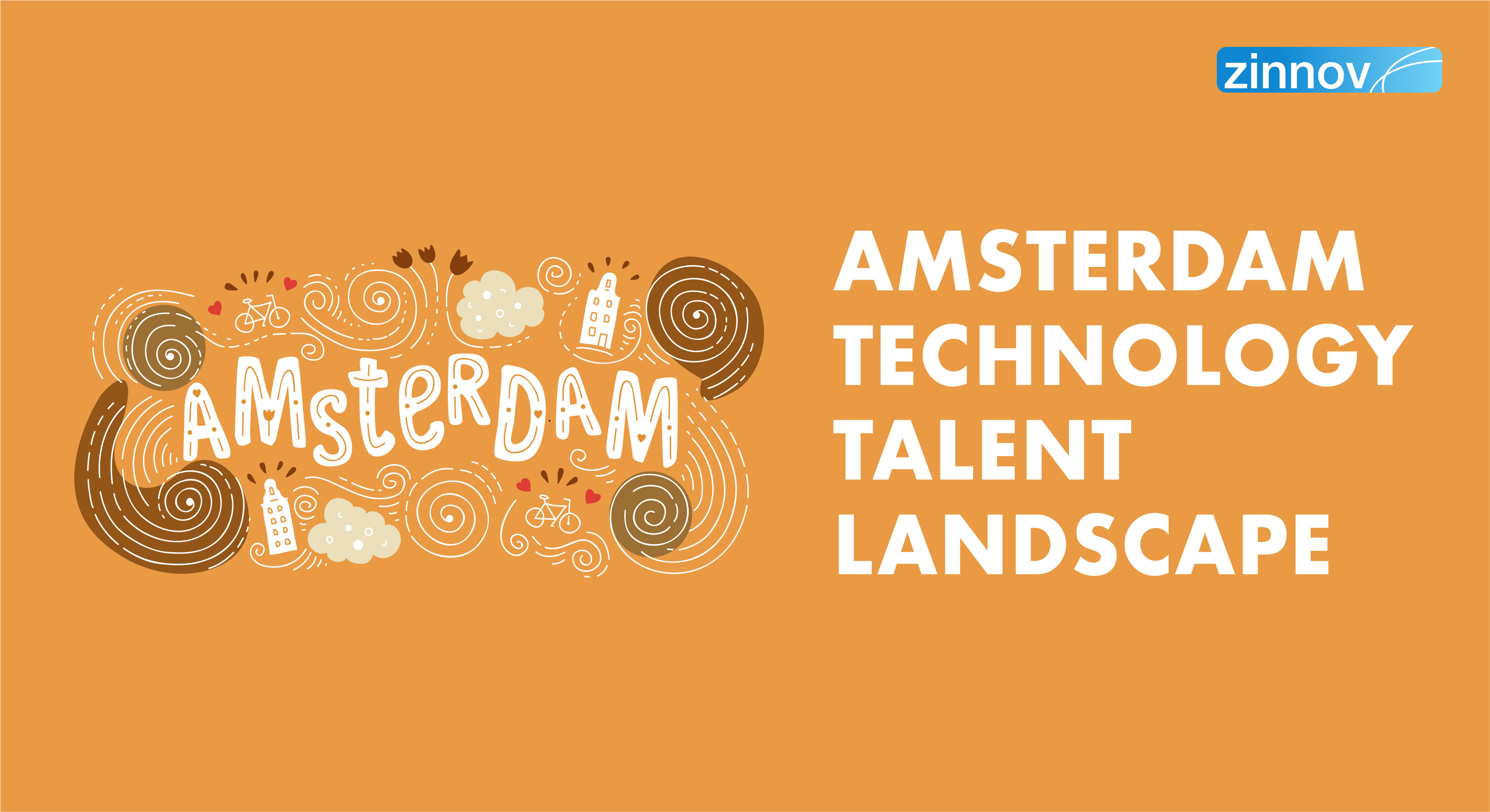 "If you always do what you always did, you will always get what you always got." – Albert Einstein




Talent is one of the key driving forces of an organization's success because it's the people who generate value through their work, than companies in isolation. The right talent will take an organization from good to great. It is rightly said that talent is the new oil in the digital economy, which needs to be mined and explored to gain access to it. Hence, organizations cannot become complacent with their current talent acquisition strategies if they want to be the disruptors instead of the disrupted.
However, there is a paucity of skilled talent that organizations – big and small – are facing, with no one-size-fits-all solution in sight. But, one talent acquisition strategy that seems to have worked for organizations is to look beyond the obvious by casting a wider net for skilled talent. This means analyzing and exploring newer geographies beyond the obvious technology talent hubs such as North America, China, and India to bridge the chasm between demand and supply of skilled engineering and technology talent.
Amsterdam Ascending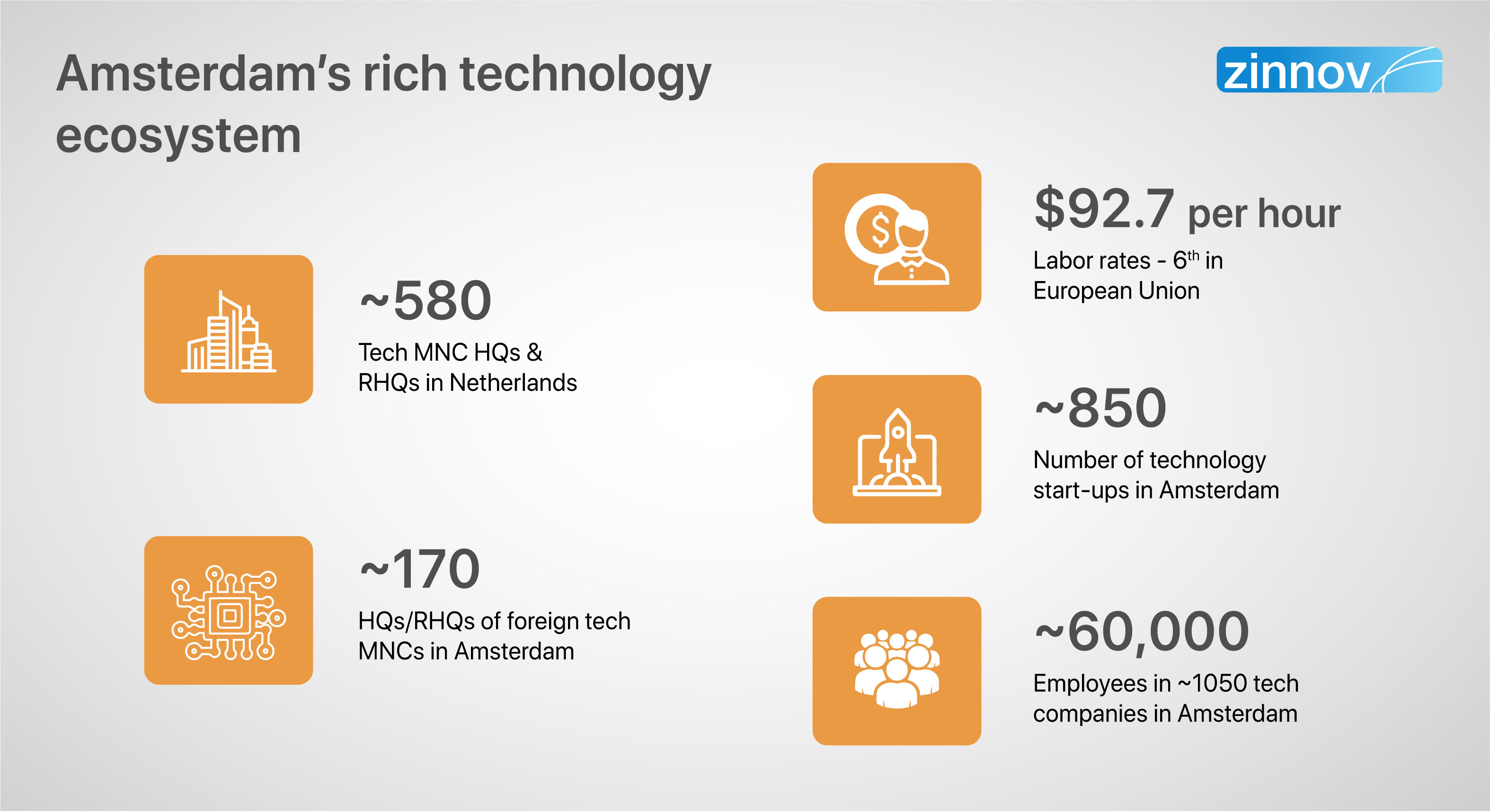 In our recent Zinnov R&D Talent Landscape analysis, we leveraged DRAUP's proprietary Talent Module to analyze trade hubs in Western Europe and found that Amsterdam has a rich Information and Communications Technology ecosystem. Looking beyond the ubiquitous canals and cycles, Amsterdam is not merely a trade hub, but is home to a vibrant ecosystem comprised of homegrown tech giants, start-ups, and international technology companies.
Home to ~17 million people, Amsterdam boasts 99% literacy levels and a total workforce of nearly 9.15 million individuals. Verticals such as Finance, Retail, and Media are the top employers in Amsterdam. In fact, Media & Entertainment and BFSI verticals employ nearly 55% of the total workforce.
Immigrants in Amsterdam
Thanks to its strategic geographic placement, the Netherlands attracts numerous immigrants from across European Union as well as the rest of the world. Other favorable factors that draw immigrants to the Dutch shores include supportive immigration policies, job opportunities, and relaxed visa policies. Of the total ~9 million workforce, nearly 1.5 million are immigrants from Eastern European countries such as Bulgaria, Poland, Romania, and Turkey, other EU states, and the countries such as India, China, and the US.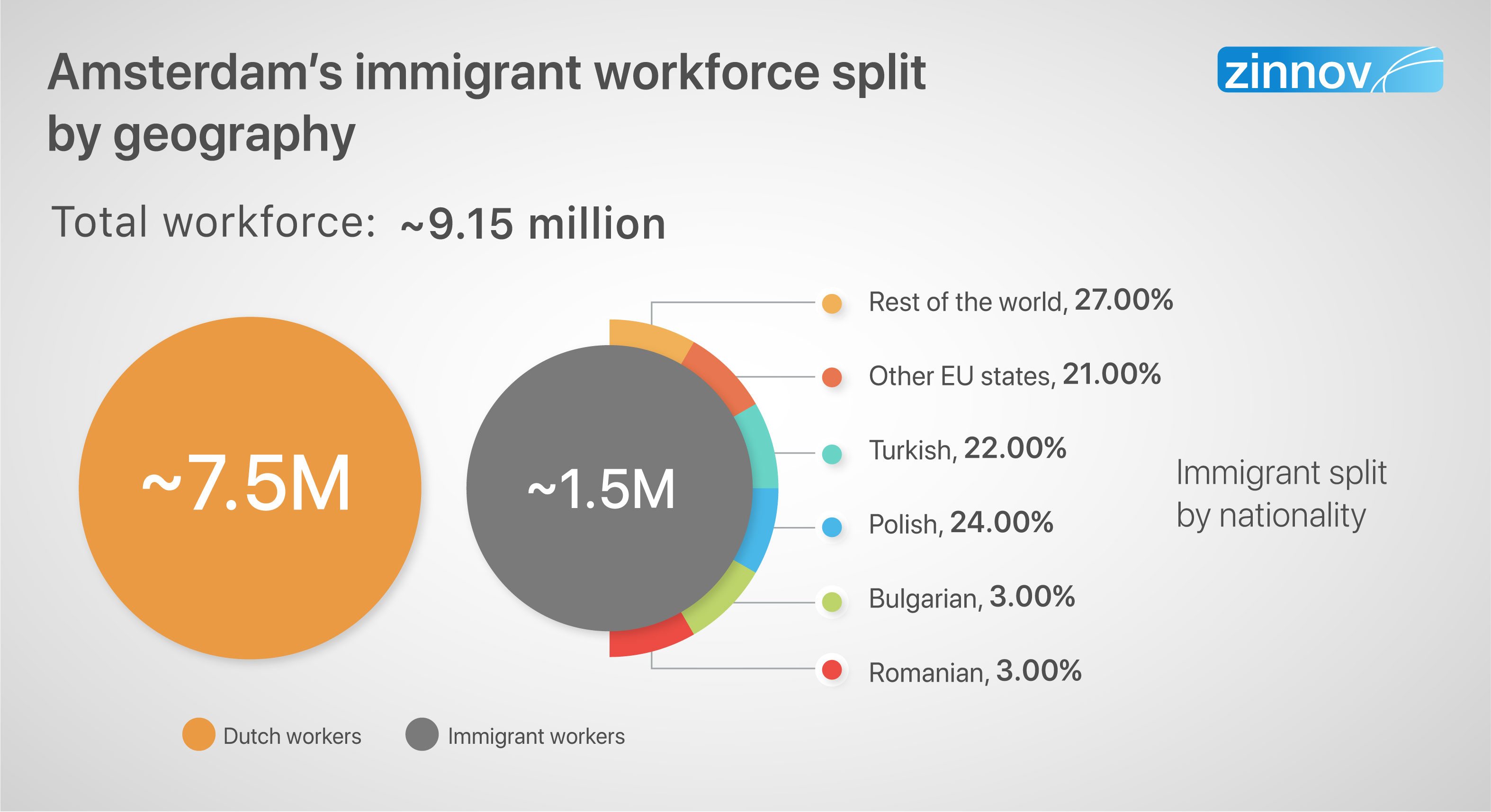 Some of the factors that attract immigrants to Amsterdam –
a) Part-time job opportunities:
At 3.9%, the Dutch unemployment rate is one of the lowest in the EU. Also, part-time employment in the Netherlands is very high, constituting nearly 40% of the total Dutch workforce. In fact, almost 31% of the total job vacancies posted are for part-time employment.

b) Employment opportunities:
Migrants from EU countries can apply and start working in the Netherlands. However, non-EU citizens have to apply for a work permit before working in the Netherlands. However, EEA and Swiss nationals are free to work in the Netherlands beyond their work permit.

c) Visa regulations:
The Netherlands has a relatively relaxed visa policy. Citizens of EU/EEA countries and Switzerland do not require a residence permit to live and work in the Netherlands. Additionally, family members of EU/EEA citizens and Swiss nationals living in the Netherlands can live with them, even if they do not possess European citizenship.
Amsterdam Technology Talent Ecosystem
Any talent ecosystem needs key players that fuel its growth. Amsterdam's ecosystem comprises of close to 1050 technology employers, that are cohesively supported by the trifecta of government institutions, VC ecosystem, and university network.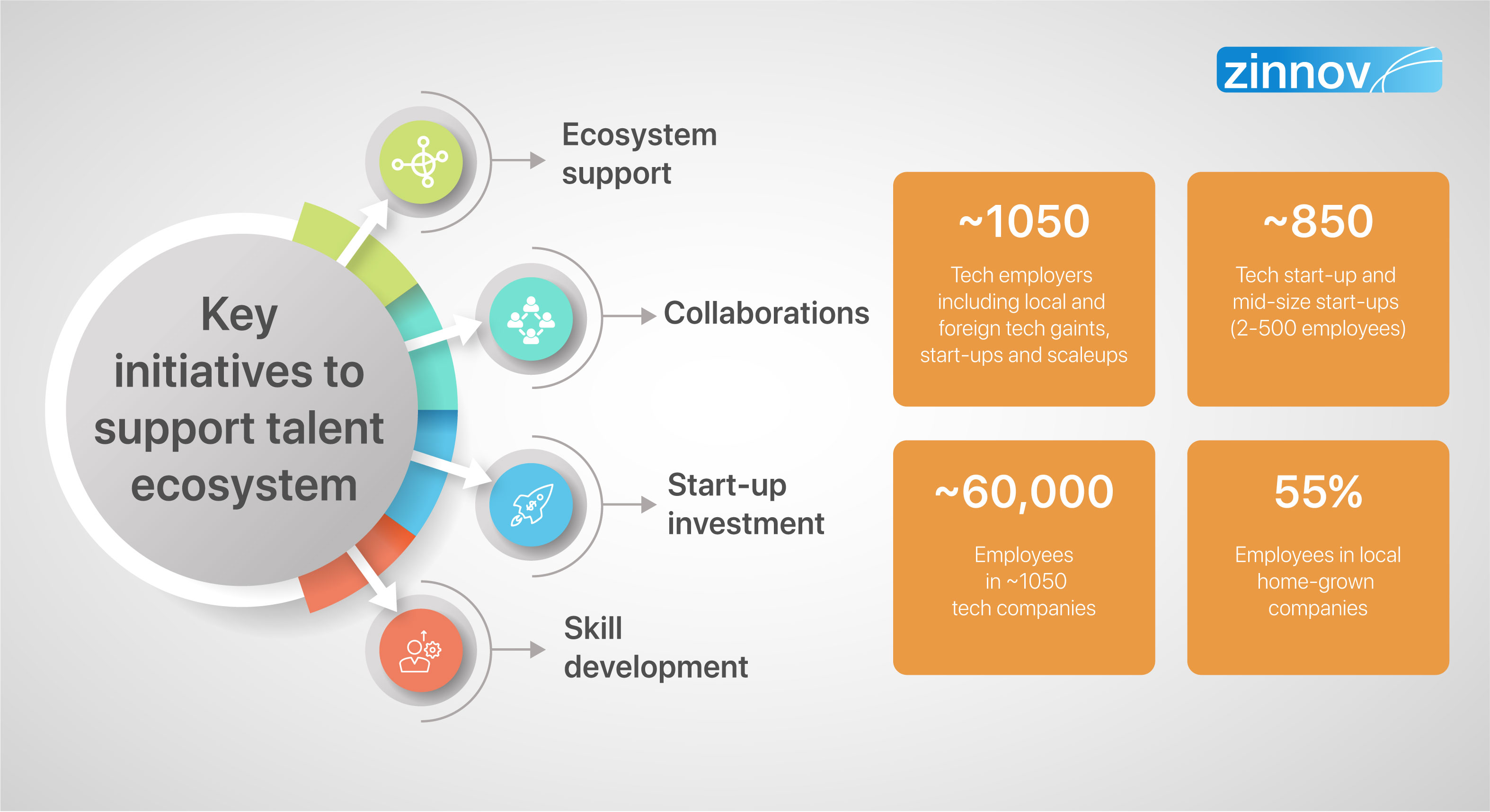 Some of the more defined initiatives driving the rich talent ecosystem in Amsterdam include:
a) Ecosystem Support

(i) Internet and Network Infrastructure: According to the European Digital City Index 2018, Amsterdam has the third fastest mobile Internet speed in Europe, with an average speed of ~18MB per second.
(ii) The Start-up Delta: Amsterdam is the 4th most active start-up hub in Europe. According to Compass, there are between 1900 and 2600 tech start-ups in the Amsterdam – Start-up Delta, the geographical triangle covering Amsterdam, the Hague, and Eindhoven. Further, a rich pool of tech talent is employed across e-commerce, booking platform, and FinTech start-ups.
(iii) Leadership push to attract tech talent: In 2014, Amsterdam brought in the big guns, appointing Neelie Kroes, the former European Commissioner and board member of Salesforce, for the Digital Agenda, as a Special Envoy for start-ups. Kajsa Ollongren, Amsterdam's acting mayor, who was deputy mayor previously, is an active supporter of the tech community, keen on attracting IT talent and venture capital to Amsterdam.
b) Start-up Investments

(i) Innovation hub: In Nesta's recent CITIE (city initiatives for technology, innovation, and entrepreneurship) study, Amsterdam was a 'front-runner,' standing out for its policies in innovation strategy, innovation advocacy, and information consumption. Additionally, in the last few years, the Dutch capital has been investing resources in its overall innovation strategy with projects like the Smart City initiative.
(ii) Breakthrough VC funding: Amsterdam's start-ups received a funding of Euro 194Mn in 2017, which amounts to nearly 76% of the total start-up funding of the whole of Netherlands. Tech companies in FinTech and MedTech have fared particularly well. Additionally, venture capital investment activity in the city has tripled in the period between 2014 and 2018. In fact, at least 288 Amsterdam start-ups are backed by venture capital funds.
c) Collaborations

(i) Boosting Business Innovation Program: The Amsterdam Economic Board brings together businesses, educational institutions, and government bodies in the Amsterdam Metropolitan Area. This board is committed to achieving talent attraction objective through its program, 'Amsterdam Works.'
(ii) StartupAmsterdam: This is a public-private partnership that aims to ensure Amsterdam will become the point of reference for the European start-up and tech scene. In fact, more than 250 partners including VCs, accelerators, incubators, universities, tech companies, start-ups, and scale-ups are actively involved.
d) Skill Development

(i) Education and entrepreneurship: The Dutch government understands the importance of entrepreneurs for economic growth. Hence, there is a push from the government to incorporate entrepreneurial skills in course curriculum and for educational institutions and private sector to work together through organizations like the Education-Business Alliance.
(ii) Amsterdam School of Data Science: Amsterdam's three major universities – Amsterdam University of Applied Sciences, University of Data Science, and Vrije Universiteit Amsterdam – have collaborated to offer over 250 bachelor's, master's, post-graduate, and professional programs to students. This alliance aims to reduce the critical shortage of data scientists in the labor market.
Amsterdam Calling
Amsterdam is generally considered a great place to live. Its canals and cycles and the connected infrastructure are a draw for tourists and entrepreneurs alike, both from across Europe and the world. Amsterdam's permissive culture as well as the prevalent English language skills, proximity to European markets, and generous tax policies have attracted large technology companies such as Netflix, Uber, Atlassian, Elastic, and Tesla to set up their centers of European expansion in Amsterdam.
Amsterdam brings together a unique combination of technology talent – home-grown as well as immigrants, technology universities, the vast pool of tech start-ups, and last but not least, the city and its vibrant tech ecosystem, making it a desired hotspot for companies looking to globalize. Furthermore, an increase in public-private initiatives such as StartupAmsterdam will push skill development to the forefront and will go a long way in attracting many more technology companies to set up shop in Amsterdam.
Amsterdam brings together distinctive traits that make it attractive for offshore company setup that technology companies can explore. Write to us at info@zinnov.com to know other technology talent hotspots in Europe.