Thirty years ago, the concept of looking beyond domestic borders for talent was purely based on a cost arbitrage philosophy. Unbundling 'core vs context,' companies looked to offshore locations for cutting costs and reducing overheads. General Electric was one of the pioneers, adopting offshoring practices as early as 1982, where they set up manufacturing in Mexico. Over time, companies chose to set up teams in India, the Philippines, and Eastern Europe to maximize low-cost talent. Fast-forward to today, we have a global war between companies vying for domain experts and high-skilled professionals, at any cost and at scale! Apart from India and Poland which boast a combined talent pool of 3.5 Mn software engineers, countries like Vietnam, Costa Rica, and Chile are emerging hotspots for world-class technology talent. This has led to the creation of Centers of Excellence (COEs) and Global Capability Centers (GCCs) designed as offshore sites that leverage skilled talent in specific geographies.

The Rise of Techno-business Talent
These new-age 'techno business' professionals are the perfect mix of technology domain experts with business acumen that makes them adaptable to multiple teams and types of work. Take the example of a Customer Experience Engineer, whose skillset encompasses technical data and analytics, product testing based on real customer interactions, and the ability to extrapolate findings and translate them into journey maps and CX blueprints.
The paradigm shifts from pure cost to cost plus capability arbitrage has forced companies to invest in talent that adds value to the overall business objectives, which is leveraged for innovation and growth. The added benefit of leveraging global talent (also termed globalization) is economic de-risking. Macroenvironmental changes, exacerbated by geopolitical tensions continue to burden global supply chains. Globalizing talent is a smart way for companies to de-risk by not focusing all resources and capabilities in a singular location but channeling a multi-hub strategy.
Companies face a conundrum when choosing the right model of globalization – Insourcing or Outsourcing. Both come with their fair share of advantages and disadvantages. Understanding the nuances helps companies make an informed decision when choosing a model that is best aligned with their business strategy.
Insourcing vs Outsourcing
Simply put, insourcing looks at building capabilities in-house, either by deploying existing teams if the capacity exists or hiring new internal teams to ramp up capabilities. On the contrary, outsourcing is a business model that looks at onboarding external vendors, contractors, or outsourcing partners to perform specific tasks and roles. The talent is employed by the third-party partner and contracted for a specified duration of time.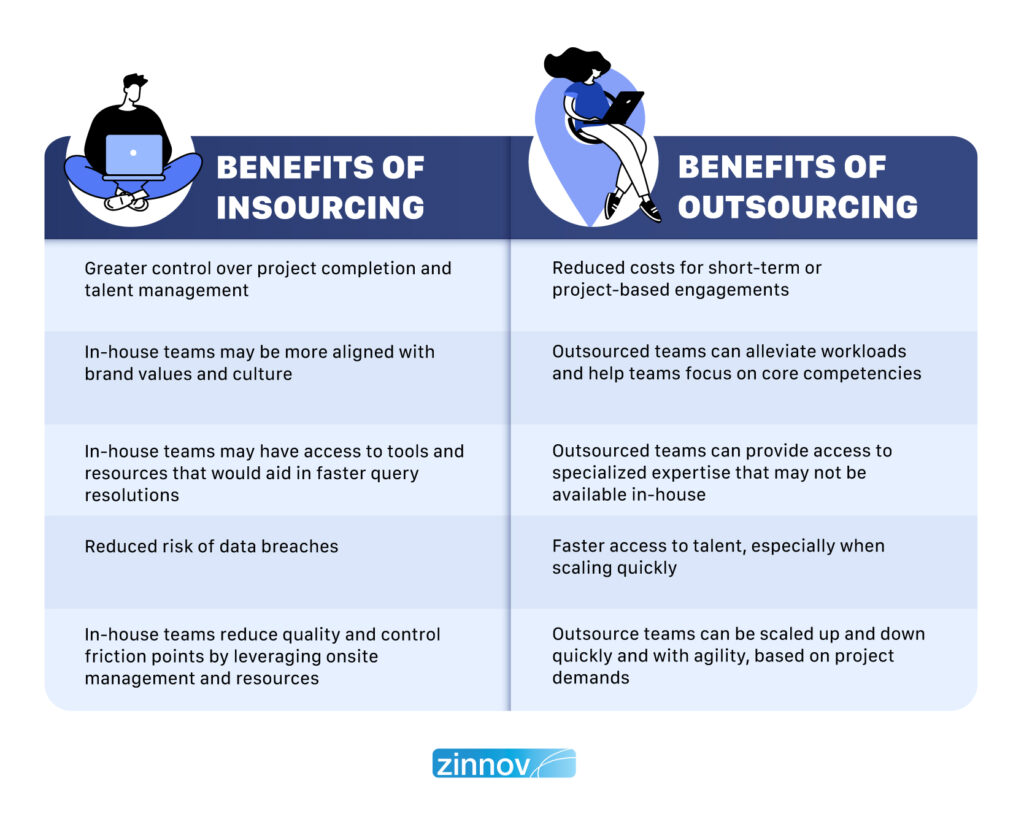 Whether a company chooses either a model or a combination approach, below is a list of considerations for business leaders to factor in before deciding on a model that is right for them and their needs.
If a company hires specialized talent in a domain they don't have existing infrastructure to furnish, insourcing can be costly in the short term. Apart from hiring talent, training and nurturing in-house talent is both labor- and cost-intensive. Furthermore, new systems and operational equipment might require sourcing if they don't already exist. Outsourcing on a project basis might be cost-effective. However, for long-term or multi-project engagements, partner/vendor fees and associated deliverable costs can add several zeros to your invoice.
Many companies looking to scale quickly gravitate towards outsourcing partners because of the ready availability of talent to hit the ground running. On the contrary, research suggests that outsourced projects take 4X the time to complete a project than normal. On the other hand, insourced talent leverages existing systems like internal project managers to meet deadlines and demands. Depending on the urgency of getting the project started, both models have advantages.
How a Global Pharma Giant
De-risks Operations By Insourcing Global Talent
Click Here
One of the key reasons companies prefer insourcing relates to the degree of control the company has on project completion and talent management. In-house talent is familiar with the existing quality standards of a company and unrestricted access to internal project stakeholders, ensuring deliverables are aligned with the company's objectives. Companies that outsource usually have very little decision-making power in the completion of tasks.
Regarding productivity, with insourcing, employees with existing workloads are burdened with the expectation of being good at everything and can experience burnout. Outsourcing alleviates this by distributing workstreams between teams. Furthermore, outsourcing support functions further helps internal teams focus on core business competencies and tasks, increasing the productivity and performance of both teams.
Brand Value and Reputation
Although outlining the framework and scope of work is the onus of the company regardless of the model (insourcing or outsourcing), there is merit to the argument that no one knows your business better than your own employees. Outsourced employees in offsite and other locations, may lack the nuances unique to each company culture. They may also lack the affinity to align with brand values and vision, as compared to in-house talent.
An example of this is customer service executives. Insourced talent may have access to tools and resources that would aid in faster query resolutions as compared to outsourced employees who may operate offsite or in another geography. Additionally, due to potential information asymmetry and project control with outsourced employees, the likelihood of miscommunications is higher, which directly impacts brand reputation and perceptions of quality and value. On the other hand, if the customer is based in a geography different than HQ, working with an outsourced team can reduce language and culture barriers.
In today's hyper-digital world, data is the new currency. For companies that operate with highly confidential data and patented products, protecting them from external threats is pivotal to business continuity. Outsourcing tasks and roles to agencies outside the organization can increase the threat of breaches. That being said, insourcing the same functions doesn't absolve a company of the same risks operationalized by disgruntled or unethical employees. Regardless of the business model, choosing partners and employees who meet thorough quality and regulation standards is important.
There isn't a one-size-fits-all
When it comes to choosing the right globalization model, companies have multiple options. Either a plain vanilla insourcing or outsourcing model or a hybrid approach, based on the workload complexity, data security and IP protection aspects, and cost. IT functions are a good example to consider. A company may consider retaining governance in-house while outsourcing operations. This allows for better project control, reduced risk of relying solely on one provider, and the flexibility to scale up and down depending on project requirements.
Alternatively, companies can adopt a phased approach where to kickstart projects, an outsourcing model is used and over time, these teams and capabilities are insourced. This provides an advantage on cost (lower upfront costs) as well as time to scale (talent readiness and availability). This is a strategy adopted by many companies that have set up Global Capability Centers (GCCs) and Captive Centers in India.
Related Blog
How to Choose a Location for setting up a Global Capability Center (GCC)
Read More
Health.Co*, a leading healthcare platform company, insourced their previously outsourced functions by setting up a Global Capability Center (GCC) in India, which has positively impacted top and bottom-line revenues by reducing costs by ~25% and reduced attrition to 6% (industry averages are between 25%-30%).
Regardless of the model, companies need to evaluate core business competencies, cost, organizational goals and priorities, existing infrastructure, and time to scale as key factors when deciding which functions to insource, and which to outsource.
* To protect the privacy of our clients, names have been changed. The results, however, are 100% real.
Looking to leverage the best global talent for your organization? Talk to our experts today!
info@zinnov.com