The past decade has seen some of the largest companies have moved to an insourcing model. To name a few, around 2016, pharma giant AstraZeneca insourced the majority of its IT functions, saving USD 350 Mn annually, and by 2019, banking giant DBS had insourced over 90% of its overall IT functions. What is the trigger for this paradigm shift, when outsourcing has been a go-to model for most of the context work, from an Engineering perspective? To understand this trend better, Zinnov studied 165 global companies that clocked in USD 1 Bn+ in annual revenue across Healthcare, Automobiles, IT/Software, FMCG, Oil & Gas, BFSI, etc., verticals. Out of these, 77% of the companies have insourced previously outsourced IT functions. To better understand what is driving insourcing, which parts of IT functions are being insourced more, and what has been these companies' experience, we talked to 50+ key decision makers from the evaluated companies and collated their perspectives around –
Why insourcing?
What is driving the insourcing trend?
What is happening across functions and verticals?
What is the ratio of Insourcing to Outsourcing?
What does the future hold for insourcing?
What are the major challenges faced by organizations during the transition?
The Trend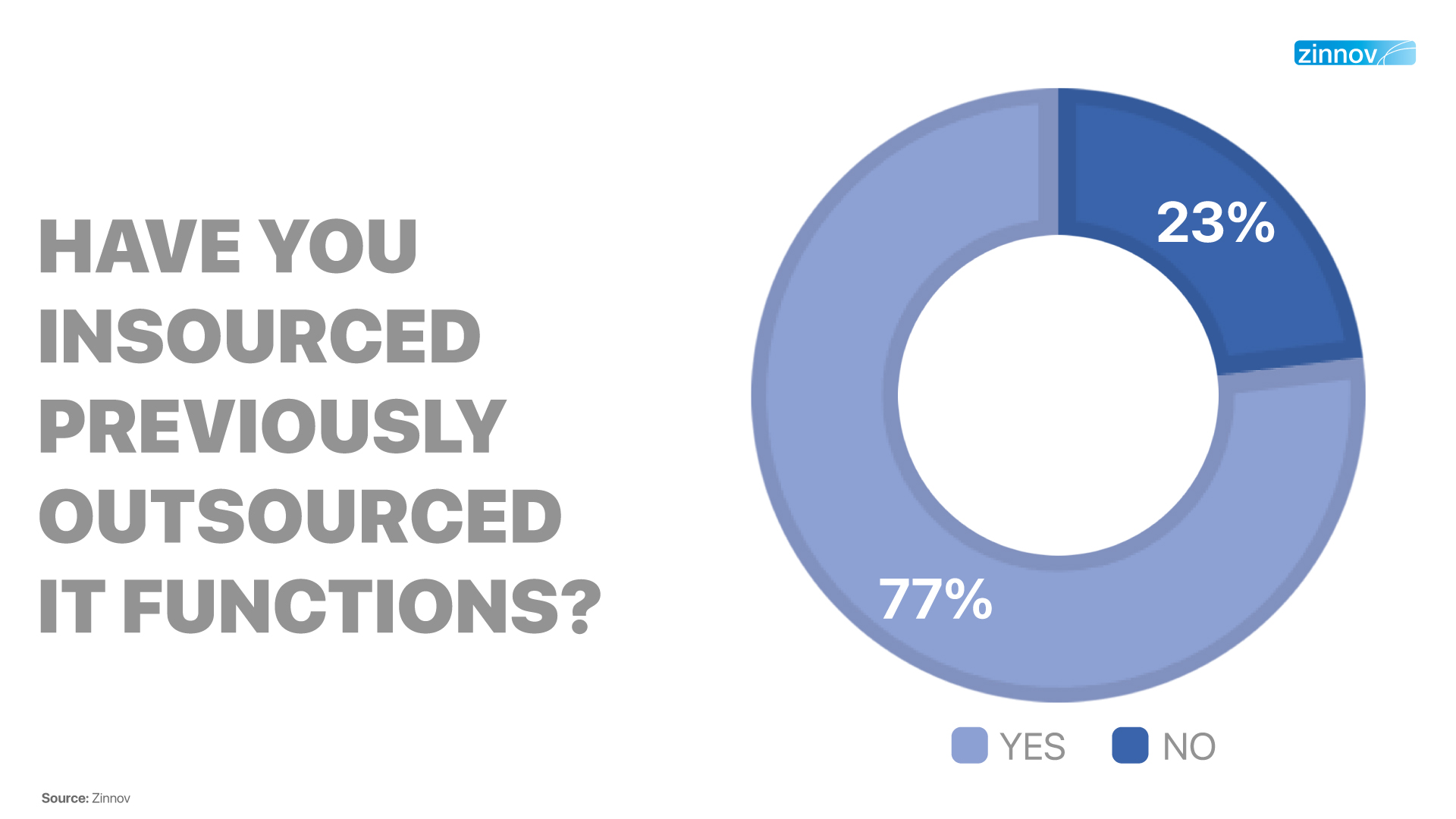 What is driving the insourcing trend?
According to the study, 67% of the companies chose insourcing to have better control over process, quality, and IP, closely followed by improved customer experience at 60% and reducing operating cost at 63%. In essence, companies want:
Better quality – In-house teams can provide higher productivity with fewer errors and better communication.
Better cost – Reduced overhead of supplier management costs and absence of supplier margin mark-up help realize better cost advantages. Also, Service Providers' cost model is based on the number of resources deployed and does not capture the need for innovation. With uncertain times, changes in the delivery compound the cost.
Better customer experience – In-house teams are closer to the customer and understand their needs, in turn able to give better quality delivery.
Better security – In-house development ensures utmost security of data with the IP residing on the company servers.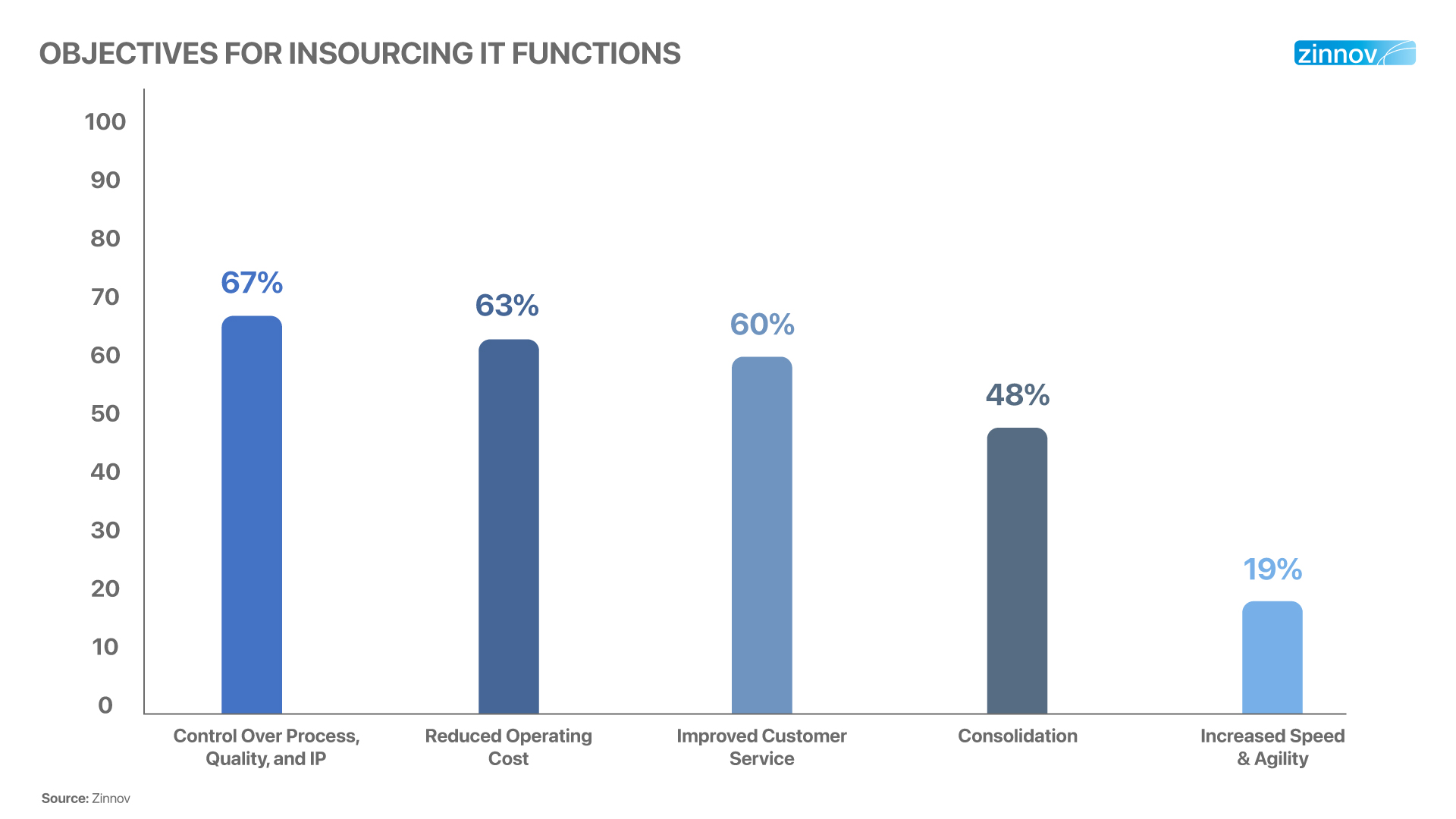 Function and industry view
Here's a snapshot of the major IT functions insourced by companies. 75% of the leaders said that they have insourced software development, 56% said technical support, while 50% of them have insourced IT Operations.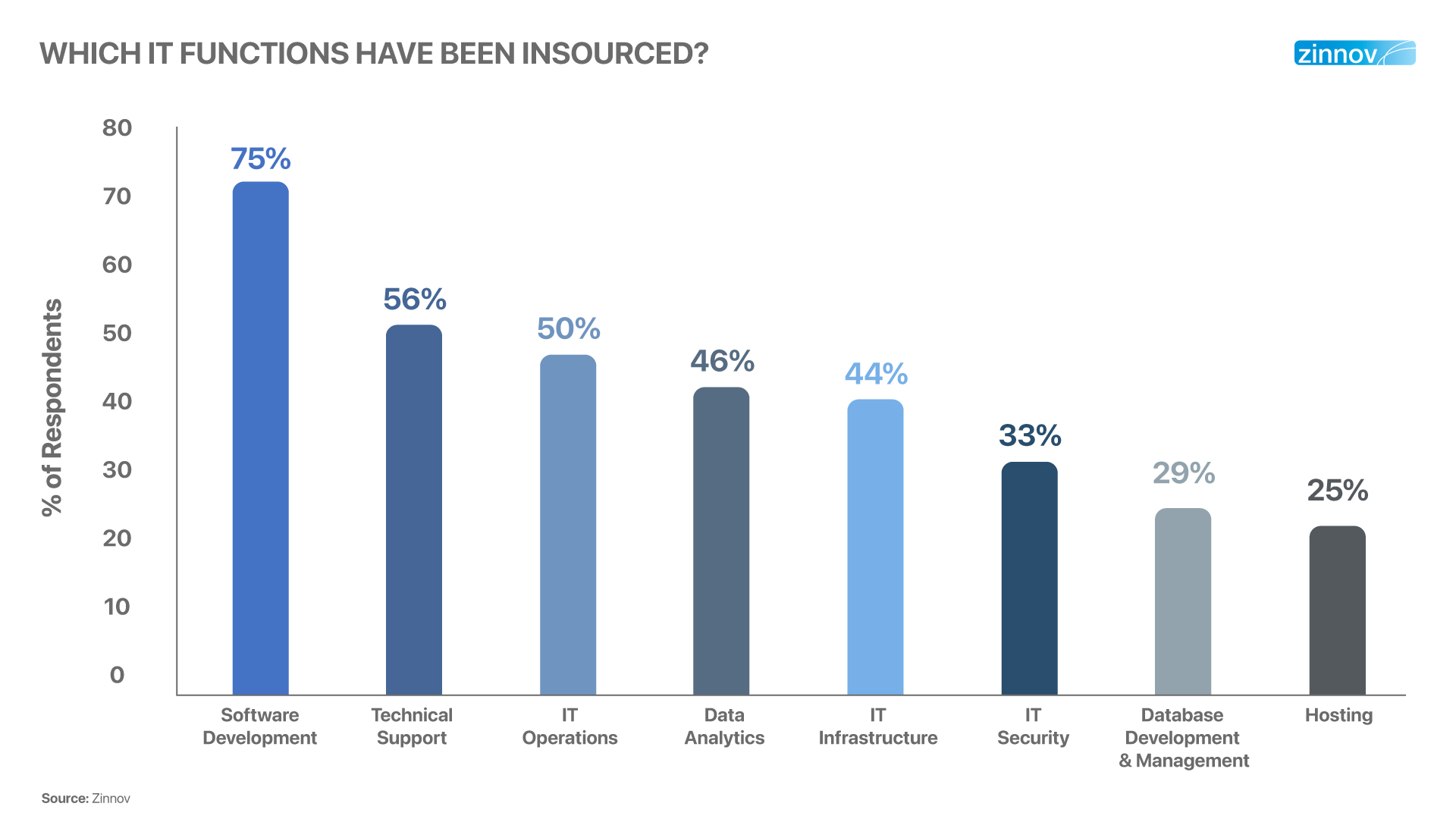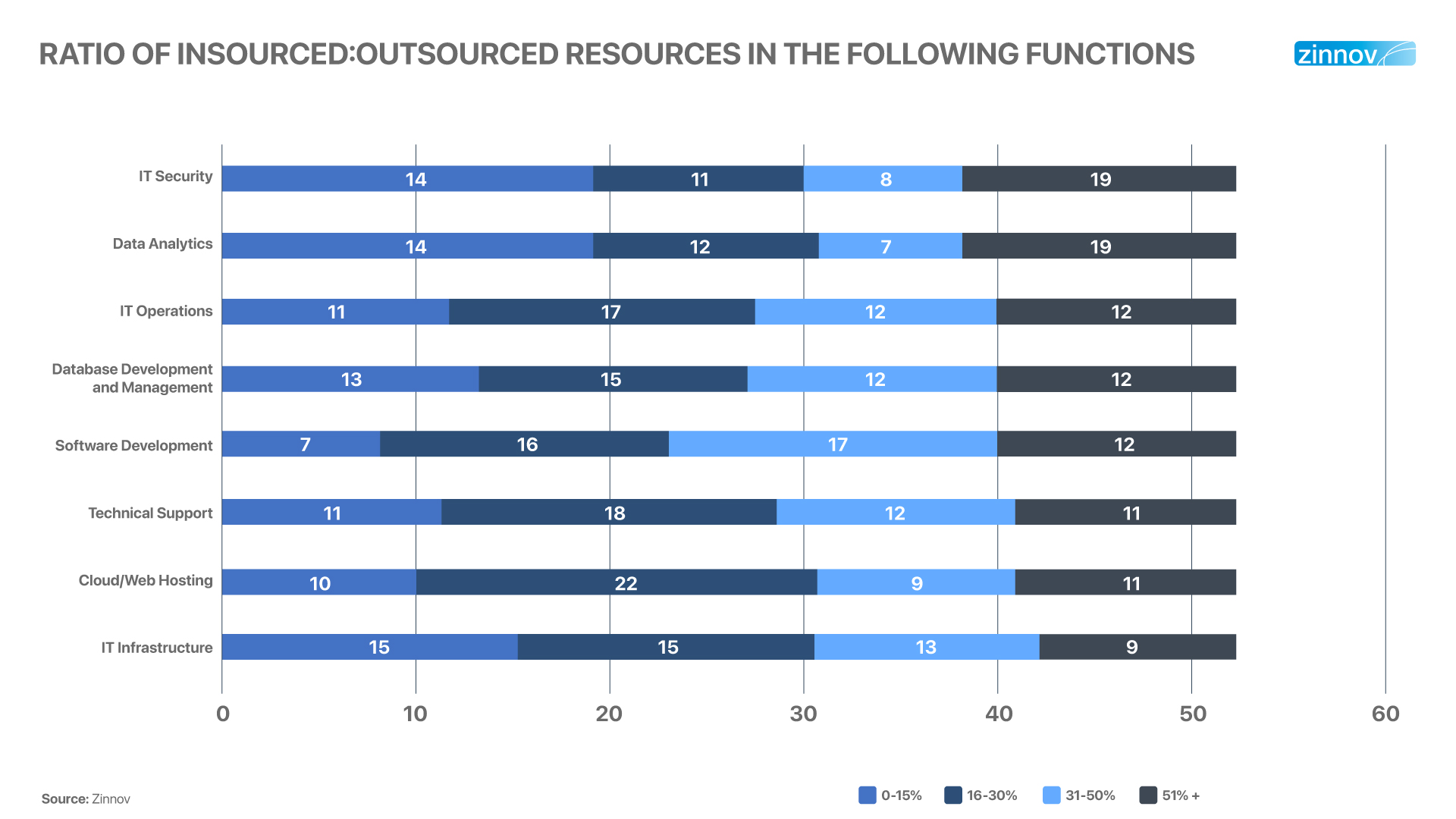 The chart above highlights the ratio of insourced resources to outsourced resources for each of the functions listed in the image above. Clearly, the top 3 functions by resource allocation are IT Security, Data Analytics, and IT Operations. This shows that companies want to gather deeper insights regarding customer behavior from the captured data and have the data stored in-house for better security.
The chart below drills down to sector-level insourcing trends. The Data Analytics function is the most insourced, with 73% of companies from Healthcare and 66% from FMCG having gone that route. Data Analytics is core to both these verticals, to better understand consumer behavior and develop differentiated offerings.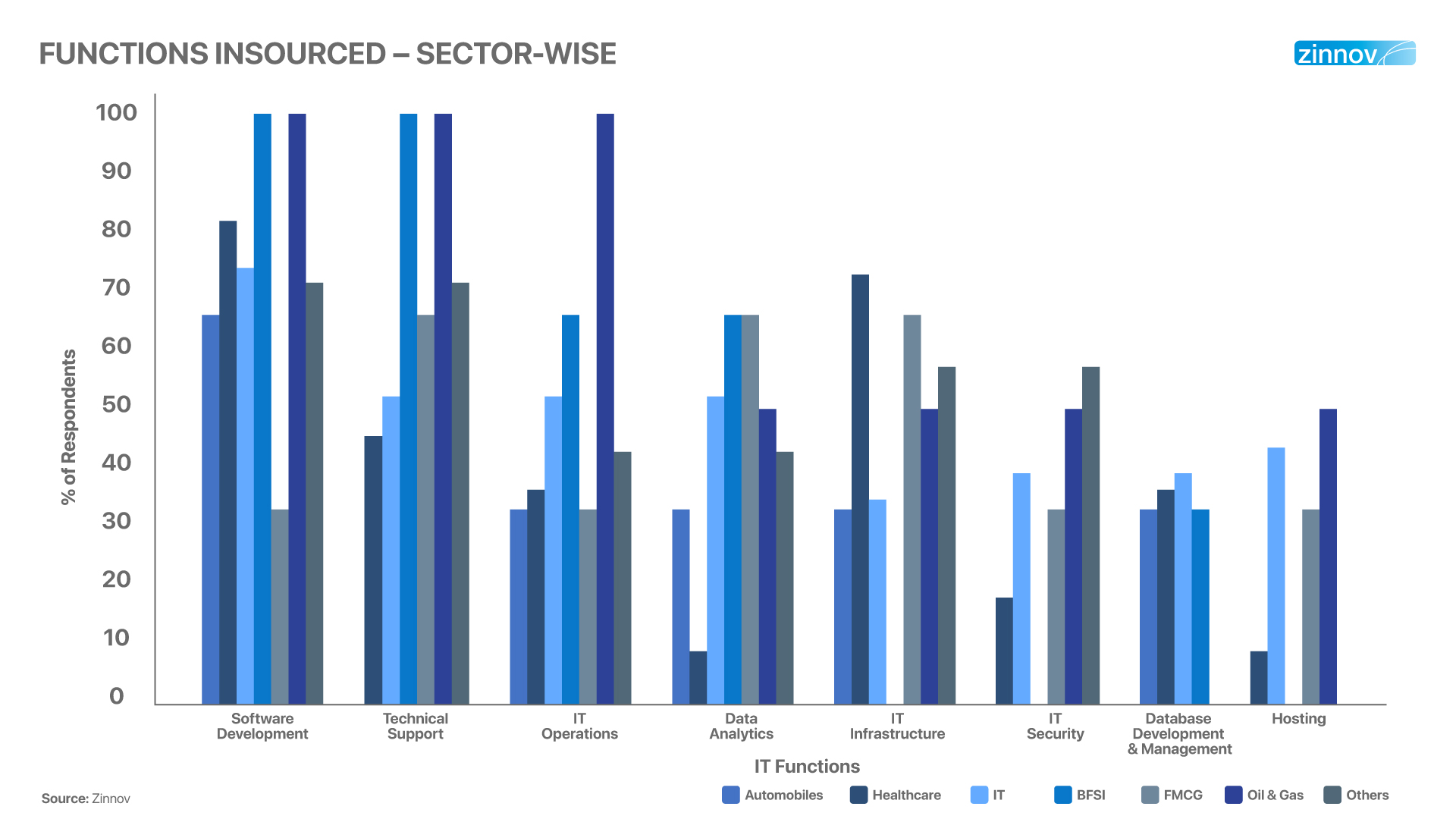 These results are in line with our experience tracking and analyzing the technology ecosystem over the years. With recent events such as COVID-19 and its repercussions, companies are re-looking at the bigger picture and shuffling the so-called 'core' and 'context' work. Based on the new alignment, decisions are being made on what to bring in-house and what to be left with Service Providers, making it a hybrid approach with core services supported within the organization and non-core work through third-party providers. With the accelerated pace of digitalization and rapidly evolving consumer behavior, Retail firms such as Target and Lowe's, as well as BFSI firms such as UBS and DBS have built in-house software engineering capabilities to offer better customer experience and gain competitive advantage by developing differentiated and customized product offerings at a faster pace for the customers.
Ratio of Insourcing to Outsourcing
50-60% of the companies have insourced 30%+ of their IT functions. As illustrated by the chart below, it provides a detailed vertical-wise split of ratio of insourced to outsourced IT functions, and among the IT/Software companies, 61% had more than 30% of their IT functions insourced. In Healthcare, 55% of the companies had more than 30% of their IT functions insourced. This implies that companies are redefining priorities, and that IT and technology are becoming core to organizations, compelling them to bring these functions in-house to have better control over them.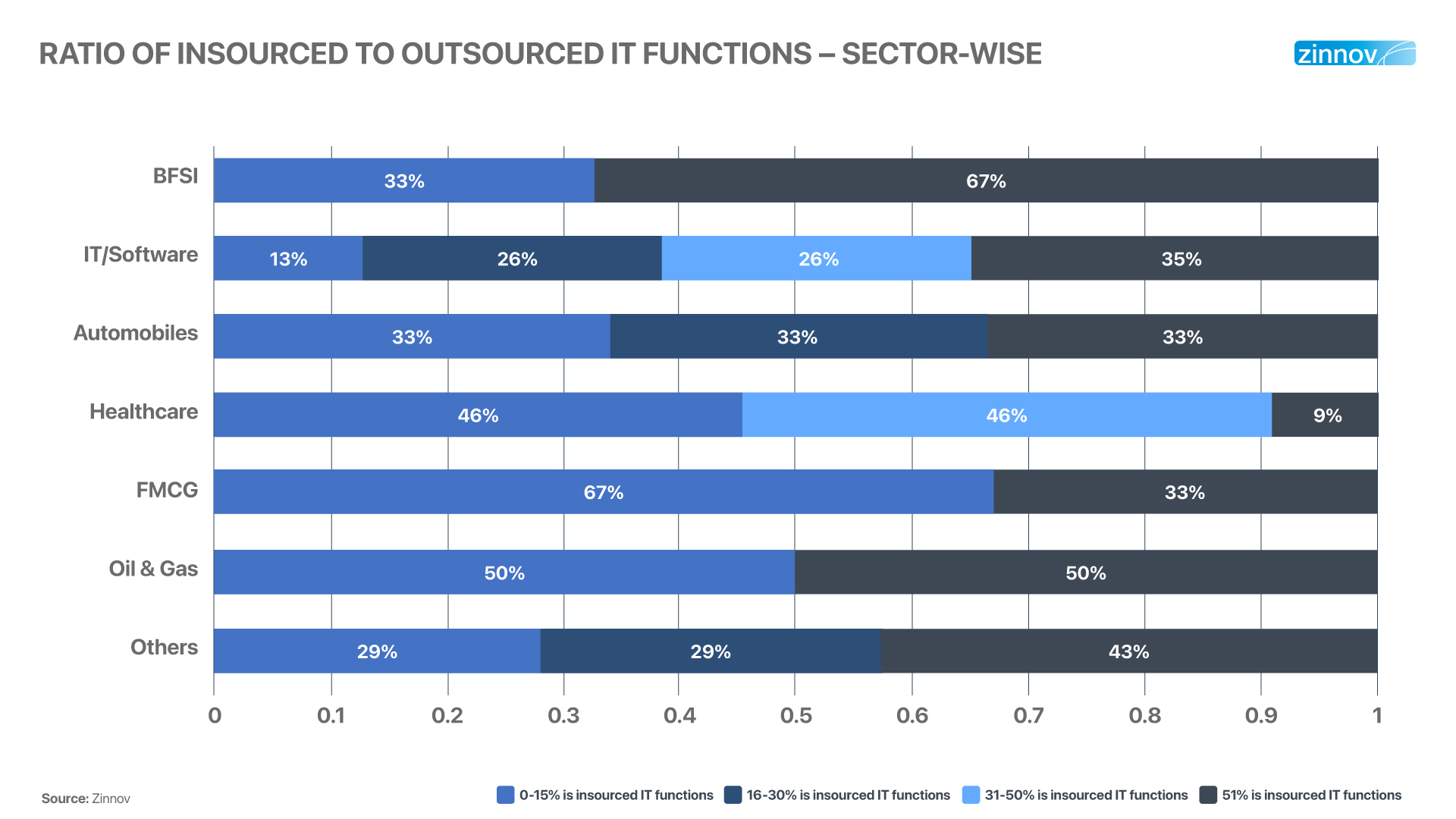 Future of Insourcing
Our study revealed that 50% of organizations across all sectors expect insourcing to go up by 10-25% in the next 5 years.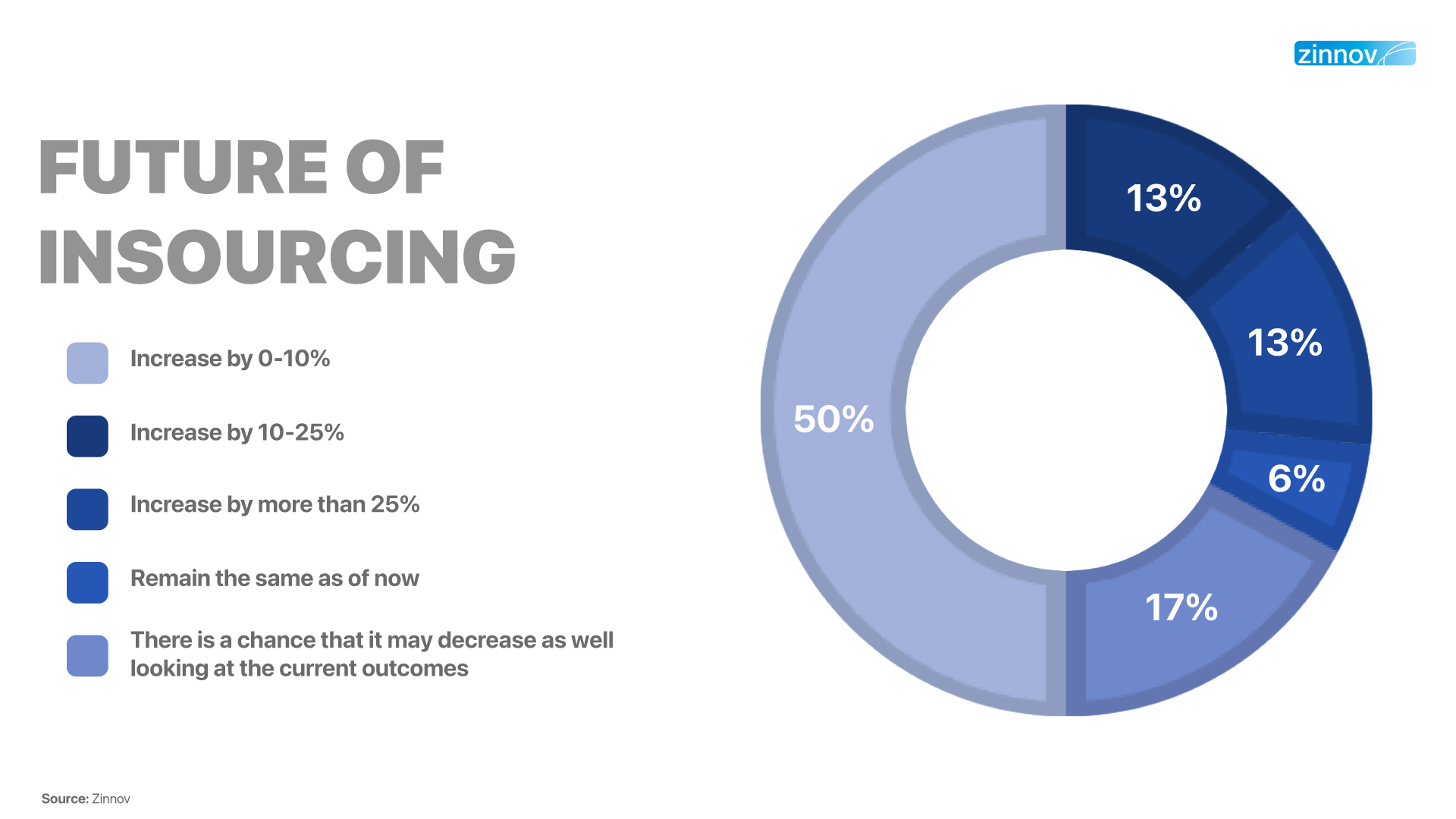 Major challenges faced during the transition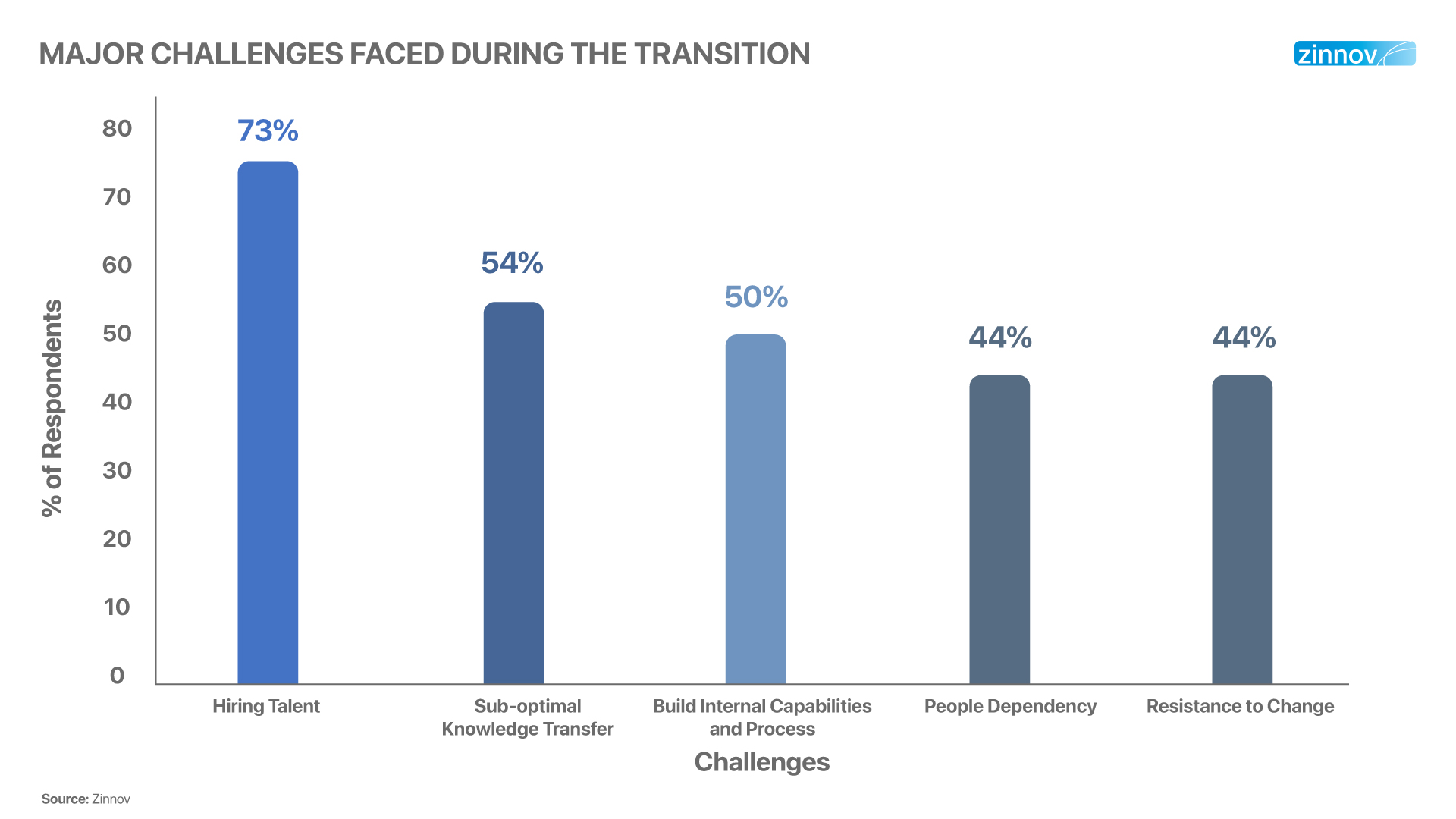 Market sentiments
Zinnov, with over 2 decades of experience in advising companies with their transformations and innovation journeys, is seeing this trend of companies adopting a hybrid model by bringing core functions in-house and outsourcing non-core functions to Service Providers, which is also validated by market sentiments –
Sumit Puri, CIO, Max Healthcare, India said in a February 2019 interview, "With insourcing, our unique customer differentiators, IP of core technology systems and customer data for our organization is not compromised. In this hyper-local and ultra-connected world, where changes happen at a rapid pace, with insourcing, agile development can be done in-house by IT teams in conjunction with business functions in order to respond quickly to the changing needs of our end customers."
Jimmy Ng, CIO- DBS Bank, in his 2019 annual report, said,"To transform into a technology-driven company, it was imperative to have strong technology capability and DNA. We started insourcing our technology talent – from being 85% outsourced in 2014 to 90% insourced in 2019. Based primarily in our twin engineering hubs – DBS Asia Hub in Singapore and DBS Asia Hub 2 in Hyderabad – our team has grown over the years, with an increase of 24% or close to 6,000 technology professionals in 2019."
Leaders across industries are re-gauging their outsourcing strategies and rethinking the functions which are core to the company's offerings. With a clear indication towards growing insourcing in the next 5 years, we believe that in-house IT teams will grow by 10-25%, thus bringing about a fundamental shift in status quo. IT Service Providers will have to rethink their offerings to keep pace with this changing landscape, by providing differentiated service offerings and realigning their business models to better cater to this evolution. We can safely conclude that we will see a strong collaborative hybrid model between the in-house IT teams and the IT Service Providers, as companies plan for 2022 and beyond.
To outline an effective insourcing strategy, speak to our consultants by dropping a note at 
info@zinnov.com
.