Robotic Process Automation (RPA) has been a key player in the digital transformation journeys of enterprises globally. More and more companies are increasing their investments in Hyper Intelligent Automation, which has led to RPA undergoing significant evolution since its inception. It is now a key driver in the success of enterprises, with an estimated global market size of USD 3.5 – 4 Bn in 2021.
Salesforce became the latest technology major to acquire a small asset to enter the RPA fray. The tech major announced its acquisition of Servicetrace, a niche RPA player based out of Germany. Interestingly, Servicetrace has been active since 2004, but did not manage to scale like some of the other Big 3 players that were incepted around the same time.
This move from Salesforce to enter RPA was not unexpected – given its announcement of Einstein Automate in December 2020, that focused on Workflow Automation and Low Code. Joining the leagues of other tech giants like SAP (Contextor), Microsoft (Softomotive), IBM (WDG), and ServiceNow (Intellibot), will enable Salesforce to shorten its time-to-market.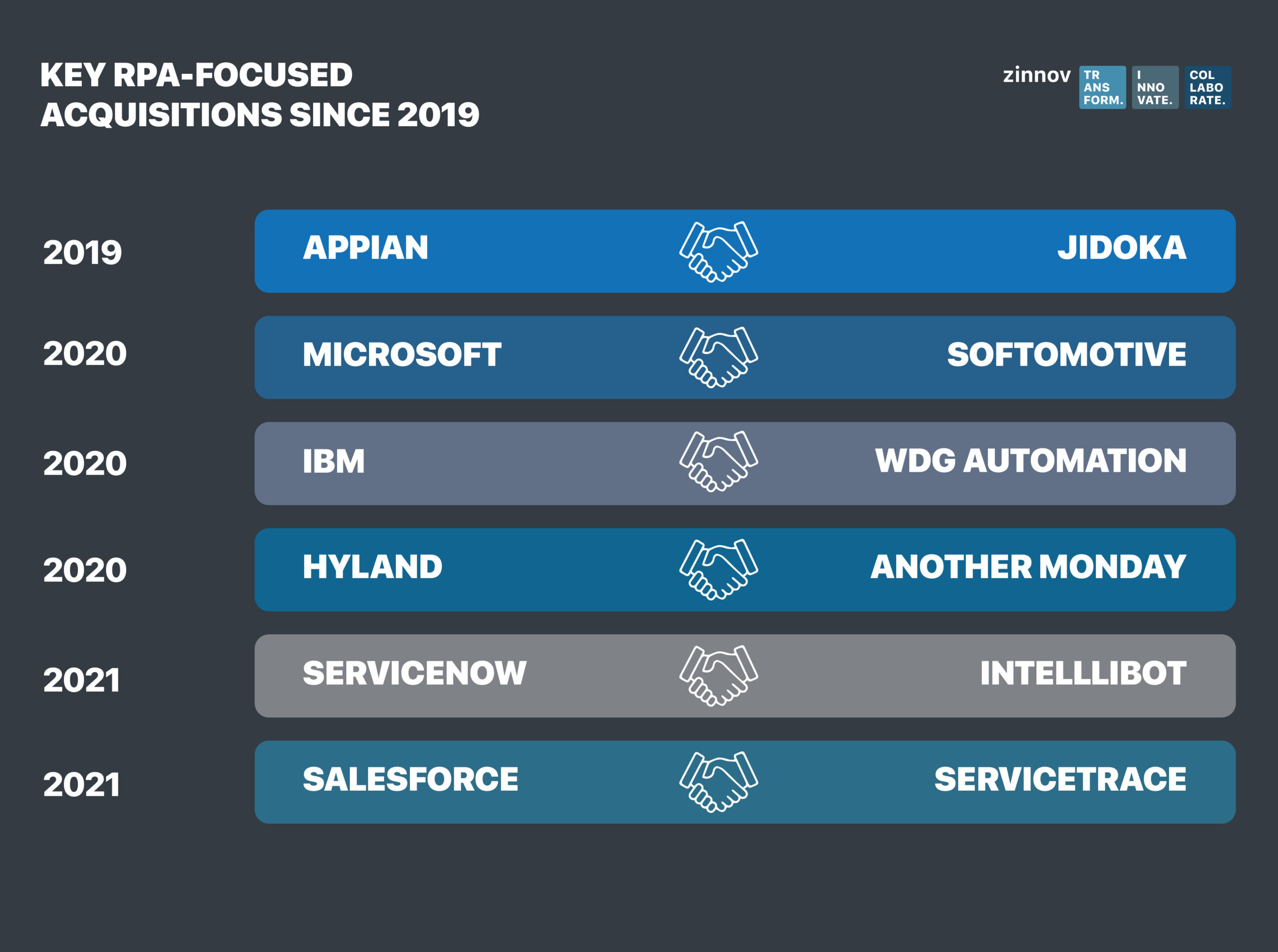 Servicetrace's acquisition adds RPA capabilities to the company's existing Automation portfolio, consisting of Low Code (Flow Orchestrator) and API Integration (Mulesoft). Besides RPA, Servicetrace also adds native task mining (X1 Process Recorder) to its arsenal, along with Intelligent Recognition/OCR (Optical Character Recognition) capabilities.
The Scope For Growth
While the acquisition bolters Salesforce's focus on Hyper Intelligent Automation, it is worth asking whether the move comes a bit too late.
Zinnov's analysis reveals that almost 90% of the Fortune 250 enterprises have already made investments aligned to Automation in a meaningful way. Automation presents a massive TAM (Total Addressable Market) of more than USD 265 Bn; but so far, enterprises have just been scratching the surface with only USD 14-16 Bn in spend. There are more than 1300 platforms that are playing in the Automation space today. Incumbent vendors such as the Big 3, to IDP players (such as Kofax, Abbyy, WorkFusion, etc.), Low Code/No Code entrants (such as Appian, Nintex, Pega, etc.), and technology majors (such as MS, SAP, IBM, ServiceNow, etc.) – each one of these is vying for a share of this high-growth market.
Currently, Microsoft is the only player in the Automation field that has done well to accelerate its Automation focus with rapid product innovation, talent and leadership realignment, strategic GTM initiatives, and a captivating narrative for its customers. It is emerging as the market leader and has secured a spot amongst the top 5 platforms in the space. Considering the amount of competition in the Automation field, a new player like Salesforce must have a secure plan in hand and make moves carefully to make a significant dent.
Rather than going after the entire breadth of use cases and competing with major Automation vendors, Salesforce would do well to figure out a niche focus area in order to land and expand within its enterprise customers. Given that Salesforce has immense focus on Modern Workplaces with its market-leading Customer 360, and its recent acquisition of Slack, adding existing Automation capabilities to augment the Modern Workplace use cases might provide a key USP and differentiator for Salesforce. COVID has already propelled the work from anywhere and remote work phenomena, and riding this new wave of growth can also aide in the company's success. Interestingly, Microsoft is on the same journey trying to bolster its Office 365, SharePoint, and (more recently) Teams with Workflow Automation capabilities.
Whether Salesforce will be able to carve out its own story in this busy Automation space, or will it become another technology major with deep pockets trying to tinker with new technology, remains to be seen. But one thing is for certain – as the competition intensifies, this wave of consolidation within the Automation space will intensify even further.
What does the wave of consolidation within the Automation space signify for the smaller, niche players? What does it mean for enterprises looking to accelerate their Automation journeys? Drop us a note at
info@zinnov.com
to know more by speaking to our consultants and Automation experts.