In 2021, Digital Services firms saw a record flow of Private Equity (PE) investments with a substantial number of deals. With unparalleled levels of dry powder, intense competition, and record-breaking deal activity, the PE landscape is red hot, and the funds are expected to continue growing. Additionally, the pent-up demand for digital-focused deals has never been greater. In fact, according to Zinnov's strategic analysis, the deal momentum for Digital Services market continued post the second half of 2020, while a staggering 200+ deals were observed in 2021.
Zinnov's long-standing expertise in the industry – backed by the analysis of the said deals – have helped us identify multiple factors behind the upswing in investments in the past year. Our evaluation suggests that hybrid engagement models, virtual collaboration, digital talent, digital-first customer experiences, and technological innovations have been key enablers for bringing technology to the core of investment decisions.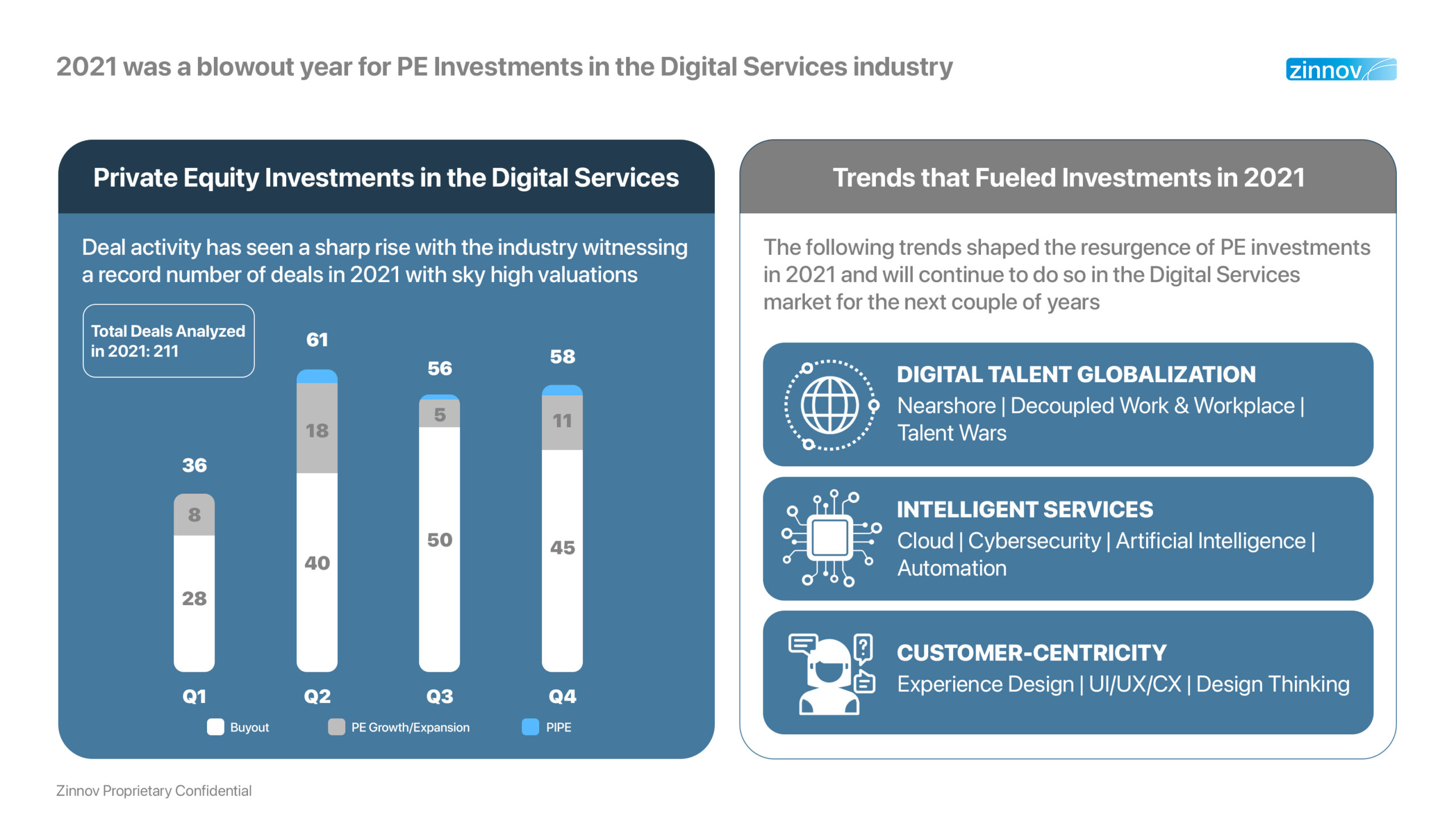 Key Trends Shaping the Digital Services Market
Zinnov's strategic review of 2021 deals within the Digital Services market provides an understanding of three key trends that had the most impact on the investment thesis of PE firms, which will continue to drive investment decisions in 2022.
Digital Talent Globalization
A profound impact of virtual living – forced upon us by the pandemic – has been the adoption of nearshore models and remote work setup. Customer success journey starts with the deployment of the right engagement model to support agile collaboration and pricing models without compromising on the delivery quality. Hence, it is of utmost importance to strike a balance between offshore, onshore, and nearshore models to rightly scale resources and skills.
With the Great Reshuffle and Talent Wars at play, LATAM (Latin America) and EE (Eastern Europe) give firms the advantageous access to a global reserve of skilled workers – at an affordable cost compared to their onshore peers. While offshore centers have a greater cost advantage, nearshore centers make agile collaboration much easier. Why? It is due to their linguistic, cultural, and geographic proximities. This is how Latin American countries such as Mexico, Brazil, and Argentina have emerged as investment hotspots in the Digital Services space.
Similarly, Eastern European nations such as Romania, Ukraine, and Poland have been digital talent hotbeds and digital delivery engines for the European region. Aside from development centers, LATAM and EE also house several Digital Service Providers, offering investors a chance to unlock huge growth potential in their digital ecosystem.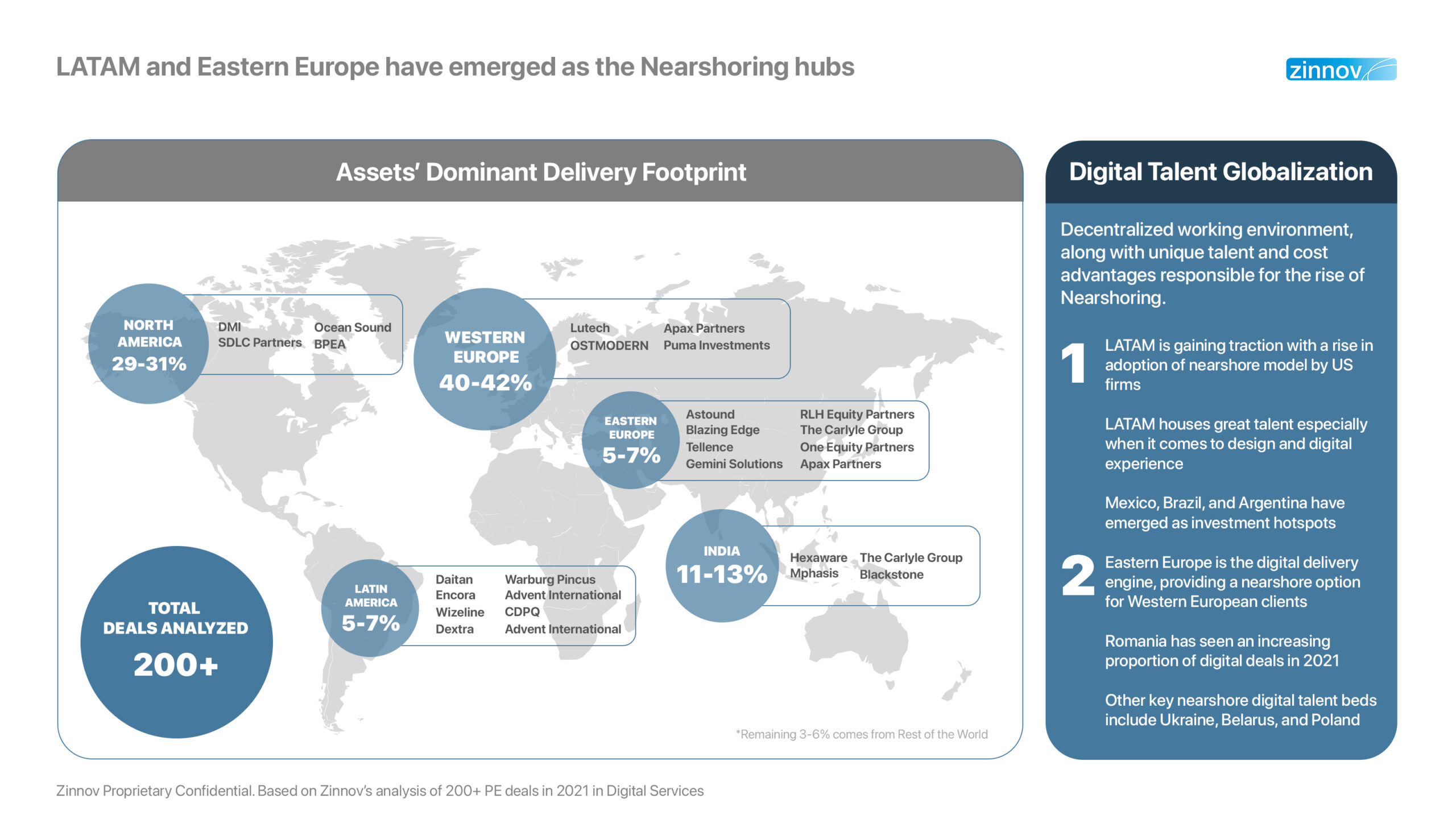 Intelligent Services
Why have firms had to invest in digital transformation? The list of reasons is unexhaustive. With enterprise network systems becoming borderless as the world moved to a remote work environment, these changes coupled with the accelerated digitalization of enterprises, have ramped up enterprise spends on Automation, Cloud infrastructure, and Cybersecurity. Crafting an organization strategy that encompasses Intelligent Services has become crucial in every investor's playbook.
Additionally, Cloud has changed the way the world operates. Firms have been shifting their operations, data, and even their applications to the Cloud. Enterprises are modernizing their platforms to be able to leverage new-age technologies and advanced analytics to their full potential. As the world moves to the Cloud, the security challenges have increased and cyberattacks have become much more sophisticated. The need for Cybersecurity is also on the rise. However, to tackle these threats, businesses are looking at ways to monitor real-time intelligence by leveraging Data Analytics and Machine Learning. The fact of the matter is that firms need to create a strong intelligent technology foundation characterized by offerings built around intelligent infrastructure and applications. Consequently, investors are eyeing the bigger slices of the pie in these technologies by scouting for the right asset in the market.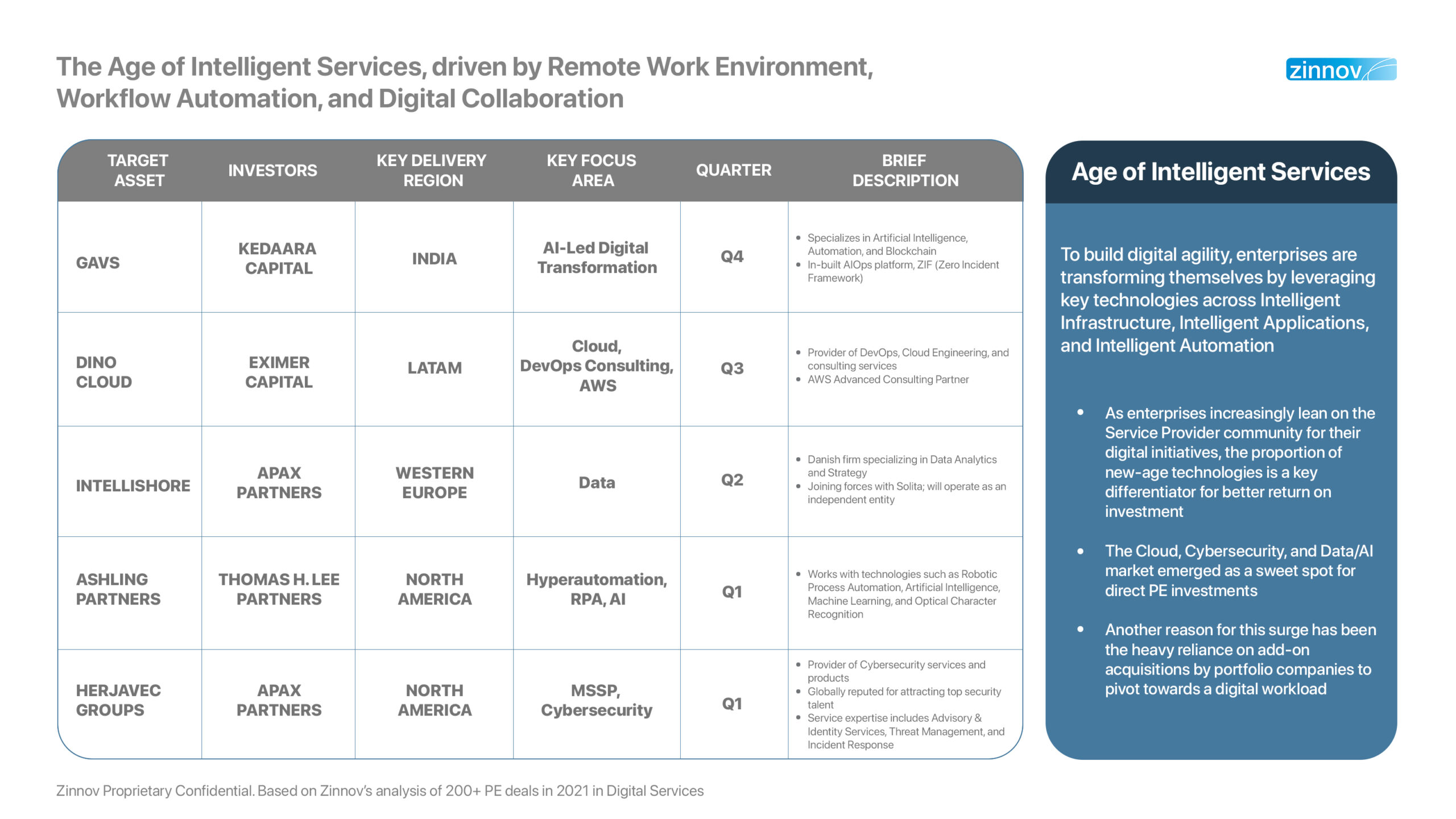 Customer-centricity
The Digital Service Provider industry has witnessed a renewed focus on digital experience capabilities. Customer Experience (CX)/User Experience (UX), today, are some of the strongest value creation levers in the market, making it imperative for Service Providers to invest as much in customer experience as they do in product innovations. Afterall, a clumsy UX can drive customers away and into the arms of a competitor.
This importance has not gone unnoticed by financial investors who are keen on building experience-driven businesses. Interestingly, 2021 bore witness to a great share of deals in the digital experience space with PE firms acquiring a series of design houses and digital marketing agencies. A principal factor responsible for the demand in Design Engineering has been the surge in D2X models and Digital Commerce. As is evident, the customer is king. Hence, experience management and human-centric design capabilities have become a critical differentiator to increase business relevance.
Hence, traditional software product development firms are upskilling themselves to not just develop and design products, but to also include services such as campaign management, social media marketing, and content management – all to increase customer stickiness and loyalty by providing an omnichannel experience across all touchpoints.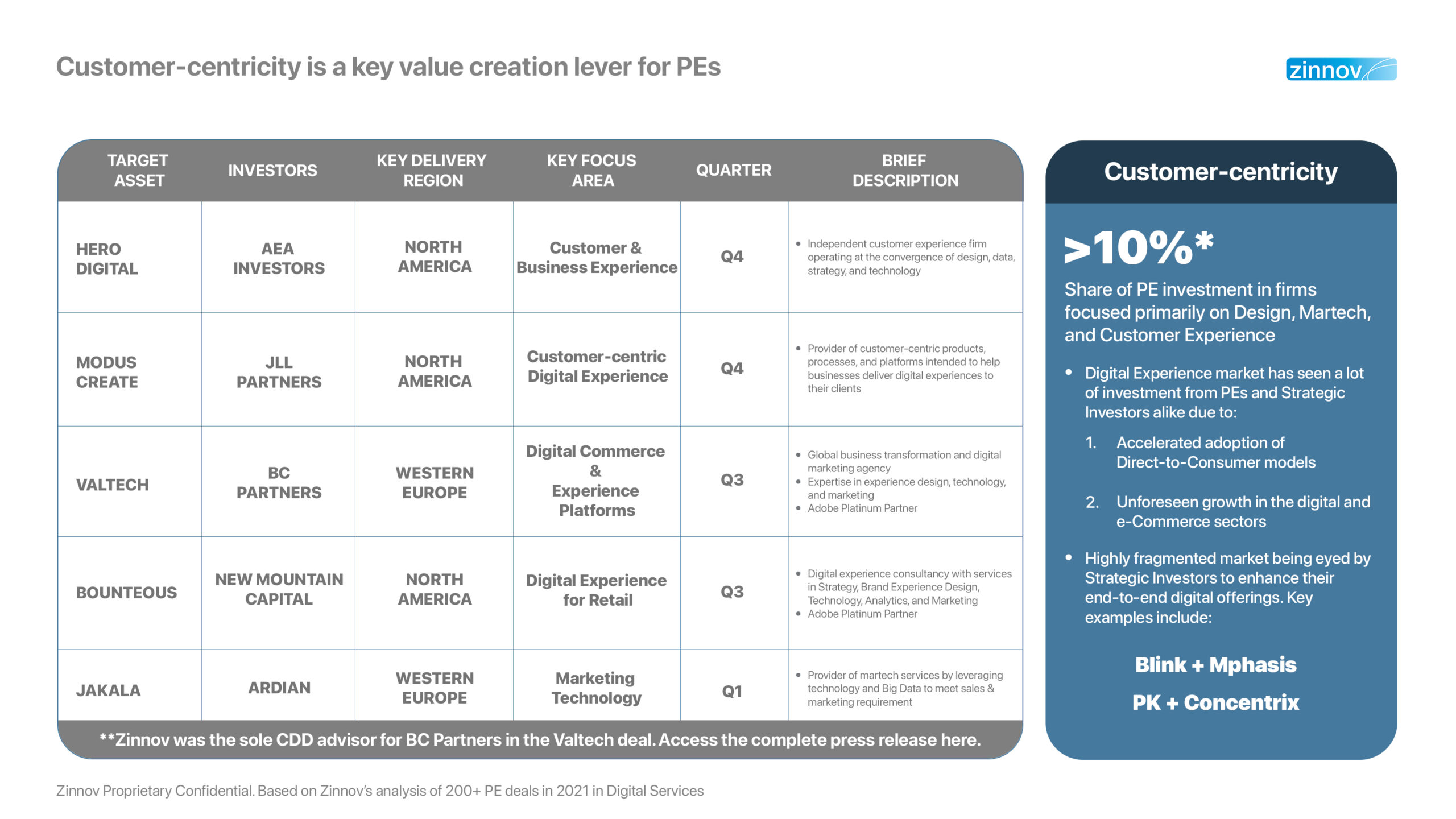 Converging technologies, digital globalization, growing direct-to-consumer models, and a surge in disruptive new-age technologies are constantly creating new areas of investment. The only constant here is the need for formalizing customer-centric digital strategies that are fundamental to the PE playbook to derive maximum returns and build a foundation of success.
Zinnov's in-depth analysis of digital experience firm Valtech as a commercial due diligence advisor to BC Partners has helped us identify a list of key metrics to build and scale an experience-driven business to realize maximum returns. To know more about it, contact us at
info@zinnov.com
.