COVID-19 and the Automotive Industry
COVID-19 has impacted industries massively and has affected economies across the globe. The Automotive industry in specific has been crippled significantly by this black swan event. While production and supply chain issues are being resolved in erstwhile epicenters of the epidemic, vaporization of demand seems to be giving sleepless nights to top executives.
At Zinnov, we have analyzed the changing consumption patterns, the shift in R&D priorities, and how the Automotive industry is at an inflection point where COVID-19 is accelerating digital transformation initiatives across the auto value chain.
Before that, let's revisit a bit of history. The period between 2010 and 2018 was a "golden age for passenger vehicles" ever since Model-T hit the asphalt in the early 20th Century. This period was defined by major technological and consumption disruptions. Four major trends that defined the period include Electrification of the powertrain, Connected Cars, Shared Mobility, and Autonomous Driving capabilities. It was in early 2019 that carmakers began seeing the first clear signs of a market decline. With strong signs of an extended lower growth market, the OEMs started to put in place cost optimization and rationalization plans. This phase also witnessed classic recessionary market activities such as mergers of Tier-1s and large carve-out programs by carmakers (R&D, support, and IT) to drive profitability.
COVID-19: The Trojan Horse that jolted the Automotive Industry
At the start of 2020, the Automotive industry began receiving distress signals from the Chinese supply chain as the virus spread across Wuhan, a key automotive hub in China. Soon, the virus reached other economies and geographies, and the concern was less of supply and more of demand vaporization with multiple countries in forced/partial lockdowns. With a recession in all developed economies being the most likely scenario, the Automotive industry is now in the thick of one of its toughest bear phases.
At Zinnov, we assessed the impact of COVID-19 on the Automotive industry using an AHP-driven framework that incorporated components such as consumer spending sentiment, globalization levels of the workforce to ensure continuity, financial outlook, supply chain disruption due to COVID-19 as well as the digital readiness of the industry and workforce to enable remote operations. OEMs and Tier-1s alike have been impacted significantly and have lost market value since this black swan event began.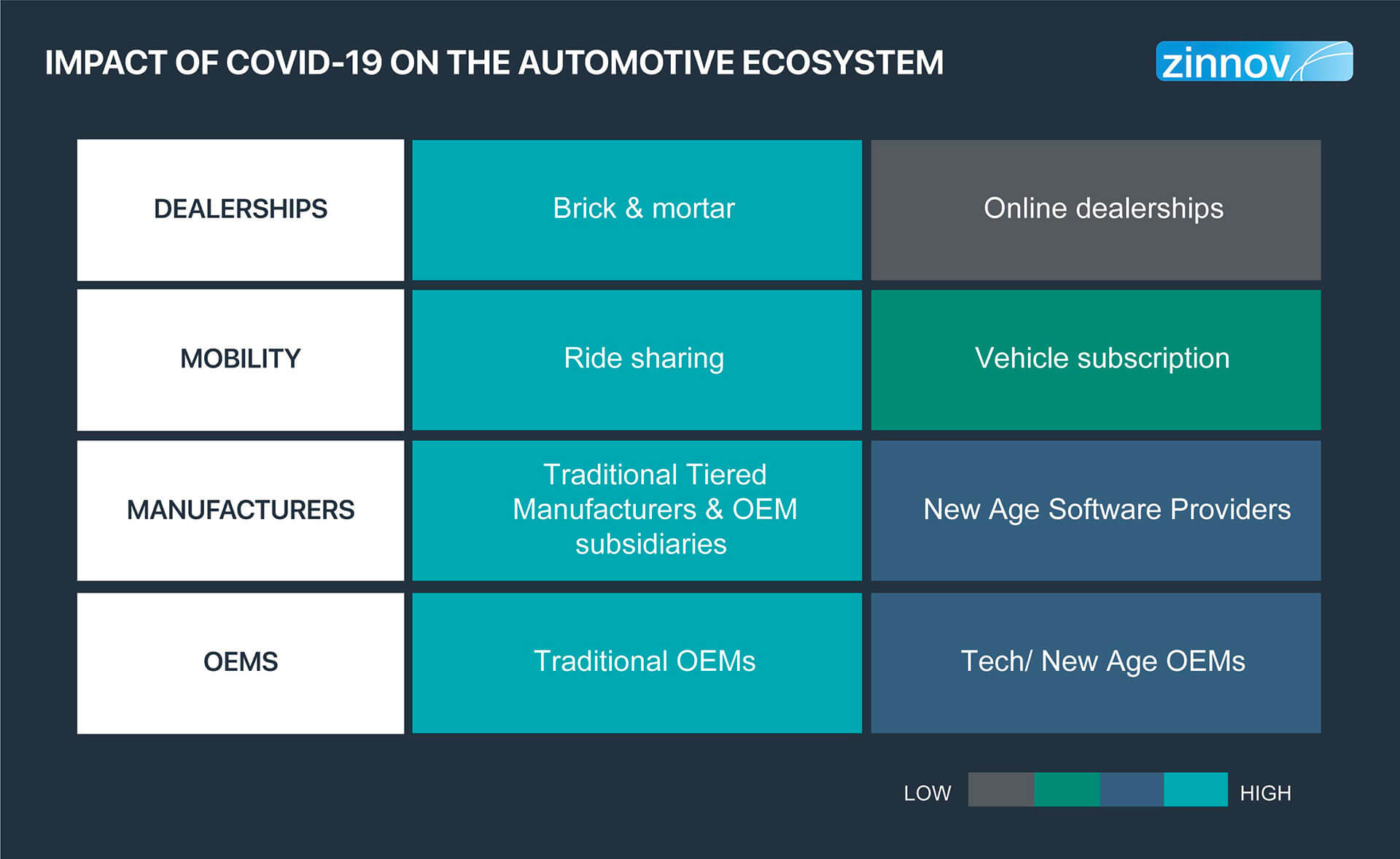 Carmakers can still find hope as the following factors are expected to cushion the worst of the blow from COVID-19 and the impending recession:
Each government is expected to play a crucial role in these extraordinary conditions. Auto companies are likely to benefit from respective governments' expansionary fiscal policies including explicit bail-out packages
Oil prices plummeted to record lows owing to a drop in global economic activity exacerbated by the Russia / OPEC feud
With the easing of environmental regulations and pressure from Auto lobbies, governments across the globe are likely to prioritize jobs and economic activity over the environment
A Pause in the Ride Sharing Economy or a Shift in Consumption Patterns?
One of the hardest hit has been the ride sharing/ride-as-a-service economy with Uber and Lyft losing upwards of 60% market value/valuation as consumers increasingly opt out of the sharing economy. Ride sharing and also ride-as-a-service are not likely to see a revival back to their peak in the next 2-3 years. This "episode" won't be forgotten easily and consumers will no longer be comfortable with "socially intimate" ride shares. Not only will this cause revenue concerns for such companies, but will delay the realization of the already elusive profitability in this space.
The biggest beneficiary of this phenomenon will be the halfway option of "vehicle subscription," which allows consumers to own a vehicle over a specified period of time, after which it can be sanitized for the next new user. A clear sign of this trend picking up is that most vehicle subscription platforms are sold out, indicating that this is likely to continue on the other side of COVID-19.
R&D Priorities that will define the New Passenger Vehicles Chapter
Most players in the Automotive ecosystem are expected to survive this 2020 recession catalyzed, accelerated by COVID-19. Carmakers will be relooking at their R&D priorities and expending efforts accordingly. The industry will see a revised set of trends and priorities that will define this new Automotive passenger vehicles chapter.
As mentioned above, the biggest shift will be in the consumption preference away from "ride sharing". The other victim of this crisis will be "Electric," a trend that has been driven largely by regulations and subsidies. In the face of vanishing subsidies, it will get consumed for more urgent needs and relieving of regulatory norms. The next phase will be defined by "Connected," as this becomes the prime differentiator across cars. "Autonomous" and its input ADAS technologies are likely to stay fully on track.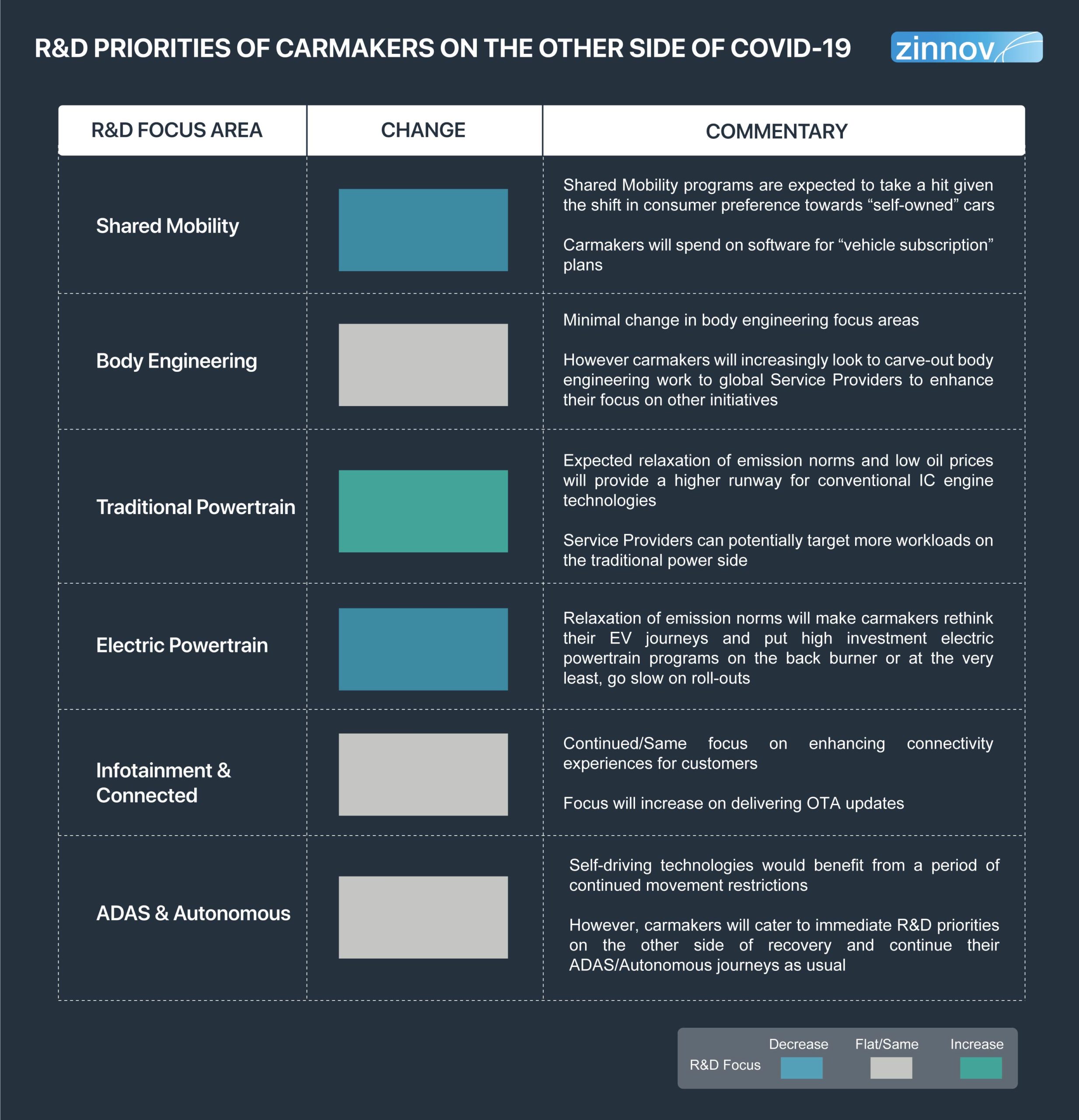 COVID-19: An Inflection Point for Digital Transformation in the Automotive Industry
As a direct consequence of COVID-19, the Automotive industry will witness significant investments on digital transformation as companies seek to future-proof their technology estate. Key initiatives that are expected to witness significant traction include:
Strong leverage of online sales channels: The last mile dealer and showroom network will undergo a significant transformation with consumers becoming increasingly comfortable subscribing or buying vehicles online. Platforms that support this will see an uptick as auto marketing spends increase in order to provide personalized and digitally-enabled solutions to cater to this new buying behavior.
Enhanced focus on Industry 4.0 to improve manufacturing productivity: Automotive companies are likely to increase investments on improving manufacturing productivity, leading to higher adoption of Industry 4.0 technologies including Internet of Things (IOT). Automation levels will increase as auto players look to reduce the dependence on human touch to enable seamless operations during crises.
Leveraging Cloud for mission critical systems: With an increased need for collaboration within different groups and across OEMs and Tier-1s, there is also a high likelihood of witnessing an increase in adoption levels of PLM and ERP on the cloud.
Focus on Artificial Intelligence (AI) and Machine Learning (ML) for supplier mapping and monitoring: Leverage of AI/ML for supplier monitoring and mapping will increase on the other side of COVID-19. OEMs that have visibility and advance knowledge of the source of disruption will have better lead times to plan for mitigation strategies.
Overall, our assessment of COVID-19 and the Automotive industry shows that industry will come out stronger on the other side of the ongoing crisis, with a lower threat from their biggest sharing economy entrants.
COVID-19 impact on Automotive sector is palpable. Are you an automaker looking to channelize your investments into the right technology to ensure continuity on the other side of COVID-19? Write to us at
info@zinnov.com
to know more.