Digital natives have definitely shaken the incumbents out of their reverie! They have compelled the traditional companies to think beyond the norm, break the existing molds, and exploit the technology available to them.
A case in point is Disney's new online video streaming service, Disney+. Analysts are already speculating the losses that digital natives like Netflix will incur because of Disney's new game plan. With its remarkable brand recognition, extensive premium content, and an ecosystem to market, Disney+ might eat into the vast 139Mn subscriber base of Netflix. Disney is also expected to spend a whopping $30 Bn on video streaming content on Disney+.
This is only one of the many instances across verticals where digital is taking over the show in companies that were once mere spectators of the digitalization play. Traditional companies are making massive investments in digital. As a function of this surge in digital spend by traditional companies and digital natives alike – by 2023, Digital Engineering spend is expected to account for 37% of ER&D spending. Irrespective of verticals, digital engineering is becoming ubiquitous. Even verticals that were once purely hardware or product-focused like automotive, retail, oil & gas, and BFSI are now spending on building and acquiring digital capabilities.
The X Factor in the Success of Tech Giants
Even though most traditional companies are now transforming into digital businesses, tech giants like Amazon, Apple, Microsoft, Facebook, etc. continue to rule the roost, with the highest market capitalization of across verticals. Some of the strategies that the tech giants are adopting to stay ahead in the race are:
Iterative Product Innovation: These companies move at a rapid pace to iterate their products to get a product/market fit.
Microservices Approach: The companies set themselves into smaller entrepreneurial micro-units that function independently and can interact with the rest of the company or external groups as individual entities.
Extreme Agility: Companies are comfortable in a constant state of transformation and change by implementing agile practices.
Platformization: Companies transform themselves into platforms and aggregate additional value through multi-sided networks and partners.
Blitzscaling: Companies follow a set of principles that are biased towards speed rather than efficiency, especially in an environment of uncertainty and risk.
The writing is on the wall – no matter the vertical, digital is here to stay and companies are whetting their strategies by making considerable digital investments. As a function of this, there is cut-throat competition in the market, and to gain competitive advantage, companies need to focus on leveraging new-age technologies and augment their digital capabilities.
Here are seven key areas where companies have already made or are looking to make huge investments: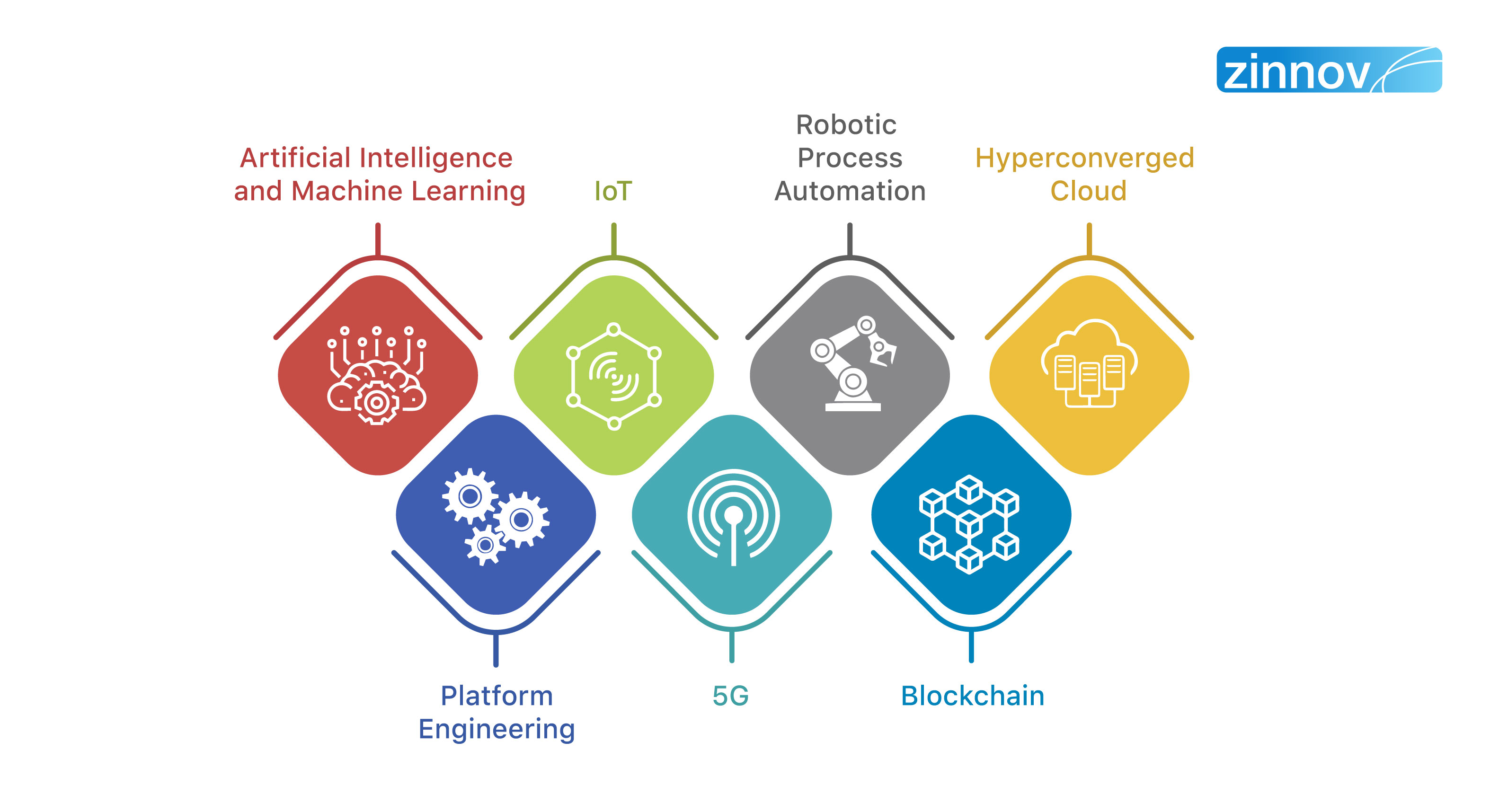 Skill Transformation Strategies to Tap into The Technology Trends
For the rapid adoption of these trends, companies need a robust skill transformation strategy. They must evaluate large-scale talent transformation initiatives to cater to the upcoming industry demand and assess the viability of adopting mechanisms that enable talent transformation.
Leveraging Niche AI Talent: Companies can focus on leveraging low-cost locations to gain access to niche talent. For instance, tech giants are hiring Spanish, German, Italian transcribers, translators, and linguists across the globe to enable multi-lingual speech recognition mechanism in their respective voice assistants. There are more than 150 low-cost locations that companies can explore to gain access to niche technology talent. Some of these locations include Warsaw, Vienna, Berlin, Puerto Rico, Panama City, Shanghai, to name a few.
Internal and External Skill Mapping: Many companies are leveraging the gig economy and using a contingent workforce to get access to varied skill sets. At Google, contingent workers outnumbered full-time employees in early 2018. Amazon has ~20% talent as contract workers during the holiday season. Leveraging the gig economy and hiring contingent talent also gives a sense of what skills the company lacks internally and needs to acquire for the future.
Investment in Upskilling Workforce: Democratizing learning of AI and other disruptive technologies is crucial for companies to future-proof their talent strategies. They need to make considerable investments in upskilling the available talent through regular training and reskilling initiatives. Companies are especially focusing on training their talent in AI. For instance, Baidu aims to train 100,000+ people in AI over the next three years, while Intel plans to train close to 15,000 resources in AI and ML. L&D clearly will be key to building digital capabilities and companies will need to chart next-generation digital L&D programs for structured talent upskilling.
Work Allocation Optimization: Companies can also set up focused product teams in high-cost locations to gain access to talent. Amazon has ~20 Natural Language Processing researchers and data scientists working on Alexa in Cambridge, UK. Similarly, other tech giants have set up their HQs, centers, and teams in talent hotspots such as London, Bay Area, New York, Seattle, etc.
Build Digital Centers of Excellence (CoEs): Building CoEs is one of the most efficient ways to channelize the digital engineering spends of organizations. By building digital CoEs, companies can work on cutting-edge products and focus on innovation. CoEs also help companies earmark defined budgets and calculate the RoI with the help of a comprehensive review mechanism, thus ensuring that the CoE is making an impact on the organization.
Collaboration with Start-ups: Companies can bridge the gap between the supply and demand of niche technology skills through acqui-hiring start-ups and/or engaging with start-ups through various collaboration programs like accelerators, incubators, hackathons, etc.

It's in the DNA!
All the latest technology developments and the incessant growth of digital are opening newer avenues of opportunities for enterprises and Service Providers alike. However, all the initiatives and strategies will fail to produce the desired results if an organization fails to foster an organizational culture that inherently embraces innovation and change.
Hence, as a first step, organizations must strive to build a culture that is agile, diverse in terms of ideas and perspectives, open to change, and encourages collaboration, both within and outside the organization. These values form the pillars of a strong organization. Lack of these fundamental values will lead to a tottering foundation that won't be able to withstand the weight of disruption. Having an organizational DNA that understands the technology and the need to constantly evolve and be better, is what will help an organization distinguish itself from the rest.
Know how to future-proof your skill transformation strategy and augment the ROI on your digital investments by dropping us a note at
info@zinnov.com