A digital war is raging on and no vertical, industry, or company is being spared. It's a war for survival and hence every company is going all in. They are making considerable investments in ground-breaking technologies to gain competitive advantage and stay ahead of the pack. Even though unicorns and tech giants rule the roost, many traditional companies are upping their digital game and are grappling to unlock the full potential of these disruptive technologies. These new-age technologies are helping organizations boost their digital journey, power agility, and democratize innovation. We have identified seven technology trends that companies are already investing in or are looking to make investments in –
1. Artificial Intelligence and Machine Learning (AI/ML)

AI is redefining the future of work as is evident from the snowballing global spend on cognitive and AI Systems, which is forecasted to reach $77.6 Bn by 2022. Companies are taking multiple approaches to scale their AI/ML initiatives, with varied success rates.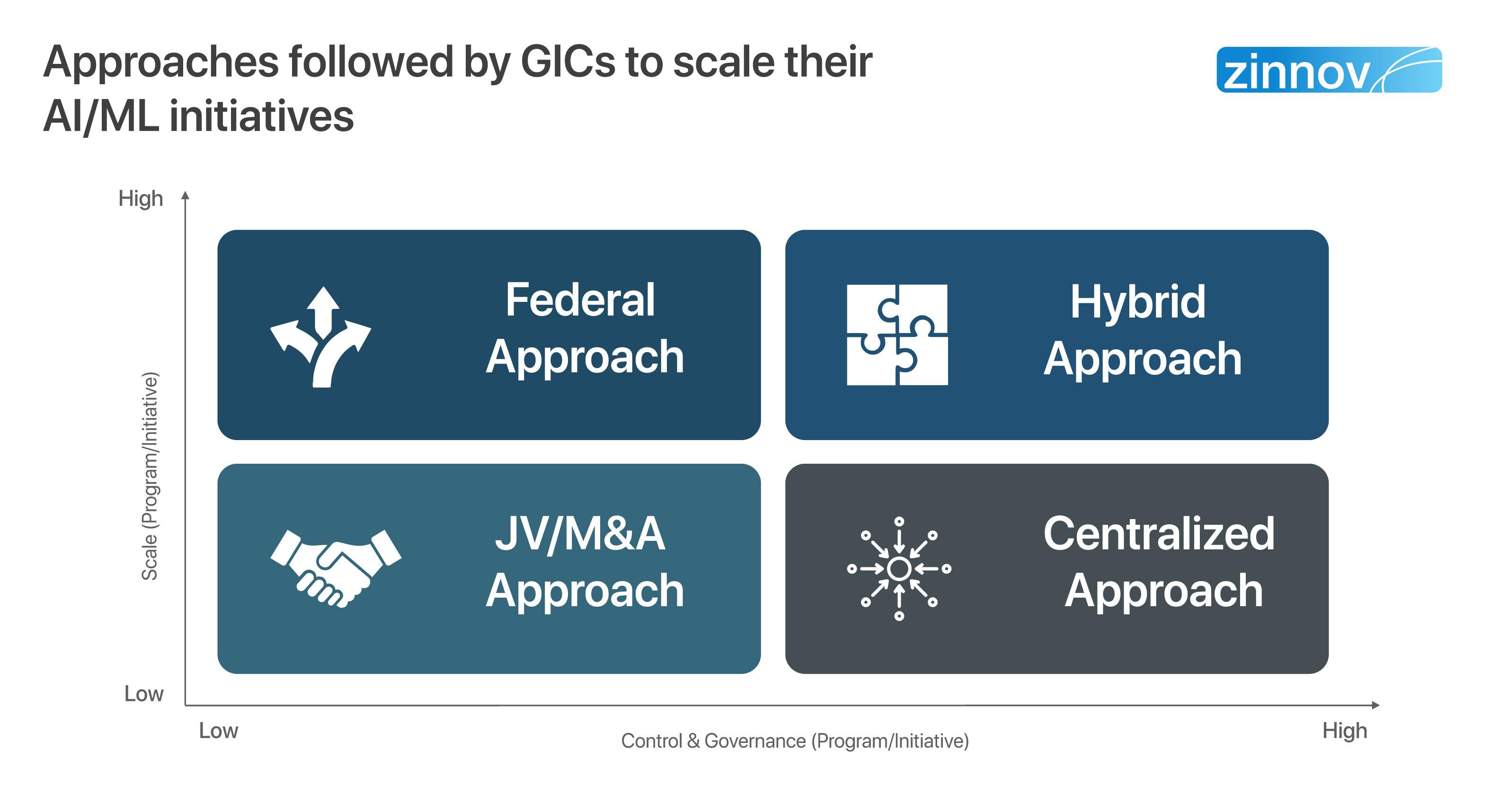 Most companies take a federated approach where the initiatives are BU-led. For e.g., a major tech giant has ingrained AI/ML teams into its business units, namely Cloud + AI, AI perception and Mixed Reality, Conversational AI, etc. Another technology giant has also created small teams and provides them complete ownership of designing and executing projects. It follows a Flywheel approach wherein product teams often collaborate and combine expertise to meet customer demands for new solutions. On the other hand, few companies take a centralized approach by focusing on a central team with top-notch AI/ML talent. This team facilitates cross-functional projects across different AI/ML analytics groups, builds data infrastructure, shares resources, and caters to other organizational needs. Joint Venture (JV) or M&A approach is where companies partner with research institutions and AI-focused start-ups. The hybrid approach is a mix of two or more of these approaches depending on the company's requirement.
2. Internet of Things (IoT)
Internet of Things is increasingly becoming the Internet of Everything and Everywhere as a function of the convergence of disruptive technologies and rapidly evolving business models. Accelerated adoption of IoT technologies has brought to light several new use cases of IoT across verticals and businesses. Predictive maintenance, asset tracking, and supply chain intelligence are some of the use cases of IoT that have surfaced in Industrial. In Retail, there is 360-degree customer service, enhanced shopping experiences, personalization, hyper-personalization, etc. In Healthcare, there are use cases around remote patient monitoring, advanced diagnostics, etc. Similarly, there are many use cases peppered across verticals that are now becoming mainstream. Zinnov's research shows that by 2023, IoT technology and services spend will more than double to reach $500Bn. Organizations, big and small, are spending to develop and adopt IoT solutions. For instance, MindSphere is the cloud-based, open IoT operating system from Siemens that connects products, plants, systems, and machines, enabling them to harness the wealth of data generated by IoT with advanced analytics. ABB is developing and enhancing process control systems, sensors, and software for the Internet of Things, Services and People (IoTSP). Smart sensors are used to monitor the performance, efficiency, reliability, and lifespan of electric motors.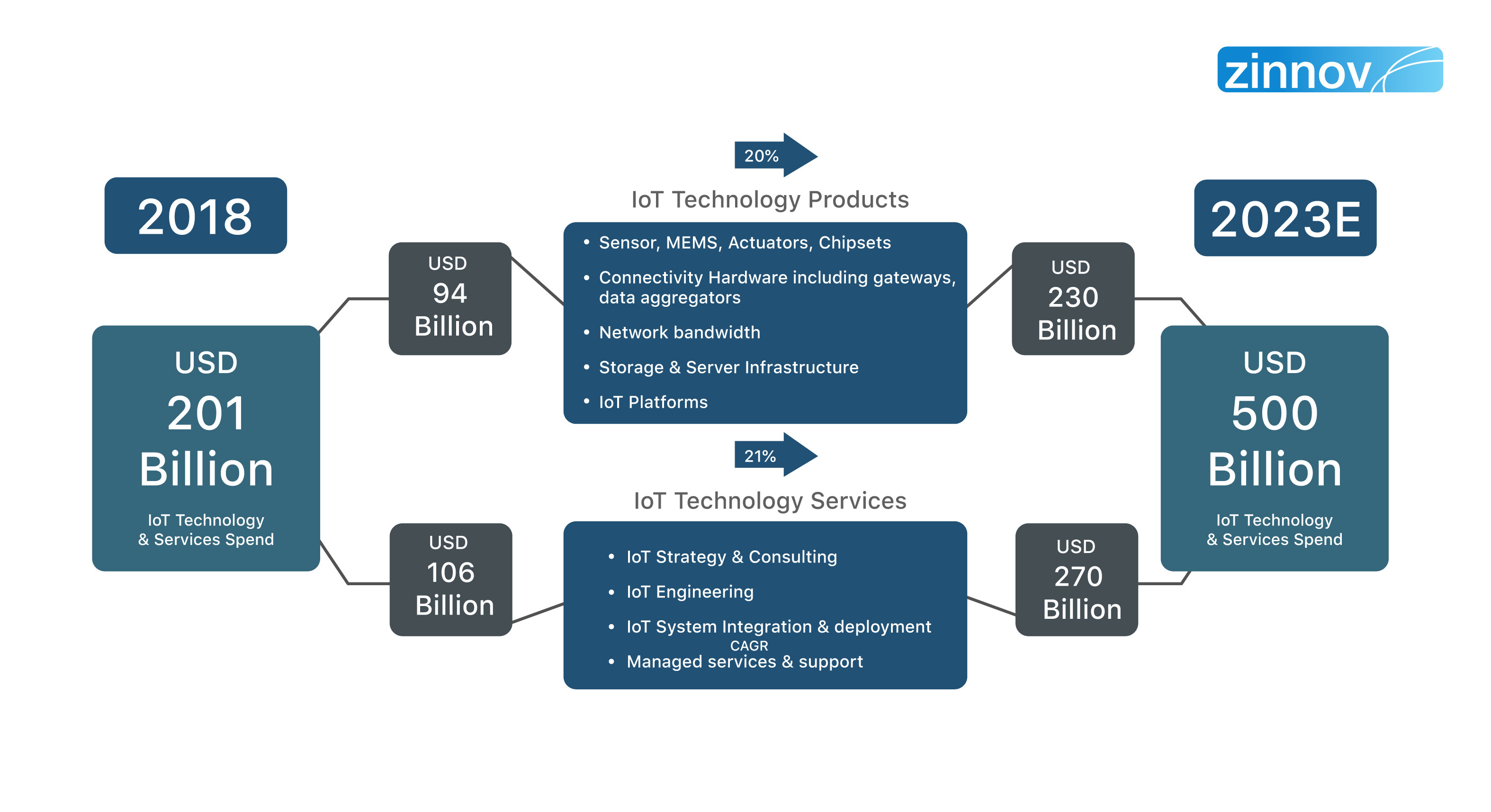 Suggested Read
Why Building A Cohesive IoT Talent Strategy Is Crucial
Learn More
3. Robotic Process Automation (RPA)
Although the Banking and Financial Services sector was the genesis of RPA, the technology has seeped into other verticals as well. For e.g., in Travel and Utility – query resolution, reservation management; in Insurance – claims refund, risk evaluation; in Oil & Gas – customer complaints management, and many such newer RPA use cases have burgeoned across verticals.
Enterprises are leveraging the vast ecosystem of RPA tools and technology players to march forward with RPA deployments. They are collaborating with RPA platform providers, driving in-house IP development, leveraging global innovation hubs, and setting up function-specific CoEs (Centers of Excellence) to tap into the expanding ecosystem of RPA. Some good examples here would be that of Kodak developing its in-house IP, Kodak Invoice Reporting Automation, to automate the process of invoice reporting and mailing it to the respective customer. ATB Financial is leveraging BluePrism's connected RPA platform and has set up an RPA CoE that automated 85 processes in 30 different business areas.
As per Zinnov's research and analysis, 34% of enterprises have established RPA CoEs, indicating that enterprises are aware of the crucial role that RPA will play in propelling a company's digital charter. India also has a big role to play in driving global RPA adoption. India is home to around 1250+ GICs and a large RPA talent pool. India also has a number of GIC Intrapreneurs who are focused on innovation and are heading global RPA charters.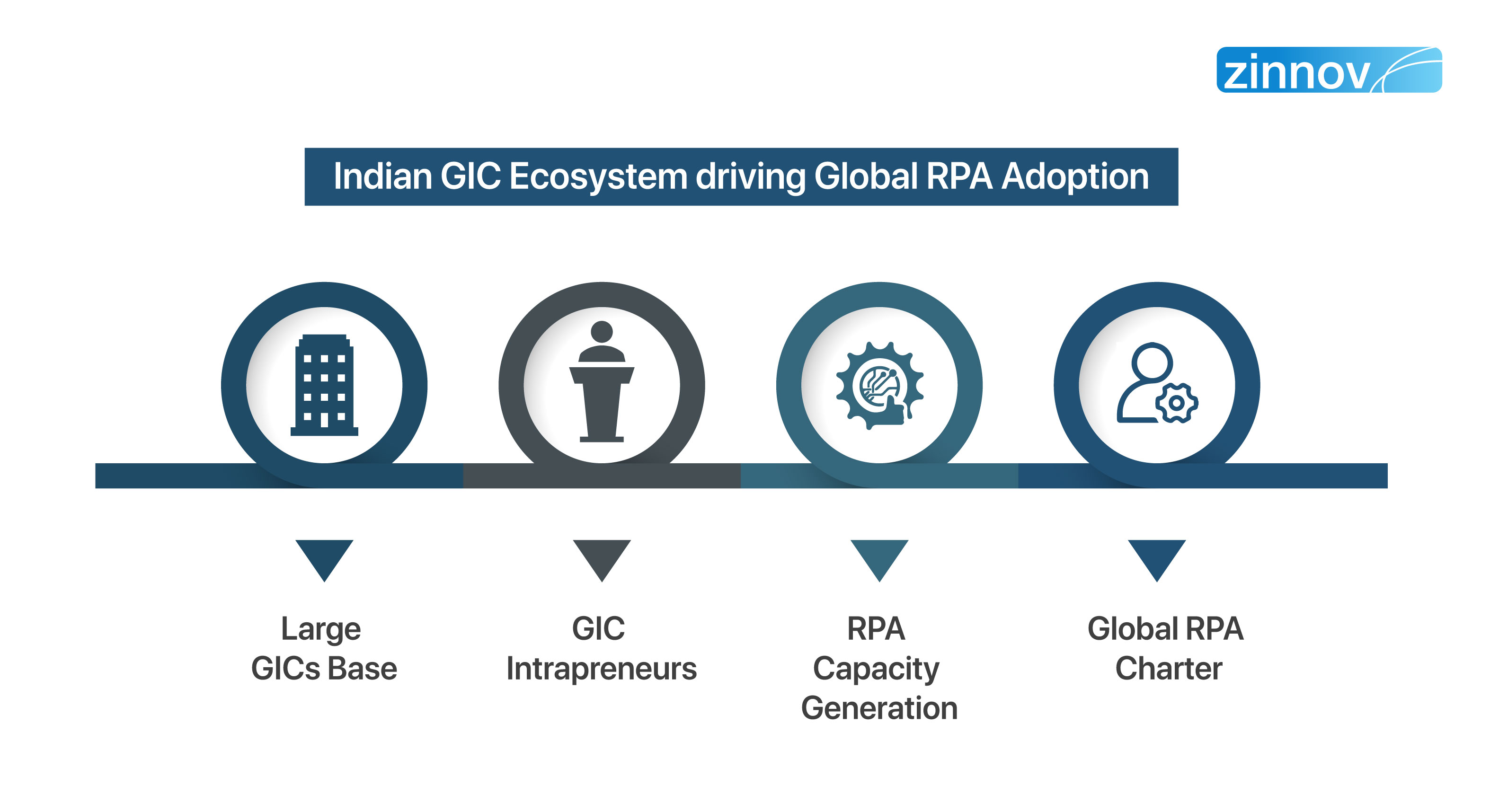 4. Hyperconverged Cloud
The Cloud/Hyperconverged Infrastructure (HCI) market is also poised for explosive growth, owing to the fact that every company today has a cloud strategy and is looking at HCI to leverage both private and public clouds. There has been a rapid uptake of multi-cloud infrastructure across industries and the impressive growth rate of cloud service providers stand testament to this fact. Both Microsoft and Amazon have doubled their cloud revenues in the last two quarters.
Several MNCs have started scaling their cloud initiatives. For e.g., HPE is working on convergence and hyperconvergence platforms for network computing, a simplified hybrid cloud environment that enables organizations to build, deploy, and manage cloud services seamlessly.
5. Platform Engineering
Businesses are increasingly realizing the power of platformization and its evolution from being a marketplace to become an ecosystem enabler that brings together various ecosystem players such as customers, internal teams, suppliers/distributors, government, and competitors to create value. Platformization is a horizontal initiative and is BU agnostic. And since, for most of the companies, a majority of their BUs are located out of India, India is in a good space for developing platforms and leading platform initiatives for companies. A horizontal platform team can be set up in India, which will have visibility of what different BUs are doing, thus making it easier to create platforms as per BUs' requirement.
More than 85% of enterprises have already adopted platforms and more than 80% of enterprises have built them in-house. Unicorns and tech giants are way ahead of the curve and are driving business growth enabled by platform-led businesses. Platforms can be categorized into 5 different kinds, based on their utility. Even though organizations have come a long way in their platformization journey, they face major challenges in terms of defining a compelling platform vision, building trust, and creating an organizational culture that fosters platform-first thinking. Companies need a playbook to up their platform game; they need a clear structure and a program that will help them build and scale a platform to deliver value in real-time.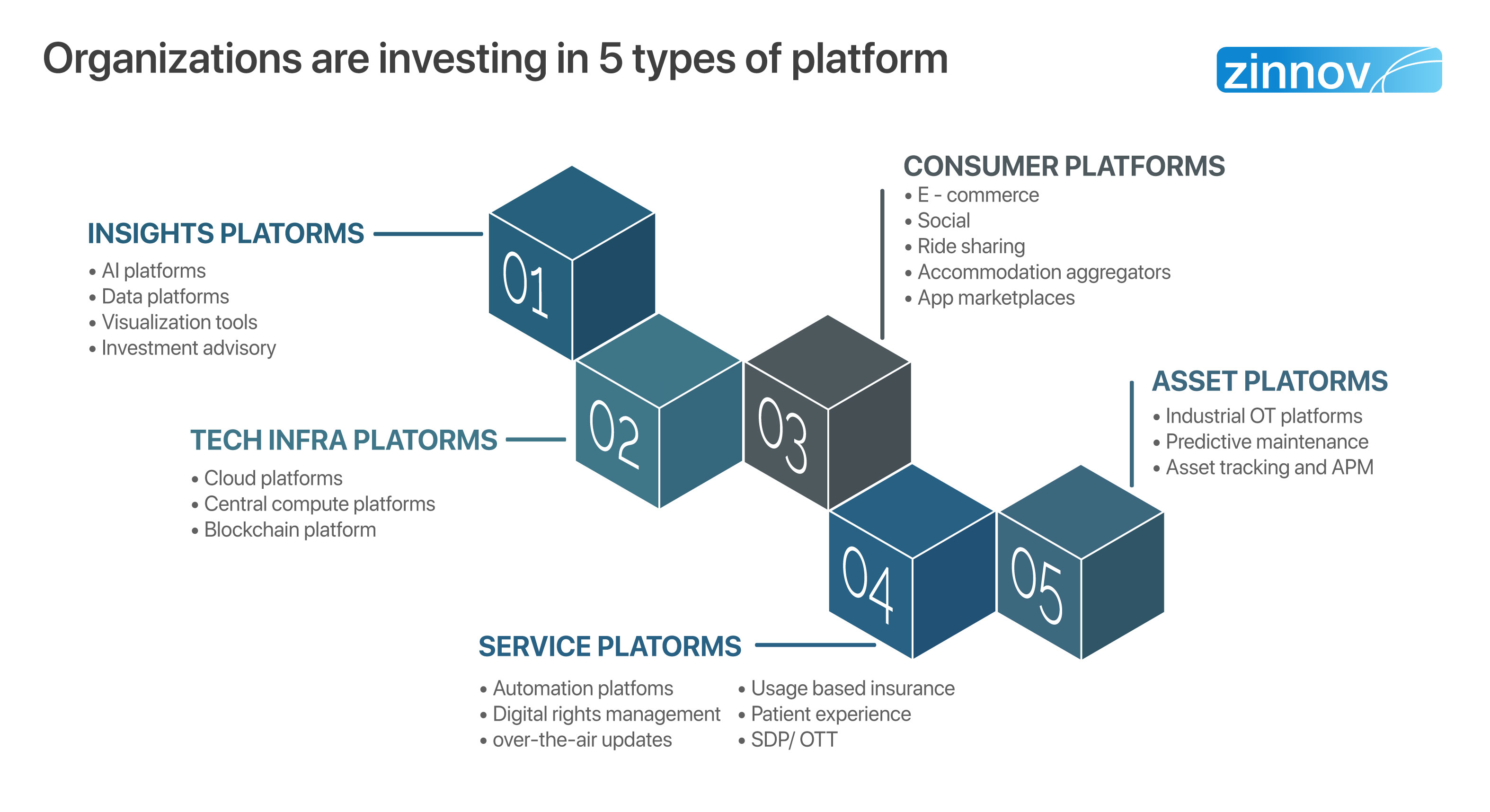 6. Blockchain
There has been an 11X increase in blockchain funding over the last 5 years and a 3X increase in the number of job postings for blockchain talent between 2016 and 2017. 406 new blockchain-related patents were filed in 2017 alone. The numbers clearly indicate that companies are betting big on blockchain and its diverse use cases. While the financial services vertical has seen the greatest number of use cases for blockchain, several non-financial use cases have also come to the fore over the past few years. For e.g., Blockchain as a service (BaaS), compliance and security, digital identity, data management, content management/distribution, data security, governance, media, and network infrastructure, to name a few.
Some good examples of how financial and non-financial companies are leveraging blockchain are:
HSBC has partnered with RIL to power India's first blockchain-based Letter of Credit by integrating Electronic Bill of landing with blockchain platform.
Oracle Blockchain Applications enable customers to track products through the supply chain on a distributed ledger to increase trust in business transactions, get better visibility across a multi-tier supply chain, accelerate product delivery and contract execution.
Ericsson has developed an application of Blockchain Technology to integrate data in the cloud using keyless signature infrastructure to maintain data records.

7. 5G
High speed, low latencies, and better connectivity – 5G promises the world a faster tomorrow. Several use cases of 5G have already bubbled up; however, they are yet to see mainstream adoption. How 5G will help unfurl the next wave of digital will be an interesting phenomenon to witness. Apart from smart cities, 5G will impact manufacturing, Agritech, energy and utilities, healthcare, and education verticals.
In industrial manufacturing, 5G will provide the network to keep factories connected, making them smarter and much more efficient. In agriculture, 5G can help in soil & crop monitoring, precision farming, smart irrigation, climate change alignment, livestock monitoring, agricultural drones, etc. 5G-enabled technologies have the capability to overhaul the healthcare industry. Remote diagnosis, remote monitoring, online consultation, centralized records are some of the use cases of 5G in healthcare. As compared to 4G, 5G will be 1000 times faster and have high frequency with larger bandwidths, which will unlock the full potential of AR/VR and autonomous driving. 5G will also enable 500 times more connections to support massive IoT deployments and 90% reduction in battery usage. The speed, the reliability, and the connectivity that 5G promises will revolutionize the way businesses work.
What next?
Even though companies realize the potential that these technology trends have to offer, they struggle with their adoption, mainly due to lack of an open organizational culture and the increasing chasm between the supply and demand for AI/ML, IoT and other technology talent. Companies need to have a robust talent strategy to be able to fully leverage what these technologies can offer. They need to invest in building digital L&D programs for structured talent upskilling. Collaborating with start-ups and acqui-hiring are also effective ways to expose the existing talent to innovation and new-age technologies. Apart from the talent aspect, an open organizational culture will be another important piece in the puzzle that will boost adoption and capitalization of these new technology trends, which will help organizations create a moat against disruption.
Is your organization ready to embrace these technology trends and capitalize on what they can offer? Is your workforce change-ready? We can help you harness these winds of disruption. Write to us at
info@zinnov.com
.