Evolution of the Workplace
Work has been a crucial part of our life, from long before we became civilized. And like us, it has been continuously evolving. Prior to the conscious state of "working," we used to hunt or gather edible items to satisfy our hunger. With the invention of agriculture, we started settling down and also necessitated the birth of new professionals like artisans and craftsmen. We think people celebrated the opening of a carpenter's workhouse as much as we celebrate some crazy hardware device or a fancy mobile application!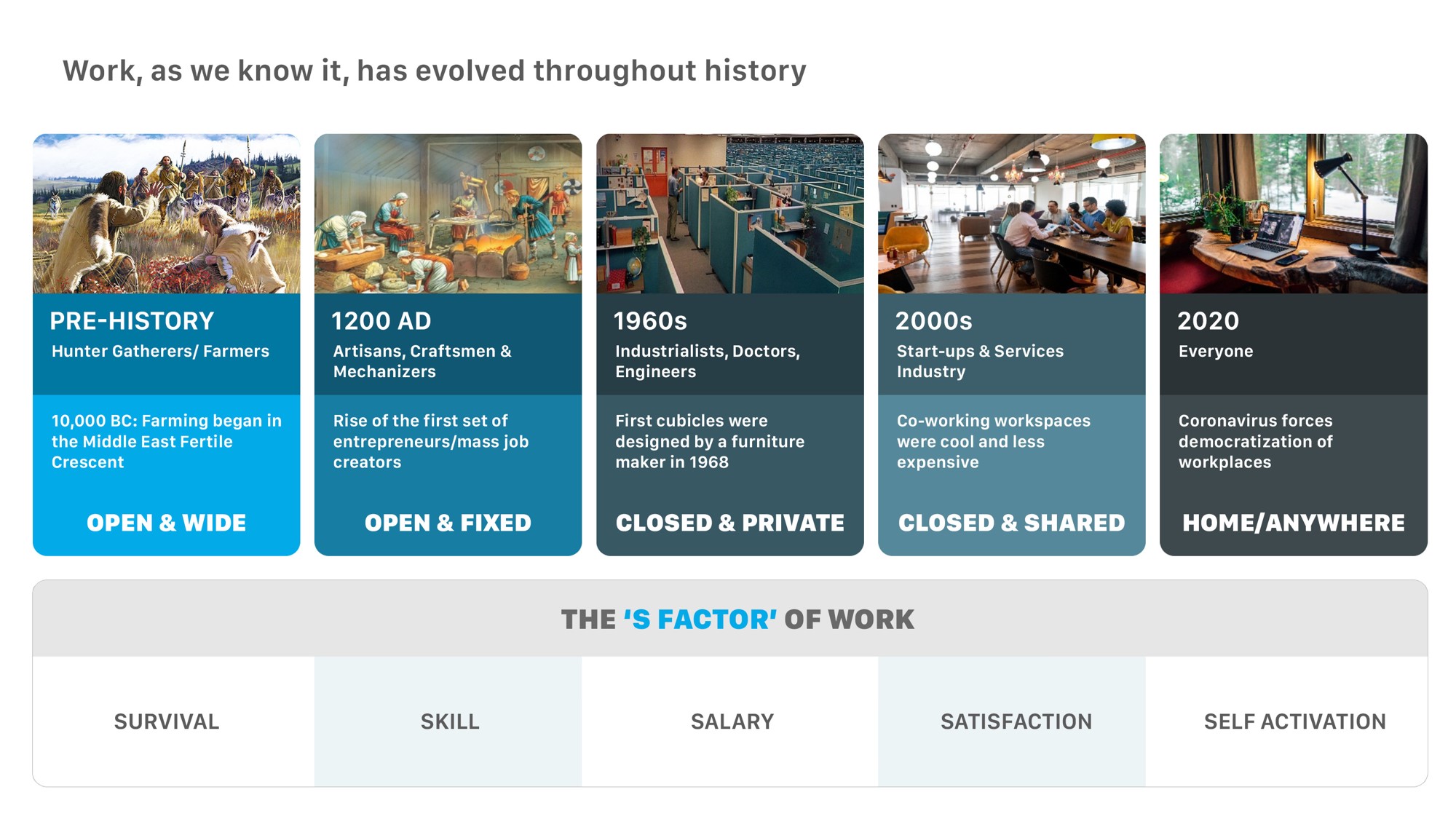 In the 19th and 20th centuries, we witnessed the setting up of factories which is our most early image of a modern workspace. Post-World-War II, things became advanced with the founding of corporates, where thousands of people used to work under the same roof. Typewriters used to be extremely noisy at that time, and people started feeling "less-private," which is what motivated Robert Propst, a designer for home furnishings company Herman Miller, to start producing "The Cubicle." It had a huge desk, a space for making phone calls, a vertical filing system, and partitions so that workers could have some privacy. Gradually, people started feeling less social and the walls started dissolving.
New-age tech companies like Google, Apple, and Facebook started the trend of "Open Workspaces." The whole start-up scenario in the past two decades made the invention of "Co-working Spaces" possible, which provides companies benefits in terms of cost and time-to-operate. And most recently, COVID-19 has forced the whole world to operate remotely and work from anywhere.
The 'S' Factor of Work
During this whole evolution of work and workspaces, we humans have also undergone a lot of psychological changes. We, at Zinnov, call it "The S factor of work." The hunters, gatherers, and amateur farmers of yore worked for survival. The end goal was to satisfy hunger. The next phase was about acquiring new skills, and this is where the feeling of "being creative" got into us.
This journey went on for centuries until the idea of money was seeded in our heads. We started focusing on our monthly earnings, the so-called salaries. But, salary, as they say, has its charm till a tipping point and the next thing we looked for became "satisfaction." The whole school of entrepreneurship took birth from the fact that there were people who were not satisfied with the work they were doing. We saw how Gen X & Gen Y turned down big offers, dropped out from colleges to pursue the work of their choice. Taking the idea further, the whole workforce of today follows the philosophical school of self-activation, which enforces the idea that we are in control of our emotions, actions, and reactions, and can turn our obstacles into opportunities to grow.
Work from Anywhere
Today, we all stand together against the obstacle created by COVID-19, which has forced us to stay at home. Amidst all this, a large part of the world continues to function through remote work. The interesting part though is that unlike the virus, "work from anywhere" did not reach its peak in just the last 3 months. It happened gradually over the past six to seven decades. The story began with NASA, which started working on Telemedicine as it wanted to ensure the health and safety of astronauts on their space crafts. Steve Jobs predicted a long time back about how the future would have remote work embedded in it. A real-life example of this was seen in the 90s when the City of LA, due to an increase in air pollution, allowed 400+ of its workers to work remotely. And today, it is fascinating that we have more than 400 million people working remotely, and mostly comfortably.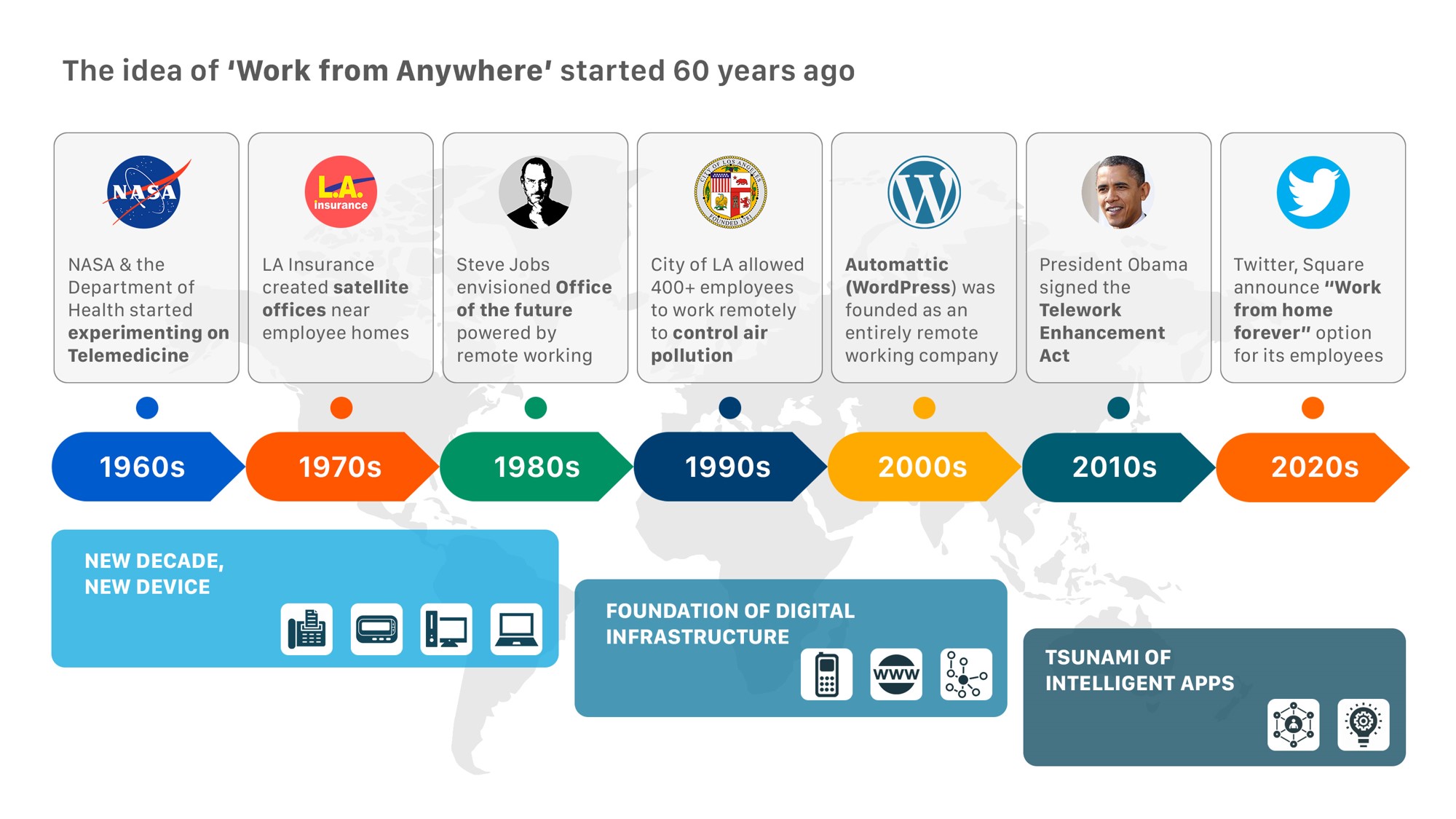 We think Technology is the language of remote work. Just like a language helps us communicate effectively, technology has helped us collaborate productively, from anywhere. Post World Wars I and II, we witnessed the semiconductor and telecom golden era, where every new decade, people had a new device to use. From typing "Hello" in Morse code to typing "wassup" on WhatsApp, we have come a long way. Another form of communication has been the "Cloud." The advancements in digital infrastructure have slowly replaced the need for hardware and provided another shot in the arm for remote work. Today, we do not need to drive to the office to share a large file on a USB drive; we can just upload it on the drive through our laptops. And now when we function remotely, the key digital technologies like AI, RPA, AR add to productivity and efficiency.
Work-Life Harmony and the Modern Worker
Remote work has changed a lot of things. Today, we do not wake up to go to the office; we wake up and switch on our laptops for a virtual meeting. Interestingly, the workday is endured in flip-flops and comfy shorts, and the typical "work clothes" are taking a much-needed rest in our closets.
Additionally, the division between "life hours" and "work hours" has gone away. Today, after an exhausting client call, we switch on the TV show "The Office" and watch "Michael Scott" do insanely funny things. And while we do that, we get a message notification on "Microsoft Teams" on the status of a deliverable.
The new way of work harmony is to embrace this flexibility and make the best out of it. And that is what Zinnov defines as a Modern Worker, who is accepting and adaptive of change. We all have colleagues who have adjusted really well to a remote working scenario by dedicating the "commute" time to activities like yoga, reading, and/or daily chores. On the personal front, we have deepened our bonds with our family members by spending more time with them and noticing the little nuances of life, which we used to miss out on due to the constant hustle and commute. On the professional front, we have observed that sales calls or discussions with clients are now more intensive because no one is worried about the previously ubiquitous traffic anymore, which is a curse during peak hours in most cities around the world.
One of the striking realizations of this remote work model is the fact that most humans are multi-talented and, in the future, will explore different types of jobs simultaneously and not be restricted to one type of work. This will result in them training the various parts of their brain, resulting in higher job satisfaction. We strongly believe that white-collar work with remote working flexibility could help people explore their various interests and enable them to monetize those interests as well.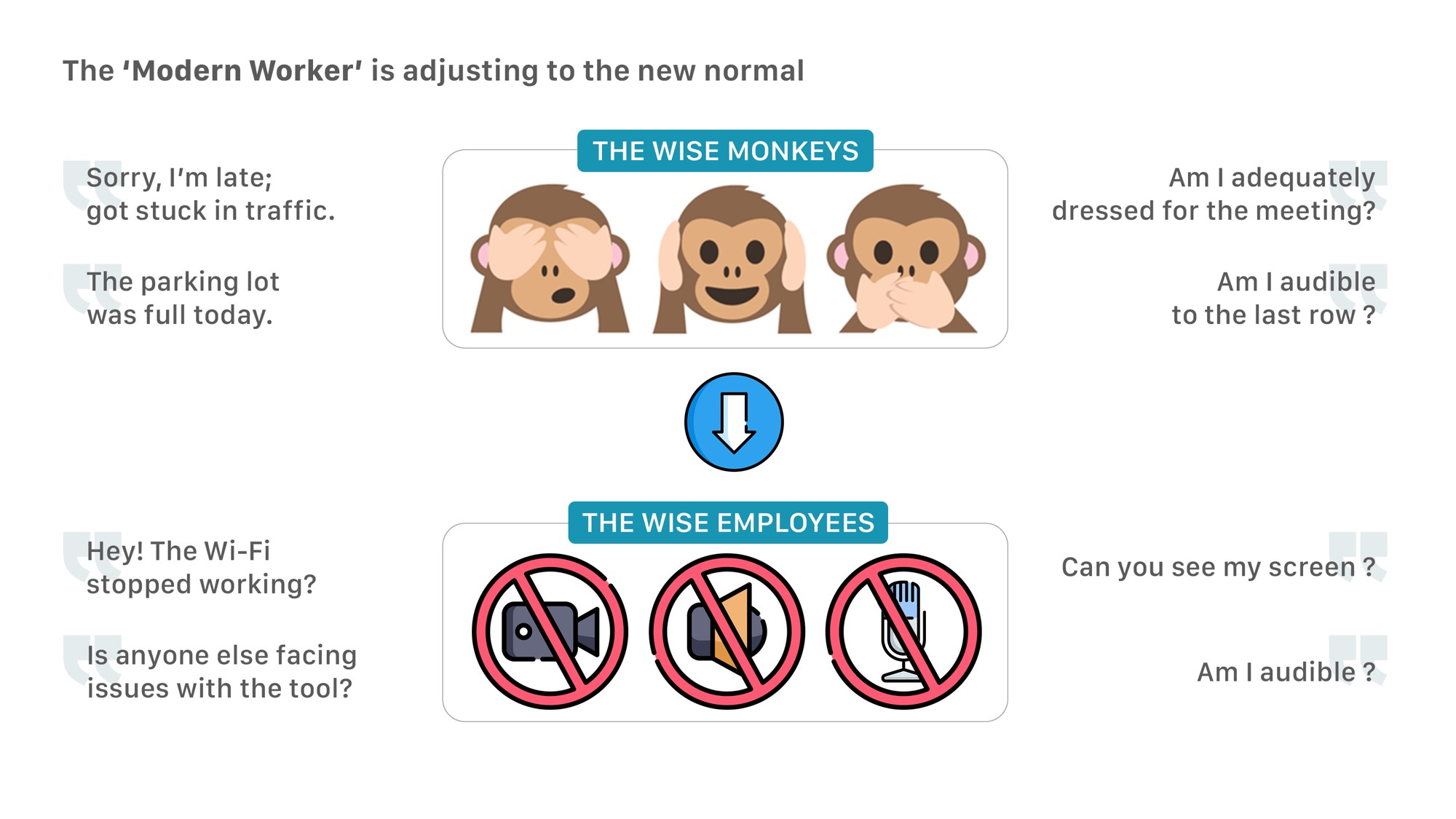 One of the things that we have been consistently mentioning is change. Work has changed, Workplaces have changed, Tech at Work has changed, Working Hours have changed. Not just that, the way we behave during work has also changed drastically. Many of us used to put a lot of attention to our attires while going for a client meeting. But that is not the case now. Now, we are more worried about video call settings. Although we don't want the client or our teams to listen to arbitrary things we say assuming we are on mute, we all get to see or hear such instances every now and then. So, I guess again, it took 60 years to get to be the wise employees from the wise monkeys of Mahatma Gandhi! Taking it to the next level, we are now more worried about Wi-Fi performance than our car's performance.
New Skills, Sensitivities, and Selections of the Modern Worker
Now when we talk about changes that come and adjustments that we need to make, we would like to mention key developments that are happening in the life of a modern worker. After analyzing, reading reports of how companies are dealing with the transition, observing our own organization, we have categorized these key developments into three key areas: Skills, Sensitivities, and Selection.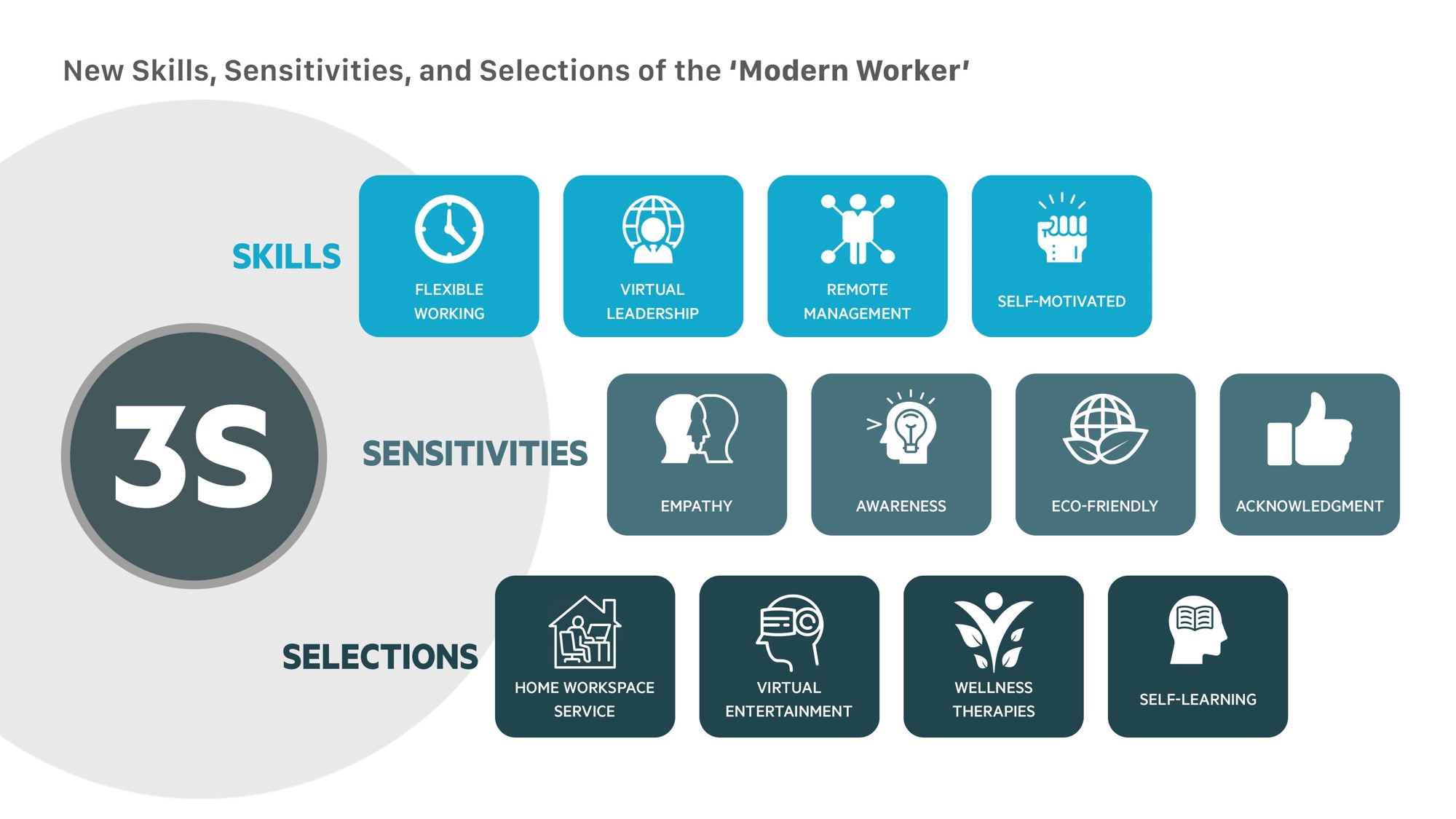 As we mentioned before, work and life have become pretty mixed up of late. So working on a flexible schedule and being productive at the same time, is a skill people are still developing. Initially, people felt a little stressed due to the whole lockdown scenario, but when they experienced the positive effects of it, they have gradually changed their mindset about it.
At the end of the day, we are social animals; we do miss the physical interaction, the water cooler conversations, and everything that comes with the experience of working out of an office. But we have to make the right changes in our mindset and way of working to embrace the present. We have to stay motivated, learn how to push a team on a Zoom call that earlier used to happen in a meeting room or making some solid graphs on the board. We will have to empathize with our colleagues more than ever, make sure that we type all the good things on mails or chat that we used to say it across the desk or during tea breaks.
According to a recent study by Cisco, nearly 9 out of 10 managers (87%) said that as a result of the pandemic, they have increased the emphasis on employee well-being and work-life balance. And this euphony can be achieved by two-way efforts or a consistent give and take relationship. Employers should help employees' set up warm workspaces at home, the HR should conduct fun activities to fill the space of the office parties/team lunches, and on the other side, employees should engage in upskilling themselves on the virtual communication front as well the technology front. And we personally believe that trust is more important in these evolved, modern workspaces.
The Modern Worker and Technology
We want to re-emphasize that technology is the language of modern work. We all know languages evolve so that we can communicate better. Plus, the way language is used differs from person by person. Say, parents do not speak the same way as children do.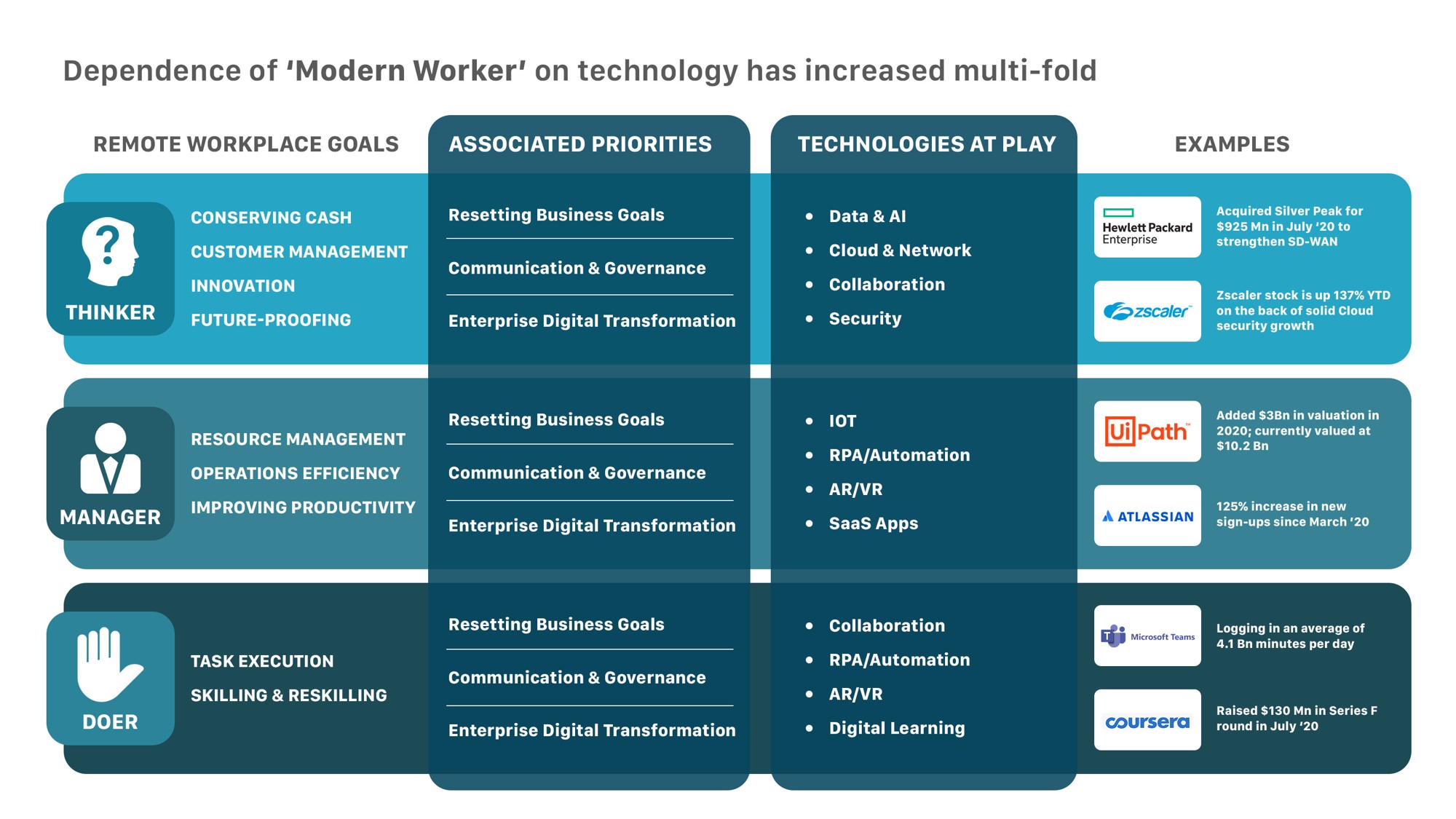 To better understand the type of modern workers, we have divided the workforce into three categories: Thinker, Manager, and Doer, which is relevant to most of the industries we can think of. The priorities of the three vary greatly, and they are fulfilled by different sets of technologies. For e.g., a CEO – a thinker – has a lot of calls and meetings to attend, so she is extensively dependent on collaboration tools. Plus, for her, time is very crucial, and hence would use applications that help her optimize her time. An AI-enabled transcription service or an AI assistant for her managing her meetings. On the other side, for a doer, collaboration tools do not hold the same importance. For him, task automation would help make the most out of his time or use of mixed reality to create a digital twin of the product or engage in an intense yet immersive learning experience. In between, a manager makes the best out of both extremes. They are highly dependent on tools that help them measure the plant's productivity and the doer's utilization. All these purposes are fulfilled by different permutations and combinations of a set of digital technologies, encompassing Automation, Cloud, AI, IOT, and Blockchain.
The evidence of rapid technology adoption is also visible in the form of funding, acquisitions, and growth of technology companies. Microsoft, Atlassian, HPE, Coursera and many others are not just withstanding the current shock caused by the pandemic, but are gaining from it.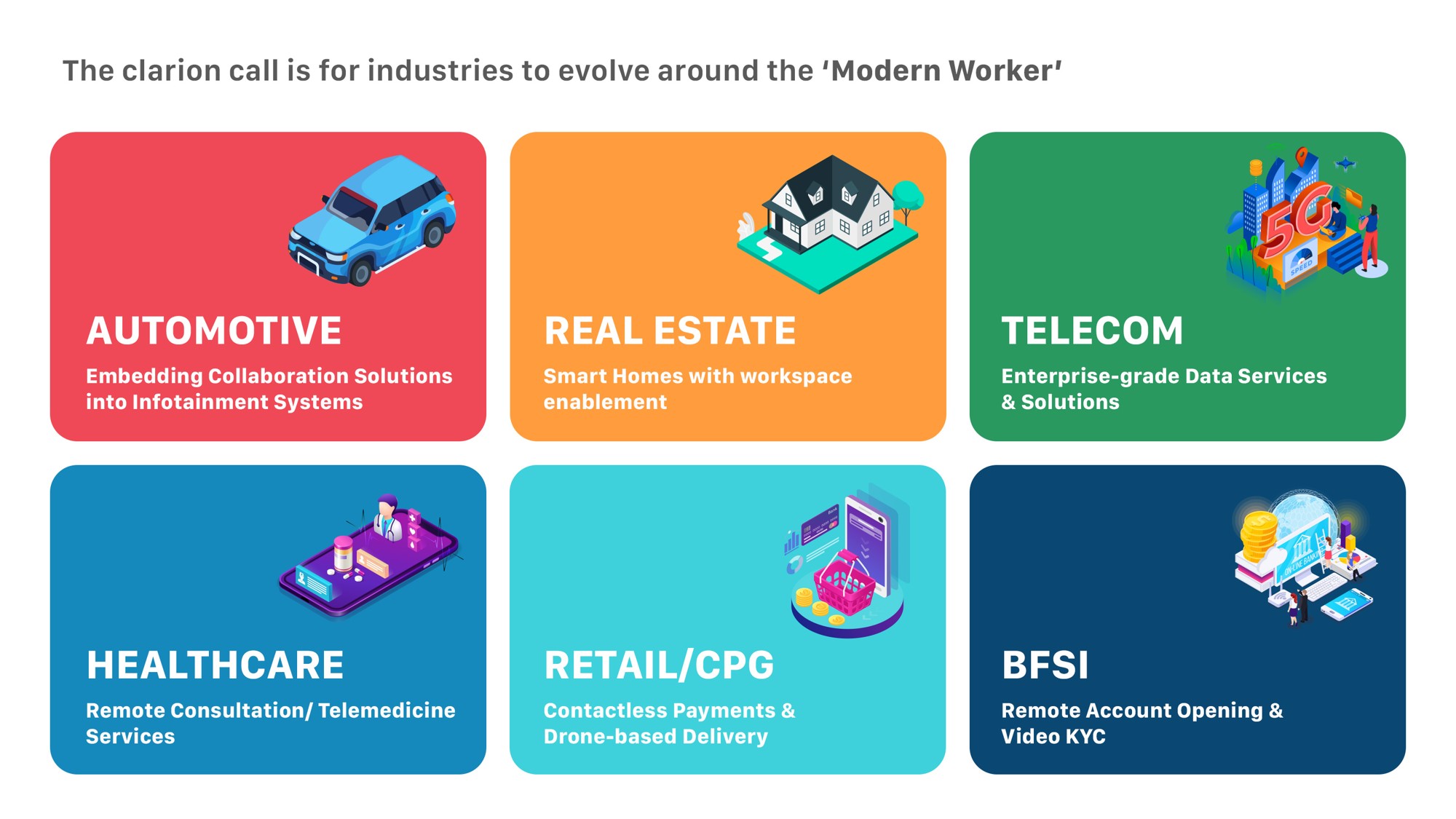 Broadening the horizon, we are witnessing a state where the modern worker is also influencing the product and services strategies of different industries. The day is not far when we would have Zoom or Teams or any other collaboration software in-built in an automobile's infotainment system. As we designate "office space" in our homes, future real estate companies would incorporate this trend in the design and architecture of a smart home.
We can already see how Telecommunication as an industry, which is the backbone of remote work, is taking initiatives to strengthen its services. Jio launched its own collaboration tool and Airtel has partnered with Verizon Wireless-owned BlueJeans to launch its video conferencing service. For banking and retail, contactless is the theme, keeping in mind the current scenario. Mastercard's recent survey revealed that 82% of respondents worldwide, now view contactless as the cleaner way to pay, and 74% state that they will continue to use contactless payments post-pandemic.
Education is another interesting industry that is being transformed in a major way. While universities like Harvard charges an exorbitant amount of money for high-quality education, the big question is whether people can get the same level of education through star professors who can now deliver the lectures via YouTube and get paid via the advertisement money instead of student fees. These kinds of trends will have far-reaching consequences for many of these industries.
The Post-Pandemic Workplace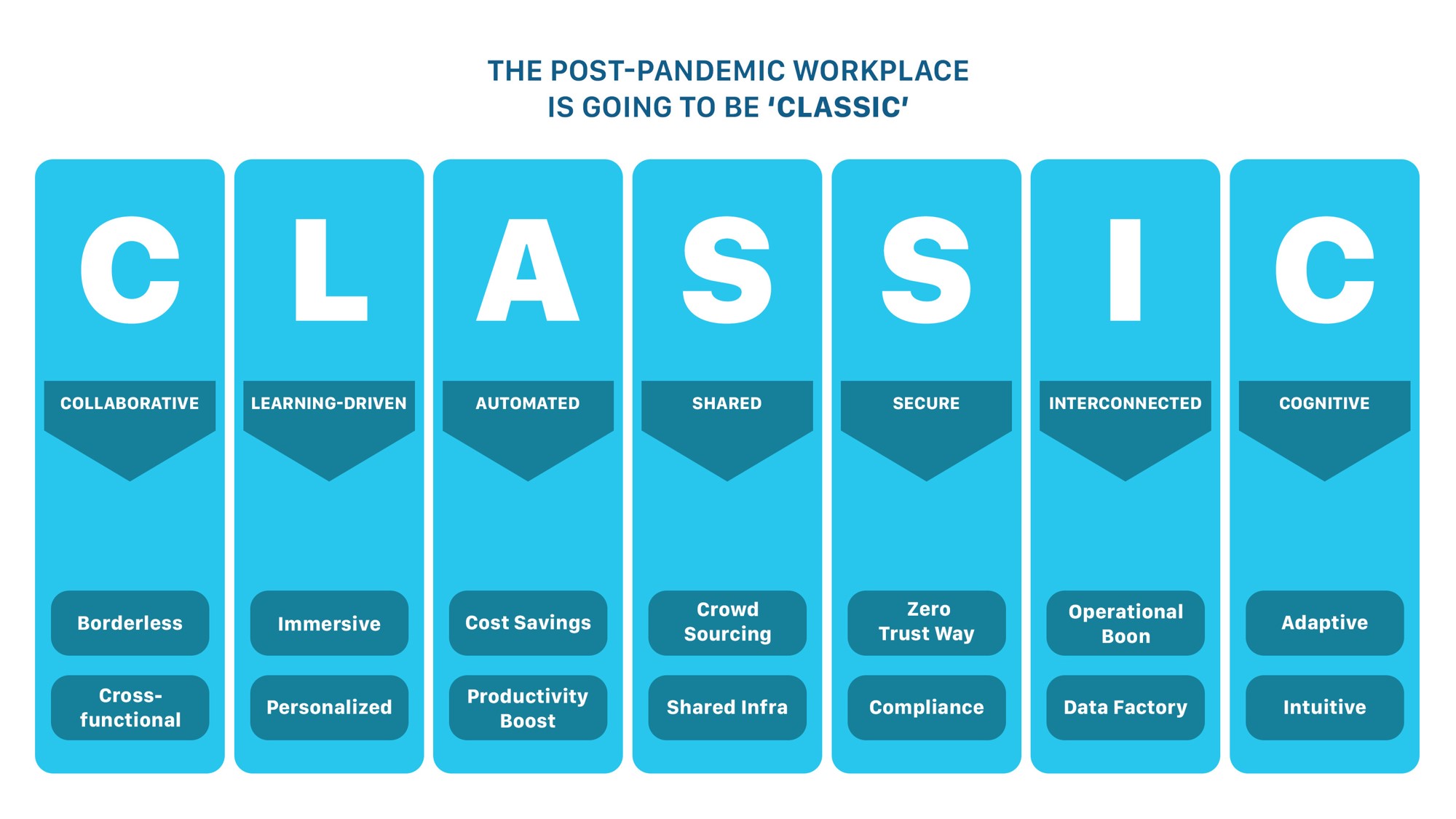 The future of workspaces will be CLASSIC – an acronym for Collaborative, Learning-driven, Automated, Shared, Secure, Interconnected, and Cognitive. It is ironic how we mostly use the word "classic" to refer to all things vintage. We know how collaboration will be an important pillar for the future of workspaces. Take Facebook as an example. The tech giant is planning to adopt permanent work from home, and most organizations in the world will keep remote work capabilities active, even in the post-COVID-19 world. This means that collaboration will make companies essentially boundary-less. A company can have the best talent from anywhere in the world. This would technically add more functionality to the organization.
Learning will be an important part as companies would expect employees to be multi-functional. And with the aid of Augmented Reality (AR)/Virtual Reality (VR), immersive learning would augment skilling initiatives. Automation will play a key role in cost savings, which is a top priority for enterprises, especially now. Nearly 50% of firms plan to invest in Robotic Process Automation (RPA) to increase business resiliency in a post-COVID-19 world. On the lines of cost savings, shared infrastructure, i.e., cloud services, would become more crucial. For e.g., Azure showcases 50%+ growth in revenue which shows how promising a future Cloud has.
One of the major concerns that companies have related to remote work is security. McAfee saw an average of 375 new threats per minute in the last 3 months since the majority of the world started working remotely. Adoption of VPN and the right security measures will be crucial to authenticate each device. 70% of organizations will also increase Cybersecurity Spending following the COVID-19 pandemic. IOT will play a key role in industries like manufacturing, automotive to make up for operating with just half of the capacity of the workforce in factories. Also, interconnected devices will generate tons of data that would help companies in improving their processes. Lastly, cognitive technologies such as NLP, Computer Vision, etc., would help employees to function more efficiently. Enterprises are already projected to double their number of AI projects, with over 40% of them planning to deploy at least one by 2020.
The CLASSIC Workplace and How Organizations Need to REACT to get there
While "CLASSIC" is the way forward, the journey to transform into a completely "Collaborative" organization would definitely require them to REACT in a systematic manner as well. Firstly, having a clear roadmap is the most important factor which defines the way the organization would be in the future and rightly future-proofs technology investments as well.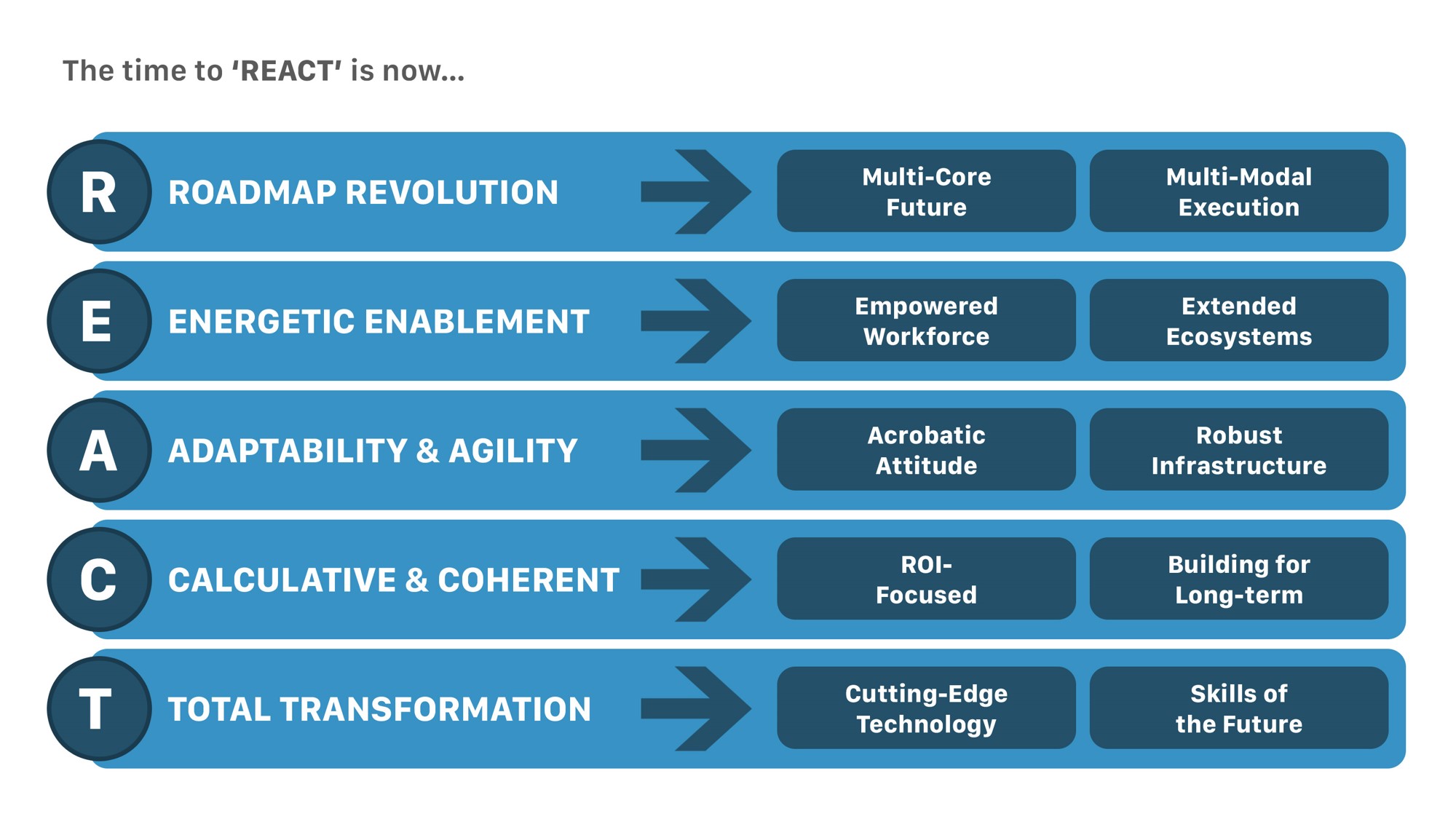 It is also imperative to empower employees with the best set of digital tools available and ensure that the culture of self-service is embedded into the core of the organization. Investing on knowledge sharing, personalized intranet portals, etc., would greatly help the cause. Digital workplaces also require organizations to follow a phase-wise approach, and the availability of low-code/no-code platforms further reduces the complexities.
Organizations need to be agile – the speed at which solutions and processes get integrated into the existing set of infrastructures and become production-ready would define how quickly they can transform themselves. Effective collaboration between IT and LOB functions is the need of the hour, especially in the case of building an effective collaborative organization. However, one of the most important facets is also to ensure effective change management measures and how it is effectively implemented across the organization.
Being calculative is what organizations should thrive to be as well. While moving ahead in the journey of adopting digital workplace initiatives, having a clear idea on the effective return on investment (ROI), and also having a view on how the future of the organization is secured, would have the utmost importance.
Lastly, having a transformative organizational DNA would surely pave the way for viewing commodity workloads and transforming them through new-age digital technologies. Digital enterprises are now looking to transform previously perceived commodity workloads such as knowledge management systems, intranet portals, and embedding AI/ML technologies into it to transform them into more personalized systems. A lot of focus should also be put in the training and reskilling of existing resources, which should have a personalized touch and which will eventually help in raising the bar for employee engagement and satisfaction.
The work, workplace, and worker are all experiencing a historic transformative moment in time. The future will certainly be very different from the past, and yet one cannot really predict the complexities it will unfold in the times to come. Amidst all the uncertainty, the only thing that is certain is the intent for companies to gain more than to lose in the future. How companies transmute that intent into reality will define the winners of the future. And as author Nassim Nicholas Taleb would say, those would be the true Antifragile organizations.
To know more about creating and transforming your workspaces into modern intelligent workplaces, write to us at
info@zinnov.com
.