e-Commerce is hotter today than it ever was.
It is not uncommon for people to shop online every single day. It is also not a rare sight to see people do a quick price check of items on Amazon, before heading to a physical store to buy it. People are willing to pay for premium services in online shopping because it is no longer a luxury, but a necessity today – especially in the wake of a pandemic that confined us all to our phones and screens. Today, over 95 million Americans claim to have an Amazon Prime membership – that is more than twice the number of people who hold a passport of the UK!
e-Commerce is growing at an incredible pace all over the world, with the global revenues hitting a record USD 4.9 Tn in 2021. But it doesn't stop there; the numbers are expected to grow to a massive USD 7.4 Tn by 2025.

Clearly, digital experiences are influencing people's in-store behaviors and outlooks. The need to serve customers both online and offline has given rise to omnichannel commerce, in which buyers enjoy a unified experience across different channels. Omnichannel strategies are revealing new growth opportunities for brands – we see a 90% year-on-year growth in customer retention rates combined with a 5 – 10% increase in annual revenue resulting from omnichannel strategy success. Building upon the omnichannel strategy, over 90% of the leading retailers either have an omnichannel strategy or plan to invest in it, whereas only 8% think they have mastered omnichannel.
However, charting a successful omnichannel strategy needs detailed planning and advanced technology solutions. Boosting the omnichannel presence with dedicated tools and technologies is the first step towards that.
This is where mobile and headless commerce solutions come into play. The rise of smartphones and mobile internet have led to the formation of the concept of mobile commerce by providing the flexibility to people to make purchases and carry out payment transactions through mobile phones. This trend is not expected to slow down as the number of mobile users continues to grow. There are currently more than 5 billion unique smartphone users across the globe which represents two-thirds of the global population. Social media applications are also helping accelerate the trend of m-Commerce through 'shop now' buttons that let customers make purchases from within the application. The rise of mobile commerce coupled with the enhanced maturity of social commerce is making it critical for businesses to rush to a channel-less approach and offer agile and seamless experience across the e-commerce platforms. Businesses are now seen shifting to a headless architecture for increased customizations, speed, and efficiency across the platform. Transitioning to a headless architecture allows brands to capture 40 – 80% improvements in speed and load time of the e-commerce platform by dissociating the front end and back end of the e-commerce platform. Going the headless way also allows brands to fulfill new and evolving customer habits and introduce new innovative and digital channels for creating an enriching customer experience.
On one hand, the mobile channel has become a top priority for brands as it caters to 80% of the e-Commerce orders and enables better customer engagement and retention cooperation; on the other hand, headless commerce has empowered brands to build agile, flexible, and decentralized experiences across multiple channels.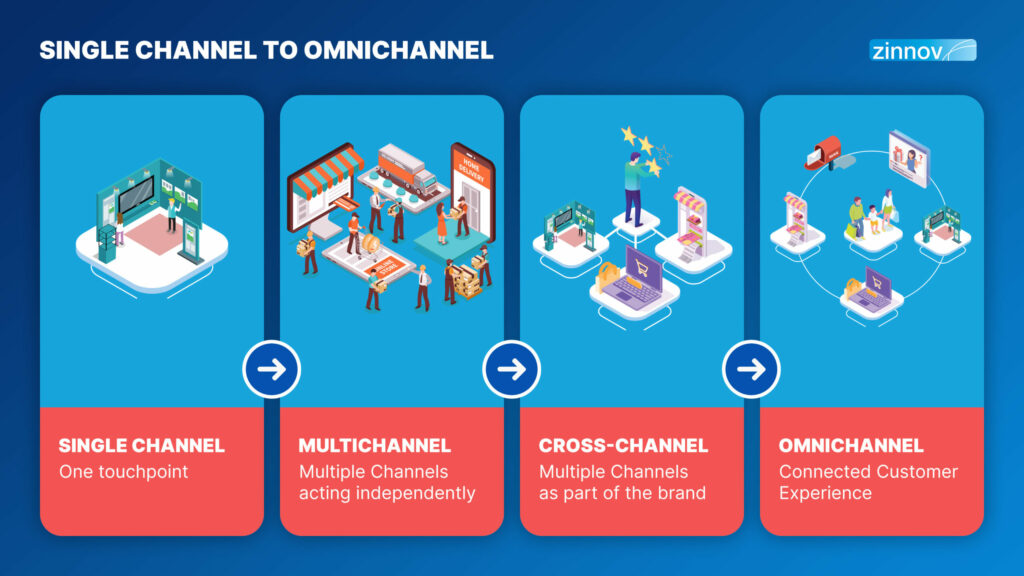 Headless Commerce: Moving on from a Monolithic Model
The move towards a headless architecture is helping brands accept the concept of "commerce from anywhere." 80% of the businesses that don't have a headless architecture plan to implement it in the next two years, owing to the slow and complicated back-end experience of making changes to the digital storefront. In the last two years alone, over USD 1.65 Bn in funding has been raised for headless technologies. Major industry players such as Salesforce are entering the space by introducing headless commerce tools to give large retailers and web-only sellers more control over digital storefronts.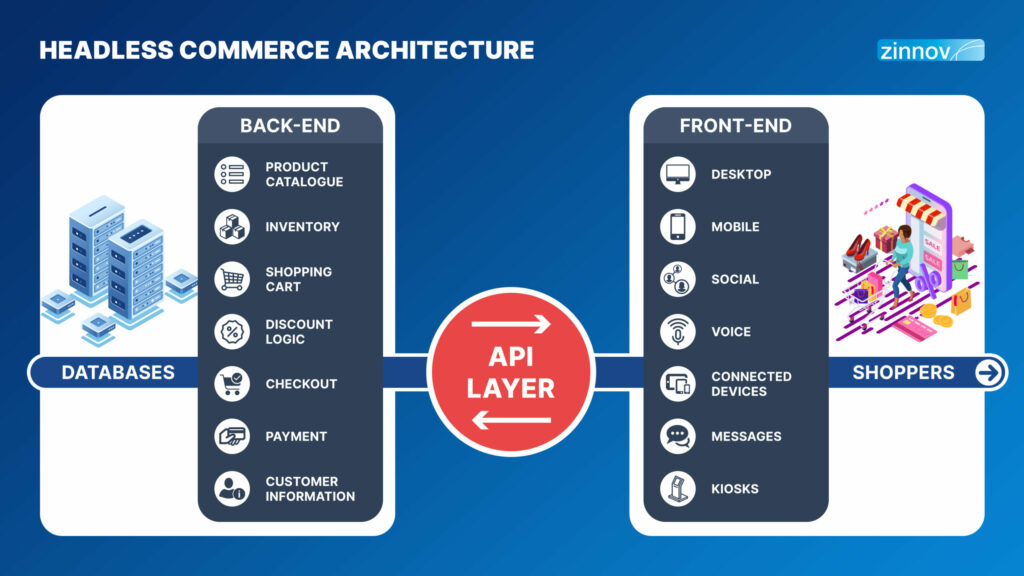 Headless commerce enables power and agility by decoupling the front-end web system, which includes the e-commerce website presentation layer (templates/buttons/themes etc.)., from the e-Commerce back-end engine, which has pricing, infrastructure, security, checkout, etc. With this 2-tier architecture, these two separated sides work independently and communicate via APIs.
Before the success of headless technology, it was the all-in-one monolithic model which was in vogue. The benefits of a monolithic model include complete platform control. This might have been helpful for the IT department if a front-end experience ever needs extreme customization. In addition to this, with legacy e-Commerce platforms, everything is bundled together, leading to a comprehensive architecture, which makes it easy to set up and use pre-loaded tools and services.
On the other hand, monolithic strategies aren't ideal for innovation as they often have slow go-to-market timelines and high development costs. In the case of monolithic e-Commerce, the front-end and back-end are paired together, making it hard to customize the e-Commerce application or website. Any change in the front end would affect the back end, introducing many design obstructions. Adding to the list of limitations, code editing and other back-end curbs limit the designers and developers from rapid prototyping and testing. And as one could guess, 34% of organizations have witnessed delays of weeks or months to make changes to their digital storefront in a monolithic model.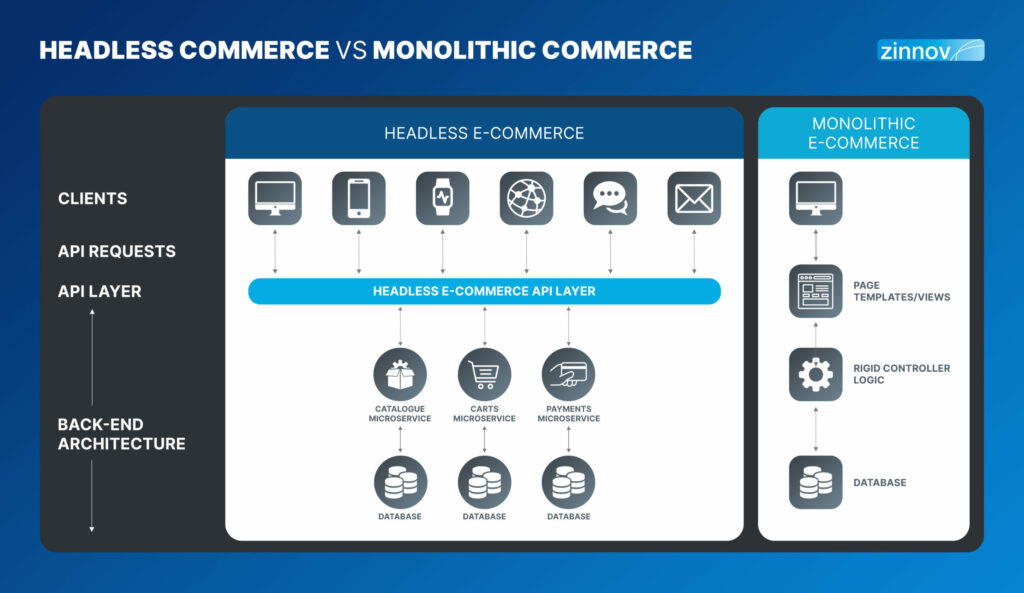 Headless commerce gets the better of these issues by disassociating the user experience side from the back-end technical side. This allows brands to renovate the front end without affecting the back-end encryption. The front-end stays effortlessly connected to the back-end systems like ERPs, PIM (Product Information Management Solutions), Order Management Systems, Digital Asset Management solutions, and other applications with the help of an API layer. This promotes efficient user experience & design changes and optimizations across the website. The developers also enjoy the liberty to adjust the front end while supporting the connection with the back end through APIs. Adding to this, the designers can update the front-end anytime without delay from DevOps or Engineering teams.
The Many Benefits of Headless Commerce
Building the architecture for an e-Commerce platform in a headless way has several advantages over the traditional monolithic commerce platforms.
Supercharged Customization and Personalization
As the front end is decoupled from the back end, it becomes easier to make changes to the content layer without interrupting the underlying infrastructure. Furthermore, the headless design also ends the information silos as all customer data is centralized and easily accessible. With centralized customer information, retailers can build and implement e-Commerce websites that show personalized content to users in different geolocations based on the user's earlier purchases, the targeted ad campaign, and other factors.
Monolithic e-Commerce platforms provide a complex experience by integrating all the functionalities like CMS, payment gateways, online catalogues, personalization, etc., in the back end. At the same time, headless solutions supply the means to connect different platforms via the API layer. APIs make it simple for e-Commerce platforms to communicate with one another while promoting seamless data transmission.
Enables Experimental Commerce
The headless design allows for a more exploratory shopping experience by allowing consumers to buy products through interactive shopping channels created by AR/VR, and social media, engaging user experiences without changing the back-end systems
Accelerating Omnichannel Experience
Successful omnichannel strategies are expected to add a 250% upside in purchase frequency, and a 13% increase in average order value (AOV) compared to a single channel. With headless commerce, websites offer a dynamic customer experience as front-end alterations such as product catalogs, prices, discounts, images, and other templates are updated and synced in real-time across all online platforms concerning an e-Commerce website.
Unified CX Across Channels
Headless platforms ensure a unified presence across different channels without re-architecting the whole design, so customers can interact with the forum without having to visit the web store every time. Headless commerce allows brands to introduce new customer touchpoints powered by the API layer to ensure data consistency and functionalities. For instance, brands can convert their Instagram accounts into mobile storefronts by adding the 'Shop Now' functionality to their posts.
Accelerating Agility and Time to Market
Headless commerce platforms can support modern technologies as they appear. And because of the flexibility offered by headless architecture, brands can fast-track go-to-market times by replacing and upgrading unwanted parts of the infrastructure. Headless architecture adds to the flexibility by supporting additional mobile shopping options, like native application development, Accelerated Mobile Pages, Progressive Web Apps, and other evolving technologies.
Apart from the specialized advantages, headless platforms save business development time and publishing costs.
Nike: A Case Study
From big brands to niche players, many e-Commerce players are reaching out to headless solutions to keep up with emerging digital technologies and evolving consumer demand. Nike, the most successful athletic footwear and apparel brand in the world, expedited its digital journey by expanding its supply chain networks and investing in emerging technologies to strengthen D2C e-Commerce.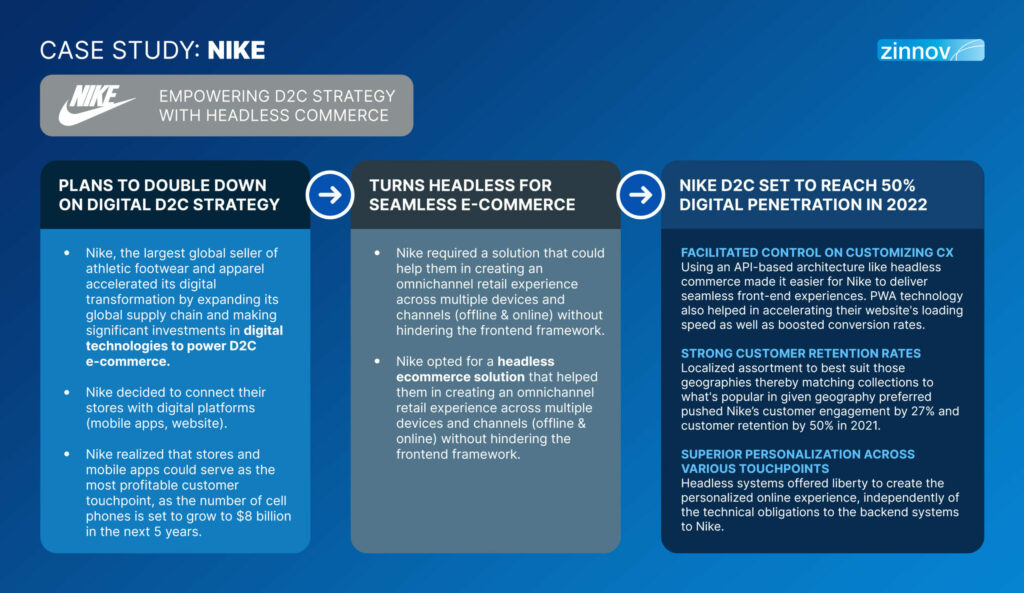 Nike set an objective to be a D2C behemoth by leveraging the digital ecosystem with the end target of reaching 30% digital penetration by 2023, aiming for 30% of total sales to come from its e-Commerce channel. However, Nike flew past that goal two years ahead of schedule and now expects its overall business to reach 50% digital penetration in 2022.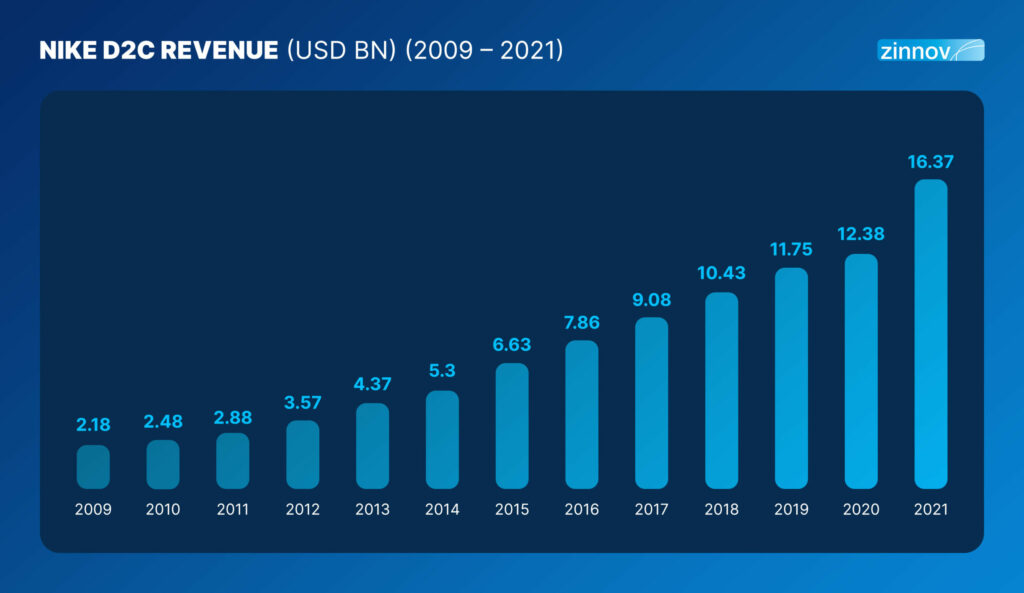 What's Next for Retailers?
The need for customers to explore their preferred brands across multiple channels is igniting the growth of investments in e-Commerce platforms. Brands across the globe are executing strategies and solutions that stand out amid the intensifying competition in the omnichannel space to keep customer attention intact with an overall growth strategy.
Headless commerce offers a new direction to keep consumers engaged and buying. Headless systems have made e-Commerce website development more straightforward and affordable for large enterprises and SMBs, stimulating them to reach out to systematic and generate better gross margins. Currently, most businesses are still on monolithic older commerce platforms, indicating all features are combined into one interdependent system. The CMS, shopping cart, site design, and product management – all share the same codebase. Going ahead, demand for headless software will gain traction as more organizations look for better solutions to compete in this digital-first economy. Brands planning to grow on multiple channels can rely on headless commerce to enable superior personalization and strong customer retention rates.
Get in touch with our experts at
info@zinnov.com
to know how your business can can disrupt the retail status quo with headless commerce.