Revenue models and consumer reach operated very differently before the pandemic. Over the last 2 years, one of the biggest shifts we saw was in how the B2B model changed, and numerous businesses jumped on the direct-to-consumer (D2C) bandwagon. Companies that were not exclusively D2C adopted it, transforming their existing models almost overnight. This pivot not only kept their business afloat but has also helped them thrive in these trying times. Digital channels have been enabling companies to cut out the middlemen and reach customers directly. Sid Jatia, General Manager, Global Retail and Consumer Goods at Microsoft, in conversation with Rajat Kohli, Partner, Zinnov, recently discussed the nuances of how traditionally non-D2C companies have been leveraging technology to future-proof their businesses, the proliferation of D2C as a business model for B2B enterprises, among other things. Through examples, he illustrated how Microsoft has been facilitating this transition for its customers.
The Motivations
A common reason people tend to go the D2C route is because businesses need to pay less exorbitant margins to retailers to drive distribution. While the upfront margin opportunity is a reality, D2C is an extremely hard business to operate and run profitably.

Keeping margin motivations aside, the biggest reason why Consumer Goods companies are going D2C is due to a need for deeper intelligence around their consumers. Businesses have started realizing that they are only as good as the products they make. If their products are going to be more relevant to their consumer, the better company they are. Making better products is only possible with better consumer intelligence, which is attainable through consumer proximity.
The Channels
The channels that businesses choose to go D2C are interesting to observe. When talking about direct-to-consumer, the go-to option is e-Commerce: putting products on their website and selling it. At the root, the D2C model is almost channel-agnostic. It is about getting close to the consumer, whether it's in a physically owned and operated store, running an e-store, or whether it's having products up on Amazon or Zalando.
However, when businesses start selling through third-party marketplaces, like Amazon's Zalando Tmall, Alibaba, and other big conglomerates, and data aggregators, is that a D2C strategy anymore? These aggregators have made it tricky because the marketplace becomes the consumer rather than the actual user of the product. It is arguable that a lot of times, people don't care about the product that they are buying, from a brand perspective. Buying patterns are influenced by convenience and immediacy. Businesses know that demand sits on these large platforms and large consumer bases buy from these marketplaces, driving up the reason to be on those platforms even more.

But the most fascinating emerging channel for direct-to-consumer models is the out-of-home route. For example, self-service kiosks, or even Uber and DoorDash. This is a new opportunity with a lot of Consumer Goods companies around the world, choosing direct distribution through these last-mile providers. This again begs the question, where is the retailer? Have Uber and DoorDash become retailers?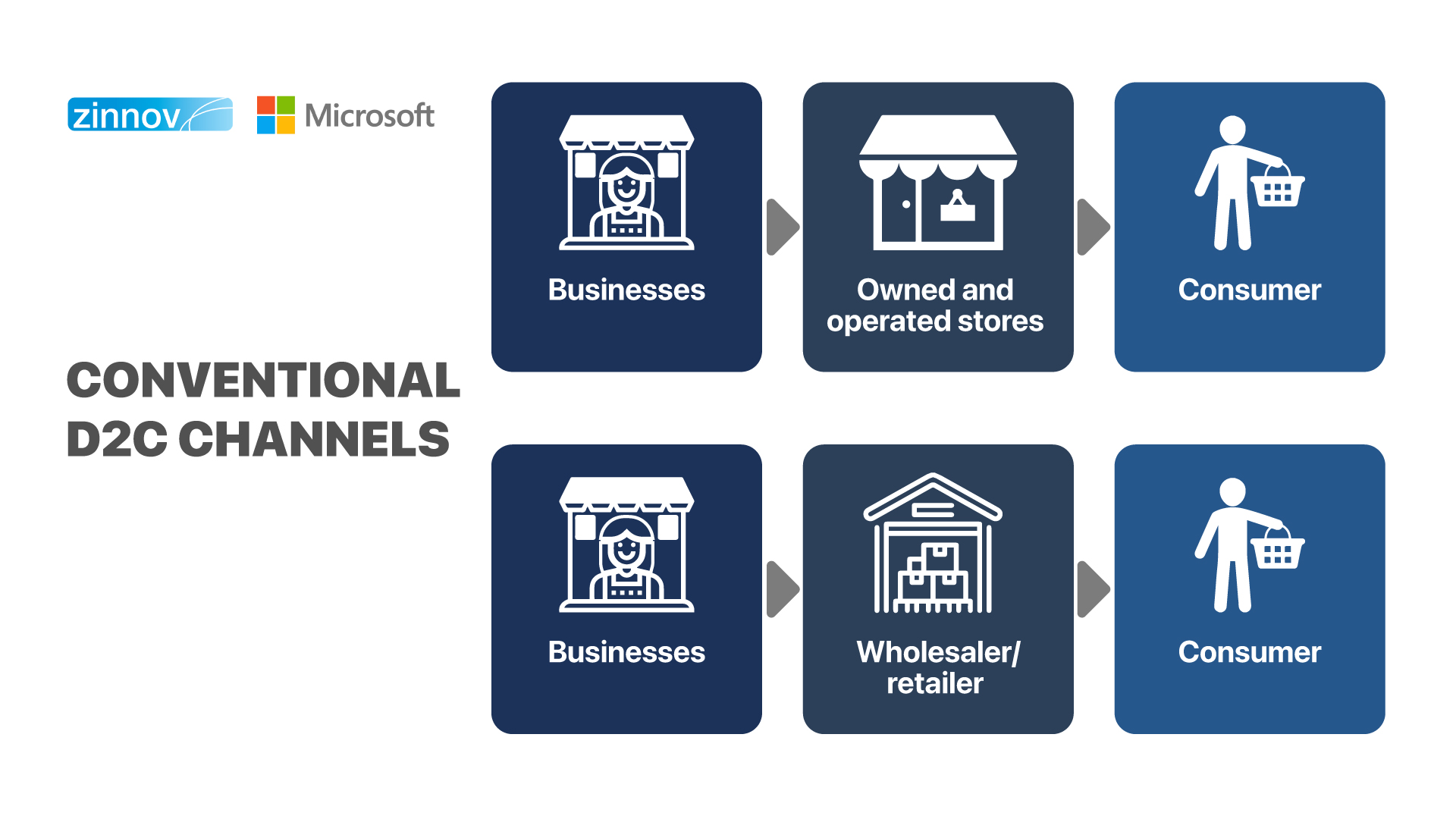 The Challenges
"What makes it super challenging overall is the lack of clarity on what product to sell on direct-to-consumer – it's still a sketchy science. Most people are guesstimating it. "

– Sid Jatia

The D2C model has always been hard to crack. But what are these causes and what should businesses be aware of?
1) Demand generation is now dependent on social media management. There is now a very different scale of building teams. Consumer Goods companies are making space for how people should think of merchandising in terms of product representations on-site, etc. Earlier, product presentation only mattered in marketing campaigns and was the onus of the retailer.
2) The common misbelief of most Consumer Goods companies is that all they need to do is build a great product, and that would sustain a great campaign. But now, since product presentation matters so much more, there's a huge skillset gap in most companies around how to represent products, make them appeal to a customer, and stand out from the competition.

3) Since the D2C model is new, sales volumes are also new for the newer players. With smaller sales volumes and higher operational costs, brands start to quickly lose steam expecting higher margins. Once businesses realize that they aren't making money in the short term, it goes downhill. It needs to be a journey to constantly optimize. The key is to really share costs across channels and think about connections across those channels, ultimately to get to a sustainable business that truly benefits the company's P&L and boosts the overall strategy.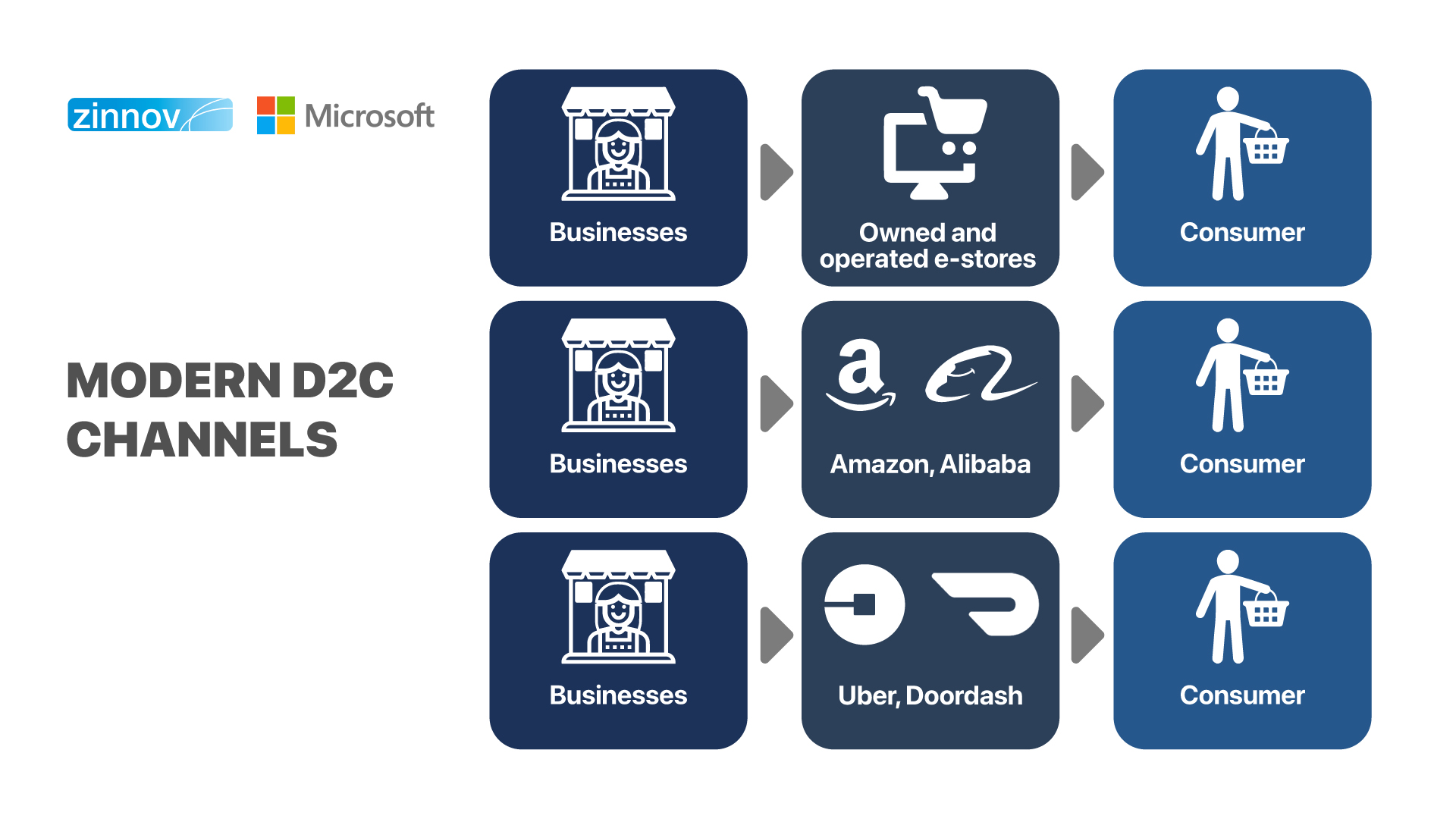 Microsoft's Approach and The Role of Data
"Microsoft has a very deep bench when it comes to a direct-to-consumer product entity."

– Sid Jatia
Within the world of dynamics itself, there is dynamic marketing, dynamic commerce, and dynamic supply chain. As a hyperscaler, Microsoft is focused on making sure that Azure is the best value provider to its customers. The focus has also been on making processes and stages simpler for our partners and helping them end-to-end; from demand generation to logistics. These are for both – customers who are either trying to experiment in the D2C journey or are established players looking to consolidate and optimize their business.
When it comes to how Microsoft works with data for its customers, we have come to see how Data is not a choice anymore, it's a necessity. Big brands and enterprises have investments to see and track their data and resources. Now, the commercial manager, commercial director, and category manager are the people who need to be tuned into insights and intelligence across their category. It's a matter of skilling talent right from the chief data scientist or whoever the data lead is. The data lead's job is to facilitate the best insights to the right business units. As a business unit lead, understanding skew rationalization plans, understanding consumer behavior, and the propensity to churn and buy – those are the aspects organizations need to get programmatic about, and they all sit on the shoulders of data.
As a concept, e-Commerce is just a subset of direct-to-consumer. However, e-Commerce is a broader concept that goes beyond D2C and goes into other industries as well as Retail. Both models have tremendous potential in terms of serving customers. It will be important to understand the role to be played in making D2C more relevant for customers, change over time, and get better for the shopping experience.
Is a D2C business model right for your business? Drop us a note at
info@zinnov.com
to speak to our consultants to explore this further.