Digital Transformation has had a profound impact across the technology ecosystem, irrespective of vertical. Enterprises – large and small – are at varying points in their digital transformation journeys, with mixed results. However, it is clear that digital is increasingly defining the core of companies across industries. This has fueled a massive rise in the digital engineering spend by the top 1000 companies, which was USD 293Bn in 2018 and is expected to more than double to touch USD 642Bn by 2023.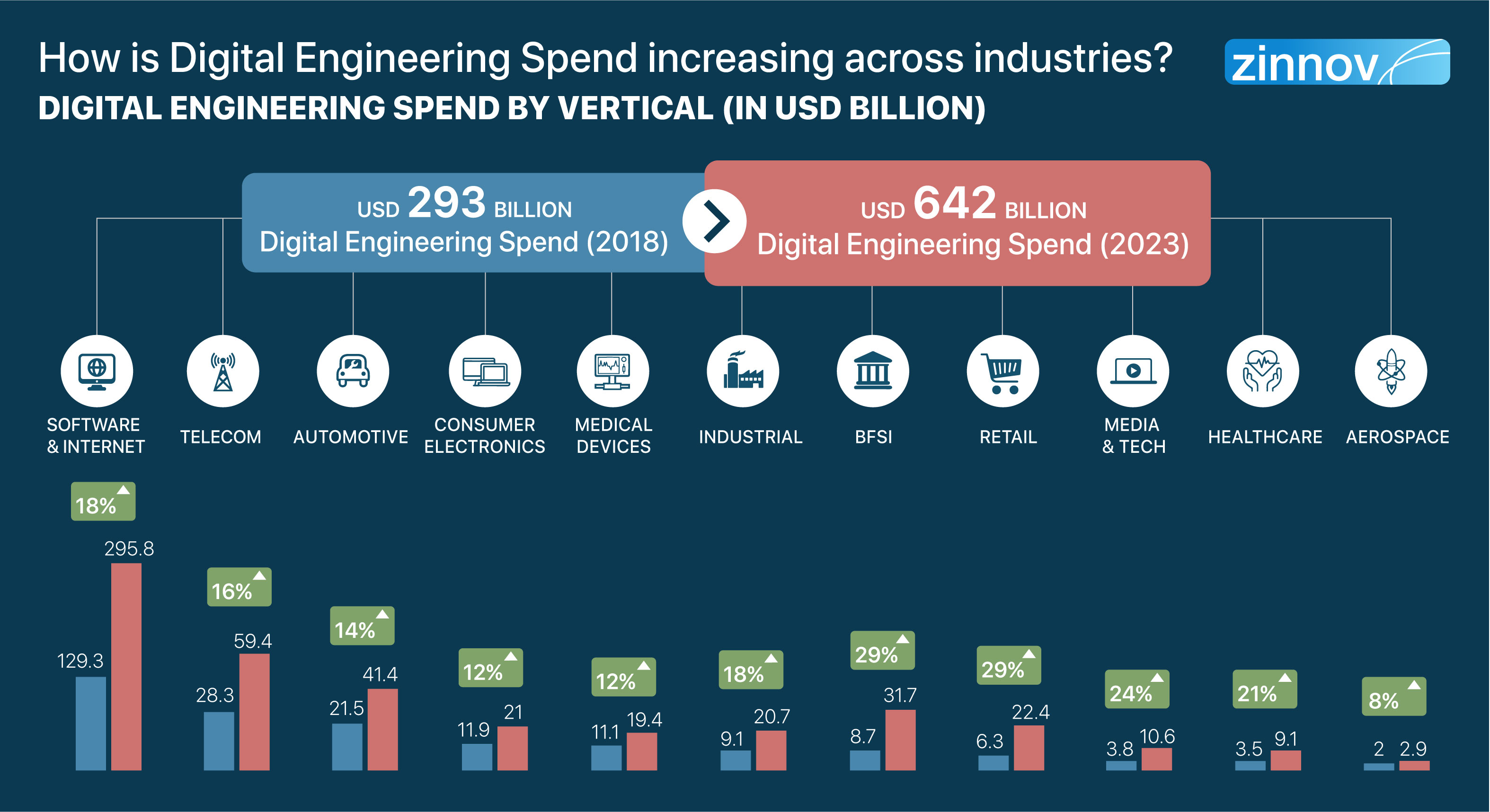 The top 1000 companies are increasingly foraying into non-core areas such as healthcare, automotive, media and telecom, by increasing their digital spend in these verticals. This poses serious challenges to the traditional incumbents, who need to up their digital game by outlining robust digital roadmaps as well as increasing their digital engineering spend. Moreover, a major chunk of this digital engineering spend is being invested in increasing capabilities in digital technologies such as cloud computing, AI/ML, RPA, blockchain, etc. These technologies are the key pillars of driving digital transformation across verticals and the software and Internet vertical will account for nearly half the global digital engineering spend by 2023. In fact, a major chunk of this digital engineering spend is being invested in cloud.
Cloud – the first step of Product Information Management
Cloud infrastructure forms the foundation on which the new-age technologies like AI/ML, blockchain, RPA, etc., thrive. Storage-Compute-Network – the trifecta of capabilities that cloud brings to the table is crucial for driving digital transformation across enterprises. As more than 85% of enterprise workloads will be run from the cloud by 2020, a robust cloud strategy becomes not just essential but imperative. Cloud not only enables greater flexibility over traditional data centers and building capabilities across disruptive technologies, but it also enables the digitization of an enterprise's content that will be available across various teams and business units (BUs).
Although the availability of digitized content is a basic expectation across teams, very few companies have a consolidated content digitization strategy because of the complexities involved in pushing all the content online. Companies need to leverage digital technologies to map a structured approach to digitize all offline content (in the form of product information, product manuals, internal processes, ERP systems, print catalogs, to name a few) to enable easy online access. At the end of this exercise, all of the content of an enterprise essential to market and sell its products is available online, on a secure platform, accessible anytime, anywhere, across the organization.
Why Do I Need Product Management Again
A Case For Product Management In Indian Gics
Read More
Challenges in Digitizing Content
Easy access to digitized content is an expectation across BUs in organizations; however, it isn't a straightforward exercise. In this digital era, information is expected to be available at the tap of a button. Moreover, information is expected to be provided in real-time, in a dynamic manner, instead of as a static PDF. However, not all companies are digital natives; traditional manufacturers and Service Providers are no longer competing against their peers in that one domain. Rather, they are competing against the likes of Amazon, Apple, and Facebook. In such a scenario, digitizing an enterprise's content is not only crucial, but becomes an imperative.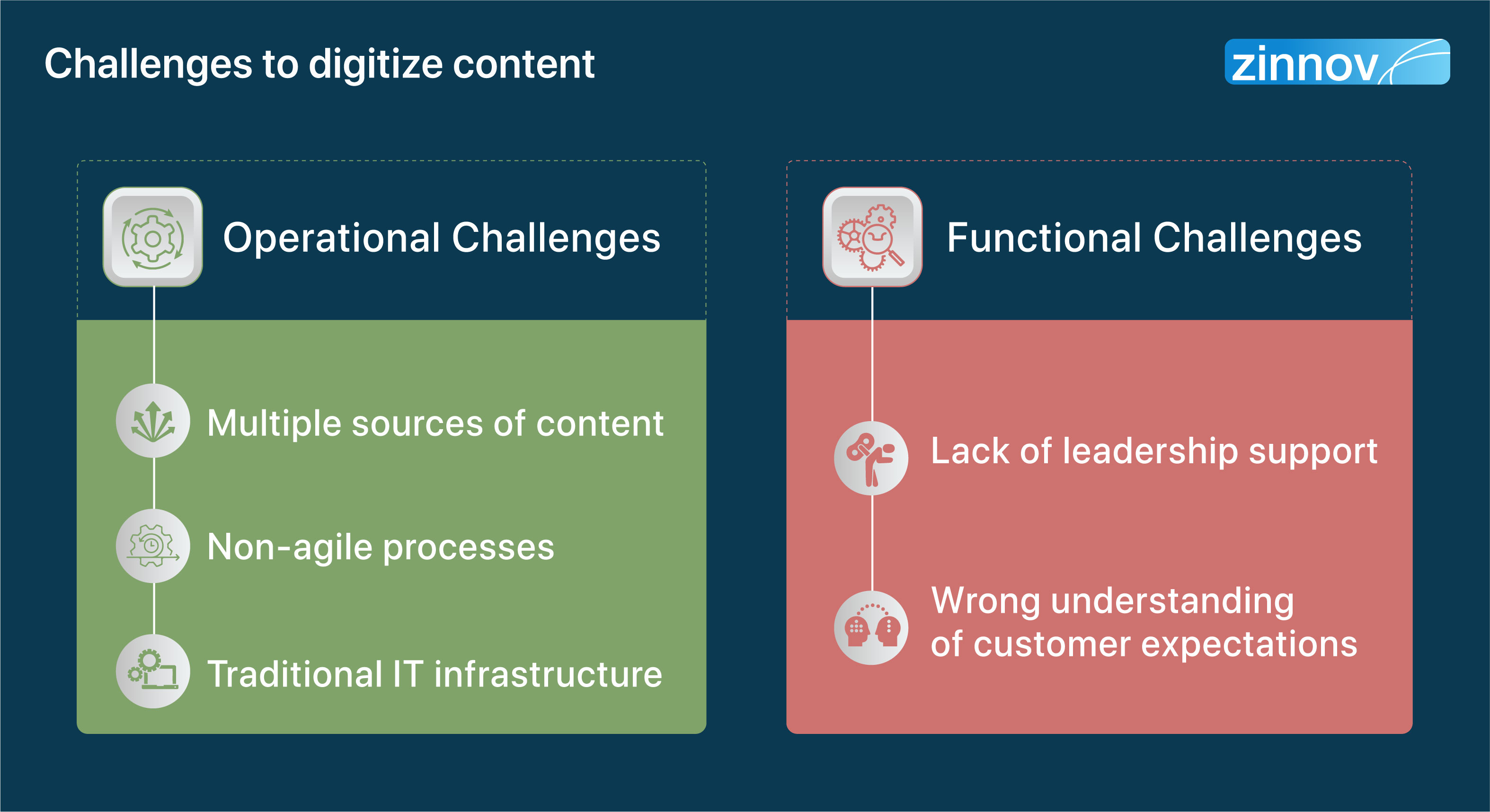 However, there are several challenges that hinder the digitization of an enterprise's content.
Operational challenges such as
o vast amounts of content from disparate sources
o disconnected, non-agile processes
o huge legacy IT infrastructure
Functional challenges such as
o lack of strong leadership support to align all stakeholders
o lack of a solid understanding of customer expectations
Addressing the Challenges around Content Digitization
Technical publications have long been considered a cost point, a necessary evil needed to comply with regulations, to keep abreast of competition, or to achieve a good score in test labs. However, product managers have realized that the quality of the information provided has a direct impact on customer satisfaction, and to some extent, product support costs. Hence, leveraging Product Information Management (PIM) becomes extremely important.
Product Information Management is no longer just about the management of product information, but about gathering intelligence around the products that a company develops. This enables business users to optimize their resources and augment overall customer experience. The following is a blueprint for outlining a robust PIM strategy to digitize an enterprise's content –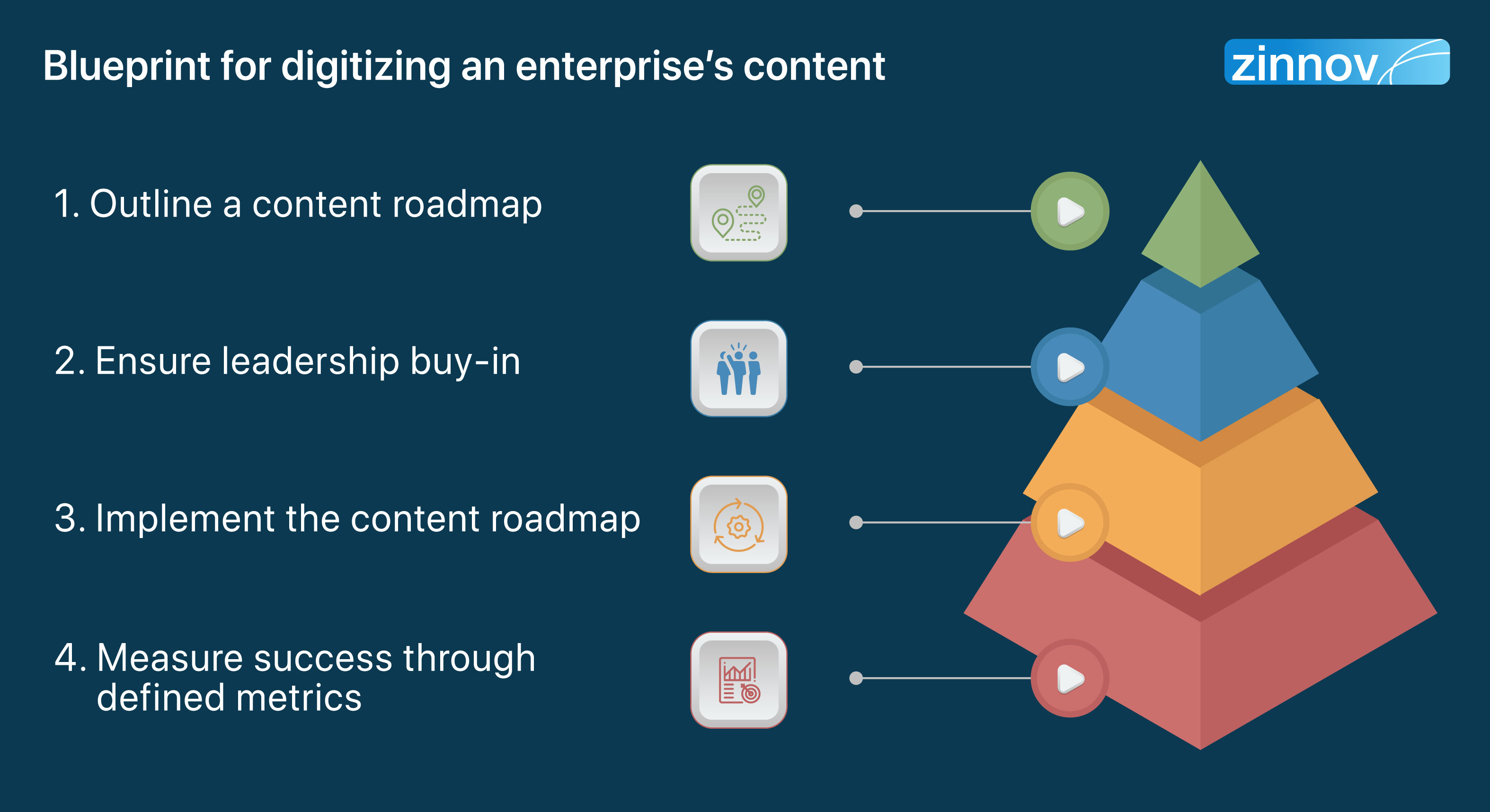 A content roadmap that addresses all aspects of design, content creation, content management, multi-channel delivery, and delivery platform is crucial for digitizing an enterprise's content;
Senior leadership buy-in ensures organization-wide co-operation for content digitization. This can be done by showcasing the benefits of PIM from being a cost of sale to being a revenue influencer and a product differentiator;
The content roadmap should be implemented across teams and BUs;
Success can be measured through defined metrics of improved operational efficiencies, reduced time to market, cost optimization, etc.
Trends in PIM

PIM ensures personalized, easy to use, and quick to access content for users. On the other hand, for the companies, it enables easy updation of changes, thus reducing costs; improves customer satisfaction because customers have the latest information; and makes it easier for customers to fix issues by themselves. Given that companies are realizing the advantages of a comprehensive PIM strategy, here are a few trends in PIM that will be adopted across verticals –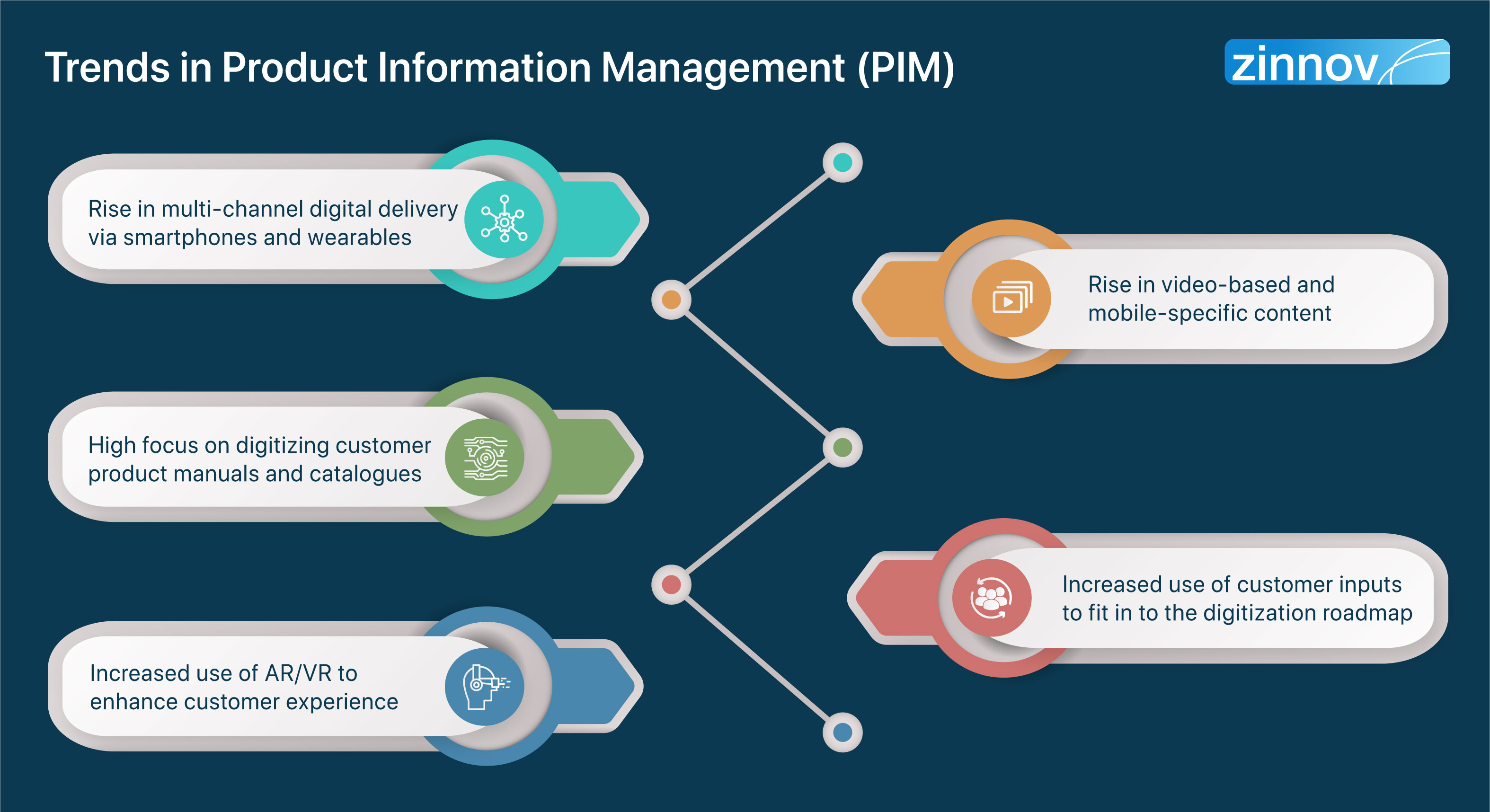 a) Anytime, anywhere access to product information through digital delivery via smartphones and wearables will become a hygiene factor across verticals. With the changes in how content is delivered digitally, static PDFs are no longer viable. Hence, a company's content creation and management strategy needs to align with the delivery strategy. In fact, studies show that customers favor products that they can visualize, so that they get a clear picture of the benefits and test the ease of use.
b) Companies are increasingly focusing on digitizing key customer touch points such as product manuals and service catalogs.
c) AR/VR will continue to be increasingly leveraged to provide a higher level of product information and user experience where customers can visualize and experience a wide variety of a company's products. Additionally, AR/VR allows for the development of online training models which lowers the cost of the logistics necessary for in-person training sessions around the world, which can last up to several days. With a PIM in place, the stakeholders can access the online training sessions at any point in time, from anywhere, and thus enable self-paced training.
d) There is a rise in video-based as well as mobile-specific content that companies are exploring to deliver product information.
e) Companies are leveraging customer inputs to fit in to the content digitization roadmap to enhance customer experience.
Benefits of a successful PIM Strategy
Combining a robust content strategy with a well-defined successful PIM strategy helps enterprises centralize content management, personalize information, deliver mixed media, and consolidate information through systems integration. The content mirrors the products it has been created to support, thereby helping –
Lower costs due to increased operational efficiencies;
Reduce time to market of products;
Update content across all stakeholders, including customers and partners in real-time; and
Apply analytics on digitized content, thus helping provide better customer experience.
In this digital era that companies operate in, content digitization is a no brainer. However, a structured approach to digitizing content by leveraging a robust Product Information Management strategy is crucial. As uniform access to product information will become a hygiene factor across companies and verticals, content delivery on multiple channels in real-time will be the future expectation.
Identify the core value proposition and the key engagement aspects to leverage the ecosystem to accelerate your enterprise's digital transformation journey by dropping us a note at
info@zinnov.com
.