As the last couple of years have proved, globalization is like ambrosia to businesses. The pandemic has taught us all lessons in resilience and antifragility along with empathy and compassion. During this unanticipated period, businesses worldwide scrambled to hold on to any support that would keep them afloat. The Great Resignation and the pandemic-induced accelerated technology adoption have only further necessitated long-term solutions that companies need to outline to keep the business steady.
Globalization has now proven to be a sure-shot way of de-risking business, accelerating innovation and digitalization, and creating a defensible moat against external disruptions and uncertainties on the horizon. With other geopolitical dynamics coming into play, it is imperative for companies to find global locations that can satisfy business needs better than any location on the home turf.
In our latest COE Hotspots of the World report, we analyzed 15 global locations that are ripe with opportunities to be leveraged as destinations to set up Centers of Excellence (COE). We have taken into consideration factors such as Ease of Doing Business, Government regulations and tax implications, Cost, and Talent Availability to evaluate these locations across North America, LATAM, Central and Eastern Europe, and APAC.
One of the top locations that has emerged as a COE hotspot is Romania.
Why Romania?
FDI investments in Romania, shot up in the year 2021, totaling a massive USD 9.4 Bn, which is more than a threefold increase compared to the USD 2.68 Bn that the country managed to receive in 2020. Investments in start-ups have also seen a steady increase since 2018 (image below)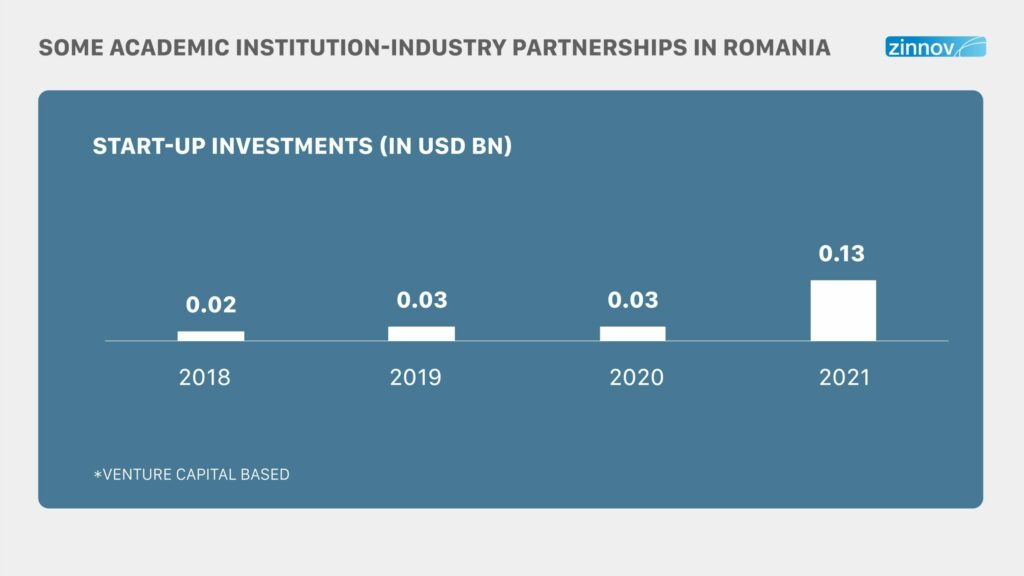 The impact the pandemic had on the Romanian economy has caused some pivotal changes in the way the ecosystem functions. Remote working en masse took over all companies by storm owing to necessity, forever changing the way people work. Our analysis reveals that less than 1% of the workforce had the luxury of working from home, whereas the proportion now stands at 68%. Moreover, over 50% of the employees swear by remote and hybrid as their preferred work models.
Interestingly, (and rather predictably), Fintech and HealthTech are two verticals that have been gaining a lot of traction since the onset of the pandemic. Our research shows that by 2025, investments in AI will reach USD 58 Mn per year, which is twice the current total.
So, what makes Romania one of the choicest destinations for setting up a Global Center of Excellence?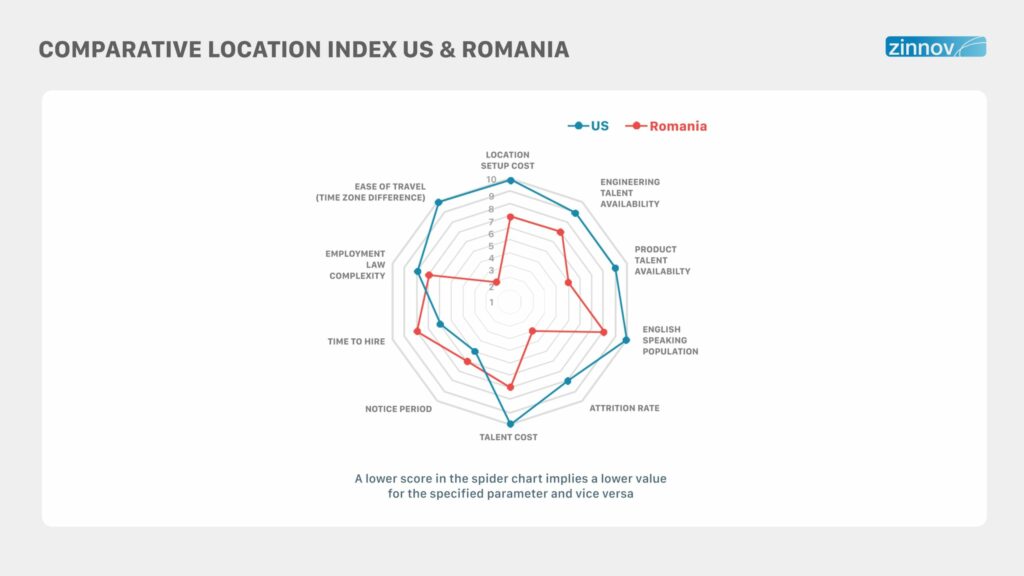 Ease of Doing Business
Romania ranks 13th in the fastest growing economies of EU, and ranks 41st in GDP globally. It exports and processes product that are high in demand such as Electronics – which it happens to be the highest producer of in Central and Eastern Europe. Romania has also evolved into a major hub for IT and related hardware research. The country also ranks 58th out of the 176 countries listed in the ICT development index, which considers various factors to monitor and compare developments in Information and Communication Technology (ICT) between countries and over time.
Government Regulations and Taxations
Romania is one of the most cost-effective destinations to register a new private company in the EU. The country taxes corporate income at a rate of 16%, which is the 3rd lowest when compared to the other COE hotspots of the world that we have evaluated as part of the study. Romania's personal income tax stands at a mere 10% against the EU average of 37.87%, which enables employees to earn higher net salaries and lead comfortable lives with it. There are also some special tax waivers to support upcoming businesses – suppose a software engineer is working in R&D for a company that has an annual turnover of USD 10,000/employee, then that engineer will be exempt from paying income taxes. Coming to privacy and security, EU's GDPR law is applicable in Romania, which makes it one of the top countries with the toughest privacy laws.
Software Engineering Ecosystem Maturity
Romania has a fairly mature software engineering ecosystem with the presence of established and successful companies, and an environment that supports tech start-ups to thrive, and a steady pool of skilled talent that has hands-on experience working across the software engineering spectrum. There is already a presence of 97 industrial parks in Romania, which are spread on a total area of 3339 hectares – this means companies can leverage existing infrastructure to quickly set up their offices. Some of the big names in the game that have already trusted Romania include Microsoft, which has 2 global centers with a total of 1700 employees in the country, besides Nokia, Huawei, Deutsche Bank, Ericsson, and Oracle.
With talent costs being almost 60% lower than that of the US, Romania has a mature tech talent pool skilled in niche technologies such as Artificial Intelligence/Machine Learning, Neutral Networks, 3D Printing, Augmented Reality/Virtual Reality, and more. Romania has 17 universities that have been ranked in the top 350 universities of EECA (Easter Europe and Central Asia), out of which 2 rank under the top 50. The nation produces nearly 10,000 STEM graduates every year. Romanian universities are also known for their excellent industry relationships with well-known organizations which help students gain hands on experience while contributing to the knowledge pool.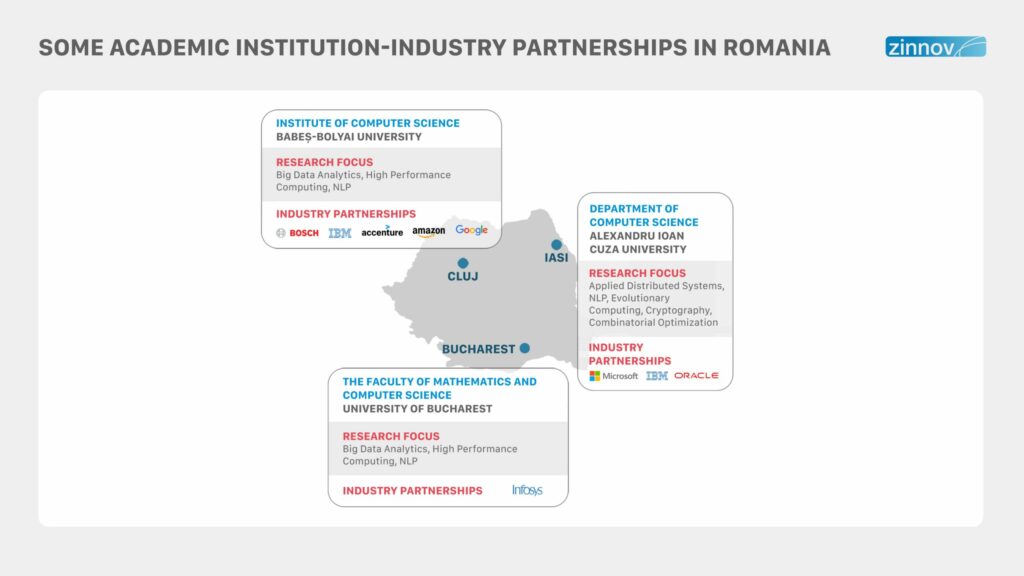 Until now, Romania might not have been an obvious choice for business leaders to expand into. But things are fast changing as Romania is picking up its development and economic growth. Government initiatives and regulations play a huge part in charting out the path of industries and businesses – and right now, things look more promising than they ever did. Romania is an excellent location with high quality resources that are waiting to be harnessed to take a company to globalize effectively.
Planning on setting up a COE for your business? Write to
info@zinnov.com
to talk to our experts!