The work landscape will be vastly different post COVID-19 with a sizable number of workers expected to be permanently working from home. By and large, the shift to home working has been dramatic with companies moving to this model in a matter of days, despite facing equipment shortages and lack of necessary infrastructure. Although there was an ongoing focus on supporting flexible and hybrid work models before the pandemic, these efforts have accelerated significantly over the past year.
The Citrix-Wrike Acquisition Analysis
In this context, large technology players have been eyeing at strengthening their offerings around Modern Workplaces. Citrix's announcement of its acquisition of enterprise-focused work management platform, Wrike, for a massive USD 2.25 Bn on 19th January 2021, is the latest. Wrike is a Vista Equity Partners portfolio company and reached USD 140+ Mn in annualized recurring revenue (ARR) in 2020, which works out to approximately 16X of its revenue. Extending on this, Wrike is expected to record strong growth of around 30% in 2021.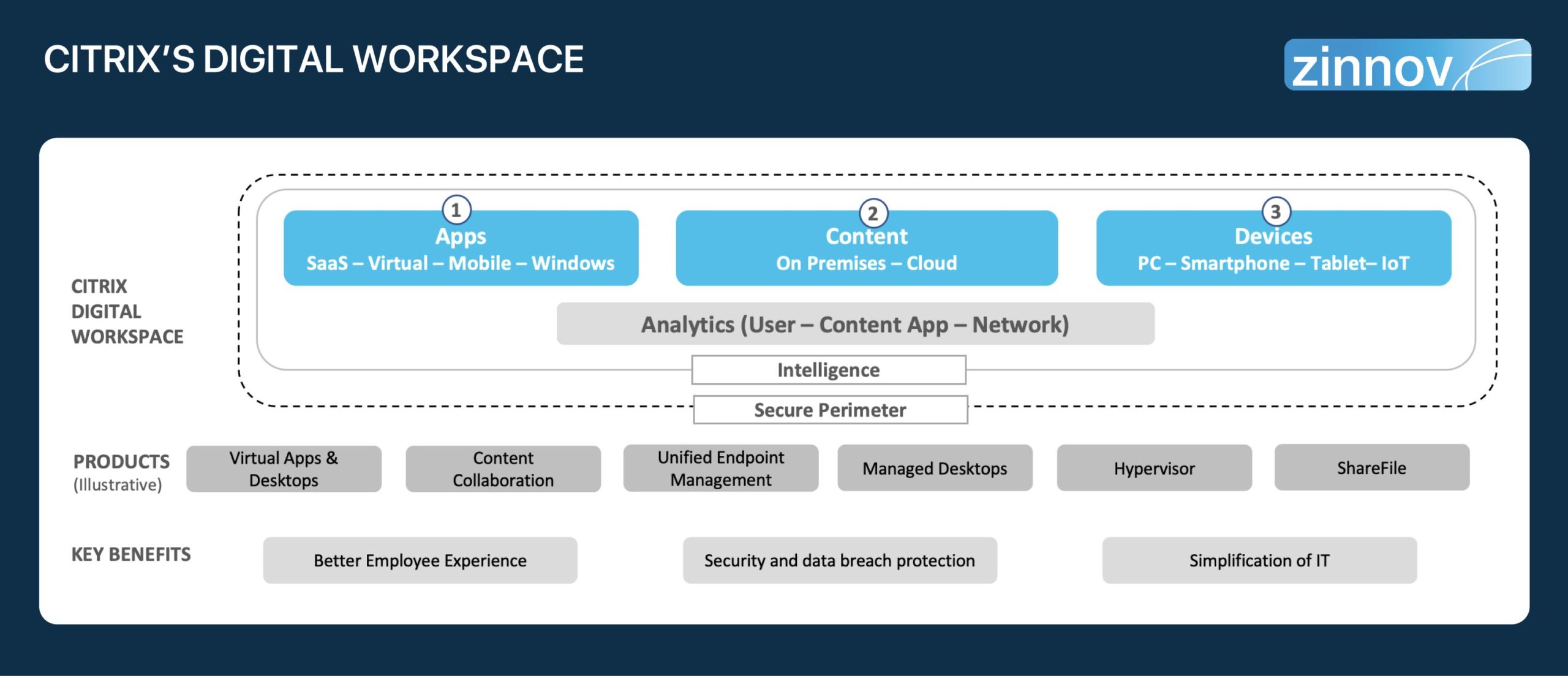 The Citrix-Wrike deal comes at a time when companies across the globe are working towards building a more robust work-from-home setup. The deal is focused on the distributed workforce model and will enable Citrix to offer cloud-based collaborative work management tools to its customers. Wrike's workplace collaboration software focuses on elements such as planning, workflow management, and project management. This also enables Citrix to expand its presence in the project management space. In additional, it will help Citrix unlock new revenue opportunities in areas such as marketing, professional services, and human resources management. Further, it will help Citrix accelerate its transition to cloud and become a complete software-as-a-service (SaaS) based work platform.
Inorganic Growth Strategy Through Partnerships and Collaborations
Organizations are leveraging the inorganic route and entering into partnerships/collaborations to up their play and influence in this space. For instance, Salesforce acquired Slack in December 2020 for a whopping USD 27.7 Bn in their efforts towards building a social enterprise. Adobe acquired Workfront in November 2020 for USD 1.5 Bn to drive efficiency, collaboration, and increased productivity for marketing teams. Workfront is a cloud-based Enterprise Work Management solution and competes directly with Wrike. NetApp acquired CloudJumper in April 2020 to boost its Virtual Desktop Service and provide a consistent experience at scale, ensuring data availability and security.
Similarly, partnerships are on the rise too. DXC recently partnered with Microsoft to deliver a modern workplace solution, DXC MyWorkStyle, with the objective of enabling enterprises to work from anywhere and provide a more engaged, virtual modern workplace experience. Microsoft's desktop and app virtualization service, Windows Virtual Desktop, also witnessed rapid adoption, enabling companies to provide and scale virtual desktops at the beginning of the pandemic.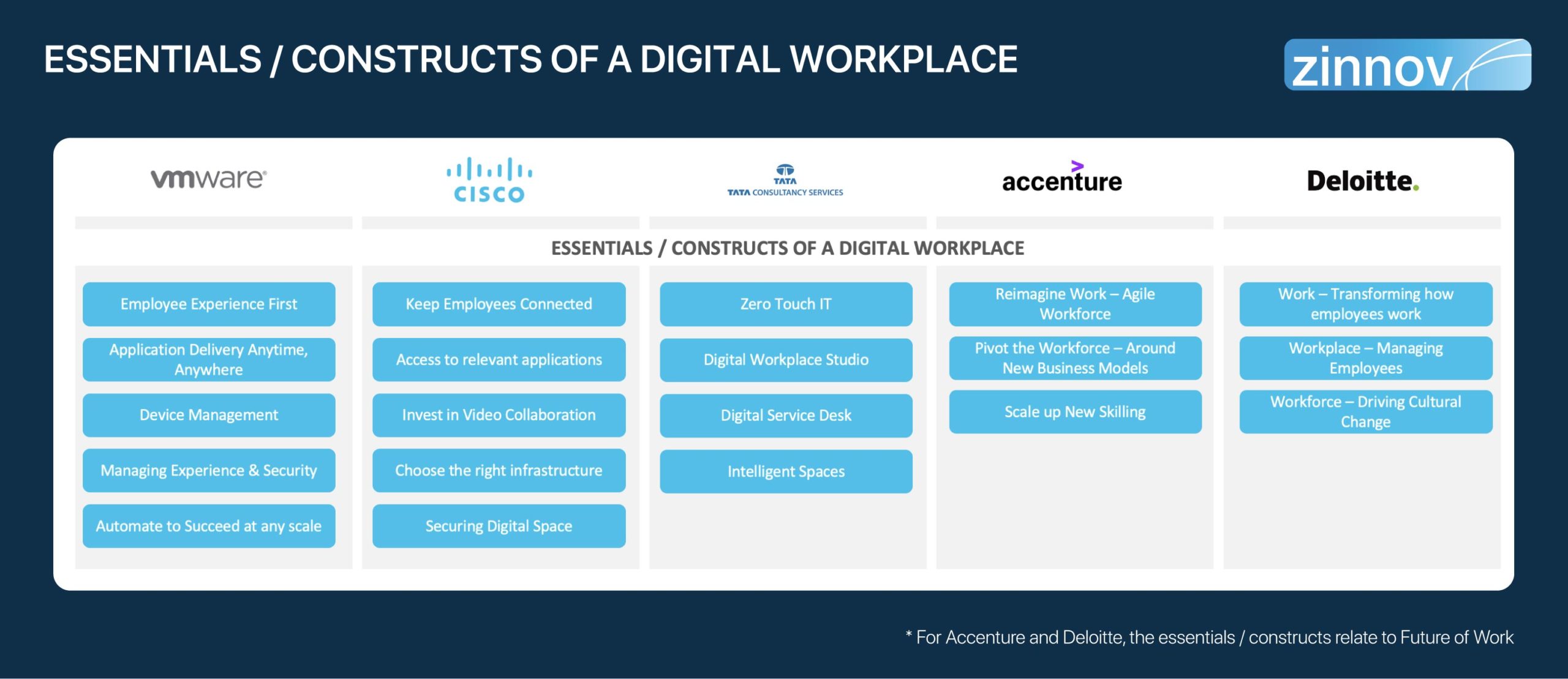 Of late, Tech Giants have been focusing on building solutions to help enterprises return to the workplace. For example, Cisco is offering the DNA Spaces solution to ensure a smoother return to office, to ensure that employees can maintain social distancing norms and avoid overcrowding by offering location-based analytics and real-time tracking. Cisco has also introduced updates to WebEx, to ensure compliance around room capacity limits and keep tabs on people wearing face masks. Along similar lines, Accenture's Return to Workplace offering combines its Industry X.0 Digital Worker Platform (DWP) with Salesforce's Work.com suite to create an automated solution, enabling organizations to manage readiness in terms of contact tracing, shift management, and ensuring a safe environment as offices reopen.
Why the Citrix-Wrike Deal is a Big Deal
With this acquisition, Citrix has successfully positioned itself as a leading player in delivering secure digital workplaces. The Citrix Workspace platform provides an array of capabilities designed to make the workspace more customizable and personalized for employees. Citrix recently achieved the AWS Digital Workplace Competency status, given its deep experience in helping customers build a digital workplace on AWS.
Citrix and its Partnerships
Wrike's acquisition will enable Citrix to add key capabilities to its digital workspace portfolio which currently include application and desktop virtualization tools, and content collaboration software, thus making the Citrix Workspace more extensible. It will also provide Citrix's partners with workspace collaboration tools which they can integrate for customers, while Wrike will benefit from gaining access to Citrix's robust partner ecosystem. This will help unlock new opportunities to drive value for customers.
Citrix has a laser sharp focus on enabling remote work solutions and ensuring business continuity for customers, which were primary concerns of many an enterprise in the wake of the pandemic. In recent months however, Citrix has extended partnerships with major players across the ecosystem to expand its modern workplace offerings and offer joint tools and services for enterprises. For instance, Citrix and Microsoft extended their long-term partnership in July 2020 to accelerate the adoption of modern workplaces and virtual desktops, enabling employees to work from anywhere, anytime. As part of the agreement, Microsoft will use Citrix Workspace as a preferred digital workspace solution while Citrix will opt for Microsoft Azure as a preferred cloud platform.
Citrix also extended its partnership with Google Cloud in October 2020 to include the Google BeyondCorp solution to provide a unified experience to users and enable access to applications in a remote environment. Citrix collaborated with A2K partners, enabling them to launch solutions aimed at delivering "Suddenly Remote" business continuity services to fulfil remote workforce demands during the pandemic.
Since the beginning of the pandemic, the Federal Bureau of Investigation (FBI) has reported a 400% increase in complaints registered for cyberattacks, shedding light on the criticality of having robust enterprise systems security. Providing secure access and protecting applications as part of the digital workplace is of paramount importance for organizations, more so in today's dynamic work environments. In October 2020, Citrix expanded its Digital Workspace Security Offerings by adding Zero Trust solutions, enabling customers to leverage an intelligent approach to secure apps and devices. The objective is to help companies accelerate their journey to a Secure Access Services Edge (SASE).
What lies ahead?
Citrix has been steadily working on bolstering its Modern Workplace offerings to help enterprises make employees more productive and enable the deployment of secure digital workspaces. This acquisition of Wrike will help Citrix further strengthen its cloud-based digital workspace experience as well as support flexible and hybrid work models for customers. Citrix has been working to transition its business model from on-premises licenses to subscriptions and witnessed strong customer demand for its subscription-based cloud services with the shift to remote work during the pandemic. Wrike's acquisition augurs well for Citrix's transition to more of a subscription-based revenue model with Citrix Workspace accounting for a significant proportion of its revenue. The timing of the acquisition is apposite, given that the adoption of digital collaboration tools is set to grow even further in 2021.
Get more such comprehensive insights and analysis on technology acquisitions and partnerships by dropping us a note at info@zinnov.com.