Resonating with the typical change cycle of reacting responding, and adjusting, organizations worldwide are adapting to the unprecedented disruption called the COVID-19 pandemic. While the crisis surrounding the pandemic is gradually attenuating, it is crafting a compelling narrative of disaster management, a significant residual impact, and has given rise to 'new ways of working' – read 'remote working'.
A large percentage of the workforce working from home is one impact that is clearly here to stay. As companies have rapidly enabled Work from Home, there has been a fundamental shift in the way organizations support and manage its people. Given the scale and unprecedented nature of the problem, the billion-dollar question is 'How do organizations keep their employees engaged with the new order of the day – remote working? How has 'productivity' been recalibrated in the lockdown era?
In order to get a detailed response to this critical question, we sat with Sailesh Menezes, Senior Director & Head – Human Resources at Hewlett Packard Enterprise (HPE), India. Read on to explore interesting insights and anecdotal references on navigating through these uncertain times.

With so many people working remotely, what are the challenges that you and your organization are facing? What are the approaches adopted to overcome the challenges?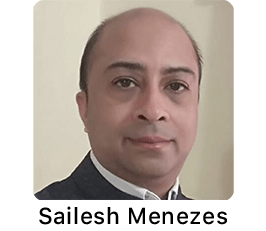 The basic challenge faced across industries due to remote working, is the lack of social connect and the absence of everyday worksite engagement that the Indian workforce is conditioned to. To bridge this gap, the worksite engagement that included the fun events, communication, sports events, collaborative learning interventions, etc. had to be virtualized in a very short time.
We had advised our employees across the country to start working remotely ten days prior to the government mandate that was issued in this respect. We had started preparing before the onset of the remote working routine, and continued to test various business continuity plans well in advance of the 'new normal'. We looked at preparing for the situation not just from a remote working perspective, but in a truly holistic fashion. We factored in aspects like the mental and physical well-being of our employees, productivity, engagement and motivation, etc.
So, overall, we tackled the challenges by looking at three primary factors that include infrastructure to support remote working, employee wellness & engagement and employee productivity.

What new processes have you established in the lock-down era that have helped your employees recalibrate and be more productive even post the crisis?
We realised that, in order to orchestrate seamless transition to a remote working regime, communication is key. We started conducting weekly connects with the CEO and the top leadership, regular team member-connect calls at a site or country level and team level connect sessions. This was done to ensure that the employees are well informed on the various business strategies adopted by the organization, the approach to managing this pandemic, the measures to safeguard our employees and HPE's own contribution to society. This was done to foster a sense of security and belongingness, and to also develop a sense of pride among our employees.
Employee safety/wellness is of paramount importance to the organization. So, we had devised detailed response protocols to protect our team members at all times. We also conducted multiple webinars on ergonomics, on managing complexities of balancing work and home and on support to those employees providing care giver support to families. We also conduct online sessions targeted at specific categories like women, singles, people who need to take care of the elderly, etc. to help them handle the additional stress.
We created virtualized engagement platforms, leveraged our internal social media channels, and continued to keep the engagement game on by conducting online contests, fun activities, interactive platforms where employees get to share quirky snapshots from their lockdown lives, and their experiences in handling the challenges faced while working remotely.
We have reenergized our Employee Resource Groups, the women's network, the young employee network, etc. which help in fostering inclusivity.
Many teams run team-based engagement activities like the 'Virtual Happy hour' where one connects online every week and on a personal level with team members. We close the session by focusing on learning something new – like meditation to handle stress etc.
We also have a portal that has all COVID-19 related information, and acts as a ready reckoner for anything that our team members and people leaders need to know about the pandemic and how to reach out for help where needed.
We actively collect feedback from our employees through pulse surveys, and through discussions conducted by people leaders, site leaders, and HR leaders, and understand the spectrum of problems that our employees are facing whilst working remotely. We then zero in on apps that will be beneficial to the wellbeing of our employees. We have tied up with subscription-based apps like Headspace, Well Beats etc., as we believed that they solve for the common problems faced by our employees who are working from home.

In the COVID-19 scenario, many fundamental variables that typically influence productivity, have undergone a shift – No household help, shutdown of creches, which mean additional workload; what would typically have been a quick water cooler conversation is now a formal meeting. Clearly, there is paucity of time. Given the change in these variables how have you revisited the processes of measuring productivity?
HPE has always provided the flexibility where needed, and we always take the genuine needs of our employees into consideration.
While talking about productivity we calibrated the expectations of productivity based on the phases in their remote working regime. We understand that employees might not be as productive as they were in office, from the day one of having started working from home. But, later, a rhythm sets in and things start getting seamless with respect to productivity. But we also factor in other aspects like boredom, stress, additional responsibilities, etc., when we set productivity expectations. Employees have also saved time and energy in commute which helps.
We have empowered our leaders to balance out flexibility and performance, within their own teams. This has also been our approach to assessing and calibrating productivity, and in the end we are super proud of our employees who have been working through these difficult times.

Is working from home a 'temporary hiccup' or the 'wave of the future'? What are the changes that organizations might look at implementing, to embrace remote working for the long term?
The COVID-19 situation has definitely given rise to a 'new normal'. The primary changes effected by the crisis and will be here to stay are the following:
Industries will look at offering greater workplace flexibility – The notion that physical presence at the workplace is needed for greater productivity, is challenged.
With real estate prices escalating, organizations will look at bringing about a hybrid model of working – some employees at office and some working remotely
People leaders will need to get ready to manage a remote workforce not just during the pandemic, but as a new normal, and to ensure consistent productivity over a long term.
Priorities of customers, and business models are changing rapidly owing to the current situation – This might warrant going back to the drawing board and relooking at business strategies, devising new ways of selling, to suit the rapidly evolving market dynamics.
Every industry will be different, and some may need a larger percentage of their workforce at the worksites. However, I personally believe that the remote working model is here to stay.

What kind of a skill transformation do you think the COVID situation has given rise to? What are the structural changes that are to be carried out by organizations, given that remote working is here to stay?
The COVID-19 situation has brought forth a critical need to reskill – and by reskilling, I don't mean just honing one's technical skills but also adapting to the changing customer expectations. The pandemic has hastened the need for organizations to change and adapt very quickly. When the needs of the customers change, your response to the customer needs need to change. Organizations are addressing the need of the hour through interventions like training, coaching, experiential learning, and other reskilling initiatives.
A few of the questions that need to be addressed are:
How do we get the workforce aligned to the new paradigm?
How do we equip our leaders to manage a remote workforce?
How do we continue to drive innovation in products, solutions and practices?
The future of the workplace is going to be flatter than it is today. This might mean lesser demand for managerial roles, and increased focus on specializations. The need to influence without authority at a global level becomes imperative.

How have the various elements of the talent value chain changed, owing to the COVID-19 scenario?
Speaking of hiring, it happens virtually with the help of collaborative and virtualised tools from selection to onboarding. Early into the process as a result of the lockdown, we had adopted the concept of BYOD (Bring your own device) for the new joiners as IT assets could not be made available due to restrictions. We make sure the device is governed by the necessary security protocols and has all the required software installed. The hiring manager/people leader is associated closely with the hiring and onboarding process, ensuring seamless new hire assimilation.
When it comes to talent management, we had already done away with the rating system and had adopted a system of continuous feedback – this process holds good even now. The Internal role movements continue to happen, and we will always encourage our employees to explore career opportunities internally. So, the process of understanding the aspirations of the employees and mapping them to career opportunities and providing them a platform to capitalize on the opportunities, continues to happen.
We categorize learning and development into three buckets –
Formal education which involves providing employee assistance grants, sponsoring specific and relevant educational programs, etc.
Training delivery which is facilitated through internal and external platforms that are integrated with our virtualised and cloud-based systems.
Experiential learning which includes stretch assignments and projects allocated to our employees allowing them to explore new areas of expertise.
Nothing has significantly changed across these dimensions of learning and development as we were already ready with the new way of delivering learning. But, we will continue to explore new tie-ups to leverage technology interfaces like we have always done.In addition, we have enhanced our existing coaching networks and our offerings on virtual leadership and people management to ensure continuous learning and development during the pandemic.
---
'Change is the only constant' – A statement cliched, overused, but still very relevant, especially in these times of uncertainty. HPE has exhibited a commitment towards the society and practising inclusivity, and has leveraged effective communication, participative decision making, ethical practices, and a value-driven approach to tide over the changes brought forth by COVID-19, to orchestrate the transition to the new normal and make it as devoid of hiccups as possible.
Is your Global Center of Excellence (GCoE) grappling to keep up your employee morale in these testing times? Drop us a mail at
info@zinnov.com
for expert insights on employee engagement during times of crisis.