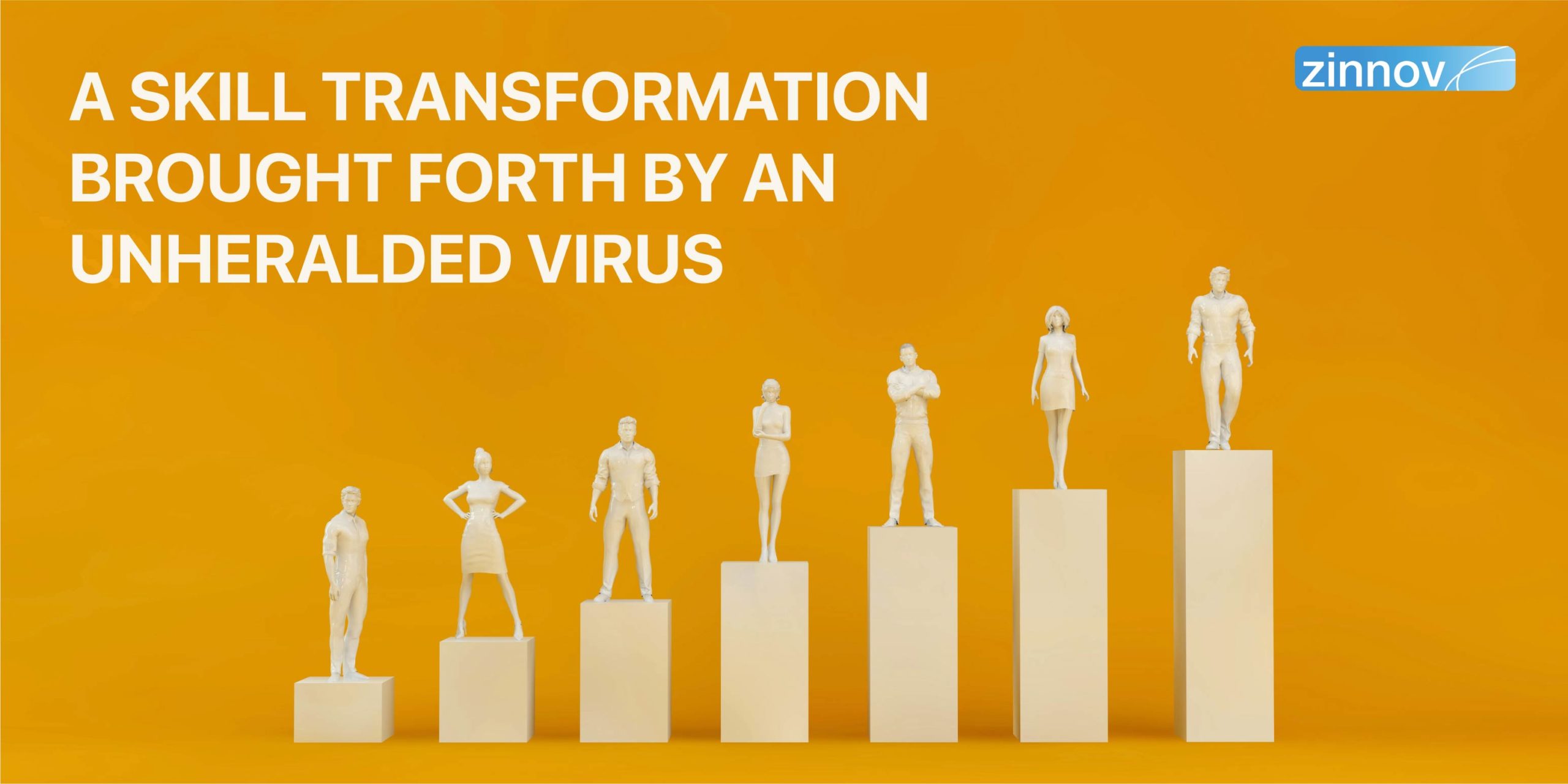 Boundaries sealed. Flights grounded. Millions of employees working from home. COVID-19 has triggered a profound domino effect across companies – big and small. With resources geographically distributed, yet connected, delivering on tight timelines, COVID-19 has brought to the fore the critical conversation on business continuity.
So, how has the status quo been challenged? What is the new normal of working emerging over the horizon? What are the primary COVID-19 talent trends?
Case 1: 'Meet and Greet' is a critical component influencing the new employee onboarding experience.
How will organization X meet, greet, and engage with the new joinee?
Case 2: The Indian Computer Emergency Response Team (CERT-In) reports a surge in cyber-attacks after employees were asked to work from home, owing to COVID-19.
How will organization Y tackle such cyber-attacks on its systems?
Case 3: Field sales is one area severely impacted by the COVID-19 situation.
How will organization Z keep the grind going?
These are examples of unprecedented situations that COVID-19 has put businesses in. The result of this disruption is a slew of new job roles and skillsets. The following are the COVID-19 talent trends that organizations need to watch out for.
Trend 1: Executive Mindset is now beginning to appreciate Corporate and Business Functions.
Prior to this episode, all strategic workforce planning conversations were largely centered only around Technology skills. But now, companies are realizing the importance of corporate and business functions. Though the realization has occurred in an unfortunate situation, it is extremely crucial to building successful and sustainable businesses. The COVID-19 situation has given rise to new possibilities – for example, engaging employees digitally was never thought through extensively as a robust employee engagement medium. Organizations are starting to look at digital onboarding and engagement given the restrictions on physical movement; this has led to the emergence of a new competency called 'Digital Employee Engagement.'
The flurry of other competencies that have bubbled up to become critical as a result of the ongoing lockdown includes financial analysis, employee/customer communication, supply chain intelligence, etc. The technology competencies that have caught the eye in the COVID-19 era include agile scrum methodologies, database and proprietary systems, manual and automation testing, hyper automation.
The following image clearly lays down the shift in the competencies that organizations are focusing on, with respect to their talent planning for COVID-19.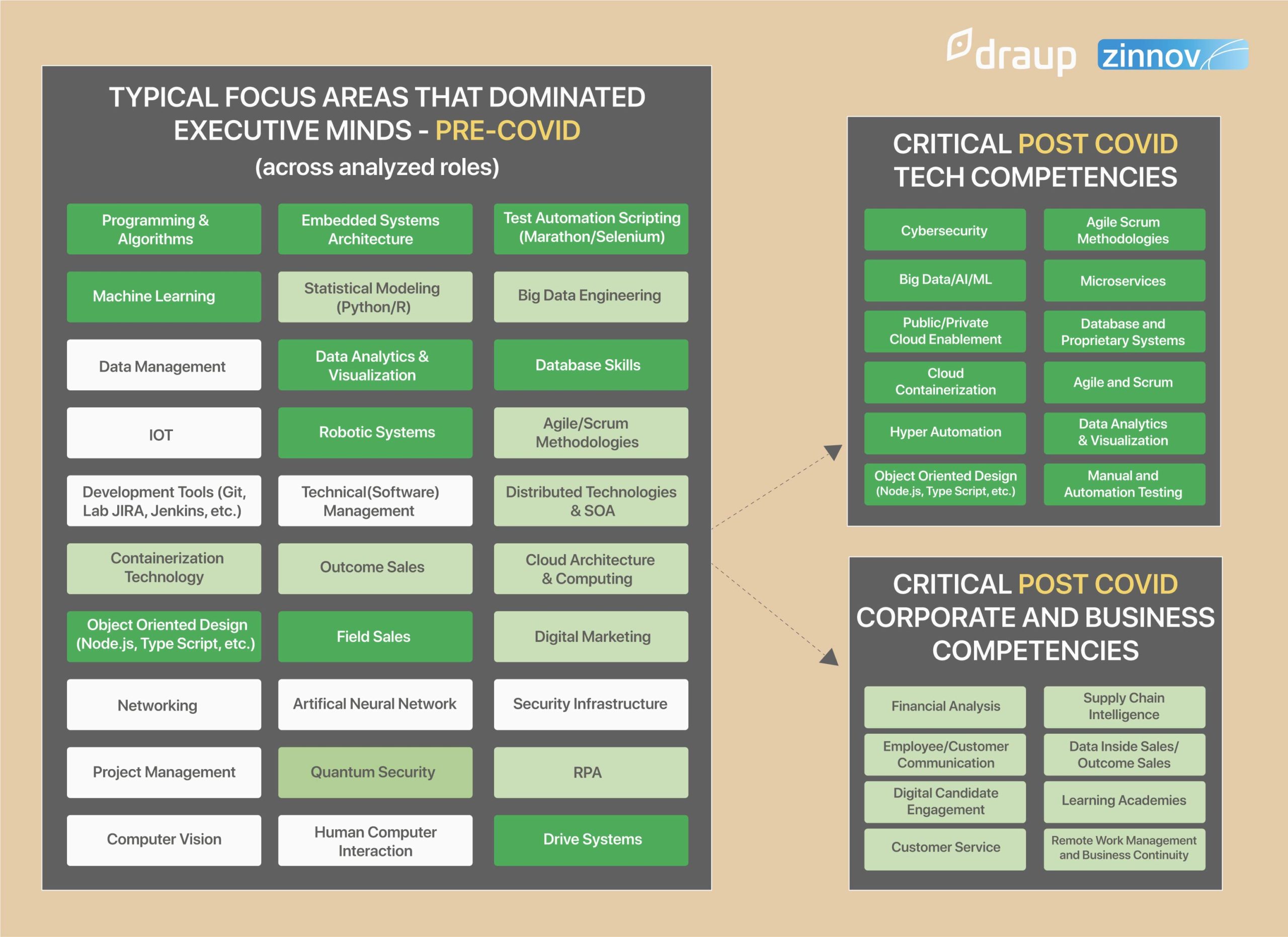 Trend 2: Cybersecurity Taxonomy – Job Roles in Security vs Privacy
Cybersecurity is emerging as a very key post COVID-19 focus area, and many companies are attempting to scale and establish learning academies around it. There is a perceived overlap of the roles and responsibilities between a 'security engineer' and a 'privacy engineer,' with organizations tending to refer to these roles interchangeably. But COVID-19 has brought forth a clear distinction in the job roles of a security engineer versus a privacy engineer. The job roles that come under the family of security engineer include application security engineer, cybersecurity engineer, information security engineer, etc., whereas the job roles under privacy engineer include data privacy engineer, privacy assurance engineer, and software development, etc.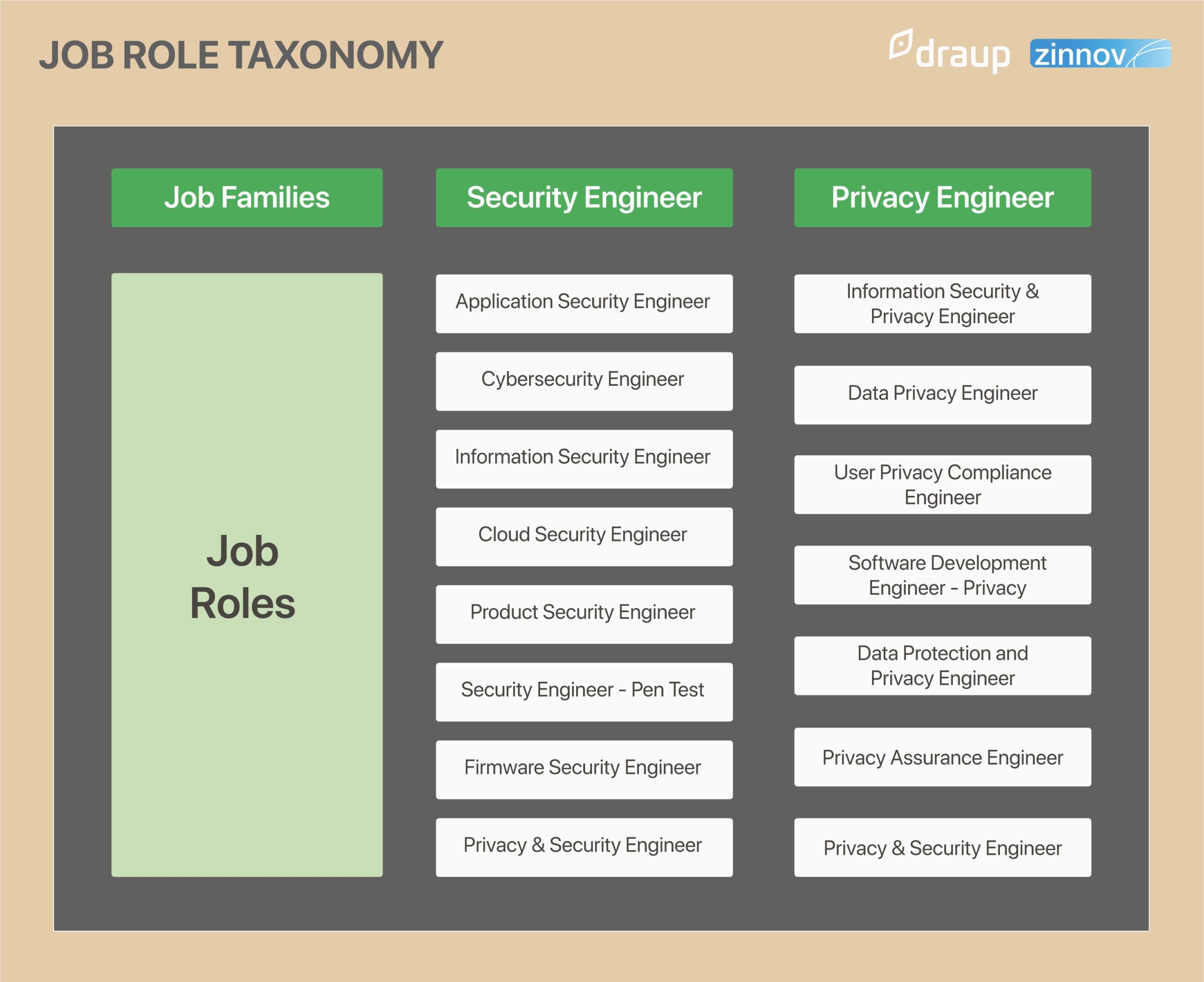 Trend 3: Support Functions in Sales Transformation
Several roles in sales are being reimagined with outcome-based sales in mind. One of the key learnings that has emerged is around the support roles in Sales. The support roles are gaining more prominence in this day and age in addition to the core roles themselves. The following image depicts the mapping of the support roles in the sales function. It is to be noted that the digital support roles have evolved across sales, marketing, account management, and partnerships. Key roles such as digital sales support, pre-sales, and customer service are becoming increasingly outcome-based.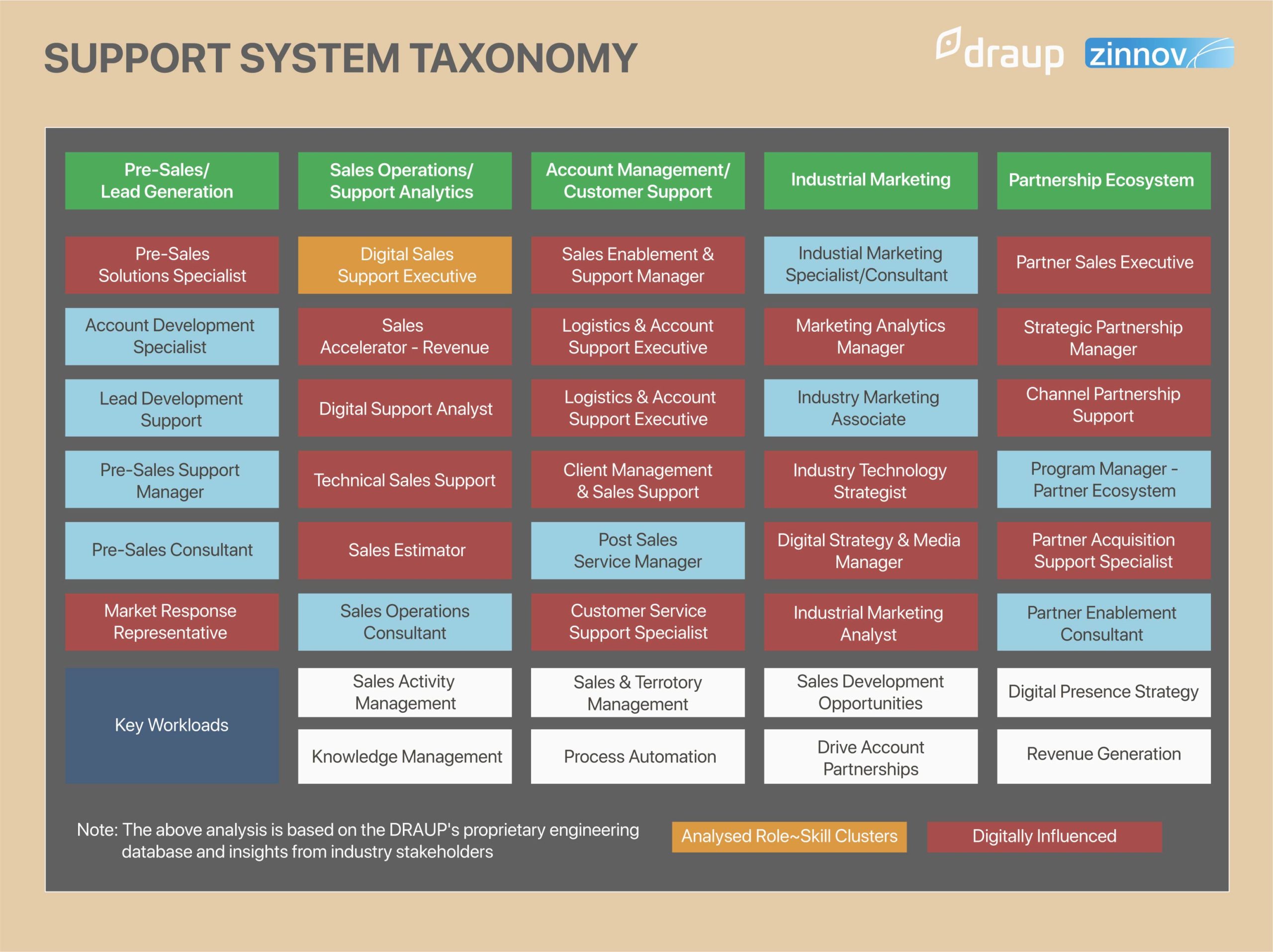 While these hard skills will bubble up in a post COVID-19 era, there are critical soft skills that are essential for a modern-day engineer.
Soft Skills of a Modern-day engineer
Another aspect that the COVID-19 talent trends throws light upon is the possession of soft skills by engineers today. Given the distributed nature of the workforce, effective communication plays a key role in seamlessly orchestrating tasks and collaboration across teams and business units, with the utmost efficiency. Draup surveyed about 50 software engineers with a median experience of 8 years and arrived at a set of soft skills that are critical for an engineer in an enterprise set up. These are skills and competencies that an enterprise resource accumulates over time.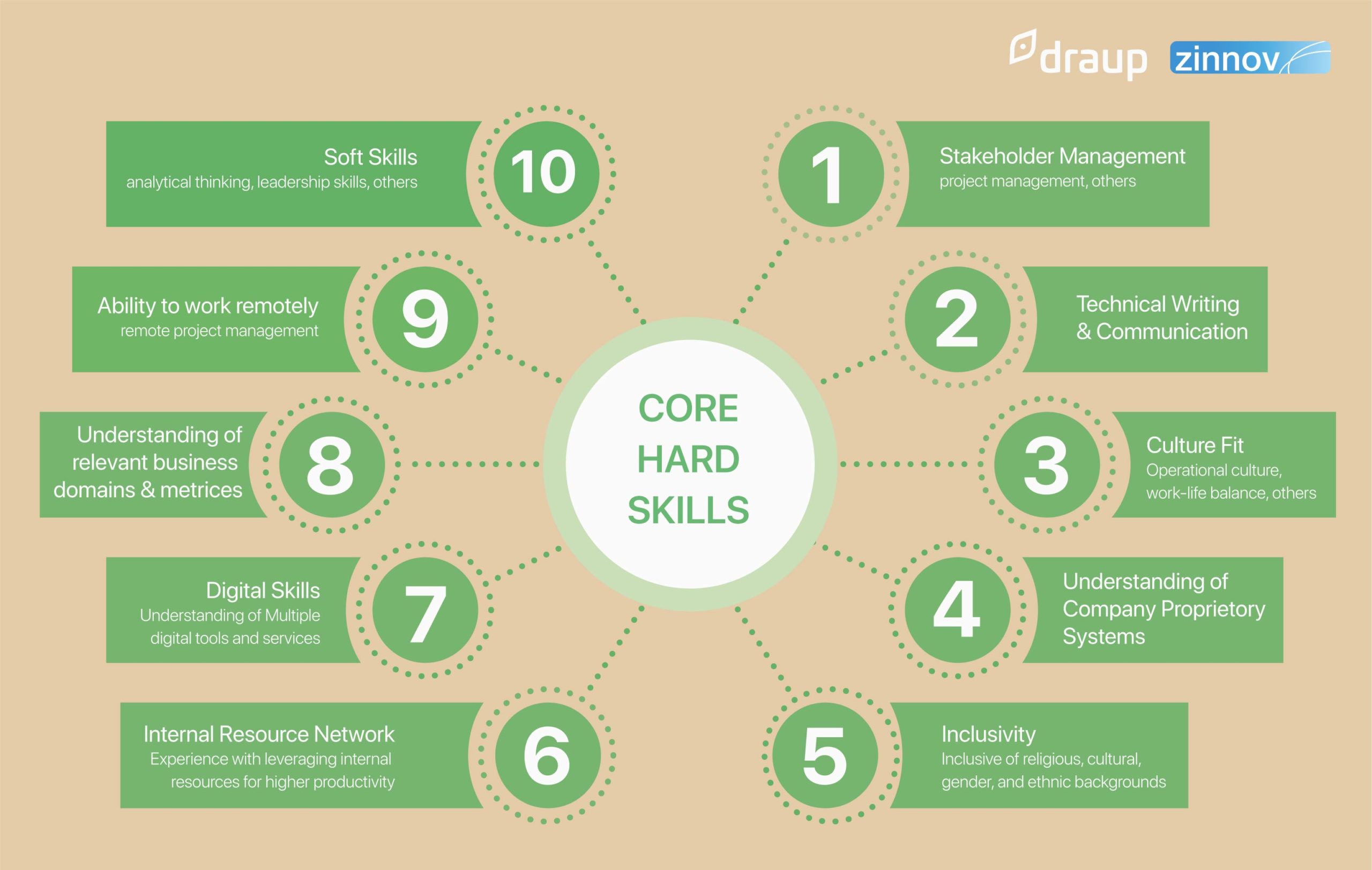 COVID-19 has brought forth a moment of realization – bringing to reality a new model of working, and a fresh set of required skillsets – something that businesses wouldn't have given their nod to before the outbreak. This situation can be likened to how when e-commerce came into the picture, there were naysayers who said customers preferred 'touch and feel' over buying products online; but the exponential growth of the industry defied the notion. Similarly, organizations need to brace themselves for to ride the tide of disruption brought forth by technology, the global economy, the people, a new business model, or even a novel pandemic, by keeping a constant tab on the trends in the talent space.
The novel coronavirus has jolted organizations with a reality check to evaluate their preparedness to handle unprecedented situations. Is a decentralized workforce the answer to risk mitigation? Drop us a mail at info@zinnov.com for expert guidance on de-risking your business by setting up a global center.