We live in a world where "transformation" is no longer a buzz word. At the heart of this change is the digital consumer, who, armed with anywhere, anytime information access, is creating a level playing field for incumbents and new enterprises alike. It's not surprising then that we see every global enterprise crafting transformation programs to compete in this new normal of addressing the impending threat and opportunity, resulting from the rise of the digital consumer. However, another key parallel shift is also happening within the enterprise – the rise of the digital employee. The digital employee is the other side of the coin of the digital consumer – tech-savvy individuals who use platforms, devices, and data to make extremely informed choices in the workplace.
The Digital Employee's Impact On Enterprises – Should Enterprises Even Care?
A quick look at the engineering footprint of the top 10 R&D spenders across 13 industry verticals shows that India and China, in addition to the US West Coast, are going to be the next global R&D frontiers. This implies that by 2020, R&D talent working in global locations will outgrow the number in the HQ locations (refer to the visual below). In India alone, the growth in talent would be over 70%, which is much larger than the expected growth in China (45%), Eastern Europe (44%), and the U.S. (41%).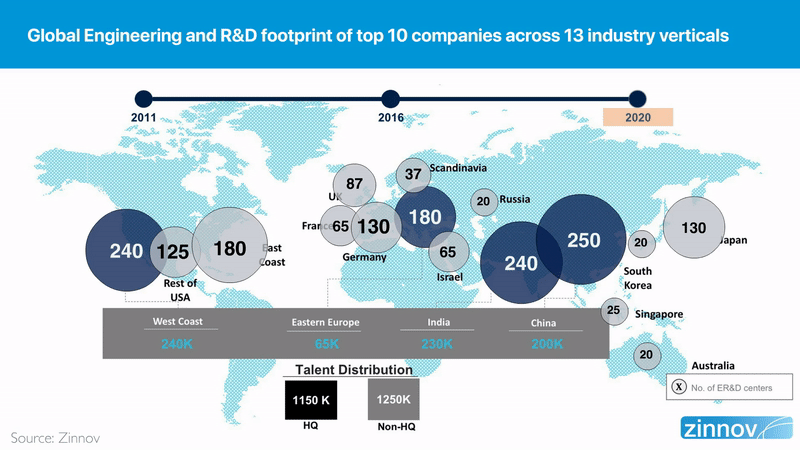 The continued eastward shift of R&D has a very fundamental impact on the overall workplace demographics within the context of the global organization. As per labor estimates in high growth locations such as India and China, 50-60% of the workforce, by 2020, is going to be millennials[1], and most of these millennials are digitally native. Even among the baby boomers and the Gen Xers, who form the rest of the workforce, the digitally savvy is about 30% of the overall numbers. Hence, a majority of the workforce representation going forward is likely to be a digital employee. This key shift in demographics at the workplace is one that can no longer be ignored and will impact both existing and new R&D center setups in growth locations.
The driving force for the Digital Employees – their beliefs/value systems
A digital employee seeks similar experience as a consumer, i.e., of high value, increased transparency, quick gratification, high degree of personalization, and convenience.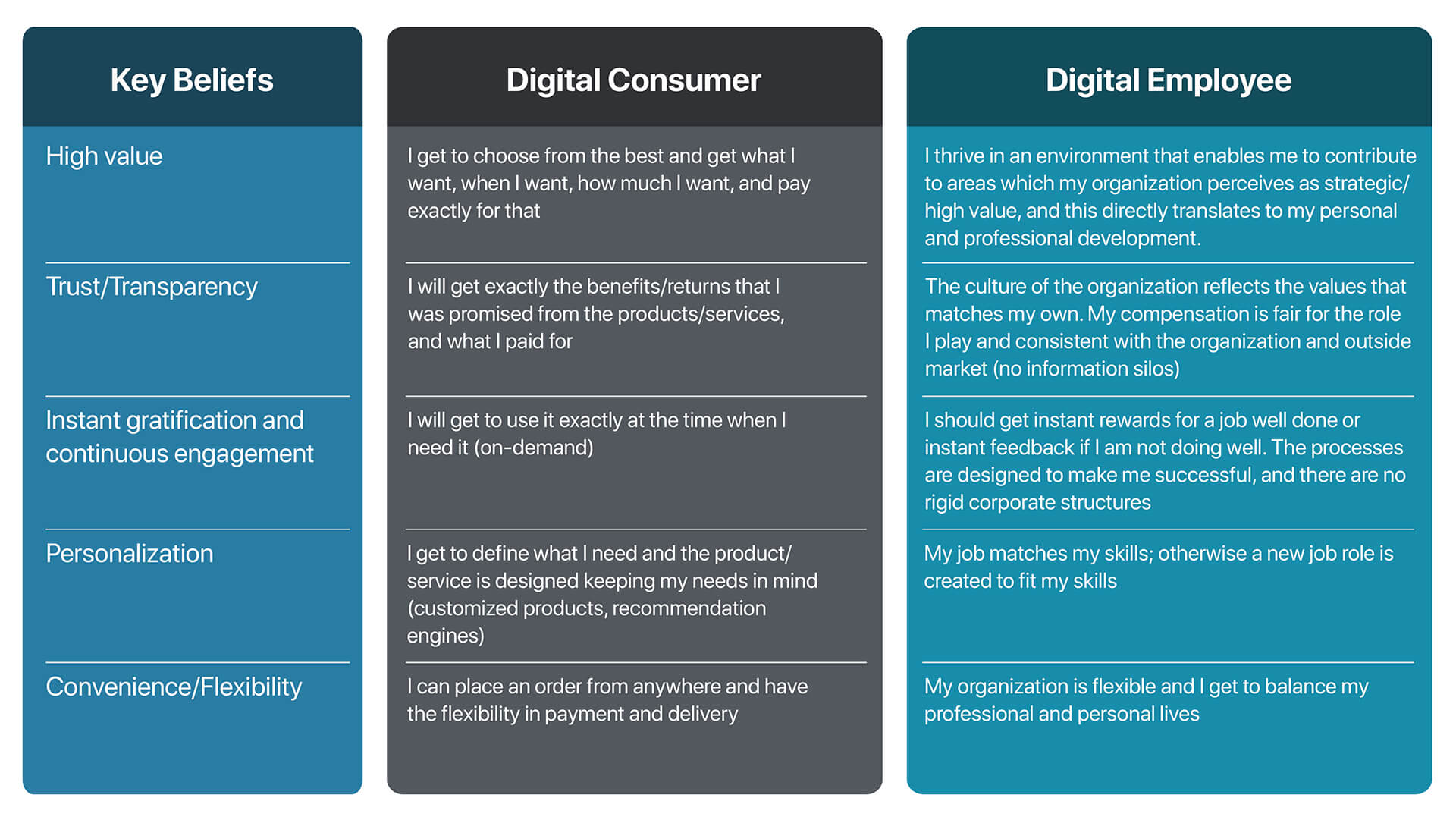 Organizations And Their Inadequacies To Handle Digitial Employees
Consider the time when despite the best retention strategies, a high performing employee leaves the organization to join a relatively unknown start-up to create more 'impact'. Does it also sound familiar to have ex-employees build innovative companies (your competition!) while in their entire time in the organization, there was not a single contribution to any new idea/innovation? Is it also the case that the traditional interview process is turning out to be more of a "sales pitch" to a new employee – where more time is spent on explaining why a high potential candidate should join the organization rather than a competitor?
What the current ecosystem is witnessing is a reversal of traditional employee engagement – the paradigm of telling the employees about what they need to do has shifted to potential employees walking through the door knowing exactly what they want in terms of current and future prospects, and also what they should get paid for it. If the HR processes and policies are not tuned to cater to the digital employee, it can end up being extremely difficult and frustrating to manage this new age workforce.
How Employers Can Gear Themselves To Manage The New Age Workforce
There isn't a one-dimensional solution to this question – it has to begin with a fundamental mindset shift, which would then reflect in all aspects of the organization structure, culture, processes, and even systems and tools. Zinnov reports on "Creating a Digital Workplace" and "Employee Initiatives for a 4.0 Workplace" provide some valuable insights on leading initiatives driven by companies that are exploring myriad ways to transform the digital employee experience. Based on these insights, Zinnov recommends 5 top strategies to help R&D organizations to succeed in engaging with the new age workforce –
Democratize and localize HR processes, systems, and controls
Globalization has shifted the labor economics eastwards, but despite this, currently, most global organizations continue to follow the traditional approach of a centralized HR policy framework drafted in the HQ and followed in other global sites. This is neither reflective of the demographics or diversity of talent based out of high growth locations such as India and China, which are contributing to as much as 70-80% to the global workforce, largely composed of the digitally native millennials. The crossover to more localized decision-making is an important element of the fundamental mindset shift – to move from a focused way of directing, to one that is supportive of what needs to be driven by a global R&D center, and in some cases, even replicated at the HQ. Most organizations are yet to reach that stage of maturity.
Create a dynamic organization structure
Social network and online communities can help forge business relationships within and outside the organization, enabling knowledge sharing and creation of "natural work groups". Employees in this model have the flexibility to work in communities of mutual interest and are no longer driven by rigid corporate structures. This would require a fair bit of forward-thinking by the HR to ensure that they leverage the innovation vehicles within the organization (e.g. Hackathons) to source talent from the existing base, in prototyping new breakthrough solutions for the organization. Resource allocation in the future is hence likely to be more dynamic and driven by what the employee has to offer, especially as employees add more cross-functional capabilities.
Create a personalized work environment
The personal and professional lives of most digital employees overlap significantly, and they intuitively seek out environments where they can blend the two as seamlessly as possible. This translates into the physical/virtual infrastructure, processes, and tools that they are used to at work.
Heat-map of Digital Employee experience management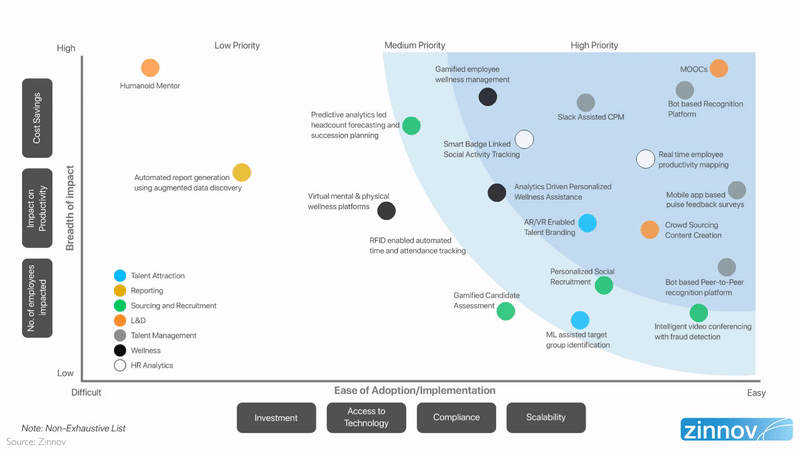 The visual above provides a snapshot of the multiple use cases that companies have implemented in managing the entire employee experience through a digital platform and the impact created in terms of employee experience, productivity, and cost savings.
For instance, digital employees' ease with technology means that they respond well to a range of online learning methods, including videos, webinars and/or interactive game-play. These can be combined with coaching, self-directed study, and group learning, supplemented through MOOCs and internal Slack channels to drive employee productivity and result in savings.
Another example is that as new age employees seek faster advancement in their career and continuous feedback, it is critical to implement a transparent performance management process with clear benchmarks for growth and recognition. Gamified performance management systems have done away with the laborious and stressful year-end appraisal processes of yore. The result is that the quality of performance discussions has gone up due to transparency in the system, which includes continuous feedback that provides opportunities for employees to improve themselves at all points in time, rather than limiting it to post appraisals.
Invest in fostering a customer-focused and an entrepreneurial mindset
Fail fast, fail cheap, has become a mantra in some organizations when it comes to innovation; however, this will work only if the innovators have face-time with the end customers to gain insights into what they actually need in terms of products/services. But, because of the limited client exposure, which is extremely limited to specific parts of the organization, it's harder to foster an entrepreneurial mindset. Creating channels for facilitating touch-points for the R&D team through sales/professional services, or by leveraging VOC (Voice-of-customer), doing customer home visits, etc., are a step in the right direction. However, to truly build products that customers love, the organization will need to bridge the gap between customer expectations and product development teams by systematically and continuously working with the end customer.
Bridge the gap between the Baby Boomers, Gen X, and Millennials
Bridging this generational gap is extremely critical as the digital divide can be pretty significant between the various generations, resulting in very different beliefs/value systems and 'ways of working'. Managing a multi-generational workforce demands strong leadership and a results-driven performance system that is both customized and transparent. Pairing senior leaders with younger ones in the form of mentoring and "reverse mentoring," and driving it into the culture are imperative to retain a diverse workforce for a longer period of time. But equally important is to create an environment where it facilitates more informal, open, and social interactions between managers and employees.
For every organization, thinking through on the above aspects can serve as the starting point to transform the employee experience for managing a new age, digital workforce. This is a key imperative for organizations as they continue to globalize their business, either through expanding existing centers or by setting up new operations. While these recommendations may not work for all organizations looking to explore, expand, and engage with their digital workforce, but they sure will guide business leaders on to the right path.
Be it learning how to manage a diverse, new age, digital workforce, or transforming a traditional workplace into a digital employee experience zone, Zinnov can help transform your organization. To know more, contact us at
info@zinnov.com
.