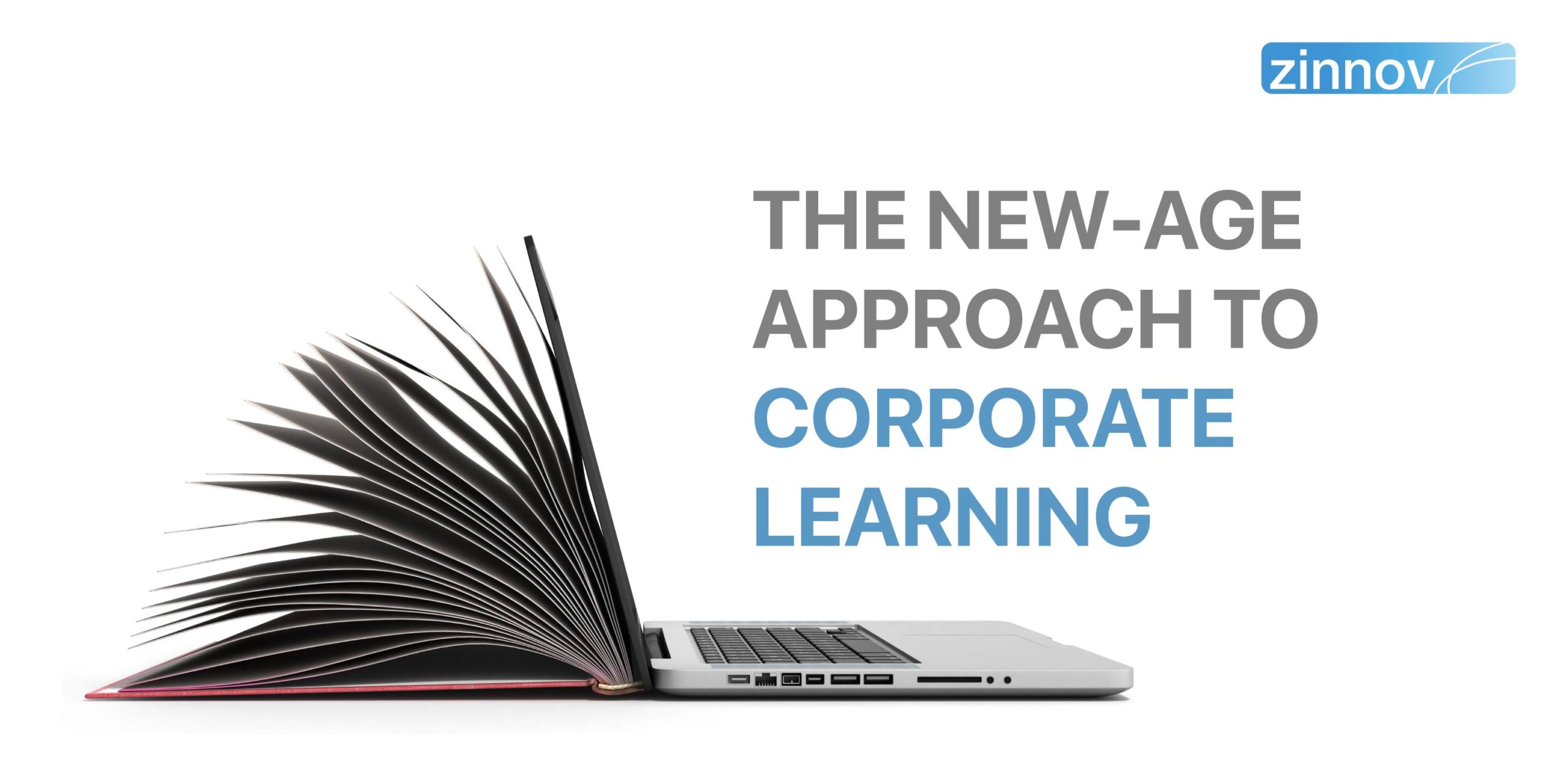 "Ancora Imparo"
At the ripe age of 87 – the man behind the sculptures of David and Pieta, the paintings of the ceilings of Sistine Chapels, and the dome of St. Peter's Basilica – Michelangelo said, "I am still learning."
While this is a classic example of how continuous learning has led to excellence, and talks volumes of scope for improvement even after reaching the summit of a prodigious career, what does 'learning and development' mean in the context of businesses today? It is the age of disruption which makes L&D, not just a vertical that comes up with occasional learning interventions, but a critical strand in the DNA of organizations that enable their sustenance itself.
This article will talk about how the job roles, learning requirements, and working models have evolved, and how the learning and development strategy has followed suit to keep up with the disruption.
Evolving Job Roles
The World Economic Forum in its 'Future of Jobs' report says that, by 2022, no less than 54% of all employees will require significant reskilling and upskilling.
Roles like data entry clerks, accountants and auditors, and telemarketers are becoming redundant and a crop of new-age roles like Digital Marketing & Strategy Specialist, Data Scientist, Innovation professionals, etc are emerging. The following image lists the roles that are becoming redundant and the slew of new job roles that are taking center stage.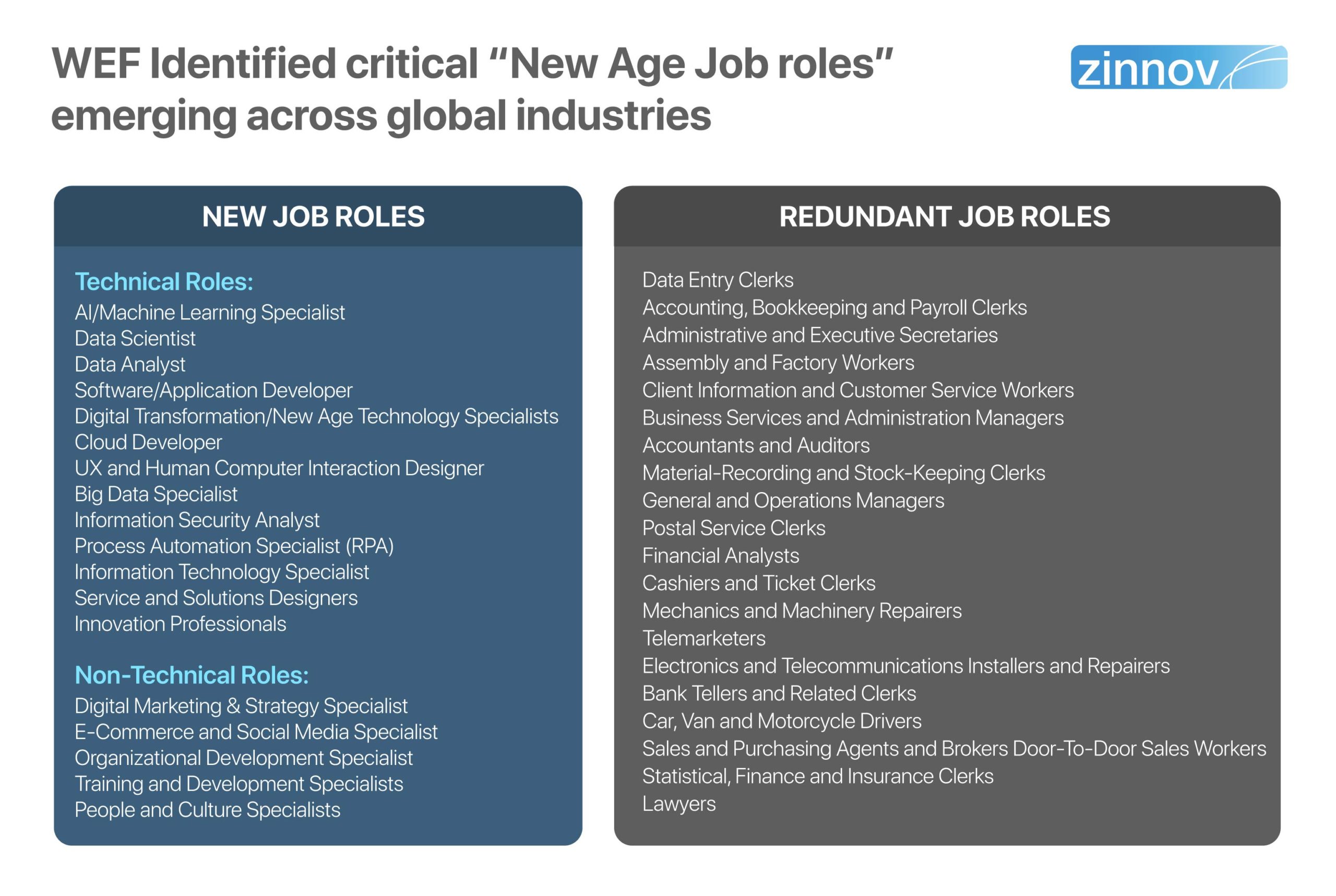 Clearly, this evolution of roles requires people in conventional roles to take up reskilling and upskilling programs to transition seamlessly into roles that are relevant in this time and age. Let us now discuss an example of the transition of a customer service representative to a Software Engineer.
A case in point – The Learning path of a Software Engineer
In a study conducted by DRAUP, ~10% Customer Service Representatives transition into technology job roles, with the Software Engineer job role being one of the most common end roles. It takes a customer service representative approximately 7 months to gain Beginner-Intermediate Proficiency and ~8 months to gain job-ready proficiency in the software engineer job role.
The customer service representative undergoes courses in database skills, programming language & algorithms, distributed technologies and service-oriented architecture (SOA), agile development, introductory DevOps & versions control followed by online competitions like HackerEarth programming challenges and hackathons, and sample projects.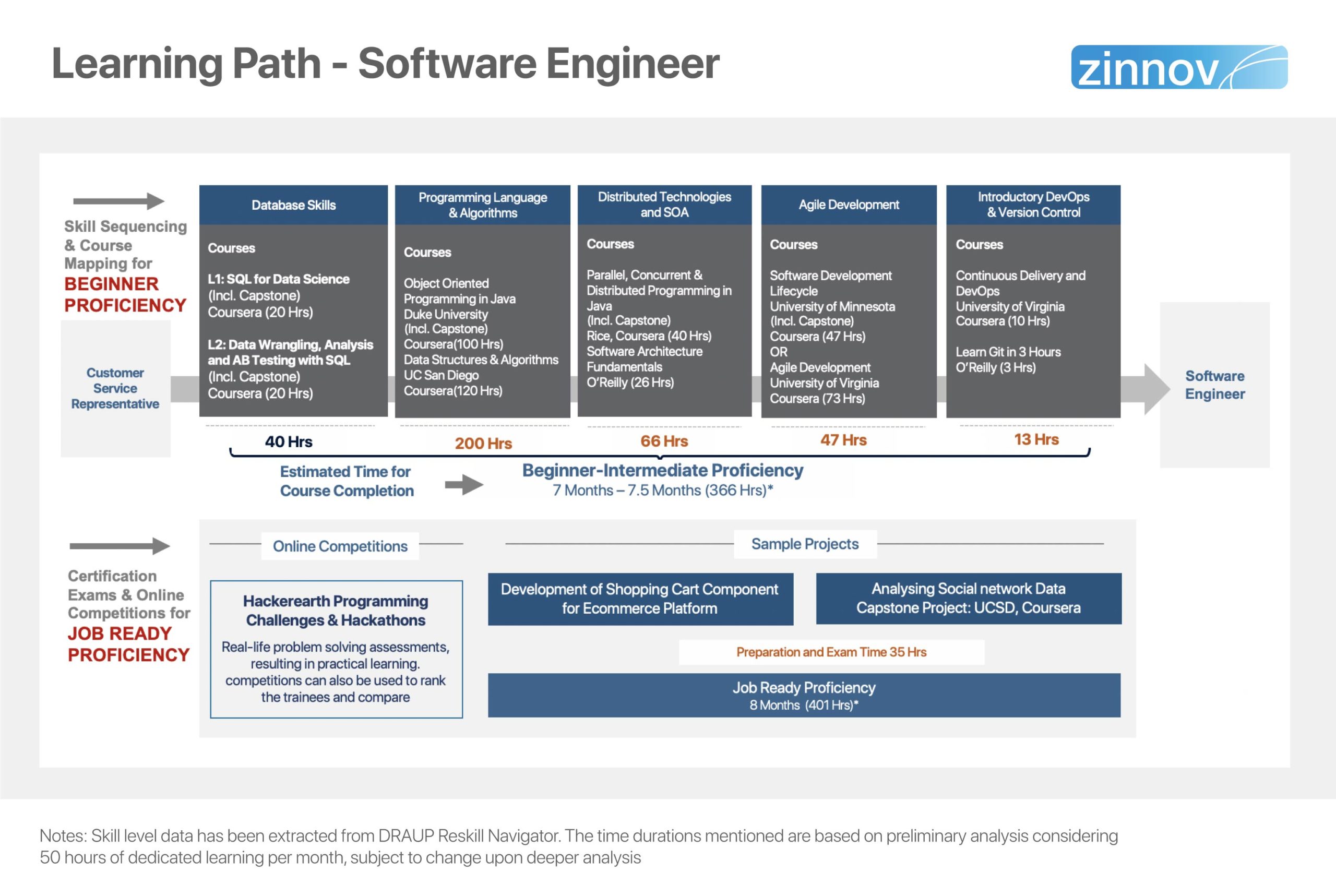 Post the administration of the program, the cognitive output is assessed. The cognitive output is a visualization of the workload capabilities and proficiency levels attained after completing the reskilling courses. For example, if the resource can execute the following, he/she is said to have achieved beginner-level proficiency in Database skills, programming language & algorithms:
Manipulate data with Java, apply Multithreading and Concurrency for Optimal Multi-Core Performance.
Ability to use debugger, API docs, and perform Integrated Exception Handling.
Work with relational database platforms, perform data extraction, filter datasets, using Case expressions.
Use advanced Join and windowing functionalities for contextual aggregation.
So, what are the features that are different from traditional training programs as far as this reskilling initiative is concerned? Better focus on practical learning, microlearning, and assessment of the tangible value of the initiative.
Therefore, it is clear that it has become a business imperative to adopt a new-age approach to learning & development to keep up with the changing learning requirements of organizations today.
Rethinking the Learning & Development Strategy
When we talk about rethinking the learning and development strategy to reskilling, multiple trends are catching up in the space. Instructional Designers these days are taking cognizance of the learning willingness, motives, styles, and patterns of adults by studying various adult learning theories. They then come up with learning modules that are customized to suit the target audience. Let us discuss a few trends that are taking center stage in the L&D space.
Experiential Learning
It is the age of hands-on. It is the innate nature of an adult to 'experience' and analyze the 'What's in it for me' component giving his/her nod for an idea or even a product. According to the 70-20-10 model of learning and development, 70% of an employee's learning is obtained through experiences. Factoring in these characteristics of adult learning, experiential learning is implemented in corporate training today through simulations, role-plays, real plays, outbound training, etc.
Experiential learning facilitates team building, enhances real-time decision-making abilities, and helps better retention.
E-learning
Given the ubiquity of the internet, the need for ensuring continuity of learning in remote working like in the case of the current COVID-19 crisis, and given the fact that employees today prefer self-paced learning, Learning Management Systems (LMS) are extensively adopted by organizations. There are several MOOCs (Massive Open Online Course) like Coursera, Udemy, Duolingo, that make learning accessible. But with learning requirements evolving at the pace that it is, Instructional Designers don't just have to be content creators, but content curators. So, curation of readily available content, social learning in the form of discussion forums in LMSs, coaching & mentoring, are a few trends in e-learning in response to the evolving learning requirements and learning preferences of employees.
Mobile Learning
A Zinnov study on the content preference of consumers indicated that vernacular, video, and mobile-first content is the content experience preferred by Indian consumers. Though the study is on Media & Entertainment, it is suggestive of the preferred channel of content consumption and it is clear that mobiles top the list.
So, organizations are extensively leveraging this easily accessible, on-the-go medium for their L&D initiatives, thereby providing their resources agility and flexibility in learning.
Micro-Learning
The modern-day learner is deemed to be impatient and easily distracted. Micro-learning is a trend that is solutioning for this glaring problem of bridging the gap between achieving the intended learning outcomes and keeping the learner engaged. Micro-learning is a method of learning through bite-sized learning modules.
A classic example of an organization that has implemented Microlearning is Google. They have something called the 'Whisper course.' It is a series of emails, each with a simple suggestion, or a "whisper," for a manager to experiment within their interactions with the team. It was observed that over a period of ten weeks, the managers were able to enhance the psychological safety of their team by following the whispers in their team meetings. The following image is a sample mailer.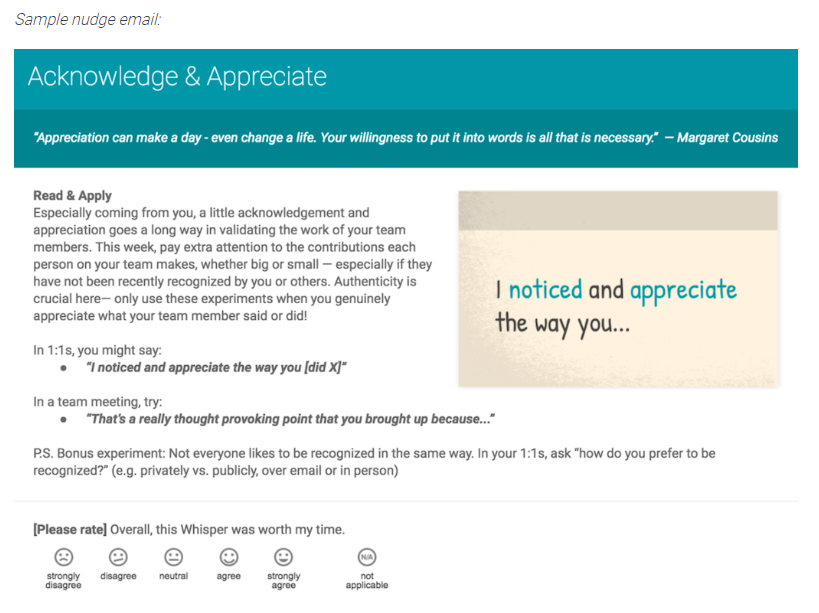 Gamification – Online & Offline
A catching up trend in the L&D space, falling within the spectrum of informal learning is gamification. Organizations are extensively employing gamification to leverage the innate competitive trait of humans to enhance their performances or enable them to learn a new skill.
The use of leader boards, real-time points, badges, etc. make the learning experience impactful, enhance the retention and also the engagement of the employees.
The future of L&D
The COVID-19 has unraveled a novel situation wherein millions of employees are working from home, making all the processes across the HR value chain go digital; and learning & development is no exception. Also, the modern-day learner with high aspirations but a short attention span has his/her learning preferences set. With the need for the L&D function to cater to the changing learning requirements of the millennial workforce as well as meet the learning needs of the organization, the role of L&D practitioners is rapidly evolving.
With the advent of digital technologies like Augmented Reality, Virtual reality, etc. the learning and development strategy is getting more complex and interesting at the same time.
According to a LinkedIn Learning report (2018)*, 56% of employees say that they would spend more time learning if their managers directed them to complete a specific course in order to gain or improve their skills. This percentage is indicative of the need for instilling learning habits in organizations today and the role of leaders in interweaving continuous learning in the organizational DNA.
Is your organization grappling to adapt with the rapidly evolving skills in this age of digital transformation? Is your company struggling to ensure administration of learning initiatives in crises like that of COVID-19? Drop us a note at info@zinnov.com for expert insights on riding the tide of disruption through new-age learning & development strategies.
References:
* – https://learning.linkedin.com/content/dam/me/learning/en-us/pdfs/linkedin-learning-workplace-learning-report-2018.pdf
https://rework.withgoogle.com/blog/whisper-courses/
Future of Jobs 2018 report by the World Economic Forum