The formula to the ideal Future of Work needs to be reimagined in the new normal to lay a solid foundation for business. Zinnov has compiled a strategic playbook to navigate the Future of Work paradigm. With global leaders preparing for antifragility and a robust sustainability framework for their organization, it has become table stakes to align a business strategy that will suit the 2022 world order. A deep-rooted awareness of industry trends, the rejigged organization priorities, the hacks to work with and hire digital-ready talent, will become imperative to augment value.
Navigating The Future Of Work In The New World Order: What's Critical?
1. Leverage Automation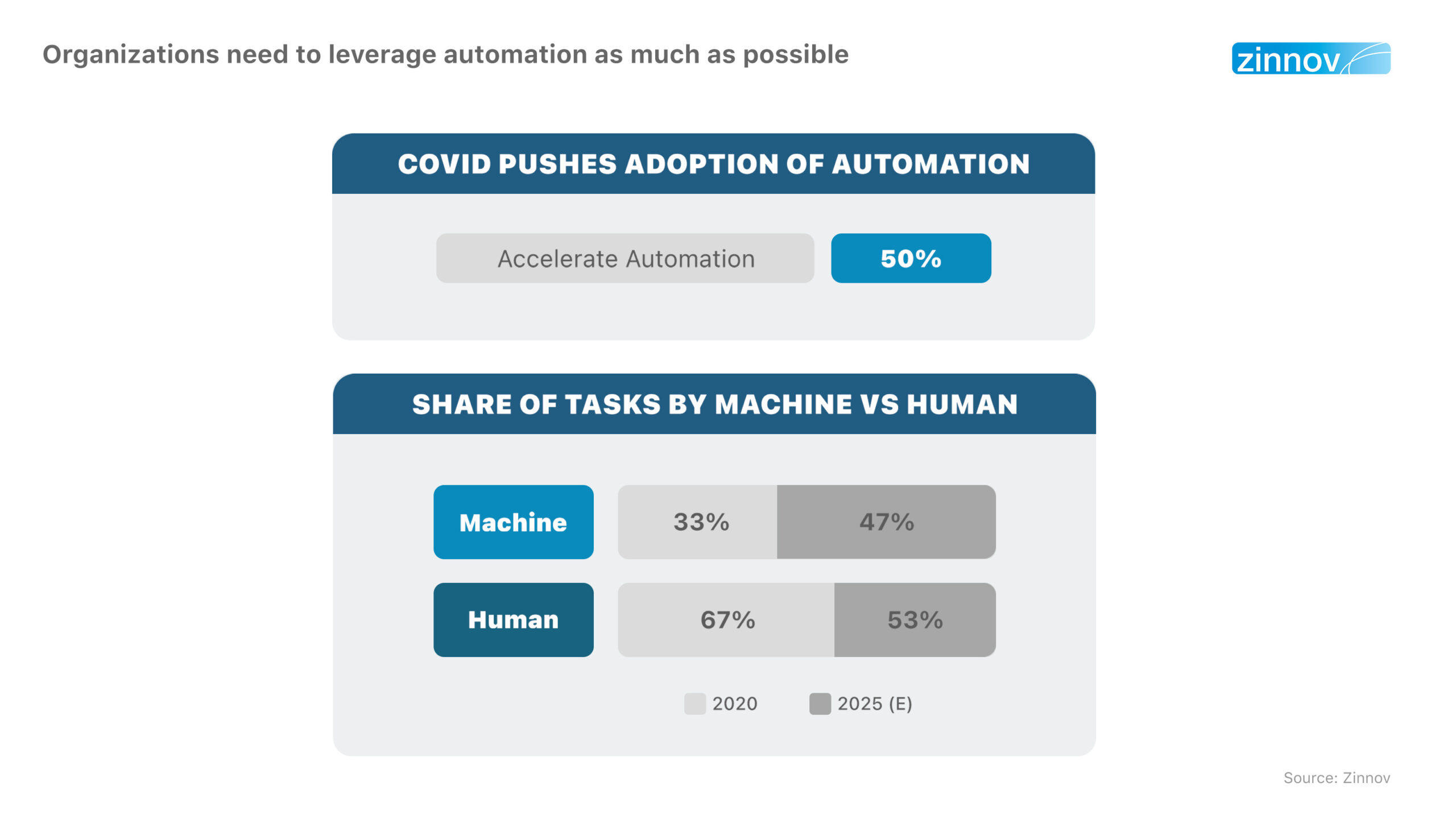 The pandemic accelerated remote work, digitization, AI, and Automation. Today, when the workforce is adapting to a hybrid work model, organizations are increasing focus on investing in advanced technologies to support the workforce. They are automating workflows, reducing redundancy, and dramatically decreasing FTE requirements to rapidly transform and adapt talent strategies for the coming years. Investments in smart gadgets, buildings, and office spaces are a few examples of the steps being taken to provide a more upgraded environment for the workforce.
2. Invest In Reskilling Existing Talent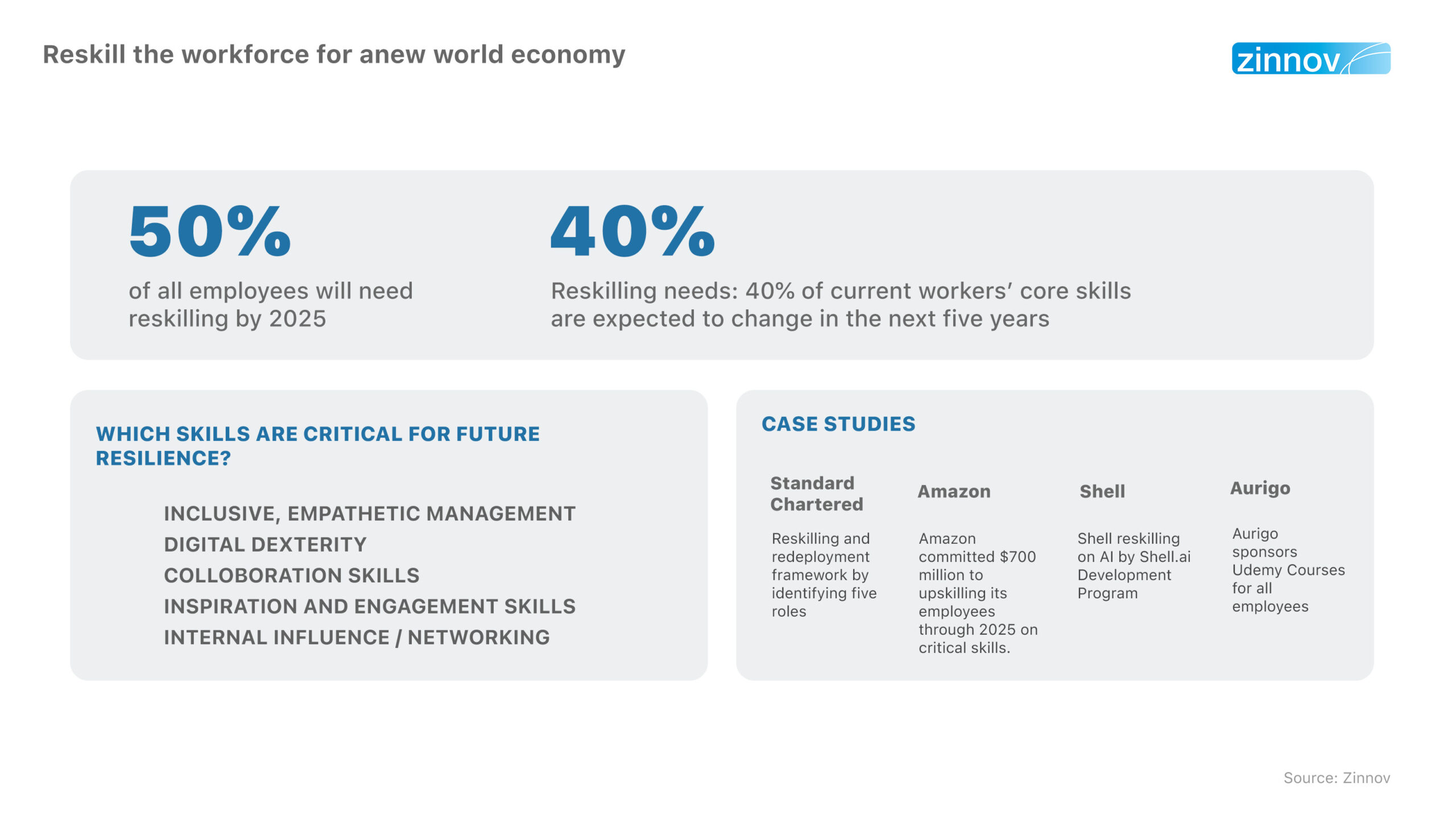 Almost 40% of the current employees' core skills are expected to change in the next 5 years. By 2025, employees are mostly expected to retain a comparative advantage in managing, advising, decision-making, reasoning, communicating, and interacting in comparison to the efficacy of Automation. The high adoption of Automation will redefine the key responsibility areas of an employee. A few cases in point where employees are being upskilled are:
Shell launched an online education effort titled the Shell.ai Development Program, which focuses on teaching Artificial Intelligence skills to its employees.
In 2020, Amazon committed USD 700 Mn to upskill its employees till 2025 to prepare them for an improved digital workplace. The program seeks to impact more than 100,000 of its employees with a unique focus on upskilling employees to help them grow professionally.
3. Ensure The Talent Is Truly Global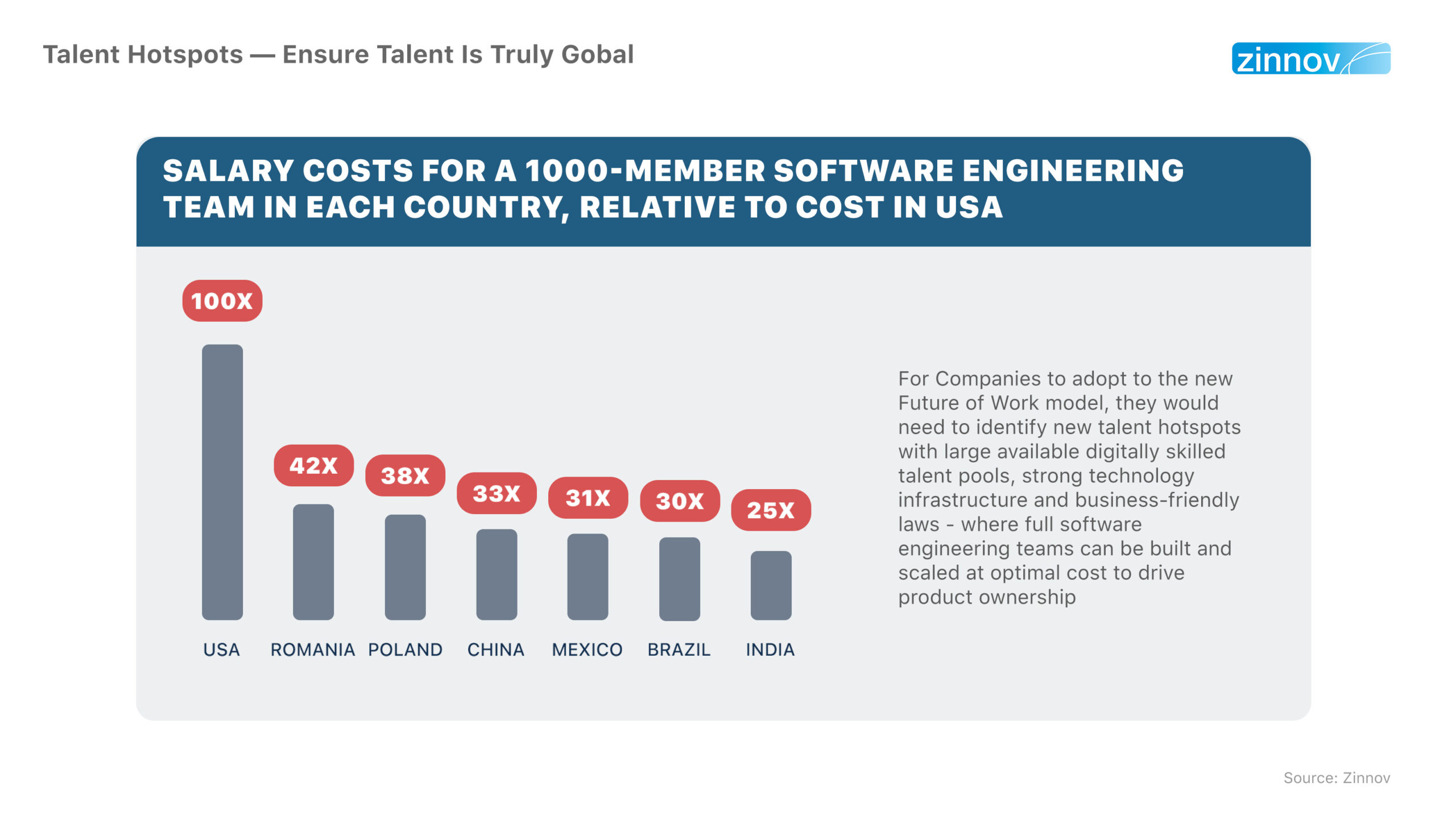 We believe that the talent demand-supply gap will reach close to 8.5 Mn by 2026. To stay afloat and circumvent the talent wars, advanced economies have already become the biggest beneficiaries of migrating tech talent to fulfill their skill demand. Multiple organizations are expanding their footprint and considering globalization as a key formula to access global talent. Since the onset of the pandemic, close to 140 new global centers have been built across India, to leverage its rich and diverse talent pool. Globalization also helps in maintaining immunity against situations beyond an organization's control, such as a pandemic, through backup options across global locations. Business continuity can be strengthened by creating multiple options to enable smooth product/service delivery to customers and combat ecosystem disruptions or geopolitical conflicts.
4. Forming Strategic Alliances With Ecosystem Partners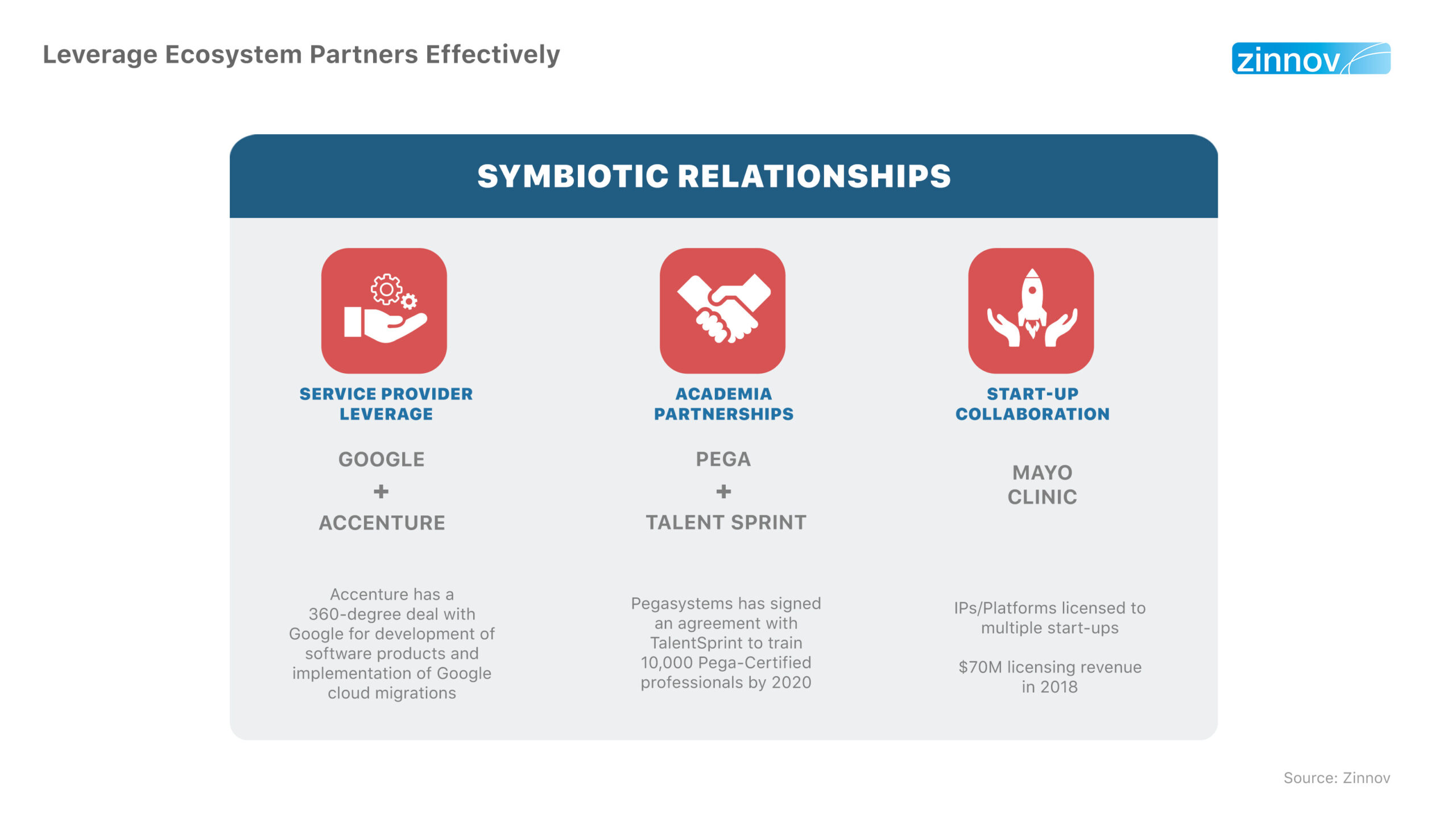 To stay on top of the game, it's important to form partnerships that can drive value. For instance, partnering with Service Providers can be a great way to benefit from their huge talent pool across emerging hotspots. A great example is Google partnering with Accenture to develop software products and implement Google Cloud migrations. In addition, partnering with start-ups can solve complex challenges and generate non-linear revenue streams. A noteworthy case is the Pegasystems-TalentSprint alliance, where an agreement was formed with TalentSprint to train 10K Pega-Certified professionals by 2020. Similarly, forming tie-ups with various academic institutions can find, attract, and train fresh skilled talent, for long-term retention.
5. Seamless transition across work modes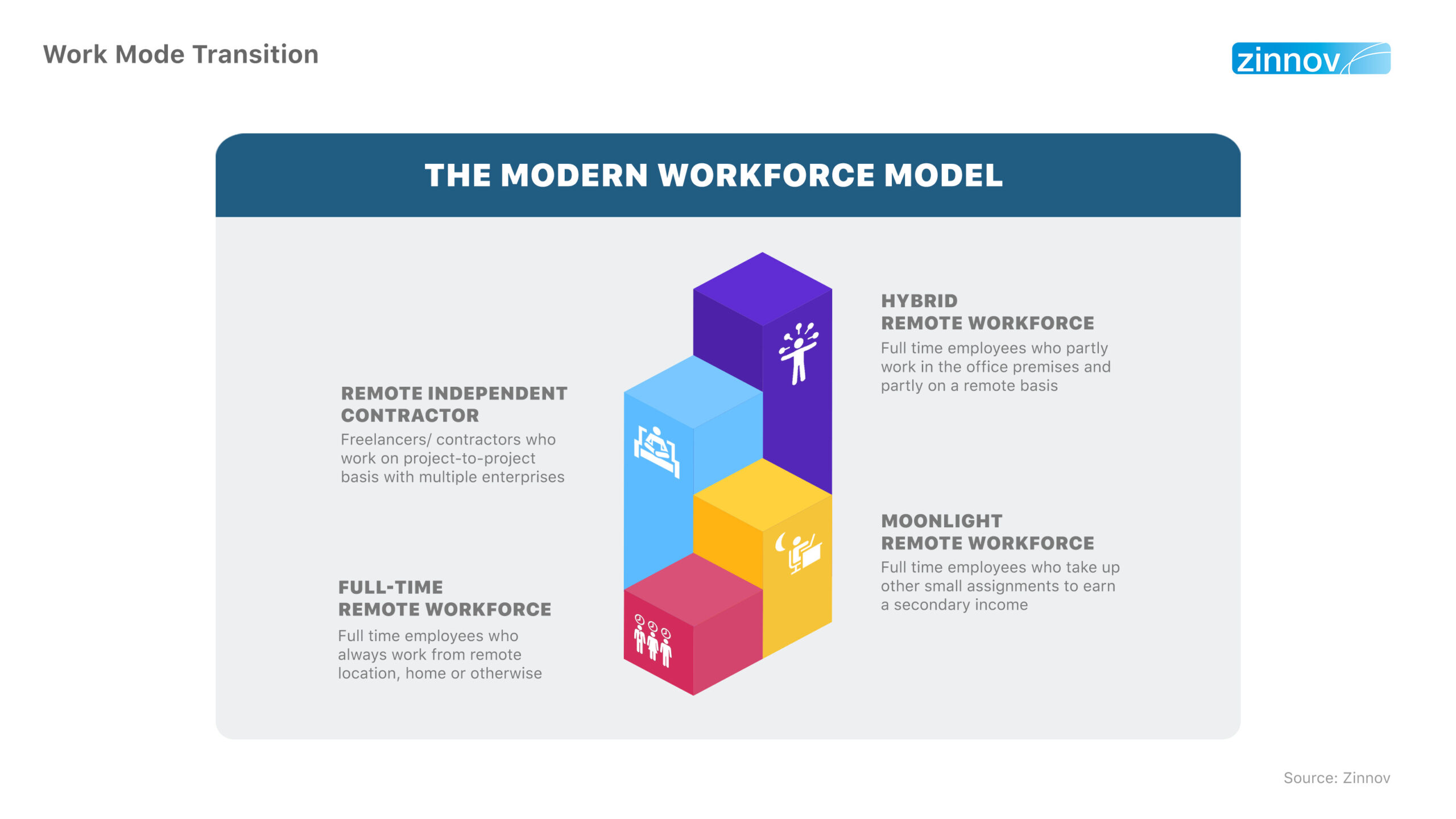 Previously, business leaders had to only think about their onsite workforce. Ever since the onset of the pandemic, the workforce transitioned into different working patterns aligned with the organization requirements. A reassessed business approach has been critical to meet new expectations and enhance productivity. At present there are 4 types of prominent working modes:
Hybrid Remote Workforce – Full-time employees who partly work from the office premises and partly on a remote basis
Full-time Remote Workforce – Full-time employees working remotely, from home or anywhere across the globe
Moonlight Remote Workforce – Full-time remote employees who take up other small assignments to earn a secondary income
Remote Independent Contractor – Freelancers/contractors who work remotely on a project-to-project basis with multiple enterprises
Organizations catering to the needs of these modern workforce models at the earliest can expect long-term success.
6. Gig Economy — the emergence of an alternate staffing model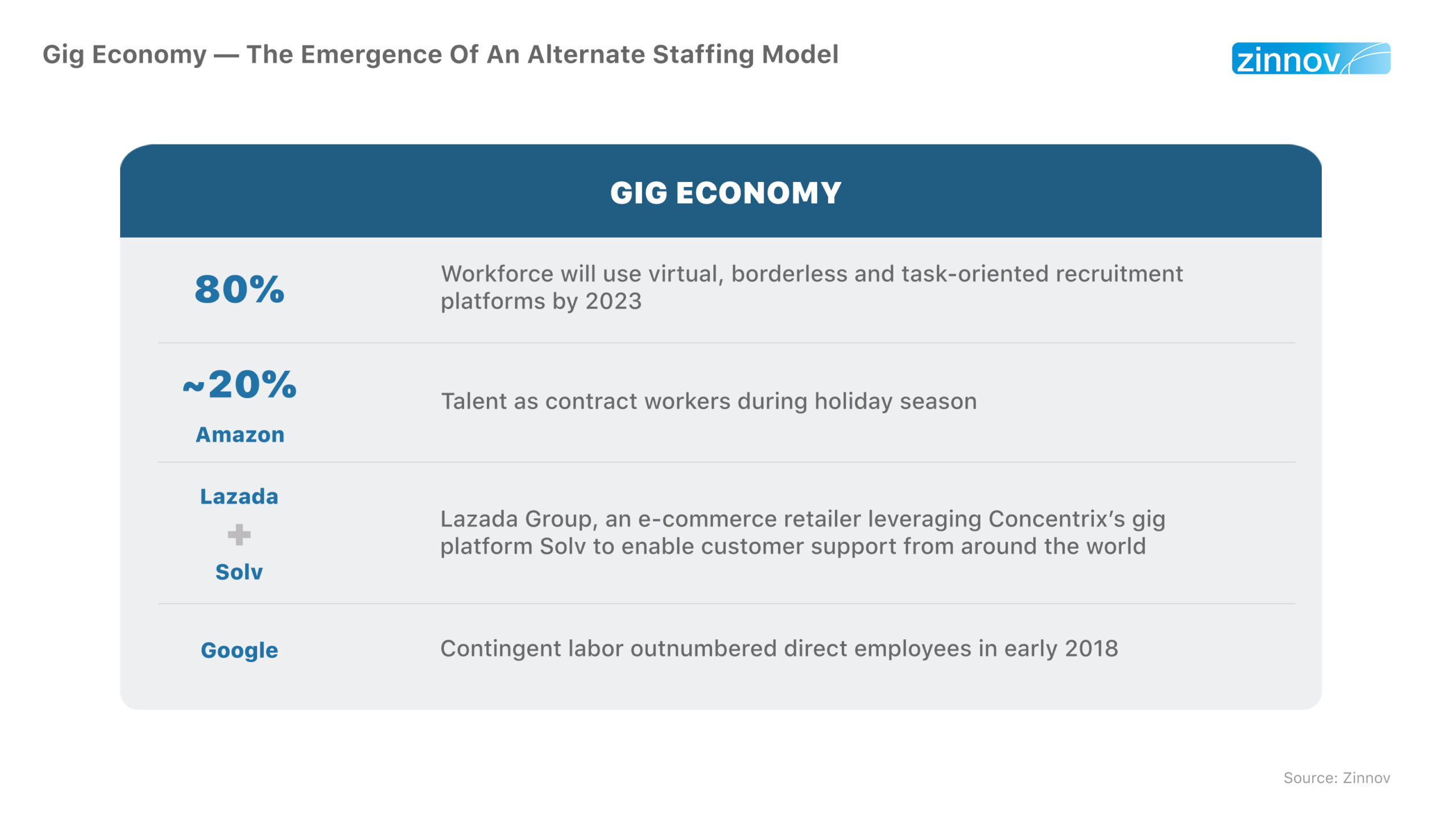 To reduce the talent supply gap, it is imperative to embrace a model that can include contract and contingent workers by breaking up tasks and workflows. Form a talent strategy that can attract millennials, Gen Z, and other diverse talents. In fact, hiring alternate staff has been prevalent in most large global MNCs since pre-pandemic times where often, the contingent workforce exceeds the direct employee numbers. A recent case in point is the Lazada Group, an international e-Commerce retailer that is leveraging Concentrix's gig platform Solv, to enable customer support from across the globe. Business leaders need to keep this option in mind as a feasible intermediary solution to circumvent the talent wars.
7. Innovation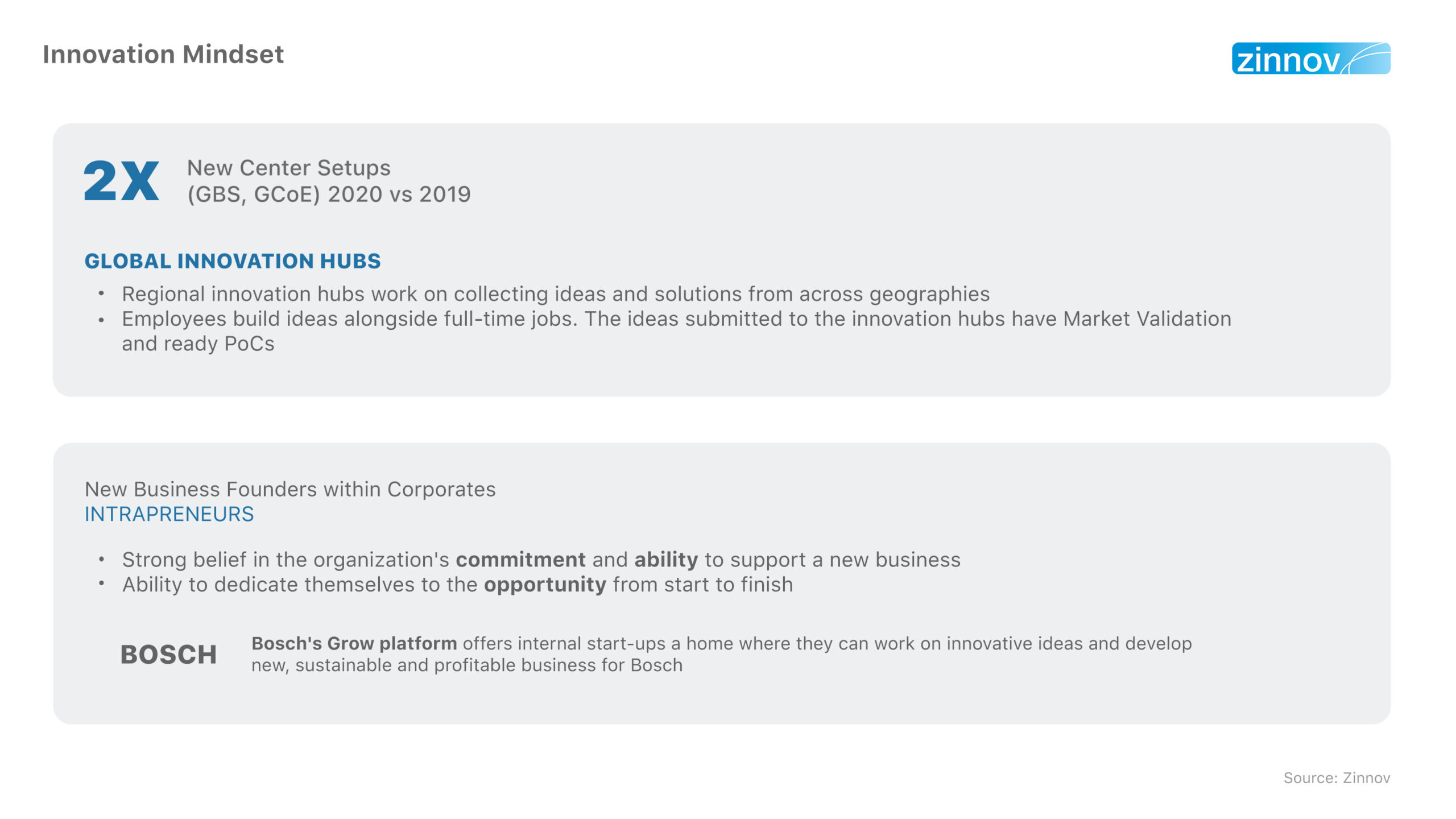 Driving innovation by robust investments in Center of Excellence across global locations can pay off in the long run. These centers or innovation hubs will involve niche technology-skilled talent that will specifically work on building proof of concepts and developing disruptive innovation ideas in new tech domains. They will have intrapreneurial skills – where they will be accountable for building product/service capabilities end-to-end, and in turn improve the net promoter score of the business. Keeping innovation at the forefront of the business strategy will establish excellence in the upcoming years.
How to navigate at speed?
Business leaders need to be aware of the dynamic disruptions happening in the 2022 business ecosystem. What's different now, from the pre-pandemic times? What are immediate peers thinking? What trends are driving success for the upcoming few years? While there may be many questions about the Future of Work strategy, one of the primary solutions that still stays relevant is chalking out key competitive differentiators that set your organization apart from the rest, in the future. These strategic pillars can help businesses in the new normal, bolster immunity and arrive at a sustainable business model that drives value for the organization and its counterparts.
VIEW Blog
To know how Zinnov can help your organization tailor a business strategy attuned to your organization's requirements, write to us at
info@zinnov.com
and speak to our consultants.