Part I of the G.A.P. point of view on GCoE Innovation Programs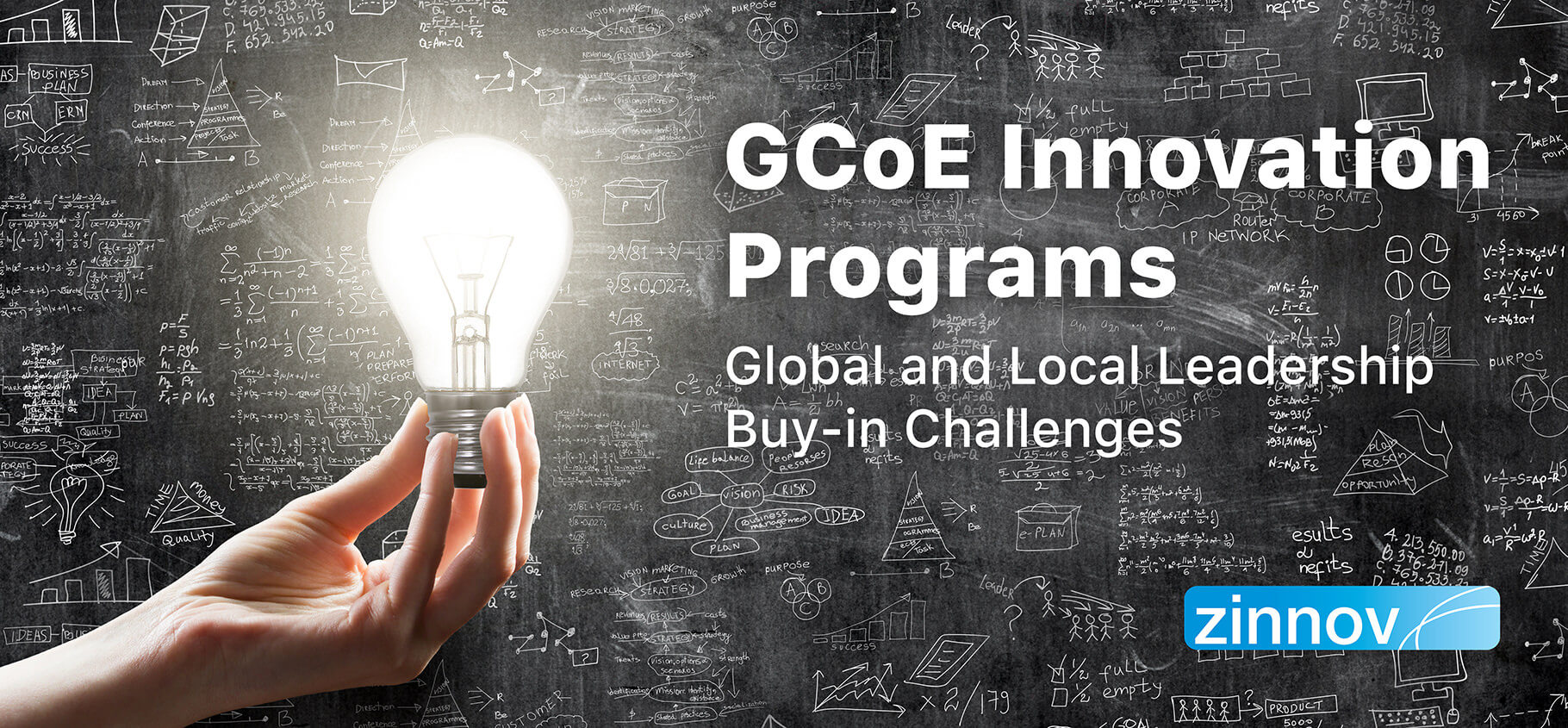 Innovation is the new Darwinism. We live in a world where organizations must innovate to survive. As a nation, India has been a laggard at innovation, but this outlook has improved in the last two-three years. Multiple factors have come into play to make this possible, from conducive government policies to a burgeoning technology ecosystem. One significant factor has been the presence of a large pool of MNCs that have set up their Global Centers of Excellence (GCoEs) in the country. Over time, these GCoEs have transitioned from their roles as cost centers to become hubs for driving innovation.
Nevertheless, there are inherent complexities that GCoEs encounter in their innovation journey. We have identified seven key challenges that curtail a GCoE's ability to innovate. In this first part, we discuss three challenges that are a function of global and local leadership involvement.
Inability to acquire leadership buy-in
Inability to secure quick turnaround from leadership
Inability to clearly articulate value to leadership
Challenge 1: Inability to acquire leadership buy-in
Historically, most GCoEs have been set up with the agenda of cost arbitrage and engineering delivery. Innovation is looked at as an afterthought; an area where GCoEs may contribute, but the requirement is not explicit. While innovation is a mandate for a few, most build their capability bottom-up and face a core challenge to obtain buy-in from leadership.
Some GCoEs have chosen to counter this challenge by creating a well-structured business case for innovation by asking themselves the following questions: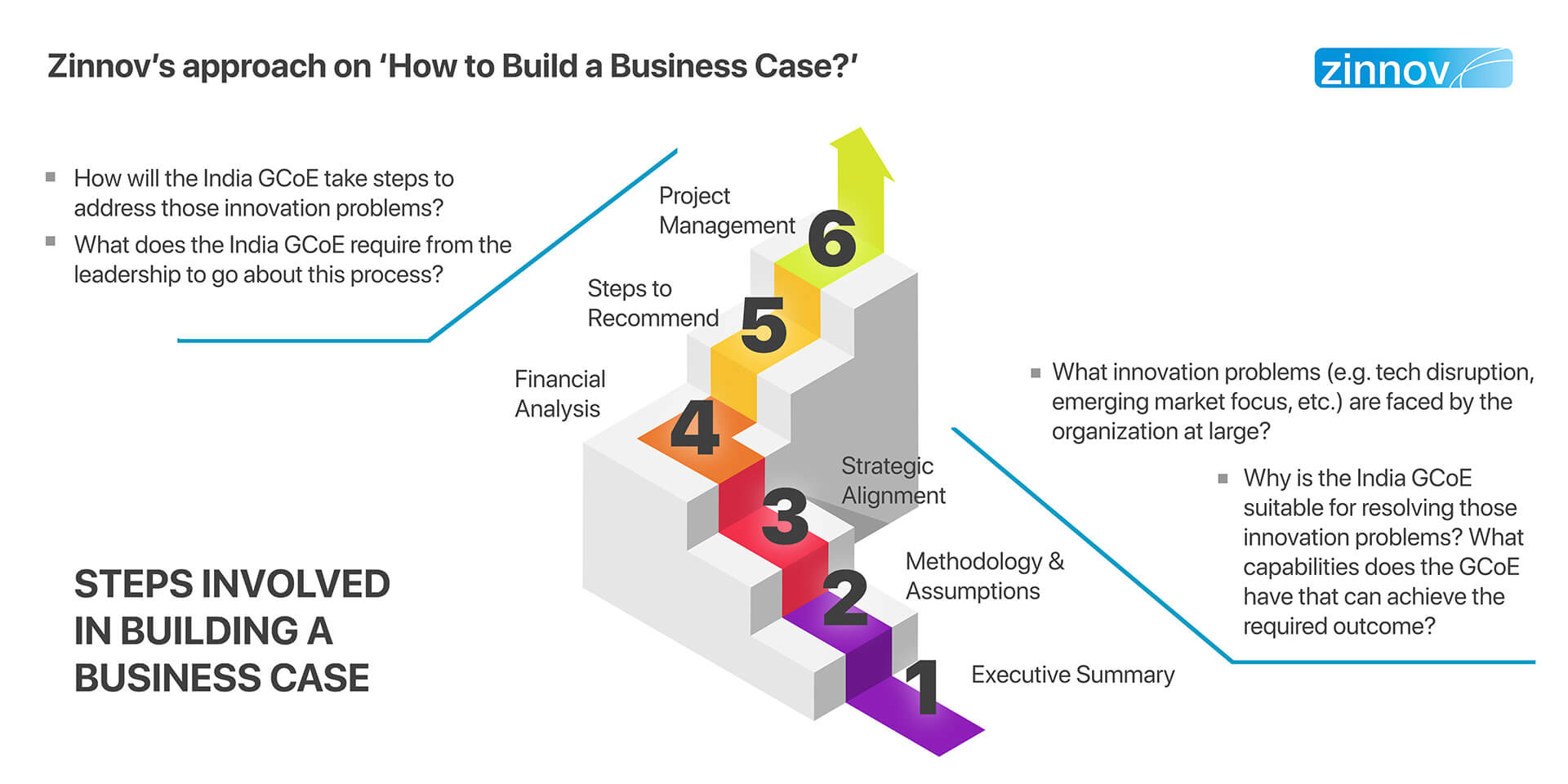 Through this, a GCoE can identify the problems faced by the MNC at large as well as their role in solving these issues.
Case in point, an enterprise software GCoE that built a business case to drive end-customer innovations from India. 60% of this MNC's engineering workforce was based in the GCoE alongside a product management team. Site leadership saw the opportunity at hand and began building the case. For two years, engineering and product management worked hand in hand to improve turnaround for customer requests and the CSAT scores. Recurring positive results solidified the case, leading to the HQ's decision to turn the GCoE into a hub for end-customer innovations.
Challenge 2: Inability to secure quick turnaround from leadership
Decision channels between GCoEs and their global counterparts have always been complex, making communication a challenge. Multiple ideas get lost in the process of relaying information through these channels, and the process is especially languorous.
To obtain quick turnaround on innovation initiatives, GCoEs have gone ahead with innovation labs supervised by the MNC's CTO. These may be technology labs, as in the case of an enterprise software GCoE that houses an Advanced Technology Lab to explore and de-risk solutions. Or they could be incubation labs to explore solutions for the product portfolio, as seen with a GCoE of an engineering MNC.
The direct reporting to the CTO ensures quick turnaround when making decisions on ideas. At the same time, these labs hold potential to become the single point-of-contact for innovation in the GCoE by owning and executing elements of the innovation charter.
Challenge 3: Inability to articulate value to leadership
Quite often, the value generated by innovation programs is unclear, creating friction between the teams running innovation in the GCoE and their global counterparts. The major pain point for most GCoEs is the lack of a structured framework or metric dashboard to assess tangible innovation outcomes.
Innovation metrics tracked in GCoEs are usually backward looking, with a focus on patents and program participation. Very few have created mechanisms to track the current or potential value being derived from an innovation program. One instance involves an engineering GCoE that runs a 3-month program every year. At the end of this program, they collate more than a thousand ideas from customers across the globe. The initiative is highly capital-intensive, and thus the subsequent value must be evaluated. To manage the process of evaluating a thousand ideas in a month, the team developed an assessment matrix.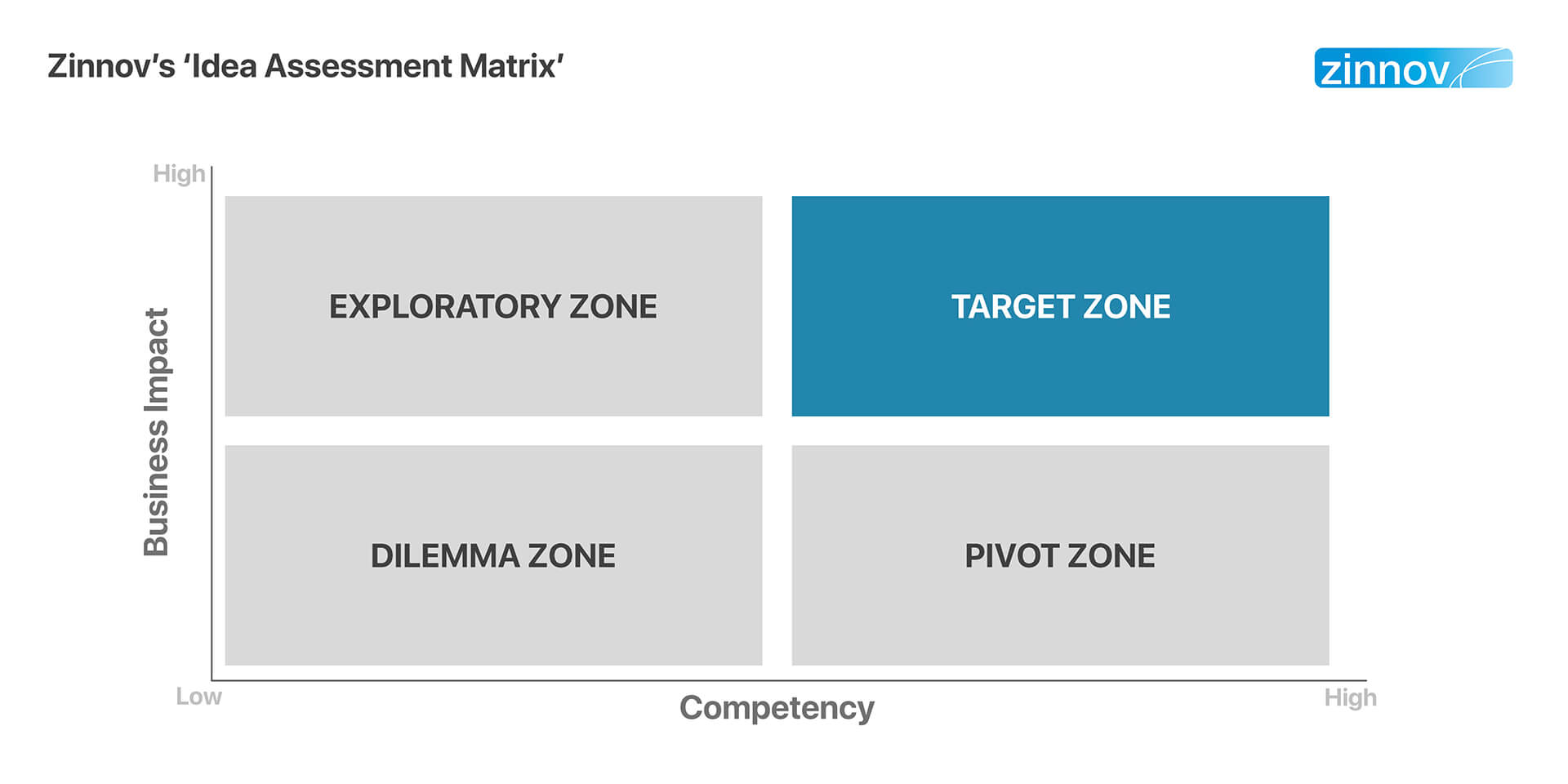 Simple questions on market impact, business alignment, and competency are used to bucket ideas into each of the four zones. This helps the GCoE to measure the potential value from each idea and determine the subsequent steps for development.
The role of leadership, both at the HQ and the GCoE, is indeed critical to drive effective innovation. Developing initiatives to increase their involvement will go a long way in achieving the above outcome.
In the second part, we shall focus on the operational challenges to innovation faced by GCoEs.
To know more about driving innovation in your global center of excellence, get in touch with us at info@zinnov.com