Gdansk – pronounced without the G – is Poland's principal seaport and the center of the country's fourth-largest metropolitan area. Gdansk is not only a notable industrial center of Poland but has also been a free city-state twice in the past. Gdansk is also part of the metropolitan area along the Baltic coast called the Tricity (Trojmiasto). Not only is this region gaining prominence as a technology and IT talent hub, but also as the new destination for Europe's entrepreneurs.
Gdansk has a complex history with periods of Polish, Prussian, and German rule, which has made it an amalgamation of different influences and cultures. But that's not all that draws the world's attention to this port city – Gdansk is also gaining prominence as a technological hub. In fact, the Tricity region, led by Gdansk, accounts for ~11% of the overall IT and digital talent pool of Poland. The two main drivers of Gdansk's prominence are the availability of technology talent and affordable costs.
Talent in the Tricity Region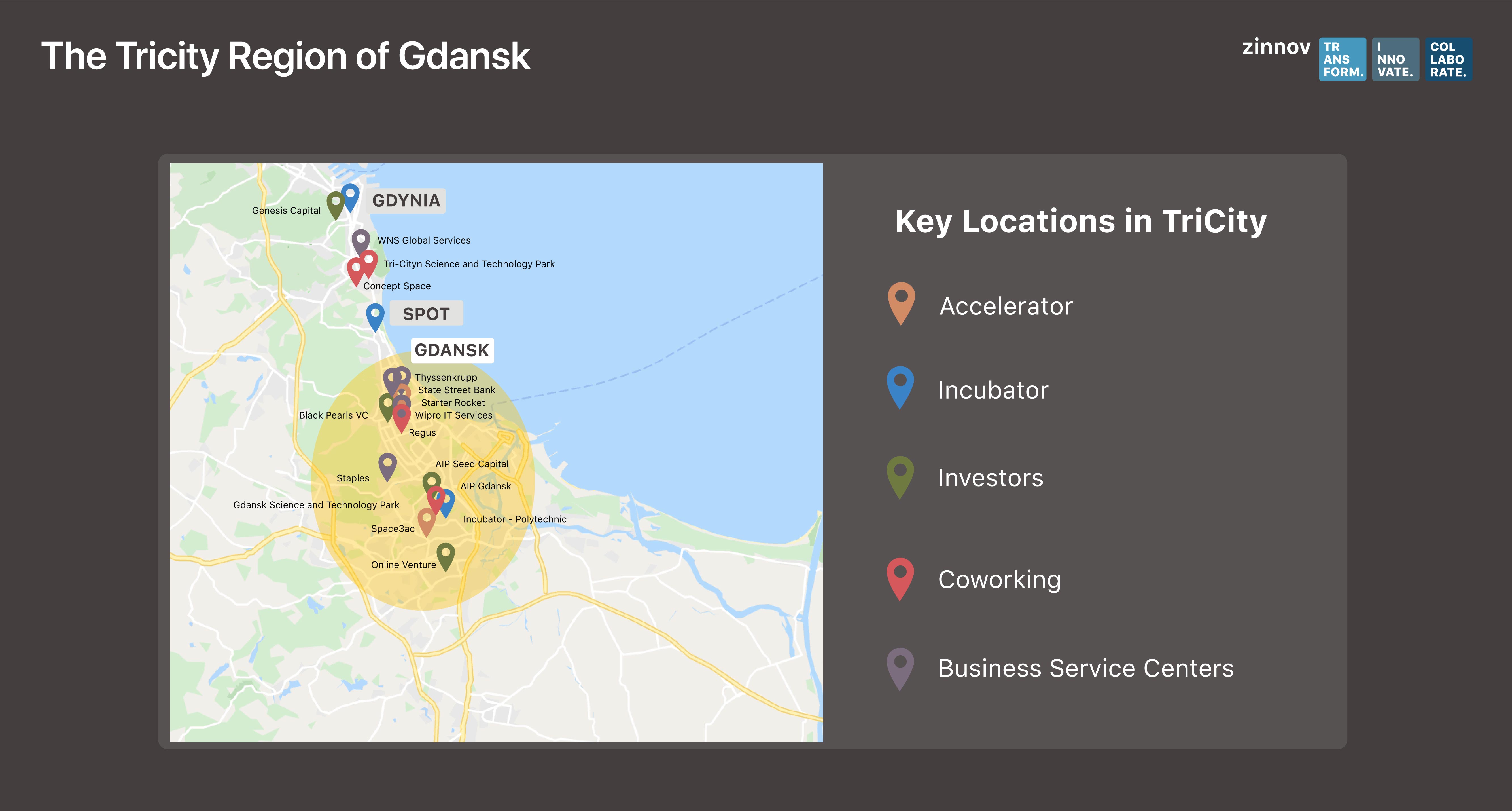 The Tricity region in Poland is comprised of the city of Gdynia, the resort town of Sopot, and suburban communities, with Gdansk acting as the informal capital. This region is rapidly being emerging as a major technology hub. Gdansk, in particular, has transitioned from a marine hub to a fast-paced technology community, enriched with a strong technology talent ecosystem. The Tricity region has the largest technology talent after Warsaw and Krakow, with ~25K – 35K people with IT and digital talent. Of this, Gdansk boasts ~20,000 people with IT and digital talent, with Gdynia coming in at ~8,000 people.
The talent in the global centers in the Tricity region supports traditional roles of software development, technical support, and IT support. This talent pool is also comprised of new-age technology talent such as AI/ML, Data Science, Big Data/Analytics, Cloud, IoT, and Cybersecurity. As the number of companies has increased in the Tricity area, the talent being leveraged by them has also undergone an evolution. From low-end support work back in the late 1990s, to Business Process Management (BPM) talent in the first decade of 2000s, and increasing focus on core product development between 2010 and 2015, the global centers in the region have undergone a sea change. As the world decidedly moved towards everything digital, so did the talent landscape in the Tricity area in Poland, where global centers have been leveraging the digital talent for high-end work.
Gdansk, the ICT Talent Hub
Gdansk boasts of a population of nearly half a million people and a total labor force of ~144K. It has a growing Information & Communications Technology (ICT) ecosystem, with the major contributors being MNC R&D and shared services centers, along with local technology companies and start-ups. Gdansk has a rich technology ecosystem with 300+ technology companies and nearly 20,000 proficient digital and IT talent. Further, 15+ companies have their R&D/IT centers in Gdansk and more than 125 tech start-ups call this city home.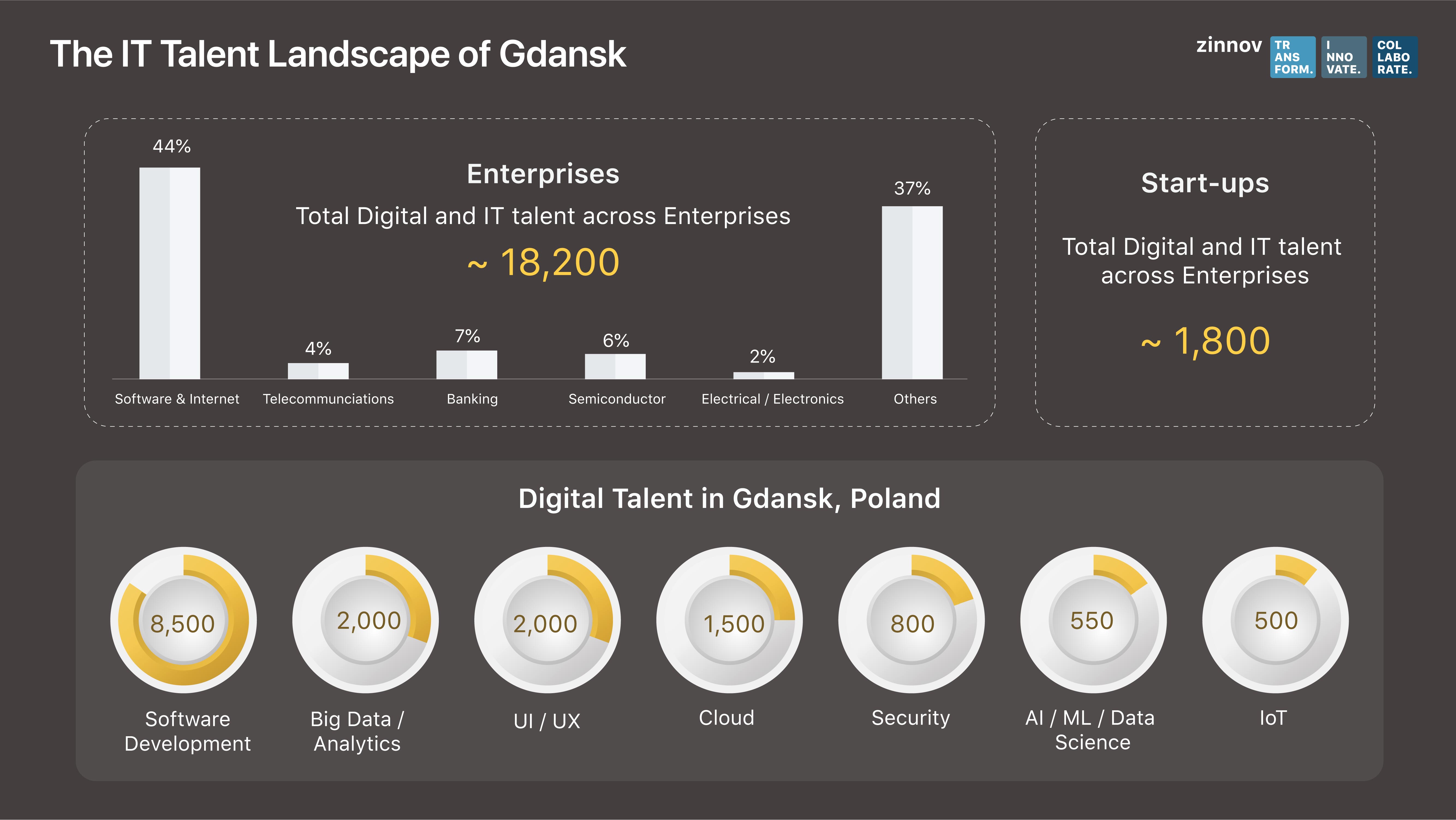 Technological investments and new center additions by large corporates, the birth of tech start-ups, introduction of new-age technology curriculum in universities, and strategic industry partnerships are the major technology talent drivers in Gdansk. A large proportion of the employed technology talent pool is skilled in SQL, GIT, and C/C++.
Digital job families employ ~78% of the total technology talent in Gdansk. A majority of the technology and IT talent still spans across traditional software development cluster in roles such as Software Developer and Full Stack Developer. Further, ~48% of the digital talent is employed in the Software & Internet vertical, majorly spanning across global tech mafias such as Microsoft and Oracle, as well as tech start-ups. Intel is the largest technology employer in Gdansk. About 41% of the overall digital talent is constituted by software development talent, at ~8500 professionals. Coming close behind is Big Data, UI/UX, and Cloud talent at ~28% of the overall digital talent.
Gdansk University Landscape
Olivia is the major talent hotspot in Gdansk, with the presence of major universities such as Gdansk University of Technology, University of Gdansk, and WSB University of Gdansk. The ~10 universities in Gdansk offers courses in emerging technologies such as AI/ML and Big Data. Our analysis shows that of the ~12K total graduates in Gdansk universities, ~3.6K fresh talent enroll in computer and engineering-related courses.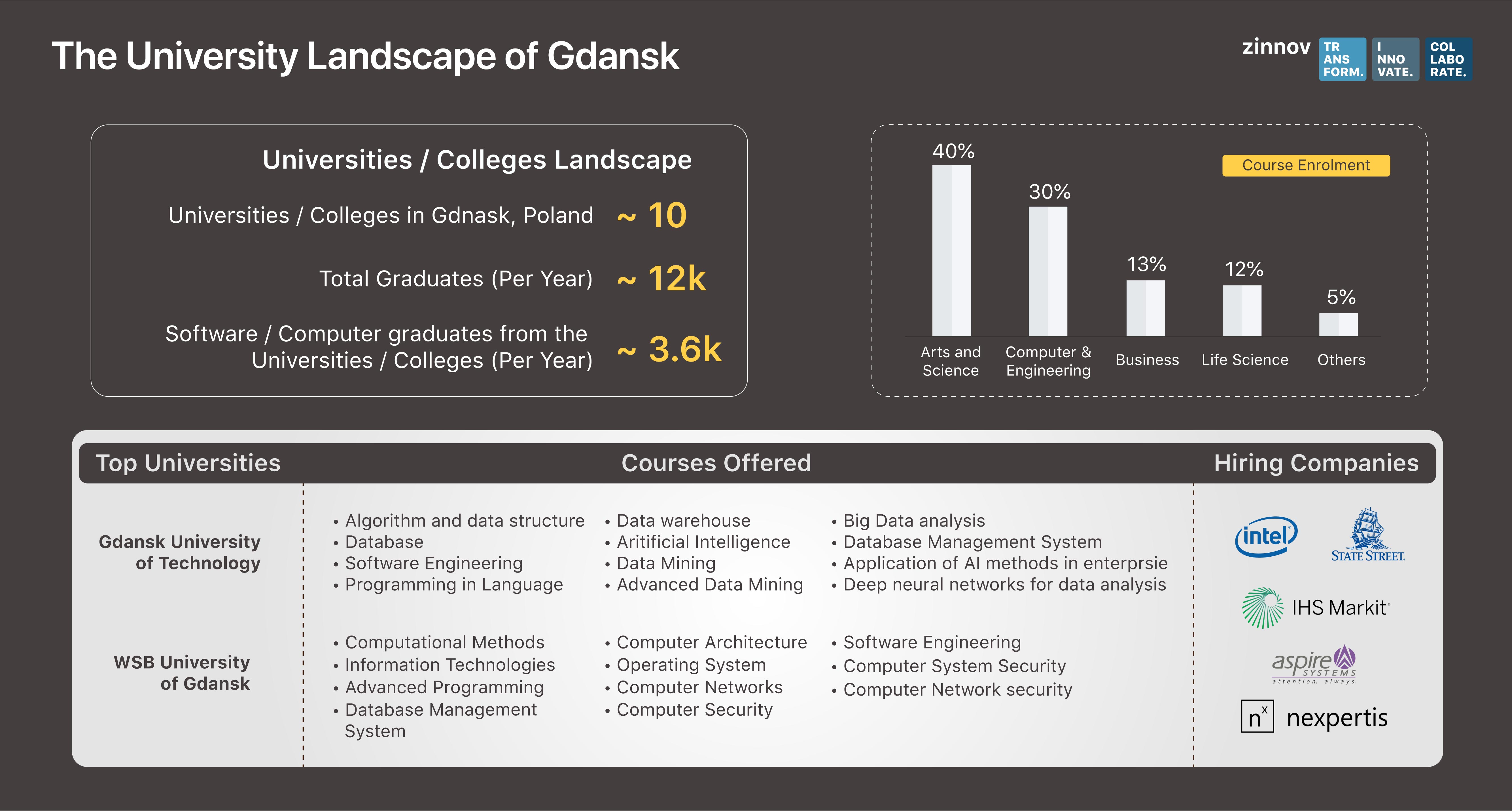 In the last 8 years, the number of foreign student enrolment in the Tricity region has increased threefold. The city of Gdansk is well-positioned as a go-to university city because it enables students to study at top technology universities, while also offering internship programs with some of the big global corporates and technology start-ups.
Gdansk Universities and their Strategic Partnerships
Gdansk University of Technology has established a Deep Learning workstation to develop models for gesture recognition and to conduct medical image analysis.
IBM partnered with the Gdansk University of Technology to establish a developer program in AI and to help students learn the practical side of machine learning fundamentals on modern architecture.
Intel partnered with Gdansk University of Technology to train students in the fields of Artificial Intelligence, Machine Learning, and Deep Learning.
WSB University in Gdansk partnered with IBM Watson to develop new Computational Intelligence-based tools to implement Smart City project and Trade-off Analytics for hybrid measurement systems (IoT sensors).
Gdansk Start-up Ecosystem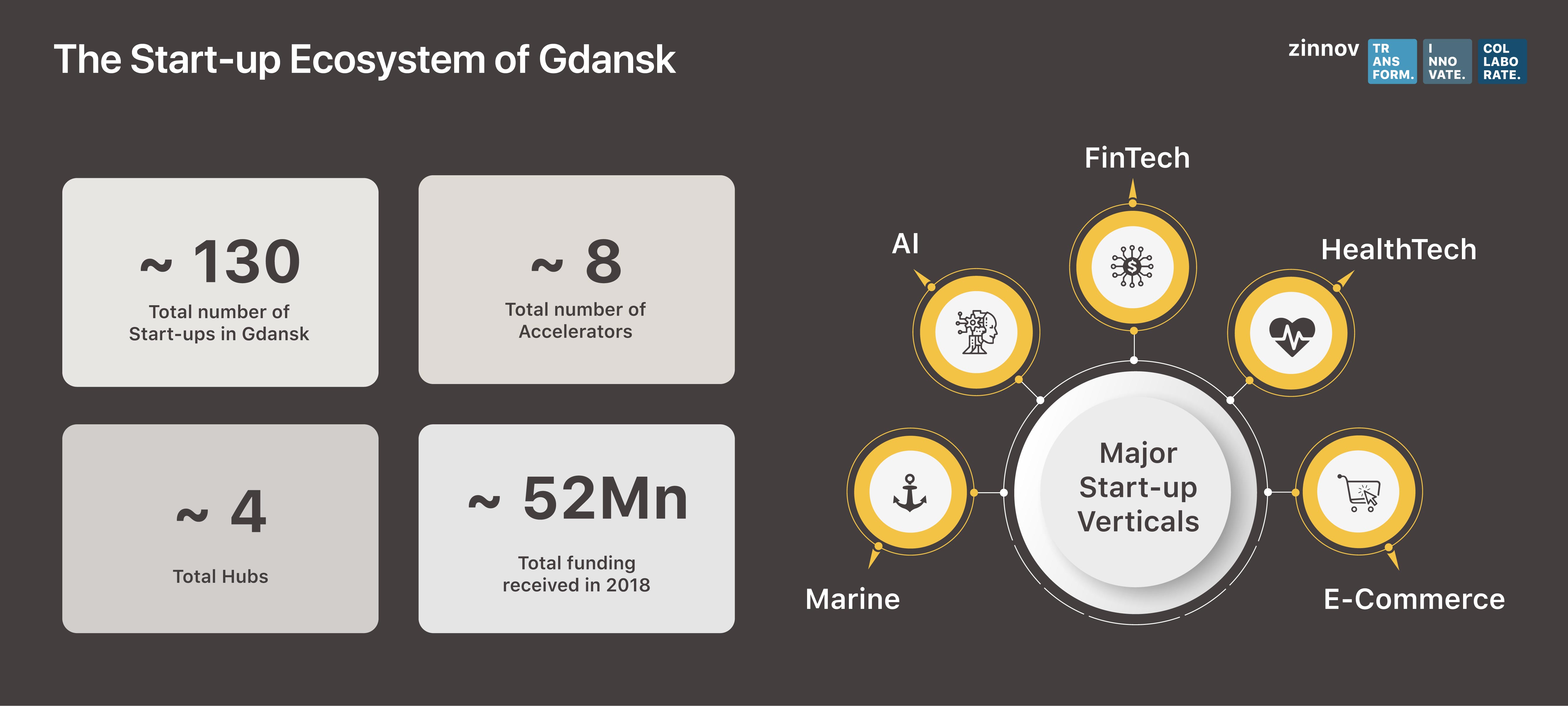 Gdansk is the fastest growing start-up economy in the Tricity region and aims to attract international companies. Start-ups in AI/ML, Big Data, Fintech, HealthTech, e-commerce, and Shipping/Marine verticals are prominent in Gdansk. The city is also home to ~130 start-ups that have cumulatively raised ~52Mn in total funding in 2018 alone. This growth of technology start-ups is also being augmented by 8 accelerators in the region that provide technology and business mentorship. Infrastructure for start-ups is another plus in the region, that is centered around the Olivia Business Centre and O4 Coworking.
Space3ac is a Polish start-up accelerator that has partnered with Microsoft and Gdansk University of Technology, supporting 30+ start-ups in the region. Of these 30 start-ups, 10 are from abroad, that are being accelerated at Space3ac. Inkubator Starter is another start-up accelerator that offers investments around USD 44,000 with support from big companies like Microsoft and PwC. It's a 5-month-long program for start-ups that focus on Big Data, Financial Technology, and Mobile Energy. So far, Starter has invested in excess of USD 13Mn across various start-ups.
Some of the start-up success stories include Airhelp that helps passengers claim flight disruption compensation; Biolumo helps tackle antibiotic resistance; GetResponse, an email marketing platform; IVONA, a text-to-speech company that created Amazon Echo and was later acquired by Amazon. SpaceForest is developing new technology for Artificial Intelligence, rockets, and satellites, while Pelixar is building drones and unmanned aircraft devices.
Gdansk – the hidden gem of Poland
Gdansk has come into its own as a technology hub in Poland, putting the country on the map, thanks to its vibrant start-up ecosystem and the R&D centers of global companies, fueled by the presence of technology universities. This, coupled with the favorable economic factors of Poland, have made Gdansk an ideal location for companies to set up shop. Further, the innovation mindset and dedicated government efforts to attract foreign companies as well as talent through its universities, Gdansk is poised to become the next big thing in Eastern Europe.
Eastern Europe is suddenly on everyone's radar. Which other location in Eastern Europe boasts of technology talent? Know how to tap into the Gdansk's talent pyramid by dropping us a note at
info@zinnov.com
.