There has been a significant shift in the pecking order of employers in India. While in the past, product companies used to rule the roost and were the employers of choice, today, Tech Giants, Unicorns, and niche start-ups are enjoying the major share of the India talent pie. In addition, Public Sector Units are competing with Service Providers and are fast becoming a threat to MNCs as well. This major shift in the competitive talent landscape is compelling organizations to push the envelope and assess their talent management strategies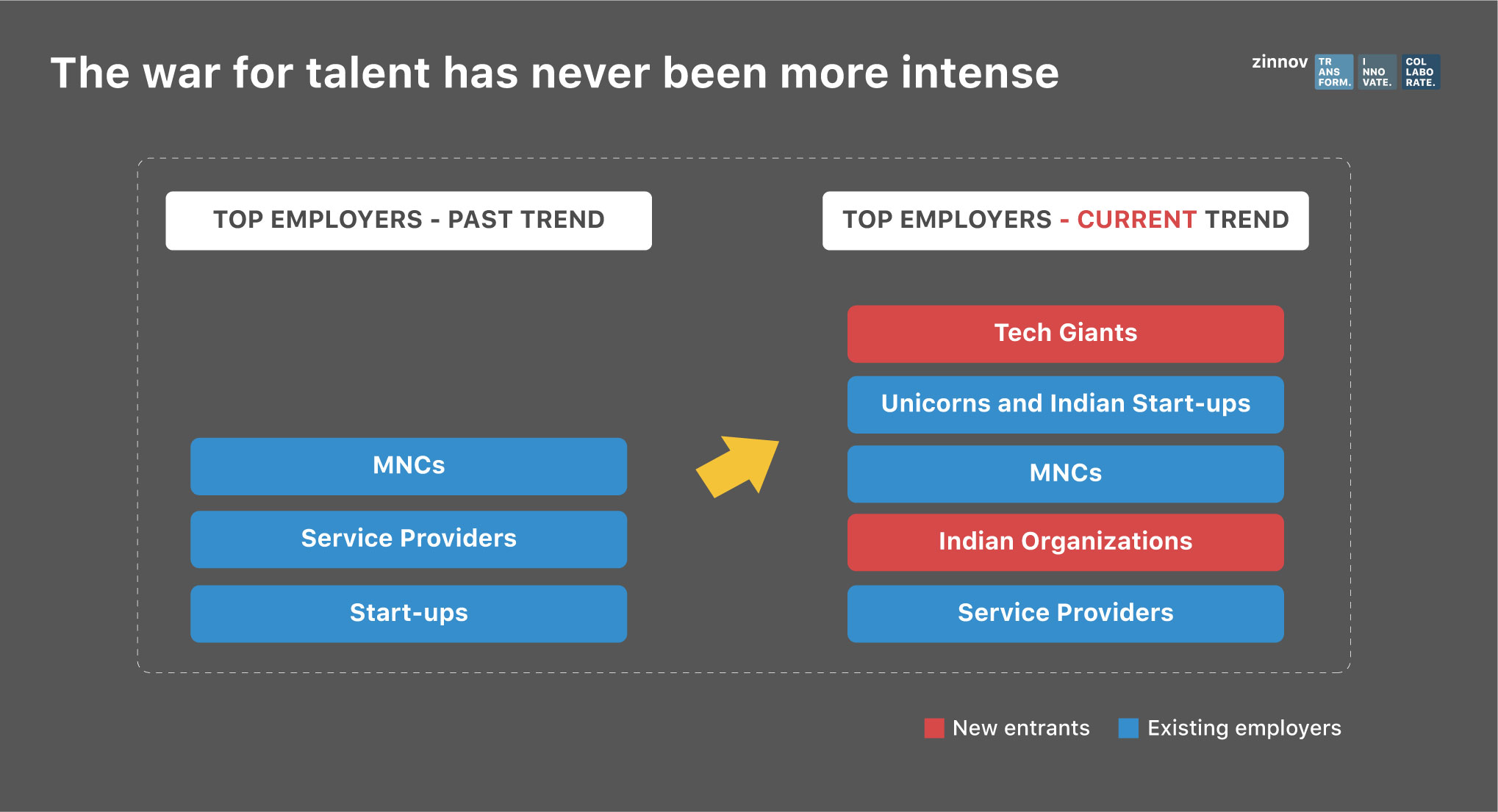 Today, organizations are taking a multi-pronged approach to attract, retain, and engage top talent. Right from employer branding to charting top-notch L&D strategy, organizations are relooking at their entire talent management strategy value chain to gain a competitive advantage over tech giants and start-ups.
Zinnov's 8-pronged methodology to become an employer of choice
Here are some of the initiatives that can help multinationals and product organizations become a preferred employer of choice: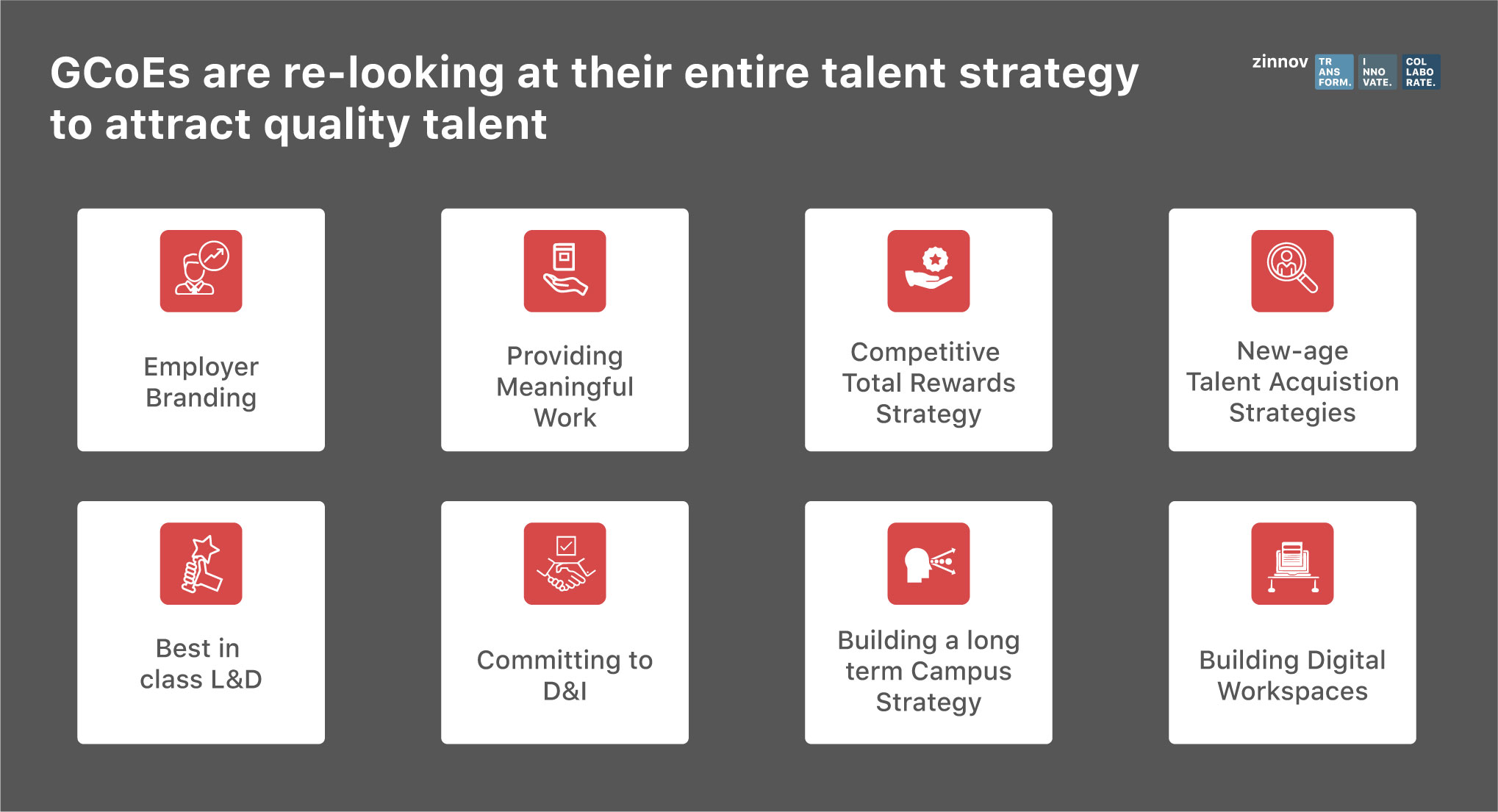 1. Employer Branding
As a function of the increasing competition, branding has become a crucial part of any talent management strategy. To become an employer of choice, companies need a thorough branding strategy that will cater to people within and outside the organization. The branding strategy must be structured around four key themes :
a. Center level branding: Companies need to spread awareness regarding the work that is being done at the center across BUs, its values, and culture. This includes media roundtables, hackathons, knowledge sessions like TEDx, start-up and university boot camps, and site visits.
b. Management team branding: This includes positioning the management team as thought leaders by sponsoring conferences, leveraging speaking opportunities, and also through social media positioning. Encouraging the management team to become members of technology/leadership communities and councils also brings along the necessary opportunity to network and build a personal brand along with that of the company. For e.g., PayPal constantly promotes its management through print and social media.
c. Internal employee branding: Companies must constantly reinforce their brand on the existing workforce. This could be done through branded merchandise, thought leadership blogs and videos, and external and internal award nominations. Creating a "Life at 'XYZ'" series also helps employees resonate with the organization's brand. For instance, Intuit's 'I Am Intuit' campaign featuring the employees' pride and belief in Intuit was a huge success and resulted in a significant increase in traffic to the organization's India career site.
d. Global stakeholder branding: Timely visits from global stakeholders help in internal branding, where the employees get a chance to see the bigger picture and the impact that they are making on the global teams. Media announcements and global stakeholder press conferences/interactions further help in the external branding of the company.
2. Providing Meaningful Work
This lever is perhaps the most important one of all. To attract the new-age talent and become an employer of choice, Global Centers of Excellence (GCoEs) are transitioning from being cost centers to doing work that adds greater value to the global organization and propels innovation. They look at the bigger picture and increasingly focus on adopting innovation and maturity of work as key levers to engage talent.
GCoEs are also focusing more on product development and are increasingly building deep capabilities by establishing more Centers of Excellence (CoEs). Apart from engineering, activities across IT, Sales & Marketing, and HR are being delivered from India-based Global Shared Services Centers. All these factors attract young professionals and reinforce the fact that their work is making a difference.
3. Competitive Total Rewards Strategy
Compensation, of course, has a prominent role to play in any organization's talent management strategy. In order to become an employer of choice and retain new-age digital talent, companies generally adopt one of the three compensation philosophies illustrated below: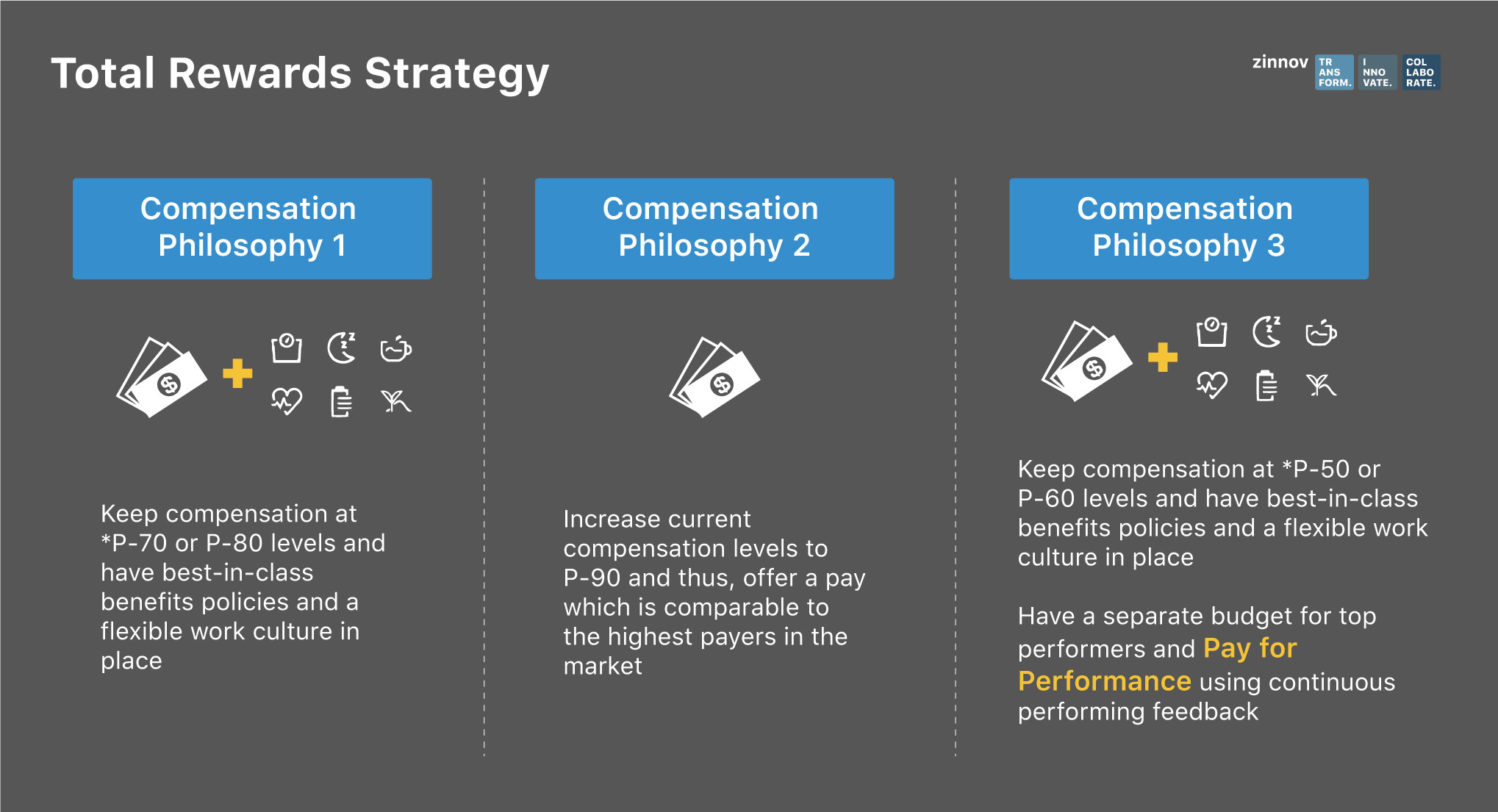 4. New-age strategies for Talent Acquisition
With the new-age talent moving online, to become an employer of choice companies need to move the hunt for talent online and leverage a plethora of technologies and tools to attract talent. Organizations are revamping their hiring techniques by using a combination of active and passive hiring. There is an evident increase in the use of new-age technologies for attracting talent. Some of the most sought-after new-age hiring techniques that companies are leveraging include:
a) Acquihiring
b) Hackathons/Codeathons
c) AR/VR
d) Gamification
e) Hiring through social media
5. Best in class L&D
Building an effective and engaging L&D blueprint is a key element of a talent management strategy. A robust L&D framework can help future proof talent and also attract fresh blood into the system. The first step in building an attractive L&D plan is conducting a skills gap analysis. This helps companies in aligning the overall talent needs to the current needs of the project and also the evolving business needs. The next step is to plan the career path based on the individuals' long-term and short-term career aspirations. This could be facilitated through employee skill survey, mentor-mentee programs, etc. The last and final step is to launch a full-fledged program to address this. It could be an informal program that would include demo days, peer-to-peer learning, meetups, and others. The mode of training could also vary from being online/offline, or flexible learning options that are self-paced and mobile.
To keep employees motivated, organizations are also using the philosophy of 'learning as a reward' methodology, where the top performers are getting more learning as a benefit.
6. Commitment to I&D and Association with a Cause
Inclusion & Diversity conversations have become mainstream. GCoEs are increasingly promoting their I&D agenda and taking various initiatives to build an inclusive work culture. A case in point is the "Chetana" program that was launched by the Government of Karnataka in association with Samsung & Infosys foundation to educate, enable, and empower girl students who have topped in Secondary School Examination from Government Schools across Karnataka. Another example is that of Intuit providing key benefits for LGBT employees among its many other initiatives. Intuit also partnered with Pride Circle for RISE (Reimagining Inclusion for Social Equity), India's first LGBTI job fair, marketplace, and conference, to bring forth 20 LGBTI owned Small & Medium businesses across India. Such initiatives are attracting millennials to become a part of a workforce that is diverse and inclusive and believes in doing its bit for the society.
7. Building a long-term Campus Strategy
GCoEs are actively leveraging the university ecosystem to foster innovation and hire top fresh talent. There are various ways in which GCoEs can collaborate with universities, as illustrated below: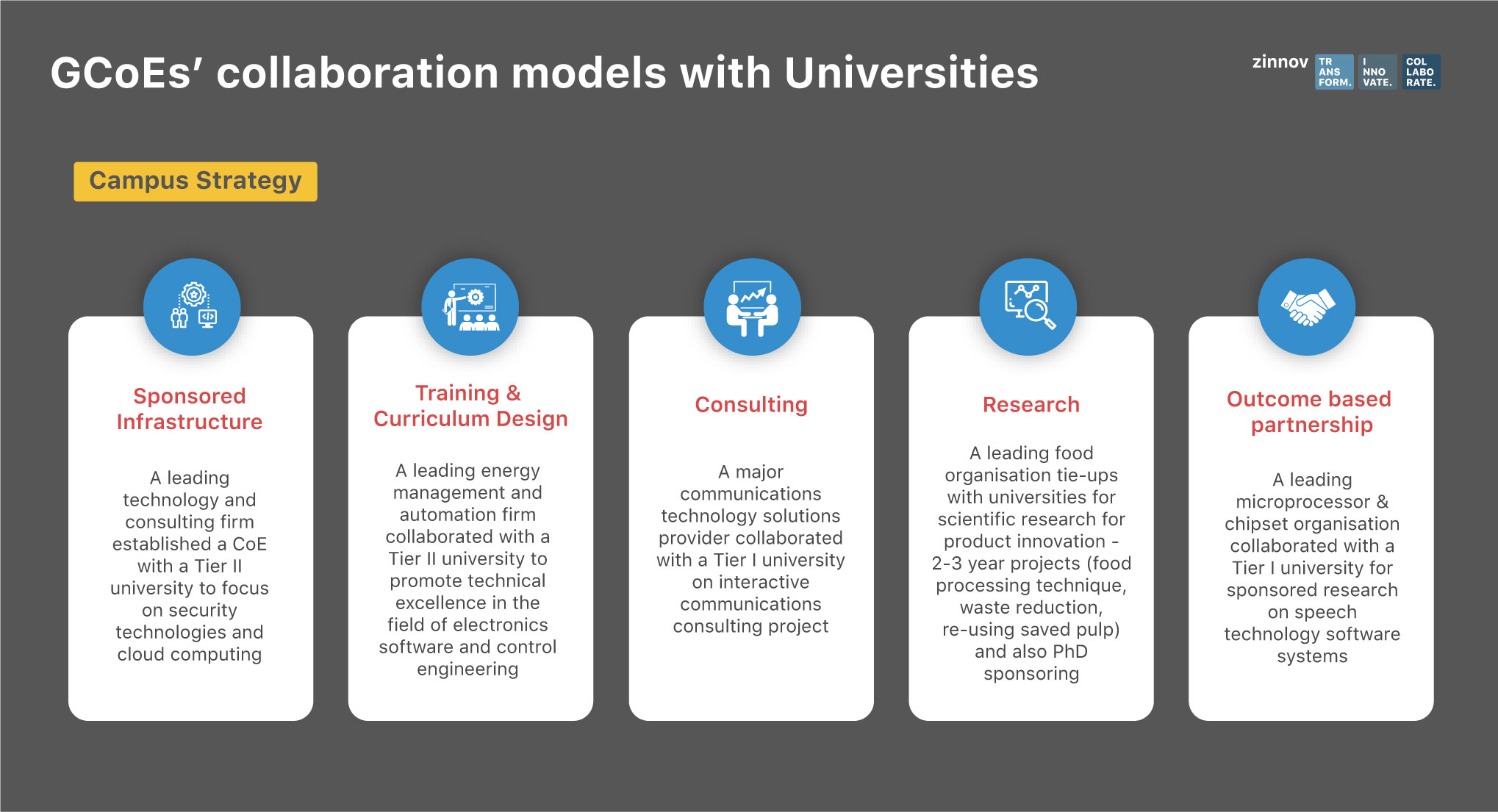 8. Building a Digital Workspace
A digital workspace that has technology-enabled processes, intelligent automation, and a high focus on innovation and speed to market is fast-becoming a talent magnet. This is especially true with millennials and tech-savvy professionals entering the market, and having a digital workspace is a huge plus. A digital workspace encompasses several aspects of a workplace – from chatbots to knowledge repositories to enhancing the onboarding experience by leveraging platforms and technologies, and much more. All these elements together have a huge impact on the workforce both internally and externally and can help an organization become the employer of choice.
DNA of an Employer of Choice
The 8 factors outlined above clearly parse the 'becoming an employer of choice' conundrum. Right from building an effective brand, to leveraging unique techniques for talent acquisition and employing L&D strategies that engage talent – these factors encompass the entire value chain of an organization's talent strategy. However, building a digital DNA will be a key enabler of these factors.
The new-age workforce wants to be a part of an organization that has innovation and digital in its DNA. Hence organizations need to build a digital culture that is conducive to accommodate all the changes that are happening in the industry and embrace them. The culture should be such that encourages collaboration and diversity of ideas. A culture that believes in continuous learning and in being agile. A culture that is digital in all senses of the word.
The value systems of this digital culture will enable the holistic transformation of the organization and will help it enable its talent strategies. Several tech giants and start-ups have successfully built this culture and are capitalizing on it in terms of attracting and retaining talent. It's about time that GCoEs and product companies up their talent game and crack the talent code to move up the employer of choice pecking order.
Are you rethinking your talent strategy to become an employer of choice? Have you cracked the code to building a digital work culture? We have! Write to us at 
info@zinnov.com
 and get access to a multi-pronged talent management strategy.