Healthcare no longer operates in a silo. Digital technologies have become an intrinsic part across the healthcare value chain, from medical devices to physicians and surgeons relying on advanced robotics to voice technology in patient aftercare to wearable devices to track symptoms and much more. At the recently concluded Consumer Electronics Show (CES) 2020, health tech took up major exhibit space, with more health and wellness tech products, with newer devices that promise easier, more accurate and accessible care at home.
CES 2020 brought to the fore products that re-emphasize digital technologies' stronghold in revolutionizing the healthcare experience for both physicians and patients – whether at the doctor's clinic, hospital, or at home. Given such paradigm shifts in the healthcare space, organizations – be they Service Providers (SPs) or medical devices companies – need to stay hypervigilant with regards to ecosystem changes and be agile enough to pivot their roadmaps according to the needs of the industry and its customers.
Here are some technology trends that will redefine the strategies that companies in the healthcare space will adopt, and their implications for digital and engineering Service Providers.
Although AI has been around for more than half a century now, its use cases in the healthcare space have been limited and even sporadic so far. Currently, there are innovations in wearable tech where AI is being leveraged to track vital body signs like heart rate, calories burned, and such. But at CES 2020, AI dominated with wearable devices and products that take tracking of vitals to the next level. There were products that help users measure blood sugar without pricking their skin, wearable tech that keeps track of carbohydrate intake by measuring pulse-wave patterns from a user's heartbeats. These are targeted towards people who are prediabetic and don't need a finger prick blood test.
Products that allowed a real doctor to examine a patient remotely were also showcased at CES 2020. An AI-powered small, portable atrial defibrillator (AED) that alerts emergency services to detect heart rhythm to check if a shock is necessary in the case of a cardiac event at home; a smart urine test that provides information about hydration levels, dietary pH levels, electrolytes, and ketones; and a one-lead electrocardiogram for checking for arrhythmia and blood oxygen levels – were just the tip of the iceberg that is digital health at CES 2020.
Although AI-powered robots were present aplenty at the exhibit, they were mostly designed for emotional care/support, classrooms, and service, without mention of them in healthcare directly. Even though AI in robotics and healthcare is advancing at warp speed, there is little to no indication that these advancements will be adopted in consumer-centric products widely in the near future.
Over the last couple of years, IOT has truly come into its own and become ubiquitous as more and more devices become connected and smart. Our estimates show that the IOT Technology & Services market will touch a whopping USD 460Bn by 2024, opening up a plethora of opportunities for enterprises to capitalize on.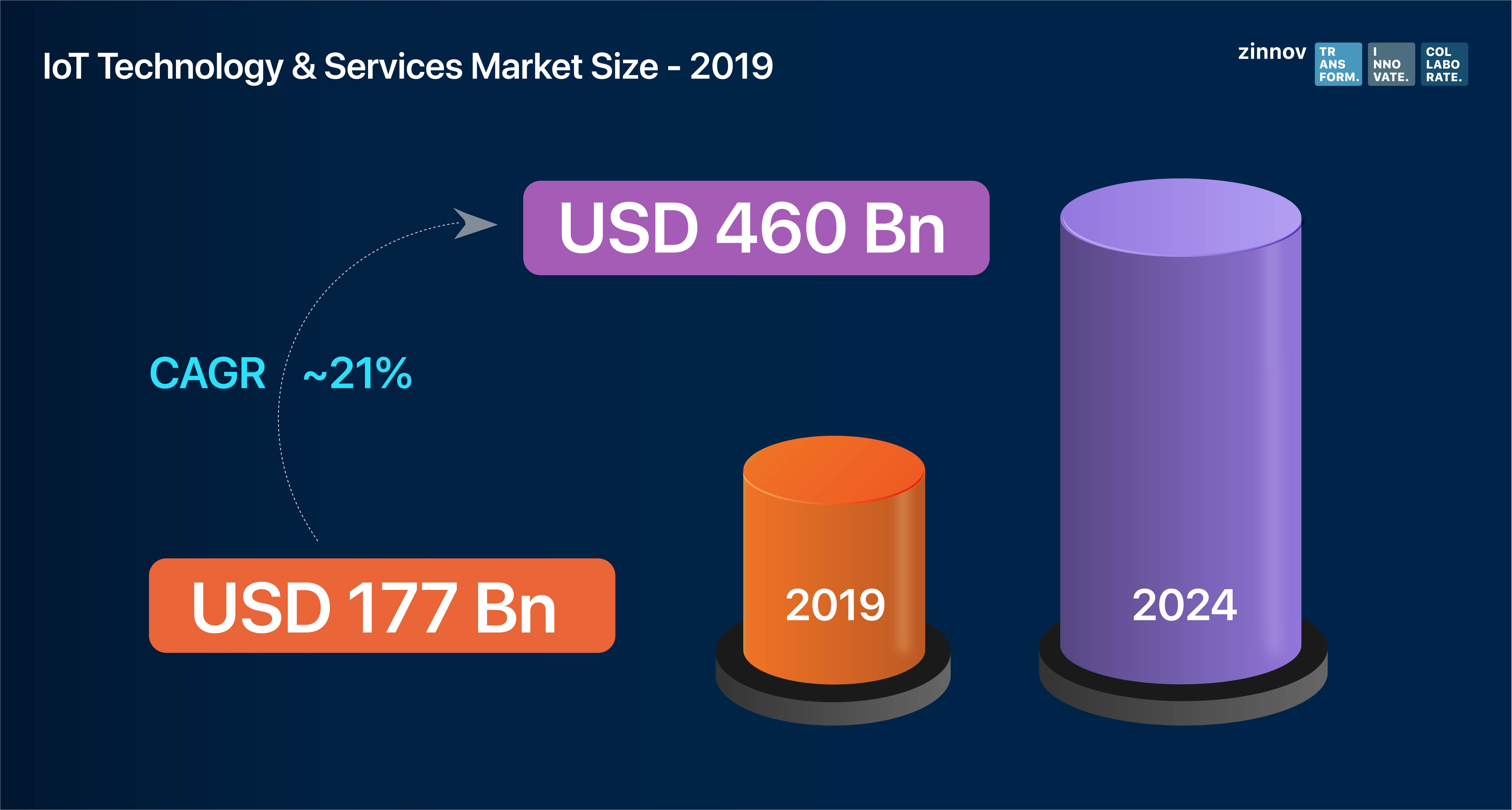 IOT was a focus at CES 2020, but the products were mostly improved versions of ones already in existence. From smart beds that control the mattress temperature, hardness/softness of the mattress, and track circadian analytics, to smart clothing that monitors sleep and activity levels, to hearing tech that offers feedback cancellation and noise reduction, IOT was ubiquitous. Wearables were a big focus for IOT products. From smartbands that never require charging to connected toothbrushes that analyze brushing in real-time, to accessible tech products for the blind with smart sensors, companies have upped their game in leveraging IOT in digital health.
As more and more homes and cities become connected and smart in the near future, companies will build products that align with that scenario. Further, with the introduction of 5G, the IOT market is expected to witness a surge in the introduction of devices that will be equipped to handle the faster speeds, low latency, and higher reliability of 5G.
5G was the buzzword at CES 2019 – but all it did was all talk and no work. But at CES 2020, 5G opened up a discussion over how the technology will affect the healthcare industry in particular. The general consensus at CES 2020 was that 5G will stimulate a plethora of changes in the healthcare sector, including but not limited to education and training, remote robotic surgery, cognitive behavioral therapy, and medical record management.
5G's ultra-reliability and low latency capability could revolutionize healthcare by improving telemedicine, providing physical therapy through augmented reality, supporting virtual connectivity with medical machines, and enabling precision surgery. Further, hospitals can monitor patients through sensor networks remotely and physicians can prescribe smart pills as well as track patient compliance. 5G, combined with voice technology, will be an effective tool in patient monitoring, especially in chronic disease management.
However, is this all that 5G will bring forth across the healthcare value chain? What about remote, real-time patient monitoring, remote procedures, access to relevant patient files and images, etc.? Even though 5G has been deployed and adopted in a few hospitals, the full potential of this path-breaking technology will come to fruition only when innovative devices and products are available to leverage the technology, regardless of vertical.
How Service Providers can Capitalize on these Trends
While these trends in the healthcare space are important, how can Service Providers (SPs) capitalize on these trends?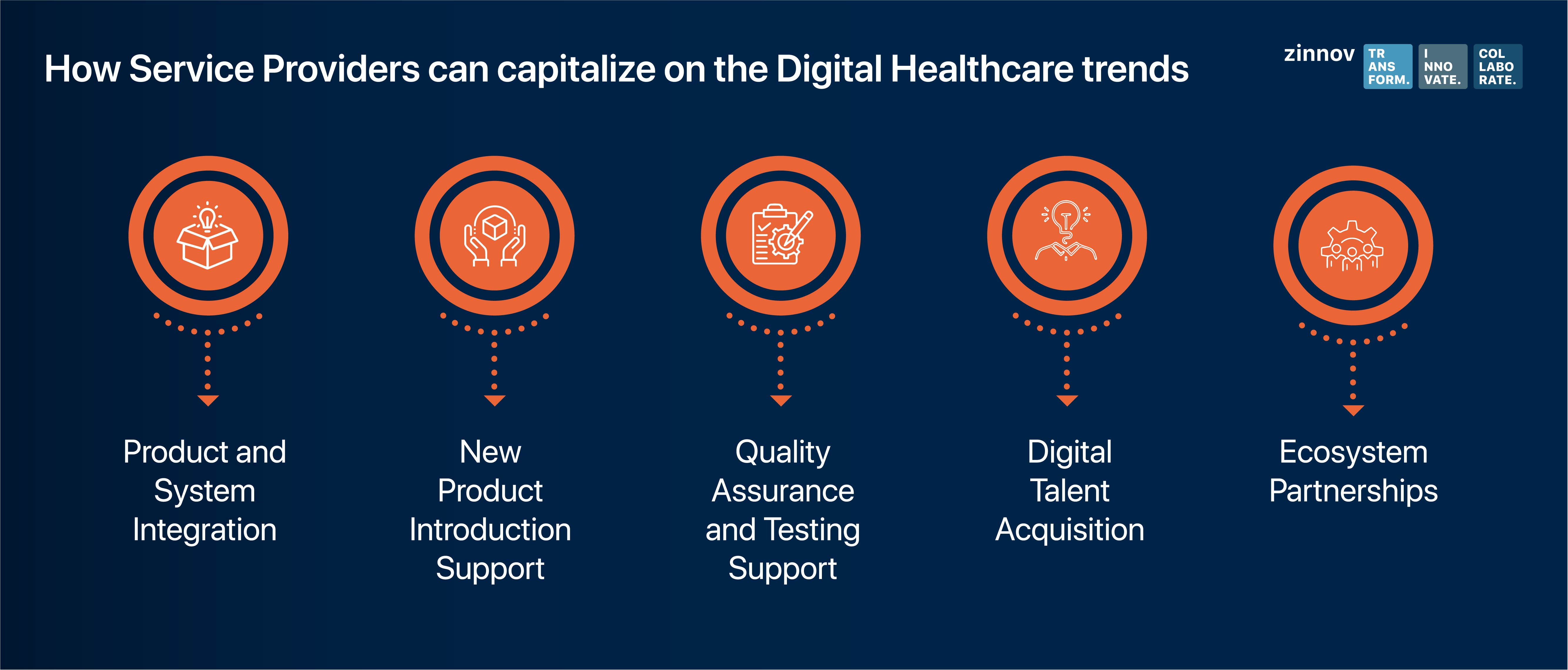 1. Product and System Integration:
Given the razor-sharp focus on new-age digital technologies and the interconnectedness that exists between them, medical devices companies need to put in concerted efforts in developing smarter and better products. This is where Service Providers can play a significant role – integration of AI, voice assistants, Edge Computing, 5G-compatible upgrades to existing devices, etc., will be a massive opportunity for SPs.
End-to-end integration of healthcare use cases from sensors to cloud to application across technologies will be the need of the hour. Service Providers who have taken up system integration projects, are technology-agnostic, have experience working across systems and vendors, and possess digital talent with experience working with a diverse set of technologies will have an edge over their peers.
2. New Product Introduction Support:
Most SPs have shown their readiness to be nimble and flexible to support healthcare providers in validating new concepts, products, and solutions. To keep up the momentum, SPs need to invest time and money to work alongside healthcare providers in building next-gen solutions. With their experience and capabilities across digital technologies such as Cloud Computing, Big Data and Analytics, Networks and Wearable Devices, AI, etc., they can assist in the quick validation of products/solutions, by following a fail fast, fail cheap agile methodology.
3. Quality Assurance and Testing Support:
Healthcare is a sector with stringent regulations. Digitalization in healthcare has opened up many opportunities, benefits, possibilities for Service Providers. However, due to the regulatory aspect inherent across the healthcare spectrum, the products/services need to deliver accuracy and precision, which is only possible with robust testing and quality assurance. Comprehensive testing in the healthcare sector across the value chain is an opportunity that SPs can capitalize on. Here are a few cases where testing will be of paramount importance across healthcare, where SPs can help:
Interoperability: As more and more devices and wearables become smarter, interoperability amongst them will become a necessity. Testing for interoperability between the various medical devices, wearables, and applications for the numerous use cases therein, will be a huge opportunity for SPs. This not only ensures compliance issues but also provides an enhanced user experience.
Software validation: Hospital applications that generate test/consultation reports, patient history, medicine dosage information, etc., need to be functional at all points in time to deliver the required service accurately. This is where software testing and validation is necessary. Going a step further, quality assurance ensures that the application covers a comprehensive set of scenarios to deliver excellent user experience.
Application security: Healthcare applications deal with sensitive patient data, whose breach could leave the healthcare provider liable and non-compliant. Hence, rigorous security testing needs to be a part of all healthcare applications, with proper validation, user authentication, testing against firewalls, data encryption, etc., in place. Healthcare providers need to partner with niche SPs to ensure the security of their applications.
4. Digital Talent Acquisition:
Given that talent is central to new product development, SPs need robust talent acquisition and reskilling/upskilling strategies. Also, with new technologies, newer job roles are emerging as well, which should be a key focus for Service Provider companies as well. Well-thought-out, niche, and targeted reskilling programs to retrain the existing talent as well as leveraging unconventional talent acquisition strategies will be a winning combination that SPs need to focus on.
Partnering with new-age healthcare devices start-ups, technology universities, and independent research labs that are working on bleeding-edge technologies will be another key element for SPs to focus on. Such partnerships will not only allow SPs to keep an ear to the ground on the latest goings-on but also help gain newer perspectives and an accelerated way to innovate.
At CES 2020, emerging technology trends and opportunities therein were aplenty. However, to gain competitive advantage, Service Providers need to focus on building and acquiring the right capabilities, form meaningful partnerships with ecosystem players, and have a clear vision and strategy to differentiate themselves in an overcrowded space.
How can Service Providers measure the ROI on their innovation investments? Will ecosystem partnerships accelerate the SPs' innovation journey? Write to us at
info@zinnov.com
to know where to focus your investments.