What do BMW, Volkswagen, Boeing, and construction giant Skanska have in common? They are all leveraging Unity's creator tools to build their enterprise metaverse.
The term 'Metaverse' is being tossed around often, especially as an evolution of social platforms. Gaming is becoming a type of consumed media, and has shown a high possibility of monetization. The 'Metaverse' will soon be a flexible platform capable of being deployed, used to create, and share content seamlessly across multiple devices; phones, headsets, or desktop computers.
It models an idea of a multi-platform digital world – an extension of the Internet as we know it today.
Zinnov has been tracking Unity's success and growth in the past few years, and how it has become one of the largest community-driven 3D developer platforms with over 4 Bn downloads. But how significant is the company in today's Metaverse race?
The Rise Of The Meta-prise
How Enterprises Are Leveraging The Metaverse For Growth
Download the POV
The Enterprise Metaverse
From an enterprise perspective, the Metaverse is a significant technological shift – it means more interconnected virtual experiences. Some strategies for an enterprise in the Metaverse can be to bring people together for work, or create digital twins which can become the foundation of business strategy and planning. 'What if' scenarios can be addressed in the digital world, through visual insights generated through AI, Digital Twins, and reality technologies. Predictive models have the power to make critical business decisions. Real-world factories and business units in the physical environment can be structured based on data and insights gathered from digital simulations. This shows that the value of the Metaverse can lie not only with consumers but in business applications; whether through digital twins to make better and more accurate decisions, virtual meetings and training sessions, or building new product design capabilities.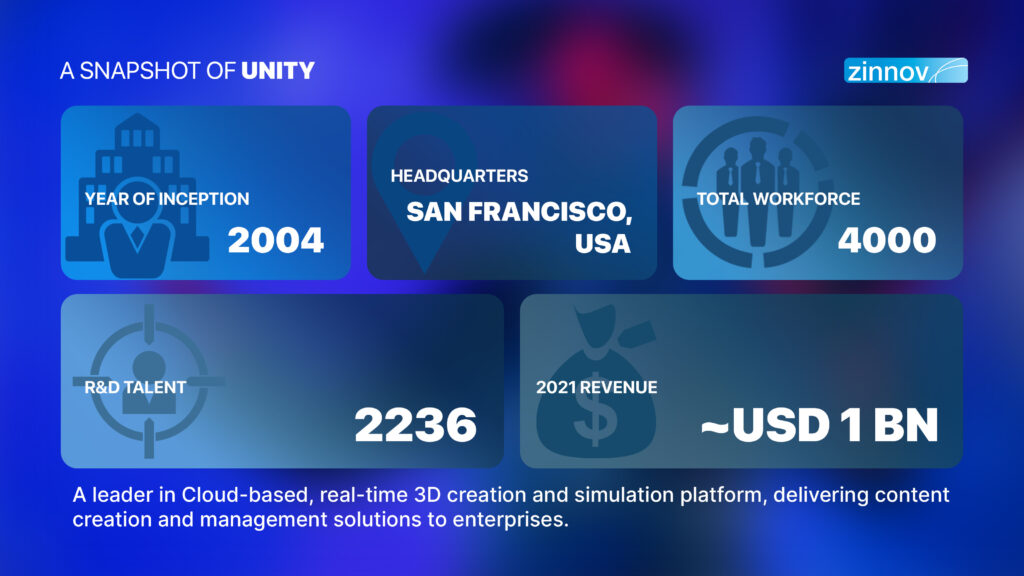 Unity and its Business Model
Founded in 2004, Unity started as a gaming company called Over the Edge. The company came into prominence once it identified a prime opportunity. It targeted sales of their game engine and design tools which were used to create Unity's first-ever game to small customers. This move created a niche for Unity, allowing creators to access their own game development tools and libraries. Unity then embedded a monetization tool for creators, becoming an end-to-end creator-focused platform over time.
Unity built its key strengths around mobile gaming. Its business model comprises two segments:
1) Create, where content creators use the Unity platform to create 2D and 3D content. The revenue from Create is generated through subscriptions from their design and work flow tools.
2) Operate which offers customers the ability to monetize their creations. Unity uses a revenue share model and pay-for-usage model to earn from this segment.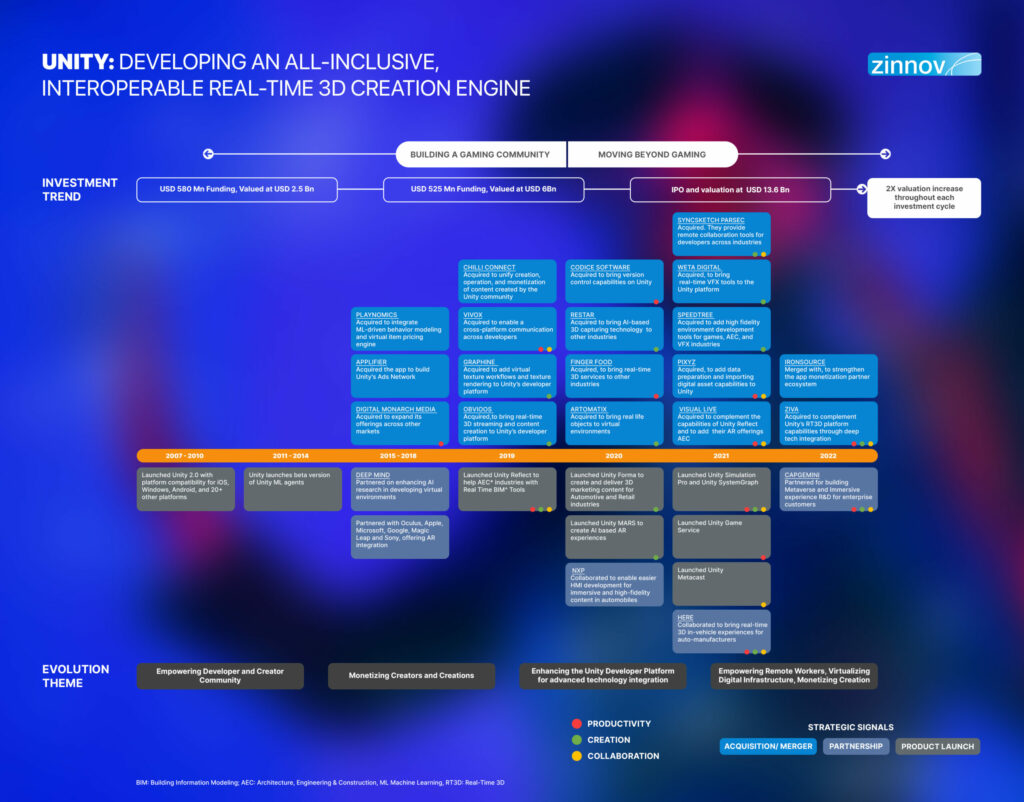 Decrypting Unity's Metaverse Strategy
Unity put in place a heterogenous mix of non-organic and organic strategies to position itself as a go-to real-time 3D creation and simulation leader. The two key elements which were important to this growth were:
• Building a dedicated creator community for 3D content:
Since its inception, Unity has empowered creators and their creations. Their business model of Create and Operate are closely linked. Offerings of Create are the main drivers to hire Operate services. Since 2018, Unity's primary agenda has been to power the Unity Developer ecosystem by offering products that streamline 3D workflows, manage multiple 3D assets, and optimize design and simulation processes through advanced analytics. Their acquisition of DeltaDNA, Chillconnect, Artomatix, Codice Software, etc., between 2019 and 2020 was key to fulfilling this vision.
Talk to Our Experts
To discover how you can leapfrog your growth journey
Contact Us
• Building a future beyond games:
As Unity grew in numbers, it was perceived solely as a video game company. To move beyond this image, in 2016, the company started forming strategic alliances with ISVs that catered to industrial uses of 3D content and incorporated their creator community into Unity's developer platform. These included a partnership with PTC (2016) and Autodesk (2018), which at the time were two of the most used designing software by industrial customers. With the acquisition of Digital Media Monarch in 2018, Unity introduced industry-specific solutions with Media and Entertainment companies. The move was critical because by 2019, most of the top 10 Architecture, Engineering design, and Automotive companies were using Unity to design prototypes or Marketing and Sales content.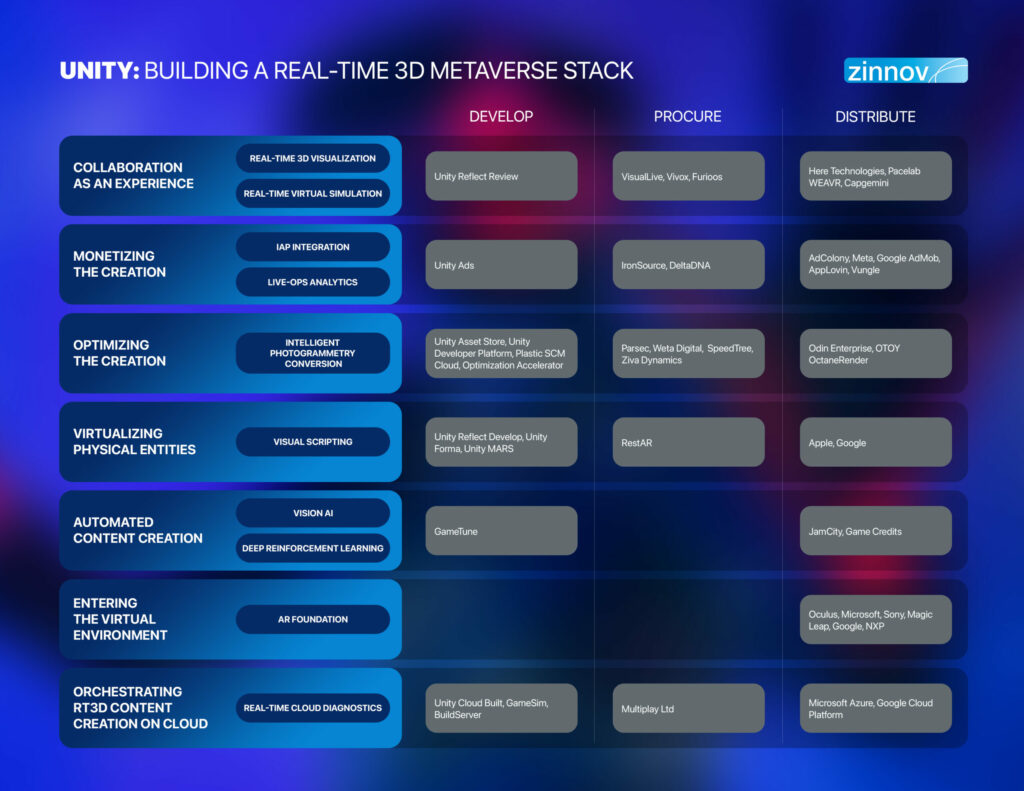 Unity's Blueprint of the Metaverse Stack
Though principally a developer tool for 3D content creation, monetization, and optimization, Unity has grown significantly in the Metaverse domain. A major contributor to this growth has been their acquisition strategy. Unity acquired over 20 startups to their business model for more than USD 2.5 Bn. These acquisitions not only helped them develop a modern stack to develop virtual platforms but also helped them integrate evolving technologies such as AI/ML, Datafication, Intelligent photogrammetry, and AR/VR/MR into their eponymous game engine. Based on our research, Unity greatly influences the top four layers of Metaverse whereas they maintain a robust strategic partnership with tech companies and startups to power the bottom layer of Metaverse applications.
Experience Layer:
In spite of Unity being a big developer platform; their products, such as Reflect Review (launched in 2019) or VisualLive are offered as Digital Twin experience platforms. To achieve a creator platform status, Unity has made a conscious effort to provide better experiences to creators and end users.
The new acquisition a bunch of companies allowed them to add new capabilities and enter new industries
As more companies turn to the immersive experience, Unity is constantly upgrading its Reflect platform to offer immersive and expressive interaction among AEC creator communities. The addition of VisualLive in 2021 further increased their abilities to provide a unified platform to collaborate and interact in a Metaverse environment. With its latest tech demo, 'Lion' Unity has highlighted how its acquisition has enriched its existing platform with immersive, interactivity, and engagement.
Discovery Layer:
During the earlier growth phase, Unity Technologies majorly focused on catering to the enormous demand for game development through its eponymous engine. In 2014, their acquisition of Applifier allowed them to generate more revenue streams. Unity integrated Applifier's mobile video ad network and GameAds to the Unity Platform to introduce Unity Ads. Through Unity Ads, virtual content creators can monetize their creations from the day it becomes live. The addition of Playnomics, Chilliconnect, and DeltaDNA helped Unity build its capabilities in monetizing creations. The acquisitions helped Unity create an interconnected platform to create, operate and monetize content created by the Unity Community.
Creator Layer:
Unity's capabilities stand out and make it a clear leader in the Metaverse space with their creator stack. The company offers a suite of products to streamline 3D real-time workflows, optimize design processes and improve productivity among creator communities. Unity also offers its Asset Store, which earns ~10% of the company's revenue. The store is a separate marketplace for independent creators to own, market, and distribute their digital assets. In Q2 2021, Unity acquired Pixyz and SpeedTree to strengthen its dominance. This acquisition allowed creators 3D data preparation and optimization functions. It enhanced artists' capabilities, author workflows and allowed for environment creation capabilities. Their acquisition of SyncSketch, Weta, and Parsec helped the community remotely collaborate, share and gaming and other virtual content in real-time environments. The acquisitions made them a Creator Economy leader. Unity's end-to-end solutions for creators to design, operate, manage, and orchestrate their 3D creation across 25+ platforms is establishing the company as a one-stop destination for Metaverse related technology.
Spatial Computing Layer:
As the Metaverse evolves, only a few organizations can deliver the required technology to increase its maturity. At the core of Metaverse creation lies 3D, AR/VR/MR, and Geospatial Mapping. Most of these offerings are provided by the tech giants such as Google with ARCore, Amazon with Lumberyard, Apple ARKit, Meta's SparkAR, and Microsoft with id Core Engine. However, Unity is still unmatched in terms of the depth of its offering. It is a simple yet sophisticated game engine that offers a robust and interoperable means to create a real-time 3D environment, and helps orchestrate content created on its Developer Platform. The addition of RestAR and Artomatrix added new functionalities to build content in AR/MR/XR environments. The acquisition spree of 2021 which included SpeedTree, Weta Digital and Ziva Dynamics added intelligent photogrammetry, computer vision and cognitive AI capabilities to the game engine.
The Way Forward
Unity has a strong foothold in the Gaming and Entertainment sectors but their limited experience in addressing other markets could hamper their growth. With the arrival of the Metaverse, there is a new way for the creator economy to blossom, particularly with crypto-integrations and decentralized platforms creating a way for creators to make money. The market for interactive real-time 3D/2D content in industries beyond gaming is still nascent, and creators will play a crucial role in pushing this technology further. In the future, we might likely face an active, profitable vertical of the creator economy, and Unity could position themselves to be a leader for the next 10 years of developments to come. We believe there are specific prospects that it can undertake to accelerate their Metaverse journey:
Acqui-hiring technical capabilities:
Acquiring talent and product capabilities through mergers and takeovers can be a new capability to add. Unity recently highlighted this strategy through the acquisition of Weta Digital. The investment illustrates their vision of empowering creators with end-to-end content creation and monetization solutions, in addition to adding in house talent in Unity that is capable of building solutions out of new technologies such as AI/ ML, Blockchain, and AR/VR.
Startup investments to scale vertical-clouds:
While Metaverse-related investments have grown significantly, with all major players investing in Start-ups building the Metaverse, Unity has so far restrained itself from such commitments. Unity has been purely focused on providing a complete set of solutions for all creator needs. Unity's revenue share outside gaming increased from 33% in the Q4 of 2021 to 40% in Q1 2022, showing software has a broader use outside of video games. Channelizing investments to build vertical-market clouds will allow Unity to attract customers who want to explore opportunities within the Metaverse ecosystem without worrying about the underlying infrastructure.
Filtering the Excellence Centers scope:
The Metaverse use cases in industrial organizations are still limited to core process innovation companies. However, as many organizations embrace the technology with naivety, Unity should utilize its industry know-how in real-time 3D content creation, to offer an industry-specific solution. Their partnerships with Tech-Mahindra and Tata Elxsi offer the breadth required to fuel innovation across industries building digital twins. Furthering their excellence through collaborations with public sector educators will help them build a talent community who can utilize and deliver Metaverse-centric solutions for future needs.
To build a digital transformation strategy for your enterprise, reach out to us at info@zinnov.com
---