From spending countless hours arranging tiles in Tetris to being locked in battle on Call of Duty, gaming has come a long way over the years. Once a harmless pastime for masses, has now become quite the rage, with sounds of gameplay ricocheting in millions of households around the world, well into the wee hours of the morning. With the average person investing more time (over 8 hours a week) and money on gaming than ever before, it has grown into a mainstream entertainment medium like no other.
From mall arcades to mobiles, the way games are played has drastically transformed. From grandparents 'crushing candies' on their smartphones to toddlers spending long hours on the uber-popular Angry Birds, to young adults immersed in the virtual worlds of Fortnite and Minecraft, one-third of the world's population is now engaged in electronic gaming (e-Gaming). Tapping into the new hyper-casual gaming genre, women are also chipping in for 48% of global mobile gaming enthusiasts1. With more people hopping on the e-Gaming bandwagon, the space is set to skyrocket to a USD 200 Billion market by 2023.
The ongoing pandemic has also been a fillip to the e-Gaming space, with people with no prior experience in gaming, socializing with ease in the interactive world of e-Games. In fact, e-Gaming is rapidly emerging as the next big social media platform, with gamers from every corner of the globe able to chat with other gamers or flaunt their gaming skills live. Bringing people together from all walks of life, e-Gaming is now more popular than the global box office and music businesses combined.
Digital Trends Revolutionizing e-Gaming
Enterprises are expending record amounts on e-Gaming, eclipsing spend trends in previous years. Led by Unity which spent over 50% of its revenues on Research and Development in 2020, gaming superpowers are determined to transform the face of e-Gaming by democratizing game development and enabling the creation of rich, immersive content. Zinnov believes that key technology trends will drive additional sweeping changes across the segment.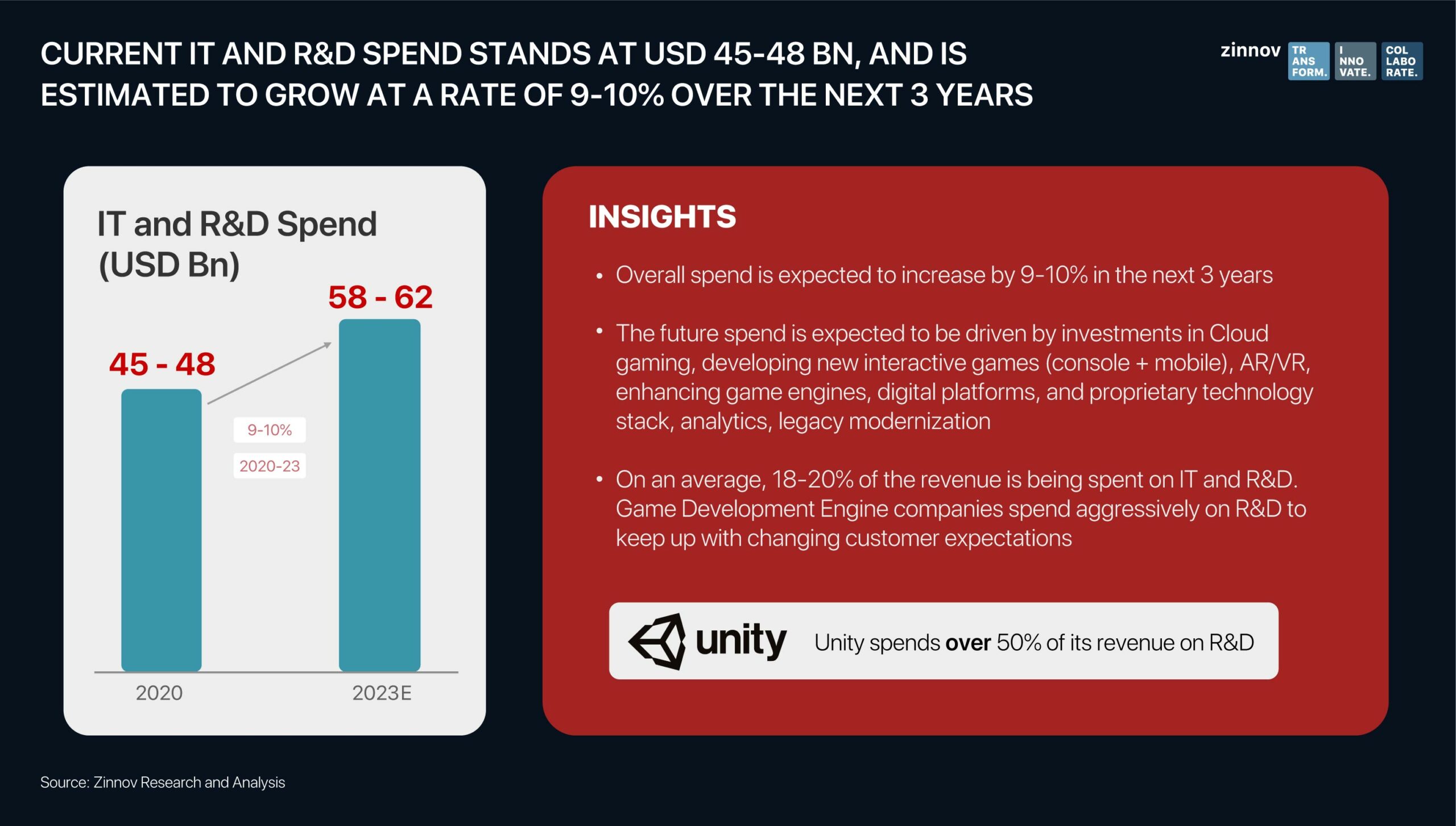 1. Mobile Gaming: The Catalyst for e-Gaming
The age of long-haul social distancing has jumpstarted a renaissance in mobile gaming. Obsessed with playing shooters, or spending hours in the virtual world of Minecraft, AAA gaming experiences are in our pockets 24×7. Catchphrases such as 'There is an imposter Among Us' and 'Its-a me, Mario' are now part of the lexicon among casual gamers. As masses flocked to mobile gaming, a clutch of studios such as Activision Blizzard and Take Two enjoyed a windfall. Availability of 5G and 4K screens, paired with the aftereffects of the pandemic have driven other listed groups to make big splashes on AAA game titles on mobile. With 2.2 Bn gaming enthusiasts generating over USD 70 Bn in revenue in 2020 alone, 'Mobile is where the future of gaming lies,' according to Konami CEO Hideki Hayakawa.
2. Augmented Reality: Breaking the Boundaries of Realism
Augmented Reality (AR) is the next big thing in gaming. Once a tale in a fantastical sci-fi novel, smartphones and AR gear are breaking boundaries between reality and surrealism. Enterprises led by Niantic have begun invading the e-Gaming space with AR applications such as Pokémon GO, where 800 Mn players travel to virtual PokeStops to add to their Pokémon collection. Harry Potter fans are now casting powerful spells with the flick of a finger in the immersive land of Hogwarts through Harry Potter: Wizards Unite.
Seeking escapism from the shackles of COVID reality, the demand for AR/Virtual Reality (VR) gaming is skyrocketing, with the market estimated to reach a staggering USD 15 Bn by 2026. Traditional incumbents such as Sony and Electronic Arts splurged on AR gaming titles and enjoyed share price rises of over 20 percent in 2020. However, tech giants Amazon, Facebook, and Google are riding this growth wave and gambling in frothier spaces such as AR platforms and game engines.
3. Cloud: Gaming on the Go
Soon, gone will be the days when we drive down to our favorite game store to purchase the latest gaming releases. As we enjoy our final days with DVDs, gaming is moving to the Cloud. Unlocking a world where gamers can pick up where they left off on AAA titles like Call of Duty or Counter-Strike, Cloud is transforming the face of e-Gaming as we know it.
Backed by readily available high-speed Internet in a 5G world, we believe that the Cloud gaming market will boom by a whopping 29% over the next 3 years2. Hundreds of enterprises are now rolling out AAA game titles as on-demand streaming services, making Cloud gaming the new Netflix for gamers. With millions of players subscribing to the allure of gaming platforms such as Microsoft xCloud, Google's Stadia, or Apple Arcade, we could soon witness the death of the console.
4. 5G: Taking Game Viewership to the Next Level
Over 23 Mn people came together to watch the most anticipated sporting event of 2020. China ousted Germany 3-0 in a one-sided final to lift their second League of Legends World Championship. Garnering three times the viewers as the 2020 NBA finals, the championship has now scored sponsorships from NBA's own apparel partner, Nike. Soon to be 'bigger than soccer' and 'inevitably be part of the Olympic Games sooner or later' according to Logitech CEO, Bracken Darrell, e-Sports is emerging as the fastest growing sport.
As we live in an age of high-speed Internet, 5G is driving the shift from traditional sports to e-Sports. From millennials viewing Counter-Strike over broadcast sports to hashtags like #gamersonTiktok taking mainstream by storm, to influencers pursuing seven-figure incomes for streaming on Twitch, e-Sports is an emerging cultural phenomenon. Expected to skyrocket to a USD 3 Bn market by 20233, universities are in hot pursuit of the next Pro-Gaming star, offering degree programs and full-ride scholarships in e-Sports.
5. Blockchain: Revolutionizing Monetization Models
Spending isolation by mastering betting skills in Zynga casinos, or entering the 100th hour of opening packs on FIFA Mobile, gamers are banking on in-game coins to make bets or purchase new players. However, with devious phishing scams plaguing the free-to-play gaming world, it is in its most vulnerable state yet. With safety and security concerns dogging its heels, gaming could be headed towards the end of money as we know it.
Instilling a transparent and immutable economy to Free-to-Play (F2P), Blockchain is redefining the gaming sector. Innovators in the space, Atari and Enjin, are bringing Crypto-coins and Non-Fungible Tokens (NFTs) to the masses to keep cyber-attacks at bay. Enabling F2P gamers to purchase digital assets such as avatars in Cryptokitties and virtual cards to complete missions in trading-hard-games such as Spell of Genesis and Gods Unchained, Blockchain is already at the heart of the digital gaming era.
Way Forward for Enterprises – Staying 'Battle Ready'
The Times, They Are A-Changin' in the e-Gaming space. Drawn to the thrill of rich experiences, more players and eyeballs are fixed on smartphones and plug-and-play consoles than ever before. As traditional and non-traditional firms (Facebook, Google, Apple) take their best shot at winning pole position in the competitive world of e-Gaming, we expect the following trends to further gain traction in the coming years:
Mobile Gaming and Cloud Gaming sectors will see progressive growth.
As Cloud looms large over e-Gaming, incumbents will expand offerings in Games-as-a-Service model.
Accelerated technology convergence will be inevitable as Blockchain and 5G mature.
Multi-player gaming and e-Sports will shape up to be Edge and 5G's ticket into the mainstream.
AR will redefine gaming as demand for immersive experiences continues to explode.
A hotspot for innovation, we forecast digital spend in e-Gaming to only continue increasing in the coming years. Those who do not take strategic measures to capitalize on impending innovation opportunities and make aggressive investments will find themselves left far behind their peers.
1. Source: Facebook Gaming
2. Source: Zinnov Research and Analysis
3. Source: Super League Gaming
To realize the full potential of emerging gaming technologies for your organization by strategically prioritizing key use cases, and to keep abreast of digital trends reshaping the e-Gaming business, drop us a note at info@zinnov.com.