When you think of a spa, a superior customer experience across every touchpoint is not only needed, but is expected. From the point of booking an appointment to the voucher redeemed to the post-spa experience, customers expect exceptional service. And in the current digital era that companies operate in, every traditional business is also a technology business, including a wellness company. Take Mindbody, for example. It is a SaaS-based platform that caters to companies in the wellness industry to drive outcomes for their customers in a seamless manner. The cloud-based platform provides online scheduling and other business management software for companies across the wellness services industry.
Amita Goyal, Principal & Head of GCoE practice, Zinnov, recently spoke to Bhalchandra Namjoshi, Managing Director and Head of India Operations at MINDBODY, to understand how the company outlined its vision for the newly launched Global Center of Excellence in India and how they leveraged digital technologies to enhance customer experience, especially in the wake of COVID-19.
Here is an excerpt from the conversation.

As a marketplace for Wellness, how is MINDBODY handling the increase in demand for Virtual Online services and a decrease in offline services during COVID-19?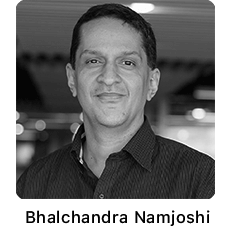 COVID-19 has impacted the wellness industry around the world, especially once the pandemic began to spread like wildfire around mid-March. Overnight, most wellness businesses shut down due to mandatory stay at home orders from governments around the world. As the brick-and-mortar part of our business came to a standstill, we saw a huge surge in demand for "virtual online services." In 2019, only about 7% of our consumers streamed live workouts. However, when COVID-19 hit, this increased dramatically to well over 80%.
The wellness industry quickly adapted to the changing needs and started using a variety of platforms to provide both live streaming and offline video content to the consumers.

How is MINDBODY helping customers with their digital readiness to enhance customer experience?
MINDBODY sees a great opportunity in these times of accelerated digital adoption. We believe that our customers need an integrated platform that allows them to access multiple services seamlessly, to sustainable and scalable business models.
Developed with decades of industry expertise and research, MINDBODY's Virtual Wellness Platform meets the current specific needs of the wellness industry. The platform seamlessly integrates with MINDBODY's turn-key CRM, scheduling, point of sale and e-Commerce capabilities. It also adds an exclusive paywall and secure hosting connection – removing the need for third-party streaming applications such as Zoom. This ensures that the entire experience can be managed and executed from one place. Because of this fluid integration, businesses will now be able to offer hybrid memberships inclusive of both in-studio and virtual offerings.
The Virtual Wellness Platform also allows businesses to leverage the power of the MINDBODY booking platform to reach the millions of wellness enthusiasts using the MINDBODY app and Mindbody.io, engage clients with virtual-specific marketing automation, and set promotions and deals for virtual experiences.

The Virtual Wellness Platform was launched during COVID-19, specifically designed to combat the effects of the pandemic on the business. How did MINDBODY think through the process, manage to design and implement the platform in a short timeframe?
MINDBODY has been working on an integrated video-on-demand product that enables customers to upload pre-recorded sessions and sell virtual face-to-face memberships to their clients. The COVID-19 crisis made this solution more powerful and important, given the lockdown restrictions and stay at home mandates imposed the world over. Originally, we were planning on a Q3 2020 release along with our BOLD conference (in August). But, when the potential magnitude of this crisis became apparent, our development team redoubled their efforts to launch this. Our team accelerated the design and implementation of this platform, with the first release within just 2 weeks by working 7 days a week for more than 12 hours a day. This has been incredibly empowering for the rest of the team. In fact, we saw a multiplier effect with a lot more functionalities being added to our platform in the last few weeks.

How does a platform-led approach help wellness companies drive enhanced customer experience?
Businesses can list and market virtual classes and services on the MINDBODY app and Mindbody.io, which in recent days has seen a 500% increase in virtual classes due in large part to social distancing and shelter in place orders. Recently, a new search filter was added to the MINDBODY app and Mindbody.io to help consumers find and book virtual fitness classes and wellness experiences easily, so they can continue their routines from the comfort of their home.
In addition to the new video product, businesses can leverage all the power of the MINDBODY booking platform to list and promote classes and videos, leverage marketing automation to engage their customer base, and dole out set promotions and deals. We also launched our livestream capabilities last month, which allows the wellness services to function in real-time. What has been amazing to see regarding the adoption of virtual wellness is 40% of consumers we've polled are paying for virtual workouts at businesses they've never visited before.
Hence, we strongly believe that the wellness industry will emerge stronger as we come out of the effects of the pandemic in the next few quarters.

What were the factors instrumental in MINDBODY's decision to expand its footprint globally?
MINDBODY was acquired by Vista Equity Partners in early 2019. This began a new chapter in our growth journey. We decided to strategically leverage globalization to leverage talent, innovation, and access diverse markets. Our India center plays a significant role in our growth strategy because our India operations will be at the heart of our global product development efforts. The team here will be instrumental in enabling the company to develop innovative solutions for the tens of thousands of our customers globally that operate on MINDBODY platform. We have invested in state of the art facilities to support our future growth in hundreds. We have a long-term commitment to India. The COVID-19 crisis has not slowed down any of our India growth plans. In fact, we see the India center as a key enabler in helping us come out of this crisis even stronger.

Amita: What were the factors that compelled MINDBODY to choose India as its location of choice to set up a new global center?
India has been a key location for MINDBODY, where we were engaged with vendors over the last few years. The relationship was more of an augmented team model. In 2019, we decided to strategically invest in India, and thus set up a new center.
We considered several factors including access to the skilled digital talent pool, the opportunities to partner up with large technology vendors, cost optimization, and access to the whole ecosystem including start-ups, and better market opportunities. We always had the vision to set up a center of excellence with an end-to-end responsibility of some of our critical product lines. We want to harness the innovation potential that our India center offers to bring next-generation products to fulfil our local consumer needs.

How strategic is your India center's role in your global operations?
Our India center is just a few months old. However, in this short period, we have built a robust leadership team and the organizational structure to enable future growth. Culture is core to MINDBODY's values. The India center has shown a high level of engagement already. We are focused on building our brand in India and want to provide numerous opportunities for our employees for learning through our internal L&D courses as well as both classroom and virtual courses in the market.
We have 35% of our global R&D HC footprint in India. This will grow substantially in the next 12 to 18 months. The India center owns critical portions of the roadmap items which will be delivered to customers in the next several months. Additionally, we are also making significant headway into ownership of roadmap items from idea to implementation. We are also actively engaging with our external ecosystem; the India team has been participating and winning hackathons in global competitions. We have a standardized operational process with a focus on productivity and increased speed to market.
Although we hit some roadblocks due to COVID-19 in Q2 this year, we are coming out stronger through this crisis. While many organizations have slowed down their hiring, our hiring across levels and functions – Tech Managers, Product Managers, UX Managers/Designers, Solution Architects, React/Ruby/Mobile Developers continues to grow at a steady tempo. Our goal to leverage the India center to create efficiencies and over the course of the next few quarters, we expect to drive next generation value – through Cloud Operations, Data Management, and AI/ML teams, which will be assigned here.
Any business that wants to come out of this pandemic intact will need to explore globalization as a strategy and newer business models to cater to the evolving customer needs. In the new normal, with 'survival of the fittest' transforming into 'survival of the most agile,' businesses need to emulate successful strategies and tailor it according to their needs.
A strong globalization narrative helps mitigate unforeseen crises such as COVID-19. How to set up a Global Center of Excellence remotely, now that air travel is restricted? Write to us at info@zinnov.com to know how Zinnov can help set up a world-class global center – fully remotely.