GCCs are at their inflection point – What will it take to accelerate their maturity?
What are the guiding principles that have enabled India GCCs to not just survive, but mature and thrive during the global pandemic, where others have struggled? We break down the playbook into 7 essential principles.
Over the past decade, we have witnessed the evolution of India Global Capability Centers (GCCs) from solely enabling cost arbitrage to becoming strategic partners and innovation testbeds for parent organizations. However, this evolution has been gradual, with GCCs that own global charters from India accounting for less than 10% of the ecosystem. A majority of GCCs are still playing catch-up, facing multiple key challenges in overcoming the "Midway Trap1" in their growth journey.
As the 'new normal' of working takes center stage, the GCC narrative has shifted back to optimizing cost, increasing productivity, and guaranteeing agile delivery and operations. In addition to extraneous factors such as industry and supply chain disruptions, remote work suitability, etc., coming to the fore due to the pandemic, organizations either declined, survived, or thrived. This has had a trickle-down effect on their GCCs as well, and those that successfully weathered the storm were ones that showcased significant maturity with respect to portfolio ownership or driving strategic initiatives from India.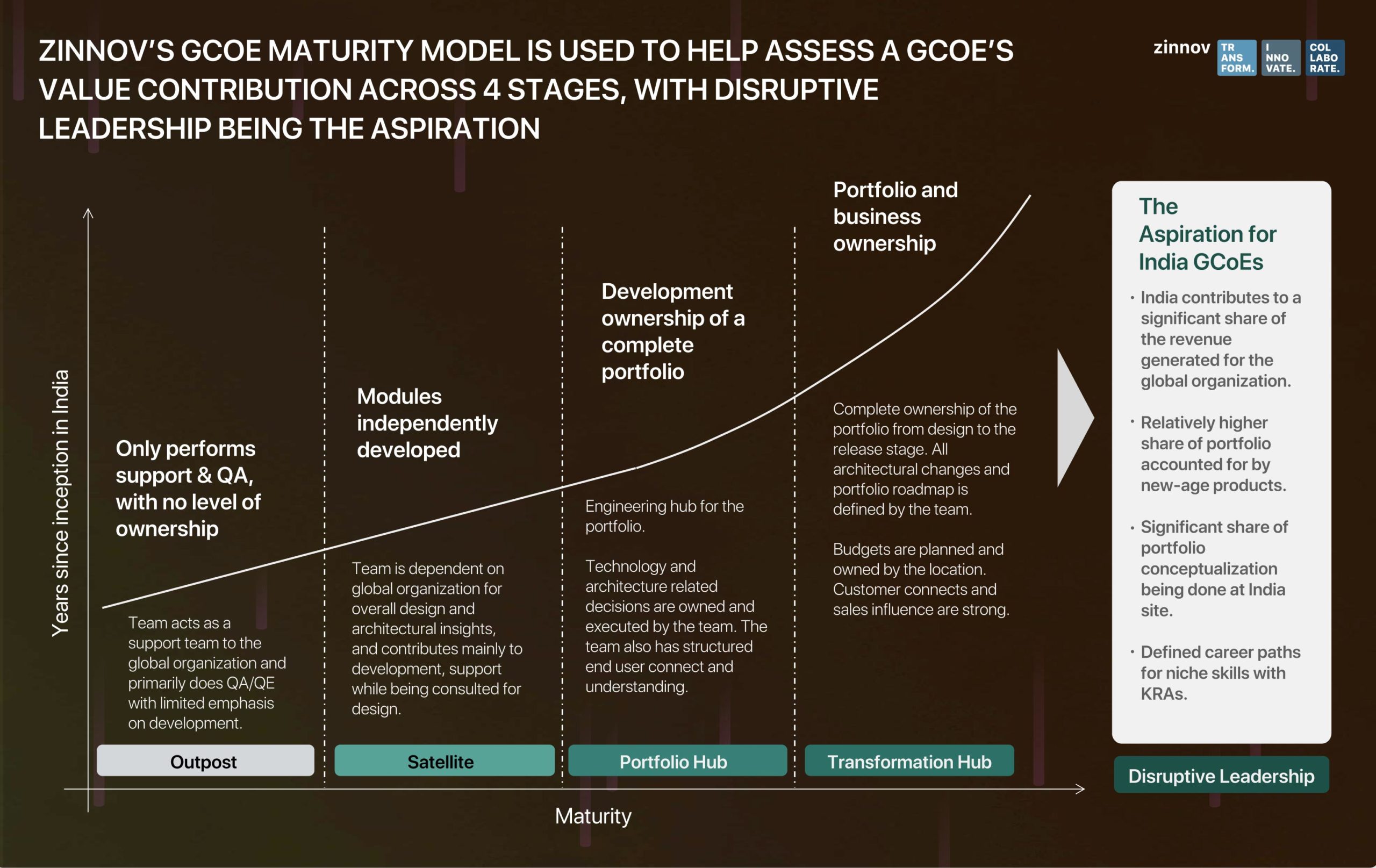 GCCs that were Portfolio or Transformation Hubs remained strategically vital and emerged more resilient than their peers/other offshore locations in the wake of the pandemic. While there is no single magic formula to increase the value addition of a GCC to HQ, our conversations with 200+ India and global leaders highlighted a few key principles that every GCC can adopt to fast-track their maturity journey.
Key Principles for GCCs to boost Maturity in India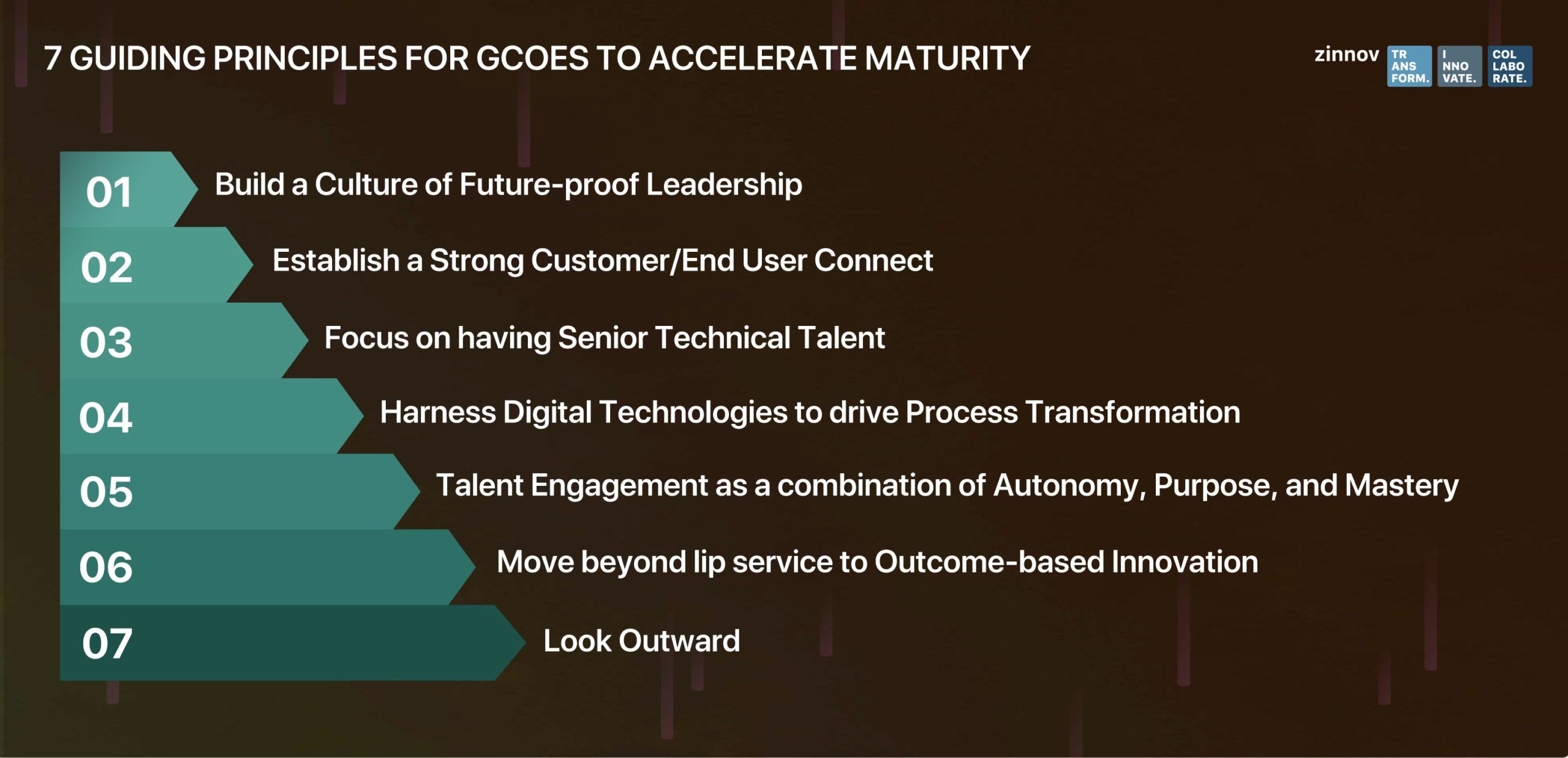 Principle 1: Build a Culture of Intrapreneurial Leadership
In 2020, less than 5% of India GCCs had leaders with influence over global roadmap planning. Surprisingly, this was more due to a lack of initiative and business cases from India rather than an unwillingness from global leaders. Without a display of proactive initiative instilled in the India leadership, GCCs will continue to struggle to gain a seat at the global table. This show of initiative shouldn't be restricted to leadership levels but become a part of the culture of intrapreneurship that can trickle down to all levels of talent at the GCC.
An example is of an Enterprise Storage and Virtualization GCoE that runs an initiative known as BiQ (Business Intelligence Quotient) with multiple tracks, based on the competencies that need to be addressed in the organization. The broad goal is to help augment knowledge with business insights to raise intrapreneurial mindset and bring in a system of ongoing education through empirical learning. The program also includes conversations with customers and partners providing business talks and meaningful interactions on a regular basis.
Principle 2: Establish a strong Customer/End User Connect
India GCCs suffer from a lack of customer or end user context, inherently due to lack of geographic proximity to customers. This weak interlock between customers and sales vis-à-vis engineering teams limits how development teams understand business realities, and subsequently, develop products and features that cater to addressing customer pain points. Only a small percentage of successful GCCs have structured mechanisms such as access to data, shadowing customer conversations, 'Follow Me Home' programs, etc., to overcome the geographic constraints. Additionally, less than half of the GCCs have structured programs in place to establish customer understanding for their teams, and over 60% of GCCs have identified this as a key focus area in the next 2-3 years.
Setting up "Customer Experience Centers" and/or creating "Customer Advocacy Programs" is an industry best practice followed by a few mature enterprise software players, especially when creating localized Product Management teams might not be feasible. "Advocates" from the India Engineering team are chosen to work on account management along with a global Sales team, creating an entire parallel channel for understanding customers' usage patterns as well as expectations from the product. It is a highly aspirational role for high performers, and the insights that they can share with the Engineering team brings in deep customer empathy across India teams.
Principle 3: Focus on having Senior Technical Talent
Lack of technical depth and expertise amongst teams is another major roadblock for GCCs to accelerate their maturity journey. Only one in every three GCCs has a presence of any architectural capabilities showcased from India. Similarly, 95%+ IT GCCs rely on other global locations for enterprise-level architectural requirements, and more than 50% of global CXOs interviewed, stated that this is one of the key reasons for not transitioning complete product development to India.
GCCs must create and institutionalize technical career paths with clearly defined designations, KRAs, learning & development plans, and compensation structures to develop senior architect and design capabilities from India. This makes development of technical talent a structured initiative by the GCC, rather than an ad-hoc and a reactive effort.
A leading IT GCoE that has created a local Technical Architect Forum to influence architectural decisions from India, is a case in point. By partnering with senior mentors at the HQ to discuss and deliberate on key technical decisions, the India team has taken deliberate steps to build in-house technical capability and gain global support.
Principle 4: Harness Digital Technologies to drive Process Transformation
The focus on automation and digitalization of engineering and business processes within companies has increased in the wake of COVID-19. Mature organizations are driving these key initiatives with the help of local delivery teams, which helps them gain global confidence and showcase tangible value to HQ.
Leading software product GCoEs are leading by example and have transformed their global procurement operations function from India by incorporating RPA into their process. They have automated specific activities within the procurement process, completely driven from India. Currently, ~35-40% of the orders are processed successfully through multiple bots, which helped their procurement operations team to handle ~30% increase in volume without an additional resource.
Principle 5: Talent Engagement – as a Combination of Autonomy, Purpose, and Mastery
Global leaders openly highlight high attrition as the biggest roadblock to investing in India's scalability. Although voluntary attrition rates declined by 4% in 2020 due to the global pandemic, it is expected to be short-lived. The Indian GCC ecosystem has always suffered from notoriously high attrition rates as compared to other global offshore locations – averaging at ~12.7% (voluntary attrition) over the last 6 years. This is further exacerbated by the cutthroat competition for skilled technical talent by Tech Giants such as Google and Microsoft, as well as the country's thriving start-up ecosystem.
The need for attractive employee benefits, R&R programs, and development/upskilling opportunities for technical talent has become table stakes to retain top talent. According to Daniel Pink, bestselling American author and behavioral scientist, productivity is based on three key elements – the 'Motivation Trifecta2' – Autonomy, Mastery, and Purpose. Studies have proven that in situations where employees are paid fairly, this trifecta drives, engages, and stimulates them to do their best work. Aligning the organization's purpose along with the employee's is the most important aspect of the engagement relationship and needs to form the basis of defining benefits provided to each employee. Beyond that, customization is key.
Most India GCCs are a bit late to the party, with inadequate career pathing and employee engagement at the site-level (especially in a remote setting) causing additional roadblocks. GCCs need to revisit how they are strategizing their engagement programs to see a long-term impact – are they providing employees the experience that will make them continuously deliver their best?
"Shareholders are like food — critical to your survival, but you can go three weeks without food. Customers and partners are like water — you can go three days without liquid. However, employees are like air — three minutes, and you are done." The India Site Head of a leading software & technology GCoE (continuously ranked top 10 as a Great Place to Work since 2016) says these words inspire him at every step in his journey to develop a world-class and employee-first culture to attract, hone, and retain top talent. An example of inculcating Purpose and Autonomy would include the creation of a 'culture of listening' by providing an anonymous portal where employees can share their opinions, grievances, and recommendations directly with senior leadership. In addition, this culture is encouraged during appraisals, reviews, and feedback meetings by the organization. The idea is to convey that the career progression of the individual within the organization is their own responsibility and as a result, they must actively seek out inputs for the same.
A leading healthcare provider (in the Portfolio Hub stage) enables Mastery of skills for its employees by creating a customized career pathing track for technical talent, modeled after a "tree." Heavily integrated with L&D and goal setting, the Technical Career Path (TCP) provides opportunities for ambitious individual contributors to grow along their chosen path ("branch") but pick up technical know-how and skillsets ("leaves") from adjacent branches as per their interest. This helps in accelerating horizontal development of talent, all the while customizing growth to meet employees' respective career aspirations.
Principle 6: Move beyond Lip Service to Outcome-based Innovation
GCCs' narrative has shifted entirely towards creating an agile and disruptive culture, with Breakthrough Innovation as the core focus. While the need for innovation programs is undeniable, hosting quarterly hackathons at the site is just not enough to call oneself an innovation hub. Most GCCs are yet to establish structured value-driven innovation programs that can result in clearly defined quantifiable outcomes. In fact, less than 1% of ER&D GCCs completely own proof-of-concept stage products from India.
A Fortune 500 Consumer Electronics GCoE that has filed more than 2900 patents with an average of 250-300 patents every year, is an archetypal case in point. Ideation workshops, thematic contests, patent clubs, in-house magazine, quizzes on intellectual property are organized to foster a culture of innovation within the GCoE, and the patents are the by-products of that culture. The GCoE also organizes training programs on how to start the process of identifying and building a patent, followed by improving the quality of the patent idea and measuring top-quality patents against global benchmarks and patents filed globally.
Principle 7: Look Outward
India as a hub of low-cost and scalable talent and 'jugaad' innovation along with being the world's largest consumer base, has not left GCCs alone to reap the benefits. There is a thriving ecosystem of technology start-ups, academia, and Service Providers – whose players have grown to compete with world-class R&D in global markets. There is significant untapped potential for GCCs to co-innovate across multiple models and leverage India's unique position as the new Silicon Valley. Currently, less than 30% of India GCCs have outcome-driven engagements with start-ups (co-creation, acqui-hiring, accelerator programs, etc.), and less than 60% are collaborating with universities with intentions beyond hiring (research work/IP creation, training labs, curriculum design, etc.).
To tackle an existing capability gap amidst India's technical talent, a leading Semiconductor GCoE developed a course specifically on RFID technology for Symbiosis Centre for Management and Human Resource Development (SCMHRD). The module includes case studies, basic aspects of RFID technology, and a project on executing an RFID use-case. Students undergo 30 hours of classroom training followed by hands-on experience on a business project in one of the identified target markets, and finally, a presentation to a panel of experts. A first-ever initiative, the course is aimed at exposing students to applications of RFID technology, creating competence in architecting specific business solutions, and thereby creating a ready pipeline of employable talent.
What Next – Redefining the Post-pandemic Role for GCCs
Currently, the perfect storm is brewing in the technology ecosystem. Remote working has successfully transcended geographical boundaries and proven what a globalized workforce really is, and the 'new normal' has been a catalyst to accelerate technology-driven innovation. GCCs now have an incredible opportunity to 'rally their troops' and further hone them to be 'battle-ready' to drive ownership of increased quantity and quality of work along with continuing to leverage cost arbitrage from India. It is imperative for GCCs to assess and accelerate the maturity of their India centers, and become indispensable to the parent organization, more so now than ever before.
Wondering how your India GCC can catapult across the maturity stages? Connect with us at
info@zinnov.com
to understand best-in-class/peer benchmarks across products, processes, people, and partnerships, and know what it takes to shift from Cost Savings and Value Addition to
impactful Value Creation
from India.