Your doorbell rings, and you open the door to see a drone hovering outside, with your package from Amazon!
5 years ago, Jeff Bezos, CEO, Amazon, unveiled his ambitious vision of making product delivery through drones, mainstream. However, Amazon's drone delivery project, Prime Air, faced a major challenge due to strict regulations of the US Federal Aviation Authority on flying drones out of a pilot's line of sight. Hence,
It set up and scaled its R&D center in Cambridge, UK, where the regulations for drone flight testing and operations were flexible, compared to that in the US. Setting up an R&D center also helped Amazon gain access to technology talent at Cambridge University. Amazon also acquired a Cambridge-based start-up Evi, which specialized in speech recognition technology, to augment its current capability.
It opened another development center in Clichy, France, focused on creating traffic management software to support Prime Air. Again, flexible flight testing regulations and support from government propelled this investment.
Amazon chose specific strategic locations across US, UK, Israel, France, and Austria with very particular intent to develop specific capabilities based on the advantages that each location offered. Prime Air is only one of its wide range of products that has been developed by leveraging this globalized model. Globalization and developing mature global centers have been a key go-to strategy for companies for obvious reasons like the hunt for talent and the need for scale. However, the not-so-obvious, but highly critical reasons are:
Strategic Acquisitions
Tax Benefits and Regulatory Advantages
Ecosystem Presence
Infrastructure Availability
Proximity to Service Providers
Proximity to Universities
A prime example here is Qualcomm setting up its center in India due to proximity to Service Providers, with the center eventually scaling its operations. Another would be Amazon setting up a new team in Graz, Austria, to gain access to talented researchers of Technical University of Graz, who run one of the best computer vision engineering programs in the world.
In a nutshell, companies are branching out into different corners of the world for varied reasons, with varied strategies. However, Companies need to be cognizant of the fact that each center brings in a certain value and presents a potential for a certain maturity level. They must plan for each center based on its current maturity and the potential it has to offer. This not only helps in managing the expectations that the HQ will have from the center but also helps in aligning investments for each location, thus creating efficiencies throughout.
ASSESS: Attributes that define a Center
To be able to reap maximum benefits from the centers, each center should have a persona. We believe that there are 8 key attributes that define a center's persona and further helps bucket them into Hub, Satellite, or Outpost.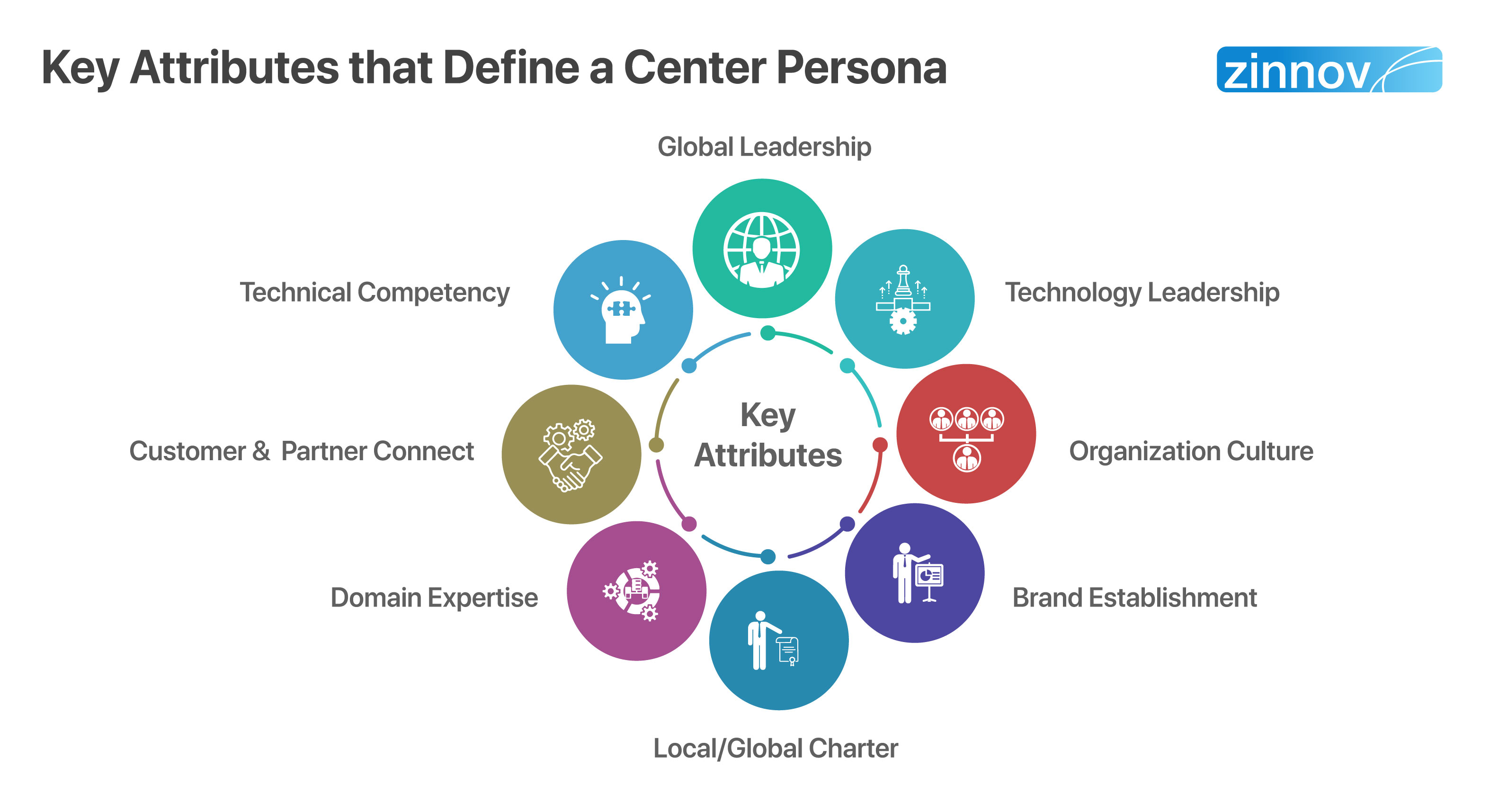 Global Leadership is defined as having highly empowered center leadership roles that drive strategic and transformational initiatives locally and globally. Global leadership extends beyond the center and has a wider impact across the organization. The leadership can drive strategic mandates globally, play a crucial role in product or business-related decision-making, and any other innovation-led decisions such as collaborating with start-ups, running accelerator programs, etc.
Technology Leadership comes when teams and technology leaders at a center are empowered and accountable at all levels to drive a higher degree of product ownership. The team and the leadership should also be technologically competent and have full autonomy to drive innovation or any other product-related programs.
Organizational Culture is defined by a center's understanding of the company's core values and ethos. Even if the center locations are geographically diverse, if a certain set of values forms the ethos of the organization, it should be embodied across locations.
Brand Establishment means that the center must establish the organization's brand as an employer and business partner of choice in its region or location.
Local/Global Charter is driving internal and external initiatives and responsibilities within the region while owning the global charter. A center must find and create a unique local persona and tap into the consequent opportunities.
Domain Expertise is a center's ability to own multiple products and display deep domain expertise in technology, product management, marketing, and other cross-functional areas. It must mark growth areas of the product portfolio and invest in building talent to drive transformation.
Customer and Partner Connect is creating customer understanding and empathy through deeper connects and collaboration within and outside the larger ecosystem.
Technical Competency is to nurture highly competent technical talent and expertise across technology areas to drive future growth.
ALIGN: The Hub-Satellite-Outpost Framework
Companies often build their center strategy based on size and headcount. However, based on Zinnov's multiple successful engagements with Fortune 1000 customers over the last 17 years, we believe that looking at the above-mentioned attributes is critical to identify an organization's Hubs, Satellites, and Outposts.
A Hub is a primary or key location for a company to track new technologies and disruptive business models. It responds to opportunities and threats by undertaking business and product development activities. A hub is primarily characterized by its global leadership and global market charter. A hub has highly empowered center leadership roles that drive strategic and transformational initiatives locally and globally. Other characteristics of a hub include Technology Leadership, Organizational Culture, Brand Establishment, Domain Expertise, and Ecosystem Connects. For e.g., Amazon's Seattle center is a hub, with most of the growth expected to happen here. Hubs also more often drive the key initiatives for the organizations and will have the added responsibility of managing the satellites and outposts in the location to ensure there is sustainable growth and value contribution.
A Satellite is a center that has some key talent and initiatives, and owns products, though maybe not as many as a hub. It is characterized by strong engineering capabilities but limited market/cross-functional roles. Like a hub, a satellite focuses on multiple products with engineering/module leadership; however, it may have product leadership only for a few products. Unlike a hub, a satellite may lack global leadership and global charter; instead, it focuses on local or regional initiatives. It has developing ecosystem connects and is expected to mirror the HQ's organizational culture and brand. The satellite should work with the hub to ensure high quality product engineering and contribution. For e.g., Amazon's Cambridge center is its Satellite. Cambridge is the major center for Prime Air research worldwide and has complete ownership of the product.
An Outpost is a center that has been set up as a result of small acquisitions, need for a market or a specific customer, or because of some core, niche talent availability. Its engineering accountability is limited to one or two products, largely module leadership or engineering support. From a technological perspective, an outpost has niche capabilities and works only on a certain component of a larger product. In most cases, an outpost is characterized by its domain expertise and technological competence, which is irreplaceable and may or may not have the ability to scale. For example, Prime Air's center in Austria is focused only on developing "sense and avoid" technology for small drones.
ACT: Why implement the Hub-Satellite-Outpost Framework?
With Zinnov's vast experience in enabling technology organizations set up their global centers across the world, we have noticed that a scattered global R&D footprint has a tendency to lead to operational and strategic challenges. As companies expand their footprint, it becomes increasingly difficult for HQ to divide their attention equally among its centers. Hence, it becomes all the more important for HQ to have a deep understanding of each of its locations and a vision/plan for the centers.
Companies need to look at their global footprint through the Hub-Satellite-Outpost framework and analyze their centers to assess which center has the potential to scale or which center is becoming redundant. This exercise can be conducted at any point in an organization's globalization journey. The analysis will involve looking at the center's current portfolio, dependency, and talent as well as evaluating key external elements such as market, innovation ecosystem, regulatory environment, etc.
Thus, the Hub-Satellite-Outpost framework will help an organization to bring their A-game to the globalization war, leveraging each center to its fullest potential. This framework helps an organization ASSESS the current level of contribution from each location, help ALIGN the organization's strategy with its footprint and investment and help to ACT swiftly to address the changing market demands.
Wondering if your organization is operationally optimized ? Connect with us at
info@zinnov.com
to understand global industry benchmarks across products, processes, people, and partnerships, and what its takes to drive efficiencies at scale.