The pandemic hit the world unannounced, bringing in its wake a plethora of challenges. While on one side, the pandemic led to some marvelous technology disruptions, it also cost organizations disruption to the human capital that fueled some of those fine innovations.​
Working from home, which was once imagined to be a privilege, is now a transformational reality – and comes with a set of definite advantages in the form of flexibility of work schedule, safety, and comfort of staying indoors, remote collaboration, and reduced cost of living as commutes were no longer a part of people's daily lives. As the pandemic revolutionized the concept of work, workplace and workforce across the planet, the ways of working were reshaped.
Today as organizations debate the sustainability of working from home and slowly open their doors to working from office, an undercurrent of resignations and attrition – titled popularly the "The Great Resignation" by economists, is looming large. So, what led to this phenomenon?
If businesses must survive thrive in the pandemic, people must be in a state to give their best. What makes people give their best? A sense of involvement with the organization, an emotional engagement with respect to their work, and an organizational commitment that lasts through such black swan disruptions. However, the traditional methods, or models of engagement may no longer hold valid in the new normal. Why?
It is essential to be mindful that at this point of time, people's psychological capital has probably hit an ebb. Psychological Capital defined as an individual's positive psychological state of development which is characterized by having high levels of Hope, (Self-)Efficacy, Resilience, and Optimism. It is linked to job as well as life satisfaction. The need of the hour is to ask: how do we rebuild the Psychological Capital of people?​
Zinnov arrived at a model of employee engagement which identifies 'Quality of Life' as an indispensable lever of engagement, that is critical for preventing burnout, attrition, disengagement, loss of productivity and erosion of innovation in organizations. All hygiene factors such as a great work environment, work-life balance, well-being, pay, quality of relationships at work, policies, and benefits constitute Quality of Life. These factors are paramount for any employee seeking a meaningful career association with an organization, and the absence of these could cause disengagement. The differential in the new normal is how the pandemic has exacerbated the need for Quality of Life for all people. If there was ever a time that Quality of Life mattered the most to everyone, its most certainly now.
Here are the five sub levers of Quality of Life at work, and how they affect employees.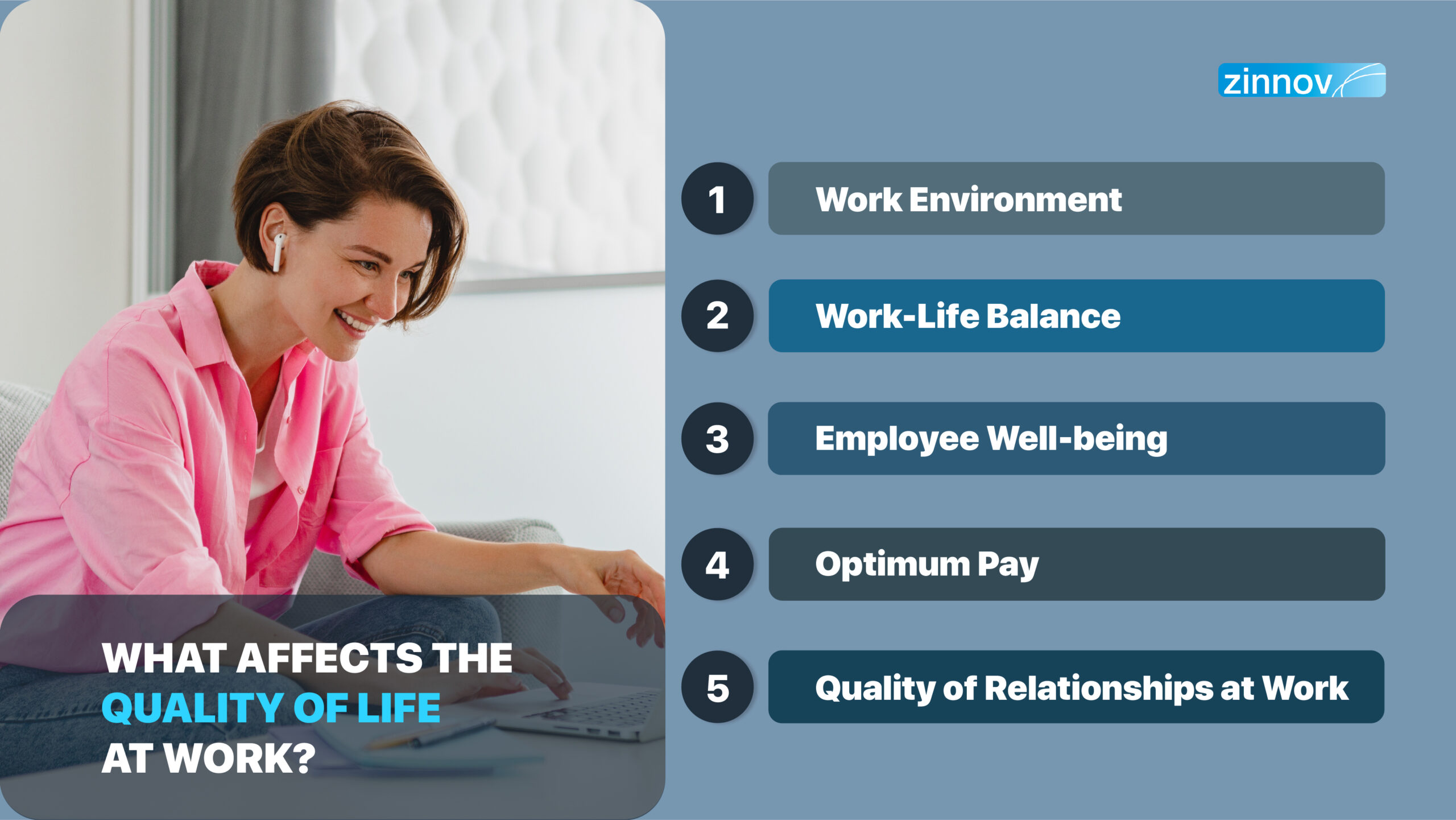 1. Work environment
In an ordinary work from office set up, what can help make up for a great work environment? The office infrastructure? The cozy beanbags? Or snooker tables? Or great food at the cafeteria? While one cannot arguably deny the role of an awesome office infrastructure in keeping employees comfortable at workplace, the rules of new workplace have transformed as homes have begun to double as offices. The enablers of comfort in this new office are flexibility, connectivity, and ergonomics. Flexibility pertains to how work schedules have been integrated with personal lives of employees, letting them strike a balance between their personal and professional commitments. Connectivity in work from home is all about access to our "virtual colleagues" through the digital. An ergonomically conducive workstation goes a long way in preventing physical ailments that may arise due to prolonged hours spent on the laptops. The organizations that enable these three facets are the ones where employees are likely to stay for longer.
Here are some pathbreaking trends that will redefine modern workplaces:
Workspaces will be redesigned as community hubs to accommodate a more hybrid workstyle, with more collaboration and breakout spaces to foster the human connection that can't be replicated remotely.
Smart meeting rooms, and even smart, sensor-equipped desks and chairs can be installed — so that individual employees can book the space they need for the type of work they need to do at the moment. New digital systems and collaboration tools will support hybrid work models.
Organizations will invest more in smart workspaces, digital information systems, and cybersecurity tools that can provide net cost savings while giving employers and employees greater flexibility in where and how they do their work.
While all studies indicated productivity of employees went up in the remote working mode, it needs to be investigated whether it was an outcome of discretionary effort or the 24/7 work phenomenon? The productivity gains accomplished could well have been a rude reminder of toxic productivity. The new normal witnessed escalation of lifestyle ailments, one of them being Zoom Fatigue, caused due to excessive strain on mental faculties placed while on video calls. The last year was a departure from the physical to digital, and that meant excessive reliance on video calling to substitute for the lack of face time. However, organizations took cognizance of this and brought in a host of mitigation measures to prevent burnouts.
2. Work-life balance
Iceland recently introduced shorter work week of 4 days, and the concept has been picking up momentum across the globe as a strategy to boost employee happiness. In India, some best practices that emerged were restricting emails beyond business hours, no meeting Fridays, and limiting the meeting timings. But the secret sauce to create a culture of a healthy work-life balance is to have the leaders role model the behaviours that set the right tone.
Human centricity will transform organizational cultures for greater inclusion.

It starts with identifying the "human" in your employee: the spouse, the parent, the child, the neighbor, the homemaker, the citizen. The pursuit of profits and perfection cannot and should not come at the cost of employee morale. Leaders must intentionally cultivate a genuine sense of empathy and human centricity through the means of listening with intent, observing with purpose, and deferring judgement. Leaders need to get a daily beat from their workforce in terms of their mood and morale, observing that their schedule is not taxing them (and their families), and parking judgment in the face of a momentary dip in performance. Organizations that enable a human centric infrastructure will render policies and programs that cater to life stages of the employee.
Several benefits to support the life needs of employees will become mainstream. For example, companies like Mondelez introduced childcare benefits in the form of allowances for nanny in lieu of creche benefit which largely remained unused through the pandemic. All of these benefits are accessible to parents who adopt or have a child through surrogacy. For employees who stay with their elderly parents, access to healthcare for their dependent parents added greater safety net for employees. At the same time, companies doled out vaccination drives for not just their employees but dependents too. Companies came forward in announcing bereavement benefits for children and parents of employees who lost the battle against the virus. Social security emerged to be the strongest need of the hour and organizations that rallied for the human cause will predictably experience higher levels of employee retention.

Global engineering and technology company, Cyient recently announced a 12-week gender neutral parental leave policy across its offices globally. As a part of this new policy, Cyient employees, including birth and adoptive parents of any gender, can take up to 12 weeks of paid time off at full pay following the birth or adoption of their child. Often parental leave policies are not sufficient for new parents, or they do not apply to both primary and secondary caregivers. Organizations that succeed in building an inclusive culture will cater to different facets of an employee's persona beyond the workplace.
3. Well-being
If there ever was a time that employees were most vulnerable, it's now. The risk of the virus looms large even as corporations have announced the opening of their offices. Evidently, in a compromised situation of public health, expecting employees to return to work is one of the biggest reasons behind The Great Resignation. Employees have adjusted to the new normal of working from home –with greater time to spend with their family. The reverse migration of labor has meant that employees returned to their hometown, comfortably nestled in their homes, without the hassle of commute and traffic congestions of metropolitan cities, and started co-habiting spaces with their parents, children, or in-laws. The interconnectedness of family is not something employees are willing to give up now. As a result of which, there's a mindset shift for employees, which companies must be willing to accept and adopt the flex model of working.
Well-being has evolved to become mainstream. It is now a boardroom strategy. Companies that do not put a premium on well-being will be the ones to experience the exodus of mass attritions. Safety of employees has become supreme as companies are announcing a host of well-being initiatives. Well-being has moved up the curve of strategic relevance and become a unique selling proposition for organizations as such Intuit, SAP, and Philips who took the lead in announcing multiple well-being programs.
As per Zinnov's research, well-being as a strategic lever of engagement got elevated to 8 dimensions of – physical, mental, emotional, financial, intellectual, occupational, environmental, and digital wellbeing. Organizations will begin viewing well-being from the focal lens of employees, their families, their unique needs based on the individual life phases, needs of the environment, and sustainability as predictors of employee retention. The days of occasional Yoga or Zumba sessions are obsolete, and well-being is here to stay in form of Employee Assistance Programs, wellness allowances, family care benefits for children, working mothers, pets and the elderly, mental health days off and online subscriptions of fitness apps.
Digital Health, especially for Gen Z employees, will renew the outlook on employee well-being initiatives.

Companies are struggling to adapt to the evolving emotional needs of their workforce. This is especially true among the emerging generations as 18-to-25-year-olds have the highest prevalence of serious mental illnesses compared to other age groups, according to the National Institute of Mental Health. Since its breakout, the situation has only deteriorated with the impact of the COVID-19 pandemic on mental health. Additionally, Gen Z is the loneliest generation in the workplace with 73 percent reporting sometimes or always feeling alone. If the youth is the future, and Gen Z are lonely and psychologically stressed then the future of work must embrace digital health.

Now more than ever, organizations need to look for innovative solutions to curtail the 'second epidemic' of mental ill-health sweeping the world. Digital mental health solutions are proving even more beneficial than before, given the fact that in-person care is exceedingly difficult to come by. And there is no shortage of available solutions: over 10,000 apps in Apple and Google Play stores claim to treat some sort of psychological difficulty – and the list does not stop with apps.

Companies can enable access to digital health through phones, computers, and online platforms for employees to access services from anywhere at all hours, as opposed to travelling and waiting for an appointment. Companies can also be investing in wearables that can measure behavior, language, facial expressions, and voice tonality, creating data sets that will unlock deeper understanding of the day-to-day fluctuations in the well-being quotient of their workforce. Artificial Intelligence, Machine Learning and Natural Language Processing will make diagnostic assessments based on this data, allowing new possibilities for early intervention. Augmented and Virtual Reality will simulate real-life situations employees might encounter. Employees too shall benefit by way of investment in digital mental health in the form of increased access and affordability, less exposure to discrimination, empowerment, and data-driven approach to higher productivity.
4. Pay
Compensation as a driver of performance has always been critical, but it is more so now and in future as the risk and prevalence of infectious diseases rise, propelling employees to look for greater financial and social security. The pandemic was an eye-opener on how fragile human life is, and the second-best antidote to that, after well-being, was to have a financial safety net for employees and their loved one. Organizations took hard measures in form of pay cuts in the beginning of the pandemic, however most gradually restored the pay reductions as businesses recovered from the initial economic setback. Innovative practices such as hardship allowances for frontline staff gained popularity as a reward mechanism for jobs such as health care staff, housekeeping, security, retail sales, food delivery staff etc., that were most susceptible to the risk of virus exposure. Companies introduced disaster management corpus to be able to assist employees who faced hardship of escalating healthcare costs for impacted family members.
Gig economy will grow bigger and pay will be reflective of the work location people opt for.
Geo-differential pay: With the institution of Work from Anywhere model, companies need to be relooking at their compensation strategies for a dispersed workforce. The compensation must mirror the location employees choose to work from. Companies such as VMWare have already defined a global pay differential model that accounts for variance in cost of labor and cost of living for employees at different "zones" across a country. The underlying differentiator being that the choice of opting to work from a zone shall rest completely with the employees, and they chose what compensation option works favorably with respect to the location they opt for considering their financial commitments. At all points, employees should also be encouraged to first go in for a trial of the new model before giving their consent to the change in their compensation, all this while delivering standardized basket of benefits.
Social security for gig workforce: As the gig economy booms, more and more organizations will be compelled to offer a "value proposition" to their gig workforce. Traditionally, gig employees have been denied access to social security benefits which has positioned gig jobs as unattractive employment choices. In India, the government launched new labour codes to equalize and harmonize access to social security for gig and platform workers. The pathbreaking Social Security Code has redefined suitable social security schemes on life and disability cover, accident insurance, health and maternity benefits, old age protection, crèche, and any other benefits for Gig and Platform Workers. All this would translate to gig jobs becoming more lucrative to potential talent pool that organizations will be able to tap into.
5. Quality of relationships at work
The new normal had meant that people multi-task child/elderly care while delivering project milestones on a given workday. For leaders, this means more of an empathetic style of managing teams – open communication with breakdown of conventional hierarchical structures. In situations of work stress coupled with environmental stress caused by the looming humanitarian crisis, having colleagues who are supportive towards diverse life needs can increase emotional engagement with the organization. The reverse is also true – a lack of empathetic work environment could lead to disgruntled employees, who might be on the bleeding edge of resignation when economy is favorable.
Authentic leadership will become a key driver of engagement.

Authenticity is the alignment of head, mouth, heart, and feet – thinking, saying, feeling, and doing the same thing consistently. This builds trust, and employees love leaders they can trust. People want to know the emotion and passion of the leader and understand that directly. It helps them be more receptive to any communication that comes their way. In being able to 'lift their veil' and reveal their true selves, authentic leaders transfer humility, credibility, and trust to those around them. They generate believability by being human. People follow them not through the leader's manipulation, carrot-or-stick strategy, threats or even because of their power or position – but through compelling influence.
Authentic leaders demonstrate some vulnerability and at the same time fully understand their genuine influential 'edge' with others. The enforced authenticity of video calls — seeing and accepting the equally human sides of co-workers, bosses, and senior executives on a near-daily basis, for weeks and months on end—is the behavior that breaks down the belief in the importance of a conformity-driven persona and the need to separate the private details of one's life from work. Authentic leaders are very respectful of that, very tolerant of the fact that maybe someone's child is going to put their head around the corner and appear on the camera — they accept that is part of life, that all people have personal stories. In Work from Anywhere, there will be greater self-disclosure, a greater willingness to recognize issues and speak up about them, and a greater willingness to admit fault or not having all the answers – all of which will be the crucial levers of engaging dispersed employees.

Capgemini has their leaders share their work from home experience through a podcast series called Candid Connect, where they talk to employees on a range of topics like passion and motivation, the experience of remote working, things leaders do at home, stories of people who have shaped their careers and new skills they have developed.
Google's famous Project Aristotle initiative calls out three things that a high-performing workforce needs:
1) a strong awareness of the importance of social connections or "social sensitivity"
2) an environment where each person speaks equally, and
3) psychological safety where everyone feels safe to show and employ themselves without fear of negative consequences.
Therefore, organizations that will be willing to go all out in supporting their human capital at the darkest hour are the ones who will build organizational commitment and advocacy.
In the future, Quality of Life will form the foundational lever of winning engagement of people. The absence of Quality of Life, in fact, will be a derailer in the engagement strategy for the remote or hybrid models. In a quest to redefine the factors affecting the Quality of Life, organizations must introspect on the following questions:
Are your organization's leaders (at all levels) modelling well-being behaviours and influencing an environment that supports the well-being of others?
Does your worksite promote healthy practices and empower employees to make healthful choices through the physical layout and workplace setting?
Is there a clearly defined engagement strategy that uses an effective mix of communications, incentives, and social events to help promote well-being?
Are your human resources policies and benefits designed to encourage Quality of Life?
Organizational resilience is a function of resilience a company's workforce displays during crisis – and human resilience has a direct linkage with how favorably employees perceive their quality of life at workplace. Factors that contribute to Quality of Life are a sum of moving parts, so organizations must have a layered strategy to address each of the sub levers. Those who miss to recognize, reinvent, and reshape their Quality of Life factors will be ones hit the hardest by the next pandemic around the corner – The Great Resignation.
To know how you can reinvent your organization's Quality of Life factors, write to us at
insights@zinnov.com
.