Micro, Small & Medium Enterprises (MSMEs) are the bedrock of India's economy, contributing upwards of 30% to the country's GDP and employing 130Mn+ people. However, COVID19 has severely affected the sector, threatening their very survival. The ongoing lockdown has affected millions of small businesses as production, distribution, and consumption have taken a massive hit. As a result, MSMEs are facing a severe liquidity crunch; combined with their inability to retain migrant workers, the situation has created a domino effect across the sector.
The nearly 75Mn Indian MSMEs can be split across three major verticals – Manufacturing (~15Mn), Retail & Wholesale Trade (~30 Mn), and Services (~30Mn).
Although all three verticals have been hit hard amid the COVID-19 lockdown, Manufacturing MSMEs have borne the brunt, with plants and factories shut across the country. One of the biggest challenges that MSMEs are facing is supply chain disruption. Essential Retail is witnessing a surge in demand across groceries, personal care items, and pharmaceuticals during lockdown. Additionally, the local grocery store owner has gained more prominence during the lockdown. In the Services vertical, Education and Healthcare have been the least hit, with Travel & Hospitality taking a major hit due to the lockdown.
Millions of small businesses have witnessed COVID-19's impact on operations, supply chains, top line, and vendor participation, and last but not the least, consumption. However, with a gradual easing of lockdown restrictions, MSMEs can breathe a sigh of relief. However, the road to recovery is strewn with challenges that can be tackled with the collective effort from the Government, Technology Companies, and the SMBs themselves.
Government Boost to MSMEs
Here's what the Government has announced for the MSMEs.
PM's Vision to Make India ATMANIRBHAR (Self-reliant): Key Takeaways from the stimulus packages announced by the Government of India
PM Modi announced five pillars — economy, infrastructure, technology-driven system, vibrant demography, and demand to make India Atmanirbhar (Self-reliant). The Government boost to MSMEs is through the emphasis on using local products to boost the businesses of local manufacturers and retailers. Following that, the central Government has announced a mega-stimulus package worth INR 20 Lakh Crores – equivalent to 10% of India's GDP, to tackle the economic fallout of COVID-19 and help Indian MSMEs get back on their feet. Given this context, here are the key reforms and their impact on MSMEs that Finance Minister Nirmala Sitharaman covered in her speech:
1. INR 3 Lakh Crores Collateral-free Automatic Loans for Businesses, including MSMEs: 4.5Mn+ MSMEs will benefit from this scheme by taking a collateral-free loan with 4-year tenure and a moratorium period of 12 months. This will help MSMEs that have INR 100 Crore sales or INR 25 Crore outstanding loans. It will help them pay their operational liabilities, disburse salaries for employees, and buy raw materials to get their businesses back on track. However, the loans will provide relief to 4.5Mn small businesses, benefiting less than 7% of the total Indian MSMEs.
2. INR 20,000 Crores Subordinate Debt will be disbursed among MSMEs which are functioning but are Non-Performing Assets (NPA) or are stressed and 2 Lakhs MSMEs will get equity support through promoters who will be given debt by the banks. MSMEs will have cash in hand which can be invested in buying new inventory or adopting technology solutions.
3. INR 50,000 Crores equity infusion for MSMEs through Fund of Funds, enabling the expansion of MSMEs with growth potential and viability. MSMEs will have cash in hand which can be invested in buying new inventory and adopting technology solutions.
4. The definition of MSME has been revised by eliminating the distinction of Manufacturing and Services MSMEs, and increasing the investment limit and turnover. More businesses will be able to avail MSME benefits and also give impetus to micro businesses to grow.
5. The Government has disallowed the Global procurement tenders up to INR 200 Crores, a step towards ATMANIRBHAR Bharat (Self-Reliant India) and promote Make in India. This will help in minimizing the threat of foreign players and help local businesses to grow.
6. Some more interventions:
e-Market linkage will be promoted, which will act as a replacement for trade fairs and exhibitions. This will enable access to remote markets for MSMEs.
Fintech will be used to enhance transaction-based lending using the data generated by the e-marketplace.
The Government and CPSEs will settle the receivables of MSMEs within 45 days. This will help increase liquidity for MSMEs by paying them the outstanding.
Other relaxations such as EPF, EPS to benefit MSMEs and millions of their workforce.
Zinnov Perspective
1. Recommendations for MSMEs
While MSMEs may utilize this additional liquidity to settle down their payables, disburse salaries to the employees and other fixed costs, buy new inventory and procure raw materials, they should also consider investing on technology to make them 'disaster-proof.'
Here's a sectoral view on what MSMEs can do with gradual ease in lockdown restrictions: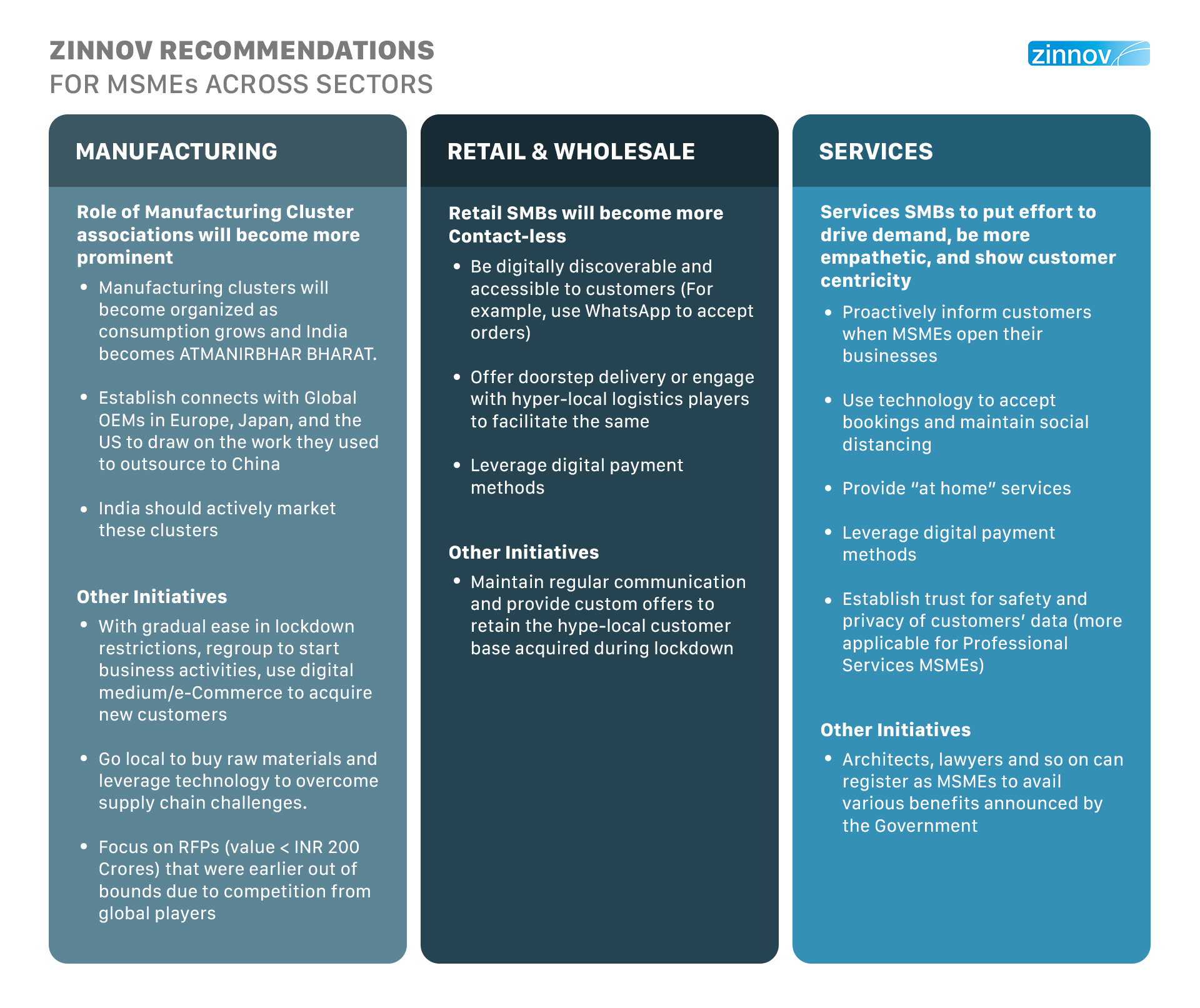 2. Technology trends that could gain more prominence in the future
a) Remote working tools (Cloud-based applications): Manufacturing & Services sectors could continue to witness high adoption of remote working tools such as WebEx, Teams, Meet, Zoom in the new normal.
b) Cloud-based Accounting/ERP: During the lockdown, several MSMEs couldn't access their accounting books as their computers were not accessible from their respective shops/offices. This could drive more and more MSMEs to switch to cloud-based accounting applications.
c) Contact-less Supply Chain: Traditional linear supply chain model will transform into digital supply chain networks. While MSMEs go local to procure raw materials, these digital supply chain networks will leverage Artificial Intelligence (AI), Internet of Things (IOT), Robotic Process Automation (RPA) to become contact-less, anticipate and meet future needs.
d) Rapid uptake of Digital Payment Methods: The volume of cash transactions may witness a dip as both MSMEs and customers choose to go touchless amidst COVID-19.
e) Automation to gain prominence: Automation will gain prominence to ensure business continuity across organizations and verticals in the wake of COVID-19. In fact, social distancing norms and remote working measures have provided the impetus for businesses to lean heavily towards automation.
f) Tech Players/Global Centers of Excellence (GCoEs) to build solutions from India for Indian businesses: Players such as Jio Platforms have already started building their own 5G technology in an effort to cut reliance on foreign third-party providers. This tech could be used for security and surveillance using drones, Industrial IOT, and digitization in the agriculture sector.
g) Drone-based delivery: Start-ups such as Dunzo are testing a distribution hub-to-hub delivery model for first-mile logistics using drones. In the new normal when people try to adhere to social distancing norms, drone-based delivery could gain more prominence.
This much-needed Government boost to the MSMEs will go a long way in accelerating their recovery on the other side of COVID-19. Additionally, MSMEs also need to partner with technology companies to rapidly digitalize, thereby increasing their digital footprint and gain newer customer base. This will help them provide enhanced customer experience and service, while also bringing in efficiencies through decreased costs and increased savings.
COVID-19's impact on Indian MSMEs has been significant, exacerbated by the continued lockdown. With the gradual easing of lockdown restrictions, how can technology providers accelerate MSMEs recovery? To know more, write to us at
info@zinnov.com
.