The broader concepts of the theory of Darwinism1 apply well in the current corporate landscape, with the pandemic acting as a catapult to create technological disruptions. As a direct consequence of the pandemic, majority of companies across verticals were forced to re-evaluate their business models and technological competencies to drive transformation. And while the Manufacturing, Aerospace, Automotive, and Industrial sectors bore the brunt of COVID-related uncertainties, Hi-Tech and services-led verticals stood steadfast and resilient.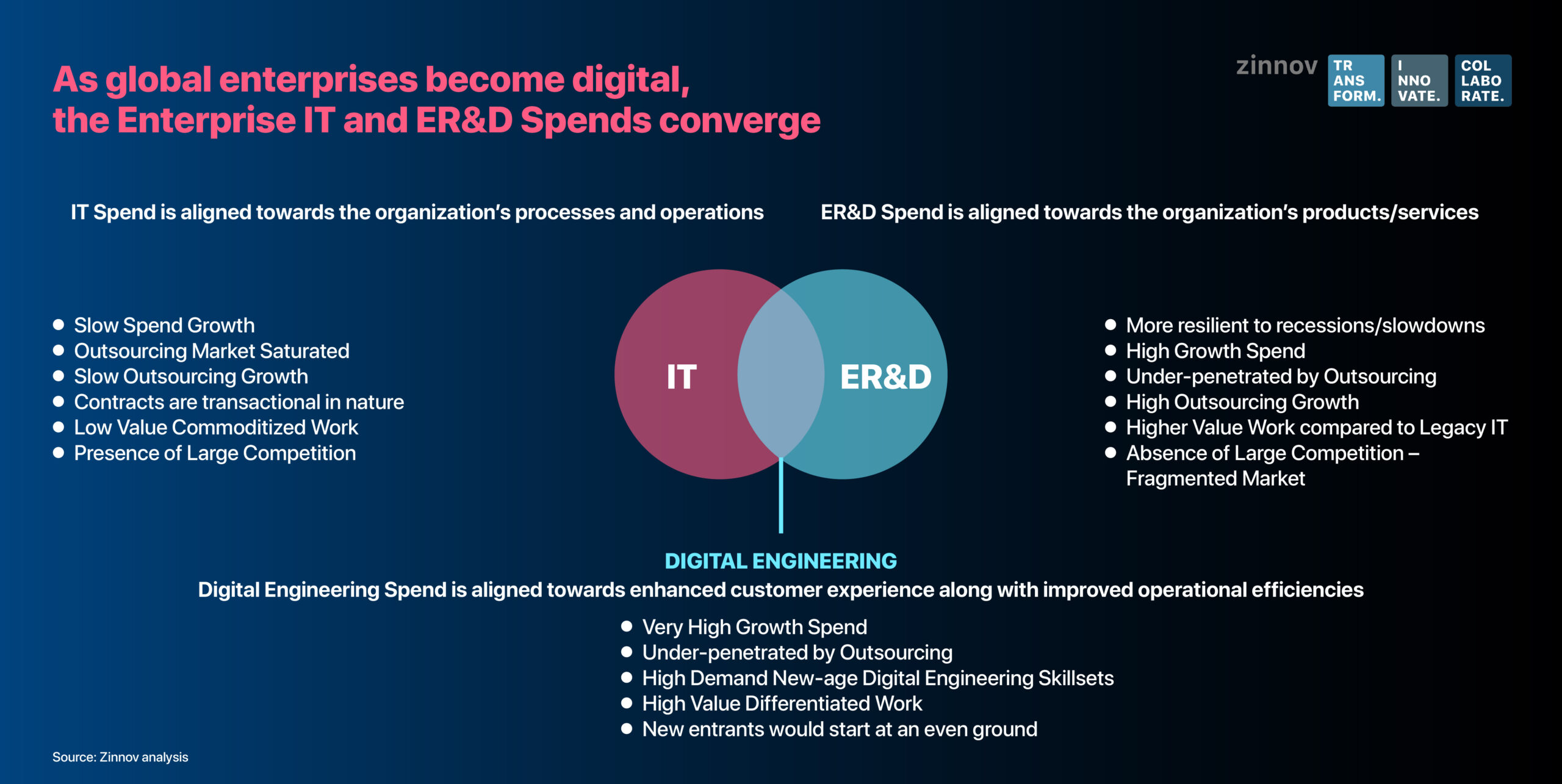 In fact, these verticals witnessed accelerated investments in their R&D initiatives and helped their clients from various industries to sail through the storm with minimum disruptions. Going forward, we will witness a change in the Digital Engineering priorities of enterprises across verticals as they aim to become antifragile by rapidly adopting intelligent and connected technologies. This dire need for enterprises to transform digitally at such a pace will result in an uptick in the deals outsourcing volume.
Why Digital Engineering SPs are the Sweet Spot for Private Equity Investments
In recent years, digital transformation has been a strategic priority for firms across verticals. However, the complexities of the pandemic have forced years of technological advancements to happen within a short span. The increasing adoption and implementation of digital technologies have resulted in the convergence of IT and ER&D spends by companies that are competing to become leaders in their digitally transformed industries. Hence, it is safe to say that technology has become a key tool to strengthen the value of a business within every industry. This has been reflected in the growing demand for Digital Engineering Service Providers (SPs) and their higher valuations as compared to traditional IT firms. Additionally, the markets have been reacting positively to this growing importance of Digital Engineering SPs.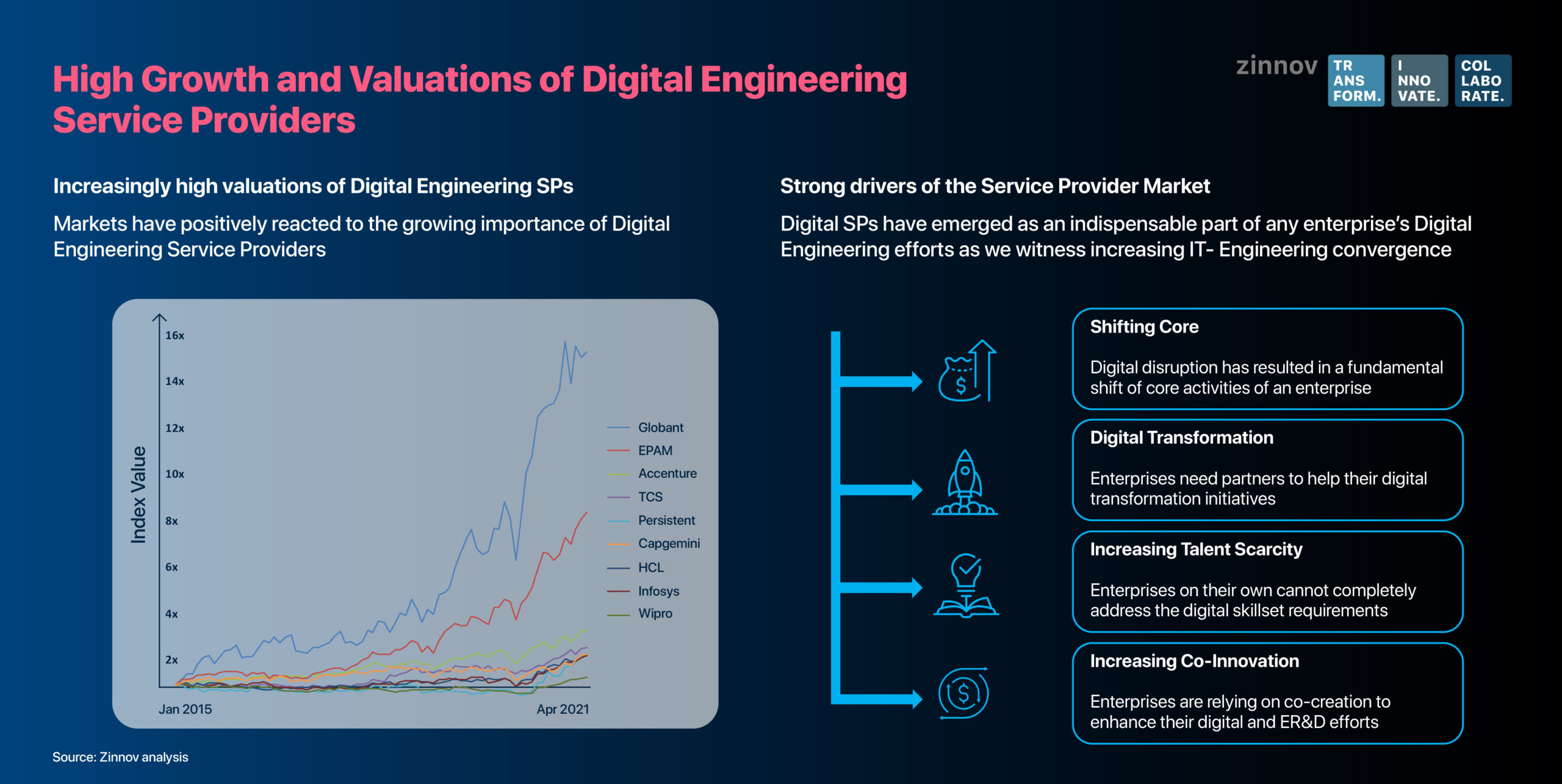 Interestingly, the entire digital paradigm which was once considered tangential up until the pre-pandemic era is very germane to the ecosystem of investors today. The surge in the demand for digital transformation has led to a supply-demand mismatch when it comes to addressing the digital skillset requirements. This is why the present focus is on retaining and sustaining a digitally skilled talent pool and expediting the co-innovation process. In fact, the year 2020 witnessed a growth in the number of strategic mergers & acquisitions (M&A), in an attempt to consolidate this highly fragmented industry, with the Digital Engineering space accounting for 45% of all M&A transactions.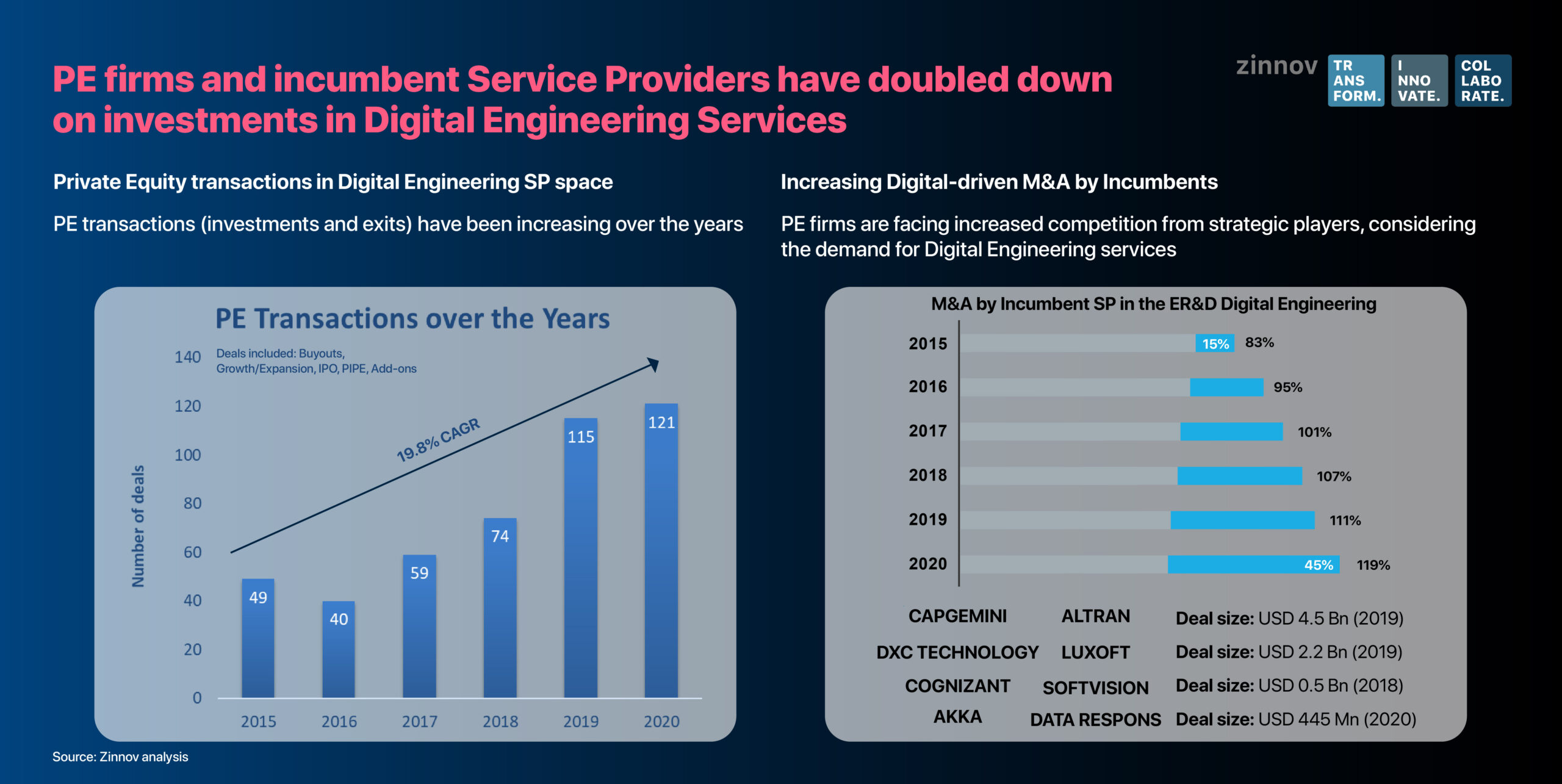 And while traditional IT firms like Capgemini (which acquired Altran) and Cognizant (Soft Vision) actively pursue Digital Engineering, private equity (PE) investors are not far behind in tapping this newly available opportunity. In fact, the post-COVID era witnessed the highest number of PE deals in the SP space in the last five years, with a CAGR of 19.8% from 2015 to 2020. This not only points to Digital Engineering SPs being crucial players in the PE playbook, but also to the maturity of the outsourcing ecosystem.
What PE firms can learn from the Hitachi – GlobalLogic Acquisition
The first quarter of 2021 witnessed one of the biggest deals to happen in the Digital Engineering space – Hitachi's acquisition of GlobalLogic at a staggering USD 9.6 Bn valuation. With this acquisition, Hitachi aims to strengthen its digital solutions and services business, by incorporating GlobalLogic's advanced Digital Engineering capabilities and its impressive client base.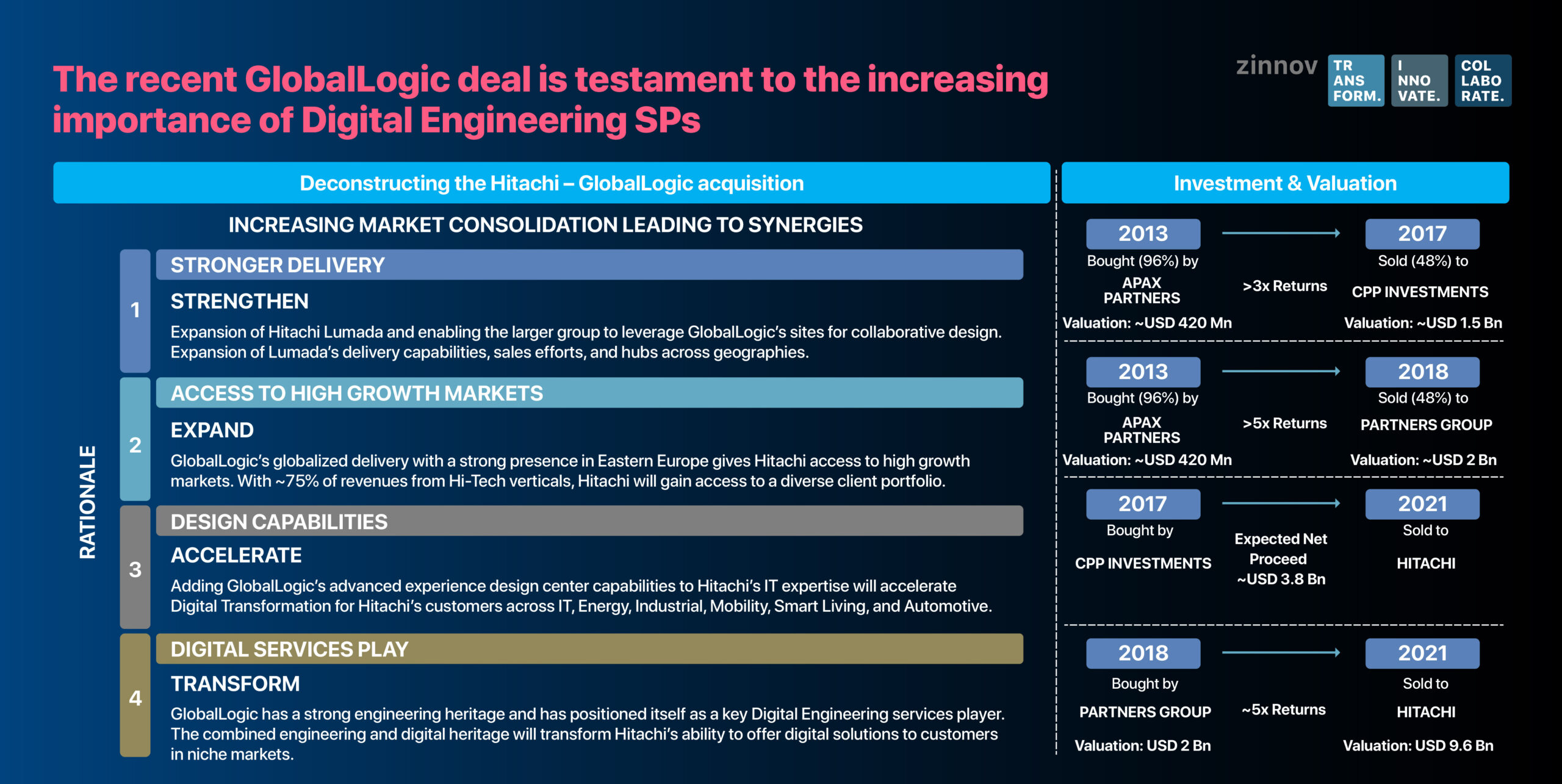 When we examine this particular deal, the reason behind GlobalLogic's success becomes clearer – – a defined set of key value creation drivers that a majority SPs can potentially leverage to generate higher returns for investors. On a broad level, Zinnov's Digital Engineering Excellence framework has identified seven key drivers that can help evaluate an asset's true potential.
Zinnov's Digital Engineering Excellence Framework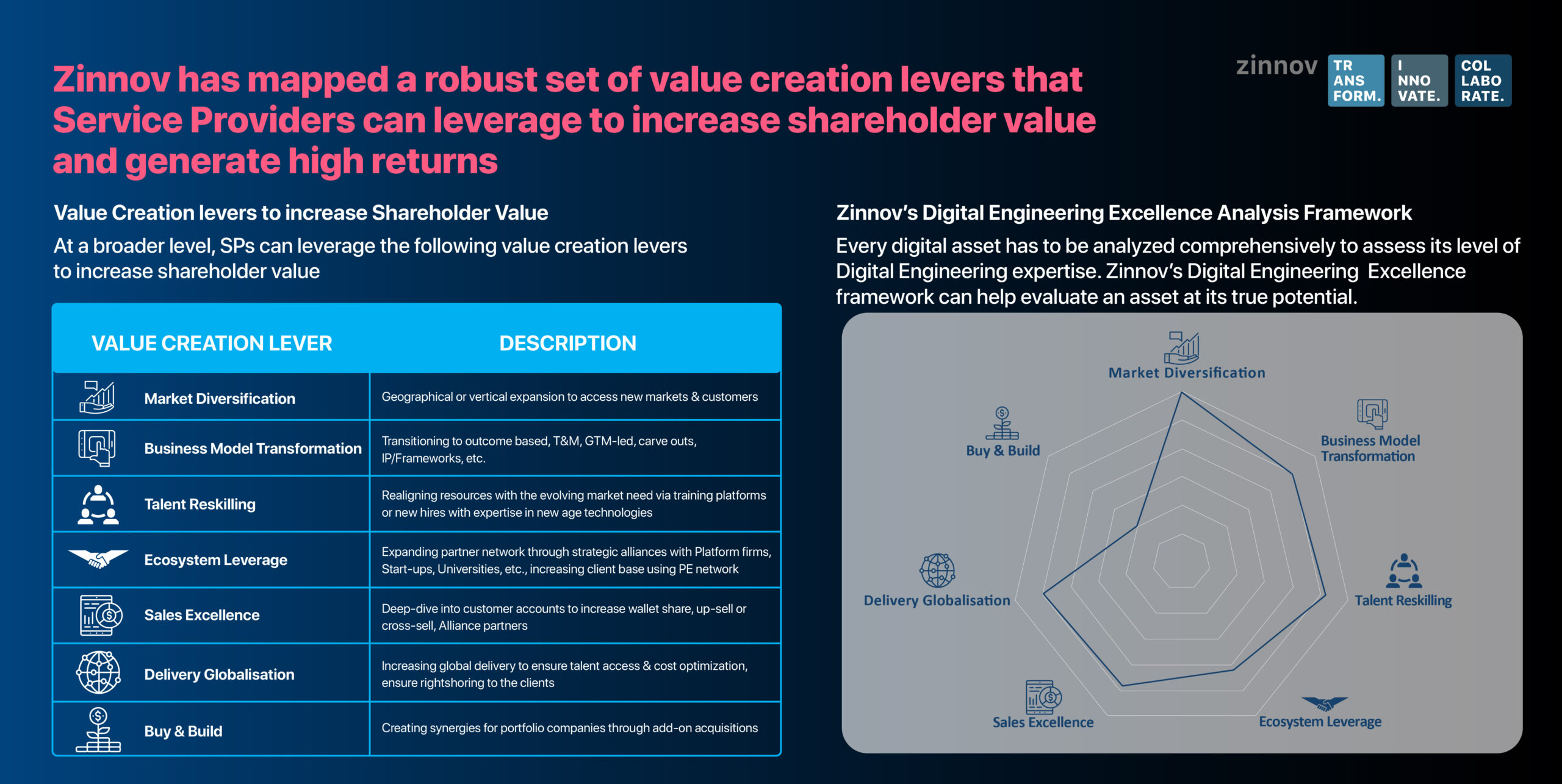 1. Market Diversification
Geographical or vertical expansion to access new markets and customers, while maintaining a healthy mix of clients from diverse backgrounds is a key strategy to continue growing and minimizing risks.
2. Business Model Transformation
Transitioning to newer models such as outcome-based models, Time & Material (T&M), go-to-market-led, carve-outs, or IP/Frameworks. The T&M model encourages a more agile development process characterized by flexibility and opportunity to adjust requirements, especially in dynamic projects.
3. Talent Reskilling
It is important to match the market and demand evolution by realigning resources via training platforms or hiring newer talent with expertise in new-age technologies.
4. Ecosystem Leverage
Expand partner network through strategic alliances with platform firms, start-ups, and universities, amongst others, by leveraging the network expertise provided by PE firms is critical.
5. Sales Excellence
Service Providers can increase their wallet share by deep diving into customer accounts and leveraging up-selling and cross-selling strategies to enhance revenues.
6. Delivery Globalization
Our research suggests that the post-pandemic era will witness a rise in nearshoring as enterprise digital demand grows. LATAM (Latin America) and Eastern Europe set great examples of nearshoring as they provide access to an affordable and highly skilled talent pool. Driven by talent access and cost optimization, this expansion of global delivery centers will provide cultural affinity and make real-time collaboration easier for employees.
7. Buy & Build
Add-on acquisitions are a great way to create synergies for other portfolio companies. This gives the added companies access to skillsets that would not have been accessible otherwise.
Newer digital skillsets that offer agility and a resilient business model have become key differentiators for Service Providers as companies across verticals pivot their strategy in the post-COVID digital world. The need of the hour is to put digital strategies at the core of every fund, making it integral throughout the cycle of a deal, for sustainable value creation.
1: A detailed explanation of organic change to fit in the natural ecosystem, propounded by British Naturalist, Charles Darwin
Want to know how to implement the 7 key levers of the Zinnov Digital Engineering Excellence framework in your services company? Get in touch with our consultants at
info@zinnov.com
.