I recently had the pleasure of hosting an executive panel discussion about the priorities and trends for SMB business technology with Avanish Sahai, Board Member at HubSpot; Chris Huff, Chief Growth Officer at Kofax; Shay Howe, SVP of Platform Strategy for ActiveCampaign; and Geoffrey Grab, President of the Neville Companies. Our discussion centered around three areas – the fundamentals of the Small Medium Business (SMB) market, the shift from greenfield to maturing solutions, and the ongoing technology investments to build resilience. That focus on resilience and preference for ongoing incremental investment indicates that SMB leaders are looking forward to the next disruption.
Fundamentals
SMBs are a huge force in our economy, and at 44% of the US GDP, they are more than twice as big a market as any industry segment. Furthermore, within SMBs, there are huge variations when it comes to their needs: by size, industry, and tech maturity – but some factors are universal selling to any segment of this market. Here are some key drivers of SMB tech adoption: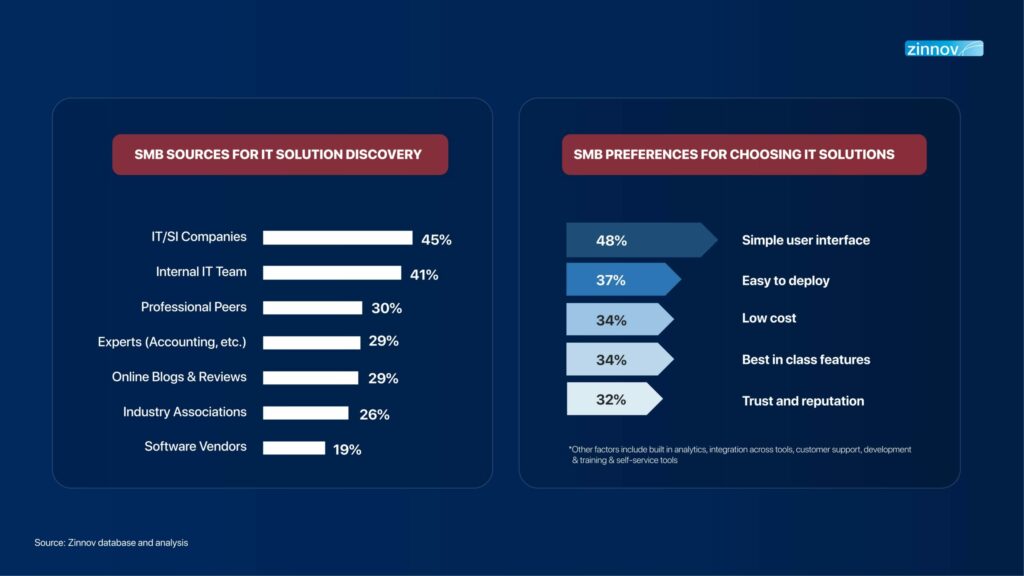 Avanish outlined some of the key tools to deliver the right message to SMBs. 92% of purchase research starts online, and "it's all about content marketing …but it's not feature-function content; it's education. The SMB buyer is looking to be educated" about what the problems are and how technology can address SMB pain points. The strongest sales message is stories told by the technology users about how it simplifies life!
1. Ease of implementation: While SMBs are more comfortable using technology than ever before, they do face purchasing constraints due to both limited bandwidth to manage operational disruptions for system deployments and the critical resources needed for training. Hence, easy implementation is the dominant criteria for technology purchases.
2. Trust is critical: SMB owners twice as often rely on technology insights from objective advisors, like their IT teams, system integrators (SIs), and fellow business operators than ISVs (Independent Software Vendors). For the micro SMBs who are less likely to have SI relationships or dedicated IT teams, they turn to peers and online reviews first. In fact, 70% of the purchase decision is made before speaking with the vendor! Therefore, vendors need to shape these third-party narratives early in the process.
3. Focused messaging: This is an extremely diverse market, so it is critical to know the target segment well. The buying interest in each technology is typically 40-80% higher in some industries than for the average SMB. For example, Retail SMBs are 39% more likely to invest in e-Commerce this year, compared to an average of 18% of SMBs setting e-Commerce as their top technology investment focus in 2022.
Larger SMBs generally spend a good portion of their revenue on technology, and they are most interested in Automation and AI. There is also a huge value for businesses in using platforms designed for their industry and optimized for their specific workflows. For example, Toast in food services or Yardi in property management. In Toast's case, they link timesheets directly to their payroll application and online order system to delivery services to make payroll processes far more seamless for restaurant owners.
Investment Shifts as Tech Adoption increases
Geoffrey's story at Neville Companies provides a great example of how technology adoption is maturing for SMBs. He bought his property management business from a retiring owner 4 years ago, and since then, he has been steadily modernizing the technology, to the point where he has a full stack of business software for his operations. And while his IT investment is continuing, his new focus is on resolving specific challenges in various workflows like integrating his payables to his Yardi accounting software to free up 2 accountants. This example is also representative in our survey of the 600 SMB executives who indicated that, between current and planned deployments, 84% of the "greenfield" opportunities to sell business technology to SMBs will be filled within a year. This signals a new wave of growth rather than a slowdown. Interestingly, SMBs with more complete tech stacks not only tend to spend more on IT, but they are also increasing their spend faster to integrate and optimize both user experiences and workflows.
And as the market matures, Zinnov is seeing integrated platforms becoming a core trend. This is a common theme across all the major SMB-focused ISVs and aligns well with SMB purchase priorities. As an example, Chris explained that Kofax made a major investment to shift from point solutions to "a Low Code platform that plugs into a broader ecosystem," with Salesforce, Microsoft, and other solutions. Integrated solutions dramatically simplify deployment, training, and support, while providing more unified data and experiences across departments, thus reducing integration points between vendors, and improving reliability. Shay highlighted that, "We should each be able to go out and use the tools best suited to the needs we have – those tools just need to speak to one another. They need to come together through that ecosystem." Therefore, integrated solutions are forming across ecosystems, not just within proprietary platforms, while delivering the same operational benefits. These ecosystems will be critical to any vendor's go-to-market planning.
Resiliency
Much of the future discussions are now framed as "post COVID" and, as much as we want the relief of putting that chapter behind us, SMB priorities show that their focus has shifted to preparing for future disruptions. SMBs turned to technology to weather COVID and are now building on that to improve resiliency against future disruptions. COVID may be the defining challenge of recent times, but it is far from the only one. Over the past year, we have seen the record-breaking 7Mn unfilled jobs, increasing cyber-attacks, supply chain disruptions at the Port of LA and Suez Canal, rising inflation, and an open war in Ukraine as well. Looking forward, projections of 100Mn new US COVID cases this winter and a looming recession show that disruptions are not behind us yet. Resiliency is driving 59% of SMBs to make significant investments in scenario planning for a crisis while shaping their business priorities and technology purchase plans.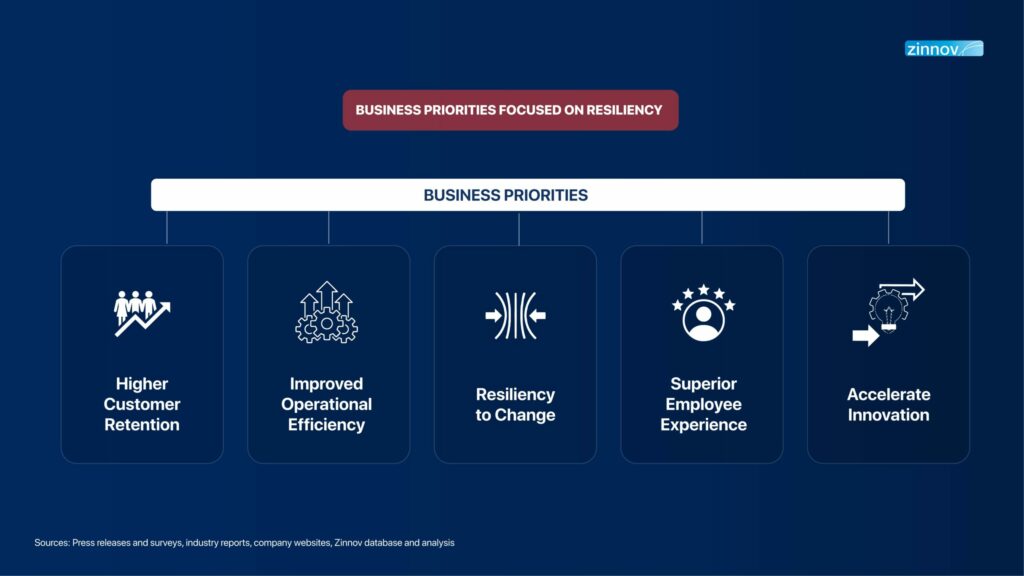 On the business priorities front, SMB owners are valuing sustainable profitability over revenue growth because over-investing in growth before a disruption is risky while profitable operations can have more ability to absorb short-term challenges. Similarly, long-term retention of both customers and employees is prioritized over new additions. Shay provided an example of how to enhance customer interactions by providing sales teams visibility into customer service records, so they know the user history. Third, we see innovation speed being valued as highly as product functionality because it provides more agility to change in response to new challenges.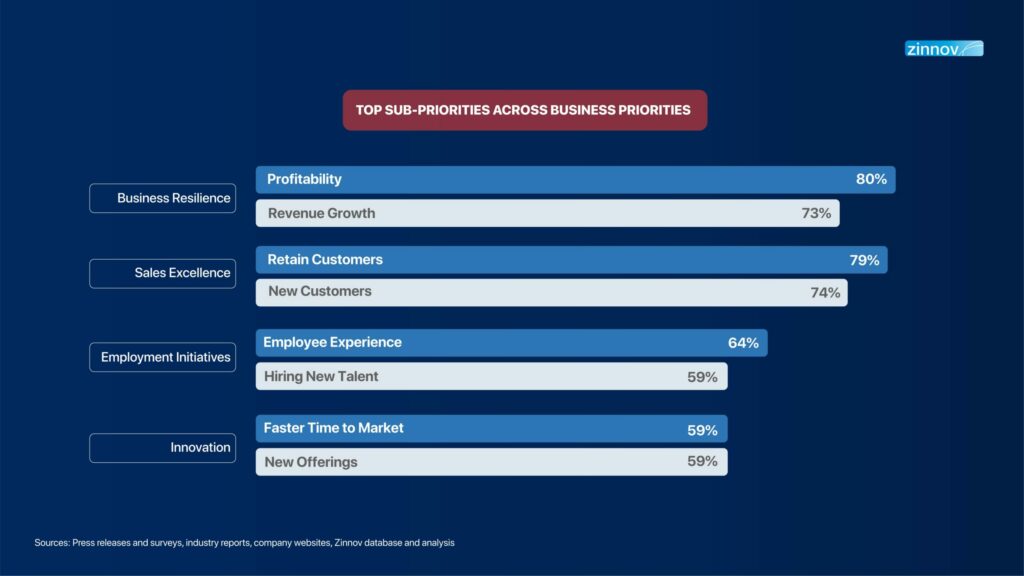 This mindset shapes their business investment. The top SMB purchase priority is a purely defensive investment in security, and 45% don't think that they are prepared for a threat. This indicates three things: First, a rushed expansion of digital footprints over the past 2 years to support remote work and new customer channels. Second, SMB owners see the consequences of a breach, especially regarding customer trust, as a critical threat to their business. Finally, SMBs don't feel that ISVs have been focused enough on security for their offerings.
Resilience is also highlighted in the next two technology priorities, Cloud and Automation. The focus on Cloud-based collaboration tools supports resiliency in multiple ways: by improving employee experience, flexibility, engagement, and efficiency. Automation also checks multiple boxes for improved customer experience, faster turnaround times, as well as efficiency.
Overall, SMBs have transitioned to digital and are now building momentum for continued investment growth. Outreach to SMBs starts with content marketing since 92% of buying research starts with an online search. This content needs to educate SMBs about the business impact of each technology investment, not just the technology itself. Then, for trusted advice on technology, SMB leaders turn to objective sources like peers, SI partners, and IT experts more than twice as often as they turn to ISVs.
Technology is valued as a critical lever to improve resiliency through operational efficiency and agility. SMBs' preferred solutions will be an incremental expansion of integrated solutions to minimize deployment complexity and unify data for enhanced experiences. This shift towards platforms means that technology ecosystems are likely to increasingly dominate the market over "best in class" point solutions for SMBs.
If you're a technology vendor for the US SMB market, and want more specific insights on trends and priorities in your target segment of this immense opportunity, write to us at info@zinnov.com.