Since the 2008 financial crisis, Enterprise Software or more particularly, Cloud-based and As-a-service models have seen significant growth as they offer cost advantage, scalability, and a highly flexible IT infrastructure.The pandemic and its economic implications are the first major test for the business models given most SaaS businesses were born or rather achieved scale post the 2008 financial crisis.
Enterprise Software businesses have shown resiliency in the face of COVID-19-induced crisis, thanks to their business model. Specifics may vary based on each company's response and financial situation.
Integration with enterprise workflows, subscription-led recurring revenues and better gross margins, specifically in SaaS businesses, are the three key factors contributing to the higher resilience demonstrated by Enterprise Software companies.
The promise of financial flexibility offered by Enterprise Software businesses now pose interesting questions as customers may evaluate how they reduce expenditures including their spending on software.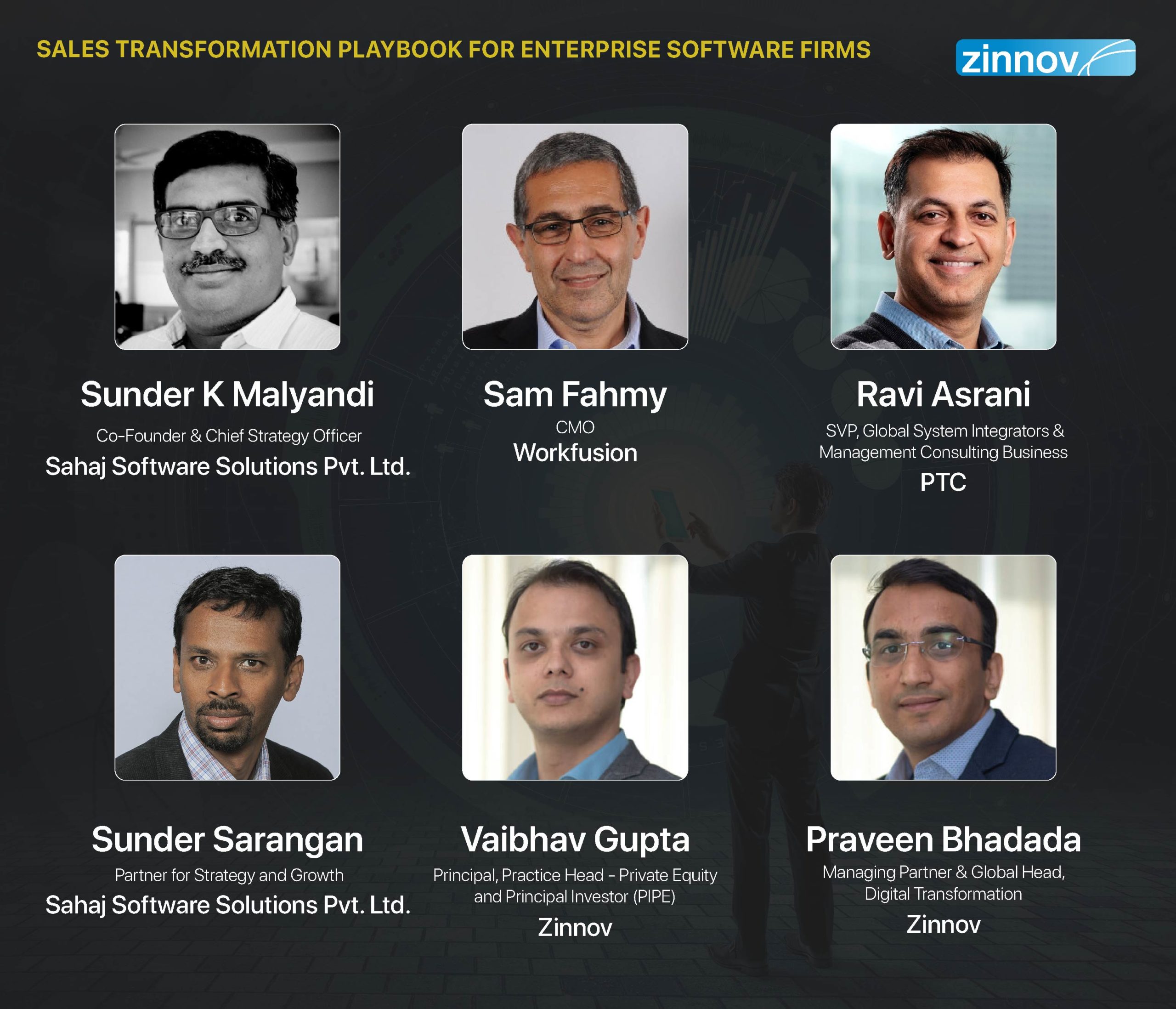 Given the uncertainty brought on by the pandemic and the gradual reopening of the global economy, Enterprise Software leaders must proactively understand the implications for their businesses and establish mechanisms toward customers, alliances ecosystems, and products. Our recent Zinnov Webinar on 'Sales Transformation Playbook' focused on how Enterprise Software leaders relooks at their customers, alliances, and products to successfully navigate through this crisis. The event had experts such as Sunder K Malyandi Co-Founder & Chief Strategy Officer, Sahaj Software Solutions Pvt. Ltd., Sam Fahmy, CMO, Workfusion, Sunder Sarangan, Co-Founder & CEO at Sahaj Software Solutions, and Ravi Asrani, SVP, Global System Integrators & Management Consulting Business, PTC, sharing their insights and perspectives on diverse topics ranging from executing a differentiated product roadmap to a product strategy geared towards growth to leveraging the partner ecosystem for growth.
Here are some quick takeaways from the discussion which can enable Enterprise Software companies to emerge even stronger once the economy surges ahead:
To come out stronger from this downturn, certain software companies will need to relook and reinvent their products to support the evolving customer demands. Building market intelligence, assessing use case demand, and aligning tech organization structure are essential to building a scalable product strategy.
When we talk about sustaining the business impact of COVID-19, software companies, particularly in the small and medium business segment, need to focus on customer retention and try to sell deeper into existing customer accounts.
Fostering innovation and equipping direct and indirect sales teams is the need of the hour. Software companies need to leverage digital partnerships to accelerate innovation while at the same time need to establish strong footholds in niche markets through their channel and system integrator partners.
Here are some excerpts from the Q&A sessions hosted by Praveen Bhadada, Managing Partner, Zinnov and Vaibhav Gupta, Engagement Manager, Zinnov with the speakers.
Vaibhav: What are the major elements that PE firms need to investigate when they are acquiring a product company in terms of technology due diligence?
Sunder Malyandi: The five-point framework illustrated is a good reference to assess the product and technology capabilities before an investment in a product company. It talks about strategic alignment, product/solution, technology organization, technology operations, and risk factors, across which a product and technology need to be evaluated.
Strategic Alignment with respect to the product and growth strategy talks about creating product differentiations and amplifying it, enablers or inhibitors of product breadth, ease of expanding to new markets, product scale and operations.
The Solution/Product tenet talks about volumes, scenarios and context. It deals with modularity of the product or the solution and the ease of its evolution, how it is designed and engineered for scale, its fault tolerance, the security and data isolation, and the deployment of data-centric tooling and models.
The technology organization is all about leadership, vision, and scale. It encompasses aspects such as leadership depth and maturity, skill gaps and strategies, growth models and risks, and multi-dimensional capabilities.
Partners, platforms, and infrastructure form the 'Technology Operation' pillar of the five-point framework. It deals with technology and tool choices, development practices, automation practices and gaps, fatigue detection and recovery, and disaster recovery and business continuity.
The final facet of the framework is the risk factors to be considered while assessing a product or a technology – It involves growth, technology, and operational risks. The technology choices, obsolescence, access to skills, vendor lock-ins, ease of maintenance and evolution, vulnerability in the infrastructure and architecture, the data security and protection, and the tools and practices adopted to detects frauds and anomalies, are the aspects to be analyzed to understand the risk factors underlying a product or a technology.
It is important to understand the product and its readiness for the growth strategy hypothesis to be applied to it. That 'Strategic Alignment' is very important. That then cascades into what needs to be done at the product level, assessing the technology organization, and then the operational aspects of it.
Vaibhav: What are the key factors because of which or instances in which products can fail?
Sunder Sarangan: Some examples of instances in which products have failed are about companies that are trying to grow in newer markets. The technology should be able to scale to support the ecosystem of the newer market in order to be successful. It is important to factor in not just customer behavior but also market behavior. Especially, if the new market that the product is trying to grow in, operates in a vertical that is regulated, the product should be compliant to the regulations, scalable, and also be fungible. The lack of these factors might lead a product to fail.
The second aspect that leads to product failure is with respect to the technology organization – How is the technology organization structured and is it geared for the required scale? The technology organization should be able to adapt by bringing in new talent, should be structured differently, and be conducive for working with partners; the behavior, culture, and capabilities should be aligned to meet the required scale, in order for the product to be successful.
Vaibhav: Considering the competition and numerous companies serving the same use case in the given market, how do you really differentiate a product?
Sam Fahmy: Competition is definitely an important factor in determining use cases. While picking our use cases, we took into account, our competitive capability. We asked ourselves the question, "Is our set of capabilities better equipped than anyone else's to serve these use cases?" We broke down our capabilities, assessed them, and determined the use cases.
Our choice of use cases was based on our competitive strengths and our competitor's weaknesses.
Partner Ecosystem and Services Delivery are important, but we don't believe they are absolute differentiators – they are important to everyone.
Low total cost of ownership (TCO) and ease of use are often overlooked; yet, are very critical differentiators. For example, AWS (Amazon Web Services) is the most preferred Cloud infrastructure provider because it provides low total cost of ownership and is easy to use.
Praveen: You focus on two micro use cases – Anti-Money Laundering and Account Opening. How do you decide on targeting a lower addressable market and achieving a higher Enterprise Value (EV) at the end of the journey?
Sam Fahmy: We are not exclusively selling these use cases but are proactively targeting them. We want to dominate the market with the two use cases that we target. But at the same time, our software is horizontal and can be used by anyone. This means, we are not turning away the demand from other use cases. For example, think of Apple trying to sell their computers to graphic designers. Their entire marketing strategy was targeted at graphic designers, but that did not mean they would not sell an Apple computer to an accountant. Similarly, by perfecting the use cases that we cater to, we are creating a repeatable playbook which can then be repurposed to solve for hundreds of other use cases.
Vaibhav: What is more important in a product – Innovation or Impact?
Sam Fahmy: Impact cannot be created without innovation. There is a difference between innovation and invention – Innovation is customer-focused, business-oriented creativity, and we believe it has been the largest driver of impact.
Vaibhav: How is the overall SaaS transformation and its growth impacting the Alliance ecosystem in terms of the types of partnerships that you forge?
Ravi Asrani: When we look at the way our partners have associated themselves with us, whether it is subscription-based or SaaS, it hasn't been significantly different from each other. The partnership is based on the need for innovation and to deliver outcomes that are in line with the customer expectations.
Praveen: What is the playbook to establish a partnership between big Global System Integrators/big firms and the ones in the Sub-Billion Dollar range?
Ravi Asrani: There are two ways to collaborate with the big firms:
The first way is to be a part of their digital innovation/co-innovation network where they bring in companies that are solving specific problems in that industry. Big firms encourage companies that are small, agile, and are innovating faster than the industry to position themselves in front of their customers.
The other way is to focus on the specific horizontal services business unit within the USD 20 Bn-30 Bn company that has the most to gain from the problems that the organization is solving for its customers. Therefore, it is critical to know the target units within the System Integrators (SIs).
Addressing a small market, dominating it, and creating a reusable playbook, assessing a product's alignment with the growth strategy before acquisition, leveraging the co-innovation network – the webinar brought forth interesting insights on approaches to be adopted by software companies to augment their growth, ways to assess the right Enterprise Software firm for PEs to invest in, and also on forging fruitful alliances between established System Integrators and small product companies.
The Enterprise Software industry is clearly attracting billions of dollars of investments. Are you that Private Equity firm that is grappling to make investments in the right Enterprise Software company? Drop us a note at
info@zinnov.com
for expert insights on the same.