Fact: More than 55% of Fortune 500 companies now have executive leaders with an explicit mandate to promote diversity and inclusion. (Research by Forbes Best Employers for Diversity, 2022)
Fact: Only ~18% of India's 28,000 start-ups have women founders. Moreover, this share is similar across all stages of funding. (Creating 10X Women Founders in India report 2023, a joint study with TiE Delhi-NCR, Zinnov, Google, NetApp, and Indian Angel Network)
Despite women founders blazing a trail in the Indian start-up ecosystem, building successful billion-dollar businesses and many others in the offing, a lot of challenges hinder women from becoming entrepreneurs. However, there has been a fundamental shift in outlook, and the momentum for having more women entrepreneurs is snowballing across the ecosystem – from governments (both at the center and states), corporates, industry bodies, to ecosystem orchestrators, and investors (Venture Capital firms, Angel investors, etc.) – playing a key role in enabling this.
Women Entrepreneurship has also taken center stage in India's G20 Empower 2023. Venture Capitalists are introducing women-centered funds and programs, such as SheCapital and StrongHer, which exclusively support businesses founded or co-founded by women. Initiatives like Sequoia Spark provide grants, knowledge, and networks to support notable women-founded or co-founded start-ups. Corporates have also taken steps to promote women founders, as exemplified by programs like ExcellerateHER by NetApp and Google for Startups, that have emphasized supporting women entrepreneurs in recent years.
How Corporates can Fuel Women Entrepreneurship
There are two main ways corporates can play a role:
1. Reconfigure existing Open Innovation programs to have a Gender Lens
"Considering our focus is technology start-ups, do we have enough women founders in tech?"
This question was posed by a Program Manager of a US-headquartered GCC when trying to conceptualize what the organization can do to support women founders while not losing focus on the primary objective of validating corporate-start-up synergy through Proofs of Concept (POCs). This question highlights a very real concern that leaders of many open innovation programs have while thinking from a gender lens: a concern about the supply side gender demography in that space.
What we found in our recent joint study, 'Creating 10X Women Founders in India,' was that while the number of women founders in India is a mere 18%, they exist in similar sectors and themes as male founders, probably because these are the sectors with the required demand and funding for them to start up in. Hence, if a corporate is contemplating starting an open innovation program targeting a particular sector, there is a good chance that their start-up pool has 16% to 18% women who founded/co-founded start-ups, to think about adding a gender lens to the program.
The next question that the corporate should answer is how to incorporate the gender lens into the program. Here are two notable cases in point, captured in the study.
Case 1: NetApp ExcellerateHER, a DeepTech-focused start-up program applied a gender lens to intentionally look for women founders for one of their Excellerator Cohorts, and subsequently launched the "ExcellerateHER" brand, which started attracting more women founders with DeepTech solutions to their program. They also made a few adaptations to program delivery but maintained the core of Excellerator, which was valuable to any start-up, irrespective of gender. With this move, they now have 25% of their POCs with women-founded/co-founded start-ups.
Case 2: Google for Startups, an open innovation program launched in 2016 that usually attracted 5% of start-up applications from women founders, decided to bring in the gender lens in 2018. The team started running boot camps, events, and knowledge sessions focused on women founders; this also gave them immense confidence in the supply-side demographic and improved the pipeline to 35% applications from women founders. In 2022, they launched a separate open innovation track for women founders.
What the above snippets highlight is that the starting point for both Open Innovation teams was similar – they started their journey with attracting and engaging women founders, built their confidence on the supply side, and now have cracked the gender lens approach that works for each of their construct. India currently has 85+ open innovation programs run by Corporates, but very few of them have a gender lens. However, if there is strong intent and a sound strategy by each of these corporates, they can play a significant role in advancing the Women Entrepreneurship agenda.
Suggest Read
Virtual Accelerators - The Asset-Light, Value-Heavy Business Model, A Globalization Gamechanger
Read Here
2. Introduce or Collaborate with Programs at Idea Stage
"While the absolute number of women founders has increased in the past decade, the percentage has not changed," shared the founder of a women-focused VC fund during our study. Our evaluation of start-ups founded in the past 10 years, brought out the same story: ~18% of start-ups registered YOY are founded/co-founded by women.
To understand why this percentage has consistently remained low, we ran a survey to check if women have a lower entrepreneurial intent. We asked 370+ employees across the business and technology workforces if they wanted to start up in the next 5 years. Turns out, women expressed a similar intent to start up as compared to their male counterparts; in fact, they were one percentage point higher. But entrenched gender roles make entrepreneurship a less viable career option for women.
However, when women do decide to take the plunge, they are as successful as their male counterparts.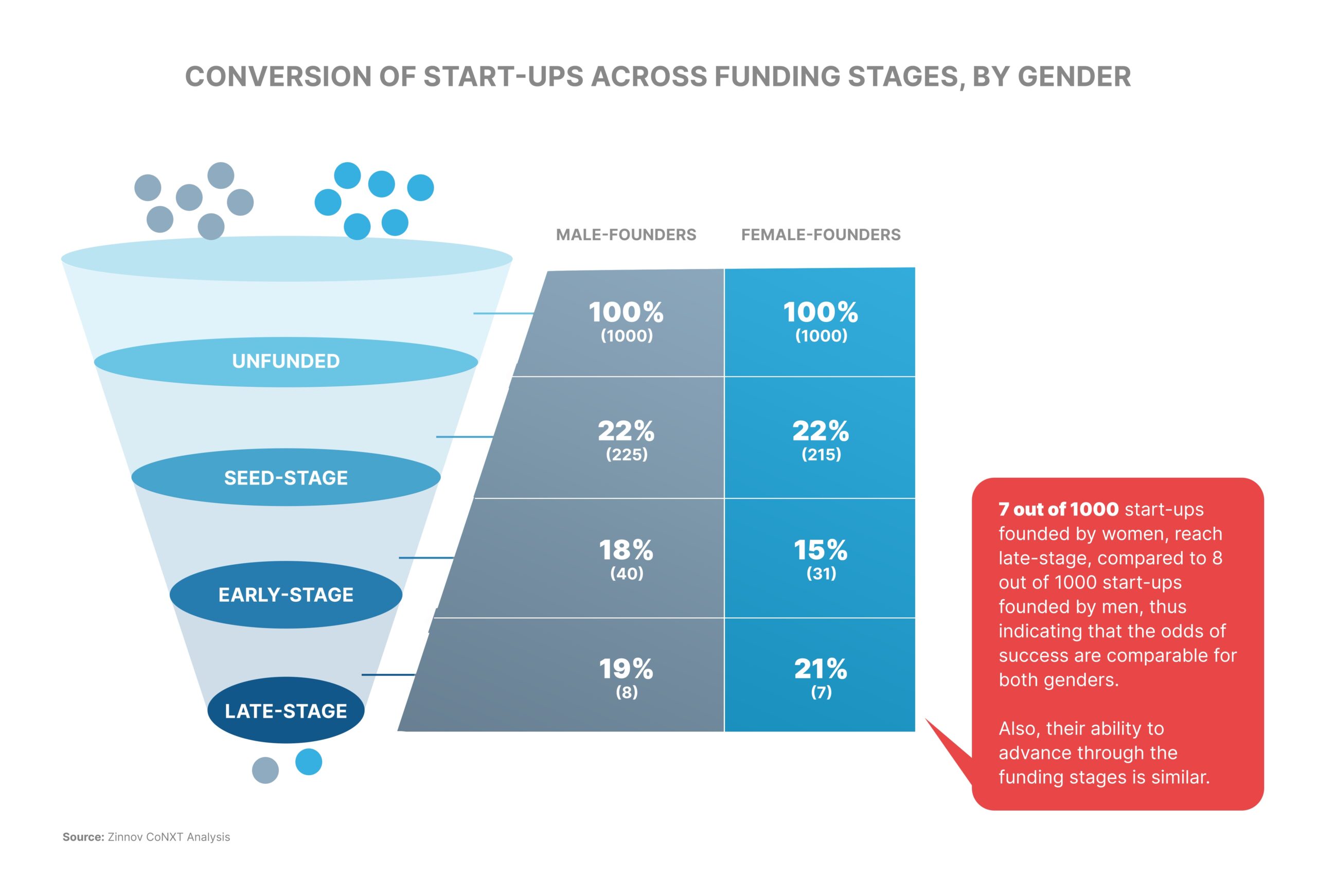 Hence, ecosystem players—corporates included—should play a role in tapping into women's entrepreneurial intent and helping them start up. Corporates can also support women at the idea stage by partnering with governments or non-corporate accelerators that work with women in the early days of their entrepreneurial journey. Niti Aayog's WEP platform and the WEE Foundation are two such platforms that have multiple corporate partners. While it is heartening to see women founders shattering more barriers in their path, true equity is far from being a reality.
What Next?
Corporates and their open innovation teams can play a critical role in advancing the women entrepreneurship agenda, by removing some of these barriers and empowering more women and girls to take up entrepreneurship as careers. The road to equity is a long one, but one that is possible, requiring buy-in and collaboration from the larger ecosystem.
How can corporates work with the start-up ecosystem? How can corporates and their open innovation programs bring a gender lens? Know more by speaking to our consultants at
info@zinnov.com.