One of the biggest lessons we learnt from the pandemic, was how people have started to re-evaluate their lives – at work and beyond. Flexible work hours, better growth opportunities, mental well-being benefits, and a deeper sense of purpose were shown to be some of the biggest reasons that lead to worldwide phenomenon, The Great Resignation. Corporate career breaks have become increasingly common; to prevent burnout, to focus on passion projects, and to experiment with different career paths.
Why Returnship Programs
If we were to step back and evaluate, this workforce can be looked at as an untapped pool of talented, capable, and experienced can be re-integrated into corporate jobs. Only 3% of India's female population make it to senior management positions, in corporate India. If organizations, were to make a focused attempt to provide for bringing such people back, it would lead to increased productivity and stronger teams.
The numbers are staggering – in the past five years alone, around 100,000+ women have left the workforce in India Inc.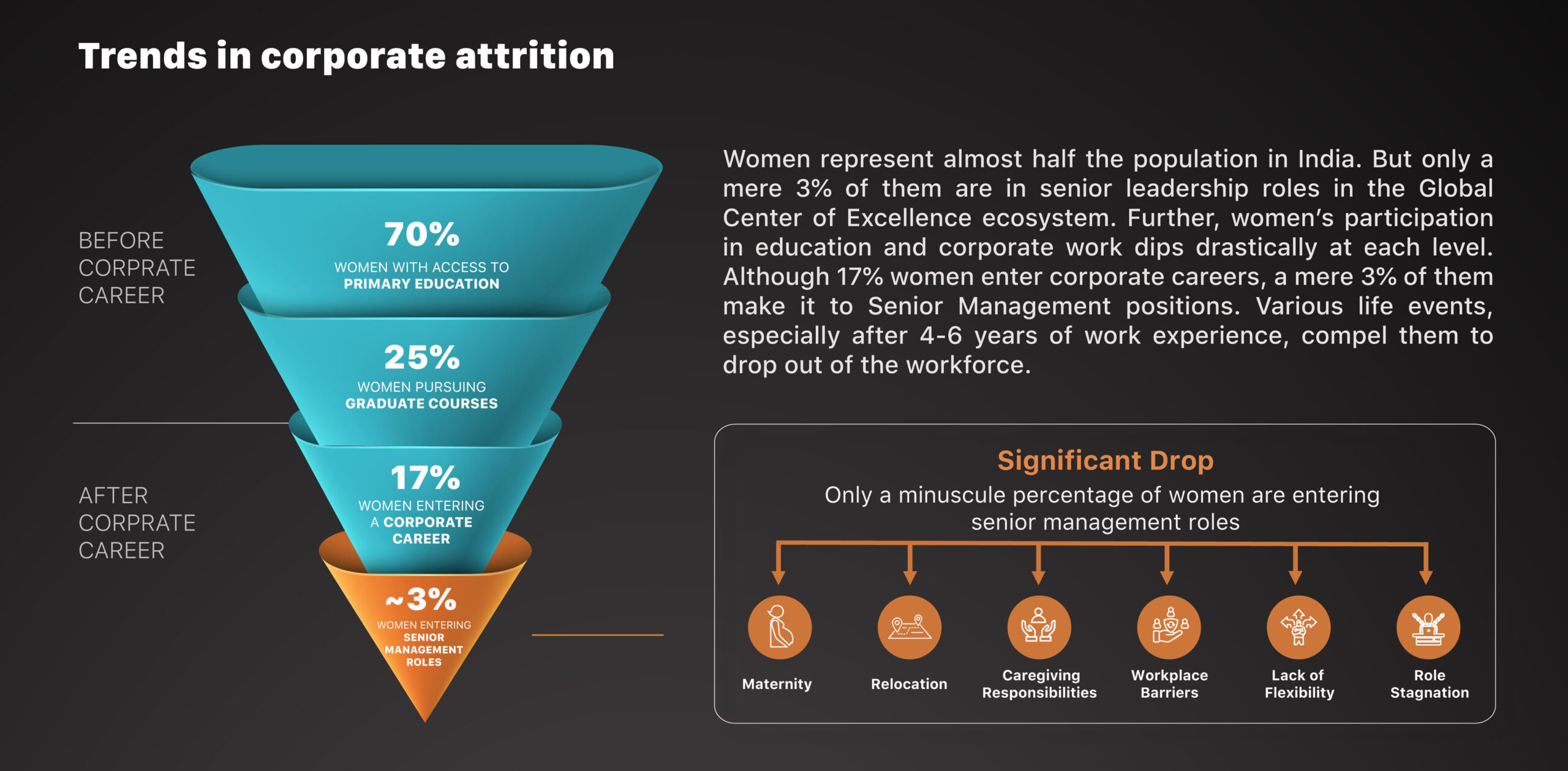 But what are some of the primary reasons for so many skilled women to quit?
Maternity (choosing to quit their jobs, arising from a perceived difficulty in resuming after 6-12 months of break time)
Caregiving responsibilities (children/elders – women play the primary caregiver's role in India)
Relocation (in favor of a spouse's aspirations over their own)
Workplace barriers (biases and microaggressions)
Lack of flexibility (to help them juggle between 2 full-time jobs, motherhood being one of them)
Role stagnation (lack of opportunities)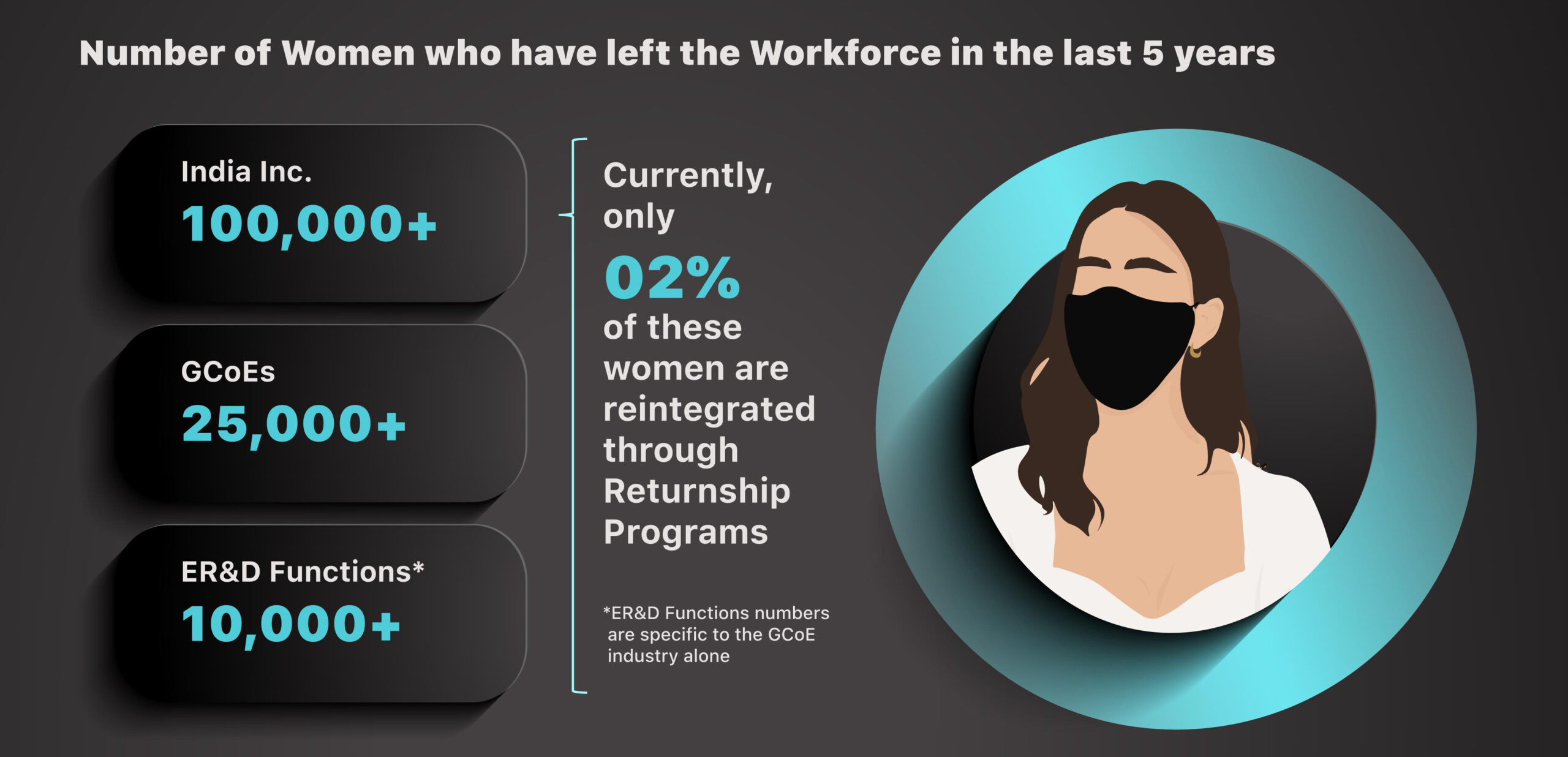 This group of people – primarily women – normally finds it difficult to reintegrate back into the workforce, arising from a limited/reduced network reach, or lack of opportunities. However, there are concrete ways for organizations to address this disconnect through structured Returnship programs.
A Returnship program is a structured program that works with adults who have been away from the traditional workforce for a longer period, with the goal of reintegrating them back in. Zinnov believes that structured Returnship programs are a key, scalable, and sustained hiring strategy, as people who have been on career breaks are qualified, have the relevant experience and industry know-how.
Conventionally, companies have built their talent arsenal through campus recruitment, lateral hires, etc., as a steady pipeline of talent. However, they have underutilized this pool of skilled talent – people on career breaks. With the right training, this pool of under-tapped talent can be an invaluable asset to a company's talent arsenal. Therefore, Returnship programs can be a powerful talent strategy, especially in the wake of 'The Great Resignation.'
With clearly allocated resources and a strong design, Returnship programs can offer the same predictability and successes as a campus hiring program. A quick calculation shows that focusing on even 0.5% of this under-leveraged talent pool, can fulfil a significant portion of an organization's current talent requirements.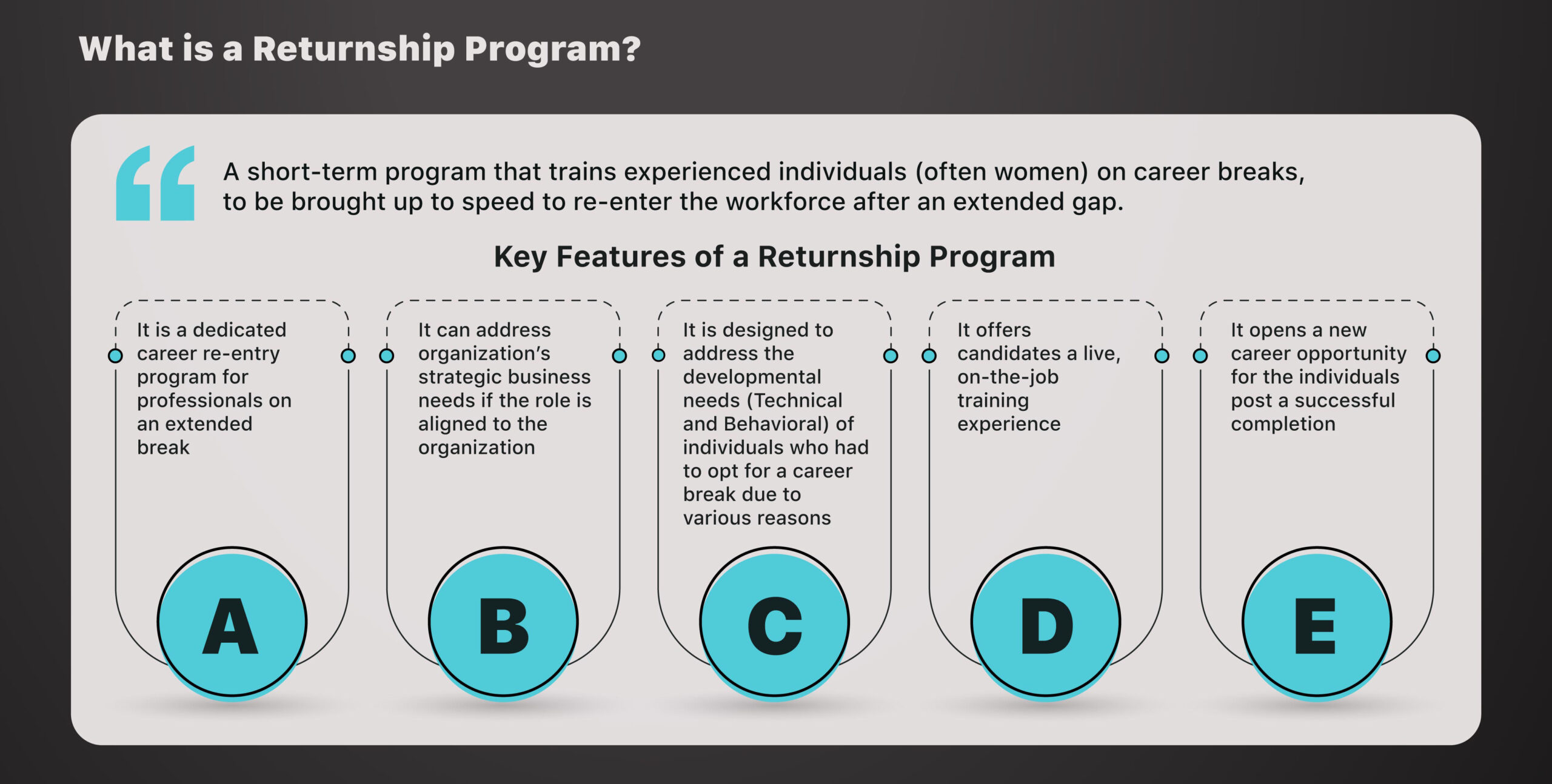 How Returnship Programs can Strengthen an Organization's Talent Strategy
A recent Zinnov study reveals that Returnship Programs are a commonly overlooked strategy to attract and retain the right talent. Recruiting people on career breaks back into the workforce has shown to bring novel perspectives to a workplace that can challenge the status quo, by bringing specialized, unique strengths and skill sets to the table. Their presence motivates others to join the workforce and creates a diverse environment in terms of life experiences. Returnees are also shown to stay in an organization for longer than those who have had traditional career paths.
Suggest Read
How To Master Digital Talent Management In 2023
Learn More
The most important ingredient to making such programs work and succeed, is translating these qualities into a viable business investment. Thousands of people have lost work since the start of the pandemic. This not only shows more scope for setting up dedicated Returnship programs for women, but how recruiting new talent can reduce complexity of operations and increase flexibility due to working from home.
Current Returnship Programs
Zinnov's study evaluated over 40 Returnship Programs currently operational in India, and spoke to leaders who manage them to assess the best practices and challenges in running successful programs. Microsoft, Infosys, JP Morgan, Morgan Stanley, and VMware are some of the multinationals that already run robust Returnship programs and have seen increased performance and engagement.
Interestingly, Returnship programs have led to numerous shifts in HR trends in organizations, including decreased gender gaps, closer pay parity, and increased diversity and representation in the workplace. However, the Zinnov study highlighted that a lot of Returnship programs fizzled out because of a lack of a dedicated team and resources. Many organizations grappled with challenges around executing the right design structure. The few companies that have been able to institutionalize their Returnship programs effectively, and at scale, have continued to reap the benefits.
As the pandemic evolved business functions across the world, more people were rendered unemployed. Though Returnship Programs were already proliferating even before the pandemic, they have gained new momentum in 2021, with more people seeking work, globally. Returnship programs can also be gender-agnostic and can be a powerful strategy as organizations combat the hiring challenges they are facing, in the wake of the pandemic.
Making the Case for Returnship Programs
A crucial first step for business leaders and hiring managers is to recognize the unique blend of dedication, passion, experience, and talent available within this under-tapped workforce. To actualize successful Returnship programs, organizations need to fundamentally rethink their hiring mindset and create quantifiable impacts by aligning such programs to business requirements. People who have taken career breaks aren't always opting out of their careers entirely. As inclusion and diversity become buzzwords with people strategies and across organizations, it's important for leaders and businesses to step back and redefine what inclusion really means, and how broadly can its definition be expanded..

A focused effort and an agile governance strategy can help drive successful implementation of these programs, making them scalable and sustained channels for hiring. For Returnship programs to function efficiently, customized Training and Development strategies need to be in place, that work on specific need identification and gap analysis capability. Not only does this make a strong business case for Returnship programs, but also helps customize the needs of individual returnees . It is crucial for organizations to welcome these returnees into a safe space, where the environment around them is supportive and gives them the required flexibility to unlock their true potential. Leaders, hiring managers, and teams should be strategically sensitized to the needs of returnees and made aware of the positive impact of having them on board.
To set up a scalable and structured Returnship program in your organization, get in touch with us at
info@zinnov.com