Financial muscle, data richness, talent, tools, brand – these have long been key ingredients of a company's growth recipe. However, with digital becoming ubiquitous, the recipe is now evolving. Talent, especially technology talent, and frameworks, playbooks, etc., have now become far more crucial than other ingredients. As digital becomes the new normal and companies have disruption for breakfast, they need a robust strategy to attract the best-in-class talent that is available.
However, with unicorns and tech giants entering the talent battleground, the war for tech talent is intensifying and it is becoming more and more difficult for companies to attract top tech talent. In fact, every company is now becoming a digital company.
Consequently, it is imperative for companies to look at alternative talent acquisition strategies like social media recruiting, hiring through hackathons, etc. One such talent acquisition strategy that has gained grounds in recent times is Acqui-hiring.
What is Acqui-hiring?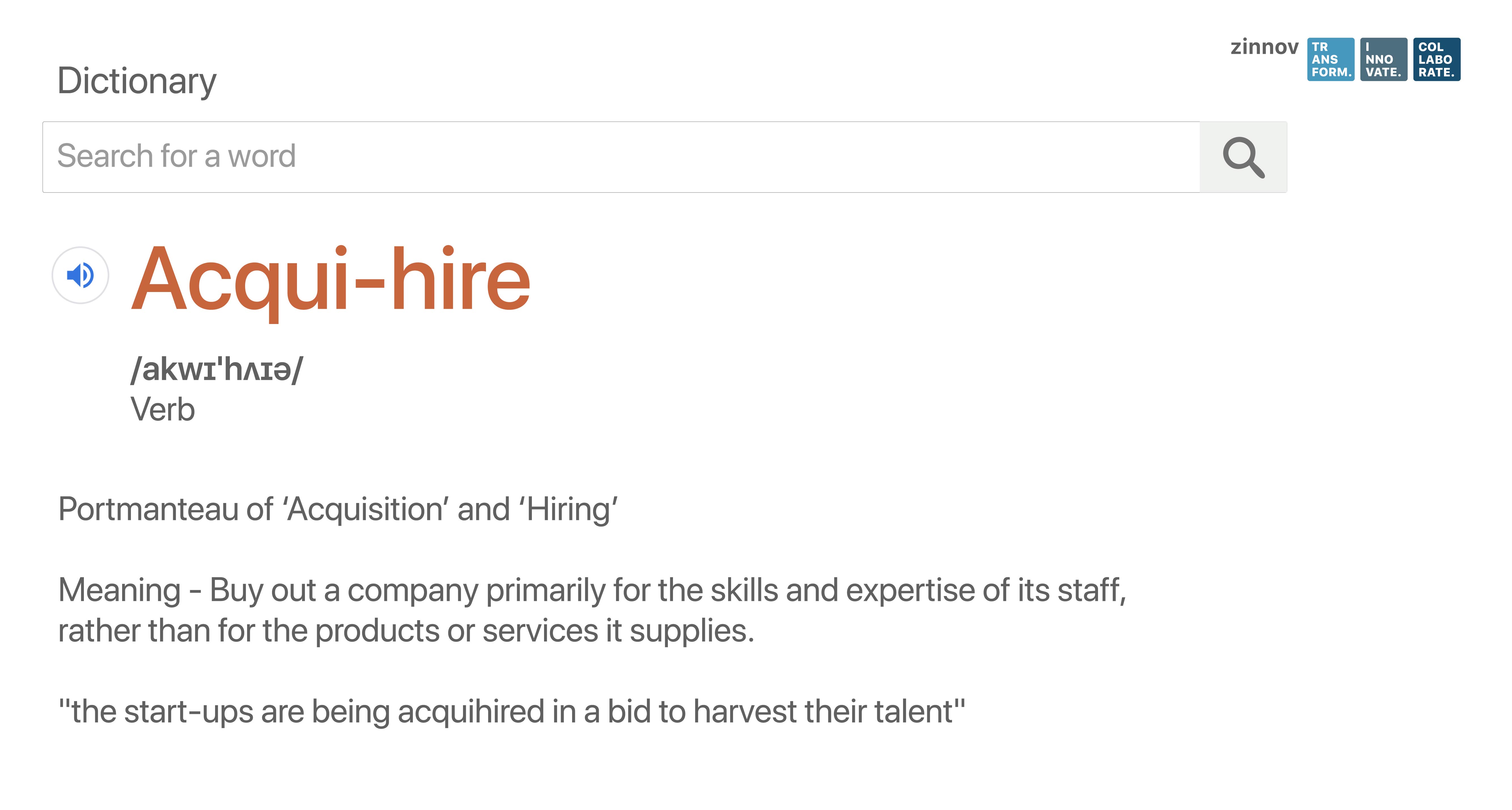 When a company acquires another company (usually a start-up) to get access to its talent with or without its intellectual property; but not for its revenues, customers, or products/services, it is called Acqui-hiring. The word Acquihire is a portmanteau of 'Acquisition' and 'Hiring.'
Major tech giants like Amazon, Facebook, and Google have been tapping into niche technology talent using acqui-hiring for quite some time now. Even unicorns like Swiggy, Ola, etc. are acqui-hiring companies that showcase technology talent competence in areas such as AI/ML, analytics, IOT, etc.
Recently, Walmart Labs, India, acqui-hired BigTrade, a Bangalore-based B2B wholesale trading platform to bolster its customer service systems. Another instance is that of Automation Anywhere acqui-hiring a product engineering start-up, Cathyos Labs, specializing in product development, automation, and predictive analytics to support the company's expansion and product innovation.
Why is Acqui-hiring gaining popularity?
As compared to 2018, the share of acqui-hires in the total number of Mergers & Acquisitions in India has increased from 10% to 13% in 2019. With more than 22% of the acqui-hired start-ups being deep-tech start-ups, it is evident that companies are looking to strengthen their tech capabilities. In fact, over the past three years, there has been a sharp increase in the number of acqui-hires of deep-tech start-ups, and this trend is expected to continue in the future.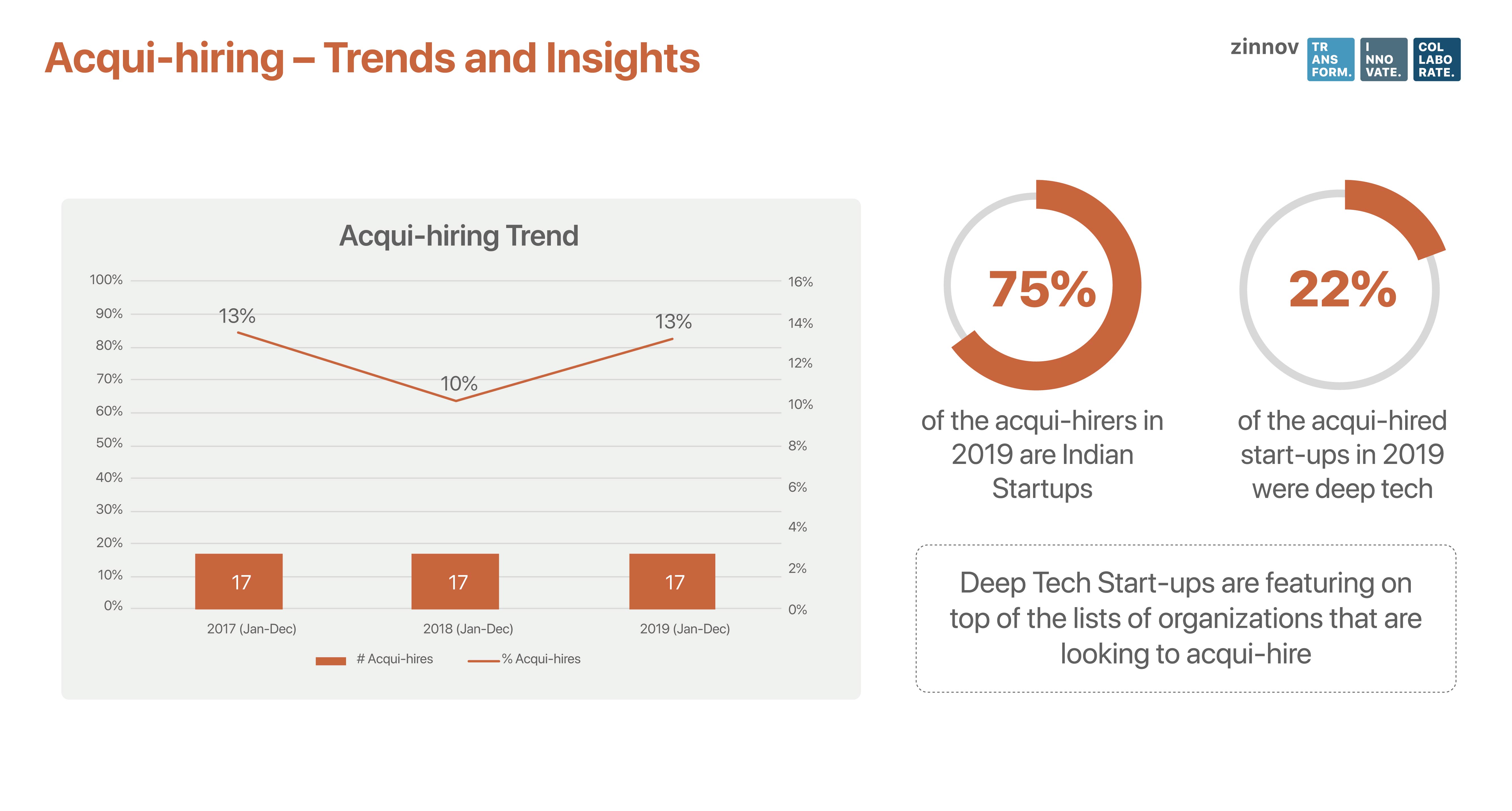 In the year 2019, more than 75% of all acqui-hires were made by Indian start-ups, 14% by Global MNCs, and 6% were made by Indian MNCs. Clearly successful start-ups have found acqui-hiring to be an effective way to get access to new-age talent.
There are three key reasons behind a company's decision to acquihire:
Building Tech Capabilities: This is perhaps the most obvious reason that companies take the acqui-hiring route. With the rapidly changing technology landscape, companies need to constantly upskill their workforce. When start-ups bring forth tried and tested talent that has the necessary skills, it adds great value since it allows the company to reduce the time taken to upskill candidates before setting them to their tasks. Many global corporates are acqui-hiring Indian start-ups with the purpose of creating teams with new-age digital skills in AI, IOT, and RPA. For instance, Page Solutions acqui-hired Aetlo Tech to build its blockchain capabilities.
Product Portfolio & Market Expansion: 93% of the start-ups that are acqui-hired hail from the same industry as their acquirers. This is because acquirers are usually looking to strengthen their current market cap and expand their product portfolio. A case in point is that of a leading long-distance travel app. In 2018, they acqui-hired, an online food aggregator connecting restaurants to Indian Railways. The acqui-hired start-up helped establish a last-mile capability that helped achieve complete offline and online experience for its users.
Entrepreneurial Culture: As technology giants grow bigger, their propensity to take risks and pivot reduces. By creating teams around entrepreneurs, they can build a bold and innovative culture. Adoption of lean and agile methodologies, and a result-oriented mindset, prove highly beneficial for companies looking to stay ahead of their competitors.

Clearly the benefits of acqui-hiring are many. It is one of the most efficient inorganic ways to acquire niche talent and can save the acquirer a lot of time and energy that is required to build a fast-paced team via an organic talent acquisition mechanism.
Ok, so when does acqui-hiring work best?
Acqui-hiring is best suited for companies that have:
Rapidly growing teams, since the integration challenges are fewer
Newly founded teams that are leveraging niche skills – for e.g. a Centre of Excellence
Products where ownership can be rapidly transitioned to new teams – new services/products/solutions
Critical and important gaps in the product roadmap that need to be filled
How does the acqui-hiring process work?
Success of acqui-hiring rides heavily on getting stakeholder buy-in and building the right processes. Here are some of the key steps involved in getting acqui-hiring right.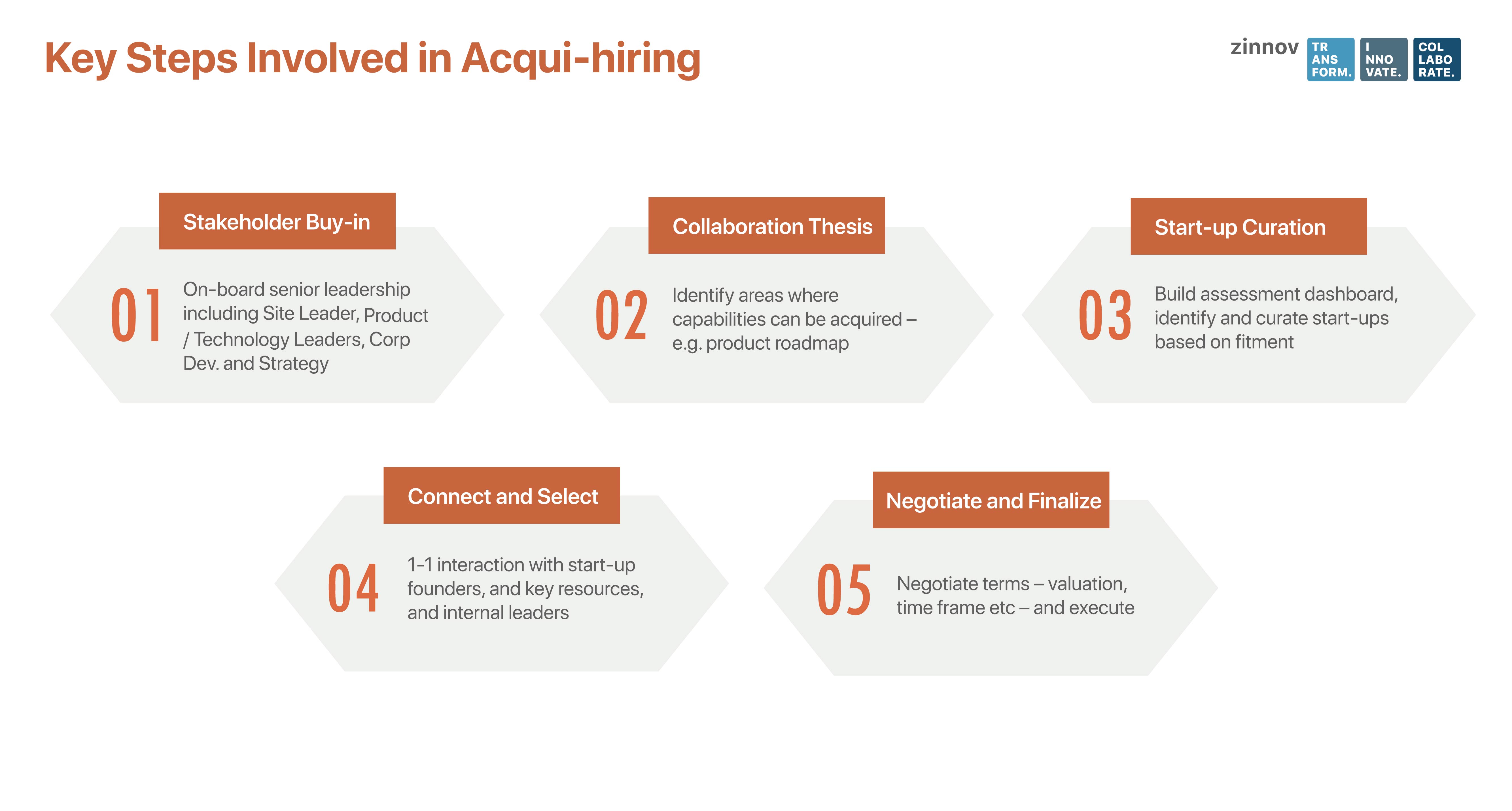 While following these steps can increase the odds of the success of acqui-hiring, there are a few key levers that you must have in mind to ensure a successful acqui-hire.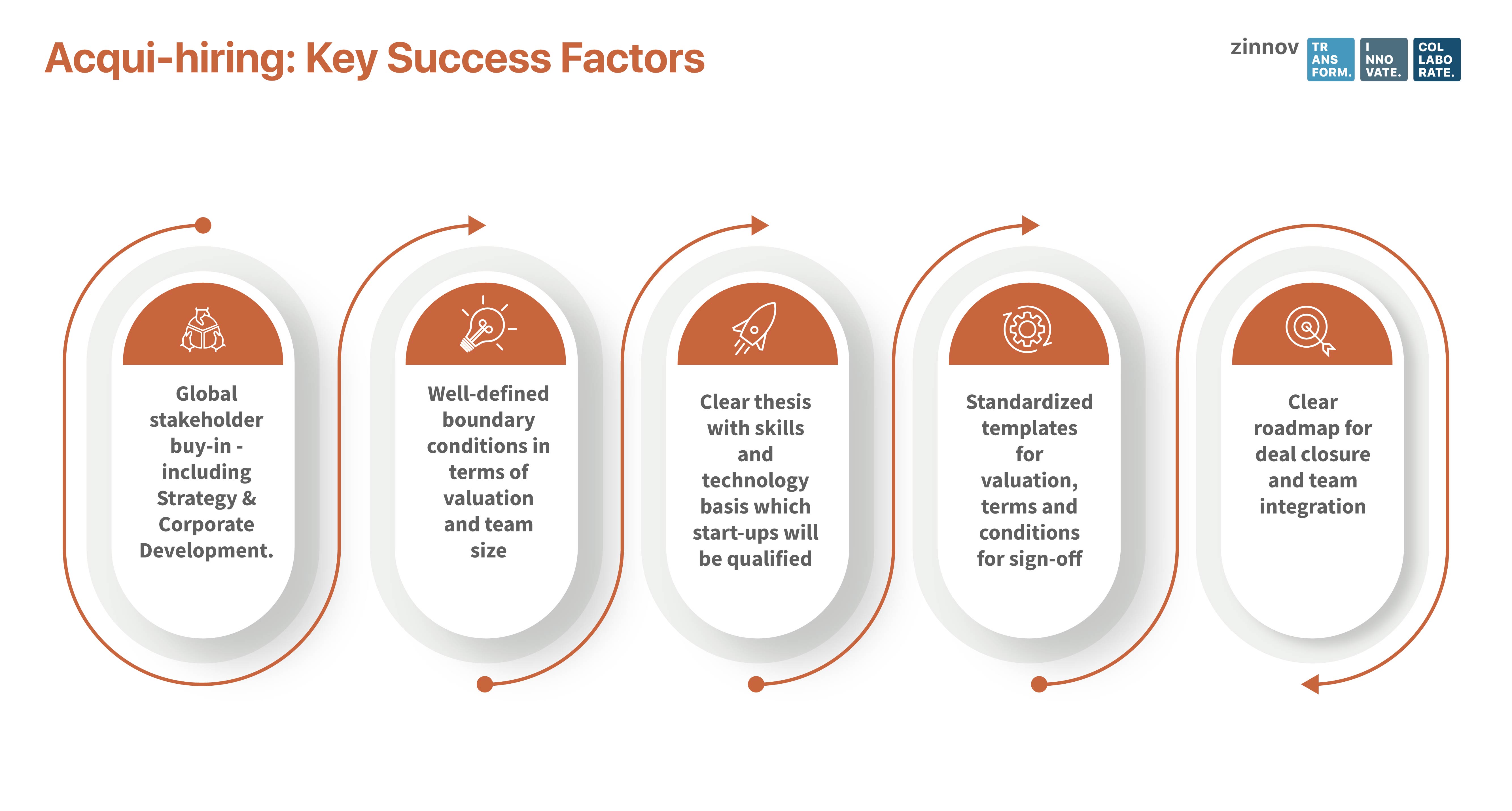 Perhaps one of the most important factors is that the team that has been acqui-hired must understand the vision of the acquirer and resonate with it. The cultural transitions need to be smooth and there should be periodic checks to ensure that the team is feeling one with the rest of the company. Lack of cultural integration is a major risk that is involved in acqui-hiring.
Risks involved in Acqui-hiring
While the acquirer can absorb experienced and already structured teams, acqui-hiring also poses a few risks:
• Deal Structuring: The acquirer needs to be wary of how the deal is structured and how the payments are rolled out to the investors and sponsors of the acquired start-up.
• Post-closing Liabilities: The acquirer should engage a legal team to ensure that the board of directors face no liabilities from the acquisition.
• Change Management: The founders of the acqui-hired start-up would lose their exalted status and will have to adapt to the culture within the acquirer's organization. And again, this is one of the most complex steps as it requires the acquirer to make culture changes within their own organization as well, to reap maximum benefits of fostering an entrepreneur and their team.
Despite these challenges, the benefits of acqui-hiring outweigh the risks. Acqui-hiring is not only good for an organization's talent base enhancement, it can also help transform an organization's culture by bringing in the innovation DNA and entrepreneurial thinking.
Acqui-hiring: The shot in the arm that incumbents need
As the lines between verticals and industries continue to blur, every company now is becoming a technology company. Therefore, the demand for technology talent is only going to spike as time goes by. Acqui-hiring is hence an effective talent acquisition strategy that can help companies get access to top-notch talent and expand their tech capabilities. It will also help companies expand their product portfolio and market cap. With acqui-hiring, companies, especially incumbents are getting that necessary shot in the arm, where they could learn from the start-up and level-up their thinking. As the start-up culture slowly seeps into larger companies, it will also bolster the entire ecosystem and inspire it to develop an entrepreneurial mindset.
However, companies need to be cognizant of the fact that acqui-hiring requires a defined roadmap to de-risk the process and increase the odds of success of acqui-hiring.
Curious to see if acqui-hiring can be a viable option for your organization's talent strategy? Write to us at
info@zinnov.com
to get insights on how you can integrate acqui-hiring within your talent strategy to gain maximum benefits.