On a typical Tuesday afternoon, Starbucks aficionados in the U.S. found themselves in a (caffeine) fix! Literally!
Patrons had to look for alternatives instead of their usual pick-me-ups, as Starbucks, on 29th May 2018, shuttered more than 8000 of its outlets across the US for a 'Racial-bias Education Training.' This was done in light of an incident in Philadelphia that triggered a major nation-wide fall-out against the Starbucks brand. To add to the brew, the leadership at Starbucks was undergoing major changes, with strategies being implemented that would result in an organization-wide shake-up. To cope with the negative brand issues, Starbucks had to come up with new inclusive policies and began implementing changes across the organization. Starbucks, being a global coffee behemoth and a food industry giant, will continue to remain in the spotlight as it copes with social issues and management changes. Will Starbucks stay intact when it emerges out of this change tornado? Only time will tell, but what we can tell now is that if they don't implement a robust change communication strategy, it will be hard for this giant to ride out the storm.
With the failure rate of organizational change projects pegged as high as 60-70%, any organization, even Starbucks, needs to be on top of its game to survive such a massive change. One of the most common reasons for such a high failure rate is poor change communication management. As George Bernard Shaw said, 'The single biggest problem in communication is the illusion that it has taken place.' Organizations need to be cognizant of the fact that for the success of change management, change communication is key.
Change Communication is an approach to introduce and communicate change in an organization in an effective manner, with a consistent and clear message. What makes Change Communication stand out from other modes of communication is the element of emotion inherent in it, along with a tactical messaging approach that reaches employees on an individual level.
As large enterprises world over embark on Global Engineering 2.0 change initiatives to increase the efficiency of the R&D organization, key aspects to monitor include the impact on employees, customers, partners, and the brand. All of this can be effectively managed with 'Change Communication.'
Perils of Unplanned/Unstructured Communication
With the veritable fusillade of technology, engineering, business models, and regulatory changes being faced by organizations, a well-designed communication flywheel is imperative.
Implementation of engineering transformation initiatives brings along some tough decisions, including a change in employees' area of roles and responsibilities. Uncertainty and lack of knowledge of 'Change plan' lead to stress and office grapevine. As time goes by, without clear communication, more and more employees, customers, and partners start lending to the conjecture, only to magnify the confusion and stress. Organizations that fail to communicate the change clearly and efficiently, face –
Undue stress in employees;
Relational breakdown;
Low employee morale;
Dissatisfied clients and partners;
Loss of critical talent.
These can be a nightmare to combat for any organization trying to transition towards globalization.
Building a Communication Constant
Our 15+ years of experience of working with CXOs who have led change initiatives for their organizations have been condensed to present a methodical approach to drive change communication. A critical aspect is to counter behavioral resistance and enrolling champions and supporters by ensuring that communication remains a constant. Here are a few ways on structuring a strong change communication process –
Step 1: Evaluate the criticality of each employee
Leaders and senior management must assess and categorize their employees based on the criticality of their roles. Given below is a snapshot of the different categories:

Step 2: Ensuring a successful "First Communication"
The 'first communication' is the initial communication between the change leaders and change managers. Change Leaders build a vision, strategy, and platform for change while change managers are 'frontline messengers to disseminate communication of change.' Change Managers have a critical role to play in the entire Change Communication strategy. It is important that they effectively communicate the impending strategic transformation initiatives taken by change leaders. Hence, they must have complete insight into the 'what,' the 'why,' and the 'how' of the change that will be brought about, before they can disseminate information to other employees. Given below are some guidelines to consider:
Explain the risks to the organization, and their careers as a consequence, if the said 'change' is not effectively implemented.
Highlight how the leadership values them and wants them to be the torchbearers of change.
Share the dream (vision) with them and explain how they can help the organization achieve it.
Present a strategic path with their roles clearly defined as 'change enablers.'
Demand commitment and accountability.
Step 3: Getting the message across the organization
At each communication level and platform, there has to be clear understanding and consensus of what information is pertinent and what is critical for people to know, to participate in the change at each stage of transformation.
The "Second Communication" to the larger set of employees should come directly from the change leader, generally the CXOs (CEO, CIO, etc.), a person who is viewed as a trustworthy and transparent leader. It becomes crucial for this leader to present facts, while also communicating hope and a clear picture of the immediate next steps to allay fear and manage anxiety.
Leaders often struggle to clearly explain the 'purpose of change' for the organization as a whole, and 'what's in it for you?' for the employees. Even if they do try, most times they fall short in explaining the 'magnitude of change' and transparently explaining the impending consequences. Chances of successful messaging are higher if change leaders appeal to the 'feelings' of the employees rather than just their 'minds'.
Considering that all the changes that are planned can't be communicated at one go, there are important guidelines that we recommend that change leaders follow for strong messaging:
Outline a strategic path that will be taken to effect this impending change;
Build credibility through transparency;
Explain the vision and purpose of change;
Highlight 'what's in it for them?';
Be 'effectively' accessible for further questions.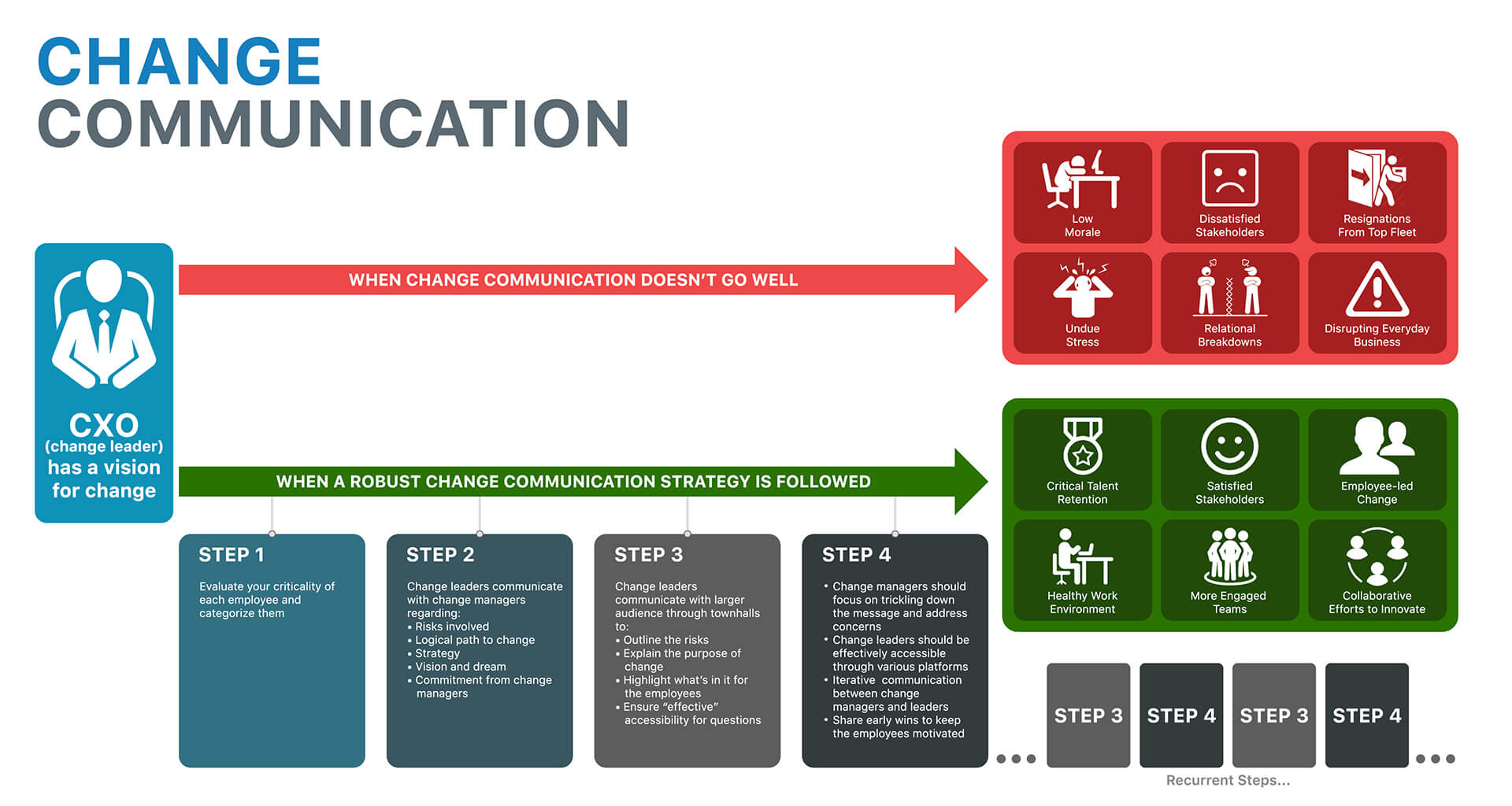 Managing Employee Fear Psychosis
It is often observed that despite leadership's best attempts, only partial information is absorbed by employees, and this negates the impact of the successful "First Communication." Moreover, since information is, on purpose, disseminated in fragments as and when necessary, in most cases, a majority of people start exaggerating the negative effects of change, even resisting change as it may directly impact them. So, the big question is, how to manage the fear that sets in before the change actually happens?
Based on each employee's 'value' defined in the employee criticality table above, the managers should communicate with employees in category 5 (Very Highly critical) and 4 (Highly critical) that they will have a future in the organization along with a clearly defined career development path. For employees in category 3 (Moderately critical), 2 (Low criticality), and 1 (Not critical), the conversation should be managed with the intent of NOT making specific promises of future in the company, but to allay their immediate fears of abrupt and/or unjust actions against them.
Our years of experience has helped us understand that the success of a change transformation rides on how effectively the breadth, depth, the vector, and velocity of the communication is managed. A well-defined communication strategy for before, during, and post transformation is critical. There should be periodic overtures giving more clarity on transformational initiatives and incremental positive change. To manage fear and keep the morale of the employees up, it is important to share and celebrate early success in transformation with the engineering team and reiterate how things are in line with the strategy and vision shared in the previous communication.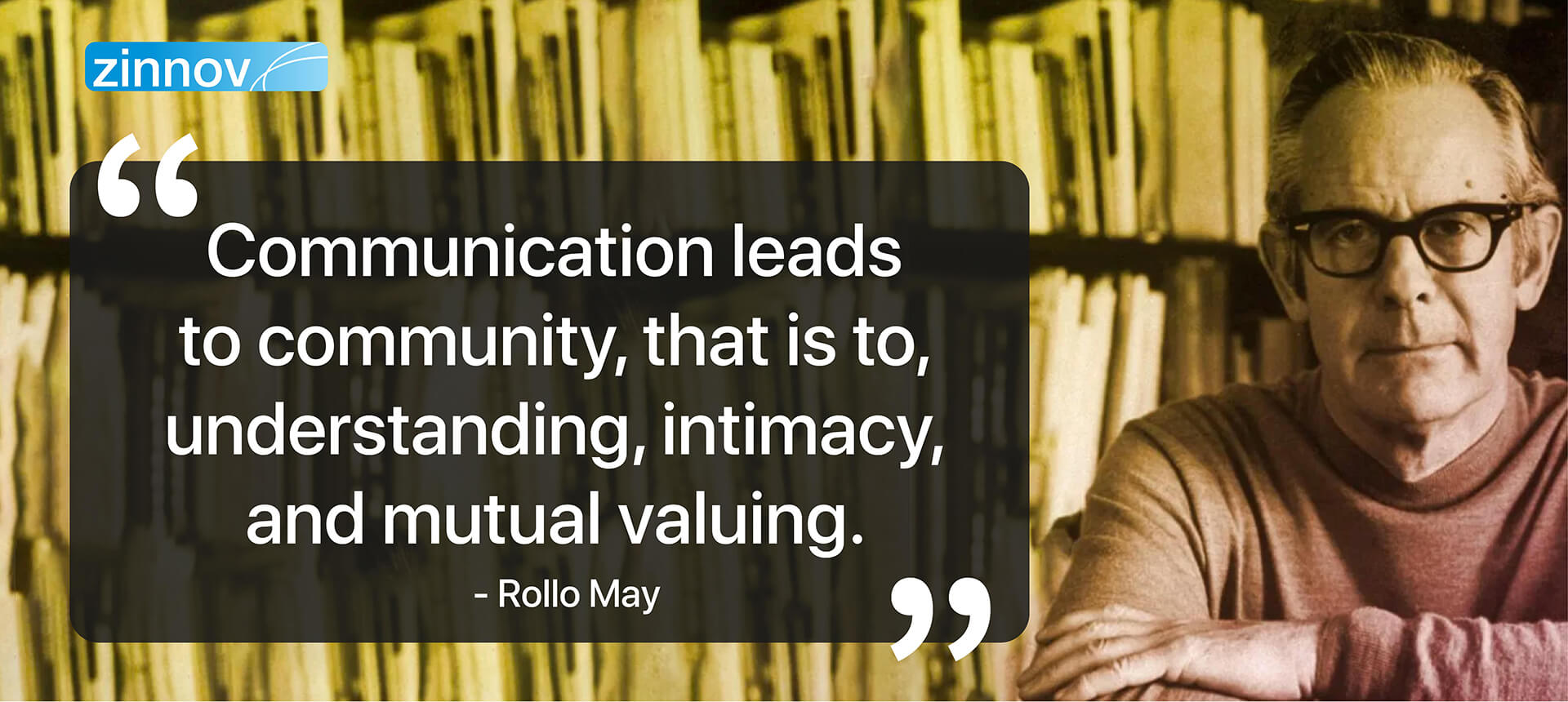 In an organization that is undergoing change, Change Communication is an intricate link in the change management chain. If this link goes missing, the entire chain of change might very well dismantle. Like Starbucks, companies will undergo change. From our vantage point, Starbucks has already set out on the right path to implement change. They recently had a townhall where the CEO, Kevin Johnson, shared his vision for the company and later sent out a memo to the employees talking about "significant changes" and his goal to "increase the velocity of innovation." Talking about the impending changes, Starbucks as a company acknowledges that change is difficult, but they also know that to break the status quo and grow as a company, change is the only way.  Meanwhile, the world will tightly hold on to its coffee mugs as Starbucks treads this path to change and companies will trace their footprints to learn the essential dos and don'ts of implementing organizational change.
If you are looking to ensure a successful transformation for your global organization, drop us a note at info@zinnov.com