With unprecedented disruption across the dimensions of people, processes, and functions brought forth by Digital transformation, setting up a Global Center of Excellence is emerging as a go-to strategy to build expertise in technologies and stay abreast with the competition.
The following is a transcript of a panel discussion on "Innovation Vortexes – Global Centers of Excellence at the core" by the experts Alexander Klotz, VP, Head of Technical Center India, Continental Automotive Components India Pvt. Ltd., Amita Goyal, Engagement Manager, Zinnov, Fritz Hesse, Chief Technology Officer, Bazaarvoice, and Girish Kamath, Vice President and MD, Scientific Games India, at Zinnov Confluence 2019 – India Edition.
Amita Goyal: In very simple terminology, a CoE that stands for Center of Excellence means, 'a unit that maintains the highest standards.' It is a unit with people of the highest caliber, knowledge, and competencies, who are working towards certain defined objectives in a certain defined domain to help the business outcomes. So, 'When do you think is the right time to start a Center of Excellence?'
Fritz Hesse: There are numerous opportunities/instances that spark the need to start a Global Center of Excellence. One is, when there's a skills gap, and second is when there are inefficiencies in an organization. One example is where we noticed that many departments, divisions, and teams were doing things in a similar way but not in the exact same way. They were duplicating the wheel and did not have expertise in efficient execution. So, we formed a CoE to centralize our practices – like quality, test automation, continuous delivery capabilities, and process engineering capabilities.
Alexander Klotz: To start a Center in India or anywhere in the world, you don't start with the Center of Excellence directly. Organizations like Continental have R&D hubs across locations, so one has to earn the credit of being called a Center of Excellence. So create that track record, start in some area, take work packages, take bigger work packages, and then eventually find out what's the value that I bring, where can I be the difference, where can I be the leader, and bring forth a USP. For example, what we have is a tech center that is hosting all kinds of automotive technologies – from powertrain technologies to highly automated driving. Innovation was the key driver behind setting up a CoE, for us. So that became our Center of Excellence approach – CoE to innovate across domains, and across different units.
Girish Kamath: We have been in India for a while, and we have an employee strength of 1600. We go about setting up a Global Center of Excellence when there is a strategic objective, a strategic need, and a buy-in from the stakeholders. There should be a P&L leader behind the effort. That was when we have started CoEs. Recently we started a CoE for Robotic Process Automation. We had a strategic goal from the Chief Accounting Officer of the company. We started a CoE here with very specific outcomes and targets defined.
Fritz: When you identify a gap in your capabilities as a company, you acquire a company for its resources – Acqui-hiring. We acquired a company in Barcelona that had experience in Computer vision and machine learning. We acquired them, and they became a Center of Excellence for our computer vision, and machine learning capabilities. This move was important because they were specialists in computer vision and they were connected to the computer vision center, Barcelona. They had a natural reason to have that expertise, and we saw an opportunity to leverage that.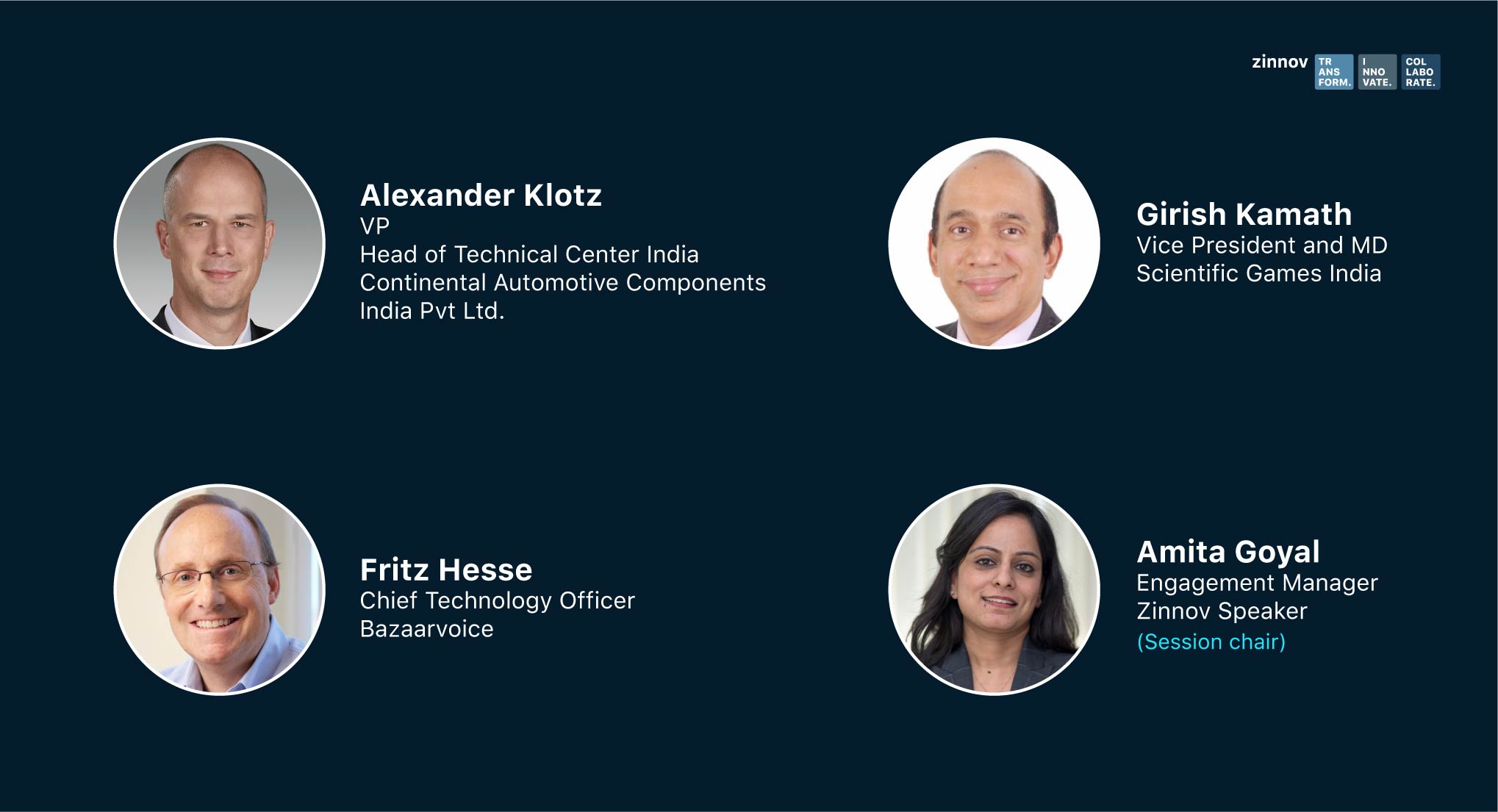 Amita: The inference is, a Global CoE could start because of skill gap and redundancies; If you have to be a CoE you have to be a leader, and hence you need to justify your USP. So, what was your biggest challenge in setting up the CoE?"
Fritz: The challenges depend on the objectives the CoE was set up for. Many times the CoE is more than just a specialty, like in our case of acquiring the company in Barcelona that specialized in computer vision. The challenge is in setting clear objectives, making sure everyone is aligned to the objective, and are clear about the goals. Long-term success depends on how you continue to monitor those goals and how you have been delivering on those objectives. If you fail to monitor your progress and alignment with the goals, then the objectives become less strategic, forgotten and isolated. This can be a challenge to the long-term success of a CoE.
Alex: I would start with the question 'Why do you need a Global CoE'. We want to give the location an identity, an identity that people can connect to, and also appeals to the global stakeholders. The location needs to have a compelling USP with respect to what they are known for or good at, some key collaborations that help grow their competencies, etc. This story must be driven from the leadership which has to be followed by building a team that is aligned with clearly defined objectives. It also involves a lot of marketing. The CoE has to have a compelling story and also deliver outcomes.
Girish: Couple of key challenges in setting up a Global CoE are:
Setting the objectives of the CoE.
People/talent.
How many people are to be moved in from the existing team for the CoE, how many do I need to hire, what kind of talent do you need in that group, and setting expectations with that group – these are a few people-related challenges in setting up a CoE. The CoE team will be more horizontal, rather than vertical, devoid of hierarchies with no such roles as team leaders or project managers. So, these are two primary challenges in setting up a CoE.
Amita: Do you think a CoE is a fad, a mere alternative to the term R&D?
Alex: A common question is 'Is CoE an isolated group, or a group distributed among different teams representing a location?' In our organization, we have different products that we support out of the Bengaluru tech center. In this case, we have certain technologies that overlap across different business units. The center takes the responsibility to be at the forefront and be a role model for some of these technologies without the need for being isolated into a separate team. A center that leverages the mass and the opportunities, and delivers, becomes a center of competence. A CoE is, therefore, not having one expert or two who are best in the world, but delivering the right outcomes – the right quality, the right product.
Fritz: You need specialists who are called the 'Big hats' – Experts who see the big picture and understand what they contribute to the whole ecosystem. They cannot be serving just for themselves or for a particular function. They need to see how they serve the greater good. They need to be system thinkers to be able to understand how they fit into the whole system, and how they are making a difference. The term 'CoE' might be a fad, but the need for a dedicated set of specialties to eliminate waste, duplication of work, and inefficiencies, is continuous.
Girish: In R&D it is more of development that we do, and very less of research. CoEs are set up with specific objectives, and hence research happens more extensively in a CoE.
Amita: How did you define specific outcomes for a CoE?
Girish: Two things that are essential for CoEs to define, and deliver specific outcomes are:
There should be a business unit leader backing the CoE.
The team members should understand what they are working towards.
Only then, the CoE will be able to deliver great outcomes.
Alex: It depends on the type of CoE – Is it a CoE for a technology, a process, or innovation?
For example, if we consider a CoE for innovation, the number of ideas, patterns, Proof of Concepts, demonstrators that come out of the CoE can define the outcomes. For process-related CoEs, it can be a collaboration, training initiatives, identification of skill gaps and measures to bridge them, which can define the outcomes from a particular CoE.
Fritz: The outcomes must be associated with customer value. A CoE should associate the outcomes with driving massive customer value whether it is related to cost, productivity, feature benefits, or quality.
Amita: How did you decide on the structure for your CoE?
Fritz: It is a question of timing. For example, we started a centralized organization with 250 people aimed at solving for a quality problem and skills gap. In this case, we pulled out people from our internal teams and created a centralized unit. Two years later, when we were able to evangelize quality across the organization, we went back to a federated model where each division had its own quality team.
Girish: When we set up a CoE for RPA, and had our Chief Accounting Officer backing it, we envisioned the CoE to be the center for RPA across geographies. When we established a CoE for computer vision, we looked at the CoE dedicated to one business unit. So, we decide on the structure on a case-to-case basis, keeping the end objective in mind.
Alex: We have also been following a case-to-case approach while deciding on the structure of the CoEs. When a CoE grows to a particular level where we see the potential for cross-BU benefits, we give it a framework and groom it even further. There are certain CoEs specific to a business unit, and in some cases, we decide on one location to be the CoE.
Amita: What has worked and what has not worked as far as your CoE initiatives are concerned?
Alex: It is good to start with a vision that the Global CoE should be headed towards. But there is a huge middle layer that needs to be overcome to drive the objectives defined by the management and make sure it gains momentum. Momentum can be achieved by enabling the people in your organization to see the value in a CoE initiative. We also need to identify people who see value in a CoE initiative, motivate them, and get them to operate without roadblocks from the management.
Fritz: I was running a CoE, a shared services platform and a well-known company. But, something that I forgot to do was to monitor my stakeholders. There was a change in leadership and there was a lack in checking with the new leadership on the expected outcomes and objectives, and this led to the failure of the CoE initiative and having people redistributed back to their business units. Years were spent building the capability, it was demonstrating value until it was deemed no longer important. So, it is very essential to read your stakeholders.
The Success Co(d)E
While setting up Centers of Excellence is a go-to strategy for organizations looking to build skill gaps, leverage a specialty, or develop competencies in area, there are numerous factors that come into play in enabling the success of a Global CoE. Get further insights on how CoEs are the core of the innovation vortex from the complete panel discussion by the experts at Zinnov Confluence.
Is your organization looking to
set up a GCoE
that will revolutionize the innovation narrative of your organization? Get expert guidance on setting up CoEs by dropping us a note at
info@zinnov.com.