Over the past decade or so, India has changed its narrative from being a cost center for global technology companies to being a value creator. However, disruptive headwinds are knocking at the doors of the global centers, on the heels of emerging disruptive digital technologies, evolving markets, and changing consumption patterns. To drive the next phase of growth from global R&D centers which call India home, a deeper look at the vibrant technology ecosystem is essential, as is a need to transform the leadership in these centers.
The four key players who are driving vibrancy and spurring growth in the Indian technology ecosystem include – Start-ups, Universities and Research Labs, Service Providers, and Global Capability Centers (GCCs).
Global Talent Hotspots
In-depth analysis of 17 global locations across North America, LATAM, Central and Eastern Europe, and APAC.
Download here
a) Start-up Ecosystem
India is a start-up hub, fueling innovation on a global scale. The numbers speak for themselves – India still reigns as the third largest start-up ecosystem in the world, with the number of tech start-ups touching 7200+. Although there was a slowdown in 2016 and 2017, the start-up ecosystem has regained momentum and has clocked in 12-15% growth in the total start-up pool in 2018.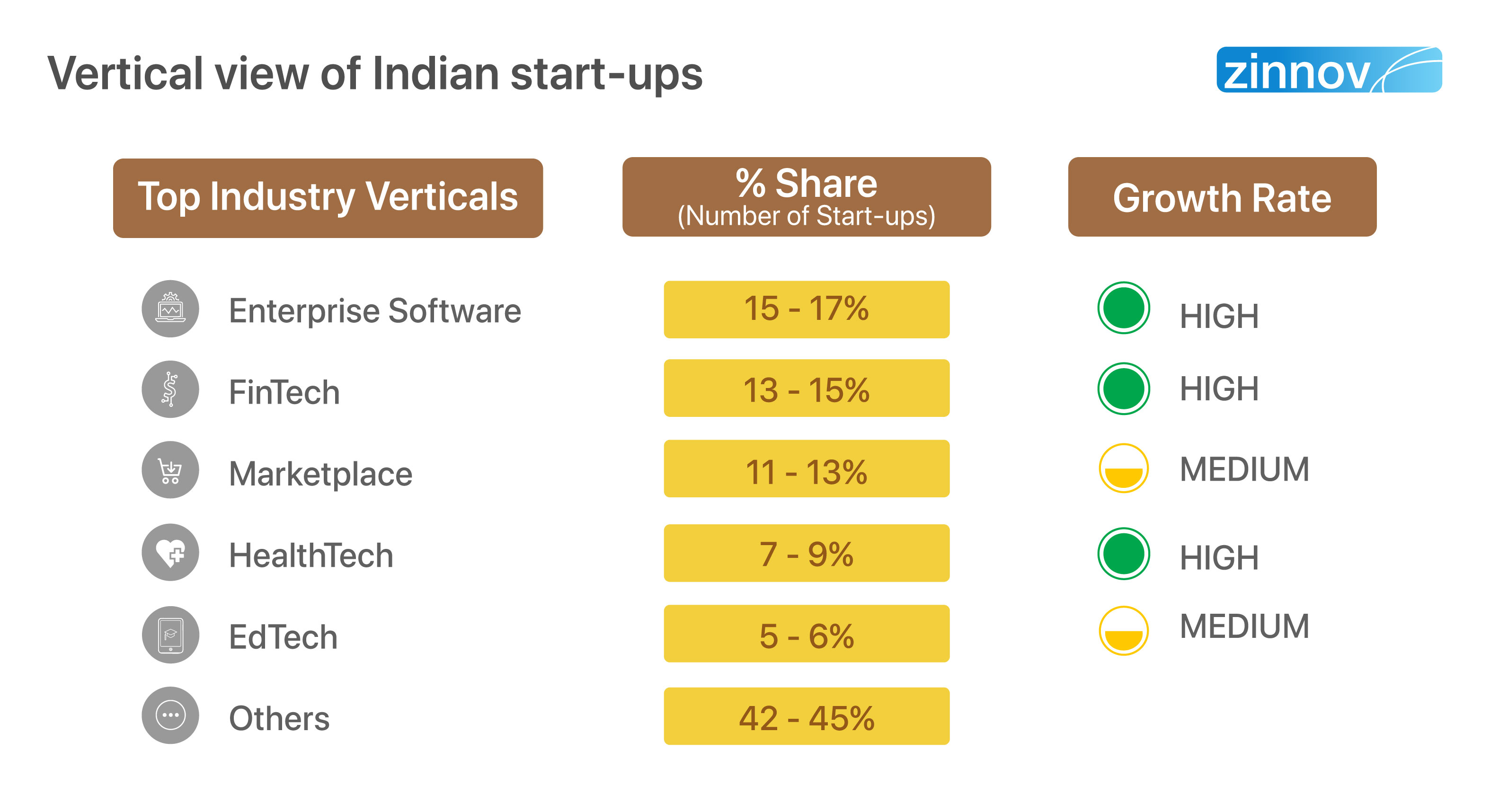 Additionally, 8 new start-ups have joined the hallowed unicorn club in 2018 alone, with valuations in excess of USD 1Bn – the highest number of newly minted unicorns in a single calendar year ever. Enterprise Software, FinTech, Marketplace, and HealthTech verticals together comprise almost 50% of the total start-up pool in India, and are also the top verticals by the number of deals in 2018.
INDIA START-UP LANDSCAPE REPORT
ZINNOV-NASSCOM INDIA TECH START-UP LANDSCAPE REPORT 2022
Download here
Key Growth Drivers
Some of the key growth drivers of start-ups include –
(i) Horizontal and vertical SaaS-based start-ups are solving enterprise problems, including SMBs.
(ii) Government is pushing for widespread financial inclusion. Additionally, innovative technologies are accelerating the pace of payments, lending, and banking.
(iii) There is a marked increase in Internet penetration with over 500Mn users, fueled by better infrastructure for digital transactions.
(iv) Increasing adoption of technology is further propelling the proliferation of tech start-ups.
(v) There is a rapid growth in Consumer Software, Media & Entertainment, and Travel & Tourism sectors, which are exploring newer use cases.
Start-up Ecosystem Trends
The Indian start-up ecosystem is being shaped by new trends into a more holistic start-up ecosystem –
(i) Indian B2C start-ups have started expanding to other markets.
(ii) More than 400 B2B start-ups have expanded globally.
(iii) Global start-ups are coming to India for market and talent.
(iv) 14+ international start-up exchange missions have been set up in collaboration with countries like Israel, Canada, Australia, the UK, the US to name a few.
(v) The initial set of successful Indian entrepreneurs like Anupam Mittal, Binny Bansal, Kunal Shah, et al are becoming active angel investors.
(vi) India is starting to see an increasingly heterogeneous mix of start-ups in terms of location, gender mix, and business models mix.
(vii) The number of corporate accelerators is rising, with 70% of them incepted in the last 3 years alone.
(viii) Adoption of advanced technologies is increasing at a whopping 50% y-o-y growth, with over USD 150Mn invested in AI start-ups in 2018.
(ix) New and innovative business models are being explored by Indian start-ups as illustrated below.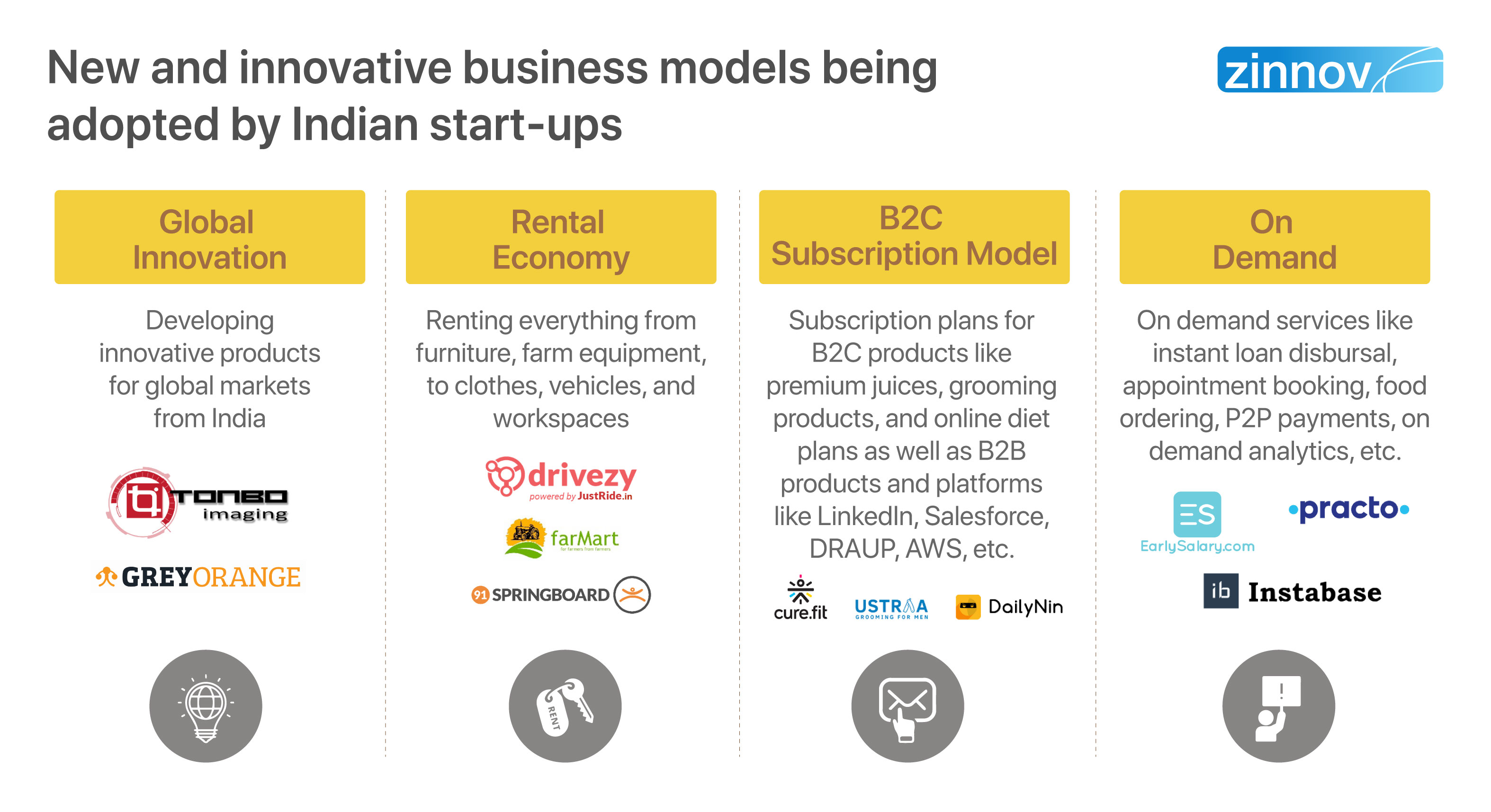 b) University Ecosystem
Universities, research institutes, and innovation labs are an integral part of the technology ecosystem that can be leveraged by GCCs to foster innovation. Apart from driving innovation, the university ecosystem is a hotbed of fresh talent, which GCCs are always on the lookout for.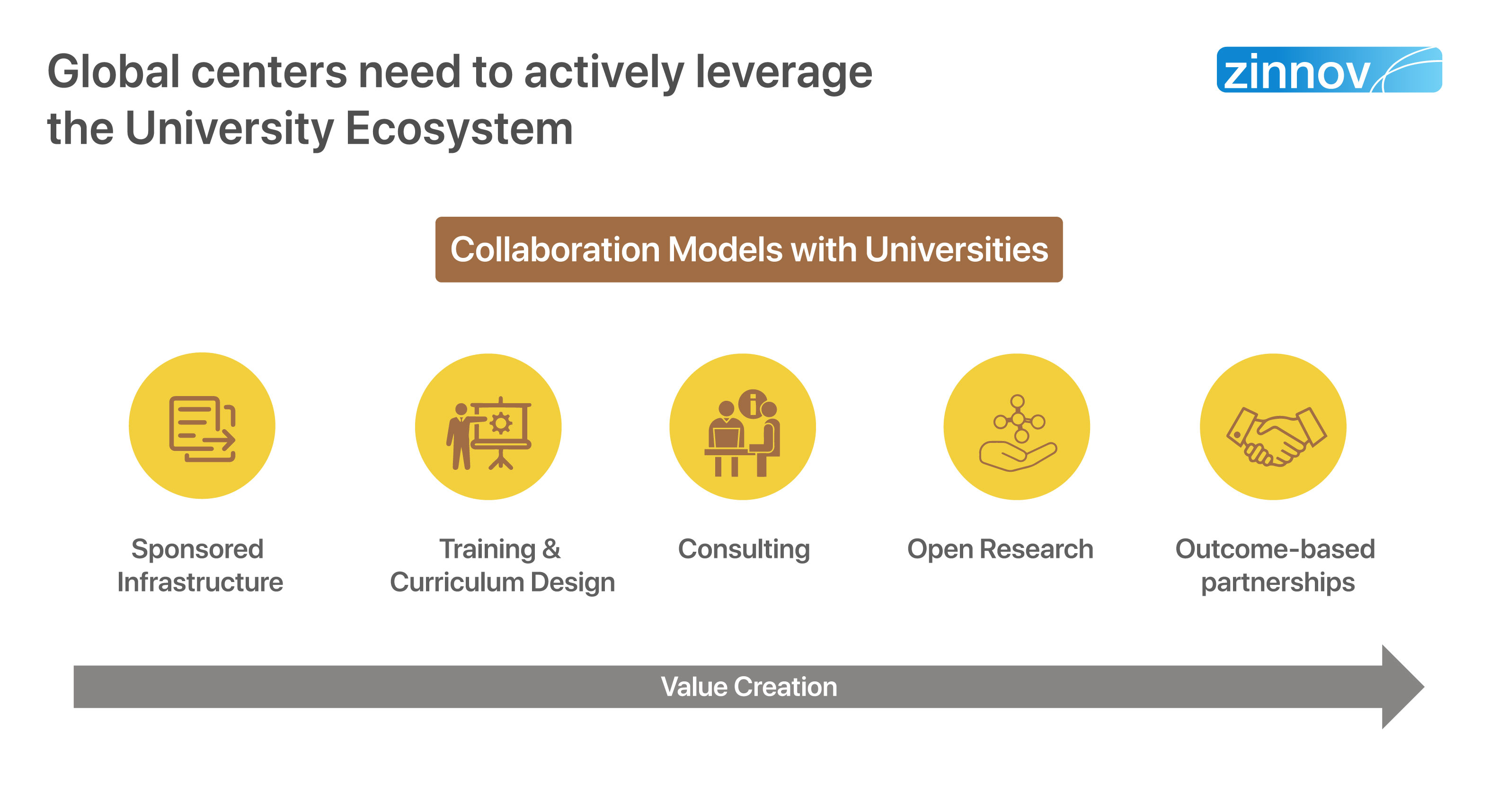 There are multiple collaboration models that GCCs can adopt to engage meaningfully with universities. Some of these include –
(i) Sponsored Infrastructure: IIT Bombay and Applied Materials Chemistry Laboratory for Energy & Nanoelectronics.
(ii) Training and Curriculum Design: BITS Pilani Practice School is an educational innovation that links industry experience with university instruction.
(iii) Consulting: A global MNC partners with IIM-A to provide training in consulting.
(iv) Open Research: Xerox Corporation sponsored a research project at IIT Kharagpur to develop technology in emerging areas of mobile applications and services.
(v) Outcome-based Partnerships: IBM signed an outcome-based research agreement with ISB Hyderabad for research on mathematical modeling techniques and social networks.
Besides these partnership programs, global companies are also investing in universities thanks to the high quality of research being done in AI. An AI CoE in IIT-Delhi, an AI Research Lab in IIT-Bombay, a Machine and Language Learning lab in IISc Bangalore, the Robert Bosch Center for Data Science and AI in IIT-Madras are a few prominent examples of the heightened interest of global companies in the Indian university ecosystem.
c) Service Providers Community
India is home to a dynamic Service Providers (SP) community, thanks to the pioneering companies like Infosys, Wipro, TCS that laid the foundation in the 90s. However, over the years, GCCs have not only leveraged SPs for their IT-BPM capabilities, but also for the niche talent that they possess, to drive value. Hence, outsourcing has become an integral part of a company's globalization strategy. Product companies need to differentiate between core and context focus areas, and establish partnerships with strategic technology services players to help them manage the non-core areas.
Outsourcing allows companies to –
(i) Get access to skilled talent and expertise in areas that they lack expertise in, and don't have the capability, time, and/or capital to build it in-house;
(ii) Increase in-house efficiency by shifting focus specifically on core, strategic work and initiatives;
(iii) Share associated risks and investments;
(iv) Lower costs significantly through reduced infrastructure and technology costs;
(v) Partner with players who have a global footprint due to their cost competitiveness and global access to skilled talent.
As investments in Digital Engineering witnesses an unprecedented rise from both traditional enterprises and Digital Natives, Service Providers need to up their spend significantly to tap into the newer opportunities that will arise from technology companies. With Digital Engineering spend expected to account for 37% of ER&D spending by 2023, more and more opportunities will arise for SPs to tap into. And SPs with robust digital engineering capabilities are poised to assist enterprises in their transformation journey.
As more and more GCCs focus on building newer products and capabilities, they can forge strategic partnerships with SPs for end-to-end PDLC management of specific products (usually legacy) and functions. This will free up the GCCs' bandwidth to focus on strengthening core capabilities while also building newer ones. On the other hand, SPs need to take a multi-pronged approach of driving digital agenda, hiring laterally for relevant digital engineering talent, and exploring innovative pricing and engagement models to make the best of these opportunities.
d) Indian GCC Ecosystem
With 976+ MNCs having set up upwards of 1257 ER&D centers in India, along with a large engineering talent pool, India continues to be a favored destination for companies to set up their GCCs. Over the past decade, GCCs in India have evolved and transitioned from being cost-effective delivery centers to value drivers. Software and BFSI together account for almost 30% of the total installed talent base. In fact, over the past five years, GCCs from these two verticals have witnessed phenomenal growth. Other verticals with an increase in the number of GCCs include Telecom & Networking, Professional Services, Semiconductors, Industrial, and Transportation & Heavy Engineering.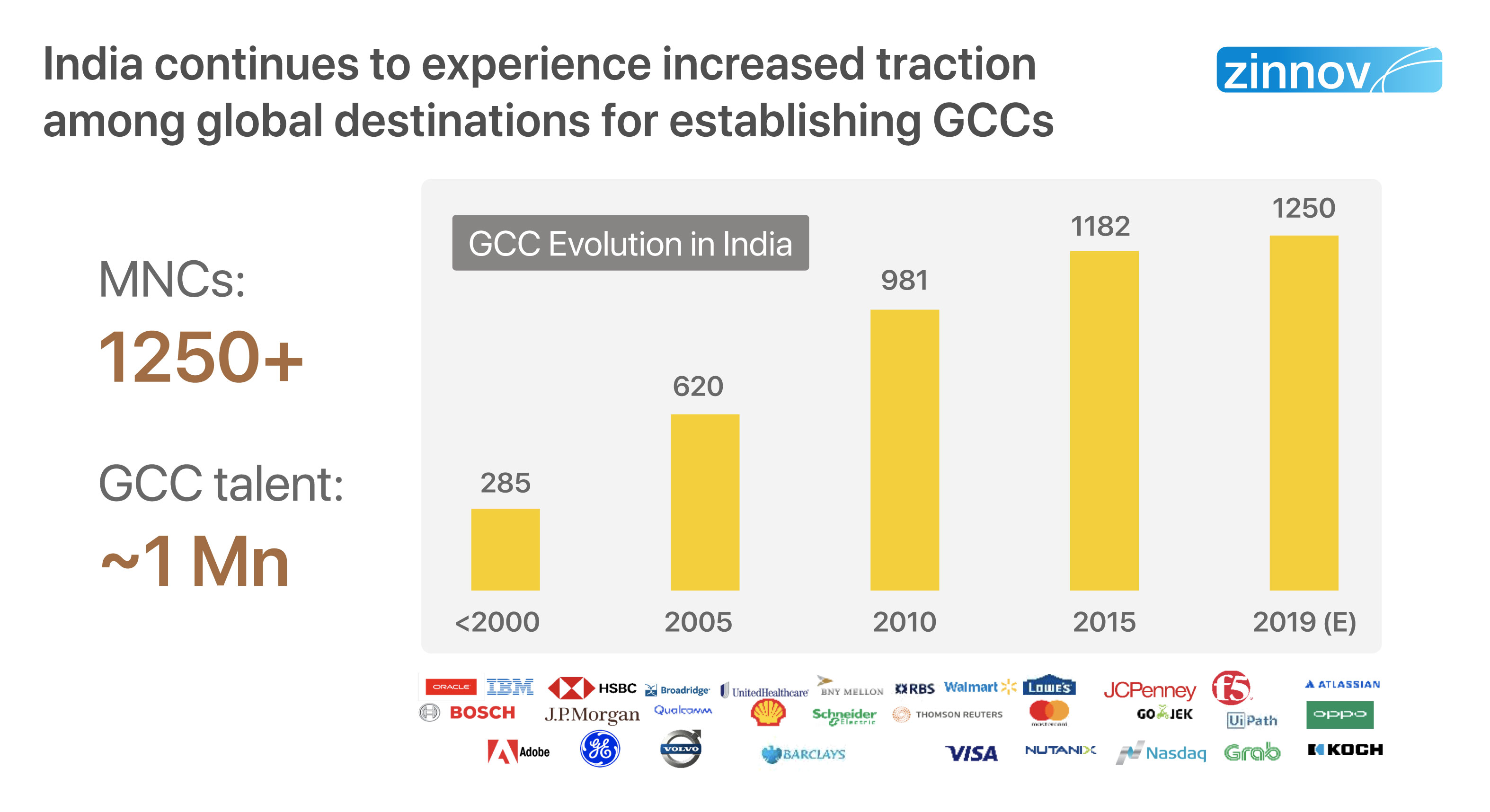 Although these GCCs are spread across the subcontinent, Bangalore accounts for the lion's share, with 34% of GCCs and 37% of the overall installed talent. In recent years, Hyderabad has witnessed an uptick in new GCC setup, while cities like Pune and Chennai continue to dominate in the automotive space. Also, tier-2 cities like Ahmedabad, Coimbatore, and Vadodara are being leveraged by Service Providers and GCCs alike due to factors such as lower operational costs and availability of skilled talent.
Disruptive Leadership
As the Indian technology ecosystem has matured, the GCCs have matured as well. Today, the GCCs are creating immense value for HQ through new disruptive products/platforms, with complete ownership being driven by engineering teams in India. However, as the GCCs enter the transformational phase in their maturity, a new set of leaders are required to lead and drive transformation efforts for their companies. To drive such efforts and transform the GCCs into innovation hubs to drive 'priceless' value, these centers need intrapreneur leaders.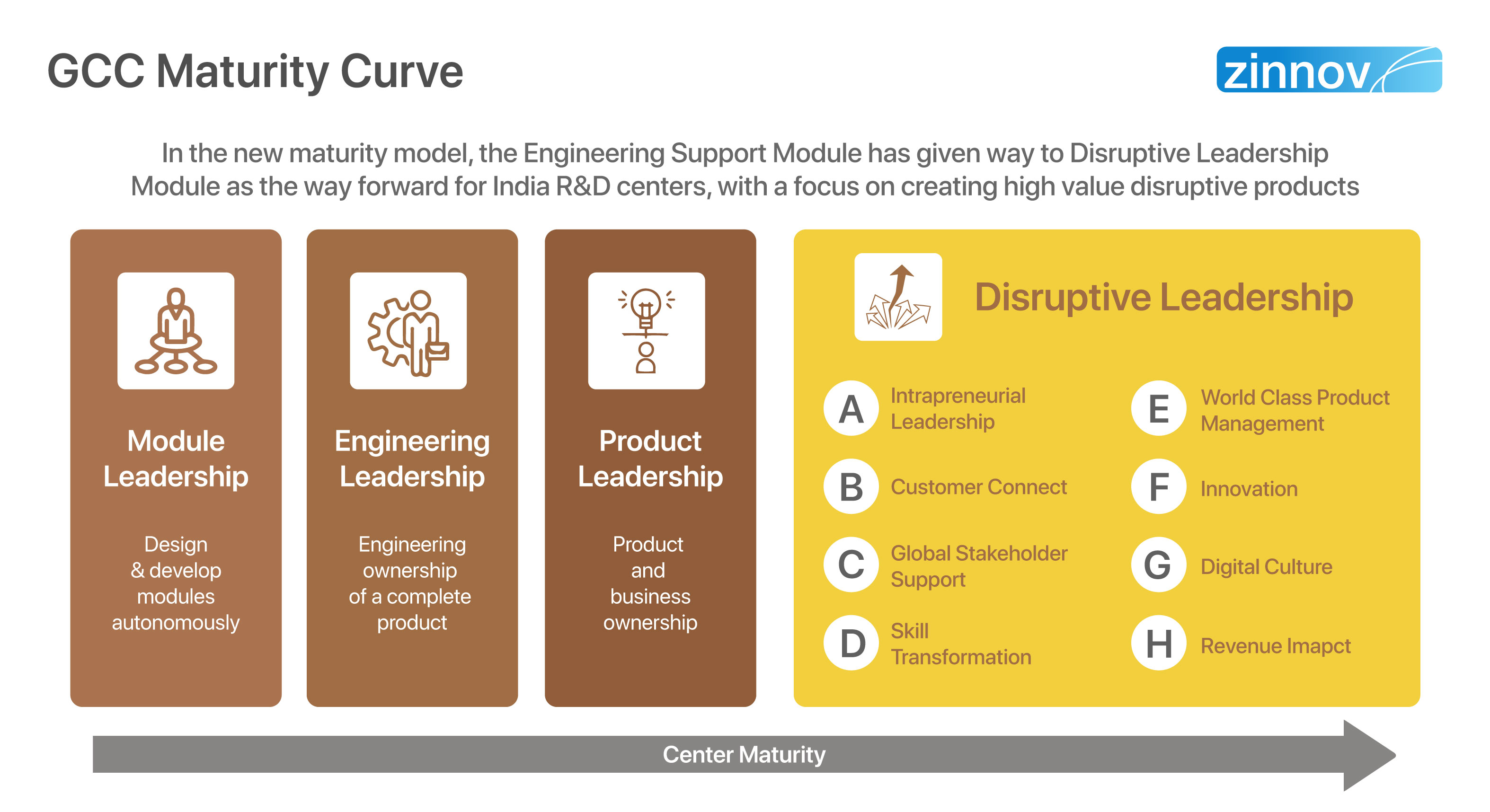 Intrapreneurs need to be technical role models, global influencers, risk takers, thought leaders, and change orchestrators who are relentlessly persistent and possess a deep understanding of business and industry trends. Intrapreneurs are leading the transformation of Indian GCCs into innovation hubs, where they own distinct products and their roadmap end-to-end. Disruptive Leadership in GCCs encompasses a clear center roadmap, end-to-end product ownership, fostering partnerships with internal and external innovation ecosystems, nurturing future leaders, skill transformation initiatives, driving revenue impact, and leveraging disruptive technologies such as AI/ML, IoT, automation, etc.
Start-up Leverage
As established above, the Indian start-up ecosystem is one of the most vibrant in the world. The rapid proliferation of start-ups has piqued the interest of many a GCC to engage with them in a strategic manner to drive meaningful business outcomes. This corporate-start-up collaboration can be achieved in one of three broad models – a) build; b) buy; or c) partner.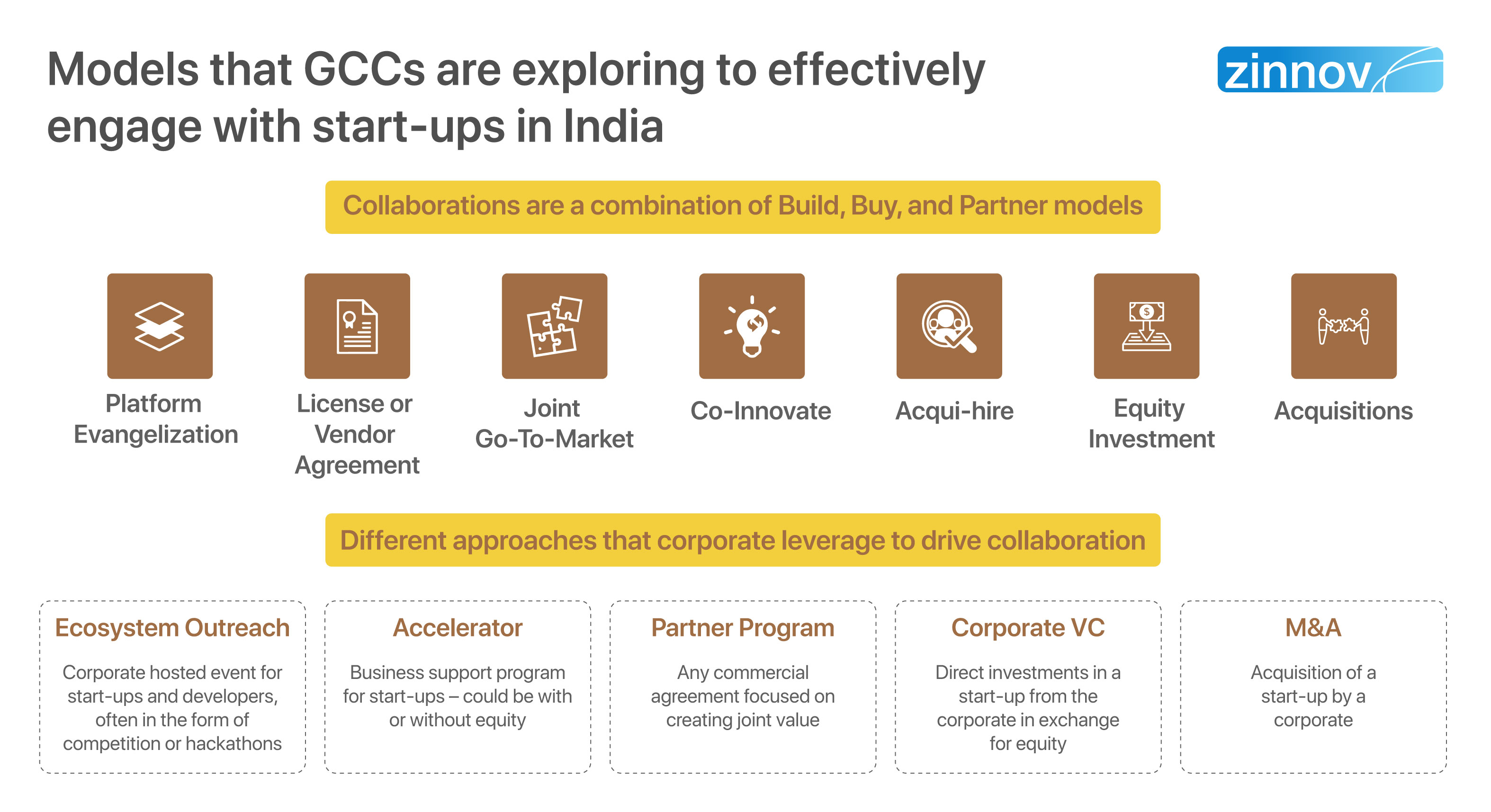 Going a step further, there are seven effective ways in which a corporate can collaborate with start-ups.
(i) Platform Evangelization – corporates offer access to their platforms for start-ups
(ii) License or Vendor Agreement – corporates and start-ups enter into a license agreement to create solutions
(iii) Joint Go-to-market – corporates partner with start-ups to cross-sell solutions
(iv) Co-innovate – corporates and start-ups collaborate to co-create new solutions
(v) Acqui-hire – corporates acquire start-ups for the talent alone
(vi) Equity Investment – corporates make capital investments in start-ups
(vii) Acquisitions – corporates acquire the start-ups
While many companies are pursuing collaborations with start-ups through an open innovation paradigm, driving result-oriented innovation through such engagements has been a challenge. To ensure higher odds of success of such corporate-start-up collaborations, a structured approach that aligns with the company's long-term business vision and growth is crucial.
As outlined above, the Indian technology ecosystem has all the factors that make it an attractive destination for global companies to set up their centers. Further, the availability of skilled talent in disruptive technologies such as AI/ML, IoT, RPA, Blockchain, etc., make it all the more appealing for companies, enterprises, and unicorns alike. A robust and comprehensive strategy is essential if companies are to tap into this rich ecosystem.
Which location in India is suitable to set up an RPA CoE? Which university is conducting cutting-edge research in AI/ML? Drop us a note at info@zinnov.com to know more about every single step of setting up a mature global center in India.