Kofax and acquisitions seem to go hand in hand, because it continues to invest in inorganic growth and has made its second acquisition of the year – the US-based Intelligent Document Processing (IDP) player, Ephesoft. Kofax has been a leading IDP player, and with this acquisition, it further consolidates the market while gaining specific tech capabilities. Kofax's acquisition of Ephesoft comes a couple of months after its acquisition of Tungsten, that was acquired to strengthen the platform company's play in the Accounts Payables space.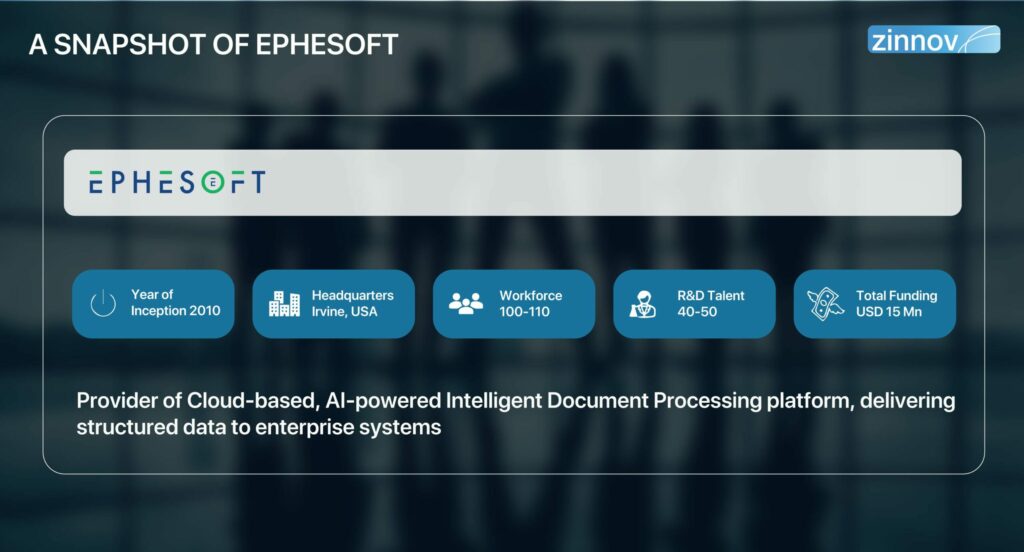 These recent acquisitions clearly indicate that Kofax will continue to deploy its successful acquisition playbook, even post its buyout by Private Equity (PE) firms, Clearlake Capital and TA Associates, from its earlier owner Thoma Bravo.
We have been tracking Kofax and have witnessed its growth in the past few years at close quarters. It is one, amongst a handful of USD 500 Mn+ Automation powerhouses, with over 25,000 customers today. But how has Kofax pivoted from a pure-play 'capture' player to an end-to-end Automation platform?
Intelligent Automation 2022 Report
Powering The Enterprise Systems Of Experience (Sox)
Download here
Kofax's Journey so Far
Kofax was founded in 1985 as Kofax Image Products, that focused on making personal computer circuit boards to convert PCs into image processing machines. In the first couple of decades of its existence, Kofax, which was founded as a hardware tech company, evolved into a software platform provider.
Initially, the company focused on building capabilities in the Business Process Management (BPM) space and increasing its IDP prowess. Then, the UK-based DICOM Group purchased Kofax in 1999, in a USD 75 Mn cash deal, which was followed by the acquisition of Mohomine Inc., an automated text classification and extraction developer in 2003. In 2007, Reynolds Bish was brought in from Captiva Software to lead Kofax as the CEO, following which, Kofax Image Products Inc. and DICOM Group were merged to form Kofax Inc. in 2008.
Technology & Services
Mergers & Acquisitions Quarterly Update Q4 2022
Download here
Kofax also partnered with ABBYY in 2003 to strengthen its OCR capabilities. This was followed by its acquisitions of OptiInvoice Digital Technology in 2008 and 170 Systems in 2009 to enhance Invoice Processing and optimize Finance & Accounting processes, respectively. Subsequently in 2011, it bought Atalasoft Inc. for its document imaging toolkit and Singularity to take its BPM solutions to the Cloud.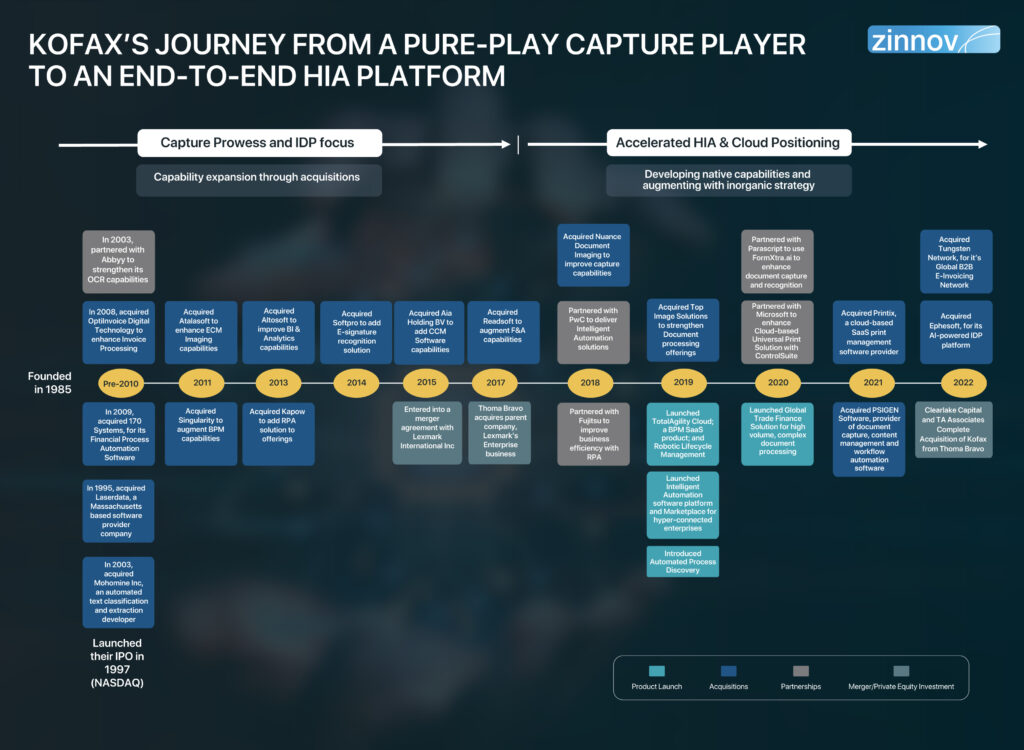 In 2013, Kofax kick-started the next phase of its journey, becoming the first Enterprise Software company to acquire an RPA platform. Over the next few years, Kofax acquired assets across the technology spectrum, namely RPA (Kapow), Analytics (Altosoft), Customer Communications Management (Aia Holding), Electronic Signature (Softpro), and BPM (Readsoft) space. Later in 2015, Kofax merged with Lexmark International Inc., which was subsequently acquired by an investment consortium led by Apex Technology Co. and PAG Asia Capital in 2016.
Thoma Bravo, a PE and growth capital firm, acquired Lexmark's Enterprise Software business, and merged Kofax and ReadSoft into a single, newly independent, Thoma Bravo portfolio company in 2017. This marked a key defining moment in the evolution of Kofax, further accelerating its shift towards the convergence of technologies, providing more end-to-end Automation capabilities to customers.
Over the next few years, in partnership with Thoma Bravo, it focused on transforming Kofax's go-to-market approach from a siloed product-oriented one to a platform-oriented one. The launch of Kofax TotalAgility Cloud platform, along with multiple acquisitions of Cloud-ready firms built on modern stacks, has been the cornerstone of Kofax's growth trajectory in the last couple of years. Through a comprehensive approach of Build – relying on internal innovation, Buy – focused acquisition approach, and Partner – forging tech alliances, it has been able to gain coverage across the Intelligent Automation (HIA) stack.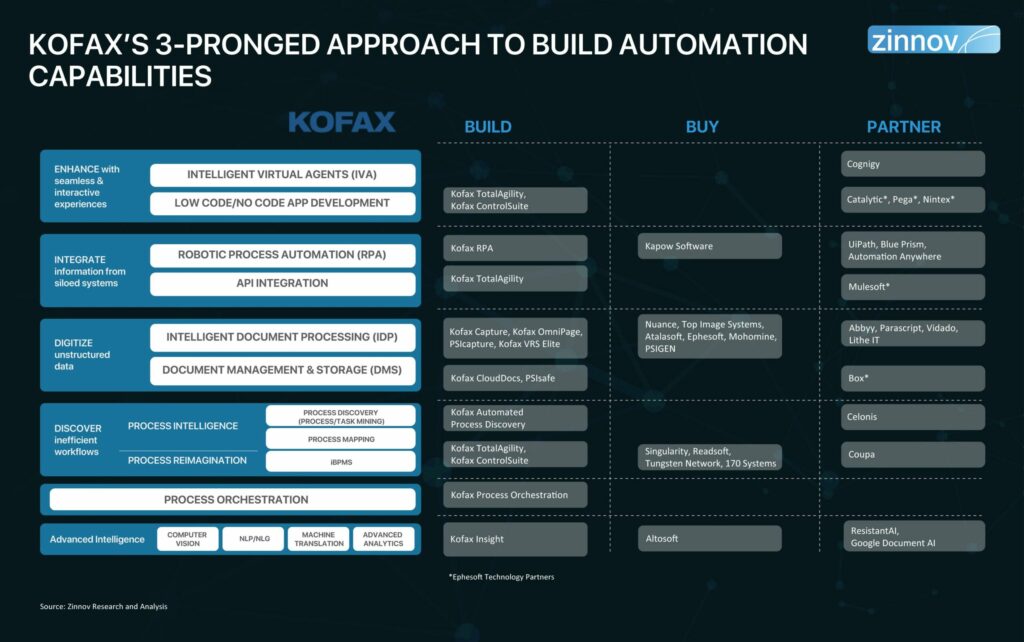 Kofax has now switched PE hands following its acquisition by Clearlake Capital and TA Associates from Thoma Bravo. The new PE firms bring in industry know-how and experience in scaling Enterprise Software companies to the next orbit.
Kofax's Playbook to build an End-to-End Automation Platform
Kofax has leveraged a multi-faceted strategy to guide its growth in the last decade. Some of the key ingredients of the company's success have been:
Deep Focus on Hyper-specialization: Building focus on hyper-specialization has been foundational to Kofax's strategy. It has three key horizontal areas where it is building deep expertise and strengthening its product portfolio – Finance & Accounting (specifically Accounts Payables), Customer Engagement, and Operations. Accounts Payables (AP) has been picked up as the first area where it has invested deeply to build holistic capabilities including solution offerings such as Kofax AP Agility and Kofax Optitrade together. Kofax managed to achieve that with acquisitions like Tungsten Network (global B2B e-Invoicing network), Psigen (document capture and content management solutions for AP workflows), and ReadSoft (rebranded as Kofax AP Essentials).
Strong Acquisition Playbook: It's worth noting once again that Kofax started its Automation journey as a Business Process Automation provider, adding IDP to its tech stack to set forth on the roadmap to gain holistic Automation capabilities. We have tracked 17 acquisitions that Kofax has made across the technology spectrum, such as Atalasoft (ECM Imaging), Singularity (BPM and Workflow Solutions), Altosoft (Business Intelligence and Analytics), Kapow (Robotic Process Automation), Softpro (e-Signature) and so on. Kofax has focused on value buys, with strong consideration to cash flow generating businesses along with valuations at relatively low revenue multiples. Case in point, Kofax offered ~USD 65 Mn to acquire Tungsten Network that was less than 1.5X revenue multiple and 70% of its valuation, based on its 1-year high stock price.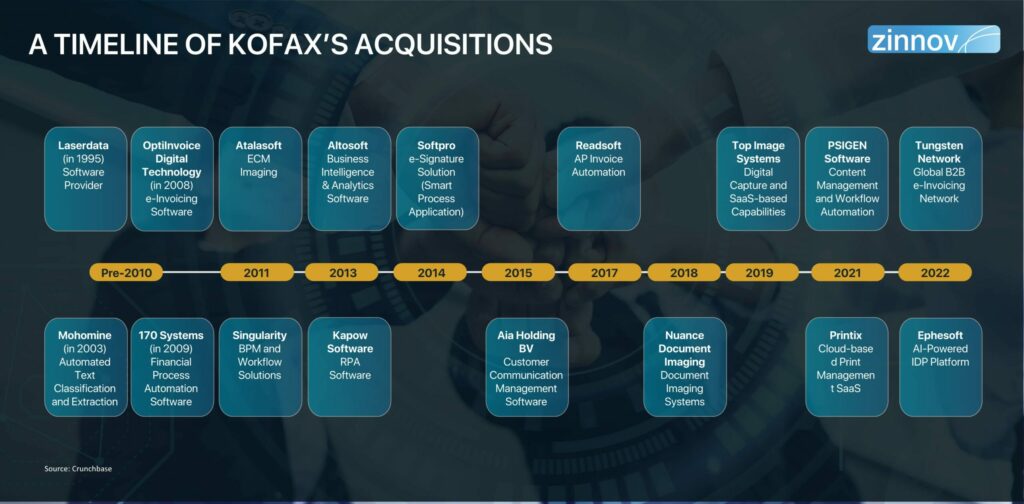 Strategic Push Towards Cloud: With a focus on legacy modernization, Kofax has moved steadily to strengthen its Cloud portfolio. Its flagship product, Kofax TotalAgility Cloud, provides a unified interface to manage business processes end-to-end through a Cloud-native platform. The recent acquisitions made by Kofax have been focused on modern stacks, specifically Cloud, such as Psigen, (a leading player in the content management software and solutions space with a Cloud-based SaaS subscription licensing model), followed by the purchase of Printix (a Cloud-based SaaS print management software provider as well as the latest buys of Tungsten and Ephesoft). Further, Kofax reinforced the push towards Cloud by adding data centers in Australia and Europe to provide TotalAgility customers greater compliance with data residency requirements.
Strong Leadership: Kofax has augmented its C-suite with multiple strategic hires in the last few years, starting with Chris Huff (ex- Marine Corps, ex-Deloitte), the current Chief Growth Officer. It brought in Tim Battis in 2019, a software sales veteran with 30+ years of experience, as Kofax's Chief Revenue Officer. Kevin McKay was drafted as EVP, Customer Success, and was elevated to Chief Customer Officer in 2022, to strengthen the customer success organization at Kofax. The transformation is further driven by the next in command executives, including Karen Bailey (ex-Microsoft) to lead the global industry solutions program, Liz Benson (ex-Deloitte) to drive the overall commercial growth strategy, Alex Murray (ex-Google) to drive the GTM strategy, Adam Field (ex-Pega) to develop the product and technology roadmap, and Bill Mariani (ex-Salesforce) to build and scale the ecosystem-led business model for Kofax.
Kofax has leveraged its acquisition playbook to cement its stronghold on the markets that it operates in, progressively augmenting its product/tech capabilities, and build its specialized play.
Deconstructing Kofax's Acquisition of Ephesoft
In addition to the consolidation play which allows Kofax to further establish its dominance with over 1/3rd of the market share, the Ephesoft acquisition brings with it multiple synergies for Kofax to augment its market positioning and tech capabilities.
Handwritten Text Recognition: Cloud OCR from Ephesoft empowers customers to leverage third-party OCR services, starting with Google Vision enabling customers to read images that have low fidelity or include handwriting. Ephesoft's platform already delivers industry-leading 88% accuracy rates for handwriting and cursive recognition.
AI-based Template-free Processing: The Semantik AI Engine of Ephesoft enables data extraction from both known and unknown document types, while the Document Design Accelerator helps manage the creation of custom extraction and classification models, providing more flexibility to customers and enhancing user experience.
Compliance Workloads Focus: The Ephesoft platform comes loaded with compliances such as Federal Risk and Authorization Management Program (FedRAMP) and SOC 2 Type II. Ephesoft Transact Web Scanner is also recertified for user workstations and added to the Air Force Evaluated Product List.
Verticalized Accelerators and Connectors: The Ephesoft platform is equipped with toolkits, accelerators, integrations, and plug-ins that can be leveraged to drive innovative use case solutions and accelerate time-to-value. With built-in integration with Infor Document Management (IDM) Capture, Nintex Workflow Cloud, Workato, and multiple utilities, time to market for custom solutions is greatly reduced.
Kofax – The Road Ahead
Kofax, with its Intelligent Automation platform has cemented itself to capitalize on the massive opportunity available in the Automation space. However, there are certain opportunities that it can undertake to accelerate the growth journey.
Tech Acquisitions: Augmenting native capabilities in specific areas with lower focus in the HIA stack such as Intelligent Virtual Assistant and Process Intelligence segments.
APAC Market Focus: Unlocking value from the massive growth opportunity in the APAC region, wherein presently, Kofax generates less than 10% of its revenues.
Industry Verticalization: Aligning its GTM motions by industries along with bolstering of portfolio with industry-specific solutions to gain wallet share within top accounts.
Partner Channel: Leveraging a holistic strategy to build and access ecosystem driven channels, with consulting, system integrators, reseller firms, and niche Born-in-Automation Service Providers.
Market Positioning and Visibility: Propagating market positioning around new-age Automation prowess and gaining mindshare as well as visibility across the Automation spectrum, thereby dislodging its legacy 'capture' positioning.
Kofax's journey as an end-to-end Intelligent Automation player has been a long one, but the company's reputation as a credible Automation platform has set it up for success in various segments. As it enters the next phase of its growth journey with Clearlake Capital and TA Associates, Kofax looks to build a holistic PaaS offering centred around Automation, with specialized SaaS offerings to address the focused needs of different enterprises. We are glued in to the Kofax story and will be keenly watching the company's trajectory as it aims for the next orbit!
Want to know more about scaling your Automation Platform and emerge as the market leader, helping your customers deliver exponential outcomes? Speak to our experts at
info@zinnov.com
.