With the onset of COVID-19, remote working has become the norm. Most enterprises and SMBs alike, are utilizing efficient technology to bolster this digital working environment, and streamline existing workflows. This is being reflected in the drive of several industry leaders incorporating Automation as a key strategic priority for their business to increase efficiency, productivity, and profitability. While there are several processes requiring immediate attention for optimization, 'Accounts Payable,' (AP) Automation has taken precedence given its pivotal role within the procure-to-pay lifecycle. This has been reflected in the Global AP Automation market valuation standing at USD ~1-1.2 Bn, which is expected to reach USD ~3-3.2 Bn by 2026 at a CAGR of ~21%.
What are the catalysts that have increased the AP Automation investment? What are the critical capabilities that organizations should focus on during their partner selection? What are the key trends within this space?
While there are several market catalysts propelling the growth of the AP Automation market, Zinnov believes these following factors shall drive enterprise interest in AP Automation:
Market Catalysts Driving Growth in the AP Automation market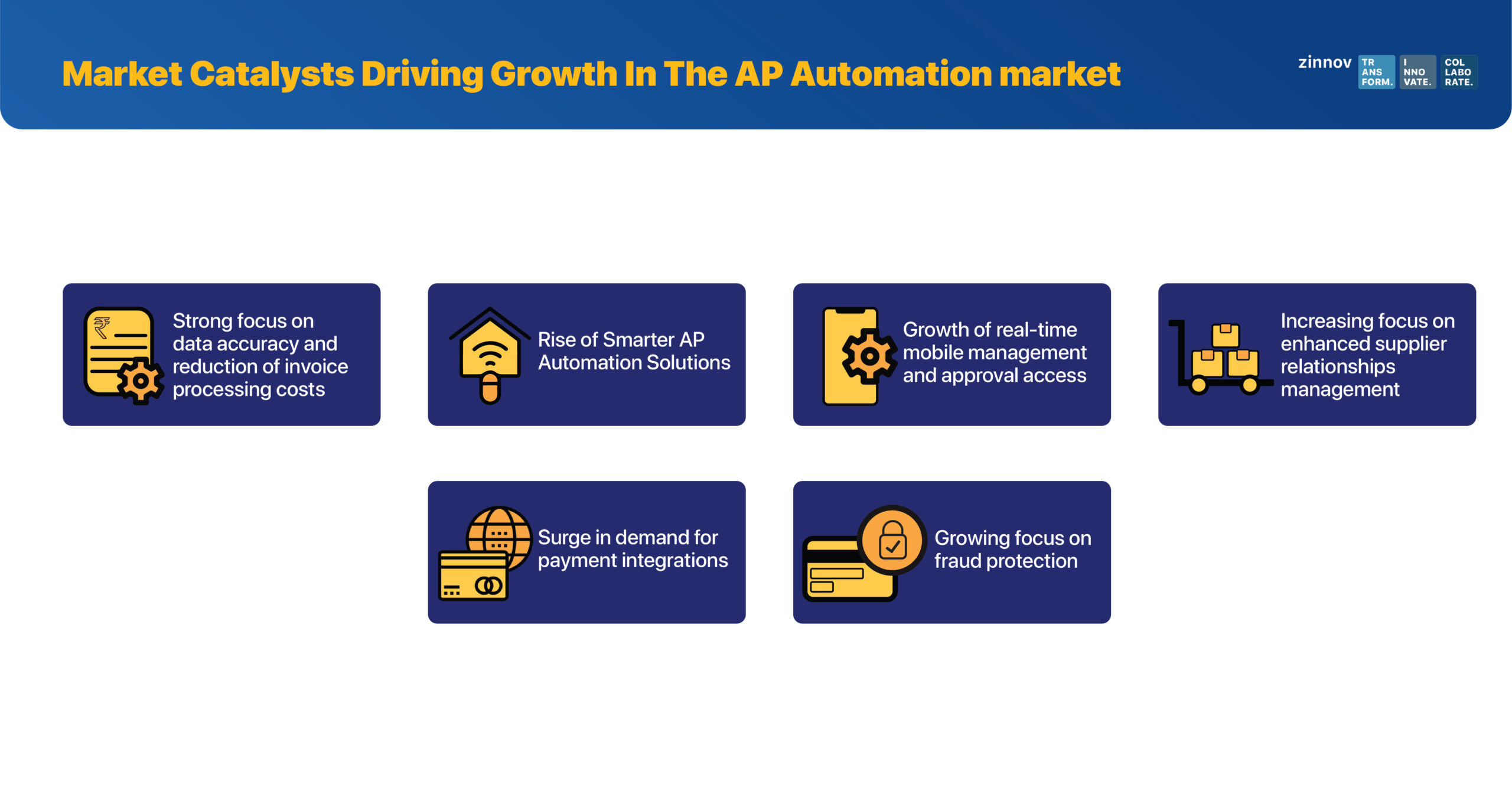 Strong Focus on Data Accuracy and Reduction of Invoice Processing Costs
The switch to e-invoicing (electronic invoicing) is one of the key blooming trends in the new normal. It's a cost-effective, accessible, and efficient way to operate cashflow, and better control invoices. As per our research, e-invoicing is one of the top use cases gaining traction amongst enterprises, as it offers multiple benefits – interoperability with any system, compliance, customizable KPIs- (Key Performance Indicators), and on the go review and approval solutions. To boost capabilities in the e-invoicing space many prominent vendors are launching new e-invoicing solutions/platforms/online portals or indulging in partnerships to develop joint offerings. For example, the Kofax Invoice portal, an online community for buyers and suppliers, is not only offering a reduction in invoice processing costs up to 80%, but also offering built-in roaming and certified connections to public networks, (such as PEPPOL) enabling enterprises to meet compliance requirements better.1
Rise of Smarter AP Automation Solutions
In 2021, AI (Artificial Intelligence), ML (Machine Learning), and DA (Data Analytics) shall be widely used for generating insights. Also, to meet emerging e-invoice requirements, native AI and ML technologies will enable Intelligent Automation algorithms to drive greater straight-through processing techniques. Therefore, we see many AP Automation vendors infusing investments or striking partnerships within the emerging technology (AI, ML, etc.) arena to cover all types of documents, processes, workflow cycles, stakeholder management, and collaboration requirements.
Growth of Real-time Mobile Management and Approval Access
Mobile capture and invoice access and approval are increasing the responsiveness of employees and executives alike, with the availability of invoice processing functions (including the associated financial and business procedures) virtually accessible at all times. In the COVID-19 era, these capabilities have been increasingly important with people working remotely, and the challenges related to fraud plaguing various verticals. This has driven demand for mobile management and approval/coding workflow as the emerging use cases under focus. Multiple AP Automation vendors have launched virtual real-time approval access applications for users, such as Esker Anywhere Anytime, Kofax Mobile Capture, Yooz Mobile App, etc.2
Increasing Focus on Enhancing Supplier Relationships
AP Automation represents a compelling opportunity to improve supplier relationship management, and ultimately business performance. Several enterprises are focused on developing advanced supply chain capabilities to become more agile and better manage disruption. Complexities looming in trade and non-trade purchases, lack of visibility and control over non-trade spend, and challenges in dealing with a multitude of suppliers solidify the demand for AP Automation. This is why AP Automation solution providers are investing heavily to expand and strengthen their supplier networks via partnerships with the governments, payment solution providers, etc.
Surge in Demand for Payment Integrations
56% of enterprises have adopted electronic payment methods and have integrated with prominent payment vendors across various payment methods – ACH (Automated Clearing House), wire and credit card, virtual cards, etc. There are numerous benefits driving demand for integrated payable solutions, including a reduction in AP costs, greater insight into payment data, minimal time spent in managing payments, payment transactions via a single platform at one go, and more. Businesses that are currently struggling for profitability — those with low cash reserves or unstable cash flows are particularly vulnerable – laying more focus on reducing costs. This is why AP is transitioning from a cost center to a profit center, as more companies look for ways to increase revenue – such as obtaining cash-back rebates from virtual cards, which is also a key reason behind the growing popularity of this mode of payment.3
Growing Focus on Fraud Protection
Fraud is a top-of-mind issue amongst industry leaders, with non-electronic invoices becoming a key area of vulnerability. Automating AP gives accounting teams both simplicity and security by building scalable payment controls when generating invoices for vendors and customers on a regular basis. And as per our analysis, industry-tailored AP Automation solutions have a deep focus on GDPR (General Data Protection Regulation) compliance and other data governance laws. It's safe to conclude that enterprises who invest in a fully automated procure-to-pay solution will expect immediate access to crucial data ability to respond to any anomalies in an efficient manner.4
From a capability standpoint, we have identified 5 critical value drivers for organizations who desire to transform their AP function with Automation. This is based on our analysis of 100+ large enterprises across three geographies – North America, EMEA (Europe, Middle East, and Africa), and APAC (Asia-Pacific).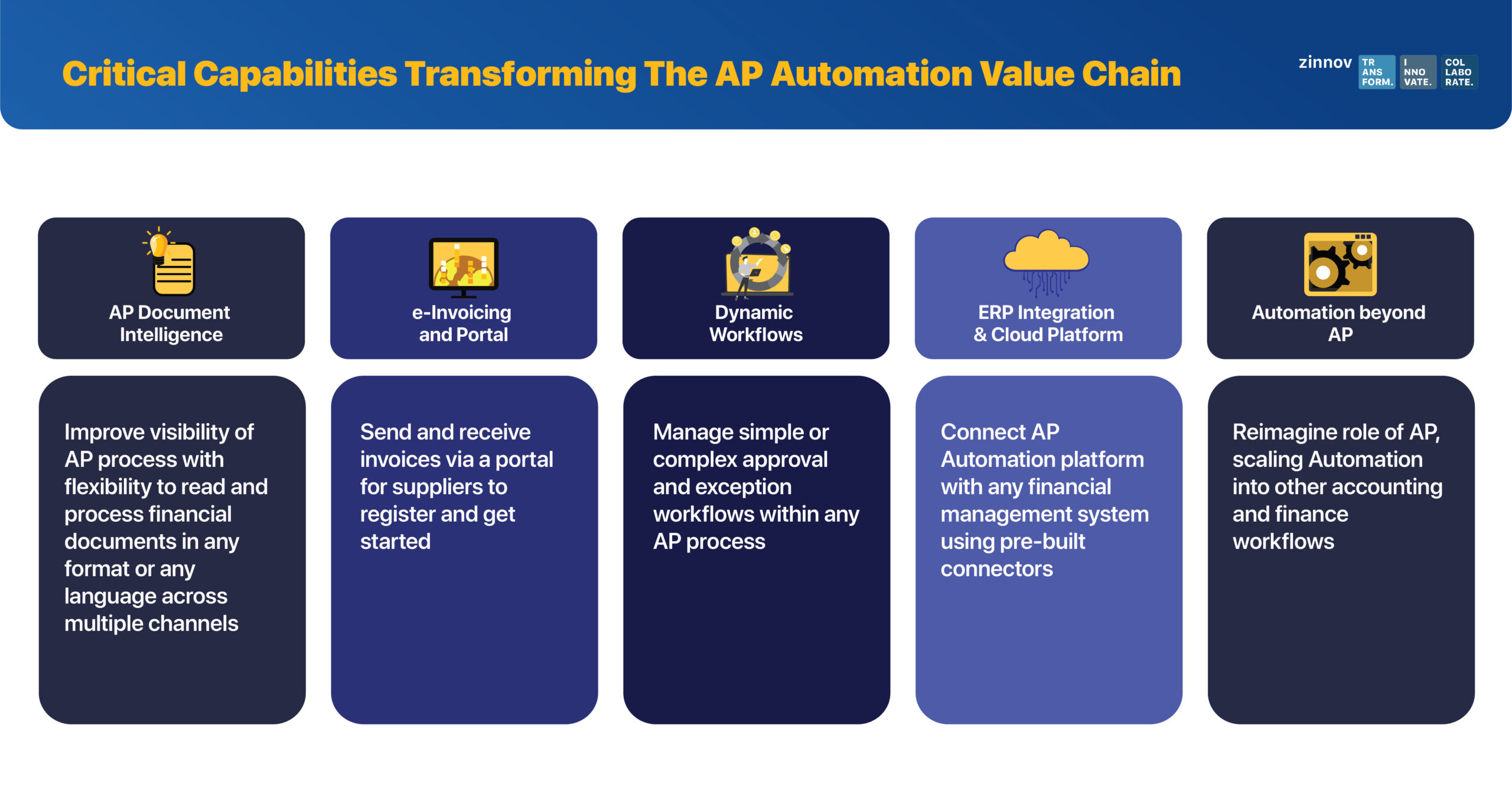 While these capabilities have rapidly transformed business solutions in the new normal, the C-suite across verticals has expedited investments within potential networks to emerge stronger in this domain. Our latest observations indicate a definite ERP (Enterprise Resource Planning) agnostic approach, ramping up of payment capabilities, and Healthcare and Manufacturing driving growth in the AP Automation Market.
Key Trends Fuelling the AP Automation Space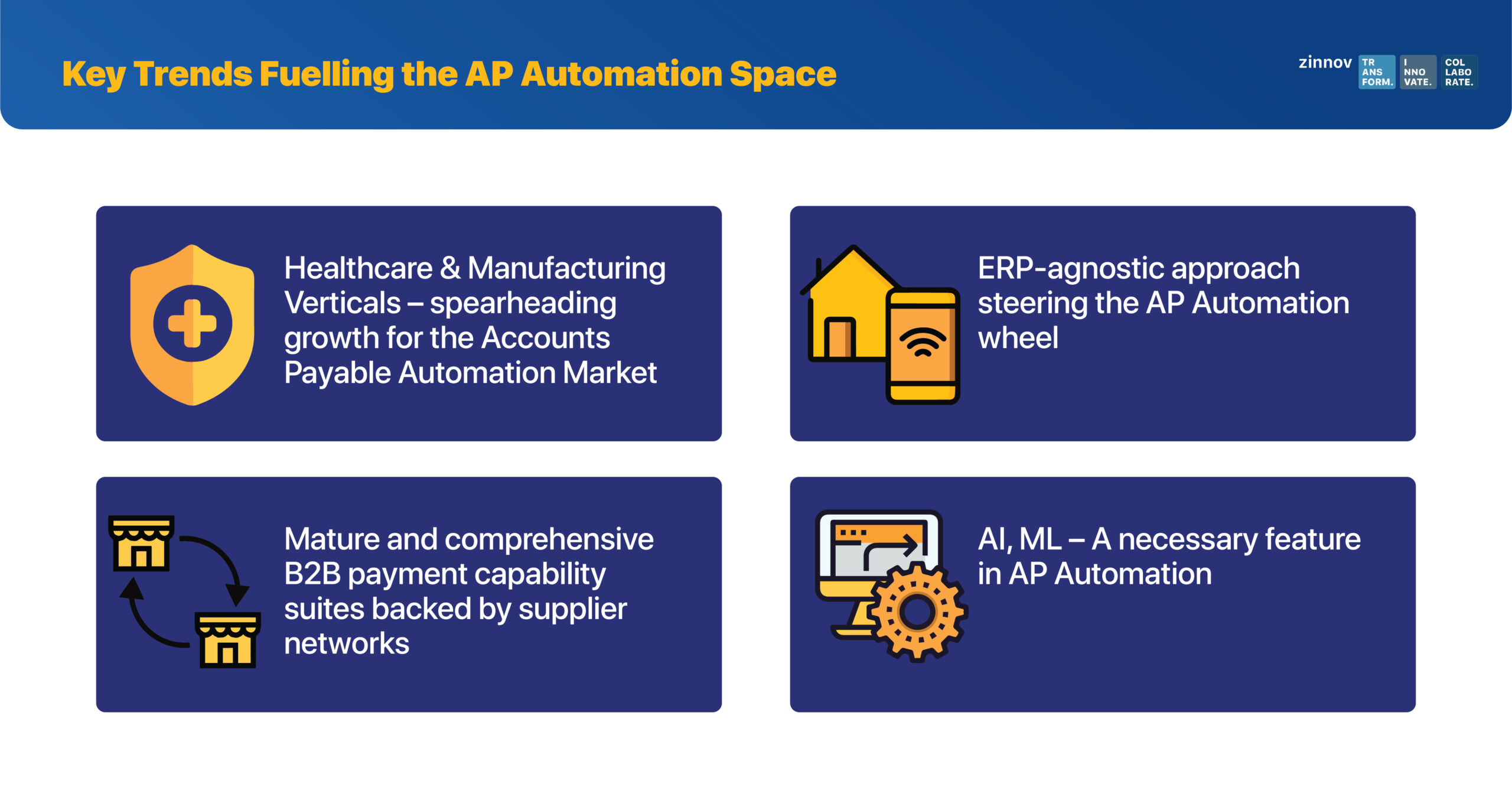 Healthcare & Manufacturing Vertical – Spearheading Growth for the AP Automation Market
As hospitals and health systems make a shift from fee-for-service to value-based care, many are struggling to find their footing and are looking for ways to become more financially nimble while improving patient outcomes. This is why most healthcare providers are leveraging ePay solutions to streamline their payment processes and are driving providers to put an end to costly, tedious, and ineffective paper-based processing. Today, 70%+ healthcare firms receive their invoices in paper format or over e-mail which stretches the invoice approval cycle beyond 5 days or more. Therefore, Automation vendors are coming up with interesting solutions to dominate the Healthcare sector. Additionally, the Manufacturing industry seems to also struggle with similar issues. Top use cases such as invoice data capture/extraction, invoice processing, and supplier management have become a priority for a majority of manufacturers, both on the supply and demand side of the ecosystem.
However, our research indicates that for some, transformation may take time with ~50% of manufacturing firms still relying on manual processing of invoices. This has led to a delayed invoice processing cycle, i.e., an average of 16+ days' time taken to process a single invoice. Therefore, there's a significant opportunity for AP Automation vendors to offer integrated solutions within the Manufacturing space.5
ERP Agnostic Approach Steering the AP Automation Wheel
Majority of large enterprises are following a multi-ERP platform approach, where most are turning toward ERP tools with AP automation to harness their abilities and level up their business values. By doing so, the process of capturing and managing invoice data can be automated and accelerated. Moreover, integrating AP with ERP provides more visibility into an organization's financial operations, making it easier to validate invoice data and general ledgers. Several AP Automation vendors are leveraging an ERP agnostic approach, ensuring coverage across major ERP platforms (such as Microsoft Dynamics 365, SAP, Workday, Oracle ERP Cloud, NetSuite, etc.) through a dual approach of APIs/Connectors or file-sharing format.
Additionally, Cloud ERPs are becoming increasingly popular. They fall into two major types:
• ERP as a Service
• ERP as an Infrastructure as a Service (IaaS) Cloud
This is reflected in the pattern of most enterprises turning to Cloud-based AP solutions for more flexibility and affordability. It shall help enterprise customers to access data and records over the internet remotely and through any device, without the hassle of installation and maintenance. Another benefit of Cloud technology is its affordability. Compared to on-premise software, Cloud-based systems are offered in subscriptions, allowing customers to select their preferred subscription length and have it canceled anytime, in case there is a change of plan.6
Mature and Comprehensive B2B Payment Capabilities Backed vy Vast Supplier Networks
Several AP Automation vendors are offering an integrated suite of AP Automation and P2P (Peer-to-Peer) solutions to provide greater spend visibility, payment approval authorization, on-time payments, and improved supplier relationships. Therefore, most of such vendors have increased their focus on enhancing APIs (Application Programming Interface) and partnerships with Cloud-based multi-channel payment service providers to offer complete solutions for their customers. For example, AP players such as Basware launched NetworkPay, a payment Automation solution backed by its open business network. Similarly, AvidXchange is laying heavy focus on targeting mid-market enterprises with comprehensive B2B payment solutions by engaging in partnerships/acquisitions. Additionally, with its collaboration with Mastercard, joint offerings shall be provided in partnership with major banks, such as the Fifth Third Bank. These developments validate AvidXchange's high focus on providing end-to-end Automation solutions covering the payment domain.7
AI, ML – A Necessary Feature in AP Automation
At present, most industry leaders are making tactical investments within Intelligent Automation platforms powered by emerging technologies like AI, ML, etc. While most big enterprises have automated their approval workflows to improve AP efficiency, SMEs (small and medium enterprises) still seem to play catch-up. However, our analysis suggests that there has been a gradual change in this space, with a 10% decrease in SMEs following manual procedures. This may be the direct consequence of majority AP vendors focusing on building integrated AP Automation solutions designed to provide its customers with a plethora of smart approval options, including multistep approval, individual approval thresholds, exception handling workflows, automatic invoice routing, digital PO matching, among others. For instance, Basware's Smart Coding, an intelligent algorithm, alleviates the strain of exception handling for non-PO invoices thus offering customers to leverage AI and ML functionality in their AP process and offering industry and process-related insights. On the other hand, Corcentric's Cor360 approval workflows use AI, RPA, and Cloud-based apps within its AP solution.8
As industry leaders chart out their strategy for the future, digital transformation is going to be imperative to achieve long-term success and bolster current capabilities. Enterprises, of all sizes, across all verticals, can leverage AP Automation and catalyze a holistic change in their existing business processes with enhanced security levels.
1. Source: Zinnov Research and Analysis: Zinnov analysis of 100+ enterprises across diverse industry sectors, Esker Press release, Basware News Centre, Kofax Press release
2. Source: Zinnov Research and Analysis: Insurance industry analysis, (Kofax, Yooz, Esker- Press releases)
3. Source: Zinnov Research and Analysis: Insurance industry analysis, (Kofax, Yooz, Esker- Press releases)
4. Source: Esker, Kofax, and Hyland Press releases
5. Source: Zinnov Research and Analysis: Based on analysis of 100+ enterprises across the top 5 industries – Manufacturing, Healthcare, Insurance, BFSI, Retail, & CPG
6. Source: Zinnov Research and Analysis
7. Source: Statistics- Goldman Sachs report, AvidXchange Press releases
Automation is pervading all verticals, Hi-Tech and Non-Tech alike. To know more about where this technology will lead enterprises, speak to our consultants by dropping a note at
info@zinnov.com