American football coach, Vince Lombardi famously said, "Leaders aren't born, they are made. And they are made just like anything else, through hard work." Leaders are entrusted to empower their people and steer the organization in the right direction. As leaders strive to build resilient organizations, future-proofing against disruptions to gain competitive advantage in this ever-changing digital world, how can they ensure that they have the right skills to lead their people?
John F. Kennedy once said, "Leadership and learning are indispensable to each other." Learning and leadership go hand in hand, and there is always room for improvement.

1) Communicate and Listen
Utilize every opportunity to improve verbal and written skills to better communicate your points across to the team. Understand your people and listen to what your people have to say. Even as a leader, it is key to ask the right questions.
2) Decide
In the early career days, there is not a lot of room to be empowered to make a lot of decisions. However, instead of asking your manager what you should be doing, think through the decision options and rationalize. Present it to your manager along with your recommendation. This reduces the manager's effort, and you can practice your decision-making skills.
3) Share credit
Share all the positive recognition with your team and own up to the negative ones.
4) Be curious
It is vital to have a curious mentality and learn about your company, peers, consumers, competition, and market to stay better informed about the current business environment.
5) Network
Build your professional network among peers and the industry at large. The key to building a network is to give more to the network than you take from it.
While having a learning mentality is imperative, staying humble during your growth period takes you a long way. It is important for leadership teams to realize that excellent market conditions are the key reason for the growth and not just their ability to lead during a crisis. Humility will serve them well to continue to look at structural issues in their business and improve them during these periods. Leaders are generally good at getting things done, but how can one navigate a disaster like the current pandemic and still work towards growing and developing its people in this digital era? Interestingly, the human workplace shifted from home to office a mere 200 years ago, with the advent of the Industrial Revolution and the need to work on large machines together in assembly lines. Digital workers don't need large machines and can collaborate remotely using technology. Remote work has gone on for long, to reverse 200 years of the work-from-office habit.
As a leader, it is key to navigate how your business can grow even with all the challenges and make decisions based on all the information on the table. Especially in a remote working environment, it becomes so difficult to interact and check in with your people. Understanding what you can do as a leader to navigate this storm can help set a good example for your peers. To build a strong work culture, you need to pick up a trick or two from the following playbook: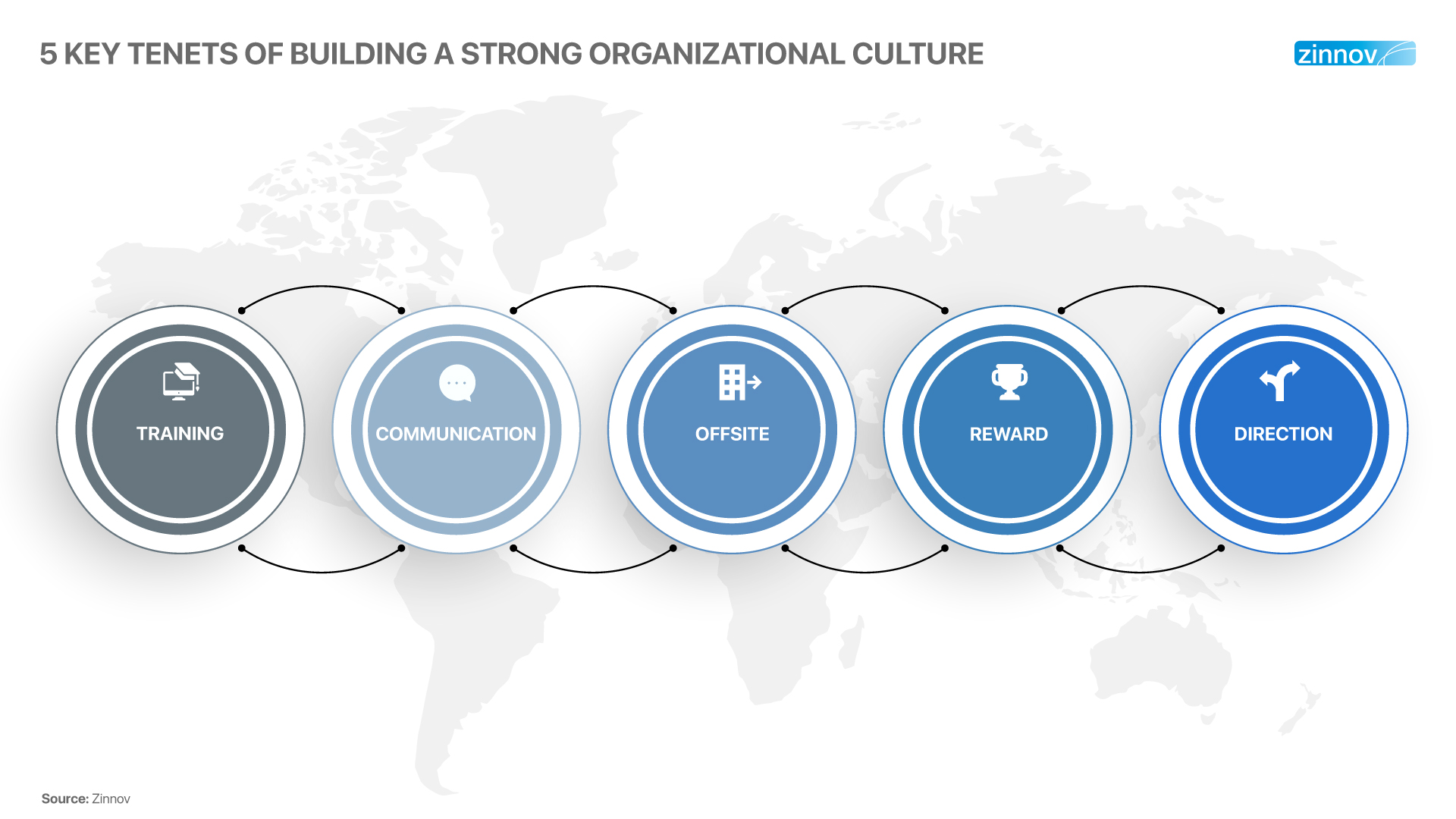 1) Training
Focus on deliberate training for teams. Some could be driven centrally, but individual managers should take responsibility for training.
2) Communication
Share what the organization's purpose is from across top leadership levels to the very bottom, to empower your people.
3) Offsite
Having an offsite focused on training, getting to know each other, and brainstorming will improve the company culture.
4) Reward
Highlight employee habits and actions that live up to the corporate culture and principles to boost morale.
5) Direction
Help your people imagine their careers and show them the path towards achieving those goals.
It is widely recognized that another wave of uncertainty from this pandemic is inevitable. Leaders should start taking steps immediately to ensure that your people are safe, and they are still able to navigate remote working. Every leader must be consistently striving to be better and test different ways to communicate and build a structured framework that works for them and their organization. Leaders who are knowledge-oriented and can provide simple solutions to complex problems can foster a great culture within their teams. It is imperative to find different ways of staying resilient, grounded, and in tune with what is happening around the world to adapt to any changes the organization needs. In the end, being part of great teams that are working to accomplish something worthwhile, is what you will treasure more than anything else when you look back at your career.
Want to understand how to combat remote working challenges to build a great team, drop us a note at
info@zinnov.com
to speak to our leading experts.