It was no surprise that digital transformation was at the core of Zinnov's recent edition of European Confluence, with the theme, "Engineering a Post-pandemic World – Now, Next, and Beyond." After all, agility, resilience, and innovation are now more essential than ever. Since the pandemic hit, many enterprises have increased their digital initiatives.
However, launching digital initiatives is one thing; doing so successfully is another. Many organizations have yet to realize the benefits they want and need from their digital transformation journeys because of the common roadblocks that hinder these journeys, such as slow project implementation, low digital literacy in business teams, fragmented data coming from multiple sources, and a lack of relevant skills, to name a few. Organizations that successfully overcome these challenges and transform into truly digital, innovative, and disruptive enterprises will be well-positioned to become industry leaders.
Here is an excerpt from a discussion at our recent Zinnov Confluence – Europe edition, where Sidhant Rastogi, Managing Partner & Global Head, Zinnov and Ram Ramalingam, Managing Director, IX.0 Lead – North America & Global Lead – Intelligent Products & Platforms, Accenture, shared insights and perspectives on the fundamentals of building a truly digital enterprise and leadership priorities therein.
Sidhant: What are the factors driving the rapid acceleration of digital transformation?
Ram: COVID-19 massively accelerated the need for digital transformation – and the pace of change. Suddenly, organizations had to adapt to a totally different world. To keep their people safe, they had to enable off-site working, practically overnight. Supply chains had to be reconfigured as volatility surged. Physical interactions went virtual.
Bottom line? Digital is now an imperative for survival. So much has been achieved by organizations in the past 12 months. And almost none of it would have been possible without digital technologies.
Other factors are in play, contributing to the rapid drive to digital. With cloud service providers like AWS, Google, and Microsoft releasing new features, practically on a daily basis, the speed of innovation has increased enormously. It is now possible to scale platforms to an extent that would have been unimaginable not long ago.
Sidhant: What are the challenges that enterprises face in their digital transformation journey in today's context? What are the factors hindering the benefits from being fully realized?
Ram: Digital transformation is not just about digitalizing existing business capabilities; it is far wider and deeper than that. Digitalization needs technology, of course. But it also hinges on a commitment to transform leadership, talent, skills, and business models.
At a macro level, there may well be a conflict between how the business thinks about digital transformation and how IT sees it. CIOs often tell me that the targeted value would have been realized much sooner and more emphatically, if business leaders took the time to properly understand the digital transformation and the technologies behind it. Too many business leaders still see their CIOs as order-takers, not true partners in the transformation journey that they've set out on. It's the mindset that gets in the way, right from the start. And this must change.
The human element can be a big challenge. Digital transformation calls for nothing less than a redefinition of organizational structure and culture. That's the only way to deliver insights and technology at speed, when and where they are needed. Talent transformation is essential, and it's something that is often overlooked.
Legacy talent will need to be brought up to speed, reoriented, and upskilled. And new talent needs to be brought in. Another related challenge? Moving to an agile model of continuous deployment and making sure talent across the enterprise understands it and is comfortable working within that construct. People really do matter. We know for a fact that leaders who upskill their people and cultivate digital fluency as part of their transformation unlock 3X more workforce agility than those who don't.
On the flip side, technology can sometimes prove to be a major hurdle too. Often, an organization's tech stack will be running on legacy architectures that prevent it from leveraging cloud service provider-powered innovation. If that is not remedied, digital transformation cannot happen at the speed that is so critical today.
Sidhant: What are the key elements of a successful digital enterprise? How have these elements evolved in the last six months?
Ram: We believe there are three core elements that make up a successful digital enterprise:
Business Alignment
Speed of Innovation
Talent & Organization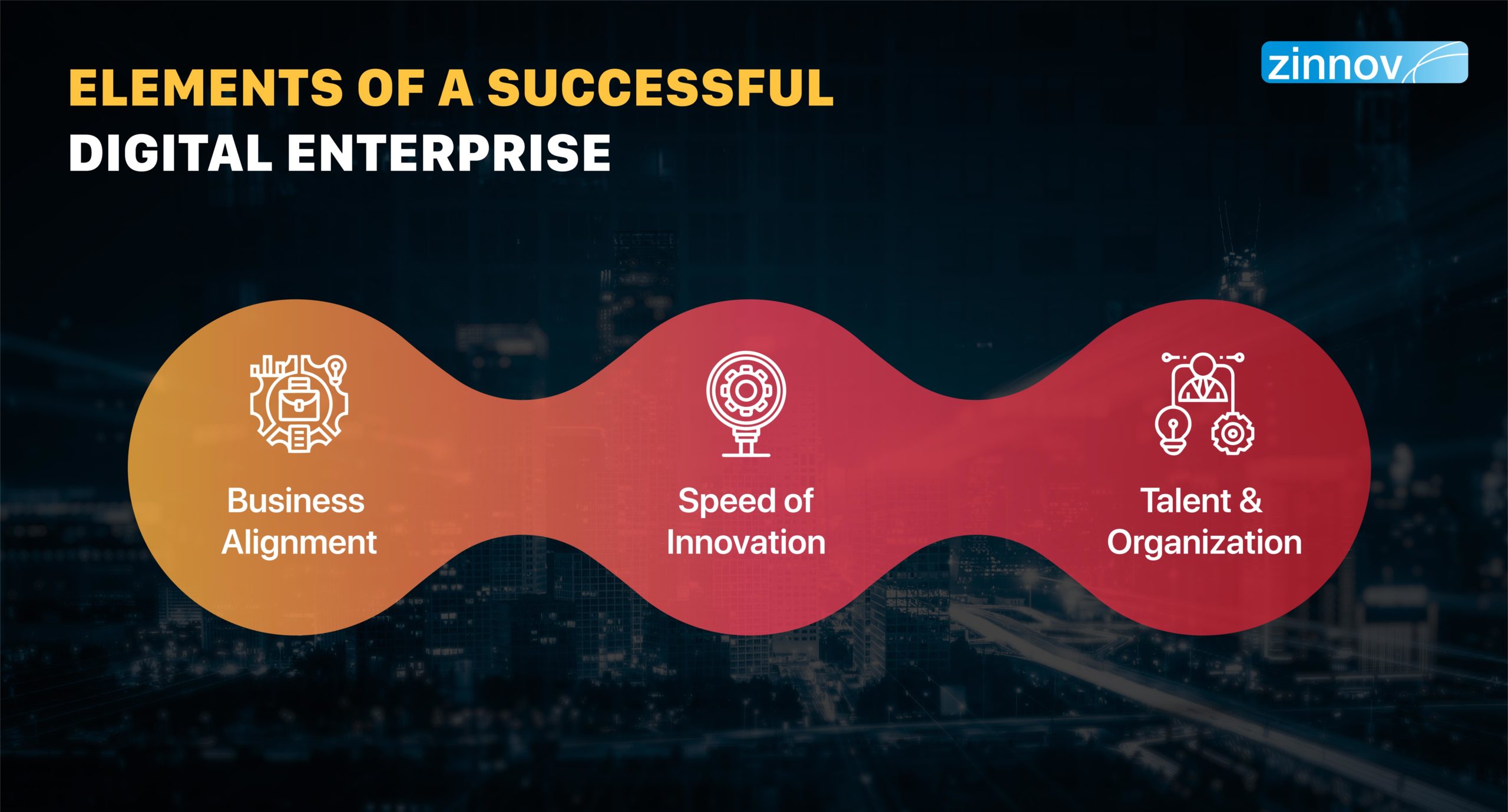 Let's take a closer look at each of them. First, business alignment. To unlock digital value, there has to be an amalgamation of business and technology teams. This is key in product management. We talk about a "two in a box" product management model where business and IT work closely together to understand each other. What is the impact of change for IT? And what does the business need? Once those conversations are happening, the business will properly understand the power of IT, and IT will start to see the fruits of digital transformation.
Next, speed of innovation. For this, organizations need a composable architecture, comprised of three key elements. The foundational layer underpins the whole architecture, with common processes, a data platform providing a single source of the truth, core infrastructure blueprints, and a CI/CD (continuous integration/continuous delivery) pipeline to automate the software delivery process. This layer enables containerization and deployment, working closely with the cloud service provider. The key skills essential to create and sustain it include Infrastructure (Cloud) Engineering, DevOps, Security, and Site Reliability Engineering.
Next is the enabling layer, which exploits the underlying infrastructure to onboard new applications and modernize existing ones. This is where business processes and workflows happen, with custom logic to enable functional applications. The engagement layer sits on top of this. This is what connects the organization's applications to the rest of the enterprise and to its partners. Key skills enabling this include Front-end web/Mobile App Development, UI/UX Design, and Analytics.
The third core element for digital transformation success is talent and organization. How can the organization retune its talent so that it is comfortable working with an agile approach on cloud-native architectures? Training, upskilling, leadership support, and communication are all non-negotiable. People don't just need digital tools; they need to know how to work with those tools in new ways to become more satisfied, more productive, and more creative.
Sidhant: Are there any specific technologies whose adoption has accelerated due to COVID? And what has been the ROI from such an adoption?
Ram: Top of the list is cloud. Of course, businesses have known for some time that their future was in the cloud. The pandemic just brought this into sharper focus. Suddenly, cloud was no longer an aspiration, but an urgent mandate at the heart of the enterprise. In just 12 months, we are where we expected cloud adoption to be five years from now. The next step is for organizations to move fast to understand what cloud service providers can provide, and how to benefit from their cloud-native architectures.
We have seen containerization and Kubernetes go mainstream. Organizations must understand these technology approaches, what they offer, and how to take advantage of them. At the applications level, the world of front-end vs back-end developers is passé; we have now entered the full-stack development era. Meanwhile, technologies have continued to evolve at an unprecedented pace. From a tool perspective, organizations need to be comfortable with continuous deployment, and they need to know how to successfully expose their digital platform to the outside world. That means focusing on its design and the user experience it provides.
Sidhant: How will the transformed digital outlook of leaders impact the future of product and platform engineering services?
Ram: The digital outlook is moving from economies of scale to economies of speed. That is the goal of digital transformation, and arguably the most important message of all for technology leaders to understand.
It is where product-led engineering, enabled by digital technologies, fulfils such a vital function. There are three key components of this approach. First, redefining the enterprise strategy, fundamentally reshaping the mindset from IT to product-led, and reimagining the ecosystem in which the enterprise operates, along with its competitors, suppliers, buyers, and end users. Next is opening up – enabling third parties to contribute to and consume from the product/platform. And the last, democratizing data so it is freely available and accessible enterprise wide.
Sidhant: Organizations are dealing with the convergence of technologies as a consequence of digital transformation. How is this affecting the talent landscape?
Ram: It is vital to focus on the people component of change. As many companies have discovered, creating processes, implementing tools, and identifying workflows are straightforward. But changing people is hard. So how can organizations achieve this?
The first step is to understand that people aren't the problem; it is the organization's failure to communicate effectively with its people that sets them up for digital transformation trouble from the start. To get the desired results, it is essential to remember that people don't just need access to digital tools. To be successful, they also need training, along with leadership and cultural support to unlock their full potential and ingenuity.
Changing people is hard. But it can be achieved through a structured approach, based around a few core principles:
Focus on the "why" – explain why the transformation needs to happen and the benefits it will bring with it.
Create communication journeys – bring people with you by clearly, constructively, and regularly keeping them informed.
Create targeted experiences – understand what your people need to do their jobs more effectively and provide experiences that support them.
Communicate in context – make sure everyone gets messages that make sense to their particular roles, needs, and circumstances vis-à-vis the digital transformation agenda.
Use data to measure and iterate – continuously track progress, monitor results, and enhance/adapt as needed.
Become a change-ready organization – embed an agile mindset so people can adapt and change at speed.
A truly successful digital enterprise is one that takes into account the technology, the tools, and the people, as outlined above. As enterprises become accustomed to the new normal, if these aspects are not considered, it will further widen the chasm between digital investments and ROI.
To understand more about the nuances of building truly digital enterprises, write to us at
info@zinnov.com
.